New Age Islam News Bureau
30 Nov 2016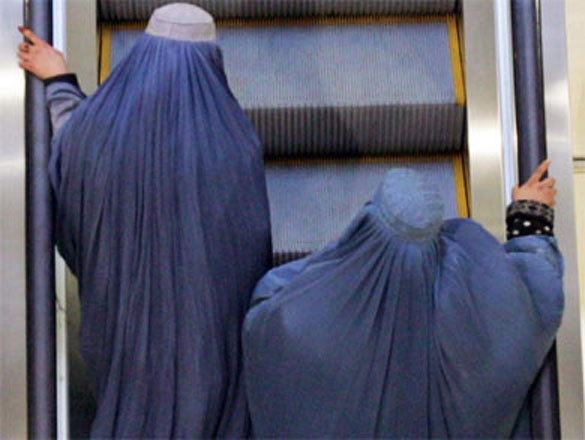 Ban will not be enforced on the streets, but will apply to public transport in Netherland REUTERS
-------
• Women Re-Enter Haji Ali, Now Set Sights On Triple Talaq, Polygamy
• Hijab-Clad US University Student Struck In Face with Glass Bottle
• British woman can adopt girl found in box in Egypt, judge rules
• Triple Talaq: Muslim Woman Writes a Letter in Blood to Chief Justice of India, Seeks Justice or Permission to Die
• Saudi Prince Alwaleed Says Women Must Drive
• UAE Can Be Regional Pioneer for Women's Rugby
Compiled by New Age Islam News Bureau
URL: https://www.newageislam.com/islam,-women-and-feminism/new-age-islam-news-bureau/dutch-parliament-votes-to-ban-burqas,-niqabs-in-some-public-places/d/109240
-------
Dutch parliament votes to ban burqas, niqabs in some public places
29 November 2016
The Dutch Parliament's lower house voted on Tuesday to ban the wearing of face-covering clothes - such as burqas and niqabs - in some public places, making the Netherlands the latest European country to restrict garments worn by some Muslim women.
The legislation, which still needs to be passed by the senate, bans the veils in settings where identifying the wearer is considered essential, such as in government buildings, on public transport, at schools and in hospitals.
Few women in the Netherlands wear such clothes, but the issue has been high on the agenda for years, with an outright ban one of the main demands of the anti-Islam opposition Freedom Party, which is leading in polls ahead of elections in March.
https://english.alarabiya.net/en/News/world/2016/11/29/Dutch-parliament-votes-to-ban-burqas-niqabs-in-some-public-places.html
-------
Women re-enter Haji Ali, now set sights on triple talaq, polygamy
Mohammed Wajihuddin
Nov 30, 2016
MUMBAI: After five years and a series of legal battles and protests, women re-entered the iconic Haji Ali dargah on Tuesday afternoon.
In a gesture that earned the dargah trustees fulsome praise, they not only helped women devotees offer flowers and the 'chadar' at the saint's tomb, but also offered them tea. Around 100 women from across the country reached the Haji Ali dargah around 3pm. "The trustees were very cooperative and made us feel comfortable," said Noorjehan Safia Niaz, co-founder of the Bharatiya Muslim Mahila Andolan (BMMA), which led the struggle for women's entry to the shrine.
She added that the women sought "divine blessings to remove the patriarchal mindset that denies women equal space in religious places". "Now we hope that those who practise and promote the patriarchal mentality will mend their ways," she said.
Some said they were pleasantly surprised to see the changed attitude of the dargah trustees. "If they had earlier treated us the way they did on Tuesday, we would not have launched the agitation. They offered us tea too," said Khatoon Shaikh, BMMA's Maharashtra convenor. Apart from praying at the dargah, the women also enjoyed the sama (Sufi qawwali) session.
"We have made arrangements to ensure that the women worshippers are not inconvenienced. We are complying with the affidavit we submitted to the Supreme Court, according to which men and women worshippers are allowed an equal space. Both stand in separate queues and two metres away from the saint's tomb and pray," said trustee Sohail Khandwani.
Till 2011, women worshippers were allowed access to the shrine's sanctum sanctorum, but their entry was suddenly blocked. In 2014, BMMA petitioned the Bombay high court against the ban and, on August 26 this year, the high court lifted it. The dargah trust challenged it in the Supreme Court. The SC upheld the order.
http://timesofindia.indiatimes.com/city/mumbai/Women-re-enter-Haji-Ali-now-set-sights-on-triple-talaq-polygamy/articleshow/55695402.cms
-------
Hijab-clad US university student struck in face with glass bottle
NOVEMBER 29, 2016
A Hijab-clad Muslim student was allegedly struck in the face with a glass bottle in broad daylight at a university campus in the US, the latest in a series of hate incidents in which headscarf-wearing women have been targeted following Donald Trump's win. The Council on American Islamic Relations has offered a reward of USD 5,000 for information that leads to the arrest and conviction of whoever assaulted Nasro Hassan, a 19-year-old a Somali American student, on the campus of the University of Washington, Seattle.
Hassan was wearing a head scarf when she was hit in the face with a glass bottle. The attack happened in broad daylight on November 15.
"The incident, which possibly fits a pattern of hate attacks against American Muslim women locally and nationwide, has caused a wave on concern on campus for their own security," Arsalan Bukhair, executive director of CAIR of Washington, was quoted as saying as Seattle Post- Intelligencer.
The student suffered bruises on her face and a concussion.
Mina Sultana, co-president of the Muslim Student Association at the University of Washington (UW), said the assault has increased concerns about the safety.
"Since the incident fear about personal safety has increased significantly among Muslim students on campus," she said.
Students and leaders are especially concerned because they say UW police failed to notify the campus community about the assault. The department says it followed federal criteria about informing students of criminal activity on campus.
Major Steve Rittereiser of the UW police was quoted as saying, "This particular situation didn't fit that criteria.
It's listed as an assault case, and an assault case general doesn't get that type of notification."
Ayn S. Dietrich, spokeswoman for the FBI's Seattle office, said the agency was aware of the incident but would "defer to the investigation by the primary responding agency, and maintain communication should our partners develop information that suggests a federal crime was committed."
The incident comes amid a slew of intimidation and assault cases that have been reported across the country against hijab-clad women post election.
Earlier this month, a hijab-clad woman was allegedly accosted at a US store by another customer who called her a .
"terrorist" and told her to "get out" of the country.
Also, a Muslim student's hijab was allegedly ripped off and her hair pulled down by a classmate at a school in Minnesota.
In another incident, a Muslim student of Michigan University was approached by an unidentified man who yelled at her and threatened to set her on fire if she did not remove her hijab.
http://www.thehindu.com/news/international/Hijab-clad-US-university-student-struck-in-face-with-glass-bottle/article16720878.ece
-------
British woman can adopt girl found in box in Egypt, judge rules
29 November 2016
A British woman can adopt a girl who was abandoned in a cardboard box on a street in Egypt SHORTLY after birth, a high court judge has decided.
Ms Justice Russell ruled that the woman, an NHS administrator, can bring up the six-year-old in the UK, despite objections from Egyptian authorities.
The judge revealed details in a written ruling on Tuesday after considering the case at a private hearing in the family division of the high court in London.
Russell said no individual involved could be identified, but added that Liverpool city council had welfare responsibilities for the child and indicated that the woman came from Merseyside.
The judge said the girl was found abandoned in late 2010 near Luxor and had been placed in the care of the woman, who was living in Egypt with her Egyptian husband at the time, by an orphanage run by a UK charity.
The woman brought the girl to the UK about three years ago, after separating from her husband, and made an adoption application.
The woman, who had been raised as Christian, argued that the girl was "flourishing" and should stay with her in Britain.
Her husband, a Muslim lawyer who lives in Egypt, wanted the child to return there. He said she should either come back with the woman or live with his relatives.
Officials at the Egyptian ministry of social solidarity also said the girl should return.
They said adoption was not recognised under Egyptian law and the child was a Muslim who might lose her heritage if she was brought up by a non-Muslim in the UK.
But the judge concluded that staying with the woman in Britain would be in the girl's best interests. She said adoption would give the child a secure base.
https://www.theguardian.com/uk-news/2016/nov/29/british-woman-can-adopt-girl-found-in-box-in-egypt-judge-rules
-------
Triple Talaq: Muslim woman writes a letter in blood to Chief Justice of India, seeks justice or permission to die
November 30, 2016
Opposing the Triple Talaq given to her by husband, a Muslim woman in Madhya Pradesh has written a letter in blood to the Chief Justice of India for justice or the permission to die. A report in Hindi Daily Dainik Bhaskar today said the woman, Shabana, wanted to work after doing a nursing course. But her husband, Tipu Shah, wanted her to work in fields. She also said that Tipu had a second wedding after torturing her for dowry.
A report in Hindi Daily Dainik Bhaskar today said the woman, Shabana, wanted to work after doing a nursing course. But her husband, Tipu Shah, wanted her to work in fields. She also said that Tipu had a second wedding after torturing her for dowry.
In the letter, the woman requested the CJI to ban Triple Talaq as it destroyed her and her four-year-old daughter's lives. The woman's husband told the daily that Shabana was not living in the house properly. Tipu Shah also said that he divorced Shabana as per the Islamic rituals.
Several Muslim women have come out recently to protest against Triple Talaq. Earlier this year, a Muslim woman in Ghaziabad, Uttar Pradesh had decided to convert to Hinduism after she was forced into prostitution following Triple Talaq by her husband.
She had said that her husband had given Triple talaq to her. After that, he forced her to undergo Nikah Halala and sent her to a friend. When she returned to her husband after three months, he didn't accept her and instead forced her into prostitution. Under Sharia law, a woman who has undergone a divorce cannot remarry her husband unless she marries another man and the relationship is consummated.
The woman told reporters that in the name of religion, a number of Muslim women have to undergo a lot of suffering. Almost every Muslim woman is facing some sort of torture. They are married off at a young age and then forced to bear children, the report quoted her as saying.
In a similar incident in Jaipur, a Muslim man had drugged his wife and forced her to sleep with a friend under the pretence of following Nikah Halala. The victim had told HT that she could not get over the insult and shame that was meted out to her. She expressed her anger and said that her husband had her raped by his friend. "I feel angry, depressed, scared", she cried.
http://www.financialexpress.com/india-news/triple-talaq-muslim-woman-writes-a-letter-in-blood-to-chief-justice-of-india-seeks-justice-or-permission-to-die/460107/
-------
Saudi prince Alwaleed says women must drive
November 30, 2016
An outspoken billionaire Saudi prince has called for an "urgent" end to his country's ban on women driving.
"Stop the debate: Time for women to drive," Prince Alwaleed bin Talal said on his official Twitter account, @Alwaleed_Talal.
Alwaleed is an unusually outspoken member of the Saudi royal family who holds no political posts but CHAIRS Kingdom Holding Co., interests of which include US banking giant Citigroup and the Euro Disney theme park.
Philanthropist Alwaleed is a longtime advocate of women's rights in the kingdom, which has some of the world's tightest restrictions on women and is the only country where they are not allowed to drive.
In conjunction with his SHORT tweet, Alwaleed's office issued statement Tuesday outlining his reasons for supporting an end to the ban.
"Preventing a woman from driving a car is today an issue of rights similar to the one that forbade her from receiving an education or having an independent identity," Alwaleed said in the statement.
"They are all unjust acts by a traditional society, far more restrictive than what is lawfully allowed by the precepts of religion."
He also detailed the "economic costs" caused by women having to rely on "foreign" private drivers or taxis. Even if their husbands can take time out to transport them, that requires temporarily leaving the office and "undermines the productivity of the workforce," he said.
"Having women drive has become an urgent social demand predicated upon current economic circumstances."
Saudi Arabia's oil revenues fell by 51 percent last year following a collapse in global prices, which remain at less than half the level they were two years ago.
As a result, the government has delayed major projects, cut spending, and raised prices for everyday services including water and electricity.
The kingdom in April announced its Vision 2030 plan to diversify its oil-dependent economy and employ more Saudis, including women.
Unveiling that plan, Deputy Crown Prince Mohammed bin Salman, 31, said social change cannot be forced.
On women driving, he said: "So far the society is not persuaded... but we stress that it is up to Saudi society."
http://www.thestatesman.com/world/saudi-prince-alwaleed-says-women-must-drive-1480500564.html
-------
UAE can be regional pioneer for women's rugby
November 29, 2016
Dubai: The UAE can be a regional leader in women's rugby after selecting an historic first all-Emirati women's team for this weekend's Dubai Rugby Sevens, according to Qais Al Dhalai, general secretary of Asia Rugby and the UAE Rugby Federation.
The UAE women's side will play in the inaugural six-team Under-18's Girls International Sevens Tournament alongside Hong Kong, India, Kazakhstan, Sri Lanka and Uzbekistan from Wednesday. Two teams progress from a round robin to play in Friday's final.
Al Dhalai has hopes to make the tournament an annual occasion while expanding it to more teams throughout Asia, with neighbouring GCC countries hopefully following the UAE's lead and setting up their own sides.
"We are already heading towards being one of the leaders in men's rugby regionally and throughout Asia, and now we are looking to do the same in women's rugby too," he said.
"It's important for many reasons, first of all our leaders, Her Highness Shaikha Fatima Bint Mubarak Al Nahyan, Chairwoman of the General Women's Union, Supreme Chairperson of the Family Development Foundation and Chairwoman of the Supreme Council for Motherhood and Childhood, and the wife of the late president and Founding Father of the UAE, Shaikh Zayed Bin Sultan Al Nahyan, has always supported women's inclusion.
"Secondly, it's mentioned in the Olympic charter that there should be equal opportunities for both genders, and World Rugby says that each member union has to have a male to female player ratio of 60-40, and that's a mandate.
"So this is why we have set-up the first ever UAE women's team, they have been developed over two years and this will be their first major tournament.
"We used to have a male to female ratio of 90-10 but within a year we've done a great job. We now have 800-900 female participants from which 12 have been selected for this team. Now they are Under-18s but in another two years they will be our senior team. In five years we hope to be at 60-40.
"It's very important to grow the game with Emirati females and it's the only way forward, you can't just grow the sport with men."
Asked if there were cultural sensitivities to respect, Al Dhalai replied: "Yes, of course, and this is a big consideration for us."
"The players wear Muslim attire, no part of their body is exposed, they wear long sleeves and long pants and cover their head with customised clothing so we are fulfilling all religious aspects. We can't just neglect that and do sport as that doesn't work."
Deidre O'Sullivan, manager of the Women's World Rugby Sevens Series congratulated the UAE on its pioneering effort.
"It's an indication that people are engaging more with female sport and an indicator that female athletes are considered on a par with men, and rightly so.
"This is a very encouraging sign. It's positive to see the growth of women's sport and it's complementary to what's happening globally. We are hugely encouraged and support this wholeheartedly."
http://gulfnews.com/sport/rugby/dubai-rugby-sevens/uae-can-be-regional-pioneer-for-women-s-rugby-1.1937418
-------
URL: https://www.newageislam.com/islam,-women-and-feminism/new-age-islam-news-bureau/dutch-parliament-votes-to-ban-burqas,-niqabs-in-some-public-places/d/109240
New Age Islam, Islam Online, Islamic Website, African Muslim News, Arab World News, South Asia News, Indian Muslim News, World Muslim News, Womens in Islam, Islamic Feminism, Arab Women, Womens In Arab, Islamphobia in America, Muslim Women in West, Islam Women and Feminism, Moderate Islam, Moderate Muslims, Progressive Islam, Progressive Muslims, Liberal Islam