New Age Islam News Bureau
1 Aug 2019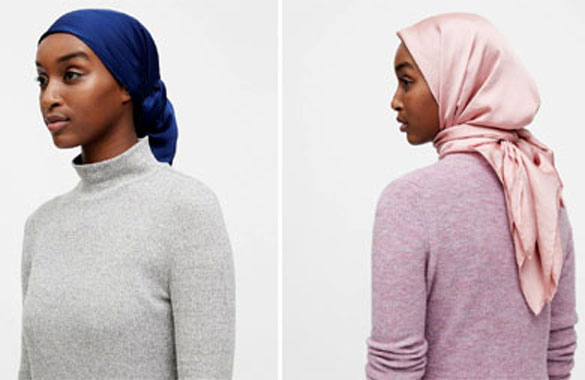 Banana Republic has four styles of hijabs, including satin fabrics and leopard prints, on its website for $40 to $50. (Banana Republic)
------
• Women Will Be Ultimate Sufferers Of Triple Talaq Law: AIMPLB
• Banana Republic Is Selling Hijabs: Muslim Shoppers Wonder, Is It Inclusion Or Appropriation?
• 70 Women Cyclists Arrested In Tehran For Violating Rules On Hijab
• Zafaryab Jilani of the AIMPL Board to Challenge Triple Talaq Bill in Top Court
• Sisters in Islam Charity Art Show Aims To Remind People That Women Have Equal Access To God
• Muslim Woman Sues Louisville over Jail Photo Taken Without Her Hijab
• Advocates Wish Imprisoned Saudi Women's Rights Activist Loujain Al-Hathloul A 'Happy' 30th Birthday
Compiled by New Age Islam News Bureau
URL: https://www.newageislam.com/islam-women-feminism/dubai-rulers-wife-applies-forced/d/119361
--------
Dubai Ruler's Wife Applies for Forced Marriage Protection Order for Children in UK
Jul 31, 2019
The estranged wife of the ruler of Dubai, Sheikh Mohammed bin Rashid Al Maktoum, has applied for a forced marriage protection order relating to their children in the United Kingdom.
The London-based High Court heard on Tuesday that Princess Haya bint Al Hussein, half sister of Jordanian monarch King Abdullah II, has applied for the order, as well as for wardship of their children, and a non-molestation order relating to herself.
At a preliminary hearing on Tuesday, Judge Andrew McFarlane allowed media to report that Princess Haya had made the applications.
The court also heard that Sheikh Mohammed has applied to the High Court for the summary return of the son Zayed, 7, and 11-year-old daughter Al Jalila to Dubai.
Under the British law, forced marriages are distinct from arranged ones, and are those without the full and free consent of both parties.
A forced marriage protection order can be used to help someone, who is being forced into marriage or who has been subjected to one.
They can be applied for by the person in question, a relevant third party or anyone else with the permission of the court.
Applications must include details of how the applicant wants to be protected by the court.
Earlier, the couple had issued a statement about the nature of the case following a previous hearing held in private in London.
"These proceedings are concerned with the welfare of the two children of their marriage and do not concern divorce or finances," the statement read.
It said the preliminary case management hearing would "deal with issues relating to how to proceed to a final hearing to determine the welfare issues."
Princess Haya married Sheikh Mohammed in 2004. The end of his marriage is a fresh blow to the Dubai ruler, whose daughter Princess Latifa bint Mohammed Maktoum, 33, sought to escape last year before being captured on a boat off the Indian coast.
Human rights groups claim she is being held in captivity in Dubai.
https://www.presstv.com/Detail/2019/07/31/602290/Dubai-rulers-wife-applies-for-forced-marriage-protection-order-for-children-in-UK
--------
Women Will Be Ultimate Sufferers Of Triple Talaq Law: AIMPLB
July 31, 2019
Hyderabad: Women will be the ultimate sufferers due to the triple talaq legislation, said Asma Zehra, the chief organiser of the women's wing of the All India Muslim Personal Law Board (AIMPLB).
The Muslim Women (Protection of Rights on Marriage) Bill 2019 was passed by the Rajya Sabha on Tuesday, making the practice of pronouncement of instant triple divorce by a husband punishable with up to three years in jail.
"It is instigation of women and end sufferers will be women only. It is totally an anti-women bill," Zehra said.
"The lady who lands in such a problem will get nothing. In fact she will be damaging herself in many ways. She will be damaging her home and causing lot of harm to her husband," said Zehra.
She pointed out that for victims of domestic abuse, the country has the Protection of Women from Domestic Violence Act which has many doors open for reconciliation and repair of damages in marriages while this Bill has nothing.
"The minute a woman goes for an appeal under this Act, she herself will damage her home," she said.
She believes that even the lawmakers and judges will find it very difficult to handle these cases because the burden of proof lies with women. She feels that this will impose lot of burden on the judiciary and the legal fraternity.
"This bill has nothing to do with Muslim women empowerment or their protection. It is just vote bank politics of the ruling party," she added.
Zehra slammed the regional opposition parties for what she called deceiving the Muslim community by not opposing the defective bill. She said the weakening of opposition and opposition leaders led to this calamity.
She pointed out that 20 million women had come out on the streets to protest against the bill.
"In a democratic country where numbers have value, the government turned a blind eye to the voice of the women and posed itself as messiah of Muslim women. Muslim women very well know who are their enemies and who are their friends. There is nobody to raise voice over lynching of our brothers and husbands and here several hours of Parliament were wasted on this issue of husband and wife," Zehra said.
AIMPLB had collected 50 million signatures during a nationwide campaign against the bill last year.
"They included 2.85 crore [28.5 million] women who opposed any kind of interference in Personal Law. Still the Law Commission, Women Commission and Human Rights Commission did not pay heed to the voice of the majority," she said.
Zehra also said every party and parliamentarian who had a role in passing this Bill should be held accountable and Muslim leaders should not support or garner votes for them.
"Muslims should learn lessons from what has happened. Everything in the future depends on how you understand the whole issue now. Unless and until the community understands what has gone wrong, unless and until it diagnoses the disease within and stands strong and united, our constitutional rights can't be defended and we will be weakened," she added.
https://gulfnews.com/world/asia/india/women-will-be-ultimate-sufferers-of-triple-talaq-law-aimplb-1.65548773
--------
Banana Republic Is Selling Hijabs: Muslim Shoppers Wonder, Is It Inclusion Or Appropriation?
By Abha Bhattarai
July 31, 2019
Banana Republic, the mainstream retailer known for no-frills work wear, has introduced a line of Hijabs, making it the latest consumer brand to create products for Muslim women.
The company this week began selling four styles of the religious headscarves, including satin fabrics and leopard prints, on its website for between $40 and $50. It added the products to the "accessories" section of its site on Tuesday as part of an effort to "to reflect the rich diversity of customers and employees," a company spokeswoman said in an email.
The growing popularity of "modest" clothing lines and hijabs at mainstream stores signals a shift, analysts say, in retailers' attitudes toward inclusion and diversity. The apparel industry is undergoing massive change, and analysts say companies are having to rethink their products to attract new shoppers. Many are using their websites as a way to reach groups they might have ignored in traditional stores, where the focus has long been on stocking shelves with items that will appeal to the largest swath of consumers.
Head to toe in @bananarepublic ?? So excited to announce they just launched hijabs!! Can you even recognize me in a print?! ?? PS these jeans are SO good! Linked everything here! ?? http://liketk.it/2DN4Z #liketkit @liketoknow.it #gifted
A post shared by With Love, Leena (@withloveleena) on Jul 30, 2019 at 7:01am PDT
Major retailers, including Macy's and Uniqlo, have begun courting Muslim shoppers in recent years, with the addition of hijabs and other "modest" fashion items like high-neck tunics and floor-length cardigans. Nike markets its Pro Hijab to Muslim athletes, while American Eagle briefly sold a $20 denim hijab. The head covering, which is worn by some Muslim women, is now seen on the runway, in Congress, and on the cover of Sports Illustrated's annual swimsuit issue, which this year featured Somali-American model Halima Aden in a hijab and burkini.
"Mainstream companies are waking up to the fact that there is value in Muslim consumers," said Sabiha Ansari, co-founder of the American Muslim Consumer Consortium, a nonprofit that works with businesses. "Any time a consumer is acknowledged, that's a good thing."
But there are also large profits to be made: Muslim consumers spent $264 billion on apparel in 2016, according to the Global Islamic Economy report by Thomson Reuters. The figure is expected to rise to $373 billion by 2022.
"It's purely pragmatic: Retail needs to serve everyone who's willing to spend," said Wendy Liebmann, chief executive of consulting firm WSL Strategic Retail. "This is an audience that deserves to be served as any other. But I suppose the question then is, why has it taken so long?"
Part of the answer, she said, may be political. Companies are increasingly taking a stand on a number of issues — from the environment to immigration — in response to President Trump's divisive rhetoric. Adding a line of hijabs, she said, "is a way retailers can show that everybody's invited to their brand."
Banana Republic, which is owned by the Gap, has had its share of financial struggles in recent years, as it tries to keep up with fast-fashion chains and new online competitors. Same-store sales, a closely watched measure of performance at stores open for at least one year, fell 3 percent in the most recent quarter.
Some shoppers, though, said they felt conflicted about major retailers getting into the hijab business. Was it inclusion, they wondered, or the appropriation of a religious symbol for the sake of their bottom line?
"On the one hand, it does feel like they're profiting off of us," said Leena Snoubar, 25, an American Muslim fashion blogger whose Instagram handle @withloveleena has nearly 800,000 followers. "But on the other, it's a way to normalize hijab and make us feel more included."
Snoubar, who works as a labor and delivery nurse in Tyler, Texas, was tapped by Banana Republic to promote its new line on social media. She said the leopard-print hijab she received was "beautifully made." But, she added, she won't be buying more from the chain but will instead stick with Muslim-owned businesses such as Haute Hijab and Voile Chic.
"That," she said, " is where my loyalty lies."
https://www.washingtonpost.com/business/2019/07/31/banana-republic-is-selling-hijabs-muslim-shoppers-wonder-is-it-inclusion-or-appropriation/
--------
70 Women Cyclists Arrested In Tehran For Violating Rules On Hijab
Jul 31, 2019
70 women cyclists have been arrested in Tehran's Vali-Asr Square. Gholam Hossein Ismaeli, spokesman for the Judiciary, confirmed the news on the arrests of 70 women cyclists when talking to a reporter. He said the 70 women cyclists had been arrested for breaching the rules of "chastity and Hijab."
Ismaeli did not provide any details particularly around the timing of the arrests of the 70 women cyclists. (The state-run ISNA news agency – July 30, 2019)
Earlier, Massoumeh Ebtekar, Rouhani's deputy in family and women's affairs, had earlier confirmed that "there are no rules in Iran which could prevent women from riding bicycles."
Last July, a research done by the Office of Cultural Studies of the Research Center of the mullahs' parliament indicated that some 70% of Iranian women do not believe in the mandatory dress-code, namely the head-to-toe black veil called "chador." Nevertheless, the regime has further stepped up pressure and restrictions on women under the pretext of improper veiling.
Agents of the Public Places Police have instructed women clerks working in some Tehran shopping centers to wear the Maghna'eh instead of simple scarves or shawls, otherwise their shops would be sealed and shut down.
In another development, Abol-ghassem Shirazi, head of Tehran's Union of Clothing Manufacturers and Wholesalers, announced that they are implementing a plan to tackle and prevent production and sale of see-through or open-front women's manteaux. (The state-run ISNA news agency – July 31, 2019)
In Gilan Province, northern Iran, commander of the State Security Force, Mohammad Reza Is'haghi, announced that they had sent 66,000 text messages to drivers in this province, carrying female passengers who had dropped their veils inside the car. (The state-run ILNA news agency – July 31, 2019)
Early this month, commander of the Airport Police also announced that his forces would deal with passengers who promote western dressing styles or drop their veils. He said they would even prevent women who are considered improperly veiled. (The state-run ISNA news agency – July 1, 2019)
https://women.ncr-iran.org/2019/07/31/70-women-cyclists-arrested-in-tehran-for-violating-rules-on-hijab/
--------
Zafaryab Jilani of the AIMPL Board to Challenge Triple Talaq Bill in Top Court
August 01 2019
The Indian government and women's groups yesterday hailed "historic" legislation that criminalised 'instant divorce' for Muslims, but an influential Muslim group said it would launch a legal challenge.
The Rajya Sabha, the upper house of parliament, passed a bill on Tuesday banning the practice that allowed men to separate from their wives by saying "talaq" three times.
Husbands who use it now can be jailed for up to three years or be fined.
Some Muslim women's groups celebrated at events across India, which has followed many countries in regulating "triple talaq".
Zakia Soman, a social activist who launched a campaign against the practice nearly a decade ago, said the legislation would serve as a deterrent against the unjust treatment of women, some of whom were divorced with a WhatsApp message or by phone.
"This law is the result of decades of injustice meted out to Muslim women and the unsympathetic attitude of the political class and clergy," Soman told AFP.
The government called the parliament vote "historic".
"An archaic and medieval practice has finally been confined to the dustbin of history," Prime Minister Narendra Modi said on Twitter late Tuesday.
But other Muslim groups fought the law and even the opposition Congress party was against it, accusing Modi's Bharatiya Janata Party (BJP) of targeting one minority group.
Zafaryab Jilani of the All India Muslim Personal Law Board vowed yesterday to challenge the new legislation in court.
He said the action was part of a wider campaign by the BJP to undermine religious freedom.
"We are not surprised by the legislation as it is part of their larger agenda to change the country's constitution and snatch away the rights of minorities," Jilani, secretary of the Muslim group, told AFP.
Jilani said a petition against the law had nearly 50mn signatories across India.
Asaduddin Owaisi, a leading Muslim lawmaker, said the new legislation "should be seen only as one part of many attacks on Muslim identity and citizenship" since Modi came to power in 2014.
https://www.gulf-times.com/story/638018/Muslim-group-to-challenge-triple-talaq-bill-in-top
--------
Sisters in Islam Charity Art Show Aims To Remind People That Women Have Equal Access To God
01 August 2019
BY MELANIE CHALIL
PETALING JAYA, Aug 1 ― Following the success of Halal/Haram last year, Sisters in Islam is back with its third charity art show this month titled Awan & Tanah.
Aiming to unite Malaysian artists in pursuit of gender equality and justice in the country, Awan & Tanah looks at the relationship between the divine and the ordinary, God and humans as well as the inequality between men and women through the context of religion.
The show, held at Cult Gallery in Bukit Tunku, features 28 artists and their works.
The exhibition includes distinguished names such as Ahmad Zakii Anwar, Ilse Noor, Jalaini Abu Hassan, Datuk Sharifah Fatimah Zubir, Bayu Utomo Radjikin, Chong Siew Ying, Kow Leong Kiang, Noor Mahnun, and Sharmiza Abu Hassan.
The theme of Awan & Tanah is also explored by emerging artists such as Nia Khalisa, Nadia Nizamudin, Sanan Anuar, Aiman Asimuddin, and Hana Zamri.
Spoken word artist, poet and author Sheena Baharuddin will perform at the fundraiser's opening this weekend.
Among the mediums employed to present this unique theme include oil, print, threadwork, wood and textile.
"The SISArt theme this year, Awan & Tanah, brings together two conceptual imageries. On one hand, they are harmonious because no matter what land (tanah) you walk on, you can look up and there would always be a sky (awan) above you.
"On the other hand, as long as you have your feet on the land, you can never reach the sky," explained Sisters in Islam communications manager Majidah Hashim.
Majidah added that these concepts create conversations about humans and their relationship with each other and with God.
"Today, we see a lot of people placing conditions to God, restricting access to God and even playing God, particularly where women's rights are concerned.
"We must never forget that women have equal access to God and that God sees women with the same mercy and compassion as with all human beings. These are the conversations that this art show intends to create," she told Malay Mail.
Like the previous SISArt shows, all artists have pledged to donate 50 per cent of their artwork sales to Sisters in Islam.
Last year's Halal/Haram show raised over RM115,000 for the non-governmental organisation which has been championing Muslim women's rights in Malaysia for the last three decades.
Awan & Tanah will be launched at CULT Gallery on Saturday, August 3 at 7pm, at the Cult Gallery, 10A Persiaran Bukit Tunku, Kuala Lumpur.
All donations to Sisters in Islam are tax exempted.
https://www.malaymail.com/news/life/2019/08/01/sisters-in-islam-charity-art-show-aims-to-remind-people-that-women-have-equ/1776662
--------
Muslim Woman Sues Louisville over Jail Photo Taken Without Her Hijab
July 31, 2019
LOUISVILLE, Ky. – A Muslim woman is suing Louisville Metro Corrections and the city, saying she was made to remove her hijab in front of men for her jail booking photo in violation of her religious rights.
Clara Ruplinger, 24, was arrested in July 2018 along with eight other people after they blocked elevators to the immigration court inside the Heyburn Building. The protest was one in a string calling for the abolishment of Immigration and Customs Enforcement amid outrage over the separation of families at the U.S. southern border.
All nine of the protesters were charged with misdemeanor criminal trespassing.
In her lawsuit, filed July 25, Ruplinger alleges that while she was being booked, male officials made her take off her hijab and take a booking photo although "removing her headscarf in the presence of men with no familial relation violated her religious beliefs."
Islamic beliefs call for "people to have modesty and specifically for women to exhibit their modesty through some sort of head covering," said Soha Saiyed, one of Ruplinger's lawyers.
Ruplinger's lawsuit says that she was examined by female officers in a private room, during which time she willingly removed her hijab. She then put her headscarf back on and went to the booking area to have her photo taken in a room with 50 to 60 people of both genders, according to court documents.
Ruplinger was first allowed to wear her headscarf for a photo, her lawsuit says, before a male officer told her it had to be retaken without her hijab so officials could get "proper head dimensions."
What followed was a debate about the importance of Ruplinger's hijab to her, after which the lawsuit alleges that officers succeeded in "coercing" her to remove her headscarf, which she said caused her to be "embarrassed, humiliated and intimidated."
Jeremiah Reece, another lawyer for Ruplinger, said "the fact that she was required to remove her headscarf in front of dozens of male officers and inmates in the first place is a problem, is a constitutional violation."
The lawsuit says that the Jefferson County Attorney's Office had explained that the Metro Corrections officers were following policy. Officials were required to "take the inmate's photograph, including pictures of any scars, marks and/or tattoos without compromising the inmate's privacy (i.e., revealing private areas)."
Despite those contentions, the lawsuit says, "Ruplinger had no scars, marks, or tattoos on any portion of her head or neck that were both coverable by her headscarf and requiring photographic documentation."
However, this policy was changed around February 2019, the lawsuit states, and it now allows for "male and female detainees to retain religious headwear while incarcerated, and specifically, during booking photography."
The county attorney's office hasn't replied to a Courier Journal request for comment on this piece of the suit.
Saiyed said now that the policy has been changed, officers need to be trained on how to comply with it.
Reece said there's still public confusion over what is required when people are being booked at a corrections facility.
Federal law doesn't place a mandate on metropolitan jails to take a mugshot, he said, and Kentucky doesn't have any mandatory requirements for booking photograph to be taken.
What booking and jail admissions must include, Reece said, is important identifying information such as gender, height and weight.
On the other hand, Reece said, jails are required to "allow their inmates to practice their religious beliefs freely unless there is some sort of justifiable risk posed to the safety and order of the facility." In this case, he said, there was no question of facility security or safety. "This was simply just an arbitrary requirement."
Because Ruplinger's mugshot was made public through Metro Corrections and published in news reports, the lawsuit says, she was further humiliated.
The suit asks that her mugshot without her hijab be removed from public record and that she be awarded an undecided dollar amount for "damages for physical, mental and emotional pain, suffering and humiliation, now and in the future."
Spokespersons for Metro Corrections and the mayor's office both told the Courier Journal that they cannot comment on pending legal action.
https://www.usatoday.com/story/news/nation/2019/07/31/muslim-woman-sues-over-louisville-jail-photo-taken-without-her-hijab/1885131001/
--------
Advocates Wish Imprisoned Saudi Women's Rights Activist Loujain Al-Hathloul A 'Happy' 30th Birthday
31 July, 2019
Human rights defenders on Wednesday wished imprisoned Saudi activist Loujain al-Hathloul a "happy" 30th birthday - the second Hathloul has spent behind bars since being jailed last year.
The Saudi women's rights activist is one of 11 women detained in May last year amid a wide sweeping crackdown on dissent.
Hathloul had long campaigned for women's right to drive in the ultraconservative kingdom.
While women were finally granted the right to drive in June last year, Hathloul and other activists including blogger Eman al-Nafjan, retired university lecturer Aziza al-Youssef and preacher Rokaya al-Mohareb were detained and are now part of an ongoing trial.
According to human rights organisations and members of Hathloul's family, the jailed activist has been subjected to torture and sexual harassment while in prison.
But Hathloul's family, friends and fellow human rights advocates hold-out hope that she will be released.
Human rights organisations including Amnesty International, ALQST, MENA Rights, the Gulf Centre for Human Rights, and the European Centre for Democracy and Human Rights (ECDHR) all wished Hathloul a happy 30th birthday on Twitter.
Many social media users repeated Amnesty's call for Hathloul to have a "happy and resilient" birthday, her second behind bars on charges the human rights organisation has called "bogus".
Human Rights Watch's Executive Director Kenneth Roth was joined by the organisation's Middle East research Adam Coogle and others in wishing the activist a happy birthday and protesting her continued imprisonment.
US Congresswoman Suzanne Bonamici also noted Hathloul's birthday, calling the activist's treatment in prison a "clear sign of the human rights violations occurring in Saudi Arabia".
DW Freedom, PEN America and English PEN also noted the day and protested against the activist's continued imprisonment.
Advocates from across the globe came together on Wednesday to wish Hathloul - and her fellow detainees - freedom for the milestone birthday.
https://www.alaraby.co.uk/english/news/2019/7/31/jailed-saudi-womens-rights-activist-loujain-al-hathloul-turns-30
--------
URL: https://www.newageislam.com/islam-women-feminism/dubai-rulers-wife-applies-forced/d/119361
New Age Islam, Islam Online, Islamic Website, African Muslim News, Arab World News, South Asia News, Indian Muslim News, World Muslim News, Women in Islam, Islamic Feminism, Arab Women, Women In Arab, Islamophobia in America, Muslim Women in West, Islam Women and Feminism