New Age Islam News Bureau
17 Nov 2013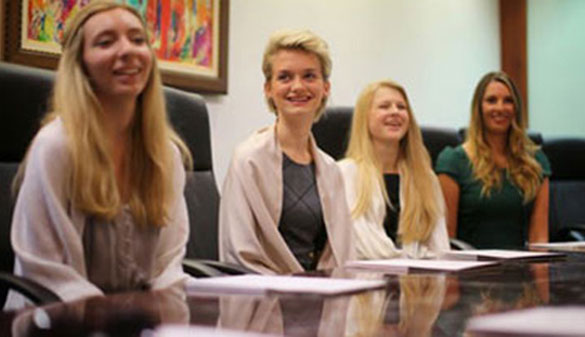 Dubai Launches Its Own Society Event: They were taught how to cut a scone, how to prepare afternoon tea and how to shake hands correctly
-----------
• British 'White Widow' Ordered the Executions of Seven People Including Two Muslim Clerics
• U.N. Women Advert Shows Sexism Is Rife On the Internet
• Kids Pimping Kids for Sex in Indonesia
• 94 percent of Saudis support women's sports
• Arab Spring Nations Backtrack On Women's Rights
• An Emergency Call to End Violence against Women and Girls
• More Than a Woman: Liberated Female Writers Aim High In Fiction
• My 93 Years Fighting For Women's Rights
• Umm Al-Qura Scholarship Student, Dr. Reham Isa Wins Laurels in UK
• Afghan MPs Fighting For Malala's Dream
• Mother Teresa Awards Given To Promoters of Social Justice
Compiled by New Age Islam News Bureau
URL: https://newageislam.com/islam-women-feminism/dubai-launches-its-own-society/d/34445
------------
Dubai Launches Its Own Society Event Where Young Girls Mix With Eligible Men on Private Island
November 17, 2013
It is a tradition perceived by many to be outdated and elitist - with Prince Philip once deeming it 'bloody daft'.
But now the presentation of young debutantes to the aristocracy has been resurrected in Dubai.
Upper-class girls of 'marrying age' have shown off their poise, elegance and grace at The London Season Ball.
Accompanied by eligible male escorts, they wore their hair in elegant knots and donned white dresses as a sign of their innocence and purity.
They also put the etiquette skills they had been taught at The London Season Academy into practice.
The ball, featuring a charity auction and speeches, was held on the exclusive and privately-owned Royal Island, part of the World Islands development off the coast of Dubai, on Thursday.
It attracted about 150 rich, famous and royal guests from Europe and the Middle East region, including X Factor finalist Jahmene Douglas.
Earlier in the day, the debutantes, aged 16 and 20, took part in a range of social, business and etiquette classes at The Emirates Towers.
They were taught how to cut a scone, prepare afternoon tea and shake hands correctly.
They were also advised on codes of conduct by Her Royal Highness Princess Katarina of Yugoslavia, the Duchess of Somerset and Sir Tobias Clarke.
The prestigious event was based on the historic Queen Charlotte's Ball, held annually at the Royal Courts of Justice in London.
Up until 1958, young debutantes used to be presented to the Queen at Buckingham Palace, until Prince Philip pointed out that it was 'bloody daft'.
The event, introduced by King George III in 1780 as a way to celebrate his wife's birthday, was seen as a rite of passage for upper-class girls.
Parents hoped their daughters would meet a potential suitor - with organisers aiming to equip the young women with poise, confidence and social skills needed for their married lives.
However, as well as Prince Phillip's dismissal, the Queen felt such an elitist event was at odds with her desire for a more modern monarchy.
Her sister, Princess Margaret, was also apparently not a fan - reportedly saying: 'We had to put a stop to it - every tart in London was getting in.'
On its website, the London Season Academy says it 'aims to carry on British traditions and promote etiquette'.
It adds: 'Etiquette in a multicultural society is important in helping to navigate social occasions and to avoid unintentional offence when communicating with people from varying cultures.
'It is also paramount in international business situations, where different cultures adhere to entirely different codes of conduct.'
http://www.dailymail.co.uk/news/article-2508673/Debutante-balls-resurrected-Dubai-ex-pats-Arab-royalty.html#ixzz2kxIUjidt
-------------
British 'White Widow' Ordered the Executions of Seven People Including Two Muslim Clerics
November 17, 2013
The fugitive 'White Widow' of a 7/7 London bomber is wanted in connection with seven murders in Kenya, police have revealed.
British-born Samantha Lewthwaite is alleged to have ordered the killings of two radical Muslim clerics, two Protestant preachers, and three others with links to terror-group al-Shabaab.
Kenyan security officials have described her as an 'incredible threat' and said they are working 'around the clock' to bring her in.
Hate preacher Aboud Rogo Mohammed was gunned down in a drive-by shooting while taking his wife to hospital on August 27 last year.
Mohammed was shot 17 times as he drove along, while his wife Khania Said was shot once in the thigh. His father and five-year-old daughter, who were also in the car, were not hit.
Lewthwaite was a disciple of Mohammed's and preached with him at the Masjid Musa mosque in the port-city of Mombasa, converting thousands of Somalis to fight for al-Shabaab.
However, the pair fell out and a war of words began, during which Mohammed vowed to 'get rid' of Lewthwaite, who had become too demanding. He was killed nine months after she was last seen.
His successor, Sheik Ibrahim Rogo, suffered the same fate last month when he was also killed in a drive-by along with associates Omar Abu Rumeisa, Salim Aboud and Gadafi Mohammed.
The killings mark a rift between al-Shabaab and Lewthwaite, with security sources saying there is a power struggle between tribal elders and the White Widow.
Speaking to the Mirror, an intelligence source said: 'Samantha Lewthwaite is fighting for greater control of al-Shabaab which is angering the ­organisation's hierarchy.
'She has become paranoid and ­unreliable to the group after being on the run for so long. They believe her judgement is clouded and she could find herself out on her own very soon.'
Two Protestant pastors, Charles Matole and Ebrahim Kidata, are also believed to have been killed at the request of Lewthwaite.
The body of Matole, 41, was found in the Redeemed Gospel Church in Mombasa on October 19 sitting in a chair and clutching a bible.
He was executed with a single bullet to the head after police questioned him over whether any young men had come to him seeking help after being asked to join al-Shabaab.
Kidata's body was found dumped in bushes in the town of Kilifi, 40 miles from Mombasa, the day before Matole was killed.
The newly-ordained preacher, of the East African Pentecostal Churches, was believed to have been strangled.
East Kenya police commander Aggrey Adoli said: 'We believe Samantha Lewthwaite is behind these killings as well as a gang of others.
'We believe she is involved in ­recruitment of jihadists and propagation of al-Shabaab and Al Qaeda activities in the country with other like minded individuals. Once we apprehend Samantha Lewthwaite she'll have a lot of questions to answer.
'She is without a doubt an incredible threat to national and ­international security. We are working round the clock to bring her in to stop her causing more carnage.'
The officer said she is wanted on charges of 'murder and inciting Muslim youths to violence'.
Seven of Lewthwaite's ­disciples, including a Tanzanian preacher, a Somali national, a Ugandan and three Kenyans, are also being hunted.
Lewthwaite is the widow of 7/7 bomber Germaine Lindsay, who blew himself up on a Piccadilly Line train between King's Cross St Pancras and Russell Square stations.
The mother-of-four was born in Aylesbury, Buckinghamshire, and was the son of a former soldier before converting to Islam.
The convert is linked to the Westgate Mall massacre in Nairobi in which 67 people were killed, and is thought to be hiding in Somalia.
Interpol issued a 'Red Notice' warrant for her arrest shortly after the attacks for terrorist offences in Mombasa dating back to 2011.
http://www.dailymail.co.uk/news/article-2508284/Samantha-Lewthwaite-British-White-Widow-terrorist-ordered-executions-SEVEN-people.html#ixzz2kxrGO5OP
--------------
U.N. Women Advert Shows Sexism Is Rife On the Internet
November 17, 2013
"Women shouldn't have rights." On March 9, 2013, this was the top auto complete suggestion provided by Google when users searched the words "Women shouldn't…"
A new advert, designed for U.N. Women by a Dubai-based agency, uses the example to highlight the sexism many women still face.
When users typed "Women need to," they were prompted with a top suggestion of "Women need to be put in their place." Meanwhile, if a user were to search "Women should" on March 9, the top suggestion completed the sentence with "Women should stay at home."
"We felt that those shocking negative results are needed to be shared," said agency Memac Ogilvy & Mather's Dubai team, developers of the advert.
The commercial depicts a series of women who have the Google search bar, with the auto complete results, superimposed over their mouths.
According to Ronald Howes, managing director of Memac Ogilvy & Mather Dubai, the advert was well-received internationally.
"This has encouraged us to develop it even further, after the global acclaim that is has received," he told Al Arabiya News.
"Gender inequality is still rife in the world including in the Middle East," stated Sabia Fatayri, art director at Memac Ogilvy & Mather. However, she added that the advert aimed "to shed light on the prejudices that women face on a daily basis and hopefully to inspire a conversation about this important issue."
Striking
Nanette Braun, chief of Communications and Advocacy at U.N. Women described why she thinks the advert is so striking.
"We are aware that sexism exists, yet to see it revealed unfiltered in the autocomplete searches on which the ads are based does nonetheless come as a shock and this is what makes the creative concept so powerful," she told Al Arabiya News.
To face this reality, she stated, U.N. Women works to strengthen the role that women play in their respective countries.
The agency is also working to increase women's access to opportunities and resources, to education and health, Braun added.
Google's auto complete feature, that sparked the idea for the advert, sees a list of options automatically produced under the search bar. Those options are based on a number of factors including the popularity of search terms.
"We periodically update our systems to improve [the] search [engine], so the terms that appear in auto complete may change over time," explained Maha Abouelenein, Google's Head of Communications in MENA region.
http://english.alarabiya.net/en/life-style/2013/11/17/U-N-Women-advert-shows-sexism-is-rife-on-the-internet-.html
-------------
Kids Pimping Kids for Sex In Indonesia
November 17, 2013
Associated Press
BANDUNG, Indonesia: Chimoy flicks a lighter and draws a long drag until her cheeks collapse on the skinny Dunhill Mild, exhaling a column of smoke.
Her no-nonsense, tough-girl attitude projects the confidence of a woman in her 30s, yet she's only 17. Colorful angel and butterfly tattoos cover her skin, and she wears a black T-shirt emblazoned with a huge skull.
Chimoy -- by her own account and those of other girls and social workers -- is a pimp.
She got into the business when she was 14. A boyfriend's sister asked her to sell herself for sex, but she recruited a friend for the job instead. Then she established a pimping operation that grew to include a car, a house and some 30 working girls earning her up to $3,000 a month -- a small fortune in a poor country.
"The money was too strong to resist," she says. "I was really proud to make money on my own."
Two years ago in Indonesia, there were zero reports of child pimps like Chimoy who work as the boss with no adults behind the scenes. But the National Commission for Child Protection says 21 girls between 14 and 16 have been caught working as "Mamis" so far this year and there are likely far more.
It's easier than ever. Kids can use text messages and social media to book clients and make transactions without ever standing on a dark corner in a miniskirt and heels.
"The sickening thing is you see 11-year-olds, 12-year-olds, getting into these practices," says Leonarda Kling, Jakarta-based regional representative for Terre des Hommes Netherlands, a non-profit working on trafficking issues. "You think: 'The whole future of this child is just going to waste.'"
Chimoy, who has occasionally worked as a prostitute, and other teens in the sex industry interviewed for this story are identified by their nicknames. The Associated Press does not typically identify children who have been sexually abused.
Recently, in the eastern city of Surabaya, a 15-year-old was busted after escorting three other teens to meet clients at a hotel. Police spokeswoman Maj. Suparti says the girl employed 10 prostitutes -- including classmates, Facebook friends and even her older sister -- and collected up to a quarter of the $50 to $150 received for each call.
She conducted business over the popular BlackBerry Messenger service, earning up to $400 a month, says Suparti, who uses one name like many Indonesians. The girl also met potential clients in malls or restaurants first to size them up.
"She was running her pimp action like a professional," Suparti says.
Human trafficking and sex tourism have long been big business in this vast archipelago of 240 million, thanks to rampant corruption, weak law enforcement and a lack of reporting largely due to family embarrassment or little faith in the system.
The U.N. International Labor Organization estimates 40,000 to 70,000 children become victims of sexual exploitation in Indonesia annually.
Much of this abuse is driven by adults, but poverty and consumerism play a role. Indonesia's have-nots rub up against a growing middle class obsessed with the latest gadgets and the ultra-wealthy flaunting their designer clothes and luxury cars.
It was a smartphone that drove soft-spoken Daus into prostitution at age 14. The son of a factory worker and a street food vendor, the lanky boy says he was soon making $400 to $500 a month for having sex regularly with three women in their 30s and 40s.
"I didn't want to do it, but I had to have the BlackBerry," he says. Indonesia is a social-media crazed country that ranks as one of the world's top Facebook and Twitter users. "If we don't have a BlackBerry, we feel we are nothing, and we are ignored by our friends."
But the biggest issue is not money. It's problems at home, including neglect and abuse, says Faisal Cakrabuana, project manager of Yayasan Bahtera, a nonprofit in the West Java capital of Bandung that helps sexually victimized children.
Many girls end up on the street and connect with others facing similar situations. Sometimes they band together and rent a small room or apartment, with one girl emerging as the pimp.
Often she's the one with prior experience. The other girls may pay her in cash, booze and drugs, or simply contribute to the group's rent and utilities, Cakrabuana says. In other cases, no money is collected at all from pimps, some of whom continue to receive support from well-off parents.
Chimoy was an only child living alone with her mom. She says her father was always gone, taking care of his four other wives. Polygamy is not uncommon in Muslim-majority Indonesia.
She recalls with a proud smile how she was always among the top students in her class, with a knack for business and cooking. At one point, she even opened a small shop selling traditional spicy crackers.
In sixth grade, Chimoy was already running with a tough, older crowd. She was drinking and regularly using drugs by ninth grade, when she dropped out of school to manage the prostitution business full time. She got pregnant and had her first daughter at 15. The second baby came a year later.
Chimoy worked at karaoke bars, sometimes also selling herself, and racked up a list of clients. Money began to flow, and so did the drugs: She became hooked on crystal methamphetamine, known here as shabu shabu.
First she had three girls working for her, and later many more. Most were 14 to 17 years old, but some were in their 20s. All waited for her call to meet a growing list of local and foreign customers in the popular tourist town of Bandung.
"We rented a house to live together," she says. "It makes life easier to yell out: 'Who wants this job?'"
Customers called or sent texts asking for a specific type of girl: tall or maybe light-skinned. Facebook was sometimes used to display photos of the girls, but Chimoy says no services were offered directly online.
Once, she says, a client paid around $2,000 plus a BlackBerry and a motorbike in exchange for a girl's virginity. Chimoy pocketed $500 from that deal.
Nuri, a chopstick-thin 16-year-old with long auburn-dyed hair, says Chimoy is family and never demands a cut of her earnings. The girls decide how much to pay her. A high school motorbike gang serves as their muscle.
"She's different from my previous adult pimps because money doesn't matter to her, but my safety means everything to her," adds 16-year-old Chacha, who started selling sex three years ago at a karaoke bar in western Indonesia.
Prostitution operations around the world are typically led by adults, but enterprising teens in many countries have figured out how to get money for sex on their own, says Anjan Bose of ECPAT International, a non-profit global network that helps sexually abused children.
Well before smartphones and social media, school girls in Japan, often from middle-class families, left their numbers at phone booths near train stations for men to call. Today, Bose says children as young as 13 in the Dominican Republic earn more than their teachers selling sex for everything from free car rides to mobile phones. In Thailand and the Philippines, teens go online and strip or perform sex acts in front of webcams, often for customers in Western countries.
© 2013 The Associated Press. All rights reserved. This material may not be published, broadcast, rewritten or redistributed.
http://www.thonline.com/news/national_world/article_6f97d2be-e0b2-5fb2-81c8-434d62ca829f.html
-------------
94 percent of Saudis support women's sports
November 17, 2013
DAMMAM — Saudis still remember very vividly the fall of Wijdan Shahrkhani, a female judo player, during the London Olympics of 2012. Though her fall meant her certain defeat, she was not worried about losing the competition. All she was concerned about was that her Hijab (head cover) did not fall off so that millions of viewers would see her hair.
It was a dramatic scene for a sportswoman who was keen to achieve recognition for herself and her country. What made the scene more dramatic, however, was her insistence to preserve the true image of Saudi women when she focused only on protecting her hair from being seen by others.
Many Saudi men were surprised to see Saudi women competing in world sports. At the same time, they were worried about the image these women might give in an international sports competition, especially as the Games were transmitted live to the entire world. Saudi men are usually skeptical when they come to know about women practicing sports. They will ask: How do these women look? Where do they practice sports? How will others look at them? These questions are often asked by the fathers, brothers, husbands and sons.
A research study, recently published by the Dammam-based Alsharq newspaper, said social norms were preventing Saudi women from openly practicing sports. The study was conducted by Mariam Dujain Al-Kaabi, a Saudi female sociologist, as part of her thesis for a master's degree. The study said women sports in the Kingdom is a pressing need on one hand, and a social disgrace on the other. The thesis came out with 24 recommendations to make women sports in the Kingdom a reality that is socially acceptable. Seven of these recommendations were directed to society and its institutions, 10 to the Ministry of Education and seven to the Presidency of Youth Welfare.
Al-Kaabi said through these recommendations, a positive picture about women sports in the Kingdom could be conjured wherein Saudi women could obtain this natural right without causing any negative social setbacks. The study covered 312 Saudis working in the field of education, of whom 52.3 percent were male and the rest female. About 73.5 percent of the surveyed people fully supported women sports while 20.6 percent of them said yes to women sports to a certain extent only. This means that about 94 percent of the surveyed Saudi men and women in general have expressed support for women playing sports.
The study said close to 50 percent of the surveyed men occasionally practice sports, while 35.2 percent do it regularly three days a week and only about 8 percent of the women have a go at it at all. Al-Kaabi believes that some norms and traditions in society are hindering women from practicing sports and said some men view women sports as an alien culture, which is against the nature of women.
According to the study, 94.4 percent of the surveyed people have stressed the importance of sports for women, against 4.9 percent who did not see any significance for women sports. The study said expensive sportswear is another reason why a number of female students are being cut off from sports.
Al-Kaabi said women will be encouraged to practice sports when the government establishes special sports clubs for them and provides them with transport.
Recommendations to society Conducting further studies on cultural and social factors against women sports in the Kingdom, while spreading awareness among Saudi women about the usefulness of sports.
Reducing the number of women sports centers in private hospitals because they are after financial gains rather than providing good services.
Host Saudi women champions on television to talk about their sports achievements.
Establishing protected sports facilities for women in public parks and beaches.
Initiating physical education departments in girls colleges and universities.
Big companies should cooperate with concerned government sectors to provide financial support for women sports.
Intensifying awareness about the importance of sports for women.
Recommendations to the Ministry of Education
Introducing sports classes in all government girls' schools.
Providing playgrounds for students inside girls' schools.
Including physical education as a compulsory subject in the curricula of all educational stages.
Approving sports activities outside regular classes.
Providing a budget for sports activities in girls' schools.
Preparing girls' schools to be safe havens for students and other women to practice sports as an after-school activity, with the provision of special female sport supervisors.
Attracting Saudi women teachers to teach physical education in girls' schools.
Establishing women sports clubs.
Cooperating with the Health Ministry to spread awareness on the importance of sports for maintaining general health.
Promoting the educational values of sports.
Recommendations to the Presidency of Youth Welfare
Opening female sections in all the presidency's offices all over the Kingdom.
Benefiting from the experiences of the neighboring countries in supporting women's role in sports. Designating some of the existing sports facilities for women until exclusive clubs are built for them.
Establishing sports clubs especially for Saudi women.
Supporting women sports clubs with national female cadres.
Providing integrated playgrounds for women at nominal prices.
Enabling Saudi sports women to compete in international events.
The study covered
312 Saudis working in the field of education of whom 52.3 percent were male and the rest female. About 73.5 percent of the surveyed people fully supported women sports while 20.6 percent said yes to women sports to a certain extent only. This means that about 94 percent of the surveyed Saudi men and women in general have expressed support for women playing sports.
http://www.saudigazette.com.sa/index.cfm?method=home.regcon&contentid=20131115186720
-----------
Arab Spring Nations Backtrack On Women's Rights
By Reuters
November 17, 2013
Arab women played a central role in the Arab Spring, but their hopes the revolts would bring greater freedom and expanded rights for women have been thwarted by entrenched patriarchal structures and the rise of Islamists, gender experts in the countries say.
Almost three years after popular uprisings toppled autocratic leaders in one of the most conservative corners of the world, a Thomson Reuters Foundation poll on 22 Arab states showed three out of five Arab Spring countries in the bottom five states for women's rights.
Egypt emerged as the worst country to be a woman in the Arab world today, followed closely by Iraq and Saudi Arabia. Egypt scored badly in almost every category, including gender violence, reproductive rights, treatment of women in the family and their inclusion in politics and the economy.
Arab Spring countries Syria and Yemen ranked 18th and 19th, respectively – worse than Sudan, Lebanon, the Palestinian territories and insurgency-hit Somalia, which scored better on factors such as political and economic inclusion, women's position in the family, reproductive rights and sexual violence.
Libya and Tunisia came in 9th and 6th.
But while the situation is dire, some activists saw reasons for optimism. For one thing, the revolts led more poor women and those on the margins to be aware of their rights.
Women's rights have traditionally been a concern of the "intellectual elite" in Egypt, where many are illiterate and live below the poverty line, said Nihad Abul Komsan, head of the Egyptian Centre for Women's Rights.
"We used to suffer from the fact that talk of women's rights came across as talk … limited to the creme-de-la-creme ladies of society," she told Reuters."But the big challenge women faced led to women's issues being discussed on the street by ordinary women and illiterate women."
SURPRISE RESULT
The questions to 336 gender experts invited to take part in the poll were based on key provisions of the U.N. Convention to Eliminate All Forms of Discrimination Against Women, which all Arab Spring states have signed or ratified. The polling took place in August and September.
Egypt's ranking below Saudi Arabia, where women are banned from driving and need permission from a male guardian to work or travel, reflects widespread concerns about harassment, which was mentioned by almost every respondent as a major issue.
A U.N report on women in April said up to 99.3 per cent of women and girls in Egypt are subjected to sexual harassment.
Samira Ibrahim, a pro-democracy protester who was subjected to an invasive virginity test while in detention when the military council was in power after Hosni Mubarak's ouster, said "harassment is the biggest problem facing us now".
But the ranking also indicates a surge in violence and a rollback of freedoms since the 2011 uprising, experts said.
The Muslim Brotherhood's rise to power in Egypt, culminating with the election of President Mohamed Mursi, angered many prominent activists who say the Islamist group infringed on women's rights.
A year into office, Mursi was toppled in a military takeover after mass protests against his rule.
While there is a slight improvement in political participation for women under the army-backed interim government, there is still a long way to go, some analysts said.
"The whole image of women during Mursi's rule was that a woman is a mother who should be bearing children and that is the most important thing," Fatma Khafagy, who heads the Ombudsman office for gender equality in Egypt, told Reuters. "The whole discourse was against women's rights and gender equality."
The Brotherhood warned that a U.N. declaration on women's rights could destroy society by allowing a woman to travel, work and use contraception without her husband's approval and letting her control family planning.
"Things changed after Mursi was removed – for the better. At least these threats were not there. However, I do not see much increase in women in decision-making," Khafagy said.
COST OF CONFLICT
In Syria, ranked fourth-worst in the poll, women's rights have been hit badly in a country torn apart by 2-1/2 years of civil war that has killed more than 100,000.
"Women are suffering the most," said Susan Ahmad, an opposition activist who works in Damascus. "Many men died and women are playing the role of men to take care of their children."
Many Syrian women worry about the influence of militant Islamists who have taken control of some rebel-held areas.
"The only thing women want now is to be safe," said a woman who was a student in Damascus University when the revolt first broke out in March 2011 and who had joined some of the first protests that took place in the capital.
"I feel like I have to wear a headscarf," she said. "We are scared of what Islamists will do … The Islamists want women to cover their lives, not just their bodies."
Women in Yemen are pushing for a minimum quota for representation in parliament in discussions at national reconciliation talks in a country still longing for stability nearly two years after a revolt ousted the president.
Yemeni women in particular face an uphill battle for rights in the largely conservative country where child marriage is still common in rural areas. Al Qaeda in the Arabian Peninsula, which espouses an extremist view of Islam, is also a threat.
"There are voices that are trying to suppress women as in other Arab countries," said 2011 Nobel Peace Prize winner Tawakkul Karman from Yemen, which ranked 18th out of 22 in the Thomson Reuters survey.
"They are trying to obliterate … her participation in the revolution and in building a mature civil society," she told Reuters by telephone from Sanaa. But she added conservative voices were "decreasing day by day".
ROLLBACK OF RIGHTS
Tunisian activist and blogger Lina Ben Mhenni, who has been nominated for the Nobel peace prize, said she was worried about women's status under the Islamist-led government.
"The status of Tunisian women is worse under the Islamist-led government," she said. "Islamist extremists are playing the role of religious police and exerting pressure on girls."
Last April, hardline Islamists threw stones and bottles at young women in a student hostel in Tunis to stop them staging a performance of dance and music.
In Libya, two years since the fall of Muammar Gaddafi, tribal and Islamist leaders are embroiled in a struggle over the post-revolution spoils.
"I am worried that those who exploit Islam will come to power and want Libya to be like Afghanistan, Saudi Arabia and Somalia," said Dina Razzouk, a Libyan rights activist.
"It's a very fanatic and traditional society."
The Egyptian Centre for Women's Rights's Komsan said momentum continued to build for improvements, however. "Advocacy for women's rights is much more active than before," she said.
Amal Abdel Hadi, head of the board of trustees of the New Woman Foundation in Egypt, said it was important not to feel defeated.
"These days it's very depressing, so if you don't push yourself to see the positive aspects that we are working for in the longer term, you die," she said.
"The revolutions have not failed women because they gave women the chance to be there and to see that if they don't force themselves into the space, they won't achieve. We have to force it."
http://gulfbusiness.com/2013/11/arab-spring-nations-backtrack-on-womens-rights/#.UolpO3C-rXB
-------------
An Emergency Call to End Violence against Women and Girls
November 17, 2013
Sixteen-year-old Fatoumata* from Mali was gang raped by a group of soldiers who forced their way into her house, while her mother was out. "One group would come in while the other stood guard," she said. "It lasted a week then they threw us out and left".
Fatoumata is one of many young girls living with the double trauma of experiencing sexual violence during a conflict or emergency. She's not alone in this: around the world, 1 in 5 girls under the age of 15 experience sexual abuse.
This week the Secretary of State for International Development has made a high-level call to action to end violence against girls and women in emergencies. In the space of this one week, an estimated 8064 women and girls will be raped in the DRC alone.
Violence against women and children tends to increase in conflicts and emergencies. The social dynamics which lead to systemic abuse and subjugation are often exacerbated. In Afghanistan, thousands of women attempt suicide due to domestic abuse and disempowerment, leaving their children behind; many of their daughters will grow up to the same fate.
In displaced communities in Sierra Leone, girls are chosen to collect firewood because the boys are at a higher risk of being killed or recruited in the process. This leaves girls more vulnerable to sexual attacks. This week will see a host of commitments from the international community to address such systemic violence.
UNICEF has made a global commitment to preventing and responding to violence against women and girls through targeted services, materials and supplies and by addressing social norms. For example, a three-year programme in Somalia and South Sudan is addressing the attitudes which result in abuse against women and girls. Without behavioural change, people will not seek justice or use the legal and support services available to them.
The UK Government's Preventing Sexual Violence Initiative (PSVI) is setting out to end impunity on rape as a weapon of war. High-level action and policy change is critical for prosecution and promoting justice. The Department for International Development has affirmed the importance of behaviour change in preventing sexual violence at local level – but what about the space in-between?
One missing link appears to be in providing wide-scale, long-term, effective responses to trauma. By ignoring children's experiences of trauma, we are curtailing their rights as well as their potential to be future "agents of change". The key challenge and opportunity is linking these agendas to create local, national and international environments where sexual violence against children is not a norm, tolerated or a "weapon of war".
http://blogs.unicef.org.uk/2013/11/15/an-emergency-call-ending-violence-against-women-and-girls/
-------------
More Than a Woman: Liberated Female Writers Aim High In Fiction
Niken Prathivi, The Jakarta Post
November 17 2013
After the awakening of Sastra Wangi (fragrant literature), women writers have been writing on large canvasses, exploring themes beyond themselves and their own lives.
From Marah Rusli's Sitti Nurbaya to Djenar Maesa Ayu's Mereka Bilang, Saya Monyet! (They Say I'm a Monkey!), Indonesian literature has witnessed a thriving women's movement in the patriarchal society.
Established in the early years of the 20th century in Padang, West Sumatra, the novel was a tragic romance in which the protagonists, Sitti Nurbaya and Samsulbahri, are forced apart due to the shackles of local tradition and patriarchy against the backdrop of the revolutionary war against the Dutch.
The country's proclamation of independence did not translate into women's freedom or equality. It actually complicated the shackles in the name of conservative Europeanized society, religion and military pressures.
Djenar's work, in the form of a collection of short stories published just four years after the downfall of Soeharto, was the pinnacle of the sastra wangi literary movement, which was propelled by women writers writing about sexuality, politics and urban life.
After Ayu Utami's seminal work, Saman (1998), which openly discussed political and military oppression under Soeharto's New Order regime via graphic sex scenes, Djenar wrote about sexual and physical violence against women and children, as well as using her craft to challenge the prohibition of women smoking and drinking alcohol in the Muslim-majority country.
The liberation of women in literature brought about by the sastra wangi movement was in some ways similar to F. Scott Fitzgerald's Jazz Age, in which he portrayed flapper girls, women who had their hair cut in a bob, went to bars to smoke and drink and enjoyed carefree sex lives; something that was completely alien in post-World War I America, where the selling and drinking of alcohol was illegal.
Since sastra wangi was launched, however, there was no turning back in women's literature. From empowered women who consciously surrender to commercialism in chick lit novels to religious freedom, Indonesian women began writing about overarching themes and topics.
Despite religious and coming-of-age themes that began to dominate local bookstores, women writers shed light on the anomalies created by the country's diversity.
"After 1998, freedom wasn't just found in journalism but also in literature," said Ibnu Wahyudi, a literary expert at the University of Indonesia, adding that gay and lesbian themes were also found in women's literature.
Pop-novel pioneer Clara Ng, he said, wrote on diverse topics from the dilemmas faced in a Chinese-Indonesian family (Dimsum Terakhir, The Last Dimsum) to lesbianism (Gerhana Kembar, Twin Eclipses). Another pop novel author Alberthiene Endah also portrays lesbianism in Detik Terakhir (The Last Second).
Women's sexuality, despite its still being a major political battle in the country, is no longer the face of current Indonesian literature. Writers also explore socio-political issues and religion in their works.
"Women writers are continuing to widen their response to issues and things outside themselves," said sociologist and literary observer Robertus Robet, referring to history as well as socio-political issues that encompass the portrayal of women in literature.
Novels like Amba by Laksmi Pamuntjak and Pulang (Homecoming) by Leila S. Chudori detail the political upheaval involving the Indonesian Communist Party (PKI) in 1965.
Ibnu said their works offered alternate points of view to the familiar, politicized history in the country.
"We're in a state of rethinking and reconsidering things. Like the 1965 tragedy, for example, we need to consider it again […] what happened in 1965 might actually be different from Soeharto's version," he said.
Ibnu also mentioned Entrok, a debut novel by young writer Okky Madasari, which also deals with sexuality and political issues. "Entrok actually means bra [in Javanese] but the narrative says so much about politics."
Esti Budihapsari, an editor with Mizan publishing, said that feminism was still a key element in works by women writers. She, however, referred to the writers of the 1990s as "a spoiled generation", compared to previous generations.
"Writers during the 1990s didn't struggle as much as Nh. Dini," she said, referring to the extensive social limitations the latter faced in her day. "Today's writers have far greater opportunities and freedom to make their own choices," she added.
Nh. Dini was a female author who wrote about women during the Soeharto era. Despite being less political, her works voiced the concerns of many women during that era, including struggles such as becoming financially independent, finding the right man and the challenges of living abroad.
Okky, who released her latest novel Pasung Jiwa (Shackled Soul) this year, said she never consciously strove to portray women's issues in her work.
"My work always presents problems in our society. Those problems may be anything, from injustice to freedom and everything related to humanity," she said.
She said she believed each man; woman and transgender person faced their own problems.
"However, we still have a patriarchal system and women are trapped in layers of problems. Women become the objects of rules; they are repressed and lose their rights in the name of religion or they lose their freedom in the name of tradition; while the state legitimates this foolishness with laws," Okky said.
She added that fewer books today spoke about women and the plundering of their basic rights.
"We often see literature about women that impair and immerse the women themselves, such as when women are portrayed as objects of consumerism."
http://www.thejakartapost.com/news/2013/11/17/more-a-woman-liberated-female-writers-aim-high-fiction.html
-------------
My 93 Years Fighting For Women's Rights
November 17, 2013
DUBAI // When she was 7, Mariam Behnam's grandmother took her to see a doctor because she wasn't like all the other girls. She was always asking questions, and going out to climb trees and play marbles. The doctor told her grandmother there was nothing wrong with the child, but something wrong with everyone else.
Mariam Behnam has spent all her 93 years fighting to empower women. A second child, she was born in Iran into a family of Emirati pearl merchants.
Her family was expecting a boy. "A girl again, they said. I think that affected me as I grew up. Being the second child, and worse, a female, I wasn't considered important."
Her mother died when Mariam was only 10. Her grandmother raised her and her siblings. "I didn't have a good relationship with my grandmother, we were always at odds. I disliked my older sister, she always obeyed and was scared of everything. I would always play tricks on her and scare her.
"I should have been born 50 years later," she says, beaming a childlike mischievous grin. "I wanted to learn classical dance. So I would tell my grandmother I was going for Islamic studies, but I went to learn dancing."
Mariam was the first woman to earn the post of cultural consul from the Iranian government in the 1960s, and cultural attaché to the Iran Cultural Centre in Lahore, Pakistan. She has published poetry in Farsi, Urdu and English, and is now senior adviser to the Dubai International Women's Club.
At her home in Dubai all her possessions have a story, and none are there simply for looking good. The sitting room displays art and antiques from Persia, India, Pakistan and Arabia, all of her cultural influences; the room is a walk-in memoir.
"I realised what I wanted in life. I dreamt about it, I planned for it, and I spent all my effort to achieve it," she says, suddenly full of energy. "The one thing I hate is wasting time.
"There needs to be a revolution in women's thoughts."
There is fire in her eyes, and passion in her voice. "Women are still not doing enough, they can do much more; they have to do much more. Don't expect to have everything brought to you.
"What women say is law at home. How can you expect to ignore them? Besides, what do men do when they sit together? They talk about women."
Education has always been Mariam's favourite tool. Growing up she read any book she could find.
"I see these days that in some parts of the world history is starting to repeat itself. When I was young, there were no colleges for women; girls only studied to the sixth grade, but the boys went to university. Tell me, when they come back and marry, do the minds meet?
"Educate a man and you educate one person, but educate a woman and you educate a generation.
"She is looking after and raising the new generation. They will learn from her, carry on her knowledge and experiences."
When Mariam was a child most girls were home taught, but she watched the boys going off to school and thought: "Why do only they get to be doctors and engineers and scientists? I fought to get into public school."
She went on to obtain her master's in English literature from Punjab University.
"Women are their own boss, they are in control today. Born bosses, even if they don't go out to practise anything, they rule their four walls. But she has to believe in herself first.
"We have better mothers these days. They are more understanding, more giving, more vulnerable.
"I have a very good relationship with my granddaughters. I felt so proud when one of them introduced me to her friends, she thought I was worthy of that, to bring me into that circle."
Mariam made Dubai her home 33 years ago. She loves to go to Bastakiya and trace her roots.
"I've been passing through Dubai for 80 years to get to other parts of the world. Life here for me has been very rewarding. I would never exchange this country for any other part of the world. They call this place Ardh Al Barakah, the blessed land.
"So many life changes in one life is not possible; I must've gone and come back," she jokes.
But Mariam doesn't feel as if she is done yet. She is working on her fifth book. "This one is also fiction, but as you know all fiction has its roots in fact."
She is also trying to have her book Heirlooms, a collection of eastern folk tales, republished.
"I also wanted to write something about Dubai. If I am given the time, I would really like to do that. I've seen this place go through a metamorphosis from this small merchant city to a metropolis. I thank god that people have not lost their culture to be something else."
Mariam says many people sell themselves short, and don't release what they are capable of. "You have to be aware of your value. Always remember that you are important."
malkhan@thenational.ae
http://www.thenational.ae/uae/heritage/my-93-years-fighting-for-womens-rights#ixzz2kxDCm0bW
-------------
Umm Al-Qura Scholarship Student, Dr. Reham Isa Wins Laurels in UK
November 17, 2013
MAKKAH – Dr. Reham Isa Al-Haratani, a female scholarship student from Umm Al-Qura University, has obtained her master's degree in paediatric dentistry with first class honours from King's College London for her thesis titled "Children's behaviour when they wake up from dental operations under general anaesthesia."
President of Umm Al-Qura University Bakri Ma'touq Assas congratulated Al-Haratani in the presence of Dean of the Faculty of Dentistry Dr. Mohammed Mustafa Beyari.
In a telephone call he made from his office at the university, Assas praised her academic achievement and said it shows the level reached by female Saudi students in general and Umm Al-Qura students in particular.
He prayed for Al-Haratani's success in her pursuit of knowledge and said her return was eagerly awaited so she can serve her religion, the king, country, society and the university. He also lauded the care and attention the government of Custodian of the Two Holy Mosques King Abdullah provides to both male and female students.
Beyari said Al-Haratani is the best example for female students in the faculty. He said her master's thesis has received a lot of attention from the Society of Pediatric Dentistry in the United Kingdom. It was presented by Al-Haratani at the annual conference of the society.
"Dr. Al-Haratani has exerted a lot of efforts and proven herself. Her hard work has led to her being appointed a basic member in a clinical experiment in the field of general anesthesia for the treatment of children's teeth under the auspices of the National Institution for Health and Scientific Research in the UK."
Beyari added that the faculty has a strong base of distinctive staff comprising over 60 male and female demonstrators who were appointed during the past three years.
http://www.saudigazette.com.sa/index.cfm?method=home.regcon&contentid=20131117186903
-------------
Afghan MPs fighting for Malala's dream
Ankur Tewari, TNN | Nov 17, 2013
AHMEDABAD: In January 1991, 28-year-old Shukria Paikan Ahmadi hid in a windowless room, shielding her nephew while shots rang outside their home in Afghanistan. In the 1990s, when their country was under Taliban rule, 12 members of her family, including her brother and uncles, were gunned down by the fundamentalists. According to the Taliban, the 'sin' of those they had killed was that they had sent Shukria to school.
Ahmadi and many other women like her have been fighting fundamentalist elements for the right of girls to education. They are no different from the 16-year-old Pakistani girl activist, Malala Yousafzai, whose story is too well-known to require repetition. Malala was shot in the head by the Taliban while returning home on a school bus, and was saved only because she was rushed to UK for medical treatment in time.
Shukria Ahmadi and Sayeda Asifa Zafer Shadab are MPs of Afghanistan currently in Ahmedabad as part of the Afghan delegation for T20 Cricket League of the Indian Premier Corporate League. They talked to TOI about their struggle against tyranny and oppression and their journey from being schoolgirls to becoming MPs of their country.
Ahmadi said she had lost 12 members of her family under the Taliban. "The only fault of my family members was that they wanted to provide me with basic schooling. Encouraged by my family, I went to school which is quite unusual in societies where girls are undervalued," said Ahmadi, MP from Kunduz province in northern Afghanistan.
Her family, which still feels traumatised by memories of the murderous Taliban years, is under constant threat from fundamentalists. She said that families seeking education for girls feel intimidated. "We are threatened by the Taliban. But I will not be shaken and, against odds, have been sending my daughters to school," she said.
For 45-year-old Shadab, it was a defining moment when masked militants fired rockets at Faryab Higher Education Institute where she taught economics. "As Malala has said, great leaders are defined by how they react in tough times. I took on the Taliban through my outspoken appeals to girls. Once I barely escaped death while fighting for my students, most of whom were killed in the attack," Shadab said.
The odds against which she works have failed to dissuade Shadab who represents Faryab province in the Afghan Parliament. (Faryab is on the border with Turkmenistan.)
"I am planning to send two of my three daughters for higher education in India. I feel that female education is a powerful transformative tool for societies. If girls are educated, they will be able to change the world for the better," said Shadab.
After four decades of war, a revival of sports is taking place in Afghanistan and these women MPs are leaving no stone unturned to promote it among the youth, especially girls. They are promoting taekwondo and cricket in their constituencies. "My daughter, too, likes taekwondo and has won several medals in state-level competitions. I hope my efforts don't go in vain," said Shadab.
http://timesofindia.indiatimes.com/world/south-asia/Afghan-MPs-fighting-for-Malalas-dream/articleshow/25915322.cms
-------------
Mother Teresa Awards given to promoters of social justice
November 17, 2013
Mumbai, India,(CNA/EWTN News).- The Harmony Foundation, based in Mumbai, on Oct. 27 conferred its Mother Teresa Awards on eight individuals and an organization for their work towards social justice and peace in the world.
"We strive to restore belief in compassion and egalitarianism that highlights the various endeavors taken up by individuals and NGOs to promote peace and strengthen humanity as a whole," Abraham Mathai, who founded The Harmony Foundation in 2005, told CNA.
Given that there are so many awards given to those in cinema, music, sports, and corporate excellence, Mathai considered that it would be right to "appreciate and acknowledge" those who work for social justice and peace.
"There could not be a better name than Mother Teresa," he said. The awards were praised by Sr. Nirmala, superior general of the Missionaries of Charity from 1997-2009, who said that naming the award for Mother Teresa reflects an "appreciation of our Mother and her humble works of love among the poorest of the poor."
Mathai established The Harmony Foundation to build up communal harmony among various groups, especially in India, working without discrimination of caste, creed, or sex. The foundation partners with its patrons Tushar Gandhi, great-grandson of Mahatma Gandhi; Mahesh Bhatt, a Bollywood producer; and Vishnu Bhagwat, an Indian admiral.
This year's recipients were Fr. Cedric Prakash; Indian Rescue Mission; Sindhutai Sapkal; Diep Saeeda; Hanumappa Sudarshan; Arunachalam Murunganatham; Sushmita Sen; Sam Childers; and Maulana Mahmood Madani.
Childers protects and rescues orphans in South Sudan and Uganda who would be in danger of recruitment as child soldiers. Born in the U.S., Childers became involved with drugs and motorcycle gangs, but converted to Christianity in 1992.
Since a 1998 trip to Sudan, Childers has devoted himself to caring for east African children affected by war and other violence. Accepting the award in Mumbai, he said, "this award belongs to the thousands of children in war-struck Sudan, and in many other parts of the world, who live a daily life with the constant fear and threat of attacks."
Fr. Cedric Prakash is a Jesuit who has served India's marginalized minorities, and Indian Rescue Mission is an organization which rescues girls sold into prostitution. Sindhutai Sapkal has devoted herself to caring for orphans, and Diep Saeeda is Pakistani activist for women's rights.
Hanumappa Sudarshan is a physician who serves tribal communities in South Asia, and Arunachalam Murunganatham is an entrepreneur who developed a more cost-effective means of producing feminine hygiene products, providing both employment and better health care for the women of rural India.
Bollywood actress and former Miss Universe Sushmita Sen was awarded for her social outreach campaigns, including advocacy for educating special needs children. Maulana Mahmood Madani is a Muslim politician in India who advocates for minorities and disaster relief, and has been an outspoken opponent of terrorism.
http://www.catholicnewsagency.com/news/mother-teresa-awards-given-to-promoters-of-social-justice/
-----
URL: https://newageislam.com/islam-women-feminism/dubai-launches-its-own-society/d/34445
New Age Islam, Islam Online, Islamic Website, African Muslim News, Arab World News, South Asia News, Indian Muslim News, World Muslim News, Women in Islam, Islamic Feminism, Arab Women, Women In Arab, Islamophobia in America, Muslim Women in West, Islam Women and Feminism