New Age Islam News Bureau
28 May 2022
• French Restaurant in Saudi Arabia Bans Hijab, Causing Outrage
• Sudan Women's Activist Amira Osman Hamed Wins Human Rights Prize
• Istanbul Art Exhibit Celebrates Turkey's Ground-breaking Female Artists
• Fathima Mohiuddin and the Artists Who Are the Face of the Gulf Street Art Scene Aiming To Change the Cultural Mind-Set
• Saudi Arabia's Naif Arab University to Discuss Rehabilitation of Women Inmates
• US State Dept: Kabul's Legitimacy Depends on Women's Rights
• 15-Year-Old Somali Girl Kills Bus Driver For Attempted Rape in Egypt
Compiled by New Age Islam News Bureau
URL: https://newageislam.com/islam-women-feminism/anoosh-masood-woman-lahore-police/d/127116
--------
Dr Anoosh Masood Chaudhry, First Woman To Head Lahore Police Operations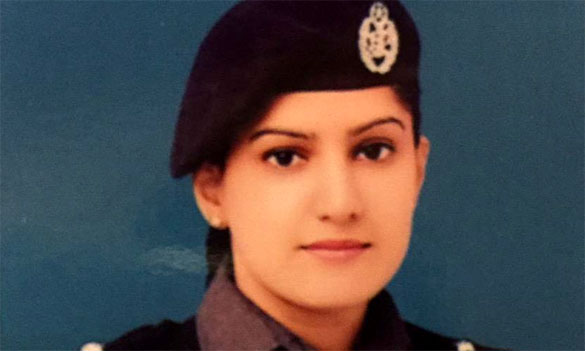 Dr Anoosh Masood Chaudhry. — Photo courtesy Dr Anoosh Masood's Twitter
-----
May 28, 2022
LAHORE: In a first, Punjab inspector general of police has appointed a woman police officer as senior superintendent (SSP) of Lahore's operations wing, besides reshuffling six other officers.
Dr Anoosh Masood Chaudhry has been appointed head of the Lahore operations police vice Mustansar Feroz, who has been directed to report to the Central Police Office (CPO) for further order.
Dr Anoosh is the first woman police officer posted as SSP Operations Lahore. She has served in Lahore as SP in Cantonment and Model Town police divisions, besides serving as an assistant superintendent (ASP).
According to the notification issued here on Friday, awaiting posting SP Ejaz Ahmad has been posted as AIG complaints at the CPO, while awaiting posting SP Mohammad Umar Farooq has been transferred and posted as additional director at Special Protection Unit (SPU).
Awaiting posting SP Shoib Mahmood has been transferred and posted as AIG Logistics at the CPO, awaiting posting SP Mohammad Faisal has been transferred and posted as battalion commander at PC Rawalpindi, and Bahawalnagr SP Farooq Ahmad Awan has been transferred and directed to report to the CPO.
Source: Dawn
https://www.dawn.com/news/1691792/first-woman-to-head-lahore-police-operations
--------
French Restaurant in Saudi Arabia Bans Hijab, Causing Outrage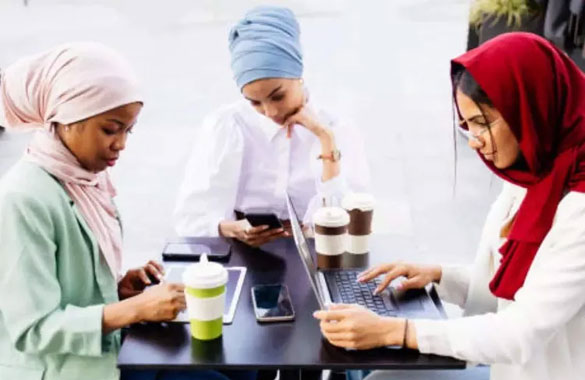 Photo: TNG News
----
May 26, 2022
A French restaurant in Saudi Arabia's coastal city of Jeddah banned the entry of women wearing the hijab or Islamic veil, inciting outrage amongst customers and citizens in the Kingdom.
Bagatelle Jeddah, a branch of the famous French restaurant chain, was reported last week and early this week to have prevented the entry of women who wear the hijab and the abaya, the loose-fitting robe worn by women in the Kingdom. Men who wear the traditional thobe – or long robe – were also reportedly banned from the restaurant.
Following the news from small news outlets and customers' personal experiences, the restaurant received thousands of negative and one-star reviews on Google and Facebook from Saudis. One comment on its Facebook page from a social media user named Ameera Al Qahtani, for example, said it "does not deserve any star. Because it refuses to allow women [wearing] the hijab, and refuses the Saudi dress for men. They need to be kicked out of Jeddah. They don't respect our religion, and this makes me very angry."
Even prior to its apparently recent adoption of that treatment against the hijab, the restaurant had been heavily criticised by many due to its "tasteless" and bland food. Its policies against Islamic and Saudi customs, however, seemed to be the last nail in its coffin, as a Google search shows that it has permanently closed.
The apparent closure of Bagatelle Jeddah seems largely to be the result of the pressure campaign by Saudi citizens against it, but may also be due to an order from the Saudi authorities. Although there was no immediate and public response to the outrage from authorities, some regional news outlets reported that the Public Prosecutor in Jeddah made the decision to close down the restaurant.
The incident comes amid the Kingdom's increased efforts in recent years to attract foreign tourists, especially from the West, to sites within the country. One of those attractions is the Jeddah coastline, of which this controversial restaurant – overlooking the Red Sea – was a major part of, and which likely influenced its policies.
It is the most recent example of concerns regarding the societal tensions resulting from the clash between Saudi society's conservative values and the new era of liberalisation encouraged by the Saudi government to cater to tourists.
Source: Middle East Monitor
https://www.middleeastmonitor.com/20220526-french-restaurant-in-saudi-arabia-bans-hijab-causing-outrage/
--------
Sudan women's activist Amira Osman Hamed wins human rights prize
27 May, 2022
Sudanese women's activist Amira Osman Hamed has won a Front Line Defenders Award for Human Rights Defenders at Risk, the organization announced Friday.
The activist and engineer, now in her forties, has been advocating for Sudanese women for two decades, and was detained this year in a crackdown following the country's latest coup.
She was among defenders from Afghanistan, Belarus, Zimbabwe and Mexico who also received the 2022 award for Human Rights Defenders at Risk.
Osman "never deterred from her mission," Dublin-based Front Line Defenders said in its awards announcement, "consistently (advocating) for democracy, human rights, and women's rights."
After first being charged for wearing trousers in 2002, she drew international support in 2013 when she was detained and threatened with flogging for refusing to wear a headscarf.
Both charges fell under morality laws during the rule of longtime autocrat Omar al-Bashir who took power in an Islamist-backed coup. Osman told AFP at the time that the morality laws had "changed Sudanese women from victims to criminals" and targeted "the dignity of Sudanese people."
In 2009 she established "No to Women Oppression," an initiative to advocate against the much-derided Public Order Law. It was finally repealed in 2019 after al-Bashir's ouster following a mass uprising.
Women were at the forefront of protests that toppled al-Bashir, and hopes were high for a more liberal Sudan as restrictions were removed that had stifled their actions and public lives.
But many fear for the hard-won liberties gained since his ouster, after the October coup led by army chief General Abdel Fattah al-Burhan derailed a fragile transition to civilian rule.
A crackdown on civilian pro-democracy figures has followed, with at least 96 people killed in protests and hundreds detained.
In late January 2022, Osman's team told AFP that "30 masked armed men" had stormed into her house in Khartoum in the middle of the night, "taking her to an unknown location."
The United Nations mission to Sudan called for her release, tweeting that "Amira's arrest and pattern of violence against women's rights activists severely risks reducing their political participation in Sudan."
She was freed in early February and an AFP correspondent saw her participating in a demonstration, kneeling on crutches due to a prior back injury.
The award has honored human rights defenders annually since 2005.
Source: Al Arabiya
https://english.alarabiya.net/variety/2022/05/27/Sudan-women-s-activist-Amira-Osman-Hamed-wins-human-rights-prize
--------
Istanbul Art Exhibit Celebrates Turkey's Ground-breaking Female Artists
Ayla Jean Yackley
May 27, 2022
While visiting the home of the late textile artist Nasra Simmeshindi, acclaimed Turkish artist Kutlug Ataman noticed a strip of her ceiling painted azure blue. Simmeshindi told Ataman that the silsel, or "fluttering of wings" in the Aramaic dialect of southeast Turkey, served as a substitute sky when she could not wander outside. The motif became the basis for Ataman's 2012 tapestry "Silsel."
Now Simmeshindi's own work is on display in "I-You-They: A Century of Artist Women" at Istanbul's Mesher gallery through May 29, an expansive exhibition that seeks to amend the record on who paved the way for Turkish contemporary artists. Curated by Deniz Artun, the show features 117 artists who lived and worked in Turkey between 1850 and 1950, many of them ignored by art historians until now.
"Art history in Turkey has largely skipped past and failed to record many women … leaving them in the shadows," said Artun. "We cannot correct art history with one exhibition. Our objective instead is to open the door slightly, to leave it ajar so that others can push through."
Underrepresentation of female artists in museums, galleries and textbooks is hardly Turkey's problem alone. The nub of "I-You-They" is the seminal essay "Why Have There Been No Great Women Artists?" from 1971, in which the art historian Linda Nochlin skewered the very notion of "Great Art" in a world that long barred half of the population from art schools, salons and apprenticeships.
Researchers at Mesher spent more than two years combing private collections, foreign museums and family attics to select the 232 paintings, sculptures, engravings and photographs. They relied on word of mouth, asking known artists for more connections to discover generations of lost artists.
What emerges is a decidedly egalitarian show, with work by celebrated artists — like the modernist painter Fahrelnissa Zeid, her sister Aliye Berger, an engraver, and their ceramicist niece Fureya Koral — exhibited next to undated, unsigned oil paintings or charcoal sketches. Non-Muslim artists also occupy a prominent place.
The eponymous work is from the early 1990s by Sukran Aziz, in which the words "I," "you" and "they" are written in foil-cut letters on a wooden grid in 13 different languages. Implicit is "we," as the networks that helped Artun and her team build the show run like a thread throughout.
The pronouns serve as signposts for each floor, with portraiture on the "I" level; depictions of family, motherhood and other conventional roles in "You;" and more than 100 works, mostly still-life paintings, hung salon-style in "They," signifying the decorative pastime to which women were largely confined.
Among the portraits is a pencil-on-paper drawing by Belkis Mustafa, the first alumna of the Ottoman fine arts academy after coeducation was introduced. The untitled sketch is of a woman's torso, neck and head, while her face is incomplete beyond the jawline, evoking the invisibility of early Turkish women artists.
Belkis also painted nudes, a rarity in a conservative society, which handicapped early female painters. Yet "I-You-They" includes several examples, such as the hulking female figure in Celile Uguraldim's 1949 "Nude," likely painted from a male model. Uguraldim, who studied under the Italian Realist Fausto Zonaro, spent the last years of her life blind and fighting for the release of her son, the poet Nazim Hikmet. He died in exile in 1963, eight years after his mother's death.
The century covered by the exhibit coincides with Turkey's adoption of Western-style figurative art, the collapse of the Ottoman Empire and the birth of the secular republic. The tumult of the art and political worlds ripples throughout.
Sculptor Iraida Barry was another early student at the Istanbul art academy after her plans to study in St. Petersburg were upended by the 1917 Russian Revolution and she, along with 200,000 other White Russians, fled to Istanbul. Barry's work appeared at the 1937 opening of the Museum of Painting and Sculpture, which houses Turkey's national modern art collection. At Mesher, her confident, organic sculpture includes the plaster bust "A Child's Head," slightly battered by decades of neglect as the artist slipped into obscurity.
Among the groundbreaking photographers is Hatice Sahiye Barlas, who dons a fez and man's suit to stare assuredly into the camera lens and invert the male gaze in her self-portrait from the 1890s. Elisa Pante Zonaro, who was married to the painter, crosses the threshold between the public and private spheres with shots of family life and a sultan's procession.
A child in striped pajamas sits jauntily next to an enormous doll in a portrait by Turkey's first female studio photographer, Maryam Sahinyan, whose "methodological use of props and sets, poses and gestures [were] employed with the rigor and precision of a conceptual artist," according to an earlier essay by Turkish curator Vasif Kortun.
Three of Simmeshindi's textiles, called hetmo by Syriac Christians, are part of the exhibition, including an untitled devotional depiction of St. George from 1995, reminiscent of the curtains she produced for churches. A third-generation block printer, Simmeshindi painted thousands of textiles before her death in 2016 at the age of 92, receiving some recognition in the last years of her life for keeping the centuries-old art form alive.
The "vicious cycle" that kept Turkish women out of galleries and, in turn, out of the studio making art has been largely broken in this century, Artun said. "Now women are visible, and are more making the most exciting work in Turkey. But there remains a great misfortune, that they remain cut off from their roots. To be truly powerful artists, they first need to know where they came from."
Source: Al Monitor
https://www.al-monitor.com/originals/2022/05/istanbul-art-exhibit-celebrates-turkeys-groundbreaking-female-artists
--------
Fathima Mohiuddin and the Artists Who Are the Face of the Gulf Street Art Scene Aiming To Change the Cultural Mind-Set
28 May, 2022
Spray can in her tattooed hand and baseball cap perched in her head, Dubai-born and raised artist Fathima Mohiuddin draws the glimpses from passers-by as splashes colour onto a giant seven-story building on the outskirts of Abu Dhabi.
From the UAE to Qatar, larger-than-life murals are increasingly being splashed on the side of buildings, car parks, and underpasses across the region – and it is women who are behind the street art.
A rising collective of artists across the GCC are aiming to change a cultural mind-set about street art, from its association with graffiti and vandalism to expressive art that's publicly available to the masses.
Mohiuddin is part of the street art scene in the UAE and is responsible for some of the hundred-foot high murals on multi-storey buildings across the country.
Mohiuddin – reputed for her bird-themed series, including one which depicts a falcon in preparation for flight, splashed across a seven-storey building in Abu Dhabi's in Yas Island – said over the past years the UAE has welcomed more and more public art.
She believes this changing mindset is beginning to be echoed across the region.
"There's definitely activity in countries such as Bahrain, Kuwait, Qatar and Saudi already," said the artist. "The thing is that it starts, in theory, as subcultures, underground movement and then surfaces and becomes more publicly noticed and acknowledged.
"In the UAE it's just taken on a strong commercial presence quite quickly. Perhaps because the UAE is very liberal.
"I can imagine women in other GCC countries might face more challenges in this respect. But there was just a street art festival in Qatar, there have been in Kuwait, there are definitely street artists paving the way in Saudi."
Mohiuddin, an Indo-Canadian artist, said her foray into street art began after returning to the UAE from London a completing a masters course focused on art in public spaces.
Her first outdoor mural in the UAE was in 2009 for the Dubai Community Theatre and Arts Centre where Mohiuddin worked as the gallery and project manager at the time. She then, in 2011, founded the artist-run entity The Domino, a platform for street artists in Dubai.
"We started out doing small live pop-up gigs at events, working with brands like Tiger Beer, Red Bull and Adidas. "And I think that's probably where it's progressed the most, painting murals is something a fair few artists are able to do full time now. There is a commercial demand for it, there are corporate budgets and artists can sustain doing just that. In that way, the scale of things has changed a lot."
'The growing street art scene allows artists to connect with a large number of eyeballs in, says Mohiuddin, "a massive way."
"It is also taken more seriously now; we're able to get respectable budgets and it has become a place artists from around the world want to come paint.
"It's important to recognize the journey that got us here I think. It didn't happen overnight. A lot of people worked really hard and handled a lot of challenges to pave the way for where the scene is now."
Mohiuddin, who has about 10,000 followers on Instagram, began to get noticed for her work in the UAE and was approached to display her work globally.
She now has work depicted in 10 counties across the world with her signature style splashed across shipping containers, cars, walls and skate parks in some of the biggest global cities.
To date, she has street art in Dubai, Abu Dhabi, Muscat, Bristol, London, Vienna, Waterford, New York, New Jersey, Toronto, Calgary, Mexico City, and Adelaide.
"I'm always proud of a public wall when I finish it because I know I've worked hard to get there, I know it's still a big deal for women from this part of the world, women of colour, South Asian women.
"And the walls that go on to have a lifespan past a year are really exciting because they have this whole journey of their own after you leave them. You see photos pop up of people posing with them, you know people are having their own kind of experience and dialogue with them and that's a pretty neat feeling that you left something somewhere that now has a life of its own."
As being both a female and a Dubai-born street artist, Mohiuddin said she is often met with surprise when people ask what she does as a career.
"I think the most common response is "cool!". There's a bit of rock and roll to it in some way. I think, particularly because I go by the name' fatspatrol' and my work is not obviously feminine, people do say they were also surprised that 'that' was painted by a woman.
"However, I do also face challenges being taken seriously on work sites sometimes which I think has to do with me being a woman."
Fellow street artist, Assil Diab, who goes by her street artists name 'Sudalove', is known for her work in Qatar.
The 33-year-old Sudanese began graffitiing as a teenager however, she only picked up her first spray can in 2012 when she was commissioned for an art series in Qatar following her Bachelor of Fine Arts (BFA) in the US.
"I took up an internship with Ashghal and Qatar Museums to assist the infamous El Seed (a French-Tunisian contemporary artist whose practice crosses the discipline of painting and sculpture) to paint 52 panels of the Salwa road tunnels in Doha.
"That is where I first picked up a spray can and really picked up all the techniques and never put the spray can down after that experience.
"Ultimately, I set up an Instagram and started posting my work here and there I started to get gigs. I remember I got paid double what I used to make monthly in my office job for a two-week job and I was in love with the art form and the power of expression I felt through it, so I decided to do this for a living in 2014 onwards."
Most of her work in Qatar is commissioned and she is provided with a space or canvas.
"I've painted in Qatar and Bahrain thus far (in the region). I don't see how you can paint freely if it isn't commissioned, the scenes are different. Especially Qatar has vastly grown in the past five to 10 years there are a lot more buildings and construction sites underway. It would be impossible to randomly paint on any wall, and also illegal.
"Personally, I haven't had a problem making a living as a street artist as I would've elsewhere, and I believe that is so for two factors; that there is a lack or a small number of street artists in the region and also people are now more into supporting women's role in the workforce.
"I think some people love commissioning me for the fact that I am a female versus other factors, for example, it is just a little more entertaining to see a woman from this region doing it because it is so rare.
"Street art has always been a male-dominated art form however this is slowly changing and also much more artists in this part of the work are getting into it and the numbers are greatly increasing."
Professional artist Maddy Butcher began spray painting murals shortly after arriving in Dubai from New York in 2011. She has had large works commissioned across the UAE
"When I got to Dubai about 12 years ago, I started going to a hip hop night where I met graffiti artists from Lebanon and the Philippines," she said. "They let me join them for a spray jam and put cans in my hand and let me give street art a proper try.
"I was hooked. If felt like I should have done it years before - and now if I go a week without spraying, I feel like something's missing.
"The beauty of it for me was that even though the piece is on something concrete, it's less permanent - and can only be there until the next piece comes along. I like that - it feels more organic. That started for me in Dubai."
Butcher says she and her fellow street artists in the UAE work with a lot of different types of brands, venues and events who "all recognize that street art is here to stay and is evolving all the time."
"If we want to do private work, that's up to us. As a collective, we all know and support each other - and find lots of permitted spaces to have spray jams that keep us pushing ourselves and evolving. Dubai is full of hidden street art and there are plenty of legal spots to keep us busy."
Butcher would like to see more women and girls painting – and stereotypes about female street artists to change.
"It's still a super masculine art form, and while that's changing - I receive (and mostly appreciate) a lot of attention purely for being a female artist, but often more so than simply being an artist, or for my work on its own.
"But if we're all painting at a live art event - the boys will all be left to do their thing - while the female artists get interrupted by everyone and anyone - men who simply want to talk to a lady, or often - mothers who would like to ask if their children can have a go."
"I get frustrated at that. I want to be accessible, of course, but they won't interrupt the boys - so for a woman artist - they must think she can't be taking it as seriously.
"I get troubled by that because there's an underlying prejudice there that comes from women that perhaps even they don't recognize. I want to do everything I can to make sure more girls see spray-painting as an accessible art form - but I also want us to be taken seriously and recognized equally for what we do."
Butcher also wants to draw the distinction between graffiti and street art.
"Graffiti has to do its thing. It needs to live and breathe at night, with sweat and mischief. Street art is often enabled by brands. It's daytime. It's accessible and it can be whatever it wants.
"It would be nice to have a few legal free-walls like Leake Street in London. I know that would be harder to police - but perhaps if artists registered on some kind of government site - and got a number or code - and that appeared alongside artworks on free walls - the authorities could be comfortable with no images or messages rocking the boat."
As for Mohiuddin, she is in her final weeks finishing a huge project in Abu Dhabi, where she has a string of murals visible from Yas Drive and Sheikh Khalifa Bin Zayed Highway depicting birds in flight.
"I'm super proud of the two projects I've done on Yas Island in the last year, one I'm hoping to complete in the next month or so. They're both huge in scale. I've really enjoyed painting them and painting in the country I grew up in and call home is definitely always more meaningful."
Mohiuddin wants to show the distinction that needs to be made between graffiti and street art.
"Graffiti is motivated by rebellion, to some extent. And there are graffiti artists in the UAE who stay true to what it represents. Some street artists come from a graffiti background. Some street artists come from a fine art background and just see public walls as one of many mediums or canvases for their work like I do.
"The word 'graffiti' does get thrown around without an understanding of that distinction. Graffiti itself has become a tourist attraction in a lot of major cities like graffiti alley in Toronto or Hozier Lane in Melbourne or the Southbank Skatepark in London because these are free for all spaces where artists congregate and paint and represent a visual history or narrative that belongs to that city and the artists who paint it.
"It would be great to see something similar here."
Source: Al Arabiya
https://english.alarabiya.net/News/gulf/2022/05/28/Off-the-wall-The-artists-who-are-the-face-of-the-Gulf-street-art-scene
--------
Saudi Arabia's Naif Arab University to discuss rehabilitation of women inmates
May 28, 2022
TUNIS: Naif Arab University for Security Sciences is organizing a five-day seminar on how to rehabilitate and develop female workers in prisons and rehabilitation institutions, in cooperation with the Tunisian General Directorate of Prisons and Rehabilitation, on May 30 in Tunisia.
The seminar aims to identify the latest methods of administrative and security organization for women's prisons and reform centers and to introduce the modern skills needed for female workers in prisons to raise their levels of performance.
During the event, NAUSS will identify the most prominent challenges in prisons and means to address them, with a focus on the latest rehabilitation and reform programs and reintegration provided to female inmates.
The symposium aims to identify the best methods of psychological and social care for released inmates, and to discuss strategies for effective security management in prisons and rehabilitation facilities, as well as reform, rehabilitation and follow-up programs for female inmates.
NAUSS is keen, through its research, to promote and develop alternatives to freedom-depriving punishments within criminal legislation and to allow criminal justice agencies to apply them as alternative punishments in addition to working on "humanizing punishment."
The university discussed several master's and doctoral theses, and issued several refereed scientific studies in that regard.
Source: Arab News
https://www.arabnews.com/node/2091216/saudi-arabia
--------
US State Dept: Kabul's Legitimacy Depends on Women's Rights
May 28, 2022
The US State Department criticized the Islamic Emirate policies on women and girls, saying that these strategies will have a negative impact on the relations of the Islamic Emirate with Washington and the world.
"The legitimacy, the support the Taliban seeks from the international community, it depends on their conduct including centrally and centrally their respect for the rights of women when it comes to the public and private commitments that the Taliban have made. They have made a number of them, including their counterterrorism commitments, including their pledge to respect and to uphold the human rights of women, girls, Afghanistan's minorities, including the freedom of access, freedom of travel for those who wish to leave Afghanistan, and when it comes to ISIS K and Al-Qaida. Of course, the Taliban has not been living up to the commitment it has made in the realm of human rights," said the US State Department spokesperson Ned Price.
Price added that Washington's acknowledgment of the legitimacy of the new government depends on its ensuring the rights of women and girls, fighting terrorism, and other issues in Afghanistan.
Following reports that the Islamic Emirate had set up a commission to convene a Loya Jirga, a European Union diplomat said the Loya Jirga could not improve the current situation in Afghanistan and could not give legitimacy to the current government.
"Holding a Loya Jirga will not improve the situation and it will not be enough. Of course, they do not want to win the people's vote of confidence. All parties must accept it, but holding a meeting in which not everyone is present and does not accept it will not be worth it," said Andreas von Brandt, EU Representative for Afghanistan.
Brandt expressed concerns about some restrictions on women, adding that issues that need improvement have lagged behind.
Kabul has always said that the rights of women and girls are ensured within the framework of Islamic law.
TOLOnews tried to get a statement of the Islamic Emirate on this issue but was not able to.
Meanwhile, political analysts have differing views on this issue.
"These policies have created a gap between the people and the government, between the government and the international community, especially with Islamic countries, and created a suffocating atmosphere in Afghanistan," said Tariq Farhadi, political analyst.
Earlier, Shahabuddin Delawar, acting head of the Ministry of Mines and Petroleum, spoke of setting up a commission to convene a Loya Jirga.
Although Delawar did not say anything about the timing of the jirga, he stressed that all Afghans, especially influential figures in the peace process, would be summoned to the Loya Jirga.
Source: Tolo News
https://tolonews.com/afghanistan-178205
--------
15-Year-Old Somali Girl Kills Bus Driver For Attempted Rape in Egypt
Sara Zouiten
May 27, 2022
Rabat - A 15-year-old Somali girl living in Egypt made headlines after she killed a microbus driver who had allegedly tried to rape her at knifepoint. The girl turned herself in to the police following the incident.
According to local news outlets, the teenage girl boarded a minibus home from the 11th district, in Egypt's 6th of October city. The driver took advantage of the fact that there were no other passengers on board, and drove her to a secluded area to molest her while holding a knife to her neck.
The girl had managed to snatch the knife from his hand and stabbed him in the chest. She fled immediately after. According to her, she stabbed him in self-defense and killing him was not her intention.
Accompanied by a lawyer, the assault survivor headed to the 6th of October police department and confessed to killing the man in self-defense recounting all the details of the incident.
The Public Prosecution has decided to keep the 15-year-old girl in police custody for four days awaiting further investigation to reveal the circumstances of the incident.
The case gained widespread attention among Egyptian and Arab social media users, with many commending the girl's courage to defend herself against such a heinous act.
Sexual harassment in Egypt
Sexual harassment is a major problem for women in Egypt, especially in public transportation. To combat gender-based violence in public transport, the government has provided women-only transport services so that women can travel safely.
According to a United Nations report, nine out of ten Egyptian women have been sexually assaulted, and Egypt's capital has previously been described as the most dangerous place on earth for women.
Women's rights activists in Egypt have actively tried to combat sexual harassment by launching campaigns to raise awareness on the issue and encouraging women and girls, victims of harassment, to speak up and report their harassers.
As a result of the social resistance against this issue, the Egyptian government amended the country's penal code in 2021 turning sexual harassment from a misdemeanor into a felony and increasing the severity of punishment.
Sexual assault, however, remains a huge issue for women in Egypt, especially since many survivors do not come forward about the assault or report the perpetrator to the police. Many victims are silenced due to societal pressure combined with guilt, shame, embarrassment, and fear of retribution.
Source: Morocco World News
https://www.moroccoworldnews.com/2022/05/349328/15-year-old-somali-girl-kills-bus-driver-for-attempted-rape-in-egypt
--------
URL: https://newageislam.com/islam-women-feminism/anoosh-masood-woman-lahore-police/d/127116
New Age Islam Islam Online, Islamic Website, African Muslim News, Arab World News, South Asia News, Indian Muslim News, World Muslim News, Women in Islam, Islamic Feminism, Arab Women, Women In Arab, Islamophobia in America, Muslim Women in West, Islam Women and Feminism