New Age Islam News Bureau
30 March 2019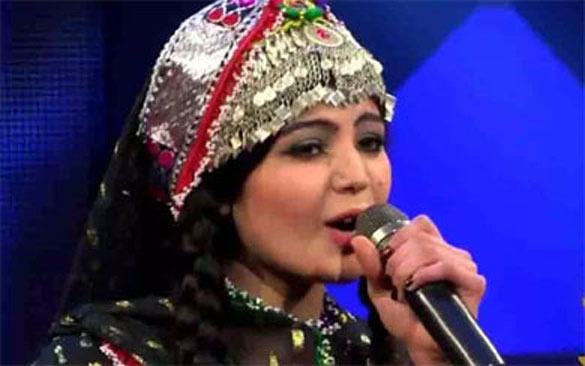 After 13 seasons, "Afghan Star" — a televised singing competition reminiscent of "American Idol" — has, for the first time since it launched in 2005, named a woman, Zahra Elham, the winner. (Getty/AFP/Tolo TV; Lily illustration)
------
• First Woman to Win 'Afghan Star' TV Show to Fight Taliban with Music
• How New Role Models Are Inspiring Young Muslim Women to Re-imagine Their Lives
• Don't Use Religious Agenda on Women's Rights, Maria Chin Tells PAS
• SCSW Voices Concern over Violence against Women, Forced Conversions
• Women challenge male domination in booming Saudi gaming scene
Compiled by New Age Islam News Bureau
URL: https://www.newageislam.com/islam-women-feminism/dont-kiss-shake-hands-with/d/118178
--------
Don't Kiss Or Shake Hands with Women Who Aren't Your Wives, Nigerian Cleric Tells Muslim Men
March 29, 2019
The Chief Imam of Area 10 Garki Jumma'at Mosque, Sheikh Yahya Al-Yolawi, has admonished Muslim men against having a handshake, hugging or kissing women who are not their wives.
Al-Yolawi gave the advice while delivering his Jumma'at sermon on, The evil consequences of fornication and adultery (Zina), on Friday in Abuja.
The cleric also urged Muslims to keep away from anything that could stimulate sexual desire, such as watching pornography, sexy pictures and movies with females that are not their wives.
According to him, Islam as a religion is very much concerned with establishing decent moral standards in individuals within the community, and thereforre constituted many laws that promote chastity and regulate strong sexual desires.
He said that fornication and adultery are forbidden and are classified as major and destructive sins; adding that Islam forbids not only committing fornication but everything that can lead to it.
Al-Yolawi said that an adulterer was one of the three people Allah would not talk to on the day of resurrection.
"There are three people to whom Allah, the Most High, will not talk, nor will He forgive them of sins nor look at them: an aged person guilty of adultery; a king who lies and a poor beggar who is proud.
"Allah the most High says: 'And do not come close to unlawful sexual intercourse. Indeed, it is ever an immorality and is evil as a way.'''
The cleric listed some of the religious, social, economic and health consequences of fornication to include poverty, incessant killings, constant humiliation and disgrace, darkness of the heart and being infected with HIV/AIDS.
Al-Yolawi, therefore, appealed to government at all levels to adopt strategies to eliminate rising cases of prostitution and indecent dressing in public places to reduce temptation in the society.
https://punchng.com/dont-kiss-or-shake-hands-with-women-who-arent-your-wives-cleric-tells-muslim-men/
--------
First Woman to Win 'Afghan Star' TV Show to Fight Taliban with Music
Mar 30, 2019
KABUL: The first woman to win the Afghan version of American Idol says she will fight the Taliban with her music, embracing a victory rich in symbolism as her country faces an uncertain future.
Zahra Elham won the 14th edition of Afghan Star last week, after male contestants took the prize in the hugely popular televised singing competition 13 years in a row.
Elham, from Afghanistan's ethnic Hazara minority, enchanted audiences with her high-pitched, raspy voice, performing Hazara and Persian folk music in traditional loose, colourful Afghan dresses and heels.
The result made international headlines at a time when many women in the deeply patriarchal country fear their hard-won rights may come under threat as Washington, seeking a way out of the war, holds talks with the Taliban.
Elham, who spoke to AFP in an interview at private television channel Tolo, which produces Afghan Star, appeared taken aback by her new fame more than a week on — but determined to use it to inspire other girls.
"I was very proud of myself but at the same time shocked to be the first woman to win the contest," the young woman in her early 20s said, her hair elegantly covered with an olive green scarf, visibly still uncomfortable with a camera.
No one sings in her family, she said. She was inspired to compete after watching YouTube videos of idols such as Aryana Sayeed, an Afghan pop singer and social media star often likened to Kim Kardashian — a characterisation that in conservative Afghanistan is a bold, deeply political one.
When asked if she, like Sayeed, is now a role model for Afghanistan's young women, Elham's response underscored the importance of her new platform in a country where women are largely absent from public spaces.
"Yes, my voice is important for the women of Afghanistan," she replied bluntly.
"Other girls will get courage and sing, like I have been following Aryana Sayeed ... when I saw a girl like Aryana Sayeed I thought to myself, 'If she can, so can I. She has two hands and two legs, as do I'."
Despite her passion, Elham, who is also a Justin Bieber and Maher Zain fan, says she has no intention of going in to politics.
But if the Taliban return to some semblance of power in Afghanistan, she says, "I will fight with my music, because I want to make my life music and singing".
The Taliban used their strict interpretation of Islam to ban music and force women behind closed doors and beneath burkas during their austere rule of Afghanistan from 1996 until they were ousted in 2001.
Since then they have waged an increasingly bloody insurgency against the Afghan government and US-led international troops.
Now, as talks with the US progress, fears are sharp in Kabul that Washington may rush to exit, paving the way for the Taliban to return to some semblance of power in Afghanistan.
Young women, keenly aware of how their gender were suppressed under Taliban rule —and still facing steep restrictions in Afghanistan today — are among the most vocal in warning they will not compromise their rights if the insurgents return.
For now, however, Elham says her victory is a matter of pride — and that she remains focused on her music, with plans to learn the guitar and make more video clips of herself performing.
"I see my future in music, and I can make my future bright with singing," she says.
https://timesofindia.indiatimes.com/world/south-asia/first-woman-to-win-afghan-star-tv-show-to-fight-taliban-with-music/articleshow/68643133.cms
--------
How New Role Models Are Inspiring Young Muslim Women to Re-imagine Their Lives
March 29, 2019
Liz Bucar
Amanda Randone
(RNS) — When 23-year-old Rabia Khan was a student at Princeton University, she felt safe within the confines of its ivy-covered walls. That changed when she graduated. "I am hyperaware of whether someone will attack me or say racist things to me because I am hijabi," Khan said.
She is right to be concerned. A 2017 survey found that more than half of Muslim women living in the U.S. say they had experienced at least one incident of anti-Muslim discrimination in the last year.
Women like Khan are watching closely as Rashida Tlaib and Ilhan Omar, the first female Muslims elected to Congress, take on leadership roles. The two are sending a message that the challenges Khan anticipates are not insurmountable.
"Muslim women who are outspoken aren't being loud," Khan said. "They amplify their voices to be heard in a crowd that often doesn't want to listen."
Khan is one of six high school- and college-age Muslim women we interviewed over the last year, all of whom head their Muslim Students Associations or campus clubs or are impassioned organizers, and who see role models in the high-profile activists — Linda Sarsour, Ingrid Mattson and Amina Wadud — who have recently been redefining what it means to be a feminist leader.
Since Tlaib and Omar arrived in Washington, they have faced sexist, racist and anti-Muslim attacks from both right-wing trolls and colleagues in Congress, who have objected to everything from their positions on Palestine to how they dress. Similarly intense assaults have greeted Sarsour since she came to attention as a leader of the Women's March in 2017. Her own criticism of Israel and her statements about the Nation of Islam have brought accusations of anti-Semitism.
Our interview subjects weren't fazed by the abuse their role models have weathered. Iman Syed, an 18-year-old high school student from Rye, N.Y., founded her school's civics club and hopes to run for office herself someday. For Syed, Tlaib and Omar's election proves that anything is possible.
Marwa Moaz, a 25-year-old from Alexandria, Va., cited the Palestinian thobe Tlaib wore for her swearing-in, as well as Omar's open critique of Israel, as evidence that young women like herself "should have no fear to be who we are unapologetically, and to stand up for what we believe in, even if it is not the popular opinion."
For Shewa Shwani, a 22-year-old student at Syracuse University and president of her campus's chapter of the Food Recovery Network, collective action by Muslim women and mutual support can overcome the barriers they face. With their shared experiences of systemic discrimination, Shwani believes, Muslim women can be more effective leaders and partners with all minority groups.
Already, said Mattson, a professor of Islamic studies at the University of Western Ontario, Muslim women are reasserting Islam's understanding of women's roles. Women once had much greater access to leadership positions in pre-modern Islamic society. While a male imam usually led prayer, according to Mattson, "there are scholars, all sorts of religious institutions and diffused religious authority, even midwives would have both a medical and a pastoral role."
As much of the Muslim world was colonized, however, all of its institutions, including religious ones, were reconfigured after the Western model of hierarchical bureaucracy, dominated by men.
This was compounded, Mattson explained, by the "Americanization of Islam." As the numbers of Muslims grew in the U.S. through an African-American revival and immigration, imams felt pressure to conform to the Christian model of clergy — formally trained specialists connected to a place of worship. And as "the imam became like a clergy person — like a minister in a church or a rabbi in a synagogue — and had all the power and all the authority," Islam became confined to the mosque.
The bias became so pervasive that it is frequently found among older Muslim Americans, for whom a patriarchal model of leadership appears natural.
Mattson herself represents the coming change. A busy speaker and writer, she is the first female president of the Islamic Society of North America, one of several Muslim groups that have taken the lead as the voice of Islam in the U.S. "We're shedding that narrow congregational model and also rediscovering our history," she said.
Within Mattson's work and research are "the intellectual tools," Syed finds, to speak fearlessly against injustice in all its forms, even when her own views don't align with those of other Islamic community members.
A number of young Muslim women we spoke with also named Wadud, a former professor at Virginia Commonwealth University and feminist scholar of the Quran, as an inspiration. "(She is a) hero who has empowered us to reclaim our leadership and reclaim the interpretation of our religious texts, reminding us that the majority of religious scholars in Islam have historically been women," said Rana Abdelhamid, the 25-year-old founder of (IM)WISE, an organization committed to teaching self-defense to Muslim women.
Wadud has been affectionately called the "Lady Imam" since she led a Friday sermon in 1994 at a mosque in Cape Town, South Africa — a role usually reserved for men. Wadud rejects the label "leader," which she thinks implies a hierarchical structure. Instead, Wadud wants "a whole new systematic relationship in regards to how we get things done," which she describes as "taking ownership of the mothership of Islam."
This means, she said, partnering with groups outside Islam. While Muslim women are not all "on the exact same page," Wadud said, "it's a very vibrant period."
The young women we interviewed agreed that the new brand of leadership demands a broader exchange. "It is incumbent for Muslims to interact with all people within the community," said Syed, "irrespective of religious faith, and to fully immerse themselves in the American experience."
Shwani pointed out that while her parents "trusted their imam or other religious leaders with anything," Muslim high school and college students are not afraid to challenge their leaders and pose questions that their grandparents "would've been too afraid or embarrassed to ask."
Many younger American Muslims consider social justice advocates to be important religious leaders, according to Kahn, and when asked what makes a good Muslim leader, Shwani described someone who is "up to speed on events, trends," and as "comfortable to address certain sensitive topics in our community."
What came through clearly is that while they are guided by the values of Islam — equality, adaptability and the suppression of hateful, extremist voices — young Muslim women don't want to solely be defined by their faith.
Syed was a featured speaker at last year's March for Our Lives event in White Plains, N.Y., attended by more than 5,000 people. But she told us, "I don't see myself as a Muslim leader." Rather, she sees herself as someone who practices Islam in her private life and uses the teachings of her faith to be a more effective advocate for equality and social justice.
Nonetheless, Shwani feels that her leadership roles have come with the added responsibility of representing her religious community. "I have done a lot to help the food waste and hunger crisis on our campus and community and I hope it proves to people what … Muslim women are capable of," she said.
As they navigate the cultural challenges of being Muslim and female in America, these young women have recognized that their struggles can also inform change. "Any woman in any leadership role today will better the position simply because they are a woman," Moaz said. "Simply because our stories and our narratives have never been heard before. Simply because women in power shatters concepts of patriarchy."
https://religionnews.com/2019/03/29/how-new-role-models-are-inspiring-young-muslim-women-to-reimagine-their-lives/
--------
Don't Use Religious Agenda on Women's Rights, Maria Chin Tells PAS
30 March 2019
KUALA LUMPUR, March 30 — Do not use the religious agenda when it comes to protecting women's righta, said Petaling Jaya Member of Parliament (MP) Maria Chin in referring to the remarks of a parliament member from PAS over a RM20,000 allocation for Sisters in Islam (SIS).
"It is high time that PAS starts placing more importance in understanding the welfare work that SIS does and not demonise the organisation," she said in a statement today.
Maria was commenting on the remarks made by Rantau Panjang MP Siti Zailah Mohd Yusoff who questioned the allocation by the Women, Family and Community Development Deputy Minister Hannah Yeoh for SIS.
"Siti Zailah's recent remarks in the Dewan Rakyat over the allocation was nothing more than an attempt by PAS to nudge the government towards selective and preferential distribution of funds based on religious and ideological beliefs," she added.
Furthermore, SIS has been promoting equal rights in Malaysia through its free legal clinic known as Telenisa that helped 8,400 people since 2003 from all over Malaysia, including those from Kelantan, in matters of Islamic family law and Shariah criminal offences, she said.
She added that at least half of these women earned below RM2,500 each month and could not afford the legal fees necessary to navigate the complex shariah legal system that differed from state to state.
On Thursday (March 28), Yeoh told Dewan Rakyat that the RM20,000 donated to SIS was from her own allocation as a deputy minister and not from the ministry's funds and that the allocation was in support of SIS's work in gathering data and statistics on Muslim women, and in aiding Muslim women. — Bernama
https://www.malaymail.com/news/malaysia/2019/03/30/dont-use-religious-agenda-on-womens-rights-maria-chin-tells-pas/1738070
--------
SCSW Voices Concern over Violence against Women, Forced Conversions
March 30, 2019
Showing grave concern over the recent hike in incidents of violence against women in Sindh, the Sindh Commission on Status of Women (SCSW) has sounded the alarm for urgent action and commenced several initiatives to end intolerance and violence in the province.
The commission called upon Chief Minister Syed Murad Ali Shah to speed up the process of approving the laws reviewed by the SCSW by placing them on the agenda of cabinet meetings on a priority basis so that implementation of pro-women laws could be become easy.
In a statement released on Friday, the commission strongly condemned the alleged forced conversions of minor girls Reena and Raveena from Hinduism to Islam and their underage marriages.
"There is no place in Sindh for such acts of cowardice committed in the name of religion. The SCSW will hold consultations with the relevant stakeholders in Sindh on a law to deter the horrifying trend of forced conversions in the province," it said.
The SCSW also called upon the civil society to come forward and support the commission for running an effective awareness-raising drive all over Sindh. The commission is in the process of ironing out the logistics of a training programme and will soon start a training of Nikkah khuah, pandits and pastors for effective implementation of the Sindh Child Marriages Restraint Act.
It also noted an alarming trend that these conversions were largely of underage girls who were taken away from their families and then reappeared as someone's wife. "The law of Sindh clearly prohibits underage marriages. Conversion to Islam under such suspicious conditions is rightfully sparking concern in the Hindu community in the province. Moreover, it is a gender issue with women's bodies being used to exercise religious power," it said.
"The religion of Islam does not accept forcible conversions, and this lesson should be drilled in by local Muslim clerics and mosque Imams. Removing underaged girls from their homes, separating them from their parents, and then marrying them to much older men against the wishes of their parents are all acts against the teachings of Islam," the commission said.
It added that forcibly converting anyone was a criminal offence as it infringed upon the right to practise one's religion freely, as enshrined in the country's constitution. The commission stressed the importance of sensitisation training of police officers, saying that recent cases of gender-based violence had again highlighted the need for it.
"The police must be sensitised to be receptive to complains of forced conversions and not to belittle the issue. The police is the first line of defence against criminal elements and exploitation of religious sentiments is a serious offense that the police can prove to be an effective deterrent against."
https://www.thenews.com.pk/print/450610-scsw-voices-concern-over-violence-against-women-forced-conversions
--------
Women challenge male domination in booming Saudi gaming scene
March 30, 2019
LONDON: It looks like a cross between an Ibiza nightclub and the bridge of the Death Star.
Rows of vast computer screens and racing car seats have been crammed into a 2,000 square-meter purpose-built gaming arena in the northern suburbs of Riyadh.
When its doors open next month, to gamers young and old from the Saudi capital, many of them are expected to be women, penetrating another male-dominated scene and blurring one more line of separation.
High definition screens display the characters and storyboards of the world's most popular computer games, from Fortnite and League of Legends to Counter-Strike and FIFA 2019.
But this isn't just about fun. So-called esport is already a billion dollar business, with big name sponsors, international leagues and fame, of sorts, for those with the dexterous thumbs — such as Saudi Mosaad Al-Dossary, the reigning world FIFA champ who has earned more than $362,000 according to esportsearnings.com, which ranks players globally.
The top player overall is 26-year-old German Kuro Takhasomi with more than $4.1 million in earnings. By comparison, the average Premier League footballer earns about $3.5 million.
Gaming cafes were once dark and dingy places to be found in unloved old commercial buildings, where pale pubescents acted out their sporting or military fantasies without mum and dad asking if they had done their homework. Now the growth of esports is attracting major investment, especially in the Gulf states, where online gaming is booming and leading growth in the industry globally.
The new generation of gaming cafes and esports arenas are recognizing the massive female gaming market.
Gaming has always been big in the Gulf for a number of reasons from the climatic to the social.
Industry veteran Mazen Mohammed, the esports manager for Saudi Arabia at Gamers Hub Middle East, which helps to organize tournaments, said that the region's youthful population and a historical shortage of popular entertainment choices explains why gaming is becoming so big.
"In Saudi Arabia we have a lot of young people but we have not had a lot of entertainment. Yes, people have PCs at home but they meet friends in the cafe so it is more relaxing for them."
The new SARENA SAFEIS arena in Riyadh reflects the growing sophistication of the gaming scene as well as its ability to attract serious investment.
Owner Mohammad Al-Otaibi explains there will be VIP rooms, food and beverage counters, a tournament staging area and a zone for kids. Women will have the option of using either the main gaming area or a dedicated room.
"The arena is suitable for elite and casual gamers," said Al-Otaibi. "It will also provide rooms where teams can privately train together in preparation for tournaments and will have a training academy to upskill gamers."
While the older generation of gaming cafes dotted around the Gulf were typically the domain of teenage boys, new arenas recognize that there is also a large community of female gamers in the region. It wasn't always so.
Ghada Almoqbel, a 23-year-old student from Riyadh has been a gamer since "she was little" and as an adult helped to establish a convention dedicated to women gamers in Saudi Arabia called GCON.
She said that in the past it was very difficult for women in Saudi Arabia to attend gaming events.
"I think there's definitely an interest in including women now, in all activities and tournaments, but I don't think any succeeded in actually approaching women who are interested in the right way."
Almoqbel said the "community" aspect of gaming appeals to many women, which is one of the themes of GCON.
The Saudi Arabian Federation for Electronic and Intellectual Sports, or SAFEIS, is the lead body helping to draw outside investment into the fledgling Saudi esports scene.
CEO Turki Al-Alfawzan points out that Saudi Arabia is part of the fastest growing gaming region in the world: "Our role as a federation is to connect the investors with these opportunities and nurture the elite athletes and the community," he said.
The federation is a partner in the soon-to-open SARENA SAFEIS facility in Riyadh and more such arenas are planned around the country.
The drive to promote esports in the Kingdom is part of a wider push to promote sports under the Vision 2030 economic and social blueprint.
That aims to reduce sedentary lifestyles among the young and boost healthier living — an especially difficult goal to pull off with an activity more commonly identified with the unhealthy.
While the rising investment in esports could help young gamers in the country rise in the rankings and emulate the success of Saudi FIFA champ Mosaad Al-Dossary — achieving that while maintaining healthy body and mind may be the real game change
http://www.arabnews.com/node/1474776/media
--------
URL: https://www.newageislam.com/islam-women-feminism/dont-kiss-shake-hands-with/d/118178
New Age Islam, Islam Online, Islamic Website, African Muslim News, Arab World News, South Asia News, Indian Muslim News, World Muslim News, Women in Islam, Islamic Feminism, Arab Women, Women In Arab, Islamophobia in America, Muslim Women in West, Islam Women and Feminism