New Age Islam News Bureau
9 March 2020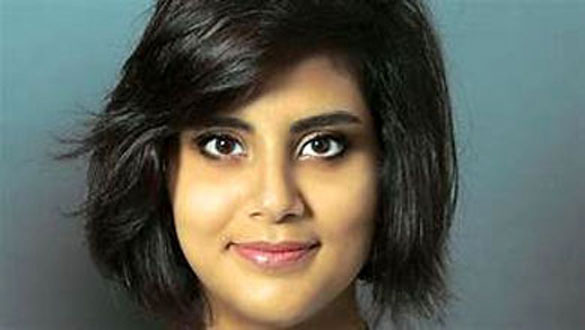 Saudi Arabia Women's rights activist Loujain al-Hathloul
------
• Sudan Women Decry Slow Progress on Rights since Bashir's fall
• All-Woman Delegation Goes To Kartarpur Sahib
• Turkish Police Use Tear Gas in Istanbul to Disperse Women's Day Crowd
• Muslim Women Who Shattered Stereotypes In The Past Year
• Taliban Won't Acknowledge Women's Day 'Because It Is Not in Islam'
• Women Constitute 35% Of Total Saudi Workers In Labour Market
• Meet 3 Saudi Arabian Women Breaking Boundaries in the Kingdom
• Saudi Female Air Traffic Controllers Reach for the Sky
• Islamic Women's Council to the Royal Commission, Police and Spy Agencies 'Failed' To Protect Muslims,
• Saudi Stock Exchange marks International Women's Day in Riyadh
• 8 Phenomenal Moroccan Women That Were Ahead of Their Time
• Skateboarding Won't 'Save' Afghan Girls
Compiled By New Age Islam News Bureau
URL: https://www.newageislam.com/islam-women-feminism/do-forget-jailed-saudi-women/d/121264
--------
Do Not Forget the Jailed Saudi Women's Rights Activists, Loujain al-Hathloul, Nassima al-Sadah, Nouf Abdelaziz and Hatoon al-Fassi
By Fadi al-Qadi
March 9, 2020
It has been two years since Saudi Arabia intensified its crackdown on women activists and many of those jailed are still languishing in prison.
On March 4, Lina al-Hathloul, the sister of Loujain al-Hathloul, 31, who campaigned against the ban on women driving in Saudi before being arrested at her home in May 2018, told a symposium of human rights organisations in Geneva, that Loujain has once again been denied access to legal representation.
According to Amnesty International, al-Hathloul has been tortured and mistreated while in prison. In August 2019, her family said she rejected a proposal to secure her release from prison in return for a video statement denying that she was tortured. During her first court appearance in March 2019, she was charged with promoting women's rights, calling for the end to the male guardianship system and contacting foreign organisations including the media, other activists and Amnesty International.
The Saudi government lifted the ban on women driving in Saudi in the summer of 2018 and pledged to "relax" male guardianship laws in July 2019.
But all this has coincided with the jailing of the women activists who had championed the campaign. In the world of logical politics, if a demand is addressed positively, then those who called for it ought to be "normalised" in the eyes of the government (if not recognised as champions). In Saudi, the opposite has happened.
The crackdown on female activists by the Saudi government reached its peak when the authorities arrested and detained al-Hathloul, Eman al-Nafjan and Aziza al-Yousef on May 15, 2018. Al-Nafjan and al-Yousef were temporarily released in March 2019 on the condition that they attend future court hearings.
Other leading women's rights advocates and feminist figures were also arrested. These include Samar Badawi and Nassima al-Sadah, who were arrested on July 30, 2018, and remain in jail; Nouf Abdelaziz, who was arrested on June 6, 2018, and remains in jail; Hatoon al-Fassi, who was arrested on June 27, 2018, and granted temporary release in May 2019; Shadan al-Anezi, who was arrested in May 2018, and remains in jail; and Amal al-Harbi, who was arrested in August 2018, and was granted temporary release in May 2019.
Human Rights Watch says the charges against these women are limited to their human rights activities and lack substantiation or evidence. Both it and Amnesty International reported to have acquired evidence of ill-treatment, sexual assaults and abuse against some of these activists.
While the campaign to end the driving ban for women gained the most international attention, these women activists have been working to bring all of Saudi Arabia's deeply enshrined patterns of discrimination and exclusion to an end.
They have made tireless efforts to protest against their lack of freedom with grassroots-level mobilising and campaigning against the male guardianship system that limits women's freedom of movement.
Most of these women have also engaged in contesting a socio-economic regime of law and order that is constructed to prevent women from participating in society and the economy, to fundamentally disempower them to the maximum extent.
While there is a movement of women and men calling for reforms in Saudi Arabia, a large proportion of this movement consists of women activists who are fearlessly spearheading causes like the arbitrary detainment of political prisoners, freedom of expression and participation in public life.
Some have received international recognition for their struggles. Samar Badawi, for instance, was awarded the 2012 International Women of Courage Award by the US Department of State, recognising among other things her role in bringing a lawsuit for women's suffrage. She remains in prison.
On May 21, 2019, PEN America, the non-profit human rights literary organisation, awarded Nouf Abdelaziz, Loujain al-Hathloul, and Eman al-Nafjan the "2019 PEN America/Barbey Freedom to Write Award".
Activists have been imprisoned arbitrarily, without due process or fair trial. The use of sexual abuse and torture against jailed women is more than just ill-treatment, and should rather be seen as a weapon that is designed to serve as an aggressively chilling warning to other women not to walk the same path.
This is a particularly effective deterrent because many women activists are care providers to children and immediate family members. By separating them from their children and families, the Saudi government is hugely increasing the price paid by women for feminist activism.
Observers might argue that feminist movements in Saudi Arabia have gained traction and that imprisoning women and treating them so brutally has only led to a heightening of support for their causes
However, it remains highly dangerous to engage in this sort of activism. In societies where civic space is restricted, and where opportunities for organising and engaging peacefully in social action are nonexistent; these activists become vulnerable to isolation because associating with them and their causes carries severe consequences.
If Saudi Arabia was serious about relaxing its restrictions on the freedom and autonomy of women, the safe spaces in public spheres necessary for women to participate in public life and to lead and engage effectively would exist. No such spaces exist.
"Femisecution" is a combination of persecution and prosecution of female voices within our societies, because of what they are: independent voices who aim to help women claim their rights and status within a society which is topped by oligarchic and discriminatory classes.
Women's activism in Saudi Arabia is a movement that not only brings hope, but also challenges an outdated "social contract" that has been proven to be a tool for de-development and exclusion that damages everyone, not just women.
Jailed Saudi women activists are the first layer of such a social movement in their country - to let them fade away in jail, means, among other things, the killing of the movement, and of hope.
https://www.aljazeera.com/indepth/opinion/forget-jailed-saudi-women-rights-activists-200305103951988.html
--------
Sudan Women Decry Slow Progress on Rights since Bashir's fall
March 09, 2020
KHARTOUM: Sudanese women were at the forefront of the protests that toppled President Omar Bashir but 11 months on, activists are disappointed at a lack of progress on women's issues.
"Nothing has been done to meet women's demands," said Zeineb Badreddine.
An activist involved from the start of the protest movement that ended Bashir's three-decade rule last April, Badreddine will lead a demonstration in front of the Justice Ministry on Sunday to mark International Women's Day.
Almost 30 years after being fired under Bashir for her "progressive ideas," she has also returned to teaching.
But despite the toppling of the Bashir regime, she says the new government lacks female representation.
When Prime Minister Abdalla Hamdok formed his government in September, he vowed to improve the situation for women despite the country's economic and social difficulties.
He allocated four of 17 ministerial positions to women, including the key foreign affairs portfolio. A woman was also named head of the judiciary.
But the country's top authority, the joint civilian and military Sovereign Council charged with overseeing the transition to civilian rule, only has two female members out of 11.
"If women had better representation, they would have more voices to defend their cause," said Badreddine.
Under the previous regime, a notorious "public order" law was used to have women publicly flogged or imprisoned for "indecent" dress or for drinking alcohol, seen as "indecent and immoral acts."
Hamdok's government last November revoked the legislation — but many other discriminatory laws remain in place.
Badreddine decries a lack of legislation criminalizing sexual harassment.
Judges in Sudan also have powers to judge whether or not a woman has been raped, which can sometimes lead to rape victims being prosecuted for adultery.
Lawyer and women's activist Inaam Atiq takes aim at a 1991 personal status law, which she says "is causing the suffering of thousands of women across Sudan."
She says the legislation, inspired by Islamic law, allows 10-year-old girls to be married against their wishes.
"This text must be urgently amended and this can be done without touching Shariah (Islamic law) principles," she said.
Another law forbids women to travel abroad unless they have permission from a male guardian — a measure that even Saudi Arabia has abolished.
"My guardian could be a younger brother that I raised, or even my son," Atiq said.
Nor do courts specializing in personal status issues consider the results of DNA tests, allowing Sudanese men to shirk parental responsibilities and compounding women's problems, she said.
Activist Manal Abdelhalim expresses amazement at "voices, including those of some women, who say that the issue (of women's rights) is not a priority and that it can wait." But Atiq is more hopeful.
"We need immediate measures, and I think that the justice ministry and the government understand the situation," she says. "I am optimistic about the possibility of taking steps in the right direction."
https://www.arabnews.com/node/1638706/middle-east
--------
All-Woman Delegation Goes To Kartarpur Sahib
March 9, 2020
The FICCI Ladies Organisation (FLO) sent a group of 125 women to Gurudwara Kartarpur Sahib via the newly built corridor to celebrate International Women's Day on Sunday.
Patiala MP Parneet Kaur also accompanied the group.
"It is great to visit Kartarpur Sahib on Women's Day to celebrate the power of women. Guru Nanak spent 18 years at Kartarpur Sahib. He empowered women when women were taken for granted by all sections of society and they were used as property. He was the first to talk about equal rights of women," said Parneet Kaur. She declined to comment on a recent statement made by Punjab DGP Dinkar Gupta on Kartarpur Corridor which had sparked a controversy.
"This delegation, the first of its kind, was flagged off by Maharani Preneet Kaur and graced by several dignitaries like MP Lok Sabha Punjab Gurjeet Singh Aujla, Major General Vikram Singh, Vice Chancellor Guru Nanak Dev University Jaspal Singh Sandhu, Inspector General Border Range S P Singh Parmar, Deputy Commissioner Shivdular Singh Dhillon, Police Commissioner Amritsar Dr Sukhchain Singh," read the FLO press note.
https://indianexpress.com/article/india/all-woman-delegation-goes-to-kartarpur-sahib-6305954/
--------
Turkish Police Use Tear Gas in Istanbul to Disperse Women's Day Crowd
March 08, 2020
ISTANBUL: Turkish police used tear gas to disperse a few dozen women who were still in central Istanbul after trying to march on Sunday evening to celebrate International Women's Day.
Reuters reporters saw the crowd, which was originally few hundred women, at the edge of Taksim Square holding banners and waving flags. The police formed a human blockade to stop them from entering Istiklal Street, the district's main pedestrian avenue.
A large part of the crowd dispersed as they were not allowed to march on Istiklal Street.
Istanbul's governor Ali Yerlikaya decided to close down Taksim metro station and parts of nearby Sishane station and said all roads leading to main square would be blocked.
"All roads leading to Taksim Square and Istiklal Street will be closed as these places are not classified as designated areas for assembly and demonstrations according to law," the governor's office said in a statement.
The government did allow some activities by non-governmental organizations to celebrate International Women's Day around the city, the statement said. But it said the gathering in Istiklal Street was not granted a permit.
Last year, on International Women's Day, the police had fired tear gas to break up a crowd of women who had gathered for a march.
https://www.arabnews.com/node/1638626/world
--------
Muslim Women Who Shattered Stereotypes In The Past Year
7 March, 2020
Pick up any newspaper or browse the internet and you're sure to find a story or two about Muslim women. This minority group has been under more scrutiny and speculation than ever before – and not all of it is positive. That's why it's so important to recognise and highlight the stories of Muslim women who are making history and shattering stereotypes.
When compiling this list I was struck by the sheer number of inspiring Muslim women there are – past, present and even future.
Whether it be running successful businesses or leading armies into battle, Muslim women have been making history and inspiring generations for over a thousand years.
Read also: It's time to read about the untold history of revolutionary Muslim women
To put this into perspective, just less than 100 years ago, women in America did not have the right to vote. Yet today, in 2020, Muslim women are still ridiculed and misrepresented by the media, public figures and even politicians.
Suhaiymah Manzoor-Khan
Poet and spoken word artist Suhaiymah Manzoor-Khan has used her growing social media platform to highlight social issues like Islamophobia, immigration and racism.
Not a stranger to the spotlight, the former Cambridge student who released her debut poetry collection, Postcolonial Banter last year, has also performed on BBC Radio, ITV, Sky and TEDx, to name a few.
However, despite a growing list of achievements, what makes Suhaiymah truly stand out is what she hasn't done.
In 2019 Suhaiymah made headlines when she unceremoniously pulled out of the Bradford Literature Festival after it was revealed that the event was part funded by a government-led counter-extremism group.
Taking to Twitter Suhaiymah explained that she did not want "to provide credibility or legitimacy to the counter-extremism project".
She added: "The government's counter-extremism strategy relies on the premise that Muslims are predisposed to violence and therefore require monitoring and surveillance."
Nadiya Hussain
Nadiya is a woman who needs no introduction. She won the Great British Bake Off and public's heart back in 2015 before going on to appear in several documentaries and cooking programmes, publish a series of books and bake a birthday cake for the Queen.
And it doesn't stop there.
Last year Nadiya became an advocate for mental health, using her own past experiences to help others. In a BBC documentary titled Nadiya: Anxiety and Me she opened up about suffering with a panic disorder.
In the documentary, and subsequent memoir, Finding My Voice, Nadiya recalls being beaten and bullied at school so badly that she wanted to commit suicide.
"I didn't know what death was," she wrote. "All I knew was that it meant not living the life I had now – and I didn't like my life."
She also made history by being awarded and MBE on the Queen's 2019 honours' list earlier this year.
Speaking about the prestigious accolade Nadiya wrote: "I know my grandparents would be really proud, they wouldn't understand what was going on, or what it means, but they would be proud nonetheless.
"Little old rice farmers family in the middle of nowhere with a granddaughter with an MBE! Who would have thought it?!"
Hodan Nalayeh
When journalist Hodan Nalayeh was gunned down by Somali militants last year the nation grieved, but her work on highlighting the beauty of her homeland became even more poignant.
The 43-year-old mother of two, who was pregnant at the time, was among the 26 people gunned down at the Asasey Hotel during a meeting with local politicians.
Somali-born Hodan moved to Canada when she was eleven but returned to her homeland a year before her death. She was one of Somalia's most promising journalists who had made it her mission to show another side to the war-torn country by focusing on its beauty and people.
Her family described her as someone who had "spent her life devoted to serving the Somali people and reporting on positive, uplifting stories" in order to "spread light and love to the Somali world".
BBC Somali's Farhan Jimale, who was a friend of Hodan's, described her as a "bright star and a beautiful soul who represented the best of her people and homeland".
"She was especially an inspiration for the young" he added. "You have Somalis from diaspora going home and she was a link between older Somalis and the young. She spoke both languages – English and Somali – so she was like a bridge."
Khadijah Mellah
There were no shortage of stories about Muslim women in sport this past year, but Khadijah's stood out the most. The teenager made history last year after she became the first British-Muslim woman to take part in a horse race wearing a hijab and win.
From a young age Mellah's parents took her for riding lessons in Kent, but the cost and distance meant that they were unable to keep up with regular classes.
And, although the horse-riding industry isn't seen as a typical career or hobby for Muslim women, Mellah's passion didn't deter her. In fact, it only spurred her on, especially when she discovered a local riding club.
"I've always loved horses and had ridden at a riding school in Kent a few times when I was younger," she told The New Arab.
Read more: Meet Khadijah Mellah: The UK's first ever hijab-wearing jockey
Mellah soon became a household name among racing enthusiasts. Oli Bell, a presenter from ITV Racing sung her praises on social media by tweeting: "I could not be prouder of this inspirational young woman. 2 months ago she hadn't even sat on a racehorse. Khadijah Mellah is a superstar and today she showed the world that anything is possible."
Mellah has also been pictured with the likes of Mayor of London Sadiq Khan, the Duchess of Cornwall and even the Queen of England.
"The Duchess of Cornwall came to my documentary premiere which was amazing," recalls Mellah. "I also met the Queen at QIPCO British Champions Day at Ascot in October. She asked me about the race and my story – both are days that I will always remember.
"There is a stereotype that Muslim women can't go out there and do certain things. Hopefully this will show my religion in a positive light."
Sami Rahman is a freelance lifestyle writer based in London.
https://www.alaraby.co.uk/english/society/2020/3/8/muslim-women-who-shattered-stereotypes-in-the-past-year
--------
Taliban Won't Acknowledge Women's Day 'Because It Is Not in Islam'
March 9, 2020
KABUL: Some political leaders joined foreign envoys in Afghanistan in offering assurances of support for women's rights on International Women's Day, but the Taliban did not join in the global commemoration.
Just over a week after the Islamist militant group and the United States signed a deal intended to end an 18-year-old war, many Afghan women are worried about what it will mean for their rights.
"We respect women, we congratulate our women – mothers, sisters, wives and relatives – but not under the name of March 8, as Women's Day, because it is not in Islam and Sharia," Taliban spokesman Zabihullah Mujahid said.
The Taliban did not allow women to be educated or leave the house without a male relative when it ruled Afghanistan from 1996 to 2001, and forced them to cover their faces.
The group says it would now allow women to be educated and work. But many women worry that the deal reached last month with the United States does not include adequate safeguards of women's rights.
They fear a US troop withdrawal, the winding down of international engagement and reemergence of the Taliban in politics will see progress for women since 2001 snuffed out.
"I think we women do not need the Taliban to congratulate us on Women's Day … women used the day to show the Taliban that women will not go backwards," said Fawzia Koofi, a politician and women's rights activist.
The US Embassy tweeted a photo of US Special Envoy Zalmay Khalilzad meeting judges, many of them women. Nato posted a video of its civilian representative, Nicholas Kay, promising to support peace built on full respect for women's rights.
European ambassadors wrote an opinion piece for popular media organisation Tolo supporting women's rights.
Afghanistan's first lady, Rula Ghani, said "no decision on peace will be taken without their presence and behind the curtains in the hope of a permanent peace in our beloved country".
But Lina Rozbih, a Washington-based Afghan journalist, expressed the doubts of other when she tweeted in Dari.
"If (Taliban spokesmen) Suhail Shaheen or Zabihullah Mujahid, today on the occasion of Women's Day, tweeted and congratulated Afghan women, we can keep hope that they are changed … if not, they are the old Taliban," she tweeted.
https://www.freemalaysiatoday.com/category/world/2020/03/09/taliban-wont-acknowledge-womens-day-because-it-is-not-in-islam/
--------
Women Constitute 35% Of Total Saudi Workers In Labour Market
March 09, 2020
RIYADH: The General Authority for Statistics (GASTAT) has issued a special report to mark International Women's Day under the title "Saudi Women: Partners in Success," highlighting that Saudi women are an important component of the force contributing to national development in all fields.
The report relied on 166 statistical indicators for Saudi women aged 15 years and over based on the results of the last 11 surveys from GASTAT, as well as log data surveys from the Ministries of Interior, Education, Municipal and Rural Affairs, and Health as well as the National Observatory for Women and the World Bank Group.
The goal was to form a statistical image of women in different social, economic, educational, health, cultural, and recreational fields.
GASTAT's report found that Saudi women over the age of 15 account for 49 percent of the total population, with close proportions in most of the administrative regions. The average age of Saudi women is 28 years old and half of Saudi women are under 27 years old.
The report said that Vision 2030 contributed to enhancing the status of women and their obtaining of more rights through empowerment at the national and international levels. This has allowed women to play a key role in development. Saudi female workers in the labor market constitute 35 percent of the total Saudi workers.
King Salman's directive to issue driving licenses for women was implemented on June 24, 2018. By Jan. 20, 2020, 174,624 driving licenses had been issued to women. The highest proportion of licenses was issued in Riyadh, Makkah and the Eastern Province, accounting for 90 percent of the total licenses issued to Saudi women.
The most preferred sport among Saudi women is walking, at 82.5 percent.
https://www.arabnews.com/node/1638686/saudi-arabia
--------
Meet 3 Saudi Arabian women breaking boundaries in the Kingdom
8 March 2020
In recent years and in light of reforms that have drastically transformed the Kingdom, Saudi Arabian women have been pushing boundaries as more opportunities become readily available.
The reforms are all part of Saudi Arabia's Vision 2030, the sweeping set of programs and reforms announced in 2016 which are set to liberalize the economy and reduce dependence on oil revenues.
Since then, Saudi Arabia has lifted the ban on female drivers and loosened restrictions on guardianship laws.
Here are three Saudi Arabian women breaking barriers in the Kingdom.
Raha Moharrak
Raha Moharrak broke the world record for the youngest Arab and the first Saudi woman to climb Mount Everest in 2013.
A self-described "world nomad," Moharrak has also climbed the world's other six summits.
She currently co-hosts MBC's "Lafat Al Mamlaka" TV show, where she travels across the Kingdom partaking in different activities, like snorkeling and mountain biking.
"First but hopefully not the last Saudi woman to [climb] the highest peak in the seven continents," her Instagram bio reads.
Haifaa al-Mansour
Saudi Arabian filmmaker Haifaa al-Mansour defied stereotypes when she became the Kingdom's first female director.
Al-Mansour garnered regional and international fame with her feature film "Wadjda," which tells the story of a young girl who dreams about riding a bicycle in a conservative society.
She went on to direct the movie-adaptation of the best-selling novel "Nappily Ever After."
Haifaa Al Mansour
✔
@HaifaaMansour
Oh my gosh, I am still giddy after meeting Steven Spielberg!! #ET #jaws #RaidersOfTheLostArk سيلفي مع ستيفن سبيلبرغ
View image on Twitter
132
3:44 AM - Jun 13, 2018
Twitter Ads info and privacy
28 people are talking about this
Nouf Sufyani (Cosmicat)
Nouf Sufyani's career as the Kingdom's first female DJ took off as Saudi Arabia began hosting concerts.
Going by the name of Cosmicat, the EDM DJ was one of many artists who took the stage in Riyadh for the region's biggest music and cultural festival, MDL Beast.
https://english.alarabiya.net/en/features/2020/03/08/Meet-three-Saudi-Arabian-women-breaking-boundaries-in-the-Kingdom.html
--------
Saudi Female Air Traffic Controllers Reach for the Sky
March 09, 2020
JEDDAH: The number of Saudi female air traffic controllers in the Kingdom has reached 26 after they completed their training at the Saudi Civil Aviation Academy.
The General Authority of Civil Aviation (GACA) has been empowering Saudi women in several fields, including the profession of air traffic controllers.
Air traffic control (ATC) consists of three main tasks: approach control, air control tower and area control.
Good concentration and quick decision-making are the most important skills of air traffic control personnel.
The importance of this profession is reflected in its impact on the safety, efficiency and regularity of air navigation. It has been classified as one of the most difficult professions globally, which makes it of high importance at the international level.
A number of Saudi female air traffic controllers talked about their start in obtaining a license, and their practical and effective roles in this profession.
Air traffic controller Reem Abdullah explained that the reason she entered the aviation field was the challenges it presented and the passion such sensitive jobs demand.
"We are the first batch of graduates to work in the air traffic control profession and, frankly, it is a very interesting job. Since we started training, we began to get a clear perception of the subject at hand," she said.
She added: "The training that we received is very intense and accurate and we went through more than ten exams before admission; 11 Saudi girls graduated in that batch."
After obtaining the license and embarking on her new journey, she said, her colleagues from international airlines were surprised to see a woman taking on such a task. "They started asking: 'Is this Saudi Arabia? This is Jeddah?' As time went by, the pilots congratulated me on the job and expressed their high confidence in us."
Rawan Hubaishi, another air traffic control graduate, also found her new profession to be interesting. "Once you start working in this field, it is hard to do any other job," she said.
Hubaishi said that the presence of Saudi women in such a profession is the best evidence that they are capable of working in all fields and can perform their work to the highest standards.
Air traffic controller Lina Adel aspires to be the first woman to assume a regional management position.
"The first words we heard when we entered the training was that there is no difference between us and our male colleagues, and that we can work and achieve successes in this profession," she said. "The profession of air traffic control is very precise and detailed, yet not impossible to conquer."
Shahad Zareh, an air traffic controller trainee, described the profession as "fun and unconventional."
"The various exams on this job are not easy at all, but at the same time enjoyable because it is diverse," she said.
Zareh encouraged her female peers to join the field. "I tell the Saudi girls that the job of air traffic controller is fun and we're competent and we can do it."
Air traffic controller Shahad Barakat said that the profession suited her tendencies to overcome challenges and difficulties. "My passion for flying and reading about this sector is behind my love to work as an air traffic controller, and I found that this job suits my preferences, especially that it is a job that has many challenges and is totally unconventional."
Saudi Arabia possesses an integrated navigation system in air navigation — one of the latest advanced systems at the international level. There are 15 air monitoring units and five maintenance centers operating 24 hours a day in Jeddah and Riyadh.
https://www.arabnews.com/node/1638691/saudi-arabia
--------
Islamic Women's Council to the Royal Commission, Police and Spy Agencies 'Failed' To Protect Muslims,
Mar 09 2020
Muslim women leaders have called on the security forces to extend their intelligence gathering of the alt right and white supremacists both here and overseas.
It was one of a raft of recommendations from the Islamic Women's Council to the Royal Commission into the mosque attacks.
They said in their submission, shared exclusively with RNZ's Insight programme, there was also a need for a robust whole-of-government approach to preventing extremism focused on strengthening connections within vulnerable groups.
The council's Aliya Danzeisen said rather than continuing to put huge amounts into surveillance, support was needed to build societies so that communities did not feel isolated and disenfranchised and individuals weren't tempted into extremism.
"This is not just for the Muslim community. You would find it now very openly with people who are feeling isolated, related to the white supremacy movements that are out there and impacting on us," Danzeisen said.
The Islamic Women's Council has also called for the urgent introduction of a safe system to report hate speech and crime and for that system to be linked to security agencies' databases.
They also want that system to be connected to gun licence applications and renewals. If someone has engaged in serious hate speech or crimes, they should not be eligible for gun ownership and all licences should be for two years, rather than the current 10, the council says.
The overall submission stated: "The public service including police and security agencies has failed dramatically not protecting the Muslim community."
It documented repeated failings to take the warnings about growing Islamophobia seriously enough.
Now the council's leaders want reforms of the public sector and personal apologies from the person at the top of the public service, the State Services Commissioner to both them, the Muslim community and the country as a whole.
"We spent so much of our personal volunteer time, we took so many leave days, we ... knocked on as many doors as we could, trying to get taken seriously," Islamic Women's Council national co-ordinator Anjum Rahman told RNZ.
Those who suffered financially due to the attacks, but are not covered by ACC, should also receive reparations, the council said.
https://www.stuff.co.nz/national/120132938/islamic-womens-council-say-police-and-spy-agencies-failed-to-protect-muslims
--------
Saudi Stock Exchange marks International Women's Day in Riyadh
March 09, 2020
RIYADH: The Saudi Stock Exchange (Tadawul) marked International Women's Day 2020 on Sunday by hosting the "Ring the Bell for Gender Equality" ceremony in Riyadh.
The celebration of the annual event marking women's contributions to the world was attended by the chairwoman of the Al-Nahdha Foundation, Princess Moudi bint Khalid bin Abdul Aziz, Tadawul chairwoman Sara Al-Suhaimi, Tadawul CEO Khalid Al-Hussan, and executives and female leaders from listed companies.
Tadawul joined more than 90 stock exchanges around the world in ringing their market opening bells in partnership with the UN's Sustainable Stock Exchanges (SSE) initiative, aiming to promote women empowerment in the capital markets sector.
Tadawul's goal this year is to strengthen the efforts of listed companies in the field of women's empowerment.
"We are proud to be the first company to sign the Women's Empowerment Principles, which reflects our commitment to promoting the role of Saudi women in the financial market and listed companies," said Sara Al-Suhaimi.
"Women leaders in Tadawul play an important role in achieving the objectives of the Saudi capital markets and its strategy and human resources, which have witnessed a significant success for the new generation of young female employees in creating a bright future for the Saudi capital markets," the Tadawul chairwoman said, adding that female employees account for 24 percent of Tadawul's total number of staff.
Tadawul conducted a recent survey on the policy of gender equality on the listed companies, she said, showing positive figures in this field.
"For example, more than 70 percent of the companies participating in the survey adopt employment strategies aimed at increasing the number of female employees, and more than 80 percent of these companies apply policies that provide equal benefits and compensation for employees of both genders," she said.
Princess Moudi said that national and social development is everyone's responsibility.
"We will not succeed in achieving our goals, taking advantage of the opportunities of the 21st century, if we do not work together. We have to talk, discuss and share to build solutions based on each specialization," she said, noting that "Al-Nahdha Foundation worked for over 58 years to activate the role of women in building their country to reach a society that is just for all."
She added: "One of our projects to achieve our vision is the Global Gender Gap Index to measure the extent of gender equality in the labor market and to identify gaps in participation, career development and wages."
UN resident coordinator in Saudi Arabia Nathalie Fustier said that the world is entering the decade of action, policymakers, practitioners and advocates. "Young men and women must unite to make gender equality top priority for women's empowerment in public and private institutions," said Fustier.
Sharing some facts and figures concerning women in the workplace, Fustier pointed out that companies with at least one female director have better stock price performance and return on equity (ROE).
She said that companies with more than one woman on the board return 3.7 percent a year over those that have none.
More than 30 percent of private-sector leaders report increased profits from efforts to empower women in emerging markets, she said. Diverse publicly traded companies are 70 percent more likely to capture new markets and 45 percent more likely to improve market share.
Tadawul announced that seven listed companies believe in women's empowerment principles and signed the agreements.
https://www.arabnews.com/node/1638681/saudi-arabia
--------
8 Phenomenal Moroccan Women That Were Ahead of Their Time
By Josef Abdessalam Zerbaoui
Mar 8, 2020
The UN International Women's Day is celebrated globally on March 8 every year. This important day is dedicated to celebrating women's social, economic, cultural, and political achievements throughout history. The event also aims to call for greater gender equality.
While significant progress has been made in the last 100 years, much is still left to do as no country in the world has yet achieved full gender equality, according to the United Nations. Moreover, the World Economic Forum estimates that it will take another 100 years to erase the global gender gap.
The theme for this year's International Women's Day is "I am Generation Equality: Realizing Women's Rights". The Generation Equality campaign is aimed at mobilizing global action to achieve gender equality and to bring together people of every gender, ethnicity, race, age, religion, and nationality.
In celebration of International Women's Day it is time to take a look at the achievements of some of the most prolific Moroccan women throughout history.
Fatima al-Fihri, founder of the world's first university
Fatima al-Fihri was born in A.D 800 in modern-day Tunisia, but moved to Fez with her family at a young age. Not much is known about her mother, but her father, Mohammad bin Abdullah al-Fihri, would become a successful merchant in the city.
The Al-Fihri family were well-off. Fatima's father made sure that she and her sister, Maryam, received a good education, something that was not common for women at the time. The two sisters inherited the fortune their father had earned following a series of unfortunate events. Fatima's brother, father and husband all died in rapid succession.
Al-Fihri was a devoted Muslim, and decided to give back to her local community with the sudden wealth she had received. The population of Fez had grown so significantly to the point where there were not enough Mosques to accommodate the city's inhabitants.
Despite not having any experience in building, she led and oversaw the construction of a grand mosque, a library, and what would become the world's first university.
The University of Al-Qarawiyyin was founded in 859 AD and is still operating today. UNESCO lists it as the oldest existing, continually operating higher educational institution in the world.
Al-Fihri was the first person in history to establish the concept of a university as we know it today.
Building the world's first university in the 9th century as a Arab Muslim woman is an astonishing feat, and for that she will always be remembered as the "mother of intellectuals".
Zaynab al-Nafzawiyyah, Queen of the Almoravid Amazigh Empire
Zaynab Al-Nafzawiyyah was a legendary woman who lived in the 11th century. She was one of few influential women in the patriarchal empire.
Al-Nafzawiiyah was very ambitious from an early age. She sought a position of power and refused to marry anyone who did not wish to become the ruler of the Maghreb.
With her wisdom, beauty, and nobility she could cast her spell on the most powerful leaders in the Almoravid dynasty. She was well informed about the complicated political situation of Morocco and that, in combination with her beauty, won her a lot of attention from rulers who wished to marry her.
Abu Bakr, commander of the Almoravids, married Al-Nafzawiiyah in 1068, but would divorce her just a couple of years later he saw it as his duty to go and fight in the Sahara. He knew that the desert lifestyle was not suited for her and instead advised her to marry his cousin Yusuf Ibn Tashfin who held the position of deputy at the time.
During this time many women lived in the shadow of their husbands, but Al-Nafzawiiyah excelled by Yusuf's side. She became the de-facto co-ruler of the empire and had a significant role in the decision-making process of public affairs.
She was given the title malika (queen), which wives of Muslim monarchs usually did not receive.
Fatima Mernissi, renowned sociologist and founder of Islamic feminism
Fatima Mernissi was an author, Muslim feminist and one of the greatest sociologists in Moroccan history.
Mernissi was born in Fez in 1940 and spent her childhood living with her mother and grandmother. She studied at the Mohammed V University in Rabat, the Sorbonne University in Paris, and earned a Ph.D. in Sociology from Brandeis University in Massachusetts in 1973.
Mernissi was a key figure of the Islamic feminist movement and wrote more than a dozen books in the fields of anthropology, sociology, and feminism. Her most famous literary works are "The Veil and the Male Elite: A Feminist Interpretation of Islam" and "Beyond the Veil: Male-Female Dynamics in Modern Muslim Society."
She passed away on November 30, 2015, but will always remain an icon of modern thinking who defied the norms in an era where there were strict and widespread views on women's role in society. She dedicated her whole life to defend gender equality, women's rights, and moderate Islam.
Her works spread across the Muslim Arab world rapidly and gave women a voice they previously did not have. Her ideas inspired millions of women around the world and paved the way for increased gender equality in the Muslim world.
Fatima Mernissi's efforts were recognized internationally and she received prestigious prizes such as the Prince of Asturias Award and the Erasmus Prize.
With her strong belief in women right's, vast knowledge and fearlessness, she was able to impact the Muslim world in an unprecedented way and for that her legacy will always live on.
Merieme Chadid, astronomer who planted the first Arab flag in Antarctica
Merieme Chadid was born in Casablanca on October 11, 1969. She developed an interest in astronomy from early teenage years after her brother gifted her a book about Johannes Kepler, a 17th century German astronomer and mathematician.
Her newfound interest led to her pursue studies in physics. In 1992, she earned her master's degree in Physics from University of Hassan II in Casablanca. Four years later she obtained her Ph.D. in Astronomy and Astrophysics from the Paul Sabatier University in Toulouse.
Not long after earning her Ph.D. she was recruited as a research engineer at the French National Center for Scientific Research.
Between 1998 and 2001 she was part of a successful mission to install the biggest telescope in the world in the driest and most hostile desert: The Atacama Desert in Chile.
In 2005, she became the first Moroccan woman to set foot in Antarctica. She planted a Moroccan flag to mark the achievement. It is the first Arab flag to ever be planted at the South Pole.
Chadid is renowned in her sphere for being the world's first astronomer committed to installing telescopes for a new large astronomical observatory in Antarctica. Her work at the Dome C is one of her proudest accomplishments. She has described the work there as "one of the coldest, most deserted and inaccessible places in the world" and has compared the complexity of installing the observatory to the difficulty of space missions.
For her astounding achievements in science she was awarded the Arab woman of the year in 2015. She has also featured on Forbes magazine's list of the thirty most interesting and fascinating workers in the world.
Touria Chaoui, fearless pilot and national hero
Touria Chaoui was born in Fez in 1936. She grew up in a time where women did not become pilots, especially not in the Arab world. There had only been one Arab women pilot before Chaoui, but she was firmly determined to achieve her goal despite all the obstacles she faced.
Her supportive father assisted her in enrolling into an aviation school in Tet Mellil, near Casablanca in 1950. The school was the only one of its kind in Morocco and was, in fact, reserved for French forces in Morocco. At the school there were no opportunities for Moroccans, let alone women.
The school admitted her with the belief that she was going to spectacularly fail in the demanding program. The French pilots laughed at the thought of a female Moroccan pilot.
The fearless young girl proved everyone wrong and obtained her aviation license at the age of 15. She did not let people at the school intimidate her, though they did their utmost to make her fail.
Chaoui's success story gave Moroccans inspiration and strength to fight for a free independent Morocco, while the French colonizers despised her.
She became a national symbol for Moroccans who sought independence from the French. Sultan Mohammed V of Morocco acknowledged her fantastic achievement and invited her for dinner at the royal palace where he gave her an award. The French authorities became furious with the Sultan and eventually forced him into exile.
Touria Chaoui was assassinated by unidentified gunmen at the age of 19 on March 1, 1956, one day before Morocco achieved independence. The brutal murder broke the hearts of Moroccans and Arabs who admired her.
Chaoui is not only a symbol for women, but is also remembered as a hero who fought for freedom for the whole nation.
Aicha Chenna, "The Moroccan Mother Teresa"
Aicha Chenna is the most famous Moroccan women's right advocate and activist. Chenna was born in Casablanca in 1941. She left school at the age of 16 and began to work in a hospital. After working a couple of years, she decided to enter a nursing school on the recommendation of a few colleagues who had seen her potential.
Once she had earned her nursing diploma, Chenna began to work for the Ministry of Health giving hygiene workshops. During her time working at the ministry, she witnessed the miserable conditions of disadvantaged single-mothers and abandoned children.
In 1985, after seeing women in disadvantageous situations for several years, Chenna decided to found the Female Solidarity Association (ASF) in Casablanca.
ASF assists disadvantaged single-mothers and victims of abuse by training them in cooking, accounting and sewing. It also offers women literacy assistance and education about human and women's rights. The association provides basic daily healthcare and medical treatments, in addition to social, psychological, and legal support in order to help the women become independent.
Chenna has been recognized by King Mohammed VI for her admirable work, who gives financial support to her association.
She has also received international recognition, winning several prestigious prizes.
In 2009, she became the first Muslim to win the Opus Prize, an award that recognizes unsung heroes who take on the most persistent social problems. She dedicated the $1 million prize money to continue the commendable work of her association.
In 2017, she was crowned International Woman of the Year in Monaco.
The 79-year-old has dedicated her whole life to help the disadvantaged and is still advocating for their rights.
Nawal El Moutawakel, first Arab woman to win an Olympic gold medal
Nawal El Moutawakel made history in the 1984 Summer Olympics in Los Angeles when she became the first Arab and Muslim woman to win a gold medal in the Olympic games. Moreover, she was also the first Moroccan athlete to ever win a gold medal in the international sport event.
El Moutawakel was born in 1962 in Casablanca and dreamed of a career in sports, something unthinkable for many women in the Muslim world at that time.
Her unprecedented victory in women's 400 meter hurdles inspired hundreds of thousands of young Arab and Muslim women to tear down the wall of social and political barriers that kept women from participating in community life activities like track and field.
The triumph gave women belief and courage to take up the sport that was considered as a sport for men only.
Her success earned her recognition from the Moroccan King at the time, Hassan II, who called her as soon as she had crossed the finish line. The King of Morocco declared that every girl born that day should be named Nawal in her honor.
The victory gave her a much-needed platform to raise awareness for Muslim women in sports. As a retired athlete, she has dedicated all her life to promoting women's participation in sports.
She has held several important posts in the Moroccan government, such as Minister of Youth and Sports.
In 2012, she became the first Muslim, African and Arab woman to be elected Vice-President of the International Olympic Committee.
In 2015, she was awarded France's highest civilian award, the Legion d'Honneur.
El Moutawakel is a living legend with a legacy that will always be remembered by Arabs, Africans, and women around the world.
Leila Slimani, distinguished author
Leila Slimani was born in 1983 in Rabat. When she was 17 years old, she left Rabat to pursue political science and media studies at the prestigious Sciences Po University in Paris.
After graduating, she took acting courses as she aspired to become an actress. In the end she decided to pursue a journalistic career and accepted a job offer at Jeune Afrique. The job required her to travel often, and after giving birth to a son and being arrested in 2011 in Tunisia amid the Arab Spring, she ended up leaving journalism to write a novel.
Her first novel was rejected by publishers, but she was determined to succeed and took writing courses before she wrote a new novel. Her second attempt was more successful as the novel "In the Garden of the Ogre" was published in 2014 and won the Moroccan La Mamounia literary award.
In 2016, she became an international literary star when she published the psychological thriller "The Perfect Nanny". The book was the most read book in France in that year and has been listed by New York Times as one of the 10 best books in 2018.
Slimani won the prestigious Goncourt Prize in 2016 for the book. In the 117-year history of France's most prestigious literary award, she became the first Moroccan woman to win the award, and the 12th woman overall to win it.
One year later, Slimani published the controversial book "Sex and Lies: Sexual Life in Morocco". The book explores sexuality in Morocco and the author calls for more sexual freedom and tolerance in the Kingdom.
In recent years, Slimani has become one of the most influential figures in France. Her works give a voice to the voiceless and highlights issues that may be viewed as controversial by many.
French president Emmanuel Macron has acknowledged her achievements and even offered her to become Minister of Culture of France in 2017. She rejected the offer, but instead accepted the appointment to become France's top emissary for Francophone affairs.
In 2018, Slimani was ranked second on Vanity Fair's 2018 top 50 list of the most influential people in France, while Macron placed fifth.
https://www.moroccoworldnews.com/2020/03/295467/8-phenomenal-moroccan-women-that-were-ahead-of-their-time/
--------
Skateboarding won't 'save' Afghan girls
by Sahar Ghumkhor
March 9, 2020
Last month the film Learning to Skateboard in a Warzone (if you're a girl) won the Oscar for best documentary (short subject). The film focuses on Afghan girls who learn to skate through a programme run by Berlin-based NGO Skateistan which purports to "give children the opportunity to become leaders for a better world" by combining "skateboarding with creative, arts-based education".
At the Oscars ceremony, director Carol Dysinger described the film as a "love letter to the brave girls of that country" and praised the work of Skateistan, which, in her words, teaches "girls courage, to raise your hand, to say I am here and I have something to say".
With this win, Learning to Skateboard in a Warzone joins a long list of Western-produced, critically acclaimed films, books, articles, photos, etc about Afghan women and girls in distress who - often with the helpful hand of a Westerner - find their way to empowerment.
In recent years, we saw Barry Levinson's Rock the Kasbah (2015), in which a young Afghan singer (played by Palestinian actress Leem Lubany) is "discovered" by a struggling American music manager (Bill Murry). There was also Angelina Jolie's animated feature Breadwinner (2017) about a girl who disguises herself as a boy to support her struggling family during the Taliban rule in Kabul.
The film is based on the award-winning trilogy of books The Breadwinner (2001-03) by Canadian author Deborah Ellis who got inspired to write them after interviewing Afghan refugees in a camp in Pakistan in the late 1990s.
Articles about "Afghan girl empowerment" also regularly make it to Western media outlets. There have been a myriad of stories about "Afghanistan's first female graffiti artist who is risking it all for her murals"; about Afghan girls learning to play Coldplay and Bob Marley songs on a guitar; about an all-female orchestra telling the Taliban "we won't be silenced" and so on.
In all of these stories, Afghan women and girls who pursue their interests are presented as seemingly breaking the gender norms of their society. They are artists, hipsters, rebels with a cause, who are often introduced as trailblazers, the first-of-whatever social experience that is "unheard of" in their natural landscape of violence, poverty and misfortune.
So why does the West love to tell stories of Muslim girls doing edgy or artsy things in Afghanistan? Why do these stories matter so much to Western audiences?
These stories decontextualise the lives of these girls, presenting them as ideal victims for pity and ideal heroes for admiration. Their feats make Westerners feel good about the war in Afghanistan, that unlike the Iraq war was the "good" war, which "liberated" girls and women and gave them opportunities their own society would have never afforded them. After all, the "liberation of Afghan women" was one of the declared noble causes of the 2001 US-led invasion named Operation Enduring Freedom.
Apart from evoking white saviour emotions, such stories also serve well to cover up the complexities of economic and political realities in Afghanistan and elsewhere in the Muslim world. Indeed, it is much more soothing and gratifying for a Westerner to believe that girls and women suffer because of the "inherent backwardness" of their societies rather than because of centuries of ruthless Western military and political intervention in their countries leading to constant conflicts.
These stories set the scene in Afghanistan and elsewhere as a clash of values - modern vs tradition, women vs patriarchy, individual desire vs community norms - and conveniently drive attention away from the horrors of the global "war on terror" and the havoc it has wreaked on the lives of Afghan women and men.
The experiences of Afghan (and more generally Muslim) girls and women are thus commodified into what media scholar Gillian Whitlock calls propaganda "soft weapons" - narratives from the third world which serve the political and military agenda of Western powers. In this sense, all these stories of empowerment are mediated for the purposes of Western intervention.
One could trace Western obsession with women's and girls' victimhood in Afghanistan to one iconic image - the 1985 National Geographic's Afghan girl cover. For decades, the image of eight-year-old Afghan refugee Sharbat Gula was published, reprinted and displayed many times without her name or true story. It was accompanied by a single deceptive caption "Haunted eyes tell of an Afghan refugee's fears".
Her eyes, however, were not full of fear but rather anger at a white man - American photographer Steve McMurry - who had barged into her all-girls class and made her teacher order her out to pose for a photo she did not want to pose for.
Fifteen years later, Sharbat was dragged out of her village and made to take a nine-hour journey so she would again be forced to show her face to that same white man and his white crew from the National Geographic.
Her body would be objectified and commodified again. "Time and hardship have erased her youth. Her skin looks like leather. The geometry of her jaw has softened. The eyes still glare; that has not softened," declared the magazine.
Sharbat's experience is a perfect illustration of what American writer and filmmaker Susan Sontag's critique of photography: "To photograph people is to violate them, by seeing them as they never see themselves, by having knowledge of them that they can never have; it turns people into objects that can be symbolically possessed."
Countless Afghan girls and women have been possessed in this manner, framed and packaged for Western consumption and enjoyment. Meanwhile, their lives continue to be decontextualised, the real reasons behind their suffering and victimisation - obfuscated.
The West takes violence and toxic patriarchy for granted, accepts them as inevitable, and ignores their roots in conflict. It cannot imagine Afghan (or any other Muslim) society transforming, walking its own way to gender harmony, creating conditions for young women (and men) to pursue their ambitions in a safe and nurturing environment.
"Solutions" are instead seen as a series of social interventions and NGO programmes which provide and encourage "fun activities" - skateboarding, graffiti, music, etc which draw these girls and women closer to the Western image of a "liberated girl or woman" and which supposedly make all the difference in their otherwise static grim reality.
This approach is reminiscent of palliative care which aims to optimise the quality of life for patients at the end of their life. Afghan girls and women are provided with care that manages symptoms of structural problems - conflict, poverty, lack of resources, education, etc - rather than the problems themselves.
This is because their society is perceived as "doomed", stuck in its "backwardness", and dismissed as a vanishing presence in history.
Thus, stories like Learning to Skateboard in a Warzone put hope in individual acts of "bravery" over the possibility of society-wide transformative movements for economic and political justice.
Yet, it is a much braver feat for Afghan girls and women to imagine and fight for true transformative political and societal change in their country that will bring safety, freedom of choice and justice for all, not for a select few.
Sahar Ghumkhor's research explores the intersections of race, gender and psychoanalysis.
https://www.aljazeera.com/indepth/opinion/skateboarding-won-save-afghan-girls-200308121710895.html
--------
URL: https://www.newageislam.com/islam-women-feminism/do-forget-jailed-saudi-women/d/121264
New Age Islam, Islam Online, Islamic Website, African Muslim News, Arab World News, South Asia News, Indian Muslim News, World Muslim News, Women in Islam, Islamic Feminism, Arab Women, Women In Arab, Islamophobia in America, Muslim Women in West, Islam Women and Feminism