New Age Islam News Bureau
4 Feb 2018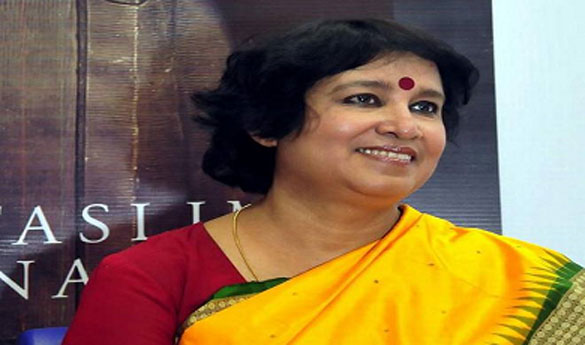 Photo: Bangladeshi author says it is the duty of the State to ensure education and economic support to women, which are key factors for their empowerment
-------
• What UK School's Hijab 'Ban' Can Teach Us
• Imam Performs Ritual Causing Woman to 'Throw Up Evil Spirits'
• In Wakefield, a Muslim Woman Makes History
• Stadium in Dammam Opens Doors to Saudi Women for First Time
• 'Not Your Habibti': Meet the Young Palestinian Woman Bringing #MeToo Movement to the West Bank
Compiled by New Age Islam News Bureau
URL: https://www.newageislam.com/islam-women-feminism/do-away-with-customs-that/d/114160
-----
Do away with customs that deny women their rights, says Taslima Nasrin
GijiK.Raman PULLIKANAM (IDUKKI), FEBRUARY 03, 2018
Bangladeshi author says it is the duty of the State to ensure education and economic support to women, which are key factors for their empowerment
Bangaldeshi author TaslimaNasrin has said the world should unite to protect the rights of women, who should be treated on a par with their male counterparts.
In an interaction with The Hindu at the DC School of Architecture, near Wagamon, Ms. Nasrin says she is not against the Muslim community but opposed to certain customs and rules within the community that prevent the educational and economic growth of women. The author, who faces a threat to life from fundamentalists, says she is against triple talaq as it adversely affects the lives of poor women. As a practising doctor in Bangladesh, she had seen women living in miserable conditions after triple talaq, with no economic or social support. "If a woman can be simply divorced by triple talaq, why should a man not be divorced in the same way?"
The author, who wrote extensively against triple talaq and is in favour of a uniform civil code, says in a democracy there should not be different rules based on communities. The State should enforce equal rights for all women without considering their community. "It can only be realised by giving education and economic support to the suppressed women," she says adding that society and the State should have a responsibility in this regard. Customs and rules that hinder women's empowerment should be removed. India has a rich heritage in its diverse culture that allows different communities to live together. Then why should there be a separate rule for a particular community? The State is united in different languages, topography and different lifestyles.
Ms. Nasrin says she not only speaks for the rights of Muslim women but also those who are suppressed and rendered voiceless by certain customs and rules that are unethical. She had raised her voice for Hindu women when they were suppressed as a minority community in Bangladesh. Similarly, when Christian and Hindu women are suppressed in Arab countries.
To achieve equality in a democracy, women should have equal rights for divorce. Equality can be attained only through financial independence and education to women.
She says that in the majority of Islamic countries, the Sharia laws are modified and what she advocates is one rule for all in a state. Justice can only be given through equality and it points to the importance of a uniform civil code. She welcomes changes in this country that aim at equality and uplift of suppressed women. She could not fathom why some people argue that Islamic rules are untouchable. Irrational and blind faith should be questioned by a secularist and rational mind. It is humanism and not barbarism that makes the growth of society.
"If you do not want any criticism, you do not want any progress," she says adding that she always stands against violence anywhere in the world. Myanmar should take back the Rohingya Muslims. They should be allowed a peaceful stay and given the rights they deserve. Violence against a community should not be justified and the rights of all should be protected under the state law.
Padmaavat
Ms. Nasrin says she has seen Padmaavat and does not notice even a mild action or words that denigrate the Rajputs. It is funny that a controversy is being created over an issue that did not happen. Why the KarniSena portrays the film as against denigrating some could not be understood. Had there been any words or deed that denigrate someone, there would have been meaning in the protest. The protest is all based on a non-issue, she says wondering if it has been a marketing strategy to promote the film in the box office?
According to her, she has always liked to live in Kolkata which she considers her home city.
www.thehindu.com/news/national/kerala/do-away-with-customs-that-deny-women-their-rights-says-taslima-nasrin/article22646688.ece
-------
What UK school's hijab 'ban' can teach us
ANNA PUKAS | Published — Sunday 4 February 2018
LONDON: It is a freezing morning in east London, but in the street outside St. Stephen's primary school, a heated debate rages.
The school, last year named the best primary in Britain, made headlines after its principal, NeenaLall, imposed a ban on girls younger than eight wearing the hijab, only to rescind her decision after a vociferous campaign by parents and community leaders.
Lall had the support of the chairman of the school governors and of the chief inspector of Ofsted, Amanda Spielman, who visited the school and spoke in praise of the headteacher in an address to the Church of England Foundation for Education Leadership on Thursday.
But Lall was forced to backtrack following a community backlash that included a petition with 20,000 signatures and a spoof film circling on social media which portrayed her as Adolf Hitler. On Jan. 19, the school's chairman of governors, ArifQawi, announced he was stepping down.
The row has simmered on for two weeks, fueled by comments from many quarters, including members of the local Newham council, and Muslim groups and activists.
But from one group there has been remarkably little public comment, yet they are arguably those with the strongest investment in the continuing good standing of a school: The parents who send their children to be educated there.
And despite all efforts to defuse the row, it seems they have plenty to say on the subject.
"Whether a girl wears the hijab or not is a choice for her parents or for the girl herself. This is a free country," said garage owner Amir Rafik, 46, who was dropping off his 11-year-old daughter, along with his wife, Nosheen, 42.
"Yes, it's a school and schools have to have rules, but if you are going to impose rules about clothing, it should be one rule for everyone. I don't see anyone banning Sikh boys from wearing turbans from any age."
The Rafiks are of Pakistani origin. Their daughter does not wear a hijab and neither does Mrs. Rafik.
"That is my choice, but I totally support the parents who do want their girls to wear a hijab," she said. "(The principal) was wrong to say what she did and a lot of parents were very upset."
Among the reasons Lall gave for banning the hijab for young girls was her belief that it hampered integration and made pupils feel less British.
Nonsense, said the Rafiks. "We don't need the school to tell us we're British. We live here, we know the rules," said Mr. Rafik.
As the furore grew, Lall called a meeting for parents two weeks ago and apologized.
"We accepted her apology as long as it doesn't happen again and she assured us it won't," said Mrs. Rafik. However, her husband was less impressed by the gesture.
"The meeting lasted one hour and she spoke for 45 minutes. That didn't leave much time for parents to ask questions. She should have listened more," he said.
Most pupils at St. Stephen's, like the principal herself, come from families with origins in the subcontinent. Upton Park, the area in which the school is located, also has a large Indian, Pakistani and Bangladeshi population. Here, fast food means pakoras as much as burgers, and women in hijabs and niqabs are as numerous as women in Western clothing.
Samira, 21, often walks her 4-year-old sister to St. Stephen's before continuing on to the University of East London, where she is studying computer science.
"I've worn a hijab since I was 6 because I loved it, but my sister doesn't wear one, though sometimes she'd like to just to copy me," she said. "Isn't that what all kids want — to be like their older siblings or schoolfriends? Sometimes it's not purely about religion but about a little girl just wanting to fit in."
Some parents protested against the hijab ban at St. Stephen's because they feared it could be a first step toward banning the headwear in all schools.
"You make a rule for one school and it can spread," said Sidra Anwar, 34, a mother-of-three with a 7-year-old daughter at St. Stephen's.
"We follow other school policies, like only black shoes allowed and everyone has to have school dinners. We respect the school and the staff. St. Stephen's is fantastic and we love it, but any school is more than a school. It's also a part of the community and it can't ignore the rest of the community."
As 8:55 a.m. approached — the time when all pupils must be inside school — a man and a woman, both parents, were having an increasingly heated discussion outside the school gates. As voices rose, the woman, who was wearing a hijab and abaya, stomped off.
The man introduced himself himself as Edward Andrews, 38, and of Indian origin with a 7-year-old daughter at St. Stephen's. The hijab ban was neither here nor there, he said. What had incensed him was the backlash from parents and others.
"Why are we talking about this? The school is here to provide education, that's all we should be focusing on," he said. "Is this school the No. 1 primary school in Britain because of us parents? No, it's because of the headteacher and the staff and their methods and policies. If you don't trust them to educate your child, then go to another school or teach your child yourself at home.
"A school is an institution, and while kids are inside that building the school is responsible for their safety and we, the parents, as well as the pupils, must respect the rules."
www.arabnews.com/node/1238961/world
-------
Imam Performs Ritual Causing Woman To 'Throw Up Evil Spirits'
A British imam has been carrying out thousands of 'exorcism' rituals every year across Britain and has now let one be filmed.
Imam AyoubTayeb allowed cameras to film him perform the ruqyah ritual at a mosque in Sheffield, Yorkshire to dispel misinformation about the practise.
The imam says the ritual was one of the 3,000 he had carried out over the last three years in an attempt to rid people of evil spirits or 'jinn' which they believe live inside them.
The 42-year-old imam says he performs the rituals on Christians, Sikhs, Hindus and atheists as well as Muslims.
In the video a 29-year-old woman is seen retching while imamAyoubTayeb chants verses from the Quran. She claimed a curse was causing a range of medical problems including vomiting, pain in the womb, insomnia, headaches and back-pain, and poor memory, which doctors weren't able to resolve.
She also said she was easily angered and would scream for no reason.
Imam Ayoub, originally from Kurdistan, said: "She has black magic and the jinn that brought the magic is also in love with her.
"But this is not real love as love does not cause pain and this Jinn has caused many ailments.
"The information about the magic was given by the jinn when I was speaking to it but it did not say who caused the magic."
"We only operate in the healing and helping to cure them from these evil practices - but magic practicing is widespread."
The ritual takes about an hour to perform and includes a £60 fee which is used to fund the mosque.
The patient in this video is now following a home treatment plan and many of her symptoms have disappeared, the imam says.
Patients come from far afield as Germany, Norway, USA, Sweden and Iraq, he says.
"I treat unexplained illnesses that doctors cannot explain or cure such as period or menstrual issues or excessive behaviours such as gambling, drugs or alcohol.
"We use a diagnosis in a way similar to what you may find at a doctor's surgery.
"We list listing common symptoms in either jinn possession or magic and through those answers we can diagnose the problem by Allah's will."
Imam Ayoub learned his skills by watching others perform ruqyah and through reading.
"I like using the Quran to heal and witnessing the power of the Quran gives me satisfaction - to heal and see people healed," he says.
www.ladbible.com/news/uk-news-imam-performs-ritual-causing-woman-to-throw-up-evil-spirits-20180203
-------
In Wakefield, a Muslim woman makes history
FEBRUARY 02, 2018
The president ordered a travel ban. Hate crimes increased across America. And in Wakefield, Mehreen Butt, a 40-year-old public policy attorney and social justice advocate, became the first Muslim-American woman in Massachusetts to be elected to a board of selectmen.
In a town of roughly 26,000 that for generations has been mostly white and predominantly Irish and Italian, voters hardly noticed that they were making history.
"I never heard anyone say, 'Oh, a Muslim-American woman is running,'" said Ann Santos, 52, a second-term member of the board and a Wakefield native. "It might not have dawned on people.''
Butt's warmth, confidence, and interest in people attracted attention. Nobody thought to ask about her race or religion.
Butt, who dresses in pantsuits and doesn't wear a headscarf, grew up in nearby Lynnfield, the daughter of Pakistani immigrants. Her father is a retired physician who worked at Lynn Union Hospital for 40 years; her mother was a homemaker and worked in retail after Butt and her younger sister and brother were in school.
Among the fewer than 7 percent of Wakefield residents who are minorities, the largest group — about 2.5 percent — are from Asia, according to the US Census's American Community Survey five-year estimates for 2012-2016. Diversity in Wakefield has been growing slowly: Strong schools, a walkable downtown, and many social and recreation programs have attracted young families from across Greater Boston, and around the world.
Likewise, newcomers have been drawn to the town's progressive sensibility: a Human Rights Commission, created three years ago, a class for newcomers called "Wakefield 101," and annual Christmas tree and menorah lightings held on the town common.
"Not to say that we don't have issues," said Stephen Maio, 55, the town administrator and 50-year resident. But people in town "don't really like intolerance."
Butt, who is the director of public policy at Rosie's Place in Boston, the first women's shelter in the country, said she learned from her parents that wherever you go, you are representing your heritage. When extended family is far away, you create surrogates, which her family found at the Quincy mosque where they spent most Sundays when she and her siblings were growing up.
"It was the basics of religion," she said. "To be a good person; treat others the way you want to be treated; and help those who need help."
Until Nov. 18, 2016, no one in Butt's family had experienced overt harrassment. When it happened it was nighttime, and dark, and Butt's parents and sister had just left Kohl's and were walking to their car at the Liberty Tree Mall in Danvers.
Two men walking past them and yelled out, "You [expletive] immigrants. Go back to your country," Butt said.
Butt got her start in local politics two years ago in an Emerge Massachusetts class, a national program that trains Democratic women to run for public office.
"At the May 2016 meeting, I was reading the local paper, and I saw there was a special election for a seat on the Board of Selectman," she said. "I told two friends and within five minutes the entire class was a strategy session for me."
Soon she was going door to door, introducing herself and reminding residents about the importance of voting.
"You can help the most at the local level," she told people, peppering her pitch with compelling statistics: 50 percent turnout for national elections; 20 percent to 40 percent for state contests; and 10 to 15 percent at the local level.
"I can't protect the national parks, but I can protect our lake here," she said. "I can't save the criminal justice system, but I can talk to our police department and public safety about diversity, implicit bias. I can't control behavior, but I can talk to the School Committee about diversity at the local level."
Neighbors, friends, members of Butt's book club, and even high school students too young to vote came out to work on her campaign.
"She just showed up to everything. She showed that she cared," said Maeve Conway, a freshman at Smith College, who was part of a group from the Wakefield High School Democrats.
It was July 2016, when Butt's first bid, a seven-week campaign, began wrapping up.
It was also Ramadan, a holy month when Muslims fast between sunrise and sunset, no food or water, and set aside time for self-reflection and family gatherings.
In the studio at the Wakefield cable access station, soft popping sounds punctuated the air as candidates opened bottles of water, and the contender sitting next to Butt reminded her that if she waited much longer, the pop of her cap would be a distraction.
"I'm fasting," Butt replied.
Her colleague shrugged, she recalled.
And nothing more was said.
Butt lost the race. But in January, she filed papers again, and last April she won one of two open seats on the Board of Selectmen.
"I didn't know Mehreen at all," said Santos, the other female member of the seven-member board. "She has clearly strong opinions, but I like her delivery. If voters feel you are being honest and transparent, there's a pretty good chance they'll listen to you, even if they disagree."
Four months shy of completing her first year, Butt is proud of the board's accomplishments: a balanced budget and AAA bond rating; thousands of people turning out for the Fourth of July parade, the Festival Italia, and a seasonal farmers' market; a plastic bag ban; plans in the works to build benches in the downtown and make the streets more inviting to walkers; and the construction of new homes, including over 140 affordable units.
Among other Muslim-American politicians, Andover native Nadeem Mazen is seeking the Third District Congressional post that includes most of the Merrimack Valley. Incumbent Niki Tsongas of Lowell is not running for reelection and Mazen, a two-term city councilor in Cambridge, will join a crowded field in the September Democratic primary.
Meanwhile, the state's first Muslim-American woman to be elected to a Board of Selectmen is focusing on what's happening in Wakefield.
"I am super-excited about what the next year is going to bring."
www.bostonglobe.com/metro/regionals/north/2018/02/02/wakefield-muslim-woman-makes-history/JtEv8pzVpvk6AIW2ug5ydP/story.html
-------
Stadium in Dammam opens doors to Saudi women for first time
ARAB NEWS | Published — Saturday 3 February 2018
DAMMAM: A football stadium in Dammam, Saudi Arabia will be opening its doors to women for the first time Saturday.
Al-Ittifaq will be playing Al-Fateh at the Prince Mohammad bin Fahd Stadium at 6:05 p.m. Saudi time. It is the third match women have been able to attend after the lifting of a ban which previously prevented them from entering football stadiums.
The decision allowing women in stadiums was first announced on Oct. 29, a month after a historical royal decree lifting the ban on women driving.
To prepare for the change, the Kingdom has designated "family sections" in the stands for women, separated by barriers from the male-only crowd. The stadiums have also been fitted with female prayer areas, restrooms and smoking areas, as well as separate entrances and parking lots for female spectators.
The first match that women attended was the Al-Ahli versus Al-Batin game on Friday Jan. 12 in Jeddah and the second was the Al-Hilal versus Al-Ittihad match that took place on Saturday Jan. 13 in Riyadh.
www.arabnews.com/node/1238836/saudi-arabia
-------
'Not Your Habibti': Meet the young Palestinian woman bringing #MeToo movement to the West Bank
Palestinian-American Yasmeen Mjalli holds one of her T-shirt designs with the slogan 'Not Your Habibti (darling),' as a ready-made retort for cat calls AP
A Palestinian-American woman has been heralded the "driving force" of the Middle East's "Me Too" movement after selling clothing with the slogan "Not Your Habibti (darling)" to women in the West Bank.
Yasmeen Mjalli said she started to design t-shirts, jackets and hoodies with the bold phrase as a way to encourage Palestinian society to confront sexual harassment.
The 21-year-old is the founder of BabyFist – what she describes as a social movement for gender equality in Palestinian territories and the greater Arab world. She started the campaign in response to her own personal experience of street harassment, but it quickly grew into a bigger project.
"What I am doing is to start a conversation that people are really afraid to have," she said.
The graduate has also faced backlash from conservatives and some activists who say fighting Israel's occupation is the priority for Palestinians.
Her parents, who grew up in a Palestinian farming town and emigrated to the US before returning to the West Bank five years ago, have not supported the campaign either.
"To be able to have peace with them, I have to check my feminism at the door, which is very difficult because that's really who I am," she said.
Ms Mjalli's idea of designing clothes with a feminist message emerged during her time at the University of North Carolina, where she studied for a degree in art history.
At the time, she decorated her denim jacket with "Not your Habibti," a slogan that reflected her Arab roots. She posted a photo of the jacket online last year for International Women's Day, sparking a deluge of interest from potential buyers.
For a few months, she bought, transformed and sold second-hand jackets, then in August, she launched her business, Baby Fist, which now runs workshops in Gaza and the West Bank making T-shirts, hoodies and jackets.
Ms Mjalli estimates she has sold close to 500 pieces, with about 70 per cent of her sales in the diaspora.
Women across the Arab world have made strides towards equality, outnumbering men in many universities and joining the work force in growing numbers. Yet they struggle to break free from the constraints of patriarchy.
Traditional Arab societies assign rigid gender roles, with men as guardians of their female relatives' "honour" — effectively a ban on male-female friendships or sex outside marriage. Women violating those rules risk being ostracised or — in extreme cases — being killed by male relatives, who count on leniency from the courts.
Rules are looser among urban elites. But even in Ramallah — the most liberal West Bank town with many Western-educated Palestinians and foreigners — women watch their step.
Women risk getting blamed if they complain, said WafaAbdelrahman, who runs a closed Facebook group for female journalists. "The blame will be, 'for sure, you did something wrong or you gave the wrong signal, the way you dress, the way you talk'," she said.
Palestinian police receive few complaints about street harassment, said spokesman LoayIrzeqat. He believes some women fear unintended consequences, such as male relatives attacking accused harassers.
Police mostly deal with online harassment, with about one-third of some 2,000 electronic crimes cases in 2017 revolving around men blackmailing women for sexual or financial gain, he said.
Typically, extortionists threaten to publish photos deemed compromising, such as showing a traditional woman without her headscarf.
Women lack legal protection, despite improvements such as the establishment of a police sex crimes unit, said Amal Kreishe, founder of the Palestinian Working Woman Society for Development to which Ms Mjalli donates some of her proceeds.
"All the talk about women's equality and rights is lip service," she said.
www.independent.co.uk/news/world/middle-east/palestinian-metoo-yasmeen-mjalli-not-your-habibti-woman-west-bank-palestine-israel-a8192841.html
URL:
https://www.newageislam.com/islam-women-feminism/do-away-with-customs-that/d/114160