New Age Islam News Bureau
21 Sept 2014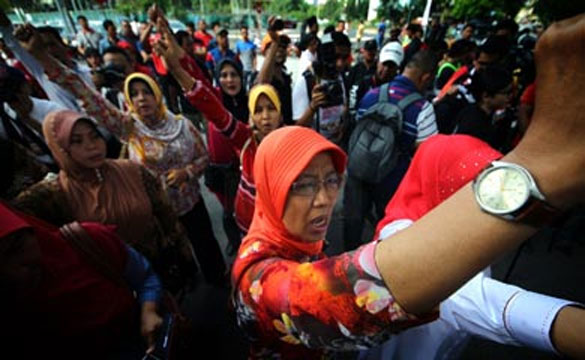 Malaysian women are making steady advances in the workforce– The Malaysian Insider file pic, September 20, 2014
---------
• Female Guards at Saudi Girl's Schools Spark Intense Debate
• Bangladesh Child Rights Bodies Urge Govt to Keep Girls Marriage Age At 18
• Checking Underage Marriages: The Long Road Ahead
• London Council Removes Haredi Sign Segregating Women from Men
• Malaysian Women Making Gains at Workplace
• White House Launches 'It's On Us' Campaign to Fight College Sexual Assault
• Angelina Jolie Surgery Sparks Surge in Female Cancer Tests-Study
• Some 60% of Israelis Fear They Won't Be Able To Support Their Children
• 'Exercise for All' Walking Initiative Launched In Al-Ahsa by a Woman
Compiled by New Age Islam News Bureau
URL: https://newageislam.com/islam-women-feminism/divorce-celebrations-new-phenomenon-saudi/d/99183
-----------
Divorce Celebrations a New Phenomenon in Saudi Society
Congratulations, you are a divorcee!
21 Sep, 2014
Divorce has been traditionally viewed as a negative outcome in Saudi society. However, for an increasing number of women, divorce is an event that puts an end to a life of misery and offers hope for a brighter future. From being a nightmare and occasion of shame for women, divorce is now one of the happiest occasions in a woman's life, which instead of being received with tears and heartbreak, is celebrated with full fanfare, Al-Sharq daily reports.
Um Faisal said divorce parties are not mere myths and a real phenomenon in which guests congratulate and gift the newly-divorced single woman. Um Faisal knows this because she had one when she got divorced. "It was a small gathering for close family and friends. If I had the money, I would've made sure it was bigger than the wedding," she said.
Um Faisal said that she had prayed and wished for divorce hundreds of times. She described her marriage as living in prison with a sadistic husband who enjoyed torturing her. In that respect, she feels that it was only a natural reaction for her to celebrate the day she got a divorce and her life back.
Salma Almutairi criticized divorce parties because she believes it deceives the divorcee into thinking that she is not sad about her divorce in order to avoid people's pitiful and condescending glares. In disagreement was Reem Almahmoudi, who said by getting a divorce from her now ex-husband, she felt free again and found it appropriate to celebrate.
Psychologist Dr. Tariq Alhabib said the way someone receives a divorce depends on the person and the circumstances that led to the divorce. "Whether one would like to be depressed or happy about it, is really a personal choice that others have no business in influencing or interfering with. However, it is notable that divorce celebrations are a new phenomenon in our society," he said.
"Divorcees with children should not forget how divorce will affect them. If a child feels apprehensive about a divorce party, then the parents should be considerate enough to respect the child's feelings and act accordingly. Otherwise, no one has the right to disrupt the party. Some celebrate to compensate for their misery and some celebrate to show off in front of the other ex-spouse that they are better off without him or her. Whatever the reason, it is a very personal choice," he added.
Dr. Mohammad Alsaidi, Shariah professor and researcher at Umm Al-Qura University, said divorce, even though sanctioned by religion, is not something to be celebrated.
"A divorce is a social atrocity that is inappropriate to celebrate even if it was a happy occasion for the divorcee. Divorces are a negative occasion in life and misery will catch up after the celebration. Women should be more aware and knowledgeable about this," he said while urging women to decline divorce parties invitations if they care about their religion and culture.
Dr. Saud Alfinisan, Dean of Shariah College at Imam Muhammad ibn Saud Islamic University, agreed with Alsaidi in the inappropriateness of celebrating a divorce. "Divorces do not usually happen peacefully. Therefore, celebrating a failed marriage is not appropriate. It is only the wife's way of showing off to her husband that she is indeed happier without him. If there are children involved, the occasion could be dangerous," he said.
Dr. Zain Alabdeen, member of the National Society for Human Rights (NSHR), said the real reason behind divorce parties is the fact that getting a divorce is a hard thing to do for women in the Kingdom. It is, therefore, only natural for the divorcee to feel an urge to express and share her newly-granted social status.
"Something quite drastic has to happen for a woman to celebrate with such fervor. A divorced mother's children will celebrate with her as they have seen their own mother cry and suffer while married to their father," Dr. Zain Alabdeen said.
http://www.saudigazette.com.sa/index.cfm?method=home.regcon&contentid=20140920218717
-----------
Female Guards at Saudi Girl's Schools Spark Intense Debate
21 Sep, 2014
Intense public debate continues around the employment of female security guards at girls' schools, with some arguing that teachers and supervisors should take up this role.
Some parents have argued that these guards are vital to tackle conflict between girl students, bullying and inappropriate behaviour toward teachers.
Alfirdaus Samira Alharkan, a school director, supports having female guards, especially at entrances and inside the premises of intermediate and high schools, to tackle improper behavior such as smoking and bullying.
Abdulaziz Al-Atisham, a Shoura Council member, supports the idea and argues it can help solve many problems at schools. He said the government has taken several decisions recently to ensure women can become part of the work force.
"The challenges are mainly bureaucratic in nature. Many people are challenging the employment of women as cashiers, but the reality is that they are more punctual in terms of reporting to work and sticking to working hours.
"Female guards currently stand outside school buildings, and have no involvement in what goes on inside. Why are no female guards employed to remain inside and monitor issues among students?"
Psychiatric consultant Faiqah Badr said women should not only be employed at schools as a means of job creation. It should also be seen as a way to train women to help deal with students who are at a very sensitive stage of their lives.
Writer Suzan Al-Shadi said she was concerned that female guards would overstep their mandate to ensure control of students. She also doubted whether the Department of Education would train them properly so that they were aware of their rights and obligations.
Writer Mohammed Al-Sahimy rejected the idea of employing female guards inside girls' schools. "Teachers and supervisors should be capable of taking on this role so students do not feel they are being monitored."
He said teachers have recently moved away from their role as mentors and focus only on teaching. He urged the education department to place emphasis on training teachers to be both educators and mentors capable of addressing any issue at a school.
http://www.arabnews.com/saudi-arabia/news/632786
-----------
Bangladesh Child Rights Bodies Urge Govt to Keep Girls Marriage Age At 18
21 Sep, 2014
Plan International Bangladesh and Save the Children on behalf of the Child Rights Advocacy Coalition in Bangladesh urged the government to retain the minimum age of marriage for girls at 18 years in a press statement issued.
The statement said the minimum age for marriage of 18 years for girls fell under the government's commitments to the Convention on the Rights of the Child and to relevant national legislation including the National Child Policy 2011 and the Children Act 2014.
The organisations said any attempt to lower the age of marriage for girls would be untenable in the context of international conventions and national laws related to children's rights and protection.
However, the organisations, through the statement, applauded the government for approving the draft Child Marriage Prevention Bill 2014 in principle. It said the provisions in the draft act for raising punishment for those who perform or facilitate child marriage up to two years of jail and a penalty of Tk50,000 was commendable.
They believed that stringent punishment would act as a deterrent and reinforce the efforts to prevent child marriage in Bangladesh.
Plan International, Save the Children and the Child Rights Advocacy Coalition believed that strengthening penalties for conducting and facilitating marriage involving children was only part of the solution.
It was also critical to increase public knowledge about the health, education and social impacts of child marriage. to eliminate the practice of requiring the family of the bride to pay highly expensive dowries, especially where the dowry increases with the age of the bride.
http://www.dhakatribune.com/law-rights/2014/sep/20/child-rights-bodies-urge-govt-keep-girls-marriage-age-18#sthash.vdzGR59z.dpuf
-----------
Checking Underage Marriages: The Long Road Ahead
21 Sep, 2014
A year has passed since a 17-year-old Muslim girl inmate of an orphanage was abandoned by a UAE national barely two weeks after marrying her, in the northern Kerala district of Kozhikode.
A series of media reports and a subsequent arrest made in connection with the case had triggered another debate on Arabi Kalyanams (Arab weddings) where minor girls from economically weaker families are forcibly married off to suitors from the Gulf countries. The debate has largely been centred on underage marriages reported in northern Kerala and was followed up by announcement of more stringent checks on the practice but recent observations made by a Unicef official that the state was witnessing a rise in rates of child marriage suggest that there is room for more corrective action.
Reports have quoted Dora Giusti, UNICEF's Child Protection Specialist in India, as saying that "of late", the state had seen a rise in child marriage rates. The observations have come in the backdrop of findings in the latest (2007-08) District Level Household and Facility Survey (DLHS) initiated by the Union ministry of health and family welfare. According to the survey, 6.8 per cent of women in the state were getting married before they reached 18 years of age. The corresponding figure for men getting married before they reached 21 stood at 1.2 per cent.
The DLHS-3 also reveals that 15.5 per cent of women aged between 20 and 24 years during the survey period had married before they were 18 years old. The study is based on data collected from more than 7.2 Lakh households in 28 states and six Union Territories. The numbers are not strikingly dismal when viewed against the percentage of underage girl marriages in the country (22.1 per cent). But women's rights activists point out that for a state that prides itself in its high literacy rates and a history of progressive people's movements, there's enough in these statistics that warrant concerted action. Further, there's the issue of under-reporting of cases that dampens the efforts to check underage marriages.
Denial mode
V P Zuhara, president of Kozhikode-based Nisa Progressive Women's Forum, said recent cases of Arab weddings in Kerala revealed that forced underage marriages were being practised in substantial numbers when the general contention was that they were a thing of the past. "We had been on a denial mode on these forced marriages. The number of unreported cases only adds to the problem," she said.
The National Crime Records Bureau (NCRB) that tracks reported cases across varied criminal sections has also documented the rise in number of violations of the Prohibition of Child Marriage Act of 2006, in Kerala. Activists who have been fighting a long, hard battle against marriage of minors in the state, especially in the northern districts, maintain that the story lies unexplored in the large number of unreported cases. Of the 220 cases reported in the country last year, 11 were from Kerala. The NCRB records show that the state has seen a jump in the rate – from 0.06 in 2012 to 0.12 in 2013 – of reported cases involving violation of the Act. The rate is calculated as incidence per lakh of population.
The national rate of incidence of crimes in connection with the Act in 2013 is 0.05.In terms of percentage contribution to the total number of crimes recorded in the segment across the country, the jump in Kerala is more pronounced; from 3.55 in 2012 to 4.95 in 2013. According to the NCRB's 2013 figures, Tamil Nadu has the highest rate of incidence at 0.28. It also contributes 25.23 per cent of the total number of cases related to the Act registered across the country.
Apart from Tamil Nadu, only three states – Karnataka (0.13), West Bengal (0.15) and Haryana (0.19) – have a rate of incidence that's higher than Kerala. Women's rights activists in the northern districts have also highlighted the practice of Mysore kalyanams where Muslim men from Mysore marry girls in Wayanad and Malappuram districts and abandon them after spending the money taken as dowry.
The Department of Social Justice and the Kerala Women's Commission (KWC) have pegged their action plan to check child marriages to grass-root activism where anganwadi workers double as Child Marriage Prohibition Officers (CMPOs). Late last year, the government hosted an orientation programme for more than 250 CMPOs in the state; the officers have also managed to prevent many underage marriages but the way forward is in ensuring stronger government-NGO partnerships and social awareness campaigns, according to officials in the department.
K C Rosakutty, chairperson of KWC, said though the Act had provisions to protect CMPOs who report violations and register cases, legal strictures were still falling short in tackling what was essentially a social issue. "The officers are working closely with sections vulnerable to the practice but there are many challenges because they have to step in before the weddings happen. Any intervention after that only leads to more suffering for the girls involved," she said.
Women's rights activists feel that the marginal increase in the number of child marriages reflected in recent study reports also shows that there's greater awareness on the issue among the public and more people are coming out to report such cases. Rosakutty said more Muslim youth organisations in the Malabar region had started to oppose practitioners of underage marriages and there was greater focus on education for the girl child in the community.
"There has been a tendency to limit scope of studies on underage marriages to a community or region but it's a skewed approach. The commission itself has come across cases where 15-year-old girls from other communities were married to men aged above 40," she said.
http://www.deccanherald.com/content/431710/checking-underage-marriages-long-road.html
-----------
London Council Removes Haredi Sign Segregating Women from Men
21 Sep, 2014
Controversial posters put up by ultra-Orthodox Jews, which called for women to keep to one side of the road in a London neighbourhood, were taken down late last week at the order of the local council, British media reported over the weekend.
The posters, reading in Yiddish and English "Women should please walk along this side of the road only," popped up in the streets of Stamford Hill in the middle of last week.
"Walked past around 10 of them on lamp posts, garden walls and green cable boxes," tweeted local resident Sean Clare on Wednesday.
A group of Haredi Jewish volunteers called the Shomrim took responsibility for the posters, according to the London Evening Standard, which noted that over 20,000 ultra-Orthodox Jews live in the area.
Residents complained to the Hackney Council, the Standard reported, which on Friday ordered the posters removed. Their defence was that members of the sect are not allowed to touch someone of the opposite sex save for their marriage partners and close relatives, but the council did not buy the argument.
"It's quite unacceptable to try to restrict women's movements in a public place," Rosemary Sales, a Stamford Hill West council member, told the Standard.
"If I saw one of those, I'd walk on the other side out of sheer cussedness," one interviewee told the Standard.
http://www.haaretz.com/jewish-world/jewish-world-news/1.616928
-----------
Malaysian Women Making Gains at Workplace
21 Sep, 2014
Malaysian women have it better than their Singaporean sisters when it comes to representation at the workplace, according to the Gender Diversity Benchmark for Asia 2014 (GDBA 2014).
Malaysia ranked fourth among six Asian markets, GDBA 2014 said.
The lead sponsor of the report is Bank of America Merrill Lynch, as part of its efforts to promote diversity and inclusion.
The study benchmarks gender diversity in more than 30 multinational companies across six markets, including Singapore, Malaysia, China, Hong Kong, India and Japan.
It was conducted by Community Business, a leading not-for-profit organisation specialising in corporate responsibility and a thought leader on diversity and inclusion in Asia.
Community Business chief executive officer, Fern Ngai, said overall, the organisation was pleased to see some signs of real progress in this latest study.
"Of course, more needs to be done and performance varies across the region. Women continue to be under-represented at senior levels in organisations and we need to continue to address this," she said.
Ngai commended Malaysia on its strong and improved performance.
"The mandatory measures introduced by the Malaysian government have been a key driver. The country performs well on all data points despite the less favourable environment for women's advancement in Malaysia.
"These findings show that the existence of policies and programmes does not necessarily correlate to strong performance, and bringing about change requires multifaceted efforts from different sectors and on different aspects," she said.
Malaysia presents an encouraging picture with a consistent upward trend in performance compared with 2011.
When it comes to the average representation of women in the total workforce (58.1%), at junior levels (63%) and middle levels (50.3%), companies in Malaysia are achieving or exceeding gender parity.
Like Singapore, the biggest leak in Malaysia's talent pool takes place between middle and senior levels with an average 32.4% drop.
When it comes to the average representation of women at senior levels, performance continues to be relatively strong at 34%.
Malaysia ranks second at this level, just behind China only, and has the highest percentage of companies (35.3%) attaining or surpassing gender parity.
http://www.themalaysianinsider.com/malaysia/article/malaysian-women-making-gains-at-workplace-bernama#sthash.Ly2L1VLA.dpuf
-----------
White House launches 'It's On Us' campaign to fight college sexual assault
21 Sep, 2014
The White House on Friday launched an awareness campaign to help put an end to sexual assault on college campuses in America.
According to the White House website, President Barack Obama joined Vice President Joe Biden in launching the campaign. "It's On Us asks everyone -- men and women across America -- to make a personal commitment to step off the sidelines and be part of the solution to campus sexual assault," read the website.
"As far as we've come, the fact is that from sports leagues to pop culture to politics, our society still does not sufficiently value women," Obama said.
"We still don't condemn sexual assault as loudly as we should. We make excuses. We look the other way. The message that sends can have a chilling effect on young men and women" he continued.
The White House website also reported in a factsheet that since the beginning of Obama's administration, the President and Vice President have made it a priority to root out sexual violence wherever it exists," especially in our nation's schools".
In April 2011, Biden and Secretary of Education Arne Duncan introduced comprehensive guidance to help colleges and universities nationwide better understand their obligations under federal civil rights laws to prevent and respond to sexual assault on campus.
Friday's initiative went viral on Twitter, with the hash tag #ItsOnUs calling for more people to take the pledge and end sexual assaults.
Well known figures such as Kerry Washington Jon Hamm, Rose Byrne, Quest love and others joined Obama and Biden in support of the campaign in a YouTube video.
http://english.ahram.org.eg/NewsContent/2/9/111218/World/International/White-House-launches-Its-On-Us-campaign-to-fight-c.aspx
-----------
Angelina Jolie surgery sparks surge in female cancer tests-study
21 Sep, 2014
(Thomson Reuters Foundation) - Hollywood star Angelina Jolie's decision to make public her double mastectomy more than doubled the number of women in Britain seeking to have genetic breast cancer tests, according to a study released.
Jolie, 39, who has become a high-profile human rights campaign, announced her surgery in May last year, saying she acted after testing positive for a mutation of the BRCA1 gene that significantly increases the risk of breast cancer.
She said she was going public with news of her surgery as she hoped her story would inspire other women to fight the life-threatening disease.
Researchers studied 21 clinics and regional genetic centres and found there were 4,847 referrals for testing in June and July last year compared to 1,981 in the same period of 2012
The study of the so-called "Angelina effect", published in the journal Breast Cancer Research, credited Jolie's glamorous appearance and relationship with Hollywood actor Brad Pitt for helping to lessen women's fears about surgery.
"Angelina Jolie ... is likely to have had a bigger impact than other celebrity announcements, possibly due to her image as glamorous and strong woman," researcher Gareth Evans of the charity Genesis Breast Cancer Prevention said in a statement.
"This may have lessened patients' fears about a loss of sexual identity post-preventative surgery and encouraged those who had not previously engaged with health services to consider genetic testing."
Breast cancer is the most common cancer in women worldwide. The World Health Organisation estimated that more than 521,000 women died of breast cancer in 2012.
Oscar-winning Jolie has in recent years drawn nearly as much attention for her globe-trotting work on behalf of refugees and victims of sexual violence in conflicts as for her acting.
Jolie was named a Goodwill Ambassador for the UNHCR in 2001 and promoted to be Special Envoy to High Commissioner Antonio Guterres in 2012. Since 2012 she has also led a campaign against sexual violence in conflict zones. (Reporting by Laura Onita, Editing by Belinda Goldsmith)
http://www.trust.org/item/20140919110105-mr7h0/?source=jtOtherNews3
-----------
Some 60% of Israelis fear they won't be able to support their children
21 Sep, 2014
Around 59% of Israelis 20 and older believe they won't be able to support their children in the future, according to a survey conducted by the Central Bureau of Statistics last year. This works out to around 3 million people.
Some 76% of Arabs, 56% of Jews and 47% of ultra-Orthodox Jews said they would not be able to support their children.
In the survey, 65% of respondents said they feared they would not be able to save money for the future. Around 79% of Arabs said they were worried, compared with 62% of Jews and 51% of ultra-Orthodox Jews.
In households with per capita income up to 2,000 shekels ($549) a month, 77% of respondents said they feared they wouldn't be able to save. The figure was 56% for households with per capita income up to 4,000 shekels a month.
Around 55% of Israelis – 2.8 million people – are concerned they won't be able to live in dignity in old age. The figure is 66% for Arabs, 53% for Jews and 37% for ultra-Orthodox Jews.
A full 52% fear they will be financially dependent on others. That figure is 56% for women and 48% for men.
Divorcees are more concerned about their financial future than married people, the statistics bureau found. Younger Israelis tend to be more worried.
Some 39% of respondents said they expected their financial situation to improve over the next few years, while 35% predicted that it would remain unchanged and 17% said it would worsen. The percentage of those who believed that their financial status would worsen increased with age, especially near retirement.
In 2002 and 2004, surveys found low optimism regarding Israelis' financial future. Outlooks improved between 2004 and 2010, but since then people have become more pessimistic.
In 2013, some 13% of respondents 20 and up were very concerned that they would lose their job. Around 40% said that if they lost their job they were unlikely to find another one at the same salary.
Arab respondents were more concerned about job security than Jews — 21% versus 12%. Men were more concerned than women, and people with low salaries were more concerned than high earners.
http://www.haaretz.com/business/.premium-1.616854
------------
'Exercise for All' Walking Initiative Launched In Al-Ahsa by a Woman
21 Sep, 2014
AL-AHSA — Saudi citizen Mona Al-Halimi launched a unique campaign aimed at achieving two goals — first, is to set up a walkway in the centre of the district and convince people to walk and, second, to improve and develop the current walkways and encourage people to use them.
Launched under the motto "exercise for all," the campaign will be marketed on social media through the WhatsApp instant messaging application. Many residents of the district have responded positively to the campaign, which started from Al-Zahra Mosque in Al-Nuzha district, Al-Ahsa, Al-Yaum daily reported.
Through the campaign, Al-Halimi stressed the importance of not waiting for the municipality to set up a walkway near their residences or for a driver to take women to officially-designed walkways.
"We are giving up laziness and excuses and we are setting up a walkway for ourselves. Walking is one of the best exercises that helps burn fat, promote better blood circulation, regulate the heartbeat and increase muscles and fluids in the body. Walking makes a person more active. It also contributes to curtailing psychological pressures, which have started increasing in Saudi society," she said.
"Walking helps prevent diseases of the age, like high blood pressure, high cholesterol and hardening of the arteries," she added.
She called on all including Al-Ahsa Municipality, religious scholars, doctors, athletes and the media to support her campaign.
Al-Halimi said she was inspired to launch the campaign when she was visiting a hospital located in a Gulf Cooperation Council (GCC) country.
"The hospital had a park whose area was just 500 square meters. I was impressed by the model walkway the park had despite its small area. The park also had simple signboards that showed how many meters a person has walked, for example. The trees, flowers and aquariums were well arranged. There were seats for resting," she said.
Al-Halimi took pictures of all the signboards and is now using similar ones in her campaign in Al-Ahsa, which she wants to eventually expand and promote in other regions of the Kingdom.
http://www.saudigazette.com.sa/index.cfm?method=home.regcon&contentid=20140921218865
-----------
URL: https://newageislam.com/islam-women-feminism/divorce-celebrations-new-phenomenon-saudi/d/99183