New Age Islam News Bureau
29 Dec 2019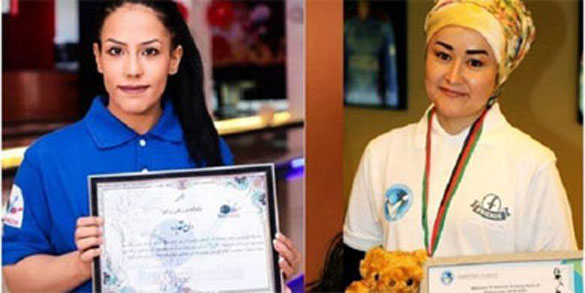 Authorities confirmed membership revocation of the two female athletics from Afghanistan National Bowling Team as the athletics have neglected wearing of 'Islamic Hijab
----
• Disregarding Islamic Hijab: 2 Afghanistan Female Athletics Deprived Bowling Membership
• Female Students Clinch Top Positions In All KU Faculties' Exams
• Badin's Student Wins Contest of Women Wrestling in USA
• 53 Women Killed Last Month In Turkey: Women's Rights Group
• Jeddah Eagles Flying High With Women's Football Win
• Saudi Women Ride Into History With 'Dream' Home Debut
• No Room For Women In "New Malaysia"?
• Women's Team Want To Spread Their Wings
Compiled By New Age Islam News Bureau
URL: https://www.newageislam.com/islam-women-feminism/disregarding-islamic-hijab-2-afghanistan/d/120652
------
Disregarding Islamic Hijab: 2 Afghanistan Female Athletics Deprived Bowling Membership
December 28, 2019
KABUL: Authorities confirmed membership revocation of the two female athletics from Afghanistan National Bowling Team as the athletics have neglected wearing of "Islamic Hijab" (veil) during their play in one of the gulf countries.
The National Bowling Federation has described the two athletic as Fazila Hoorzad and Zohal Bayat.
The federation said that the two athletics have neglected the wearing of Islamic Hijab and opposed the policy of the federation while they were at the 25th Asian Bowling Championship in Kuwait.
"In accordance to the federation policy and rules, serious acts will be made against the disregarding of Islamic Hijab," said Sayed Ahad Sorush, spokesman for the federation.
But one of these athletics, Fazila Hoorzad, whose memberships has been cancelled, called the implementation a "slander" against herself.
"We fully appeared in Islamic veil in our matches and attended all the official meeting and events with Hijab," she said, adding, "It is our choice to decide how to appear out the official time."
Meanwhile, the videos and photos of 25th Asian Bowling Championships have shown these two athletics with Hijab.
Samira Hamidi, an Afghan women rights activist and regional campaigner for Amnesty International has termed the federation's decision a discrimination act and a clear violence against women.
"It is not the first time that women in Afghanistan have been deprived of their membership rights. No law or policy can limit a person's privacy," she added.
She called for an immediate halt of such actions, saying that women would hardly dare to join such fields as they would be concerned about their privacy.
"In a society where attending women in sports are regarded as a taboo breaking, women should not be victimized anymore," Samira emphasized.
She demanded the related authorities to re-grant the athletics' membership and let them attend the national and international games.
Afghanistan is considered one of the restricted countries against women in the world. Women are paid with less freedom and treated with sever limitation.
http://www.afghanistantimes.af/disregarding-islamic-hijab-2-female-athletics-deprived-bowling-membership/
------
Female students clinch top positions in all KU faculties' exams
Arshad Yousafzai
December 29, 2019
Female graduates again outshined male students in terms of academic excellence at the 30th convocation of the University of Karachi (KU) held on Saturday as girls clinched all the prestigious academic medals, including the first position in the entire university and the first positions in all the eight faculties.
A total of 7,184 graduated this year, and 2,033 of them were awarded degrees for programmes of various departments under the eight faculties of the varsity. A total of 208 students received gold medals.
A female graduate, Sajida, who was enrolled on the masters degree programme at the Department of Mathematics, clinched three gold medals, including the one that was dedicated to the martyred students of the APS Peshawar for securing the overall first position in the entire university. She received the second gold medal for holding the first position in the Faculty of Science, and the third for achieving the first position in the Department of Mathematics.
Talking with The News, Sajida said she had dedicated her APS gold medal to the parents who lost their children in the terrorist attack and the students and teachers who were martyred.
"It was the most disastrous day in the history of Pakistan. I always wished to do something in the name of the martyred children of the APS. Now, I have the opportunity and want to dedicate my gold medal to them, their parents and teachers."
The position holders at the faculty level included Faiza Sabir for securing the highest marks in the Faculty of Arts and Social Sciences, Alieya Ali in the Faculty of Education, Sumaira Ashraf in the Faculty of Islamic Studies, Tasmeena Perveen and Syeda Izza Maryam Rizvi in the Faculty of Law, Sayyeda Sualeha Waseem in the Faculty of Pharmacy, and Farah Siddiqi and Muqaddas Jelani in the Faculty of Management and Administrative Sciences.
Statistics
According to statistics released by the KU, 3,166 degrees were awarded in different departments working under the Faculty of Science, 1,865 degrees in departments under the Faculty of Arts and Social Sciences, 718 degrees under the Faculty of Management and Administrative Sciences, 284 degrees under the Faculty of Education, 268 degrees under the Faculty of Islamic Studies, 216 degrees under the Faculty of Pharmacy, 80 degrees under the Faculty of Law, and 21 degrees under the Faculty of Engineering.
As many as 292 students received MPhil degrees while 255 students earned PhD degrees at the convocation. Fifteen students were awarded two-year master programme degrees such as MS, MD and DSc. A total of 645 students received BA (Hon) degrees, whereas, 68 students were awarded BS degrees.
From the Faculty of Arts and Social Sciences, 1,142 students received masters degrees. A total of 1,186 students were the recipients of BSc (Hon) degrees, while 357 graduates were awarded BS degrees. As many as 623 graduates of the departments under the Faculty of Science received masters degrees.
Those who received Pharm-D degrees were 216, while 95 graduates bagged two-year BCom degrees. A total of 109 students obtained BPA (Hon) degrees and as many were awarded BS degrees.
Governor's speech
Sindh Governor Imran Ismail, who is also the chancellor of all the public sector universities in Sindh including the KU, addressed the convocation.
"A Majority of the female students including the position holders do not start their professional carriers or it comes to an end in an early stage due to their marriages or some other reasons which are not a good sign for the country," he said.
He mentioned that notable personalities were produced by the KU or were affiliated with it who included Dr Abdul Qadeer Khan, Dr Attaur Rehman, Raees Amhrohi, Dr Salimuzzaman Siddiqui, Prof ABA Haleem and others.
"Unfortunately, around 40 per cent of youngsters after completing their graduation plan to leave the country as they believe that it would be a better option for their future. However, they should have faith and confidence in themselves and dedication to work for the country," the governor remarked.
He shared that 70 per cent of the economics of the world would be run by 20 countries in 2023 and Pakistan for the very first time would be a part of that privileged group. He also maintained that there was no shortage of job opportunities in the country.
Acting VC's remarks
KU Acting Vice Chancellor Prof Dr Khalid Mahmood Iraqi said the international ranking of the KU had significantly improved due to the hard work and expertise of the faculty members.
He informed the audience that the varsity had leaped forward in the Asia University Rankings on 239th position. Compared to last year, the KU at present is recognised as one of the best higher education institutions of the region, he said.
Prof Iraqi said the varsity had inked many memorandums of understanding with foreign varsities to foster global competence and share experiences of best global academic practices.
"We have also charted out a four-year bachelor's programme in Chinese language which will have a 2-2 split, with half of the course – that is two years – to be conducted in China at the Sichuan Normal University."
The acting VC said the KU always helped the students and for the first time the administration had decided to offer scholarships to those who could not apply for admissions due to financial reasons.
Top position holder students
Alieya, who secured the first position in the entire Faculty of Education, said she would pursue a career in the education sector to educate more and more women. "It is not important for a girl to be employed. But the only thing which is much important for a female is education. Women literacy will ultimately change society."
The overall first position in the masters programme of the Faculty of Management and Business Administration was clinched by two girls, Farah and Muqaddas.
Talking to The News, Farah said the female graduates had received more degrees with distinction in professional education than their male counterparts. She added that though the girls achieve good percentage in their final results, a majority of them give up professional careers.
"In our society, people generally expect that the sole responsibility for making a family lies with the women in spite of the fact that a family is created by a man and a woman together and they are equally responsible for it," she said, adding that she would like to pursue a career in teaching business education to educate more females and bring them in the field of business.
Muqaddas said the future of Pakistan is bright as it has talented manpower, striving to improve its economy and literacy rate. She added that nowadays, the parents and employers encourage the women to get professional degrees while society has also started to accept the positive role of working women.
When asked why male students do not generally put efforts in education, which is evident from the fact that very few of them secure positions in examinations, but they are still able to get high-ranked and well-paid jobs in comparison to female graduates, she said boys study with the objective of securing jobs in the future; whereas, girls have an extra motivation than them as they have to prove themselves in society, which, however, does not provide equal opportunities to the women.
Tasmeena who bagged the overall first position in the Faculty of Law remarked that achieving top position might be helpful in pursuing professional careers. She said in our society, women suffer from many problems on a daily basis, but added that they should accept all such challenges because no one would come forward to resolve their issues.
She was of the view that as there was a lack of practising female lawyers, the new female law graduates were not able to find many mentors who could guide them in the early stages of their career.
https://www.thenews.com.pk/print/590138-female-students-clinch-top-positions-in-all-ku-faculties-exams
------
Badin's student wins contest of women wrestling in USA
December 28, 2019
Student of Badin city, Ms. Nida Ali Jamali, studying in USA has won contest of women wrestling in California, state of USA and was honoured with atleast two gold medals.
In this connection Babar Jamali, maternal uncle of Ms. Nida Jamali said she was hard working, talented and active student and best player of wrestling and for her hard strive, efficient training and keen interest, she won the contest for beloved Pakistan, nation and people of Badin.
It is pertinent to mention that Ms. Nida Ali Jamali secured highest ever percentage in the subject of American history during her study in USA and her glowing and remarkable performance was lauded.
https://pakobserver.net/badins-student-wins-contest-of-women-wrestling-in-usa/
------
53 women killed last month in Turkey: Women's rights group
October 04 2019
Some 53 women were killed across Turkey in September, making it the most deadly month of this year so far for women, according to a report by Kadın Cinayetlerini Durduracağız Platformu (We Will Stop Femicides Platform), a women's rights organization that monitors violence against women.
According to the report, 17 women were killed by their husbands, six by acquaintances or relatives, five by their boyfriends, three by their sons, two by their brothers, two by their former husbands and one by someone she did not know. The perpetrators of the remaining 17 femicides could not be determined.
Two of the women were killed on the pretext of "financial reasons" and nine for either wanting to divorce, refusing to get together or turning someone down. The reason for 31 of the killings could not be determined, while 11 of the femicides were logged as "suspicious deaths."
"As long as it is not determined by whom the women are killed and due to which reason, a fair judicial process is not conducted, suspects and murderers do not get deterrent fines and preventive measures are not applied, the violence keeps changing dimension and continues to exist," said the report.
Eighteen of the women were killed with sharp objects, 12 with firearms, two were strangled to death, one died from being strangled and assaulted with a sharp object, one was killed with a chemical substance and another was burned to death.
Thirty of the women were killed in their own homes, six on the street, two in a park, one in a stable, one in a garden, one in an entertainment venue, one at a workplace, one at a grocery store and one at a hotel. The bodies of two of the victims were found in dams and another two, in forests. The authorities could not determine where the rest of the five women were killed, according to the report.
With the latest figure from September, the total number of women killed since the beginning of this year equaled 347, said the activist platform. In 2018, the number of women killed was 440, according to the same group.
http://www.hurriyetdailynews.com/53-women-killed-last-month-in-turkey-womens-rights-group-147143
------
Jeddah Eagles flying high with women's football win
DEEMA AL-KHUDAIR
December 09, 2019
JEDDAH: A relieved Jeddah Eagles team claimed victory in the Jeddah Women's Football League with a final-match victory over arch-rivals Miraas.
The Eagles were one-point leaders on the league table going into the last match of the season on Friday and needed a win to ensure triumph in the league.
Coach Bireen Sadagah, 31, said she is overwhelmed with her team's victory. "I still can't believe we actually won the league," she told Arab News.
Jeddah Eagles claimed the title from rivals White Lion, Jeddah Wave, Miraas, Storm and Kings United in a two-month competition which began on Oct. 4.
"It's such a beautiful thing to win it after such a long journey, especially since we started from scratch," Sadagah said.
"The girls feel very proud of themselves because they have accomplished something all the other teams in Jeddah were aiming for.
"Jeddah Eagles made history by winning the league and I'm sure that all the girls in my team will support their nephews, cousins, nieces, friends and others to be better. By 2030, you're going to find a very good generation of athletes in the Kingdom," the coach added.
Eagles midfielder Farah Jefry, 16, said: "It was incredible. Everyone was fighting for the cup and we were up by only one point before the final match, so we had to win in order to win the cup. I'm really thankful for my team for working so hard this season."
The young footballer said she is thankful for Saudi Vision 2030 and the role being offered to women to make sports history. Under social reforms led by Crown Prince Mohammed bin Salman, women are beginning to enter many different fields, including sports.
"There has been a huge difference if you compare us now from five years ago. Women have a lot more opportunities," Jefry said.
"The Jeddah Women's League is an example and also the first national team. Women's football is gaining popularity in the Kingdom," she said.
"There are so many people asking how they can join our team, and so many teams are being established these days. Two years ago, there were about five teams and now there are around 10."
Eighteen-year-old midfielder Layan Jouhari praised the team's efforts.
"The past few months have been intense with training four times a week, and a lot of planning and commitment," she said. "We had to go through tough losses and amazing victories, so to finally win the cup in the end, it's indescribable," she said.
Jouhari said she is happy with the support Saudi Vision 2030 has given to women in sports.
"I'm grateful that Saudi Arabia is taking all these steps to develop and change, and shed light on areas where women haven't had a chance to shine before. It's rewarding to be appreciated by the Kingdom, especially in the field of sports. We are getting a lot of support," she said.
https://www.arabnews.com/node/1596096/saudi-arabia
------
Saudi women ride into history with 'dream' home debut
December 14, 2019
RIYADH: Saudi women riders are saddling up to make history when they compete side by side with their male counterparts for the first time as part of this month's Diriyah Equestrian Festival.
Olympic and World Cup qualification points are up for grabs in the second edition of the festival being held on Dec. 14 and Dec. 19-21.
However, more significantly, women riders will compete in the same arena as their male counterparts for the first time in the Kingdom's history.
Over the course of two weekends, the festival will feature 120 riders, 150 grooms, 50 officials, 300 companions and trainers, 250 club members and 150 crew.
The 13 Saudi women competitors are excited that the moment to shine on their home turf has finally arrived.
"This is a dream," said 18-year-old Lama Al-Ajmi. "It's an international four-star competition and I will finally get to represent my country on home soil.
"For me, this is the start. This is the start for all of us. I want to be on top and the Olympics are my dream," she added.
Sultanah Abar, 32, a graphic designer and former UN employee, will compete alongside her brother Abdelkarim in the festival — their first time riding together in an international competition in their homeland.
"I started riding when I was four years old," she said. "But until now I've only been able to compete abroad. Finally, we can compete at home and it makes me proud."
Wafa Al-Hasoun, 24, also voiced her excitement at being able to join an international competition in her country. "We used to watch, now we participate and look to win. We're very excited to finally be part of this," she said.
The equestrian festival is part of the wider Diriyah Season, a month of major sports events such as Formula E, top-class men's tennis and the recent world heavyweight title fight The Clash On The Dunes.
The Diriyah UNESCO World Heritage site will also stage performances from some of the globe's biggest music artists, including Swedish House Mafia and Calvin Harris, as part of the festival.
https://www.arabnews.com/node/1598616/sport
------
No room for women in "New Malaysia"?
Sheith Khidhir
27 December 2019
While Malaysia's male politicians continue to squabble over power, all the women seem to be left with are breadcrumbs.
Recently, the World Economic Forum (WEF) released its 2020 Global Gender Gap Report. While it was unsurprising that Nordic countries like Iceland, Norway, Finland, and Sweden were the top performers, some ASEAN countries like the Philippines – which managed to secure the 16th spot out of 153 countries – didn't do too shabby either. The same, however, could not be said for most of the other ASEAN member states.
Last month, on 25 November, local Malaysian media had quoted the Department of Statistics Malaysia (DOSM) as saying that the country's Gender Gap Index had improved, with increased women empowerment in politics being the greatest contributor to the better score. The index score for 2018 was recorded at 71.1 percent, a boost from 69.7 percent the year before, Department of Statistics Malaysia (DOSM) showed in its Statistics on Women Empowerment in Selected Domains.
The more recent WEF report, however, seems to paint a different picture for Malaysia.
While Malaysia was not a top performer in the 2018 Global Gender Gap Report either – having been ranked 101st place out of 149 countries – the 2020 Global Gender Gap Report placed Malaysia at an even lower rank at 104th place.
While, admittedly, there was an addition of four other countries in the more recent report – which could have altered Malaysia's score to be slightly lower - the fact remains that Malaysia has a problem when it comes to realising equal rights among men and women.
This is similar in the case for the Political Empowerment dimension. In 2018, Malaysia received a score of 0.072 out of 1 and ranked 131st. Meanwhile, in the 2020 report, Malaysia received a score of 0.108 and ranked 117th. Improvement? Yes, but 117th place out of the 153 countries involved isn't anything worth bragging about and still a long way from Philippines' score of 0.353 and rank of 29th place for the same dimension – let's not even talk about the Nordic countries for now.
As a matter of fact, Malaysia performed worst for Political Empowerment when compared to all other dimensions where - let's face it - the country didn't perform so well either.
Political empowerment
Prior to the Coalition of Hope's (Pakatan Harapan) coming into power in the country's May election last year, the coalition had promised to ensure that women had at least 30 percent representation in state and federal government. However, an article published by New Mandala last month noted that this promise has yet to be fulfilled.
While there has been an increase in the proportion of women in the federal parliament—from 10.8 percent after the previous election in 2013 to 14.9 percent currently — New Mandala noted that Malaysia continues to rank poorly in global indexes for women's political representation and gender equality.
"As of 2019, there are 33 women in federal parliament (14.9 percent), five female Ministers (17.8 percent), four female Deputy Ministers (14.8 percent) and nine women in Cabinet (16.4 percent)," the article noted.
In fact, soon after the coalition came into power, a report from Reuters revealed that activists were "angered" over the low number of women who had so far been appointed to national and state governments run by Pakatan Harapan, with none meeting the target.
"We are holding the government accountable to its promise. We want an inclusive society," said Angela Kuga Thas, executive director of the group Empower. She had led a small rally outside the national palace in the capital, Kuala Lumpur, where protestors held placards that read: "Women are ready to govern" and "We vote for change".
Later, in March this year, Empower wrote a letter that was published by local news portal Malaysiakini. In it, the group wrote that, although it had then been close to a year since 9 May (the general election where Pakatan Harapan grabbed power), and despite implementing various initiatives on women's empowerment through state-run institutions and appointing a female deputy prime minister for the first time in the nation's history, the coalition had yet to prove its seriousness in placing women in decision-making positions in politics.
"Women are half of the Malaysian population, and women should hold at least half of the decision-making positions. This needs to be done right now for the betterment of democracy and truly a Malaysia Baru (New Malaysia)," the group wrote.
Judging from the numbers, Pakatan Harapan's promise of 30 percent women representation in state and federal governments has not been fulfilled. Yet again, this is just another case highlighting the fact that Malaysia "improves", but still has a long way to go.
https://theaseanpost.com/article/no-room-women-new-malaysia
------
Women's team want to spread their wings
By K.M. Boopathy
December 29, 2019
THE national women's cricket team are hoping to play at the Hangzhou Asian Games and the Birmingham Commonwealth Games in 2022.
While participation in the Asian Games will depend on the Olympic Council of Malaysia's (OCM) approval, World No 28 Malaysia must go through the Commonwealth Games qualifiers to play in Birmingham.
Malaysian Cricket Association (MCA) president Mahinda Vallipuram said the women's team need to play quality opponents in their bid to improve rankings before taking on Test-playing nations in the Commonwealth Games qualifiers.
"The women's team have been making progress since winning bronze at the 2017 Kuala Lumpur Sea Games. The objective now is to play in the Asian Games and also to qualify for the Commonwealth Games in 2022," said Mahinda at Kinrara Oval in Puchong yesterday.
"They need to convince OCM that they are good enough to play in the Hangzhou Asian Games by moving up the rankings. As for the Commonwealth Games, we are still waiting for the International Cricket Council to release the qualifying format for the Commonwealth Games."
Meanwhile, the four-team Malaysian Super Women League starts today at Kinrara Oval.
https://www.nst.com.my/sports/cricket/2019/12/551639/womens-team-want-spread-their-wings
------
URL: https://www.newageislam.com/islam-women-feminism/disregarding-islamic-hijab-2-afghanistan/d/120652
New Age Islam, Islam Online, Islamic Website, African Muslim News, Arab World News, South Asia News, Indian Muslim News, World Muslim News, Women in Islam, Islamic Feminism, Arab Women, Women In Arab, Islamophobia in America, Muslim Women in West, Islam Women and Feminism