New Age Islam News Bureau
07 September 2020
• Female Scooter-Riders on The Rise In Egypt
• These Women Have Been Teachers For 4 Decades In UAE
• Most Expat Women Employed in Oman Government Sector Are Indians
• Organization of Islamic Cooperation, US Officials Explore Ways to Empower Women
• British Female IS Suspects Are Escaping Syrian Detention Camps
Compiled by New Age Islam News Bureau
URL: https://www.newageislam.com/islam-women-feminism/burqa-replace-khaki-ips-officer/d/122807
--------
Did Burqa Replace Khaki for An IPS Officer in Maharashtra?
Chayan Kundu
September 3, 2020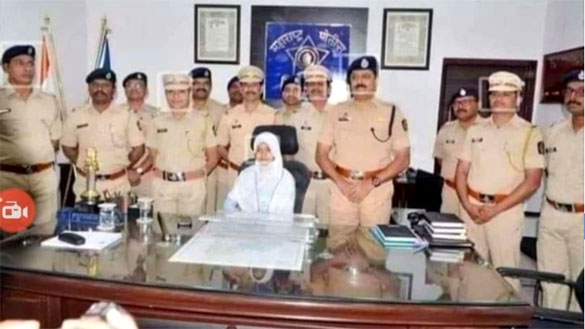 Image (Facebook/ Rj Shiva Thakur)
-----
A picture of a girl in hijab seated behind a desk and surrounded by men in uniform, with a Maharashtra Police board behind, is circulating on social media with the claim that the first Muslim woman IPS officer from Urdu medium joined office in a burqa, thus violating the force's dress code.
Multiple Facebook users with a caption in Hindi that translates to, "First IPS from Urdu medium becomes an SP in Maharashtra. On her first day, she adopted the Islamic dress code instead of police dress code. Congratulations to the Shiv Sena government. Its contribution to Ghazwa-e-Hind will be admirable."
India Today Anti Fake News War Room (AFWA) has found the claim to be false. The girl in the image is 14-year-old Sahrish Kanwal, who was symbolically made the DSP for a day in Maharashtra's Buldhana, ahead of International Women's Day this year.
The claim is quite viral on Facebook. The archived versions can be seen here, here and here.
With the help of reverse image search, we found that the event was reported by The Times of India on March 5. As per this report, ahead of International Women's Day on March 8, a 14-year-old girl was made the superintendent of police (SP) for a day in Buldhana district of Maharashtra.
Sahrish Kanwal, from the Zilla Parishad Urdu High School in Malkapur tehsil, took over as SP after the Buldhana district administration gave an opportunity to bright girls of government schools to act as top administrative officials for a day.
The YouTube Channel of "The Times of India" published the video of the event on March 5, 2020. The viral image of the girl sitting surrounded by police personnel can be seen here.
India Today had earlier debunked another misleading claim related to the same viral image that can be read here.
Hence, it is confirmed that the viral claim of a woman IPS officer joining work in a burqa is false.
https://www.indiatoday.in/fact-check/story/fact-check-did-burqa-replace-khakhi-for-an-ips-officer-in-maharashtra-1718392-2020-09-03
--------
Female Scooter-Riders on The Rise in Egypt
Nada Shaker
Sep 6, 2020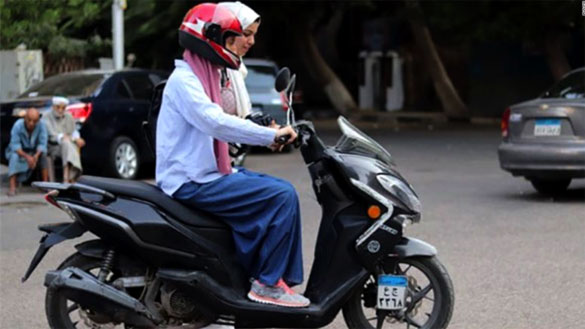 A woman is seen riding a motorized scooter in Cairo, Egypt, in this undated image. Photo by TWITTER/newageislam.
-----
More and more women in Egypt are starting to ride scooters in spite of the social stereotypes that hinder and shame them from taking part in the practice. The move is being triggered by high rates of sexual harassment in the country, which in turn is forcing females to seek their own means of safe transportation.
A group of startups has emerged encouraging females to ride scooters, promoting them as cheap compared to cars, fast, and a good way to reduce traffic congestion and eliminate pollution.
The startups include Two Wheels, Cairo Scooters Club, Alexandria Scooters Club and Dosy. Dosy launched in April 2019 and put up a website in December where females can go online to book their scooter-riding classes.
Dosy is a tech-based scooter- and bicycle-riding platform founded by two sisters who aim to reach females interested in learning to drive scooters. They'll also help those who want to work after their classes to provide delivery services via scooter for restaurants, coffee shops and bookstores. Dozy also hires female trainers who have ample experience in riding scooters.
"At first, we received a lot of criticism on social media because it is not common in Egypt to see women riding scooters. But then the criticism fell away and many people started to accept the idea. And we are seeing more and more women in the country riding scooters — especially since they are private means of transport," Nouran Farouk, co-founder of Dosy, told Al-Monitor.
Farouk added, "We have trained so far 1,000 women and girls, and our overall market target is 13 million Egyptian women and girls across Egypt."
Egyptian celebrities Sandy and Rania Mansour took scooter-driving classes with Dosy trainers and now recommend other females do the same. Other celebrities — such as Dina el-Sherbiny, Naglaa Badr, Heidy Karam and Samar Yousry — posted on their Instagram accounts that they ride scooters as well.
Although enthusiastic about spreading the practice in Egypt, these scooter-riding females face uphill challenges such as the absence of safe, dedicated scooter-riding lanes, the negative social perspective of women riding scooters and sexual harassment.
"It was in Tunisia where I found myself suffering from the weak transportation system and lack of taxis. When I looked around, I saw that the scooter was a perfect solution. When I moved to Egypt, I found another issue, which is the nerve-breaking traffic and lack of parking spaces everywhere I go," Nada Ebkoora, scooter-rider and trainer, told Al-Monitor.
Sally el-Gendy, or as the media calls her, the "Iron Woman of Alexandria," is one of the first female scooter-riders in Egypt. She established her startup, Go Wheels, to train girls and women in how to drive scooters.
"When girls saw me riding my scooter, they approached me and asked me if I could train them on how to ride a scooter," Gendy told Al-Monitor.
"This was the main reason I decided to have an academy — to help all these girls who want to learn. And recently I began accepting men as well," she added.
In July this year, victims of sexual harassment voiced their anger via social media. They spoke out about how they were harassed and revealed identities of harassers.
The hashtag #MeToo invaded Egypt's social media with stories about sexual harassment written by hundreds of females, many among them accusing alleged serial sexual abuser Ahmed Bassem Zaki of harassment. But this time, the women are calling for actual change in the way authorities and officials respond to such crimes. They have spoken out in public and on social media and are taking legal action against harassers and rapists.
A poll released by Thomson Reuters Foundation revealed in 2017 that Cairo is the most dangerous megacity for women, while the United Nations disclosed in 2014 that 99% of women in Egypt reported sexual harassment.
A crime known as the Fairmont incident took place in 2014, but the crime was only recently revealed after the incidents involving alleged rapist Zaki went viral. In the Fairmont incident, a woman was drugged, rendered unconscious and repeatedly gang-raped by nine men at Fairmont Nile City Hotel. Information about the rapists spread on social media, forcing Egypt's prosecutor general to launch an investigation.
Despite these challenges, the startups have decided to encourage females to hop on their scooters and take the streets back for themselves.
"Society assigns masculinity and femininity to means of transportation; people will always consider female scooter-riders weird and the practice unacceptable. The decision of a girl buying a scooter or a motorbike in itself is a big deal," Alia Soliman, an Egyptian women's rights and gender advocate, told Al-Monitor.
"We have to normalize the practice and present more role models promoting the idea that it is not monopolized by men," Soliman added.
https://www.al-monitor.com/pulse/originals/2020/08/egypt-sexual-harassment-women-ride-scooters.html
--------
These Women Have Been Teachers For 4 Decades In UAE
September 5, 2020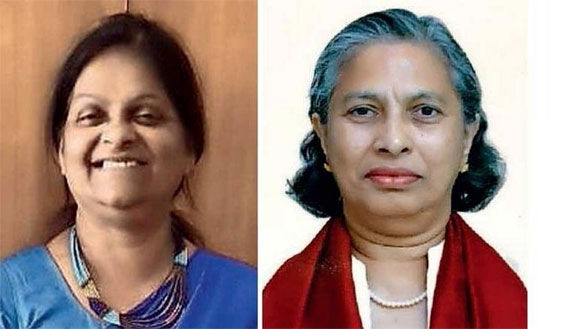 (Supplied photos)
----
In her 43-year journey, Mary said teaching amid the pandemic has been the most challenging phase.
Mariamma Ramesh Kumar has been an educator for 38 years, including 32 at St Joseph's School - the oldest private educational institution in Abu Dhabi. In her nearly four-decade long career, she has taught two generations of students.
"Most of them are in top positions in different parts of the world. It makes me feel proud. Hard work is the only investment which never fails. We have to continue to learn in our life."
The school enrolls only girls in the senior section. As a class teacher, Mariamma deployed a unique way to reach out to teenagers. "I would have a suggestion box where they could share their problems without putting their names. Later they come and tell their problems and I help sort them out. Today they remember me for saving them and their future," the 61-year-old teacher said.
Mariamma said the new distance learning method offers teachers a new opportunity to get the best out of students. "I find so many ways of innovation and creativity which can be brought out in the class."
'Teaching amid pandemic a challenge'
Mary Mathew has been in this profession for more than four decades. She started her career in 1977 at a school in India. In September 1982, she joined Abu Dhabi Indian School.
In her 43-year journey, Mary said teaching amid the pandemic has been the most challenging phase. "A teacher should be willing to take up challenges. Being innovative is very important. We must be able to teach students not just subjects but about life. Education, to me, didn't involve only subject teaching. If it can't be translated into your life, then our education wouldn't have the value that was intended for it. Through every subject, I believe, that students should be given a value for life. And that was always the crux of my teaching policy."
Mary retired from school this June 30 at the age of 65. "I want to continue to mentor, motivate and guide students," she added.
https://www.khaleejtimes.com/uae/abu-dhabi/these-women-have-been-teachers-for-4-decades-in-uae
--------
Most expat women employed in Oman government sector are Indians
September 06, 2020
Raajeshwari Ashok
Muscat: As per the 2020 Statistical Yearbook data from National Centre for Statistics and Information (NCSI) Oman, the number of Indian women employed in government sector topped the list with 4,604 followed by 3,090 Egyptian women for the year 2019. The data also revealed that Indian women comprised 37 per cent of the total Indian workforce employed in the government sector in 2019. Even though the numbers may seem miniscule in comparison to the total number of Omani women employed in government sector, which is 83,175, it carries weight in the context of expatriates working in government offices.
Sudanese women were third on this list, and non-Omani GCC women were the fewest, with only 36 employed in the public sector in Oman.
Nationalities that figure in the list of workforce in Government sector apart from Omanis are Indians, Bangladeshis, Pakistanis, Egyptians, Sudanese, Jordanians, other Arabs, GCC and other nationalities.
In the private sector there are additional nationalities like Filipinos, Ugandans, Sri Lankans, Nepalese and Tanzanians. Topping the list among expatriate women employed in private sector are Bangladeshis with 41,376, followed by 38,684 'other nationalities'. Filipinas are third in this list with 33,687, with 27,683 Indian women, placed fourth.
As per the data, majority of the expatriate women workers were employed in the education sector, closely followed by human health and social activities, and other service activities. The skill levels of expatriate women were highest among technical and limited skills labourers, the report informs.
However the August bulletin of NCSI for 2020 shows that there has been an 18.8 per cent decline in the expatriate workforce in government sector and 12 per cent in the private sector compared to last year. The expatriate population has also reduced this year as compared to previous year by 10.2 per cent among Bangladeshis, 14.5 per cent among Indians, 11.9 per cent among Pakistanis and 1.1 per cent among Egyptians.
https://gulfnews.com/world/gulf/oman/most-expat-women-employed-in-oman-government-sector-are-indians-1.73670946
--------
Organization of Islamic Cooperation, US officials explore ways to empower women
September 07, 2020
JEDDAH: Officials of the Organization of Islamic Cooperation (OIC) and the US State Department discussed plans and achievements regarding female empowerment, with a focus on women's involvement in peace and security.
They discussed the role of women in countering violent extremism, gender-based violence, violence against Muslim women in non-OIC member states, and women's global development.
https://www.arabnews.com/node/1730636/saudi-arabia
--------
British female IS suspects are escaping Syrian detention camps
6 September 2020
British female Islamic State (IS) suspects have been smuggled out of detention camps in northeast Syria, with some raising funds online to pay for further escapes, according to jihadist social media activity.
At least one British woman is among numerous European IS supporters who have broken out of Al Hol camp to reach rebel-held Idlib, where they can freely proselytise for the group.
In a recent video published to Telegram channels and Facebook pages devoted to crowdfunding for Islamic State supporters detained by Syrian Kurdish forces, a woman identified as Maryam Al Britaniya "from UK" exhorts followers to donate money.
The video was filmed in Harim city near the Turkish border in Idlib, according to Bellingcat senior investigator Nick Waters.
The woman describes being smuggled out of a camp where she was detained for over a year after surrendering to Syrian Democratic Forces (SDF) in fighting that killed her children. The western-backed group recaptured the last Islamic State (IS) territory in March last year.
"Being sent out from the Islamic State to the camps was by far one of the worst moments of my life," she says, her face obscured by a black niqab.
Since then the Kurdish-led SDF has been left guarding prisons holding roughly 10,000 IS-affiliated men and nearly 70,000 mostly women and children in the sprawling Al Hol camp, with about 2,000 in the smaller Roj camp. Among the detainees are several dozen British women and about 60 British children, according to estimates by aid groups.
"It's obligatory on you to free them," the woman in the video says, wagging a gloved finger. "Help them and donate every month to help smuggle them out."
Many western governments have ignored calls by the SDF and the United States to repatriate their citizens, leaving women and children lingering in deteriorating conditions in which hundreds have died from malnutrition and disease.
With increasing numbers paying to be smuggled to Idlib, where some eventually plan to cross into Turkey, counter-terrorism experts warn that leaving them in limbo is a dangerous long-term strategy.
https://www.telegraph.co.uk/news/2020/09/06/british-female-suspects-escaping-syrian-detention-camps/
--------
URL: https://www.newageislam.com/islam-women-feminism/burqa-replace-khaki-ips-officer/d/122807
New Age Islam, Islam Online, Islamic Website, African Muslim News, Arab World News, South Asia News, Indian Muslim News, World Muslim News, Women in Islam, Islamic Feminism, Arab Women, Women In Arab, Islamophobia in America, Muslim Women in West, Islam Women and Feminism