New Age Islam News Bureau
25 Dec 2016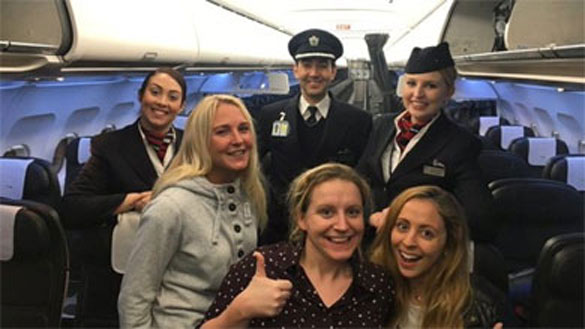 The crew upgraded their only passengers to business class and posed for selfies, Photo: LAURA STEVENS
---------
• Dhaka Witnesses First Woman Suicide Bomber As Female Jihadists Take Centre-Stage in Bangladesh
• Let's Celebrate Normality of Women Being On World Stage
• Only three Women passengers on BA flight enjoy champagne and selfies
• Talaq Lawful, but Disliked By God: MJ Akbar
Compiled by New Age Islam News Bureau
URL:
https://www.newageislam.com/islam,-women-and-feminism/new-age-islam-news-bureau/dhaka-witnesses-first-woman-suicide-bomber-as-female-jihadists-take-centre-stage-in-bangladesh/d/109486
Dhaka Witnesses First Woman Suicide Bomber As Female Jihadists Take Centre-Stage in Bangladesh
25/12/2016
DHAKA -- A female militant blew herself up during a police raid in a militant hideout at Dhaka's Ashkona, marking the first time a woman acted in the capacity of a suicide bomber in Bangladesh.
Saturday's fatal detonation of an explosive by a female militant during a 16-hour police raid gave another example that the new wave of violent extremists in Bangladesh, notably the New Jama'atul Mujahideen Bangladesh outfit, is fielding an unprecedented number of female jihadists, reports the Dhaka Tribune.
According to Counter-Terrorism and Transnational Crime (CTTC) DIG Sanowar, "The woman came out with a girl and blew herself up chanting 'We will go to heaven'."
"Neo JMB", an offshoot of Jama'atul Mujahideen Bangladesh (JMB), is inspired by the ideologies of Islamic State.
A raid by the Counter-Terrorism and Transnational Crime (CTTC) unit at a house in Ashkona Purba Para area of Dhaka led to the capture of two female militants and rescue of three children.
Two others were killed in the raid - a woman killing herself by detonating a suicide vest and a teenage boy whose cause of death remains unclear.
The operation codenamed Ripple 24 was carried out early Saturday after a tip-off that wanted militant Musa was staying in the house.
Also, two women - the wife of Major (Retd.) Jahid, allegedly the trainer of Gulshan and Sholakia attackers, and wife of "Neo JMB" leader Maynul Musa - surrendered with two babies.
Over the last few months, law enforcers conducted such drives in Kalyanpur, Rupnagar, Azimpur, Savar, Narayanganj, Gazipur and Tangail, killing 26 suspected militants including "Neo JMB" coordinator Tamim Ahmed Chowdhury, thought to be one of the masterminds of the Holey Artisan bakery attack.
http://www.huffingtonpost.in/2016/12/25/dhaka-witnesses-first-women-suicide-bomber-as-female-jihadists-t/
--------
Let's Celebrate Normality of Women Being On World Stage
25/12/2016
Is the iconic feminist photograph of 2016 Chancellor Angela Merkel meeting Prime Minister Theresa May - two women of power in an encounter? Or Hillary Clinton defeated in the US Presidential Election, although winning the popular vote by more than three million voices? Or Nicola Sturgeon, Scotland's first minister, getting a standing ovation in Seanad Éireann? Or Christine Lagarde, boss of the International Monetary Fund, being convicted of negligence by a French court?
Is it the dominance of women in pop music - Beyoncé, Adele and Madonna all topping charts and pulling in huge amounts of revenue (even if Madonna, whose latest tour grossed $170m, complained that "to age is a sin" these days)?
Is it Irish-born Samantha Power speaking for the American administration at the UN? Or, perhaps, Taoiseach Enda Kenny with his line-up of female ministers and TDs?
The biggest difference between today and yesteryear, for women, is the sheer visibility of females on the world stage. Call up a photograph of, say, the signing of the Treaty of Rome - that founding document of the European Union signed in 1957, the 60th anniversary to be celebrated next March - and the most striking aspect is just how masculine it is. Not a female in sight. And whenever a female figure did hove into the picture, it was usually a monarch - Elizabeth of the United Kingdom or Juliana of the Netherlands.
By 2016, women - if not yet 50pc of public figures - are nevertheless infinitely more visible on the international stage. And the real success is when the gender is unremarked upon: when no one falls about saying "Oh look! A woman is actually doing this job!" (recalling Dr Johnson's famously dismissive quip about a woman preaching is rather like a dog walking on its hind legs - "It is not done well; but you are surprised to find it done at all.")
True achievement is measured by the normality of women's appointments - and by the normality of women making mistakes, just as men make mistakes. Christine Lagarde had to face the fact that she made a political error (although she denies that she did anything wrong) in approving an award of €404m to politician Bernard Tapie, but no one is pleading - "Oh, she's only a poor wee woman - make allowances!" Ms Lagarde is well able to take any flak that comes her way - as part of the responsibility of her position.
Similarly with Arlene Foster in Belfast. It was indeed gratifying to see a woman lead the DUP - itself quite a macho organisation. But she's had to face the responsibilities of office like a man - or a woman - and cope with charges of having mishandled that Renewable Heat Incentive scheme.
It was, granted, a disappointment for many women supporters that Hillary Clinton failed to become the 45th President of the US, because she did not win the Electoral College: some voices claimed that "misogyny" was at the root of Mrs Clinton's defeat, but some voices debated the issue with more grown-up criteria. The voting system is complex and favours smaller states (otherwise California would carry everything before it), but not quite enough women really did vote for Hillary, in the end.
We don't always vote according to our chromosomes and rightly so. I wouldn't vote for Marine Le Pen just because I share the XX chromosomes with her.
In Ireland, the issue of gender quotas was advanced by many feminist supporters, including the Minister of State for Sport, Patrick O'Donovan, who proposed that 30pc of senior positions in Irish sporting organisations must be held by women within the next few years. But not all women, themselves, agree with the notion of quotas, because it can imply that women are not talented enough, or don't have the drive or ambition, to succeed by merit alone. Personally, I had a bad experience with an unofficial quota system - I was once appointed to an executive job because the boss said "we need a woman" and I was quite inadequate to the task. So I'm wary of any quota system: what women (and other groups who may have felt marginalised) need is opportunity, openness, and, in many cases, domestic support.
Still only 22pc of TDs are women, granted, but I remember a time when it barely topped 7pc.
More childcare is always required, to give mothers a level playing field, and 2016 saw more recognition of this need, if not much more material advance. Yet it remains a truth that many mothers would also like the choice of being at home with young children, or having recourse to more part-time and flexible working.
It was a tough year generally for the world, and we saw how often women and children suffered in agonising situations such as Aleppo and the dreadful war in the Yemen. The position of women in Islamic societies remained a major issue.
In Britain, Dame Louise Casey, the British official charged with examining social issues, reported that many Islamic communities are alienated, and most isolated of all are Islamic women, who are quite often sequestered in the home coercively, and may not even speak English.
Germany proposed banning the burqa in public, as France has done (and prosecuted Islamic women for donning the burqini): yet the debate aroused conflicting notions about liberty and choice. Is it government's role to dictate to women (or anyone else) what they should wear?
In Ireland, many women took to the streets to demand a repeal of the 8th Amendment, and in the Dáil, Ruth Coppinger and Clare Daly emerged as leading political voices demanding choice for women on abortion. However, among the electorate, women are divided on this issue (as are men), and pro-life public demonstrations also featured many younger women, with the lawyer Cora Sherlock emerging as a leader for retaining the 8th.
Graham Linehan wrote a poignant account of how his wife Helen was obliged to travel to England to terminate a pregnancy where the child had life-limiting conditions: and in the Irish Independent, Tanya Coonan wrote a similarly heart-rending account of she continued her pregnancy in similar circumstances. In this difficult and delicate matter, there are no easy answers.
In the world of media and broadcasting, there were some really remarkable women visibly doing a great job. The Canadian war reporter for the BBC, Lyse Doucet, was superb under fire in Aleppo, and came to speak about this awful situation with knowledge and authority. On RTÉ, Audrey Carville showed a firm command on the flagship radio programme Morning Ireland - tackling Gerry Adams, a notoriously slippery interviewee, after the Brian Stack story, with grit, persistence, and courtesy. You could hear Mr Adams' uncertainty in the way his voice stumbled.
Again, the success of women in current affairs lies in its normality: there was a time, as I recall, when two women speaking on air were expected to engage in girly subjects. But listening to Ms Carville interview, say, Margaret Gilmour - a Syrian expert from the Royal United Services Institute in London - the seriousness of the conversation, without anyone thinking that it ought to be otherwise, is a symbol of success. There's a raft of young (and even older) women coming to the fore speaking on politics, economics, science, law and, of course, the arts and it's the authority and quality of the talent that impresses, without anyone having to underline the fact that they're female.
In the arts, it was great to see the great reception for the "Waking the Feminists" campaign, aimed principally at our National Theatre, the Abbey. The theatre director Pom Boyd authored a stunning Waking the Feminists manifesto, which I liked so much I put into a book collection.
Women are never absent from the world of books, and Irishwomen remained particularly successful, internationally, notably, Emma Donoghue, Eimear McBride, Anne Enright, Celia Ahern.
One of the most harrowing, and yet one of the best movies I've ever seen, was written, performed and directed by women: the French-Polish production, The Innocents, directed by Anne Fontaine, told the true story of Polish nuns raped (and impregnated) by Soviet troops in 1945. Unforgettable.
In sport, a minor but significant victory occurred when Fitzwilliam Lawn Tennis Club elected the first woman president, Helen Shields, for 140 years. Some commentators scoffed that it was ridiculous that such a petty advance should have to be celebrated: but that seems to be a little graceless in the face of any progress.
Of course there were many sad occurrences, both personal and collective, and problems that have been with human nature for many a year: accounts of domestic abuse, cruelty, homelessness, addiction. Most tragic, surely, was the death and suicide of the Mayo-born Sinéad Higgins and her son, Oisín. As Christmas approached, a deeply distressing picture of desolation emerged - at a time when the universal image of motherhood should be care and consolation.
http://www.independent.ie/life/lets-celebrate-normality-of-women-being-on-world-stage-35314893.html
--------
Only Three Women Passengers on BA Flight Enjoy Champagne And Selfies
23 December 2016
Three British Airways passengers had a once-in-a-lifetime flight after finding they were the only ones on board.
Lawrie-Lin Waller, 33, said she and her friends were upgraded to business class, treated to bottles of champagne, and posed for selfies with the captain.
And on their trip from Gibraltar to Heathrow on 17 December, her friends Laura Stevens, 34, and Sarah Hunt, 35, enjoyed three-course meals.
Ms Waller said: "We're never going to experience anything like that again."
You might also like...
She said their plane had been delayed, but when they arrived at Gibraltar airport everyone else had boarded an earlier flight.
The crew upgraded their only passengers to business class and posed for selfies
The women said the captain told them he had never flown a flight with just three people on it before
Ms Waller, from Glasgow who is staying with her family in Witney in Oxfordshire over Christmas, said: "We were the only ones in the airport.
"It was very, very quiet, some of the duty-free shops were closed. and I thought 'oh that's strange'.
"I realised the only other people were staff and we were the only people on the flight."
She said once the three friends were on the plane the crew "found it very funny".
She said the captain told them he had never flown a flight with just three people on it before.
Media captionLaurie-Lin Waller reveals what happened on board the plane
"They made us feel absolutely fantastic," Ms Waller added.
"I asked, 'is it okay if we sit in business class, instead of way back at the end of the plane?'
"And they said, 'yeah, sit right there in the front row' and they served us Champagne, which was lovely."
She said when it was time to land the pilot actually came out of the cockpit to tell them how they were going to land.
"[He said] it was going to be 'a blind landing', I think it's called, using only the radar," Ms Waller said.
"So I said at that point, 'I think we need another bottle of Champagne'."
Source: http://www.bbc.com/news/uk-england-38415730
----
Talaq Lawful, but Disliked By God: MJ Akbar
TNN | Dec 25, 2016
KOLKATA: Abolition of triple Talaq should be looked at as a fight for gender equality, instead of confusing it with religious sentiment. Present at a discussion on triple Talaq, M J Akbar, minister of state for external affairs, said that laws need to evolve with times.
"A section of people is trying to mislead us about triple Talaq. They are claiming that the abolition of triple Talaq is against Islam...but Islam's foundations are based on gender equality and not on gender oppression," said Akbar. Explaining that the concept of marriage in Islam was based on contract between two equals, he said that Talaq cannot be pronounced before pondering over it deeply.
"Talaq is detailed out and is part of the 65th surah which says keep wives in kindness. Divorce is a thing that is lawful but disliked by the God," Akbar said citing verses from religious texts. While marriages may break at times, Talaq should be pronounced keeping the equality in mind. "There are sections of the population who do not care about Islam or justice. They don't know how Islaam has promoted gender reforms. Instead they want women to be dominated," he added.
Commenting on the role of Muslim Personal Law Board, retired justice A K Ganguly said that a section of people is trying to blackmail the government politically using triple Talaq as a tool. "The same can be witnessed in West Bengal where Trinamool Congress is opposing abolition of triple Talaq keeping the vote bank in mind," he said. He argued that if 22 nations can do away with the law of triple Talaq why can't it be done in India.
Azhar Alam, a professor at Maulana Azad College and a thespian, felt that the conflict between Islamic way of life and traditional way of life needs to be resolved. "Murubbis are yet to clarify us about the legal ways for Talaq. There had been a lot of debates at the conference of Muslim Personal Law Board in Kolkata. But they could not provide any clarity on the issue," he felt.
Commenting on the Shahbano case, Akbar said the woman was provided a maintenance of Rs 2.50 a month and that was unjust. "Modernisation does not mean a change of attire. It means striving for equality in the society. We have to pursue gender equality," he said. "The case is now before the Supreme Court. Hundreds of countries have changed their divorce laws, the same thing should happen in India too," he added.
http://timesofindia.indiatimes.com/city/kolkata/Talaq-lawful-but-disliked-by-God-Akbar/articleshow/56161015.cms
--------
URL: https://www.newageislam.com/islam,-women-and-feminism/new-age-islam-news-bureau/dhaka-witnesses-first-woman-suicide-bomber-as-female-jihadists-take-centre-stage-in-bangladesh/d/109486