New Age Islam News Bureau
23 Apr 2013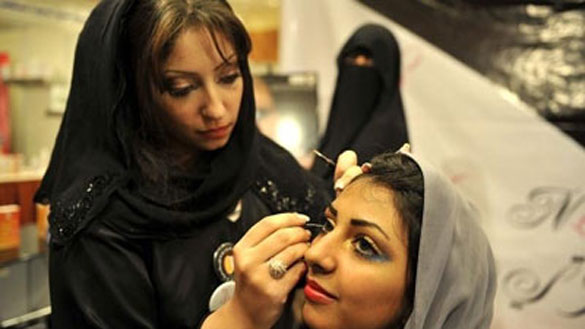 Photo: UAE Beauty Boom Sees $300 a Year Spent On Cosmetics (AFP)
-------------
• UAE Beauty Boom Sees $300 a Year Spent On Cosmetics
• Woman, baby daughters burnt with acid in Multan
• Should Girls In Malaysia Go To School All Covered Up?
• Liberia: '90 Percent Women Are Victims of Rape'
• Tanzania: Child Marriage Blamed for Gender Inequality
• Girls Try to Bomb Bahrain F1 Circuit
• 100 Female Officers Join Anti-Drug Raids
• Saudi Female Scientist Raises Hopes for Women in Politics
• FDC Delegates Confront Responsibility of Representing Rural Yemen Women
• Legendary Singer Shamshad Begum Dies At 94
• Al-Azhar under Pressure Not To Issue Women's Rights Document
• U.S. 'Reproductive Freedom' Limits To Saudi Arabian Subjugation of Women
Compiled by New Age Islam News Bureau
URL: https://newageislam.com/islam,-women-and-feminism/new-age-islam-news-bureau/dhaka-awaits-women's-show-of-strength-on-saturday-against-hefazat-e-islam/d/11277
------------
Dhaka Awaits Women's Show of Strength On Saturday against Hefazat-E Islam
24 April 2013
Women from different walks of life, including working women, housewives, students and activists, are expected to take to the streets in huge numbers on Saturday to make their voices heard in two separate grand rallies against the repressive demands of Hefazat-e Islam, especially those pertaining to women.
Over 100 women's rights organisations and groups have come under a collective banner and called for a Women's Grand Rally at Paltan that day to resist the attempts to subjugate women manipulating Islam and infringe upon women's basic constitutional rights.
Meanwhile, garment workers' leaders from across the country will organise a grand rally at Shapla Chattar at Motijheel to protest, among other things, the implications of Hefazat's demands as they involve millions of women employed in the garment industry.
Hefejat's demands initially included repeal of the education policy and women's development policy, terming them as "atheistic" and "anti-Islamic", as well as restricting "free mixing of men and women" in public.
In the face of widespread protests, Hefazat amended its initial 13-point demand, stating that those sections in the two policies, which went against Islamic, should be abolished.
Although there were dialogues of merging the two rallies, the organisers are likely to hold the programmes separately, arguing that one rally will strengthen the other.
More than 40 labourers' organisations under the banner "Sramik Rokkha Andolon" hope to bring garment workers from around the country to the Motijheel rally.
http://www.thedailystar.net/beta2/news/dhaka-awaits-womens-show-of-strength-on-saturday/
------------
Woman, baby daughters burnt with acid
April 24, 2013
MULTAN: Alpa police arrested a man on Tuesday for throwing acid at a woman and her two daughters.
The woman, Aziza Mai, and her daughters Sonia, 7, and Sania, 5, were taken to Nishtar Hospital, where they were reported to be in critical condition. An FIR has been registered against six men on a complaint filed by the woman's husband.
Police said Altaf Baloch, a resident of Aurangabad, had an argument with Aziza Mai for allegedly warning a woman against marrying him. They said Baloch had wanted to marry one of Aziza Mai's friends, and that Aziza Mai had told her about Baloch's first wife.
On Tuesday, police said, Baloch, his friend Muhammad Nazir and four unidentified men, broke into the victim's house, while her husband Ghulam Muhammad was away, and attacked her and her two daughters with acid. The perpetrators then fled.
Some neighbours heard the woman scream for help and rushed to their rescue. They were taken to Nishtar Hospital, where doctors said that they were all in critical condition. They said Aziza Mai and Sonia had 60 per cent burns. Sania, they said, had 80 per cent burns.
Nazir was arrested in a few hours, police said. They said they were looking for Baloch and the other accomplices.
The victim's husband said that Baloch had had accused his wife of trying to break up his relationship with her friend and threatened his family.
Station House Officer Khalid Amin said that the FIR included the terrorism charge. He said the police were also questioning Aziza Mai's friend, Baloch had wanted to marry.
http://tribune.com.pk/story/539518/female-solidarity-woman-baby-daughters-burnt-with-acid/
------------
UAE beauty boom sees $300 a year spent on cosmetics
23 April 2013
UAE residents spent $300 on beauty and cosmetic products alone last year, according to a report by Market research firm Euromonitor International, quoted by the UAE based 7Days on Tuesday.
Euromonitor International has forecasted that the figure will rise by 13 percent per person by 2017.
Hair care products and skin whitening creams are the most in-demand products encouraging the beauty boom in the UAE.
While many of the most popular products are marketed towards women, spending by men on personal care products is also on the rise, organizers of Beautyworld Middle East 2013, a personal care industry showcase scheduled to take place next month, said on Tuesday.
Euromonitor International asserts that men in the UAE are setting a precedent for spending on their hair care.
The firm's Middle East research manager, Sana Toukan, said that the male premium hair care market saw 25 per cent growth last year. She noted that male beauty products were gaining in popularity due partly to the introduction of specialized products.
"Before multinational companies were investing in moisturizing creams with skin whitening features but now you see more toners and anti-ageing creams with these features too," said Toukan
Despite the influx of international big brand names, traditional goods are still popular in some Gulf states, according to the research report.
Arabian oud, a traditional fragrance, boasts higher sales than any designer aftershave in Saudi Arabia, Euromonitor found.
http://english.alarabiya.net/en/life-style/fashion-and-beauty/2013/04/23/UAE-beauty-boom-sees-300-a-year-spent-on-cosmetics.html
------------
Should Girls In Malaysia Go To School All Covered Up?
APRIL 24, 2013
Frankie D'Cruz
FORMER Selangor Menteri Besar Tan Sri Muhammad Muhammad Taib just had to brazenly show his Islamic idealist credentials upon joining PAS.
He is unhappy that there are Malay schoolgirls who don't wear tudung (headscarf) and others who wear skirts instead of baju kurung.
He is confused why they are not going to going to school as he would like – all covered up.
Consider his quote, first published in news portal Malaysian Insider that formed the basis of The Malay Mail cover report yesterday:
"Say Islam, but look, there are school kids who wear skirts, they also wear baju kurung, they also wear tudung (headscarves), so it's not clear," he said at the PAS headquarters in Kuala Lumpur.
Whether he is qualified to preach religious virtues is a story for another day, but that is exactly what he appears to be doing. Is he saying appearance makes a person more religious?
He couldn't have come into the PAS fold at a worse time when the party is trying to shed its fundamentalist image in the general election in which it has fielded four non-Muslim candidates.
Clearly, Muhammad Taib is not on the same page as the PAS leadership to dispel distrust among Malaysians about their intent should the opposition capture Putrajaya.
Headscarves and women's dressing often take centre stage when Islam is discussed, and Muhammad Taib has thrown this issue into the lead-up to May 5.
Pitifully, he comes across as an intolerant man who thinks he has found a way to treat women and girls with dignity.
His foolish statement can stand side by side with the ludicrous suggestion by an Indian lawmaker to forbid private schools from making girls to wear skirts as uniforms in the wake of the gory gang rape of a 23-year-old medical student in a moving bus in New Delhi in January.
Muhammad Taib is a sorry case of a man being ineffective in the ill-treatment of women and girls - a good half of the population of Malaysia.
He has shown an extreme lack of respect for them, and comes across as treating them with indignity.
Malaysia does not have a courageous leader, not necessarily a politician, who has effectively and systematically championed the cause of violence both physical and psychological against women, girls and children.
This man is way down the deck. I have five questions for Muhammad Taib:
Do you think forcing a girl to wear tudung and baju kurung is a parent's right?
Do you distrust Malay schoolgirls?
Why are you so hyped up about girls wearing skirts to school instead of Islamic attire?
Should Malay boys wear robes and skullcaps to school?
How do you view women's rights?
Sir, you should be ashamed of yourself.
You obviously failed in your responsibility as an 'elder statesman' to tackle the disgraceful social mindset of de-humanising females with impunity.
Comment by Frankie D'Cruz
http://www.mmail.com.my/story/should-girls-go-school-all-covered-54280
------------
Liberia: '90 Percent Women Are Victims of Rape'
BY SAM ZOTA, JR., 22 APRIL 2013
The Executive Director of the Dr. Roz's Healing Place says over 90% of Liberian women are victims of rape and Sexual Gender Based Violence (SGBV). Dr. Roz's Healing Place is an international non-religious organization based in Canada.
Dr. Roz Roach said most of the women in Liberia are either direct victims or are psychologically victimized by the act of rape or other forms of gender based violence.
Speaking in an interview with The NEWS Tuesday, she said any woman who hears about or witnesses the acts being committed against another person is also affected emotionally.
"Every woman in Liberia is raped through various means including hearing about it from another person, or by seeing victims of rape or a direct victim," Dr. Roz said.
Dr. Roz who is currently visiting Liberia told this paper that most of the women still feel hopeless and insecure as a result of SGBV.
She said majority of these women still find it difficult and sometimes they are skeptical to share their personal experiences with others due to stigma and other negative factors associated with the crime.
Dr. Roz named some of the factors that continue to bring fear amongst women and young girls as forced marriage, sex for grade, sex f or job, and abused against them by some family members.
Dr. Roz and team are currently in Liberia engaging and conducting needs analysis with various levels of government, non-governmental organizations (NGOs), and local community members to familiarize and better understand situations in the country in anticipation of developing a long term professional relationship and providing support and services to women and children in Liberia.
She indicated that her interactions with various groups show that powerful and influential individuals in society are horribly raping children for ritualistic purposes.
She said even though Liberia has a law against the crime, it has also been alleged that some wealthy men usually buy their ways through the justice system when they or their family members are accused.
Dr. Roz pointed out that her organization hoped to collaborate with the government in the creation of programs that will help to bring some sense of hope and relief for the women and children who still feel hopeless and insecure.
She also disclosed that her organization has already established a chapter called 'the Dr. Roz Healing Place-Liberia' which will continue to work with government and other stakeholders to address the situation in Liberia.
http://allafrica.com/stories/201304220721.html
------------
Tanzania: Child Marriage Blamed for Gender Inequality
BY ABDULWAKIL SAIBOKO, 24 APRIL 2013
THE national website on gender issues clearly states that the government of Tanzania recognises that women's advancement and achievement of gender equality are a matter of human rights and a condition to social justice.
It also states that the government reaffirms its commitment to enhancement of women's rights for national and world progress. However, activists and international organisations advocating for better reproductive health services and gender equality have blamed practices of child marriage in the country for perpetuating gender inequality and violation of the rights of women and girls.
Full report at:
http://allafrica.com/stories/201304240251.html?viewall=1
------------
Girls try to bomb Bahrain F1 circuit
24 April 2013
Two Bahraini girls were arrested for allegedly having plotted to carry out an attack on Sakhir circuit during the weekend's Formula One Grand Prix race, police said yesterday.
Authorities arrested "two girls who were trying to carry out a terrorist act at Bahrain's international circuit in the south, as the kingdom was hosting the Formula One race," BNA quoted police as saying.
Full report at:
http://www.arabnews.com/news/449247
------------
100 Female Officers Join Anti-Drug Raids
24 April 2013
At least 100 female officers have joined the Anti-Narcotics Department and participated in raids on drug suspects, Amal Khashegji, head of the Women Affairs Department, disclosed.
"The step aims to involve female officers in operations in which female suspects are found complicit in drug-related crime," she said.
The official pointed out that the female officers were first given training on raid operations and drug inspections as also how to handle situations during emergency.
"Female officers are not exposed to danger, as their work is confined to searching female suspects," she explained, adding that members from the police forces secure the site prior to the entrance of female officers.
Full report at:
http://www.arabnews.com/news/449232
------------
Saudi female scientist raises hopes for women in politics
15 April 2013
With a PhD in biotechnology from Britain's Cambridge University and a recurring presence on many of the world's most influential females lists, medical scientist Hayat Sindi is no stranger to breaking away from the typical Saudi female mould.
In February, Sindi broke down yet another of Saudi Arabia's gender barriers when she became one of the first women to be sworn into the Shura Council in the ultra-conservative kingdom.
Saudi Arabia's King Abdullah first announced that women would join the unelected 150-member body, which functions like a parliament but without formal powers, in 2011.
But women were only formally appointed in January this year after the king formally decreed that women should always hold at least 20 percent of the seats.
Full report at:
http://english.alarabiya.net/en/perspective/profiles/2013/04/15/Saudi-female-scientist-raises-hopes-for-women-in-politics.html
------------
FDC Delegates Confront Responsibility of Representing Rural Yemen Women
1 April 2013
Ali Saeed (author)
Women in Yemen comprise almost half of the country's estimated 25 million people, where two thirds of the population live in rural areas. Yemeni women in general still operate in a very traditional role throughout the country, but this role in rural areas can especially subject them to a lack of services.
Women say life can be very hard in the country's remote areas.
"There are no midwives in the villages. Most of the women are illiterate and those who enrolled in primary education drop out in the sixth or seventh grade," said Um Ezzaldin, a 27-year-old who grew up in Mahweet governorate.
Full report at:
http://www.yementimes.com/en/1664/report/2175/Female-dialogue-conference-delegates-confront-responsibility-of-representing-rural-women.htm
------------
Legendary Singer Shamshad Begum Dies At 94
PTI | Apr 24, 2013
NEW DELHI: Legendary singer Shamshad Begum, one of the first playback singers in the Hindi film industry and voice behind hit songs like 'Mere Piya Gaye Rangoon', 'Kabhi Aar Kabhi Paar' and 'Kajra Mohabbat Wala', died at her Mumbai residence. She was 94.
"She was not keeping well for past few months and was admitted to the hospital. She passed away on Tuesday night. The funeral was a solemn affair with a few friends present," Begum's daughter Usha said.
Full report at:
http://timesofindia.indiatimes.com/india/Shamshad-Begum-dies-at-94/articleshow/19706290.cms
-------------
Al-Azhar under pressure not to issue women's rights document
22/04/2013
The Grand Sheikh of Al-Azhar Ahmed Al-Tayyeb is facing pressure to halt issuing a document of women's rights from an Islamic perspective, said the head of the National Council for Women (NCW) Mervat al-Talawy.
Addressing a conference held on Monday by the Egyptian Women Union, under the title, "Systematic violence against women and civil society," Talawy said the NCW had requested that Azhar issue this document since last May, "because it is the only answer to fatwas against women rights."
She condemned the position of the political Islamist current on women's rights saying, "they use Sharia and religion to isolate women. Their fatwas and statements are the greatest insult to the Islamic religion, and have [a negative impact] no less than that of films insulting religion."
Full report at:
http://www.egyptindependent.com/news/al-azhar-under-pressure-not-issue-women-s-rights-document
------------
U.S. 'Reproductive Freedom' Limits To Saudi Arabian Subjugation of Women
By Daniel Wattenberg
April 22, 2013
Long-time feminist activist Gloria Steinem on Sunday compared some state-level efforts in the U.S. to limit "reproductive freedom" to the wide-ranging and intrusive controls on women in the male-dominated kingdom of Saudi Arabia.
The subjugation of women in the slowly evolving traditional Islamic society is "different in degree but not in kind from the opposition we see in this country in state legislatures to reproductive freedom as a basic human right," said Ms. Steinem in a discussion at the Tribeca Film Festival in New York, according to the Associated Press. "Part of the commonality for me comes out of the profound recognition that it's all about controlling reproduction, and that means controlling women's bodies."
Full report at:
http://www.washingtontimes.com/news/2013/apr/22/gloria-steinem-compares-us-reproductive-freedom-li/'
------------
URL: https://newageislam.com/islam,-women-and-feminism/new-age-islam-news-bureau/dhaka-awaits-women's-show-of-strength-on-saturday-against-hefazat-e-islam/d/11277