New Age Islam News Bureau
11 Sept 2016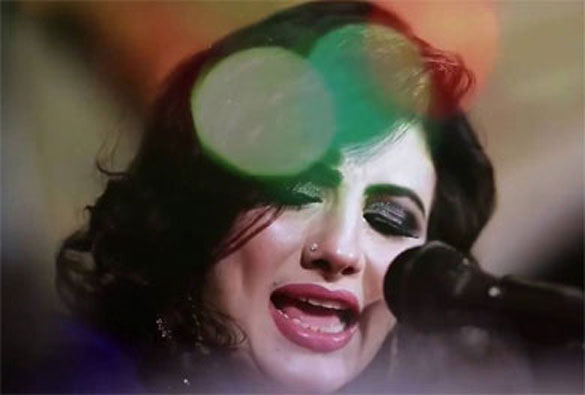 Singer Nazia Iqbal was forced to quit singing by kidnappers of her sons. Now, she's back with a new album-Screengrab
------
• Despite Threats, This Pushto Singer, Nazia Iqbal, Vows To Keep the Music Alive
• Woman Whipped In Indonesia under Sharia Law Punishment
• Attack Over Women's 'Shorts' In Southern France Inflames Social Media
• Kenyan Muslim Students Can Wear Hijab at Christian Schools
• French Uproar Creates Opportunity for Israeli Burkini Makers
• Emirati Climber: Women Have Natural Mental Strength To Conquer Highest Peaks
• 2016 Rio Paralympics: Algeria Women's Goalball Forfeit Sparks Aussie Outrage
• 3 Women Wearing Burqa-Like Robes Shot Dead After Attacking Kenyan Police Station
Compiled by New Age Islam News Bureau
URL: https://www.newageislam.com/islam,-women-and-feminism/new-age-islam-news-bureau/despite-threats,-this-pushto-singer,-nazia-iqbal,-vows-to-keep-the-music-alive/d/108530
------
Despite threats, this Pushto singer vows to keep the music alive
September 11th, 2016
PESHAWAR: Noted Pashto folk singer Nazia Iqbal has said that she will continue serving Pashto quality music despite slump in the market and threats.
She said that like other artists in Khyber Pakhtunkhwa and Fata she also suffered owing to militancy, but had to serve the art and culture to promote peace. She said that some time ago she had announced to quit singing during a stage show in Dubai following threats from kidnappers.
The singer said that she had restricted her activities and distanced herself from Pashto music scene under duress.
Nazia expressed these views during a media briefing at a local wedding hall here the other day. She formally launched her new Pashto album Chaata Ma Waiya Janan (Don't endear anyone as darling) for upcoming Eidul Azha.
She described main features of her new release and hoped that it would attract large number of audience due to its quality music and poetry. The album contains nine Pashto songs and one Urdu piece sung in the style of light ghazal with a base music composition.
She said that unknown persons had kidnapped her two sons from Islamabad and forced her to quit singing otherwise her sons would be killed. She said that they were recovered safely and again she started singing to serve art of music with a new zeal. A select audience comprising music buffs, art critics, writers and fans of Nazia Iqbal attended the musical concert.
"I cannot think of singing a poetic piece unless I am sure of its content and message. My music and poetry should correspond to my cultural identity. It is better not to sing than to earn the title of being a computer singer," Ms Iqbal remarked.
She completed audio and video recording of her new Pashto album and performed to entertain a select gathering at a local wedding hall.
She said she would help recreate market for Pashto charts through her quality work. She said depending on only computer -based music arrangement would not work as traditional melodies required a natural sound base and born passion.
She said she had made a hard decision at that time just to save lives of her kids, but was determined to restart her singing career once her kids were recovered.
"I had to announce quitting music field publicly at a musical concert in front a huge crowd in Dubai to save the precious lives of my kids. I went underground and preferred to keep quiet till recovery of my two sons. Thank God, I got my sons back and I started singing with a new spirit," she recalled.
Nazia Iqbal staged a comeback after a long time since she had shifted to Islamabad where she lived with her husband Javed Fazaa and her kids.
About slump in Pashto market, she said that she didn't care about whether her album would be sold or not, but would continue focusing on producing quality music and poetry. She said music and poetry both should be reflective of our cultural identity.
"I cannot think of singing a poetic piece unless I am sure of its content and message. My music and poetry should correspond to my cultural identity. It is better not to sing than to earn the title of being a computer singer," Ms Iqbal remarked.
The noted singer said only a few genuine singers could perform live, the rest she said depended on lip-synch. "Doing rehearsal at least two hours a day is must to be an accomplished artist. I suggest upcoming youth should sit with music ustads if they want to learn music," she said.
images.dawn.com/news/1176223/despite-threats-this-pushto-singer-vows-to-keep-the-music-alive
------
Woman Whipped In Indonesia under Sharia Law Punishment
By JOSH HANRAHAN FOR DAILY MAIL AUSTRALIA
11 September 2016
Paraded on a stage and forced to kneel in front of their community.
This is the moment a man and a woman are punished for their relationship with each other by being repeatedly whipped with a cane.
Taken into the middle of a busy square in Banda Aceh, Indonesia, on Friday, the pair were punished under the strict Muslim rites called Shariah Law.
Grimacing as each of the six strikes of the cane lashed their back, the man and woman were watched on by a crowd of hundreds.
It is alleged the pair committed adultery, after being involved in a relationship despite the woman being married to another man.
With her head bowed and a solemn look on her face the woman receives the first of the strikes to her back.
A masked man with his body entirely covered in a dark brown robe inflicts the blows onto the convicted woman.
After all are completed she is led away and the man is then brought to the stage to receive his punishment.
With his hands at his front and his head bowed, the cane can be seen flexing through the air before being brought down onto the back of the man.
Visibly in pain and with his head in his hands, the man requires help from police to be brought to his feet after receiving his punishment.
The man was left in severe pain and with his head in his hands after being whipped six times by the cane in front of a crowd of hundreds
The man was left in severe pain and with his head in his hands after being whipped six times by the cane in front of a crowd of hundreds
Whipping is not an uncommon practice in the increasingly conservative province of Aceh, which is located on the northwest tip of Indonesia's largest island Sumatra.
However, it is currently the only province in the country to still practice the strict Muslim law.
Among those watching the pair be punished was the mayor of Banda Aceh.
dailymail.co.uk/news/article-3783646/Woman-whipped-Indonesia-Sharia-Law-punishment.html#ixzz4JxB4S6i1
--------
Attack over women's 'shorts' in southern France inflames social media
11 Sep, 2016
Controversy around female clothing in France gained further momentum after a dozen young men assaulted a family in the country's south. Males suffered a severe beating after attackers deemed the women's clothes excessively revealing.
The incident occurred last Sunday in the city of Toulon, southern France. According to local prosecutor Bernard Marchal, the family of two sisters, their husbands, their brother and three children aged between 10 and 14 had been riding bikes and rollerblading through an eastern neighborhood of the city. They were approached by a group of about 10 young men, who insulted the women for wearing 'inappropriate' clothing. The husbands and brother intervened and were severely beaten. One of them suffered multiple facial fractures, and another got his nose broken.
"They [the attackers] shouted to them [the women] 'whores' and 'go on, get naked'," the Valeurs Acuelles magazine quoted Marchal as saying.
Photo published for Gang of youths insult women in shorts before beating up their husbands and friend
Gang of youths insult women in shorts before beating up their husbands and friend
A GANG of 10 youths unleashed a volley of offensive insults at two French women because they were roller skating wearing a pair of 'revealing' shorts – then beat up their husbands and their friend.
Two suspects, reportedly one 17-year-old and one 19-year-old, were apprehended on Tuesday. It is thought they have a preexisting criminal record. The identity of the alleged perpetrators remains undisclosed. An investigation is underway to track down the others.
Mayor of Toulon Hubert Falco said that "attacking my fellow citizens in shorts is abnormal and pitiable."
"I am happy that thanks to the efficiency of the national police and CCTV cameras of the city, we could apprehend the perpetrators. One does not attack a woman because she is wearing shorts. This heinous act must be punished harshly," France Bleu quoted the Mayor as saying.
One of the victims, named only as Marie, commented on the incident to the Nice Matin newspaper on Friday.
"We were not wearing shorts. We were in sportswear. One youngster badmouthed us and then things quickly escalated," newspaper quotes the victim.
There is no information on the alleged perpetrators' identities, nationalities, citizenship or religion. However, some in France linked the attacks on short-wearers to the burkini controversy and Islam in general. Julien Leonardelli, the department secretary for the far-right National Front in Haute-Garonne, claimed on Twitter, that "Sharia is already installed in Toulon."
Politicians and supporters shared the news of the incident on social media under a hasthag #TousEnShort ('All In Shorts'), to express their support for the victims. Some posted their own photos while wearing shorts.
Combien de femmes se font agresser parce qu'elles portent un short ? #SexismePasNotreGenre #tousenshort #Toulon
Caption reads: "How many women will be attacked for wearing shorts?"
Aujourd'hui j'affiche mon islamophobie au Gd jour #tousenshort
Ma tenue pour la journée. #tousenshort
Caption reads: "My outfit for today."
It is not the first incident revolving around shorts in Toulon. The #TousEnShort hashtag emerged in June, after a previous attack on a woman wearing shorts. An 18-year-old girl named Maude Vallet was insulted, harassed and spat on by a group of five girls while on a bus. Her denim shorts played a role in the attack.
Vallet posted a picture of her outfit on Facebook, arguing that men can walk around in any items of clothing they want, and even go shirtless, and do not face the harassment she faced. After the incident, a campaign to support the victim promptly launched. According to local media, about 100 women wearing shorts gathered in Toulon for a "short walk."
rt.com/news/358949-france-toulon-attack-shorts/
------
Kenyan Muslim students can wear hijab at Christian schools
September 10, 2016
A court in Kenya has ruled that Christian schools may not ban Muslim girls from wearing hijab (headscarve) as part of their uniforms.
(AhlulBayt News Agency) - A court in Kenya has ruled that Christian schools may not ban Muslim girls from wearing hijab (headscarve) as part of their uniforms.
A church-run school had banned female pupils from wearing the headscarf, saying that allowing students to dress differently created discord. But judges ruled education promoters must embrace the principles of diversity and non-discrimination.
Some 11 percent of Kenyans are Muslims while 83 percent follow the Christian faith. State schools already allow girls to wear the hijab.
Kenya has had a long-running row over the place of the hijab at schools that are funded by Christian Churches, with some such schools banning the garment outright. But following this ruling, Muslim girls will be able to wear headscarves to school.
They will also be able to wear trousers instead of skirts to school, as long as they are white. This brings Christian schools into line with the uniform policy at state schools.
en.abna24.com/service/africa/archive/2016/09/10/778109/story.html
------
French uproar creates opportunity for Israeli burkini makers
September 11th, 2016
Muslim women wade on Friday in the Mediterranean Sea in Tel Aviv, Israel. Israel, home to large populations of conservative Jewish and Muslim women, has cultivated a local industry of modest swimsuits, and the full-body outfits that have caused uproar in France have been a common sight on Israeli beaches for several years.
HOD HASHARON, Israel — France's burkini controversy is boosting the bottom line for Israeli makers of modest women's swimwear.
The country, home to large populations of conservative Jewish and Muslim women, has cultivated a local industry of modest swimsuits, and the full-body outfits that have caused uproar in France have been a common sight on Israeli beaches for several years.
Marci Rapp was among the first to enter the industry after she moved to Jerusalem from Toronto in 2008. The warm Mediterranean climate presented a fashion challenge because she keeps her arms and legs covered, in keeping with Jewish rules of modesty.
"I had nothing to wear," she said. "I couldn't find something that was suitable for me to feel comfortable when I was more covered."
Rapp started the MarSea Modest swimwear company, which sells dresses, shorts, shirts and head coverings made of lightweight, chlorine-resistant Italian fabric, sewn in Tel Aviv. Business has grown at least 10 percent a year since she started, she said, in part due to her energetic sales tactics — such as handing out fliers to women wearing drenched long skirts at the beach.
Only a few of her clients are Muslim, Rapp says, because they require more conservative swimwear than she offers. The burkini, coined by an Australian-Lebanese designer about a decade ago, covers the head, torso and limbs with lightweight swim fabric. Rapp's swimsuits do not include hoods, which most observant Muslim women prefer, and many of her styles do not reach to the wrists and ankles.
Nevertheless, Rapp said the burkini controversy has drawn attention to her company, which she runs out of her Jerusalem living room, and has bumped her sales by a few percentage points, though she declined to provide sales figures. Her swimsuits sell for about $100.
"What does a woman do in France who wants to cover up for sun protection or who wants to cover up some scarring, or if she is a little overweight and she doesn't want to wear a bikini?" she asked. "It doesn't make any sense that they are banning a specific type of modest swimwear. It's very racist to me."
Itay Yaacov, a journalist at the fashion site Xnet, estimated that over the last decade, about a dozen Israeli companies have begun making modest swimwear. The outfits have become a global trend, he added, saying even secular women have begun pairing long sleeved shirts with bikini bottoms. Most Israeli companies are small and cater to the local market, he said.
But some have greater reach. Anat Yahav started the SunWay company to make UV-protective clothing for children in 1998 with headquarters north of Tel Aviv. Then, she said, Muslim customers asked her to make an adult model with long sleeves, legs and hoods. Finally, Jewish women chimed in and requested short-sleeved and three-quarter length dresses and pants. Today, Yahav runs three company shops in Israel and exports worldwide via her site, Amazon and distributors in Greece, Germany, New Zealand and the United States.
'The normal ones'
Yahav said the uproar in France increased her sales and gave her a sense of pride at Israeli acceptance of the conservative swimwear. She boasted that she has never had a case where a customer was kicked out of a pool for covering up.
"Finally we are the normal ones," she said with a chuckle.
Sahab Nasser sells SunWay burkinis at her lingerie shop in Tira, a mostly Muslim town in central Israel. She said she sold burkinis for four years before she finally bought one so she could accompany her three-year-old daughter in the pool. It has been life-changing for her and other Muslim women, she said, because previously they would stay out of the water while the men and children in their families would go swimming.
"The burkini has let (Arab women) go to the beach, spend quality time with the family, to go to mixed gender pools, to swim with their families and feel comfortable, without criticism," she said. "Who said the bikini is the right look for the beach?"
journaltimes.com/lifestyles/relationships-and-special-occasions/french-uproar-creates-opportunity-for-israeli-burkini-makers/article_058bea03-2e98-547f-934b-6345cb0c8de9.html
------
Emirati climber: Women have natural mental strength to conquer highest peaks
Sep 10, 2016
ABU DHABI, United Arab Emirates - Women have the natural mental strength for climbing the highest mountains in the world, according to a young ambitious Emirati woman who is training to climb Mount Everest next year.
"As long as you have the mental strength, you can push through the physical training," she added.
Al Ali, a mother of two and in full-time employment, said her love for adventure, travel, outdoors and extreme sports got her interested in climbing. For her first stab at mountaineering, she conquered Kilimanjaro, in Africa, in December 2013 and has been climbing ever since.
"It was such an amazing experience and it really inspired me to continue climbing. When I returned I made a training plan to climb Mount Everest and have been training since," said Al Ali.
Although Al Ali thoroughly enjoys her travels and climbing, she hopes more women would take up the sport as she believes they would be very successful.
"I want to see more women involved. Most of my trips I have been on my own. I think if more Emirati women get into the sport, it will encourage more and more people, open up more doors and become a more accessible sport," she said. Al Ali said she trains for several hours a day, seven days a week which she manages to do before her children wake up and late in the day. Her determination to keep a balance between her passion, work and family life has extended her training period. She said she does not mind and her moto is "conquer one mountain at a time".
"It is not a race. The mountains are not going anywhere, they will still be there when I am ready," she said.
Al Ali said she understands the cultural issues that women in the Middle East can face if they want to take up the extreme sport, which could prevent their participation. She herself had to work hard to win the support of her family and friends who did not agree with her choice of sport when she first started.
"You can overcome any obstacles. I dress modestly, I even wear my sheila scarf, and my family know that I am sensible and wouldn't put myself in any dangerous situation when climbing," said Al Ali.
She said her family members were extremely proud of her after she completed her Kilimanjaro climb and are now her biggest supporters, specially her children whose pictures she carries to the top of every mountain she climbs.
She faced other challenges such as finding the right trainers and her biggest challenge yet, the cost of the expedition for her most technical training.
Al Ali said as part of her training for Mount Everest, it was crucial to climb other mountains, specifically Chamonix in France, as it is the "capital for technical mountaineering", but the cost of the expedition nearly put a stop to her plans.
Having announced to a number of people about her goals, she said she was lucky enough that a firm, DarkMatter, heard her story and decided to help her pursue her dream and sponsored the trip.
As she prepares to climb the highest mountain in South America, Aconcagua, in January 2017, prior to climbing Mount Everest, her advice to other women who may be interested in taking on mountaineering, "It is more of a mental game than a physical one. So do your research, find the right expert that will provide you with the correct advice, train and just go for it."
"If you have a dream, make it your goal and pursue it. No excuses. I pushed through everything (hardships). You just have to want it enough."
eturbonews.com/74494/emirati-climber-women-have-natural-mental-strength-conquer-highe
------
2016 Rio Paralympics: Algeria women's goalball forfeit sparks Aussie outrage
SEPTEMBER 11, 2016
The Aussies aren't happy with Algeria in the women's goalball at Rio.
AUSTRALIA'S women's goalball coach has slammed rival Algeria for "embarrassing" the Paralympic movement with a first-round forfeit suspected to be fuelled by long-running political tension.
The Algerian women's team failed to front for their opening match of the goalball tournament against the United States on Friday, sparking speculation the no-show was part of a plan to boycott a round-two clash with Israel.
The International Paralympic Committee says Algeria's national body has reported the goalball team – five players and two coaches – struck flight difficulties from a training camp in Poland.
They were scheduled to leave Poland on September 5, but the IPC has no evidence the team has arrived in Rio.
"Now, I travel quite a lot around the world, and even when you do miss a flight connection usually you can get there," IPC head of media Craig Spence said.
"I think there's a chance that even if you caught a boat from Poland to Brazil you still could have got here in time.
"We're still working with the Algerians on whether they can give us a sensible explanation."
Muslim countries – Algeria is one – have a long history of sporting boycotts against Israel stemming from the Arab-Israeli conflict.
A storm erupted during the Olympics last month when Egyptian judo player Islam El Shehaby refused to shake the hand of Israeli opponent Or Sasson after their match.
Australia began their goalball campaign against China.Source:News Corp Australia
IPC laws say that no athlete or team can elect to withdraw from a single contest without due cause.
Belief is Algeria used a bogus claim of flight trouble to skip out on the clash with Israel, meaning they also missed their opening-round match against the USA.
Australia is in the opposite preliminary draw to Algeria, yet is at the centre of the controversy.
The Aussie Belles had secured their place in the Paralympic tournament through their No. 9 world ranking, but their spot was revoked earlier this year to make way for the winner of a hastily arranged tournament of African nations.
Algeria won that position, earning Paralympic qualification. The displaced Australian side only regained its invitation on the eve of the Games through Russia's unexpected ban.
"How do you take a team's spot five months ago when we had already been announced, and then not turn up?," Australia coach Peter Corr said.
"If the Russian situation had not come up, we would've been sitting at home and Algeria would have forfeited their game. That would've been our spot.
"That is embarrassing that a team forfeits a game at the Paralympic Games, when you've had a crowd of 3000 people and the Americans didn't even get a chance to march out.
"That can be as controversial as you like but I don't care. I don't think you do that to the Paralympics, because (politics) is not what it's about."
news.com.au/sport/olympics/rio-paralympics/2016-rio-paralympics-algeria-womens-goalball-forfeit-sparks-aussie-outrage/news-story/57a600d206898364507d06b10c1e8cb6
------
3 women wearing Burqa-like robes shot dead after attacking Kenyan police station
11 Sep, 2016
Three Kenyan women suspected of being militants were killed after they attacked a police station in the coastal city of Mombasa. The women had concealed a knife and petrol bomb under their traditional robes before attacking and being shot by police.
Global terrorism
The assault took place on Sunday as the women were walking into the police station under the pretext of reporting a stolen telephone. The three women were all wearing buibuis – head to toe robes.
"While being questioned by officers, one drew a knife and the other threw a petrol bomb at the police officers," said Patterson Maelo, Mombasa County Police Commander, according to Reuters.
"The station caught fire. Police shot the three and killed them. Two officers are in hospital with wounds. Presumably it is a terror attack," he added.
Maelo did not release any details about which group had carried out the attack in the port city, which has a large Muslim population. The Somalia-based Al-Shabaab group, which has links to Al-Qaeda, has claimed responsibility for terrorist attacks in Mombasa and other parts of Kenya in the past.
Meanwhile, the Kenya-based Daily nation reports that one of the attackers was wearing a suicide vest, which police are trying to disarm.
"Al-Shabaab attacks soft targets in Kenya. This is not the first time. We are seeing an Al-Shabaab movement that is increasingly becoming much more confident at a time when the African Union-led forces are not as confident as they used to be simply because the EU has cut funding to the operations," Ayo Johnson, the founder of Viewpoint Africa, told RT in June.
In April of 2015, five gunmen from the jihadist group were behind an attack on Garissa University, which left 148 people dead.
Al-Shabaab says that attacks are being carried out in Kenya in retaliation for Nairobi sending troops into Somalia to conduct anti-terrorist operations. The militant organization has also launched terrorist operations in Somalia.
At least 15 people were killed in June when a suicide bomber struck a hotel in the capital of Mogadishu, after which a siege ensued. The Islamist militant group is fighting to overthrow the Somali federal government.
rt.com/news/358974-attack-kenya-police-terrorism/
URL: https://www.newageislam.com/islam,-women-and-feminism/new-age-islam-news-bureau/despite-threats,-this-pushto-singer,-nazia-iqbal,-vows-to-keep-the-music-alive/d/108530
New Age Islam, Islam Online, Islamic Website, African Muslim News, Arab World News, South Asia News, Indian Muslim News, World Muslim News, Womens in Islam, Islamic Feminism, Arab Women, Womens In Arab, Islamphobia in America, Muslim Women in West, Islam Women and Feminism