New Age Islam News Bureau
21 Jun 2019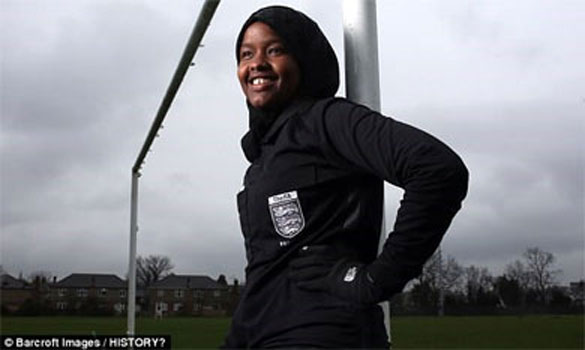 In ten years' time I would like to see myself as a professional referee, refereeing in top leagues: Premier League, Champions league: there is [sic] no limits, I want to go all the way to the top'
------
• From Somali Refugee to England's First Female Muslim Football Referee
• Pakistan to Set Up Special Courts to Tackle Violence against Women
• India: Triple Talaq Bill Tabled In Lok Sabha amid Opposition
• Dubai Police Free 17-Year-Old Girl From Prostitution
Compiled by New Age Islam News Bureau
URL: https://www.newageislam.com/islam-women-feminism/deputy-grand-imam-al-azhar/d/118951
--------
Deputy Grand Imam of Al-Azhar Issues Fatwa against Child Marriage
21 Jun 2019
One of the world's most prestigious centres of Islamic learning has issued a fatwa against child marriage, saying marriage should be based on the consent of both parties and "particularly the young woman".
The deputy grand imam of al-Azhar, considered by some Muslims to be the highest authority of Islamic jurisprudence, hammered out the document with his team and young activists at the first African summit on child marriage and female genital mutilation, which took place in Senegal this week.
If news of the fatwa's existence can reach imams in countries with high rates of child marriage, activists hope that the practice can be stopped, as they could not deny al-Azhar's authority.
"Marriage in Islam is based on the consent of both parties, particularly the young woman. Such consent requires the young woman to have reached the age of maturity and reason, so that her consent is validly given," the fatwa read, adding that this age was 18, and quoting parts of the Qur'an and the hadiths of the prophet Muhammad to support it.
The summit was organised by Jaha Dukureh, a Gambian campaigner and the founder of Safe Hands for Girls, herself a survivor of child marriage and FGM, who drove a successful campaign to end FGM in her country.
Dukureh, who went to Egypt to talk to the al-Azhar clerics last year, described how towards the end of the summit she realised that the fatwa had not yet been issued and went to talk to the imam, Salah Abbas. She, the African Union youth envoy Aya Chebbi and the Syrian journalist Abdalaziz Alhamza worked with the Egyptian imams to turn their rough draft, scrawled on hotel notepaper, into a formal document.
"We sat there on the floor with them, writing the fatwa. They had to call Egypt to ensure that everything was in line. And then there was a back and forth about the languages, because in Arabic things can be translated different ways. To me, it was just amazing watching that process."
Four in 10 young women in sub-Saharan Africa are married before their 18th birthday. Boys are affected too – according to recent UN data, roughly one in 30 worldwide were married as children, with the highest number in Central African Republic, where almost a third of boys and men were child grooms.
The problem is not limited to Africa – across the world, 12 million girls are married in childhood every year. In Iraq in 2017, parliamentarians drafted a law that would allow children as young as nine to marry, based on the idea that the prophet Muhammad married his wife Aisha when she was just nine years old. The prime minister blocked the bill last year, but there are fears it will be reintroduced.
"When you force a girl to get married, you've given someone the right to rape her over and over again," said Dukureh, who was married at 15 and again at 17. "And every single day, every time she's touched … you don't forget. I don't think you forget that. I don't think you ever get over that.
"I don't think we understand the depth of what this [fatwa] could potentially do, and especially in communities where people continue to use religion to justify millions of girls' pain and suffering."
Part of the target group is Dukureh's own father, an influential imam in Gambia.
"If I go to my dad, and give him the same statement that al-Azhar did, he wouldn't listen to me. But if the deputy grand imam of al-Azhar is here, yes," Dukureh said.
Her father appeared in a Guardian documentary made about her fight to stop FGM. She convinced him not to allow his baby daughter to be cut – the first girl in their family not to go through FGM.
Child marriage was something he never discussed, though.
"We came to a point of agreement when it comes to FGM. We never had a resolution on child marriage. Even my brothers, they would always tell me, you know, you can talk about FGM all you want. But with child marriage, you can't touch it because the prophet's wife was nine when he married her. So don't even go there."
But Dukureh convinced her father to come to the summit. In his white robes, cap and sandals, he prayed throughout, and later said: "I cried so much, because I learned so much."
As well as the fatwa, the activists, religious and traditional leaders, government ministers and religious officials came up with a declaration on Africans taking a lead to stop FGM and child marriage, which they are asking countries to sign up to. Many organisations aim to eliminate the practices by 2030.
Much of the funding for the summit, which cost roughly $1.2m (£946,000) and was supported by the World Bank and UN population fund, came from individuals and grassroots organisations.
https://www.theguardian.com/global-development/2019/jun/21/senior-islamic-cleric-issues-fatwa-against-child-marriage
--------
From Somali Refugee to England's First Female Muslim Football Referee
20 Jun 2019
On a sunny afternoon, a group of mothers in hijabs sit on the bench of a football pitch, watching their daughters play football at the Stonebridge recreation ground in north-west London.
As World Cup fever grips the UK, the girls' enthusiasm for the training session is matched by their obvious adoration of their coach and referee, Jawahir Roble, known as JJ to her friends.
The training is part of a nationwide initiative sponsored by the English Football Association and aimed to benefit more than 20,000 girls aged five to 11 across the country. The programme, which was launched by the FA in 2017, aims to double girls' participation in the sport by 2020.
But it is Roble, a Somali refugee who used to play football against a backdrop of gunshots, who has truly broken through the barriers to reach this pitch. She is the first female Muslim referee in British football.
With multiple awards, including the match official gong at the FA's 2017 respect awards, and recognition in the sports personality category at the Somali achievement awards, she starred in the launch campaign for the new Nike-designed kit for the England women's football team and now has her eyes set on refereeing the 2023 Women's World Cup. "That is my next challenge, it would be a dream come true," she says.
Born in Somalia, she fled the war there with her family when she was a child, reaching the UK aged 10. Her love for football began at home in Mogadishu when she played with kids from her neighbourhood even as intense fighting between rival clan militiamen was engulfing the city.
"We would hear loud gunshots while playing in the courtyard and then run back to the house," she recalls. "Mum would always run looking for me and ask me to stay indoors, but we would immediately regroup after the gunshots stopped and resume playing."
With no resources and lack of sports equipment, she used to improvise with anything she could find.
"We had no proper football, we sometimes used potatoes as a football, we used to make balls from newspapers and worn-out clothes," she says.
Coming to the UK meant an end to living in fear, but also had its own challenges.
"Landing at Heathrow was surreal, I remember how excited I was! We made it safely," she says. "There are many people who could not make it, so we were the lucky ones."
At school, she saw "proper and modern" sports equipment for the first time. "I was amazed, they had proper footballs, long socks, proper pitches," she says.
Unable to speak English, she formed her own football team, making new friends as her passion for the game made it easier for her to grasp the language.
"I was crazy, I would play every day during break-time, lunchtime and even after school," she says.
Roble went on went on to do a coaching course, earning FA qualifications and then taking a professional refereeing course with the Middlesex FA, quickly progressing from youth to adult games.
As a practising Muslim, she has worn a hijab throughout her career.
"Once I am in the pitch and I blow the whistle to start the game, I am not a refugee, my hijab does not matter, my gender or colour of my skin does not matter, I am a referee and I know how to do my job well, that is it," she says.
"I see it in their eyes, some of the players and fans too, the disbelief in their faces is clear," she says. "But I don't let that stop me from doing my work. Refereeing is a tough job, there is a lot of pressure, you have to be focused and make quick decisions, so I don't have time to think about what people think of me.
"When the game ends, they realise what I am capable of. Some would even come up to me to say thank you, they are like: 'She is the best referee we ever had.'"
Roble has also become a role model for young girls in her community. The girls she trains at Stonebridge have someone who looks like them in the field and the support of their families and the wider Somali community. But her own parents were uneasy at first. "I did not have such support from my parents in the beginning, they advised me to concentrate on my studies," she says. "It was not easy, but they have now accepted me and do support me because they believe in me."
Her ambitions reach beyond 2023 – Roble wants to establish a training academy in her home country, and train the Somali women's national football team. "I will definitely do that, I cannot wait when Somalia becomes peaceful," she says.
In the meantime, she continues to inspire young girls: "I want to make them big, we are just starting from scratch but their future is bright."
https://www.theguardian.com/global-development/2019/jun/20/from-somali-refugee-to-englands-first-female-muslim-football-referee-jawahir-roble-jj
--------
Pakistan to Set Up Special Courts to Tackle Violence against Women
20 June 2019
Pakistan is to set up more than 1,000 courts dedicated to tackling violence against women, the country's top judge announced on Wednesday, seeking to tackle a problem activists say the criminal justice system has long neglected.
Asif Saeed Khosa said the special courts would allow victims to speak out without fear of retaliation in the conservative Muslim country, where domestic violence is often seen as taboo.
Pakistan sees thousands of cases of violence against women every year, from rape and acid attacks to sexual assault, kidnappings and so-called honor killings.
"We are going to have 1,016 gender-based violence courts across Pakistan, at least one such court apiece in every district," Khosa said in an address to fellow judges broadcast on national television.
"The atmosphere of these courts will be different from other courts so that complainants can speak their heart without any fear," he said.
The Human Rights Commission of Pakistan, an independent watchdog, reported at least 845 incidents of sexual violence against women in its 2018 report.
There were no comparative figures and the Commission had previously said violence against women went largely unreported, particularly in rural areas, where poverty and stigma prevented victims from speaking out.
The country was ranked sixth most dangerous for women in a Thomson Reuters Foundation a survey of global experts last year.
The new courts will operate in existing courthouses, but will hold domestic violence hearings separately from other cases to enable victims to testify in confidence.
A pilot court of this kind was opened in 2017 in Punjab, Pakistan's most populous province.
One in every three a victim of physical or psychological violence
Local High Court Chief Justice Mansoor Ali Shah said at the time that women were the most vulnerable members of society as one in every three had been a victim of physical or psychological violence.
Human rights campaigners said the Lahore court had been a success and welcomed the move to expand the program.
Romana Bashir, who heads the Peace and Development Foundation, a non-governmental organisation working on women's rights, said it was "a wonderful safeguarding measure."
"Certainly women will be encouraged and feel strengthened to speak up against gender based violence. Consequently, women will be able to get justice," she said.
Fauzia Viqar, a women's rights campaigner who advised the Punjab government until last month, said studies had shown the performance of such dedicated courts to be "many times better than other courts."
https://english.alarabiya.net/en/features/2019/06/20/Pakistan-to-set-up-special-courts-to-tackle-violence-against-women.html
--------
India: Triple Talaq Bill Tabled In Lok Sabha amid Opposition
June 21, 2019
New Delhi: The government on Friday introduced The Muslim Women (Protection of Rights on Marriage) Bill, 2019 banning Triple Talaq in the Lok Sabha amid criticism that it will harm Muslim families and was discriminatory.
The opposition requested Lok Sabha Speaker Om Birla for a division during its introduction. It was introduced after 186 MPs voted in favour while 74 voted against it.
While introducing it, Union Minister Ravi Shankar Prasad said that only 31 cases of Triple Talaq had been noted after an ordinance on the issue was issued.
Majlis-e-Ittehadul Muslimeen (MIM) president Asaduddin Owaisi sought a division during its introduction.
Owaisi said that abandoning a wife attracted up to one year jail term under the Hindu Marriage Act and wanted to know why Muslim men had to undergo harsher punishment for the same crime.
Congress' Shashi Tharoor and Revolutionary Socialist Party's N.K. Premachandran also spoke against it.
Tharoor said the Bill did nothing to benefit Muslim women. "Instead of protecting Muslim women, the Bill criminalises Muslim men."
Premachandran said the Bill violated Article 32 of the Constitution and added that marriage disputes should not be put in the purview of criminal act.
While the Bill was passed in the Lok Sabha earlier, it lapsed as the Lok Sabha elections took place.
It is the first Bill to be introduced in the 17th Lok Sabha.
https://gulfnews.com/world/asia/india/india-triple-talaq-bill-tabled-in-lok-sabha-amid-opposition-1.64752431
--------
Dubai Police Free 17-Year-Old Girl From Prostitution
June 21, 2019
Three Bangladeshi men have been charged at a Dubai court with human trafficking as they had allegedly forced a 17-year-old girl into prostitution.
The Court of First Instance heard that the three men, aged 28, 20 and 28, brought the victim from their home country with a forged passport and a fake job offer. They then locked her up and forced her to have sex with men for money at their flat in Al Quoz.
They have also been accused of running their flat as a den for prostitution. Several women, who worked willingly for them, were deported administratively.
Two defendants are detained while the third, who received the underage girl at the airport, together with other accomplices, is at large and has been charged in absentia.
The case dates back to April 7.
During the investigation, the victim recounted that she was tricked into travelling to the UAE with a job offer at a massage spa.
However, at the flat where she was taken, the women told her about her real job. She cried as she did not want to work as a prostitute. She said the defendants coerced her to work for them after threatening her that she would not be allowed to go back to her country if she did not pay back Dh13,000, which they claimed they spent on her passport and other travel expenses.
She recalled that her captors changed her real age in her passport. They would also offer her to men for sex telling them that she is just 17. She called the police after a Pakistani man gave her a number.
A police lieutenant told the prosecutor they raided the flat in Al Quoz at 11pm on April 7. "Following a complaint received by the police, we raided the flat with a public prosecution warrant. We freed the victim, arrested some of the defendants who were there and five women."
https://www.khaleejtimes.com/nation/dubai/dubai-police-free-17-year-old-girl-from-prostitution-11
--------
URL: https://www.newageislam.com/islam-women-feminism/deputy-grand-imam-al-azhar/d/118951
New Age Islam, Islam Online, Islamic Website, African Muslim News, Arab World News, South Asia News, Indian Muslim News, World Muslim News, Women in Islam, Islamic Feminism, Arab Women, Women In Arab, Islamophobia in America, Muslim Women in West, Islam Women and Feminism