New Age Islam News Bureau
1 March 2015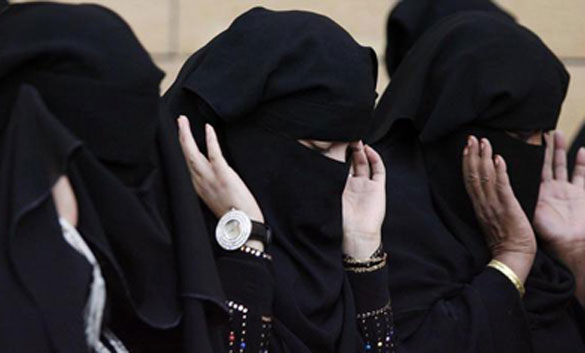 Photo: Small to Medium Companies Not Fit To Employ Saudi Women
---------------
• Old Linens Become Dresses for Girls in Africa
• IS Needs Women and Is Using Love as a Recruitment Tool
• Radicalized Young Women Motivated By Ideology, Sense of Adventure
• Threat Forces Hindu-Muslim Couple to Escape Home District to Marry In Kochi, India
• Islamic Exhibition for Women Opens In Coimbatore
• Teacher Denies Radicalizing Canadian Teens Headed To Syria
• Small to Medium Companies Not Fit To Employ Saudi Women
• Activist Intisar: Respected Differences Open to New Ideas, Treated People as Human Beings
• 10-Year-Old Nigerian in UK Varsity
Compiled by New Age Islam News Bureau
URL: https://newageislam.com/islam,-women-and-feminism/new-age-islam-news-bureau/denver-expert-offers-insight-into-isis-recruiting-tools,-ways-to-keep-your-kids-safe-from-isis--reach/d/101762
-----------
Denver Expert Offers Insight into ISIS Recruiting Tools, Ways to Keep Your Kids Safe from ISIS' Reach
01 March, 2015
DENVER - Islamic State jihadists grow their ranks with videos that have proven to be as enticing as they are gruesome. The Islamic State relishes the propaganda value of recruiting young people from the West. That includes three girls from Aurora last fall.
Stacey Hervey teaches Crime and Forensics courses at Denver Public Schools and an organized crime course at MSU Denver.
"When you talk about youth at risk, everyone is at risk," Hervey said, "whether they come from a two-parent household or one-parent household, every student can be in an at-risk situation."
Hervey's statement may be a difficult concept to swallow for Westerners, far away from a conflict raging across the globe. But with social media so effectively used by ISIS, the group is connecting with children easily.
"If they [teens] don't have a connection at school, they don't have a connection at home – they're going to try to find a connection somewhere, where they fit in. They're trying to find their self–identity outside of their family so that can make them especially susceptible to this type of targeting through social media," Hervey said.
For most, it's hard to imagine the appeal, but teens are easy targets.
"Teenagers already tend to be impulsive," Hervey said. "Their brains aren't developed yet. They're believing in the promise of this glamorous lifestyle."
There are ways to keep your kids safe from ISIS' reach:
Keep computers and social media out of their bedroom
Even if that means taking away their cell phone at night
Work with carriers to limit your child's access to adult content
Work with the schools to find out what your children are doing
Make sure they're forming personal connections with people outside of social media.
"It is as basic as having a positive peer group," Hervey said.
Sounds simple maybe, but for so many parents around the world it's proving to be an increasingly difficult proposition.
http://www.9news.com/story/news/local/2015/02/28/isis-recruiting-westerners-through-social-media/24166293/
---------
Old Linens Become Dresses for Girls in Africa
01 March, 2015
WATERLOO, Iowa – It's hard to imagine a handful of women with a pile of old pillowcases could be up to anything important.
But a group of ladies, members of local Lutheran churches, aims to make a difference in the lives of girls half way around the world.
In a small room at Our Saviour's Lutheran Church in Waterloo, armed with sewing machines, scissors, scrap material, trim and about 80 pillowcases, the women from Our Saviour's, Redeemer and Zion Lutheran churches were busy transformed old linens into dresses that will be shipped to Our Saviour's' Lutheran Synod's partner church in Namibia, Africa.
"Our goal is to make 300 dresses," said Jeanette Alton, one of the coordinators of the church's Board of Evangelism.
Alton said volunteers from St. Paul's Lutheran Church in Cedar Falls and Fredsville Lutheran Church also participated.
The idea for the pillowcase dresses came from a customer at a garage sale Alton had.
"I had a whole stack of pillowcases for sale, must have been my mother's," she said. "When a lady bought them all, I mentioned she must have a lot of pillows. She told me she makes dresses out of them. That's how it all started."
Alton submitted an application for funds to Thrivent Financial to help with costs. The organization provided free T-shirts for the volunteers and $250 to help with shipping.
Sewers picked from the pile of vintage pillowcases and chose complementary scrap material — ranging from florals and paisley to checks and polka dots — and trim to create the finished product.
"You just cut out the arm holes and cut the top off and embellish them however you want," Alton said.
Connie Bartels of Waterloo found a pillowcase with a duck print.
"It seemed too manly, so I'm trying to make it more girly," she said as she added lace and ribbon to the dress.
"I like to sew, and I always like new projects," Bartels said of her reasons for helping with the project. "I think they'll be cute. They are all different. The girls will all be individuals."
"My daughter said I need to get out with people more," Avis Nelson said with a laugh. "But I like to help."
Elaine Bruns of Waterloo said after travelling to Africa a year ago she understands the need.
"They took us to a little village," she said. "I have a hard time understanding — even though it happens here too — how the government can allow people to be so poor."
"And it's the children who suffer the most," Nelson said.
As the women sew, each adds a pocket to every dress. Inside that pocket, the new owner of the dress will find a small cross made from yarn and plastic canvas by church members and a poem titled "The Cross in my Pocket."
"We want to spread the word," Alton said.
http://www.clarionledger.com/story/life/2015/02/27/old-linens-become-dresses-girls-africa/24144253/
---------
IS Needs Women and Is Using Love as A Recruitment Tool
01 March, 2015
In a few months' time, perhaps even weeks, you might remember the story, but will you remember the names? Kadiza Sultana, 16; Shamima Begum, also 16; and Amira Abase, 15.
All three London schoolgirls said they were going out for the day and now it is thought they have left the UK, gone to Turkey and slipped across the border to join Islamic State (IS) militants in Syria.
Their names are important to me, because they focus my mind on them as individuals, as young girls, with a promising future ahead of them, with friends, siblings and parents.
Yet, inevitably, we are in thrall to the bigger narrative: a troubling and growing sisterhood is being cultivated - it appears an estimated 200 to 300 European Muslim girls have made the same journey as Kadiza, Shamima and Amira.
Why? What for? The term Jihadi bride is particularly egregious, but there is some truth to it.
Recently, I met some mothers of sons and daughters who have decided to join the self-styled caliphate.
Three of the mothers had lost their sons in the fighting.
One woman, from Sweden, by way of Somalia, told me about her daughter, who was lured to Syria by a man she says she was in love with.
Her mother says IS use love as a recruiting tool. Once girls are persuaded that a warrior is in love with them, they in turn, can be used to recruit more girls and young women.
Building a state
We should, I suppose, remember it's a "state" that is being created. And it needs loyal subjects, not just fighters.
It needs women, who will procreate.
Another mother, with an absent daughter, this one from Belgium, speaks to her daughter by text message regularly.
Her child also fell in love with a man thought to be a senior figure in the militant group.
She was telling her mother that life was good for her, but it wasn't long before that changed.
The reality and brutality made her uncomfortable, even as the partner of a senior Jihadi.
After her daughter gave birth to a boy, the woman tried to arrange her departure, but she was treated violently by the man who she thought loved her.
It is unlikely that the now grandmother will see her daughter or her grandchild beyond the selfies she receives on her phone.
Impressionable
The British girls, Kadiza, Shamima and Amira are smart, promising students.
I suspect they don't think they have thrown their lives away.
Photographs of them at the airport show them striding with some determination.
But they are still just children. And we know how impressionable they can be, how easy to manipulate.
We know from Shamima's twitter account that she followed dozens of IS accounts, many of them women recruiters.
This appears to be an issue of radicalisation and grooming: a twin track of romanticising the life they will have as part of a battle sanctioned by God, alongside the actual romance they might have with a warrior in that battle.
When you are 15, that must seem so much more alluring than a day at school, especially if, like any other kind of sexual grooming, the victim genuinely believes the reality of their relationship with the adult.
One site, Ask FM, collects information about young Muslim girls in particular: how pretty they are, their height, their weight.
The only counter-narrative that might appeal to potential further recruits, is if girls such as Kadiza, Sultana, Shamima Begum and Amira Abase find a way of getting back to their lives in London, and tell the truth about how un-Islamic IS is; how unromantic it is to be part of a murderous cult and how unappealing it is to give up on yourself, and your individuality.
But the vortex into which they have disappeared means that may never happen.
http://www.bbc.com/news/uk-31650985
---------
Radicalized Young Women Motivated By Ideology, Sense of Adventure
01 March, 2015
Young women who become radicalized and make the trip to ISIS-controlled lands are motivated by the same reasons as male recruits, including a sense of adventure and a desire to right perceived wrongs in the Muslim world, according to experts.
When they arrive they are usually quickly married to a fighter with the Islamic State in Iraq and Syria and begin a strictly controlled domestic life of child-rearing, cooking and cleaning.
Much of this indoctrination takes places through social media, including on Twitter, as the teenagers speak with female recruiters who have already made the journey and offer advice on what to bring and who to contact once they arrive in a neighbouring country like Turkey.
"It offers them a sense of adventure, which is not only the voyage — which is an allure itself — but also these romantic notions that upon arrival you will be paired," says Erin Saltman, who leads the women and extremism program at the International Strategic Dialogue in London.
Six young Quebecers left Canada in January to join militants in Syria, including at least two women. Three British teen girls flew to Turkey last week in an apparent bid to join ISIS.
Although some women, particularly those from the minority Iraqi Yazidi group, are sold into sexual slavery, young Western women are treated differently, Saltman says.
"But it's not to say that once they're married husbands aren't abusive or forcing themselves on them," Saltman says.
They are heavily restricted and unable to leave the house without their new husbands. They have little chance of escape, she says, many having turned over their passports when they arrive as a sign of allegiance to ISIS.
The International Strategic Dialogue released a report last month on the radicalization of western women, which was based primarily on statements made through social media accounts.
It found that the women who travelled alone appeared to be motivated by three primary reasons: the perceived oppression of Muslim people, a desire to create an ideologically pure state and a personal religious duty to assist in the process.
'Idealized utopia'
Saltman says about 550 women from western countries have travelled to ISIS-controlled territories, including about 70 from France and another 50 from the U.K.
Although some young women may be shocked at the living conditions, particularly in war-torn areas, most young women who have become radicalized to the point of leaving their families and homes have a pretty good idea of what they are getting into, she says.
"They're not just wilting violets," Saltman says.
Mia Bloom, author of Bombshell: Women and Terrorism, says online recruiters will tout the alleged benefits of living in ISIS territories, claiming they will become part of a sisterhood with many like-minded friends.
"They're trying to sell this idea that it's a very idealized utopia," she says.
The online recruiter will often discredit the reported atrocities of ISIS by saying that the media is biased.
"Like the sexual pedophile, they are creating rapport, building trust, creating an environment of secrecy, you know, 'let's not tell anybody,'" says Bloom, who also teaches security studies at the University of Massachusetts, Lowell.
They can also provide tips on how to leave the country, including what to pack, what to wear, and how to avoid suspicion with security, as well as sometimes providing financial help for purchasing plane tickets. Similar information can also be found on websites.
CBC News reported earlier this week that one young woman travelled to Syria after apparently becoming radicalized. Her sister says she was recruited under the guise of an online class to study the Qur'an taught by a woman in Edmonton.
Not told specifics
ISIS has become particularly adept at using social media as a recruitment tool, particularly for young people, experts say.
In Spain, four people were arrested Tuesday in what police say was a sophisticated social media campaign designed to lure women to join extremist groups like ISIS.
Bloom says the women are usually told to simply fly to a country like Turkey and then to get in contact with a particular person who can ultimately take them to ISIS-controlled territories.
She says the women are intentionally not told about specifics of the plan so that if they are caught in transit they can't provide detailed information on the route they would have taken to get into Syria.
Three teenagers from Denver were arrested last October in Germany, for example, in an apparent attempt to join ISIS militants.
'Second generation'
Young women are specifically targeted largely so that they can be married off as a reward to extremist fighters.
"It's a way in which you ensure these foreign fighters aren't going to turn around and leave if they get disillusioned or they get sick and tired of living in Syria," Bloom says, "because they know they have a house, the wife, the kid, they're sticking around."
It is also part of state-building efforts on the part of ISIS, Saltman says.
"Now that they have this territory, the secondary aim is to actually build a state and you need women to create the second generation of this state," she says.
http://www.cbc.ca/news/isis-recruits-radicalized-young-women-motivated-by-ideology-sense-of-adventure-1.2973691
---------
Threat Forces Hindu-Muslim Couple to Escape Home District to Marry In Kochi, India
01 March, 2015
In the wake of threat from radical elements in their communally-sensitive home district Kasargode, a Muslim youth and his Hindu lover have got married in Kochi at the intervention of the high court.
The youth, a post-graduate and businessman, has been in love with the Hindu woman, a graduate for several years. To get married as per the special marriages act, both furnished mandatory notices at Badiyadukka sub-registrar office in Kasargode on January 24, this year.
The woman's father moved a habeas corpus in the high court, saying his daughter was abducted. Acting upon a court direction, police tracked down the lovers and produced them before the court on January 27.
As the woman informed the court that she had decided to live with the Muslim youth at her will, the court allowed her to move to a hostel temporarily.
In the meantime, the lovers informed the court that they could not register their marriage at Badiyadukka due to the threat from religious fundamentalists. She was also threatened through social media. They pleaded the court's intervention for conducting their marriage in the wake of the threat.
Considering the tense situation developed at their village Badiyadukka, the court allowed the lovers from different communities to conduct their register marriage in Kochi. Subsequently, their marriage was registered in Kochi on February 25.
The police informed the court that two cases have been registered in Kasargode and Ernakuam central police stations, in connection with threatening the youth and his lover. The court directed the police to conduct a probe into all incidents of threat they had received from the extremist elements.
Kasargode, neibhouring Karnataka's Mangalore, have several incidents of lovers from different religious communities targeted by extremist elements. Years back, a Youth Congress leader belonging to Hindu community was brutally murdered on charges of loving a Muslim woman.
http://indianexpress.com/article/india/india-others/threat-forces-hindu-muslim-couple-to-escape-home-district-to-marry-in-kochi/
---------
Islamic Exhibition for Women Opens In Coimbatore
01 March, 2015
A three-day exhibition for women on the path Islam shows got underway at the Hidhaaya Islamic College.
A press release that was issued here says that more than 90 students have displayed as many exhibits highlighting various aspects of Islamic life, what the practitioner of the religion has to do to reach heaven, what punishments behove him or her for vices, etc are on display.
Students of the women's college explain each exhibit with quotations from the Koran and Hadith.
http://www.thehindu.com/news/cities/Coimbatore/islamic-exhibition-opens-in-coimbatore/article6943374.ece
---------
Teacher Denies Radicalizing Canadian Teens Headed To Syria
01 March, 2015
(Reuters) - A Muslim teacher once jailed by Canada as a security threat denied he had radicalized Canadian teens believed to have headed to Syria to fight with Islamic State, saying his school had only brief contact with one of the six students.
The students, four men and two women aged 18 and 19, left Montreal in January and February for Turkey and then on to Syria, according to media reports, the latest in a string of young Westerners who have become radicalized and have headed to the Middle East hoping to fight with Islamic State.
The teacher, Adil Charkaoui, told a news conference in Montreal that anti-Muslim sentiment in Quebec is to blame for alienating Muslim students, not his classes, where he said only Arabic, the Koran and "basic notions" are taught.
He said only one of the departed students took a course at his school, which rented classroom space from two colleges in the Montreal area. Both colleges have canceled rental contracts with Charkaoui, accusing him of radicalizing students.
"Having checked the facts, I can tell you that individual was registered with the school but only attended two classes, not two months as reported ... after that he left the class," Charkaoui told a news conference in Montreal.
"I'm stunned by the twisted logic of the spokespersons of the two (colleges) and the pseudo-experts that are blaming radicalization of young people for what has happened," he added, noting that his school does not support Islamic State.
Classes proceeded as usual on Friday at the College de Maisonneuve, a 5,000-student pre-university and technical college in Montreal where three of the teenagers studied.
"I didn't see anything strange with them. They prayed like everyone else," said student Marwa Durouoch, 18, who said she knew the three teenagers.
But Durouoch, who wears a head scarf, also expressed deep feelings of frustration with what she perceives as a lack of religious freedom for Muslims in Quebec.
"We're in a prison here. We're not allowed to practice our religion ... They're in the process of copying France," she said, noting that she and many fellow students want to leave the French-speaking province.
Her frustration echoed that of one of the departed students, Shayma Senouci, who in 2013 called on Facebook friends to sign a petition against Quebec's "Charter of Values", proposed legislation that had sought to prohibit public-sector employees from wearing or displaying conspicuous religious symbols, including Muslim headscarves.
The legislation died when the nationalist Parti Quebecois, which spearheaded the Charter, lost power in last year's provincial election, but tensions between Muslims and non-Muslims in Quebec remain.
Senouci's Facebook account included a video of a Muslim woman being harassed on a Montreal bus with a one-word comment: "disgusting", and was punctuated with posts last year in support of Gaza, calling the Israeli action there a "genocide", and several referencing the Koran.
Montreal Police declined to comment on the case of the six students. Officials at College de Maisonneuve also declined comment.
Canada had tried to deport Charkaoui, an outspoken Moroccan-born advocate against Islamophobia, arresting him in 2003 and keeping him imprisoned or under surveillance for six years under a security certificate, based on classified information from Canada's spy agency.
Ottawa claimed Charkaoui had trained at an al Qaeda camp in Afghanistan. The government eventually withdrew its case against Charkaoui rather than endanger the spy agency's sources. He was granted Canadian citizenship in July 2014.
http://www.reuters.com/article/2015/02/27/us-mideast-crisis-canada-idUSKBN0LV22Z20150227
---------
Small to medium companies not fit to employ Saudi women
01 March, 2015
Business sectors in the Kingdom with less than 500 workers are not fit to employ women, at least according to assessments made by the Ministry of Labor's adviser.
In his report, the consultant stated that these kind of firms are unable to implement the ministry's guidelines to provide a proper working environment for Saudi females.
Samer Hussein, adviser to the ministry and chairman of the Human Resources Committee at the Jeddah Chamber of Commerce and Industry, stated that private sector companies that completed the minimum Saudization requirements in Nitiqat Program 1 and 2, will face a crisis in raising nationalization levels. According to Hussein, this is because nationalization should be expanded to include positions of leadership, vocational, consultative and other high-level professions, to employ experienced people and give them salaries that go hand in hand with their expertise. This expansion came after the successful implementation of Saudization programs in simple professions, such as receptionists, security guards and locations' supervisors.
Transforming companies to employ women is one of the solutions that should be studied by these firms, Dr. Hussein said, especially since it's difficult to provide male staff who is experienced and willing to receive lower salaries.
Unemployment among women, even if they have university degrees, is on the rise, but the recent trend in telecommuting jobs can provide a chance to employ many women.
After the success of the ministry's programs in raising wages, the private sector finds it difficult to provide jobs with salaries over SR4,000. To solve this problem, the official stated, companies need to restructure their administrations to expand Saudi employment, both for males and females.
Reflecting the current problems in the labor sector, the director of a company, who preferred to remain anonymous, said he was unable to provide job opportunities for more than SR4,000, especially in reception, security and data entry jobs. He pointed out that even when someone agreed to take on the job, they typically stay for a few months until they find better paid employment.
The Information Center at the Ministry of Labor stated that providing a suitable work environment is the best guarantee for Saudis to stay in the job.
The center confirmed that the ministry is trying to develop women's work environment, with procedure that guarantee women's rights to work in a safe and flexible environment that conforms to the Shariah rules.
http://www.arabnews.com/saudi-arabia/news/711886
--------
Activist Intisar: Respected Differences Open to New Ideas, Treated People as Human Beings
01 March, 2015
Tunis: Tributes to murdered activist Intisar Al-Hasairi continued to reach Libya Herald. Intisar, whose body was found with that of her aunt's in her car, becomes yet another female activist to be murdered in post 2011 Libya following the murder of Salwa Bugaighis on 25 June 2014, and former Derna Congresswomen Fariha Al-Berkawi assassinated on 17 July 2014.
Bushra, a female activist, who worked closely with Intisar was still in a state of shock after hearing the news of the murder of her colleague and human rights activist earlier in the day. ''I was distraught when someone inadvertently broke the news to me not knowing that I knew her'', she told Libya Herald in Tunis.
''Ironically I was participating in a media workshop here in Tunis when someone mentioned Intisar's name. I asked. What about here? She was murdered today, I was told. I broke down immediately. I was inconsolable''.
''Intisar respected differences. She was open to new ideas and people. She treated humans as humans''.
Asked what might have been the motive for her murder, Bushra was equally perplexed ''I do not know why anyone would want to murder her. She did not have as high a political profile. She was most famous for the book fair that she had helped organize. The only thing I can think of is that she did not wear a scarf and she drove without a scarf'', speculated Bushra.
''We have been working for months on various women's issues. We are following up many cases with international organizations, including the ICC. We were working on sensitive cases in Libya such as imprisonment, torture and even rape. These are sensitive issues to deal with in Libyan society. It was not easy. There was reluctance to speak at first. We were processing the files of tens of cases of infringements during the 2011 revolution''.
''But as I said these cases are not publicized. They are worked on quietly in confidence, so no outsiders knew the details. So I do not think it (her murder) had anything to do with our work on human rights infringements ''.
''I owe it to her to continue working on these cases. I am determined to – in her memory'', concluded Bushra.
http://www.libyaherald.com/2015/02/27/intisar-hasairi-respected-differences-open-to-new-ideas-treated-people-as-human-beings/#ixzz3TBh5p4oN
---------
10-Year-Old Nigerian in UK Varsity
01 March, 2015
Ten year old Esther Okade, one of UK's youngest students from Nigeria, has been accepted to start her maths degree at the Open University. Esther, who enrolled three weeks ago, is already top of her class, scoring 100 per cent in a recent test.
Esther's mother, Efe, said the process of applying to the university was 'an interesting one because of her age.
she said "We even had to talk to the VC and after they interviewed her, they realised that this has been her idea from the beginning. From the age of seven Esther has wanted to go to university.
"But I was afraid it was too soon. She would say, 'mum, when am I starting?', and go on and on and on. Finally, after three years, she told me, 'mum I think it is about time I started university now."
Esther applied in August, and after a phone interview, an essay and a maths exam, she finally got the news in December that she had been accepted onto the course.
Though she watches cartoons and plays with barbie dolls, Esther's aim is to get First Class honours degree in two years and start a PhD programme. She also intends to run her own bank.
http://allafrica.com/stories/201502260399.html
---------
URL: https://newageislam.com/islam,-women-and-feminism/new-age-islam-news-bureau/denver-expert-offers-insight-into-isis-recruiting-tools,-ways-to-keep-your-kids-safe-from-isis--reach/d/101762