New Age Islam News Bureau
23 Dec 2018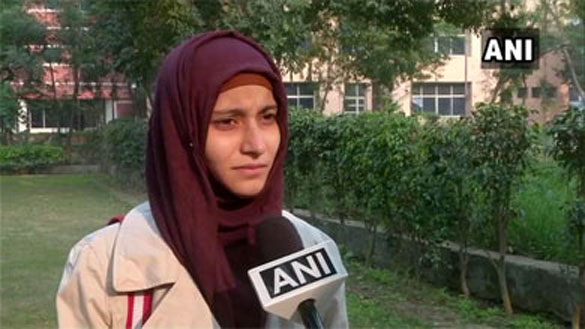 Umaiyah Khan said that she was willing to be frisked privately but the authorities did not let keep her hijab on. (Photo: Twitter/ANI)
------
• Saudi Woman Activist Tortured In Jail: Father
• Two Saudi Women Become First Female Fire-fighters
• Tories' Disdain For Muslim Women Surfaces Once Again
• Trailblazing Arab Women the Focus Of 'Generation M.E.'
• Erdogan Tells Turkish Youths: 'Jews In Israel' Beat Palestinian Women, Kids
Compiled by New Age Islam News Bureau
URL: https://www.newageislam.com/islam-women-feminism/delhi-jamia-student-barred-sitting/d/117238
--------
Delhi: Jamia Student Barred From Sitting for UGC NET Exam for Wearing Hijab
December 23, 2018
The hijab -- a type of veil worn by some Muslim women, is in the news again. This time because a student from Delhi's Jamia Milia Islamia University has claimed that she was not allowed to set for a competitive exam because she wore the hijab.
Umaiyah Khan, an MBA student, claimed that she was asked to take her hijab off when she reached the centre for the UGC-NET exam in Delhi's Rohini.
Sharing her ordeal on Twitter, Khan wrote, "It clearly says in Constitution that we are free to follow any religion yet these chauvinistic government servants didn't let me appear in my NETJRF December 20, 2018 exam because I was convincing them to let me cover my head and it's in my religion."
Khan told news agency ANI, "I went for the NET exam last week in Rohini. I reached the exam centre but did not get the permission to sit for the exam and the reason was Hijab. The invigilators did not allow me to sit for the exam. I even requested the senior officials but was not allowed."
She also added, "I have shown all my identities. Yet, they ordered that I remove my hijab, then sit for the exam. I cannot do that because this is my religion, I cannot remove it. I requested them to allow me but they did not let me."
Khan said that she was willing to be frisked privately but the authorities did not let keep her hijab on. "They asked me to take off my hijab, despite me telling them they could frisk me privately. I asked them to show me the guidelines yet I wasn't allowed to write the exam."
Dr Amirul Hasan Ansari, honorary director and professor, Jamia Millia Islamia said he has written to the UGC in this regard.
An official from the National Testing Agency, which conducts the exam, said, "There are official guidelines but religious sentiments should not be hurt."
The Islamic headdress has been in the news with another woman in Goa being barred from appearing for the NET exam last week.
24-year-old Safina Khan Soudagar refused to sit for the exam because she was wearing a hijab on December 18, 2018. While she was standing in the queue to enter her examination hall in Panaji, the authorities present there asked her to take off her hijab.
https://www.indiatoday.in/india/story/delhi-jamia-student-barred-from-sitting-for-ugc-net-exam-for-wearing-hijab-1415660-2018-12-23
--------
Saudi Woman Activist Tortured In Jail: Father
December 23 2018
The father of Saudi activist Loujain al-Hathloul has claimed that Saudi authorities are torturing his daughter inside the jail.
On his Twitter account, Hathloul al-Hathloul, father of imprisoned activist Loujain, mentioned about the sexual harassment and torture his daughter is facing in the prison.
Quoting an incident from history, he tweeted: "A girl screamed 'O Mu'tasim' (from a Roman jail) and this scream was engraved on the forehead of history."
He added referring to his daughter: "There are many stories about the cause of that scream, but it is certain that she was not electrocuted, was not held incommunicado for more than four months, was not sexually harassed and not threatened with rape and murder thereafter."
Human Rights Watch quoting "informed sources" said last month that at least three of the woman activists have undergone electric shocks, whipping and "forcible hugging and kissing".
Another report from Amnesty International alleges they were "repeatedly tortured by electrocution and flogging, leaving some unable to walk or stand properly" and "subjected to sexual harassment" .
The reports said Loujain al- Hathloul was being held in the Dhahban Prison alongside six other activists, including Samar Badawi, sister of imprisoned blogger Raif Bawai.
Canada-based opposition activist Omar Abdul Aziz al-Zahrani said the targeting of al-Hathloul by the Saudi authorities is because she raised her voice, calling for granting women their rights and releasing detainees.
Al-Zahrani added: "Al-Hathloul comes from a rich family and her demands were not personal. She was arrested twice in the past, which shows the anger of Saudi authorities at her."
Al-Hathloul was detained by Saudi Arabian officials alongside several other prominent human rights advocates, in what many experts are calling a crackdown on activism in the country.
Reports said that the former adviser of the former royal court Saud al-Qahtani supervised the torture of activists. Al-Qahtani is alleged to have issued the order to murder Saudi journalist Jamal Khashoggi in the Turkish consulate in Istanbul on the instructions of Crown Prince Mohamed bin Salman.
https://www.gulf-times.com/story/617233/Saudi-woman-activist-tortured-in-jail-father
--------
Two Saudi Women Become First Female Fire-fighters
December 23, 2018
JEDDAH: Two women became Saudi Arabia's first female fire-fighters, as part of sweeping reforms to empower women that falls in line with the Kingdom's Vision 2030.
Saudi Aramco trained two Saudi women in engaging in fire fighting operations, in the first-ever training program of its kind in the Kingdom, a profession that has been usually dominated by men.
Engineer Ghaziyah Al-Dossari said she was inspired by his father's firefighting program, a firefighter who was passionate about his work, and that her family was proud to continue to inherit the profession, adding she felt her joining the fire department was a dream.
"I am happy to be part of this opportunity that represents equality, especially as I can get to work alongside my male colleagues," said Abeer Al-Jaber.
Saudi Aramco Program Manager, Ghassan Abu Al-Faraj, said: "This is a historic moment for Saudi Arabia and Aramco, as these first two women have been adopted as firefighters."
The initiative was circulated on social networking sites, prompting Saudi oil expert, Dr. Abeer Al-Olayan, to comment in which she stated: "For the first time in the history of the Kingdom, the fire department has given accreditation to the first female Saudi firefighters."
http://www.arabnews.com/node/1424571/saudi-arabia
--------
Tories' Disdain For Muslim Women Surfaces Once Again
December 23, 2018
According to an independent panel investigation, it is now perfectly reasonable - or actually "tolerant" and "respectful" - to incite hatred against women because of how they choose to dress. This is the message Muslim women have received from the decision to clear Boris Johnson of breaching the Conservative Party's Code of Conduct in a Telegraph article, where he compared those who wear the face veil to bank robbers and letter boxes.
Almost a year before Boris penned this piece, I received a Whatsapp message from a friend sharing a hand-delivered letter titled "Kill scum Muslims" that her sister had received, threatening acid attacks on "anyone who wears the funny black masks around your square & Bradford & other places". Immediately after Boris's piece, there were reports of a directly-linked spike in verbal attacks against veil-wearing women across the UK. It's widely known that Muslim women bear the brunt of Islamophobic attacks. They may be in the minority, but those who wear the niqab are viciously targeted by the far right – Islamophobes of all descriptions, which very much includes politicians, just can't seem to look beyond a piece of cloth.
Muslim women have long witnessed their personal clothing choices being dragged into national discussions in a strange mix of racist and sexist commentary. The far right have always capitalised on and exploited Muslim women in a form of gendered Islamophobia, a strain of which depends on convincing them that their bodies belong not to themselves, but as objects for others to liberate.
The niqab debate isn't new, neither is the obsession with how women dress. But I'd expect more self-reflection from a political establishment that spent an entire afternoon debating whether the leader of the opposition did indeed call the prime minister a "stupid woman", while accepting that reducing swathes of Muslim women to inanimate objects like letterboxes is just good old fashioned free speech.
By ignoring the 100 niqab-wearing women who sent an open letter to chairman Brandon Lewis demanding the whip be withdrawn from Boris Johnson, the Conservative Party has once again failed Muslims who have time and again called for firm action and an inquiry into the Islamophobia propagated in what seems like the highest ranks of the party itself.
Questions are now being raised on the composition of the independent panel and whether a public request from the Muslim Council of Britain to "include people who are aware of the seriousness of the issue and its effect on society" was ignored. How many of the lawyers on the panel are cognisant of the challenges Muslim women face, particularly the ones who find themselves altering their lifestyles and routines to avoid attacks in the aftermath of so-called satirical comments?
Some will say Boris was defending this minority of Muslim women by arguing against a ban, but this is a fundamental misunderstanding of advocacy on behalf of marginalised or oppressed communities. You don't help minorities by dehumanising their most visible targets of abuse.
You don't help minorities by doing the work of Islamophobes, othering and describing them as criminals. You certainly don't help minorities by hoping that "one day, they'll go" - Boris' final words on the matter.
http://gulftoday.ae/portal/3e1fae23-edad-4fde-9837-5e45155ce9e6.aspx
--------
Trailblazing Arab Women the Focus Of 'Generation M.E.'
December 22, 2018
'Generation M.E.', a three-part series airing on E! channel on OSN on December 23, will continue to highlight accomplished Arab women, a journey that began with 'My Fabulous M.E.' last year.
The Arabic-language series (with English subtitles) will spotlight nine trailblazing women from the Middle East, who are experts in the fields of fashion, entertainment, beauty, food and sports.
It will be hosted by Dana Al Tuwarish, a Kuwaiti influencer with 2 million followers on Instagram, and one of the six social media stars that appeared on 'My Fabulous M.E.' last year.
The down-to-earth influencer recalled what happened after a long day of shooting the first episode of the original series, and how it landed her a hosting gig on a new show the following year.
"While we were in the Four Seasons in Kuwait [filming 'My Fabulous M.E.'], I suddenly started shouting and crying, 'Get out!' I was so tired. I said, 'This field is not for me. This is not even who I am.'… The other five girls were millions of times more professional than me. They are so elegant," said Al Tuwarish, with a laugh.
To Al Tuwarish's surprise, however, she was contacted by OSN a year later about hosting 'Generation M.E.': "They said, 'This is the personality that we want.'"
NINE STORIES
Over the course of three 30-minute episodes, which will air back-to-back and feature three women each, 'Generation M.E.' will spotlight beauty entrepreneur and TV personality Joelle Mardinian, Kuwaiti actress-director Haya Abdel Salem, Saudi Arabian fashion designer Arwa Al Banawi, Lebanese chef Tara Khatter, Egyptian marathon runner and mountaineer Manal Rostom, Lebanese jewellery designer Nadine Kanso, Kuwaiti photographer Djinane Al Suwayeh, Algerian supercar expert Hanan Mazouzi and Jordanian boxer Arifa Bseiso.
The show will give viewers a deeper understanding of these public figures.
"Manal Rostom got worldwide attention because of her Nike campaign, which involved her hijab, and I used to see the campaign on Instagram — but had I met her? Did I speak to her? Did people see what happened when she went out there with her hijab, and people attacked her? Through this show, Manal was able to explain what she did, how she got there, the pros and cons of the campaign and more," said Al Tuwarish.
Rostom, a groundbreaking Egyptian athlete who grew up studying in English schools in Kuwait, wanted her appearance to inspire younger generations who might be watching, and who might not know what they want to be when they grow up.
"I grew up hating the way an Arab woman who wears hijab looks. I wanted to distance myself from the idea that I was Arab, because all the stuff that we grew up on in the media, it was the opposite of what we should have been growing up on," said Rostom, who added that she went on to wear the hijab out of her own conviction.
"In the 21st century, there's a wrong, stereotypical idea around hijabi women… hijabi women and non-hijabi women speak languages, they talk at international conferences, they play sports, they climb mountains, they run marathons around the world. The hijab is not an obstacle like we grew up thinking," she said.
Kanso, whose jewellery line Bil Arabi (In Arabic) has gained popularity worldwide for its minimalist use of Arabic script, said 'Generation M.E.' is a platform to reach more people.
"There are a lot of people here who don't know me. Or, maybe they will do an interview with me, and they only know a small part of what I've done. I've been in this field for 12 years. This show is going to reach more people, and they'll be able to see the ins and outs of my work and my story," said Kanso.
'A SEA IN THE MEDIA'
Al Tuwarish was inspired by all nine of her guests, but had to give a special mention to Mardinian, a persevering public figure in the region.
"Joelle really caught my attention. She is a sea in the media; we grew up watching her. She's my role model, to be honest. She got off a plane from London around 9am and came directly to the shoot. When I met her, she poured her heart, gave me her time, and did all she could to make the show the best it can be. I told her one thing — today, you inspired me, you taught me how to respect time, respect work, and to respect the opportunities that I get," said Al Tuwarish.
The Kuwaiti influencer added that 'Generation M.E.' gave her a huge amount of self-confidence. And, despite having hordes of online followers, she was being introduced to many viewers for the first time.
"The audiences from television are different than the audiences from social media, and that's something I didn't know before. I thought people don't watch TV anymore. I got a comment saying, 'Dana, I'm watching you from Khartoum, I didn't know who you were before.' So now I have a new follower who saw me on TV. These two realms complement each other," said Al Tuwarish.
https://gulfnews.com/entertainment/trailblazing-arab-women-the-focus-of-generation-me-1.61046408
--------
Erdogan Tells Turkish Youths: 'Jews In Israel' Beat Palestinian Women, Kids
22 December 2018
Turkey's President Recep Tayyip Erdogan on Saturday claimed "Jews in Israel" beat Palestinian woman and children, in a fresh broadside against the Jewish state by the firebrand Turkish leader.
Erdogan, a staunch supporter of the Gaza-ruling terror group Hamas, has long been a harsh critic of Israel and regularly likens its actions vis-a-vis the Palestinians to the mass Nazi murder of Jews during the Holocaust.
"The Jews in Israel kick people laying on the ground. In fact, Jews don't kick men but also women and children when they fall on the ground," he told young Turks at an Istanbul meeting of the Turkey Youth Foundation.
"But as Muslims, will confront these people [the Jews] if they have courage to deal with us and we'll teach them a lesson," Erdogan added.
Erdogan has previously denied being anti-Semitic when leveling similar criticism of Israel.
Prime Minister Benjamin Netanyahu later hit back at Erdogan, issuing blistering criticism of Turkey's occupation of northern Cyprus and the Turkish military's treatment of the country's Kurdish minority as well as Kurds in neighboring Syria.
"Erdogan – the occupier of northern Cyprus, whose army massacres women and children in Kurdish villages, inside and outside Turkey – should not preach to Israel," the prime minister said in a statement.
Yesh Atid party leader Yair Lapid, who has called on the government to adopt a more aggressive stance toward Turkey, branded Erdogan an anti-Semite following the Turkish leader's remarks.
"Jews don't kick people but the time has come for the Jews to kick Erdogan and tell him we won't be silent for anti-Semites like him," Lapid wrote on Twitter.
Israel-Turkey relations have long been tense but reached a new nadir in May in the aftermath of Israel's response to violent protests on the Gaza border that were inspired by Hamas, and during which dozens of Palestinians were killed.
At the time, Erdogan placed the blame for the Gaza deaths squarely on Israel, accusing it of being a "terrorist state" that commits "genocide." Then too, Erdogan compared Israel's actions to those of the Nazis.
Turkey later recalled its ambassador from Tel Aviv and expelled Israel's envoys to Ankara and Istanbul.
Israel responded in kind, with Netanyahu saying Erdogan "well understands terrorism and slaughter" and should not lecture Israel about military ethics.
Israel expelled Turkey's consul-general in Jerusalem, who represents Ankara to the Palestinians, while Turkey threatened to sue the Jewish state at the International Criminal Court in the Hague.
Despite reports about Israeli-Turkish back channel talks trying to restore diplomatic relations, none of the envoys who were recalled have returned to their respective postings.
Erdogan's latest diatribe against Israel comes just days after US President Donald Trump abruptly announced he would withdraw all American troops from Turkey, a decision The Associated Press reported he made during a phone call with the Turkish leader.
Trump said the roughly 2,000 US soldiers in Syria would be withdrawn as the Islamic State jihadist group had been "beaten," a claim met with skepticism by many lawmakers and analysts.
Washington's decision not only has ramifications for the Kurds, who are being trained by US forces, but also for Turkey's actions in Syria.
In the wake of the announcement, Erdogan on Friday vowed to drive out a US-backed Kurdish militia and jihadists from Syria as Kurdish forces there warned that any attack by Ankara could seriously undermine the fight against the Islamic State.
Erdogan suggested Turkey could launch an operation against the Kurdish People's Protection Units (YPG) militia, which Ankara says is a "terrorist offshoot" of the outlawed Kurdistan Workers' Party (PKK) which has been waging an insurgency against the Turkish state since 1984.
The PKK is blacklisted as a terror group by Turkey and its Western allies.
"In the coming months we will see an operation aimed at removing the YPG and Daesh (Islamic State) elements on the ground in Syria," he said in Istanbul.
Erdogan welcomed Trump's withdrawal decision but said he remained "cautious" because of "past negative experiences," referring to Ankara's continued disappointment over the US administration's failure to stop providing military support to the YPG.
Trump's declaration has been met with profound concern in Israel, with the US presence in Syria seen as a barrier to Iran's military efforts there.
Israel has repeatedly warned in recent years of Iran's efforts to establish a military presence in Syria, where it is fighting alongside Russia and its Lebanese proxy Hezbollah on behalf of Syrian President Bashar Assad.
For Israel, the pullout leaves it without a staunch ally in the fight against Iran in Syria and also potentially opens the door for the Islamic Republic to create a so-called "land bridge" from Iran, through Iraq and Syria, into Lebanon and the Mediterranean Sea.
Until now, American troops have been stationed in northeastern Syria, along the Iraqi border, blocking such a corridor, through which Iran could more easily distribute advanced weapons and technology throughout the region, especially to its Lebanese client the Hezbollah terrorist army.
https://www.timesofisrael.com/erdogan-tells-turkish-youths-jews-in-israel-beat-palestinian-women-kids/
--------
URL: https://www.newageislam.com/islam-women-feminism/delhi-jamia-student-barred-sitting/d/117238
New Age Islam, Islam Online, Islamic Website, African Muslim News, Arab World News, South Asia News, Indian Muslim News, World Muslim News, Women in Islam, Islamic Feminism, Arab Women, Women In Arab, Islamophobia in America, Muslim Women in West, Islam Women and Feminism