New Age Islam News Bureau
4 May 2016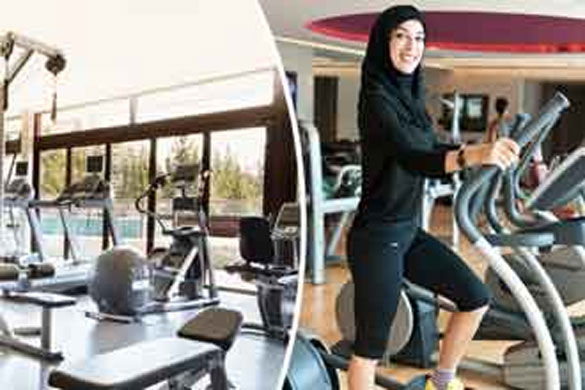 Photo: WORKOUT: The first gym for Muslim women is due to open
---------------
• First Ever Gym for Muslim Women Will Ban Blokes and Loud Music
• School in Lyngby Refuses Admission to Six Muslim Women in Niqabs
• 89 Female Afghan Cadets Start 'Special Operations Education' In Turkey
• Women From Across the UK and Overseas Set to Attend This Month's Daughters of Eve Conference, Addressing Contemporary Women's Issues
• Long Beach Sued Over Cop's Removal of Muslim Woman's Hijab
• Cheating Wife Ordered Deranged 'Islamic State-Style Execution' On Husband
• Visually Impaired Girl Gets Bank Job, Returns Rs. 10,000 to Collector Who Gave Her Money to Study
Compiled by New Age Islam News Bureau
URL: https://newageislam.com/islam-women-feminism/delhi-commission-women-study-countries'/d/107197
-------
Delhi Commission for Women to study countries' laws on Triple Talaq
May 04, 2016
The Delhi Commission for Women (DCW) has decided to undertake a study on 'unilateral triple talaq' that has become a burning issue in the backdrop of a case in the Supreme Court challenging the practice along with that of nikkah halala and polygamy.
DCW which wants to formulate its recommendations in this regard is seeking a copy of all the laws pertaining to unilateral triple talaq, marriage, divorce and polygamy in Islamic countries as well as in countries with a significant Muslim population to study these laws in depth and understand the existing best practices on the issue across the globe.
DCW chairperson, Swati Maliwal, wrote to the Ministry of External Affairs and sought to know if the latter can coordinate with embassies and consulates of relevant countries to collect these laws or if the Commission should directly write to them.
"Delhi Commission for Women is of the opinion that the issues raised in the Shayara Bano case is of pertinence to the lives of Muslim women in India. DCW would be exercising its mandate in this regard and giving recommendations on this important matter," she said.
Maliwal said DCW will hold consultation sessions with experts in Sharia and Islamic jurisprudence, and with legal experts and hold a public consultation on this issue, she said.
The commission sought suggestions from people on this issue, which can be sent to: suggestions.dcw@gmail.com or on DCW's official address.
The Supreme Court had recently sought the Centre's response on a plea challenging the constitutionality of Muslim practices of polygamy, triple talaq (talaq-e-bidat) and nikah halala.
hindustantimes.com/delhi/dcw-to-study-countries-laws-on-unilateral-triple-talaq-polygamy/story-CvqdGavTZ1VigZWvChZnQJ.html
--
First ever gym for Muslim women will ban blokes and loud music
May 04, 2016
Women will be able to ditch their headscarves and burkas for workouts at the female-only gym in Cardiff, South Wales.
Haya Fitness will have the usual fitness equipment including treadmills, exercise bikes and weights but will also feature an onsite prayer room.
The businessman behind the idea for the gym believes he can profit from a gap in the Islamic fitness market.
Outreach worker Mohammed Alamgir said: "It's a commercial venture for a niche market. It is to encourage this sector of the community to get fit.
"There will be running machines, step and cardio machines, cross trainers and fitness classes.
"Once they are in this gym there are no men. In this gym they won't have to have scarves and can wear shorts and T-shirts.
"This is the first gym dedicated to the needs of the Muslim community and has come about from the demands of the Muslim community.
"There are restrictions on Muslim women's ability to get fit. We want to encourage them to be active."
According to Sport England, only 18% of Muslim women take part in sport compared to 30% of the total female population.
Haya Fitness plans on opening later this summer and is currently looking at venues across Cardiff after one possible site fell through.
It will be open to both Muslim and non-Muslim women, but no men.
A spokesman for Haya Fitness said: "Keep supporting us, keep us in your thoughts and we are focusing all our energy on finding a bigger and better location for you."
dailystar.co.uk/news/latest-news/512566/Muslim-gym-women-Cardiff-south-Wales-ban-men-loud-music
---
School in Lyngby refuses admission to six Muslim women in niqabs
May 4th, 2016
VUC Lyngby has refused admission to six Muslim girls in niqabs due to concerns that "free and unhindered communication" would be compromised by the clothing, reports Metroxpress.
A debate has since raged on the school's Facebook page questioning the validity of the school's decision.
Show yourself
In Autumn, VUC Lyngby made changes to its school policy and no longer allows any of its students to cover their eyes, nose or mouth during class hours.
"Teaching takes place by means of communication, and as a teacher you can better understand your impact if you can see that what you're saying is being received by the student. And this cannot be done if they're wearing a niqab," deputy headteacher Inge Voller explained to Metroxpress.
Controversial
The decision, however, has proved controversial and caused a number of reactions on the school's Facebook page.
"Can women no longer decide what clothes we want to wear? So much for religious freedom and a democratic right to wear the clothes we want. [The decision] must be rethought," wrote Anne Kirstine Gram Hovmann.
But according to Voller, the issue has never been about religion or ethnicity.
"For me, it is not a question of religion or ethnicity, but of learning. It is about how we can create the best learning environment, and we believe the best way is if you can communicate freely with each other," she said, adding that the girls in question are happy to continue their educations over the school's e-learning platform.
cphpost.dk/news/school-in-lyngby-refuses-admission-to-six-muslim-women-in-niqabs.html
--
89 female Afghan cadets start 'Special Operations Education' in Turkey
Tue May 03 2016
female Afghan cadets train in TurkeyA group of at least 89 female cadets of the Afghan National Police (ANP) forces have started training "Training of Trainers" and "Special Operations Education" in Turkey, it has been reported.
The training of the female ANP cadets kicked off on Monday and will continue for a period of at least two months.
Turkish Deputy Interior Minister Sebahattin Öztürk in his remarks during the opening ceremony of the program said a total of 2,627 Afghan policemen and women have joined the training program in Turkey since the two countries signed a cooperation agreement in 2011.
The training program is held at the Police Professional High School in the central Anatolian province of Sivas, according to the local newspaper, Hurriyet Daily.
Öztürk further added that Turkish police officers were assisting their Afghan counterparts in all fields, especially in training programs.
"Even though geographically Turkey and Afghanistan are distant to each other, historically, culturally and politically they are close," said Öztürk, adding that the relationship between the two countries was developing in all areas.
"In this context, there is an intense cooperation between our General Directorate of Police and the Afghan National Police, as the Turkish police is providing all the support it can offer to the Afghan police in all areas needed," said Öztürk.
The students take part in classes on the "Training of Trainers" and "Special Operations Education."
khaama.com/89-female-afghan-cadets-start-special-operations-education-in-turkey-0830
---
Women from across the UK and overseas set to attend this month's Daughters of Eve conference, addressing contemporary women's issues
May 4th, 2016
THE challenges facing British Muslim women in the face of rising Islamophobia will be among the issues explored at a conference in Bradford this month.
The Daughters of Eve National Residential Conference, organised by the Muslim Women's Council, will see women of all faiths from across the UK, and overseas, gathering to discuss contemporary issues of importance to women.
Items on the agenda include the 'challenges facing Muslim women in the 21st Century' and 'women's engagement in mainstream politics'.
The three-day event, at the Mercure Bradford Bankfield Hotel, Bingley, will include speakers, panel discussions and workshops, and informal events such as stand-up comedy, a "pub quiz without a pub", live music and a bazaar.
Guest speakers at the conference include Sherin Khankan, founder of Scandinavia's first women-led mosque which opened in Denmark in February.
Daughters of Eve follows the success of last year's conference, which looked at such issues as the effect of Islamic extremism on Muslim families and young people, and women's concerns about being stigmatised because of their dress code. The conference, which brought women together to share experiences and to network, saw the announcement of plans for the UK's first women-led mosque, in Bradford, which has since been under public consultation.
Other events included a Shariah Law roadshow, exploring issues surrounding marriage law equality and women's rights in marriage and divorce, and there was also a bazaar, beauty rooms, study workshops and entertainment from Poetic Pilgrimage, a hip hop duo of Muslim women who rap about feminism and Islam.
The first Daughters of Eve conference, held in Bradford in 2011, was the first national conference for Muslim women, attended by more than 300 women from across the UK.
Bana Gora, chief executive of the Muslim Women's Council, said the aim was to build on the success of previous events and "create a narrative for women and a platform for debate" in a safe, supportive environment.
"It is a national and international event, and the only UK festival of its kind," she said. "This year we have such a range of speakers - the issues under discussion are too wide ranging for one particular theme, so have left it more open."
This year's conference, which takes place on May 20-22, will explore such issues as Muslim women and religious authority, and inter-faith dialogue on shaping religious discourse around the status of women in Islam. Held in partnership with women's organisation the Al-Rawiyah Foundation, which promotes the empowerment of Muslim women, the conference also introduces Europe's first Shaykha Fest, aimed at honouring the legacy of female Islamic scholarship and drawing attention to contemporary female scholars.
Speakers include Dr Shuruq Naguib, co-chairman of the British Association of Islamic Studies; Salma Yaqoob, co-founder of the Respect party and regarded as one of the most influential Muslim women in the UK; and Sherin Khankan, founder of Mariam Mosque, an international group of female and male scholars, based in Copenhagen, who promote female Muslim leadership and advocate the need for female imams.
Other speakers are Yasmin Amin, a PhD student at the University of Exeter's Institute of Arab and Islamic Studies, who will talk about the notion of humour in Islam; Shaykha ReimaYosif, founder of the Al-Rawiya Foundation; leading UK-based scholar Safia Shahid; Sarah Joseph, editor of Muslim lifestyle magazine EMEL; and life coach Henrietta Szovati.
"We have a fantastic line-up of speakers coming to Bradford, from the USA, Denmark and from around the UK," said Bana. "The conference will provide an opportunity for women to come together from across the country in order to take ownership of the discourse surrounding Muslim women, which will inspire motivate and empower them."
The Muslim Women's Council, based in Bradford, is a pro-active organisation, led by the needs of Muslim women. Its aims are:
To provide a local and regional platform for Muslim women to network and develop the confidence to engage in issues of concern affecting Muslims living in Britain.
To promote greater understanding and confidence between Muslims and the wider society.
To promote meaningful engagement between Muslims and the media, policy makers and leaders.
To engage with senior decision makers and leaders to hold them to account and influence policy.
The Daughters of Eve National Residential Conference is a women-only event, suitable for those aged 16 and above.
thetelegraphandargus.co.uk/news/news_behind/14468149.Women_from_across_the_UK_and_overseas_set_to_attend_this_month_s_Daughters_of_Eve_conference__addressing_contemporary_women_s_issues/
---
Long Beach Sued Over Cop's Removal of Muslim Woman's Hijab
May 04, 2016
The city of Long Beach and its police chief are being sued in federal court because an officer forcibly removed her religious head scarf or hijab, an Anaheim-based Muslim rights group announced Monday.
But Police Chief Robert Luna says the removal of the hijab was routinely done out of safety for the suspect, fellow jail inmates and police personnel.
A vehicle Kirsty Powell was riding in with her husband was stopped near East Market Street and Dairy Avenue just before 1 p.m. May 5, 2015, because of its hydraulic suspension, which officers deemed unsafe, according to Sgt. Bradley Johnson.
Officers determined Powell had three outstanding warrants—for vehicle theft, petty theft and resisting arrest—and took her into custody, Johnson said.
Male officers repeatedly told Powell to remove her hijab, but she made several requests to have a female cop search her, claims the Greater Los Angeles Area chapter of the Council on American-Islamic Relations (CAIR-LA).
"The officers informed her that she, 'was not allowed to wear her hijab' and that they were 'allowed to touch a woman,'" reads a CAIR-LA advisory. "While handcuffed at the station house, the arresting officer allegedly forcibly removed Powell's religious head covering and forced her to remain exposed overnight, in plain view of other male officers and dozens of inmates."
That's not exactly how the police department put it: "During the booking process Powell's hijab was removed and placed into her property bag where it was secured," Johnson said.
The way Powell, who is Muslim and an African-American, was treated by police "was simply a show of authority over a woman of color who was unable to protect herself, and is another example of the type of discrimination faced by women who wear a hijab," says Yalda Satar, CAIR-LA's civil rights attorney.
"We respect the religious rights and beliefs of all people and understand the sensitivity of this matter," Luna says. "The policies we have in place are for the safety of the individual, other inmates and police employees."
His department released a statement that includes this:
The police department has a duty to protect all people who are in their custodial care, and one of the policies that protects inmates is that certain items are not allowed to be retained by a prisoner while in custody. These items include belts, neckties, shoelaces, and head coverings.
The police department takes great pride in our community partnerships. We will continue to work with local religious leaders to make sure we are mindful of cultural sensitivities while ensuring the safety of all involved. We will also reach out to our local law enforcement partners to ensure that our policies and practices remain consistent with industry standards.
During Powell's booking and subsequent search, at least four female officers were on duty, including one who escorted her to a holding cell after her head scarf had been removed, CAIR-LA claims.
"I would never want anyone to go through what I felt from this experience, it was horrible," Powell is quoted as saying in the CAIR-LA statement. "I want my Muslim sisters to always feel comfortable and safe wearing a hijab and to stand up for what's right. We are all human, we all deserve justice."
Policies allowing for religious head wear have been adopted at the federal level and by neighboring counties, such as Orange and San Bernardino counties, according to the group. Actually, the American Civil Liberties Union of Southern California reached a settlement with the County of Orange in 2013 allowing for Muslim women to keep their religious headscarves on while in custody, the fallout from deputies at the jail forcing an Anaheim woman to remove her hijab.
Speaking of local history, CAIR-LA notes the Long Beach Police Department two years ago investigated an incident involving the removal of a Muslim-American woman's hijab and deemed it a "hate crime." Then-Police Chief Jim McDonnell stated that "crimes of this nature will not be tolerated in our city." He's now the Los Angeles County sheriff
Powell's suit alleges violations under the First Amendment, Religious Land Use and Institutionalized Persons Act (RLUIPA), Bane Act and the California Constitution.
ocweekly.com/news/long-beach-sued-over-cops-removal-of-muslim-womans-hijab-7163265
---
Cheating Wife Ordered Deranged 'Islamic State-Style Execution' On Husband
May 04, 2016
A CHEATING wife tried to hire an assassin to perform an execution on her Uber driver husband and make it look like it was carried out by the Islamic State.
Nurten Taycur devised the warped plot so she could be with her lover, the Old Bailey heard.
The 28-year-old offered to pay a hitman £5,000 to kill husband Ercan Akan in the heart of London in an execution reminiscent of the vile terror group, also known as Daesh.
But Taycur was arrested after the contract killer, "John", turned out to be an undercover police officer.
The court heard how crazed Ms Taycur went into disturbing detail about her deranged plot while handing over the money to "John".
She said: "What I am thinking, I got this thing in my head, you know this ISIS thing that's going around, like if your friend gets a spray and writes ISIS on top of the car."
She also went into lurid detail of how she wanted Mr Akan's throat to be slashed.
She emphasised: "I don't want him to survive."
Taycur came to the UK when she was 16 and married her husband who came from the same Kurdish village in Turkey.
But Mark Gadsden, prosecuting, told the court how Taycur went in search of a hitman in November last year, offering to track her husband using the Find my iPhone app.
He said: "She indicated she had a budget of £5,000.
"She did say she was currently involved in a relationship with another man, her boyfriend with whom she had had a relationship for two years.
"We suggest that was the reason why she wanted the husband murdered."
Taycur was recorded telling the fake assassin: "In our culture you cannot have a boyfriend but I can say yeah well I cheated on my husband.
"I want him to die. I want him to get out of my life.
"If you stab him in the car park... you need to guarantee me if you stab him he needs to be dead.
express.co.uk/news/uk/666818/nurten-taycur-ercan-akan-uber-driver-islamic-state-execution
---
Visually Impaired Girl Gets Bank Job, Returns Rs. 10,000 to Collector Who Gave Her Money to Study
May 4, 2016
Sharada Dawar is a visually impaired girl from Madhya Pradesh, and her amazing story of self-respect and determination has been inspiring many on social media for the past few days.
She worked hard for the job did not let the visual impairment come in the way of her dreams. But what she did after being selected is something that speaks volumes about her passion.
A few months ago, she had approached the district collector of Alirajpur, requesting him to help her complete her graduation. He had given her Rs. 10,000 at that time, and to his surprise, Sharada met him again on Monday to return the money.
"I returned the money to the collector because I got selected and I thought the money could be used by the collector to help any needy or poor for his/her studies," she told Hindustan Times.
Ever since she took this step, Sharada has been receiving congratulatory messages from across India. Senior officers of the administration and education department in her district came to village to meet me and said that they would like to honour her too. A star in her village, Sharada is the eldest of three daughters and a son, and is the only one in the family who is visually impaired.
thebetterindia.com/54334/sharada-dawar-visually-impaired-madhya-pradesh-district-collector/?utm_source=The+Better+India+Newsletter&utm_campaign=e4b579f62e-RSS_EMAIL_CAMPAIGN&utm_medium=email&utm_term=0_cd579275a4-e4b579f62e-59103081
URL: https://newageislam.com/islam-women-feminism/delhi-commission-women-study-countries'/d/107197
New Age Islam, Islam Online, Islamic Website, African Muslim News, Arab World News, South Asia News, Indian Muslim News, World Muslim News, Womens in Islam, Islamic Feminism, Arab Women, Womens In Arab, Islamphobia in America, Muslim Women in West, Islam Women and Feminism