New Age Islam News Bureau
16 March 2018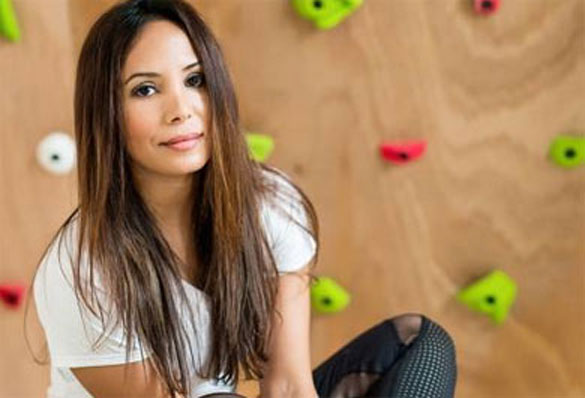 Yasmin Gahtani Rock Climbing Saudi Woman, Image Credit: Supplied
-----
• Saudi Woman Takes Rock Climbing To New Heights
• Two Women Arrested For Breaking into US Islamic Centre
• Muslim Women Stage Rally in Bhagalpur, Saharsa in Bihar against the 'Triple Talaq' Bill
• Women Taking the Lead for Muslim Gender Equality
• Egyptian Girl Assaulted By 10 British Women in Nottingham Dies
Compiled by New Age Islam News Bureau
URL: https://www.newageislam.com/islam-women-feminism/defying-taliban-afghan-women-apply/d/114616
--------
Defying the Taliban: Afghan women apply to join police force
by Tony Birtley
More cases of violence against women were reported in Afghanistan last year than ever before.
However, when new laws were introduced, they failed to include penalties for the crimes.
Critics say the problem lies in the difficulty of changing the conservative mindset in Afghanistan.
https://www.aljazeera.com/news/2018/03/defying-taliban-afghan-women-apply-join-police-force-180315104506766.html
--------
Saudi woman takes rock climbing to new heights
March 16, 2018
Jeddah: For Yasmin Gahtani, Saudi Arabia's first woman rock climbing instructor, scaling is an art.
"It's all about how your body moves and dances skilfully on the wall," she told Gulf News.
The Jeddah-based instructor, 39, started teaching a year ago, and is currently training around 100 novice climbers, mostly Saudis, at a 12-metre rock near Briman — the only available location, about 50-minute drive from Jeddah.
She has a certification in rock climbing from the American Mountains Guide Association in Chicago.
"Rock climbing is about self-control and self-strength. It's about being strong, surviving in harsh conditions and being independent. Trust me when I say that a lot of men cannot do what I do," she said.
Rock climber Yasmin6
Gahtani feels that rock climbing not only keeps one healthy and fit but also teaches one to stay focused, learn to trust people, and develop problem-solving skills.
She is also trying to change the perception in the country that rock climbing is "manly, wild and weird".
Many women have approached Gahtani, interested in learning the craft.
A beginning session focuses on the basics: how to move the body, use and inspection of gear and learning the terminology.
Gahtani hopes that when rock climbing is introduced to the world as a competitive sport in the 2020 Tokyo Summer Olympics, at least one of her students will be able to represent Saudi Arabia at the tournament.
Before she discovered the sport, Gahtani was leading a quiet, comfortable life as a computer programmer while also being a single mother to her two twin boys.
Because of her poor hand-eye coordination, she was never interested in conventional sports like football, basketball, or volleyball.
"I had no aim, coordination and on top of all that I was short," she said.
One day she was on Instagram and happened upon a picture of an expatriate friend of hers rock climbing.
It peaked her interest and she started to research about the sport.
Rock climber Yasmin7
A friend of hers brought her along to a rock-climbing trip and it changed her life.
"I was hanging high above a cliff holding onto dear life. It was the scariest moment in my life, but I fell in love," she said.
"The body immediately goes into survival mode and my instincts kicked in."
Since then, Gahtani has travelled to 39 countries and has made numerous climbs around the world in a short span of time.
She said her best climbing experience was in Italy.
"The more you climb, the more you progress. I'm still progressing. There is no limit. Every month, old records are broken and new ones are set," said Gahtani.
Rock climber Yasmin4
The feisty and free-spirited climber documents her trips on social media to create awareness about the sport in Saudi Arabia.
She really did not expect other women—especially Saudi women—to be interested.
"They saw my posts on social media and started asking me how they could also learn," she said.
This pushed Gahtani to become a certified trainer and her parents encouraged her to open up a school in Jeddah.
At the moment, Gahtani is undergoing intensive training in order to do difficult climbs in the future.
"These climbs require a lot more flexibility and strength," she said.
In January, the Saudi General Sports Authority launched a federation for rock climbing.
Saudi Arabia has many untouched cliffs and rocks, especially in the south near Abha, and the north near Al Ula.
Given the opportunity, Gahtani believes professional rock climbers from around the world could come to Saudi Arabia to climb.
http://gulfnews.com/news/gulf/saudi-arabia/saudi-woman-takes-rock-climbing-to-new-heights-1.2185787
--------
Two women arrested for breaking into US Islamic centre
March 16, 2018
LOS ANGELES: Two women were arrested Thursday for breaking into an Islamic centre in Arizona and filming themselves making anti-Islamic remarks, police said.
Tahnee Gonzales and Elizabeth Dauenhauer were arrested for third-degree burglary "after the investigation revealed they entered onto the property of the Tempe Islamic Center and subsequently removed various items," local police spokesman Ron Elcock said in a statement.
"Based on the details of the crime an enhancement of hate crime will be considered for sentencing," he said.
The women posted several videos on Facebook showing them entering the centre, making insulting remarks about Muslims and encouraging their children to repeat them.
Ahmad Al-Akoum, the centre's director of inter-faith relations and one of its imams, told AFP that the incident took place the morning of March 4, when no one else was present.
A local journalist saw the videos and alerted the mosque, whose leaders then checked their surveillance footage and saw the women taking copies of the Islamic holy book the Koran as well as leaflets, and tearing up documents affixed to a bulletin board.
Mosque officials then contacted police.
"They were teaching their children to be hateful, it was very disturbing," Al-Akoum said of the women.
He said that his mosque and others around Phoenix have regularly been subjected to harassment "for a long time, almost since 2001," referring to the year of the September 11 attacks.
But things have gotten worst since Donald Trump – who made trying to keep travelers from certain Muslim-majority countries out of the US a central part of his agenda – took office last year. -- AFP
https://www.nst.com.my/world/2018/03/345791/two-women-arrested-breaking-us-islamic-centre
--------
Muslim Women Stage Rally in Bhagalpur, Saharsa in Bihar against the 'Triple Talaq' Bill
Mar 15, 2018
BHAGALPUR/SAHARSA: Muslim men and women took to the streets in Bhagalpur and Saharsa on Wednesday to protest against the Muslim Women Protection of Rights on Marriage Bill, which criminalises instant 'triple Talaq'.
In Bhagalpur, the rally passed through the busy thoroughfares of the town. Later, some of the leaders submitted a memorandum to the district magistrate.
The Muslim Women Protection of Rights on Marriage Bill proposes a three-year jail term for a Muslim man who divorces his wife via talaq-e-biddat (instant triple talaq). The bill has been passed by Lok Sabha, but is yet to be passed by Rajya Sabha to become a law. The Supreme Court has set aside instant 'triple talaq' or 'talaq-e-biddat' as a "manifestly arbitrary" practice. It also aims to provide subsistence allowance to Muslim women from her husband besides entitlement to seek custody of her minor children.
Maulana of Khankah Shahbazia Mufti Farooq Aalam Asharfi said, "The Bill is against the Shariat and against the Muslim personal law." Lauding the rally taken out by Muslim women and men, Asharfi said they would intensify their stir at the state and national level in order to pressurize the Central government to withdraw the bill that is likely to trigger more problems in Muslim families.
Meanwhile, thousands of women wearing Burqa in Saharsa took out a silent protest march near the collectorate on Wednesday to protest against the triple talaq bill.
It was for the first time in Kosi region that such a large number of Muslim women, mostly from the rural areas, had come out of their houses and participated in a stir. The protest march was surprisingly an all-woman affair as no male members were allowed to interfere. However, some enthusiastic male activists were seen cordoning the area by forming a human chain. Women protesters who had come from distant villages and gathered at the Patel Maidan here only displayed placards which read.. "talaq bill wapas lo", "shariyat me hastakshep band karo", "triple Talaq bill will ruin family and society," etc.
Some prominent women leaders associated with 'Islah-e- Muashra' and 'Tahaffuj -e-Shariyat', including Hina Farooqui, Kokab Sultana, Mahjabi Naaj, Sophia Parween addressed the rally before submitting a memorandum to the Saharsa DM which was addressed to the President of India.
Meanwhile, an auto-rickshaw carrying women protesters from Bhelaahi village under Mahishi block turned turtle resulting in serious injuries to six women.
https://timesofindia.indiatimes.com/city/patna/muslim-women-stage-rally-in-bhagalpur-saharsa/articleshow/63305613.cms
--------
Women taking the lead for Muslim gender equality
By Edgardo Angara
March 15, 2018
Malala Yousafzai, a staunch advocate of women and children's rights, courageously promoted education in sharp contrast to highly ultraconservative policies of her native province in Pakistan. She publicly expressed her advocacies despite a grave attempt on her life by the Taliban. Malala was awarded the Nobel Prize—the youngest to win the laureate —and became a catalyst for outlawing discrimination against girls and advancing their right to education.
Sen. Santanina "Nina" Rasul, a distinguished colleague, pursued legislation by recognizing the indispensable contribution of women in development and nation-building. Senator Rasul had held various government positions representing Muslims and cultural minorities. She established the Magbassa Kita Foundation Inc., which works to develop literacy of Muslim women in the Autonomous Region in Muslim Mindanao.
Dr. Aziza Al-Hibri, professor emerita at the University of Richmond and former United States Commissioner on International Religious Freedom, is in town. She has conducted notable studies that analyze the Islamic worldview and the need for new Islamic jurisprudence with the fast-changing trends and customs in both the Islamic states and Western economies.
I have the opportunity to share insights on the role of women in Muslim communities, together with Domini Torrevillas of Philippine Star, Ellen Tordesillas of Malaya and Carol Araullo of BusinessWeek on March 15. Dr. Al-Hibri presided the discussions hosted by the Embassy of the United States in Manila. She argued in her book, the Islamic Worldview: Islamic Jurisprudence, An American Muslim Perspective, that misplaced agenda and vested interests blur the focal point of Islamic philosophy that is justice.
Many Muslim women around the world have always been at the forefront of the crusade for equal rights, yet their voices are rarely heard. The intensifying upheaval in most global cultures to alter societal standards dominated by men presents an opportunity to create discourse for all women to engage in.
Scholars have pointed out how the political ultra-right and extremists distort Islam intrinsic beliefs that give equal recognition for both man and woman—granting fundamental rights to life, property, and opinion.
Enabling frameworks that will increase the participation of Muslim women in democratic processes are needed. For example, under the proposed Bangsamoro basic law, not less than 10 percent of seats in the Bangsamoro Parliament are reserved for women.
The Philippines, a leader in gender equality, can become a role model on empowerment of women in Muslim communities through various mechanisms such as education. Placing the voices of Muslim women on a better platform would help build institutions and shape societies that advance equity and fairness.
https://businessmirror.com.ph/women-taking-the-lead-for-muslim-gender-equality/
--------
Egyptian girl assaulted by 10 British women in Nottingham dies
16 March 2018
The family of Mariam Moustafa, the Egyptian girl who was assaulted by 10 British women in Nottingham, announced that she passed away on Wednesday evening after being critical condition for weeks.
According to a video shared by the 18-year-old's family, the 10 women assaulted Mariam on a public bus, after she had been shopping in Nottingham city.
She was immediately rushed to Nottingham City Hospital following the attack where she suffered severe head injuries and passed away after a few days.
Egypt's Minister of Immigration Nabila Makram confirmed that she has sent an official to follow up on the incident, and that the embassy is currently considering procedures to sue the hospital after several accusations of the facility being negligent in treating Mariam.
The accusations came following the hospital's decision to send Mariam home despite her suffering severe cerebral hemorrhage, according to her family. She eventually died from severe bleeding in her brain.
In a video statement by her uncle, Amr el-Hariry, he said that the group of girls responsible for the attack had assaulted Mariam and her sister Malak four months prior as well.
"Two of the same girls who assaulted her four months ago, were involved in this incidemt," Mariam's mother Nisreen said. "This is completely based on racism and discrimination because she didn't even know these girls."
Speaking about the latest assault, el-Hariry said, "they started to beat her, kicking and punch her all over, she ran away but they chased after her. She didn't even know these girls. Mariam got a bus and ran on, and told the bus driver to not let them on because they were beating her but he said he couldn't do that."
According to the family, a young man who was on the same bus came to Mariam's rescue and was the one who rushed her to the hospital.
"I don't understand why he didn't help her from the start and why just one person stepped in to intervene. It's disgraceful really," el-Hariry said.
According to The Sun, a post-mortem examination is due to take place.
Egypt's foreign affairs ministry spokesman, Ahmed Abu Zeid, said that the Egyptian Consul in London immediately contacted the father of the girl, and reported the developments of his daughter's health condition.
He added that the Egyptian Consul and the embassy's medical advisor went to Nottingham to meet with the student's family as well as the local authorities and the hospital's management to consider what measures could be taken.
According to the Sun, a 17-year-old was arrested as a suspect in the case, but was released on conditional bail shortly after.
Nottinghamshire Police is urging anyone who witnessed the incident at the public bus station to come forward with any information.
Mariam was an engineering student at Central College in Beeston, and had just been accepted into a London university where she was due to continue her studies.
https://english.alarabiya.net/en/News/middle-east/2018/03/03/Egyptian-student-between-life-and-death-after-assault-by-10-British-women.html
--------
URL: https://www.newageislam.com/islam-women-feminism/defying-taliban-afghan-women-apply/d/114616
New Age Islam, Islam Online, Islamic Website, African Muslim News, Arab World News, South Asia News, Indian Muslim News, World Muslim News, Women in Islam, Islamic Feminism, Arab Women, Women In Arab, Islamophobia in America, Muslim Women in West, Islam Women and Feminism