10 January 2021
• Dawn Maqsood - Converted To Islam - Stopped Wearing Her Hijab Due To Sickening Islamophobia
• Caroline Kamya Is On A Mission To Mentor More Women In Filmmaking
• Indian Rights Group Seeks Justice For Harassed Muslim Woman
• In A First, All-Women Air India Crew Fly From San Francisco To Bengaluru
• Twitter Removes Chinese Embassy's Post Claiming Uighur Women Not Forcefully Sterilised
• Maharashtra: 'Period Room' Set Up For Women In Thane Slum
• Fintech Company Finastra-Israel Brings Druze Female Programmers To The Forefron
Compiled By New Age Islam News Bureau
URL: https://www.newageislam.com/islam-women-feminism/dawn-maqsood-converted-islam-stopped/d/124032
-------
Dawn Maqsood - Converted To Islam - Stopped Wearing Her Hijab Due To Sickening Islamophobia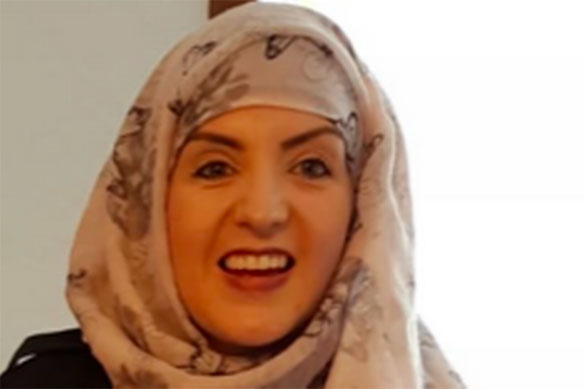 Dawn Maqsood (Image: UGC)
------
By Stephen Stewart
9 JAN 2021
A Scots mum who converted to Islam has told how she stopped wearing her Hijab headscarf due to everyday Islamophobia.
Dawn Maqsood - who was born into a Christian family but later converted to Islam -said she was "mentally worn down" by people's attitude to her and the fear that her daughters would be affected.
She said: "During my time at university, I got a part-time job in an Indian restaurant run by two Glasgow born Pakistani brothers. This was the first time I had ever spoken to anyone about Islam, it hadn't even been on my radar.
"When I had questioned them to the end of their sanity, I started buying books on the subject and almost immediately I knew this was what I had been searching for. I wore hijab for two years and in that time I was mentally worn down by the way people treated me.
"I was anxious for my daughters that something would happen when I was out with them and it started to wear on my mental health. Hijab was not created to be a burden upon us so I decided after a lot of soul searching to stop wearing it although I hope to go back to it one day, God willing.
"I've been a Muslim for 12 years now, and it's still the best decision I've ever made but it has opened my eyes to what it's like to be part of a minority. As a white Muslim I neither fit in completely with 'born Muslims' nor non-Muslims.
"People have to realise Islam is a religion of peace, it's not so different to many other religions out there. Islam has no colour. Islam is not specifically for one ethnicity, Islam is for everyone."
Dawn said she was raised in the church, attending Sunday school, bible class and girls brigade but began to question her beliefs after her dad's death. She said: "In 2016 I began wearing hijab and it was nerve-wracking.
"The general opinion of Muslims is not a positive one and I knew I was making myself a potential target. I was nervous wearing it in the office but my team, particularly my manager, supported me through it and it soon became normal.
"In everyday life, it was the small things I noticed. People don't hold the door for you, they don't help you in the supermarket when you've dropped something on the floor, you don't get the same friendly customer service as the non-Muslim person in front of you in the queue.
"There were also the assumptions that my husband had forced me to wear it and I must somehow be oppressed which if you know me is laughable. On the other hand, when I came across other Muslims they would ask "where are you from?"
"I would tell them, Glasgow, then they would ask 'but where are you really from?' and I would have to explain I'm really from Glasgow, I am a Scottish Muslim."
She added: "The time immediately after my conversion I was so happy. It was Ramadan and I completed my first month of fasting and celebrated my first Eid. In the first year, I came up against many obstacles, friends who didn't understand why I wouldn't go to the pub, or a club, people who thought I was in some sort of extremist gang, and issues with going to friends or family members' homes for food as I was now following a halal diet.
https://www.dailyrecord.co.uk/news/scottish-news/scots-muslim-mum-stopped-wearing-23286296
--------------
Caroline Kamya Is On A Mission To Mentor More Women In Filmmaking
By Gabriel Buule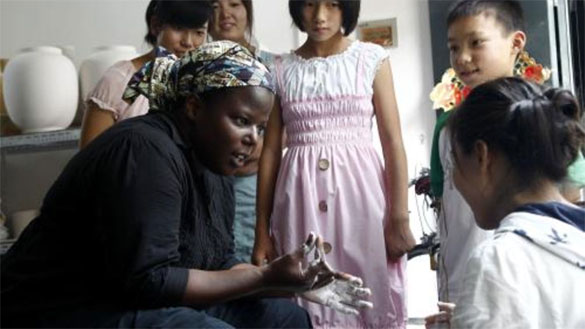 Caroline Kamya
-----
January 09 2021
At a very young age, Caroline Kamya knew her parents wanted her to pursue further education in a field, where she could make a successful career, and she chose to go to the university to study Architecture and Urban Design at Bartlett School of Architecture in London.
After a three-year course, she realised her dreams were not aligned with architecture. She had a degree but architecture was not her calling.
"My joy and satisfaction came from telling stories through pictures. I envisioned myself as one of the best film directors of my generation," she says.
During her years in a boarding school in the UK, she discovered a huge disparity and stereotypical statements about the African culture. Her peers then often made unpleasant comments and asked funny questions about life in Africa.
"I was confronted with doubt and disbelief. When I showed my classmates the photo of our house back in Uganda, they did not believe in me. That is not your house. That is a hotel. People in Africa live in mud huts," she recalls her early days in the UK.
It was this false image of Africa that inspired Kamya to work hard and change preconceived notions that the West had towards Africa and its culture.
At the age of 15, she took over from her father in taking videos of her family holidays and other events. Growing up, she had moments where she would pretend to be a journalist, conduct interview of her parents and siblings as if it was a talk-show. "Perhaps, this is where my love for camera originated from," she says.
Bearing in mind that she needed qualifications and experience in order to pursue a career in the film industry, she signed up for a master's degree in Television Documentary at Goldsmiths College at the University of London.
During her college days, Kamya says it was not easy to access African content on TV, and this made her miss home and the diverse culture that she had been accustomed to as a child.
This cemented her love for film-making and strengthened her resolve. A few years after completing her course in film making, she struggled to find jobs due to racial adversity within the film industry. It is at this point that she decided to start her own company with the hope of making a breakthrough in the film industry.
It was not long before she was offered a position at the BBC to do a magazine programme via an ethnic minority scheme that was aimed at increasing blacks behind the camera.
"I was mentored by the best in the film industry and this programme opened many doors for me. The only drawback with the BBC slot was stagnation in career progression. This frustrated me over time," she says.
In 2004, during a conversation with her sister, who was doing her fieldwork in Uganda for her PhD in Social Anthropology, she hinted on an opportunity for Kamya back home.
At a time when the film industry was beginning to flourish, Kamya decided to take the risk, flew back home to tap into business opportunities that the film industry offered.
With a leap of faith and a sister to rely on for support, she decided to relocate to Uganda to grow her film career. With a camera in one hand and a computer in the other, she started making films and scouting for great talents within the market.
"I found my niche when I returned home. My mission was to showcase my rich cultural heritage. The years I spent in the UK, I was misunderstood and and I was often treated to unfair stereotypes. I wanted to change the status quo," she says.
Imani was her first film project. Her story was to show people the truth about Uganda, not just the image of poor people living in mud huts that aid relief programmes often project. Kamya's film featured diverse people, rich cultures, lifestyle, talented and skilled people in various disciplines, economic backgrounds and success stories. This is the story behind Imani.
Ten years after the release of Imani, Kamya still receives compliments about the exceptional work she did. This is one of the factors that drives her to do more. She is working towards the production of films that she believes will be even better than Imani.
Imani is a Swahili word that means faith. Faith is a virtue that is required to overcome most challenges in life. The award-winning film tells a story of the lives of three characters from diverse backgrounds. Imani offers a refreshing look at Uganda post Idi Amin regime and post the days of anguish of the Lord's Resistance Army.
A new chapter begins in "Olweny's life, a 12-year-old former child soldier. As he starts his journey to his rural home after a few weeks of post-war rehabilitation, he is ready to return to his family that has not seen him for four years.
Imani is a visual feast of stunning worlds revealing the city of Kampala and the formerly war-torn Gulu city. It provides a unique perspective and features actress Rehema Nanfuka, actors Philp Buyi and Yusuf Kaija, among others.
Kamya is currently working on a project called Nativ, with the support of African Diaspora to support talented film makers in Africa. She says this will provide a platform for people who have skills and equipment to create great content without having to move far away from home.
With this platform, people across Africa can showcase their skills and talents for people around the world to see, without needlessly having to relocate and struggle to find work in areas where filming is more prevalent.
"When I think about the struggles I journeyed through and how much my life changed when I was given the opportunities, it motivates me to champion this cause.
Nativ is set to become one of the largest databases of African professionals, which non-government organisations and other international organisations can utilise to support talents.
"The film industry is growing but some talents remain underutilised. For example, Rehema Nanfuka, who played the maid in Imani is now one of the top filmmakers in Africa; a truly inspiring display of how access can help to open doors to people," she says. While the film industry is dynamic with a lot of local content, there is a growing market that needs opportunities and the support of people within the industry to nurture and develop creatives.
"I am often asked what can be done to increase women in film industry. I believe mentorship is the game changer. During my tenure at the BBC, I was mentored by Jane Mote, who was the brain behind the creation of BBC London – the joining of TV, radio, and online content in 2002. She believed in me and offered the career mentorship I needed to earn my place at the table in a highly male-dominated industry," she says.
She urges experienced women to support and mentor others to develop the industry and serve as a bridge to harness the right partnerships.
Her mission is to expand the team through her work and charity. "Many creatives in Africa feel trapped and unable to optimise their potential because doing so means abandoning their marriages and going against the cultural norms. Developing spaces for growth for these talented youths is vital. There is so much to gain from this growth and this is what I am advocating for," Kamya says.
Marian Wright Edelman, an American activist for children's rights, once noted that: "You can't be what you can't see". This quote sums up why it is important to support and celebrate the African woman.
Kamya says film-making is an expensive venture, but her greatest hurdle was producing a film at a time when resources and talents where still minimal in Uganda.
Her feature film, IMANI that also opened at the Berlinale International Film Festival 2010 in German was nominated for "Best First Feature.
Her other film projects include Chips and Liver Girls" shot in Uganda and "Fire Fly" shot in China and commissioned by The Danish Film Institute and the Rotterdam International Film Festival. She also has a T.V documentary series, two fiction features and one feature documentary in the development stages.
She also won an award and funding from DOCUBOX at the Durban Film Market 2014 towards the feature documentary she worked on with her sister dubbed In Search of African Duende: The Uganda Flamenco Project.
Kamya has won more than 10 awards internationally and worked on television in London before setting up a production house in Kampala.
Kamya is on a mission to expand the team of talents through her work and charity. "Many creatives in Africa feel trapped and unable to optimise their potential because doing so means abandoning their marriages and going against the cultural norms. Developing spaces for growth for these talented youths is vital. There is so much to be gained from this growth and this is what I am advocating for," Kamya says. She believes mentorship is is a the game changer in bringing more women in film.
Born in Uganda in 1974, Caroline Kamya spent her formative years in Kenya. She was born to Peter Kamya, an architect and and Margaret Muganwa Kamya, a medical doctor. Kamya has won many awards internationally and has set up a production house in Kampala
https://www.monitor.co.ug/uganda/magazines/full-woman/caroline-kamya-mission-to-mentor-more-women-in-filmmaking-3252378
-------------
Indian rights group seeks justice for harassed Muslim woman
Staff Correspondent
Jan 10,2021
Indian non-profit Manabadhikar Suraksha Mancha sent a letter to the National Human Rights Commission of India on Saturday seeking justice for a Muslim woman of Other Backward Caste who was harassed by an official of the Indian Border Security Force on October 15.
The 22-year-old victim was harassed and beaten by Sanjay Kumar, company commander attached to Tarali Border Outpost and two constables.
On October 17, the victim had filed an FIR against the BSF official at the Swarupnagar police station and an enquiry was done via phone call on October 26. No action followed since then.
The victim was returning from her relative's house by the IBBR road when the perpetrators stopped her at Sadhaner mor where they verbally and physically abused her.
She immediately sought treatment from a local quack doctor and lodged a complaint on October 17 with Swarupnagar police station.
Based on the complaint, Swarupnagar police station started a case but instead of giving the FIR copy to the complainant, the officials of Swarupnagar police station just provided one scrap of paper with no legal sections mentioned on it, Masum said in a letter to the Human Rights Commission.
https://www.newagebd.net/article/126802/indian-rights-group-seeks-justice-for-harassed-muslim-woman
-------------
In a first, all-women Air India crew fly from San Francisco to Bengaluru
By Sangeeta Ojha
10 Jan 2021,
An all-women cockpit crew of Air India has taken off the inaugural flight between Bengaluru and San Francisco. "Way to go girls! Professional, qualified & confident, the all-women cockpit crew takes off from San Francisco to Bengaluru on @airindiain s flight to fly over the North Pole. Our Nari Shakti achieves a historic first," Civil Aviation Minister Hardeep Singh Puri tweeted.
"Imagine this: All Women Cockpit Crew. Longest flight into India. Crossing the North Pole. It's here & happening! Records were broken. History in the making by AI176 from San Francisco to Bengaluru. AI 176 is cruising at 30000 feet," Air India tweeted.
The inaugural flight AI176 departed from San Francisco in the USA at 8.30 pm (local time) on Saturday and it will land at the Kempegowda International Airport at 3.45 am (local time) on Monday.
Earlier, on Saturday, the minister had said in a tweet that Air India's woman power flies high around the world and it was a historic inaugural flight between the two cities. "Air India's woman power flies high around the world. All women cockpit crew consisting of Captain Zoya Agarwal, Capt Papagari Thanmai, Capt Akanksha Sonawane, and Capt Shivani Manhas will operate the historic inaugural flight between Bengaluru and San Francisco," he said.
The aerial distance between San Francisco and Bengaluru is one of the longest in the world.
https://www.livemint.com/companies/news/in-a-first-all-women-air-india-crew-fly-from-san-fransisco-to-bengaluru-11610256789552.html
------------
Twitter removes Chinese embassy's post claiming Uighur women not forcefully sterilised
WION Web Team
Jan 10, 202
China's US embassy recently tweeted an article claiming that Uighur women are no longer "baby-making machines". However, the post has now been removed by the social media giant.
The Chinese embassy in the US had the post linked to an article that openly denied all accusations of forced sterilisation in Xinjiang. Twitter claimed the post "violated the Twitter rules".
Later, the same article was reposted with a different caption. "Study shows the population change in northwest China's Xinjiang Uygur Autonomous Region involves the overall improvement in population quality. An increasing number of youths chose to spend more time and energy on personal development," the post by the Chinese embassy in the US reads.
The story in question has been originally published by the Chinese mouthpiece Xinhua and claims to have taken material from a study titled 'An Analysis Report on Population Change in Xinjiang' by Li Xiaoxia, a researcher for the Xinjiang Development Research Center.
As per this study, the "natural growth rate of population in Xinjiang decreased from 11.4 per 1,000 people in 2017 to 6.13 per 1,000 people in 2018". This has been due to the implementation of family planning policy and a changed mindset about marriage and reproduction, as per the Chinese mouthpiece.
It denies allegations made by Adrian Zenz who had reportedly claimed the massive change in the population of northwest China's Xinjiang Uygur Autonomous Region is due to forced sterilisation. The study, however, claims the change is due to improvement in the population control and is a voluntary action by the locals, rather than a forced measure the Chinese government.
This study has come at a time when the Asian country has been severe facing allegations against the inhumane treatment towards the Uygur population — including forced labour, suppression of religious activity, human and digital surveillance, and forced sterilisation to control the population of the area. Following various allegations and studies, many companies have cut ties with the industries producing in the region and several international organisations and governments have also spoken out and have offered support to the locals of the region.
https://www.wionews.com/world/twitter-removes-chinese-embassys-post-claiming-uighur-women-not-forcefully-sterilised-355755
-------------
Maharashtra: 'Period Room' Set Up For Women In Thane Slum
By Press Trust Of India
10th January, 2021
In a bid to ease the woes during menstruation of women residing in congested slums and to provide them hygienic sanitary facilities, a 'period room' has been set up at a public toilet in Maharashtra's Thane city.
Claimed to be the first-of-its-kind initiative at a public toilet, the facility in equipped with a urinal, jet spray, toilet roll holder, soap, running water and a dustbin, a civic official told PTI on Sunday.
The much needed facility, set up by the Thane Municipal Corporation in collaboration with an NGO, was opened for women at a slum in Shanti Nagar locality of Wagle Estate area last Monday, he said.
Painted on the outer wall of the toilet block are colourful pictures with messages advocating good hygiene, including during menstruation.
"This Rs 45,000 low-cost facility will be replicated in all 120 community toilets in the city," the official said.
He said women living in small houses, which do not have a separate bathing section, many a times find it difficult to change during periods.
This facility will be a boon for such women and go a long way in promoting good hygiene, the official said.
There are no public toilets for women in most of the localities and this facility will help provide them some relief, he said.
The initiative indicates that slums are undergoing a revamp, with facilities like schools, health clinics and good toilets being set up there, the official said.
https://www.republicworld.com/india-news/city-news/maharashtra-period-room-set-up-for-women-in-thane-slum.html
--------------
Fintech company Finastra-Israel brings Druze female programmers to the forefron
Yafit Ovadia
10.01.21
As the tech workforce grows, it is expanding to incorporate and properly reflect different parts of Israeli society. As part of those efforts, British fintech company Finastra, which is the third-largest of its kind in the world and works with several global banks, has aimed to make diversity a part of its platform. Finastra's Israel branch, based in Kfar Saba, works with some of the leading global players and helps process payments online, totaling some $20 trillion every day. Those include major U.S. banks Goldman Sachs, Citibank and Bank of America, U.K. groups Barkley's, Lloyd's, and HSBC, as well as other major South African, Brazilian, and Australian banks.
Finastra aims to make diversification more than simply a slogan and has implemented this idea by incorporating people from across a diverse spectrum, including Jewish ultra-Orthodox women who work in its development teams, LGBTQ+ employees who joined under the umbrella campaign of LGBT Tech, and most recently, seven religious Druze female programmers from the small community of Daliyat el-Karmel in northern Israel.
A Druze female programmer works at the Lotus tech hub in northern Israel. Photo: Jinan HalabiA Druze female programmer works at the Lotus tech hub in northern Israel. Photo: Jinan Halabi
CTech spoke to the General Manager of Payments at Finastra-Israel Sagive Greenspan, as well as with the woman behind the entire female Druze programming nonprofit platform, Lotus, that encourages religious women of the Druze and Islamic faiths to do the formerly unthinkable and become programmers in the tech sector. Maysa Halabi Alshekh started Lotus, and it provides religious Druze women with a safe joint workspace to work remotely from their small town, and use their exquisite software programming skills to manage large payments. Lotus trains the women in a special programming boot camp to become full-stack developers and enter the high tech workforce while still adhering to their religious practices and beliefs.
"What's beautiful is that we've created a beautiful community of women who've dreamed big," Alshech told CTech in an interview, when discussing the program and how she hopes this will shatter stereotypes and encourage workplace diversity.
"Finastra has over 65,000 customers all from financial institutions and is the third-largest fintech company in the world," Greenspan told CTech. In Finastra's Israel division there are about 350 employees, and in the company's entire payment division there are around 700 employees. It is the largest provider of payment systems in the world and allows banks to transfer over $20 trillion a day. "We work with some of the biggest banks out there," he added, "including those in the U.S., Europe, South America, South Africa, and Australia," he said.
"The work with Lotus is part of our overall values when it comes to inclusion as a whole, which is a part of how we like to see our corporate responsibility. We're doing well by doing good, and are constantly looking for ways to do good," he said. "Diversification comes in many colors, such as supporting LGBT Tech, (which aims to promote LGBTQ+ individuals into the tech sector), that we employ 30 Jewish ultra-Orthodox women in our development division or the fact that at Finastra-Israel 45% of employees in the payments division are women," he said and listed several important female figures and managers at the company in both the Israel division and abroad.
"Our VP of R&D is female, Hemdat Cohen-Shraga; VP of payments in the U.S. Malinda Robey, head of payment customer care Keren Blum, and half of our management is women," he said. "They are chosen not because they're female, but because they are the best employees out there. We just got the best people out there, who also happened to be women."
Daliyat el-Karmel and met with some of the female programmers three years ago, "we were excited about the opportunity, and by the fact that we are really changing their future," he said excitedly. "If you have the opportunity to change someone's future, then that's probably the biggest accomplishment you can make."
"They are helping develop our product," he noted, adding, "what I like about them is that we had very good chemistry from the beginning. We liked them as people and as employees. To some extent we both come from similar values - they are hard workers, loyal, they care, and are dedicated to the job at hand."
Shortly afterward, seven of them joined the Finastra-Israel team, working remotely from their location in northern Israel. "I assigned one of my leads to manage them directly, Senior Product Manager Lilach Harel, and she is working with them, managing them, and guiding them day in and day out."
General Manager of Payments at Finastra Israel Sagive Greenspan. Photo: Alan ChapeltzkyGeneral Manager of Payments at Finastra Israel Sagive Greenspan. Photo: Alan Chapeltzky
"It was all the women. We started with three Druze female programmers, but slowly as these women realized they were working with some of the biggest banks in the world - and were successful - they wanted more. They inspired their friends to join. Finastra started employing three of those programmers, and extended it to seven, with another four who plan on joining soon."
"I think that during this time, when a lot of populations are suffering from the pandemic it's very important that tech companies put a special focus on diversity and of combining different cultures in the workplace. Doing well by doing good takes on an extra emphasis. It amplifies the need to help others."
On a separate note, he added "We are calling this the new version of Zionism, to include all kinds of Israeli groups from all over the country into the mainstream - even if they aren't mainstream, because within a few years we'll change the way things look, and they'll become the mainstream."
Alshekh single-handedly founded the all-female hub. She spoke of how she became part of the religious Druze community and studied education prior to forming the hub, which is not for profit, and works with Finastra, Amdocs, and Radcom. It has received support from the Israeli Ministry of Finance as well as the welfare division of the Ministry of Labor, Social Affairs, and Social Services. Although she loves technology, she isn't a programmer herself but was the driving force to inspire social change and the founder of the organization.
The hub recruits young women between the ages of 18-32 from the Druze Arab village, tests them, and those who pass attend a specially designed boot camp, whose syllabus is updated routinely. The women then remotely work out of the shared office space for other companies in software programming. The field of high tech in Israel is only comprised of 25% women, of that number 0.1% are Arab women or those from the Druze or Muslim religions.
"It was hard. Our group is only made up of women, and for those in our group this is their love - they love computers, they're crazy about technology, they love to take apart and assemble computers."
Part of the problem, she thinks stems from the fact that women are mainly pushed toward educational fields, such as teaching or caregiving, and while that is important it can hold women back from straying from the fray and entering other sectors, such as tech, STEM, and finance.
For religious women in particular, going against the herd is not kindly accepted by any society, and this is especially prevalent in Orthodox Jewish communities, adherent Muslims, and in the Druze community.
"We really need to open up this field up to women," she said. "Often, the Arab community thinks entering the high tech field in Israel is unattainable. For religious Druze women, and for many religious Jews too, I presume, often you have to choose between being a mother and having a career, but we want women to know that you can do both."
The women at the Lotus hub love programming, she added. "We're doing what we want to do, and I think it's not only for our own benefits and for those of our families, but it goes beyond that. We're doing this for the sake of the next generation. We want to show girls out there that they can choose this path, that it's possible." While the Druze community is very close-knit and working out of a skyscraper in Tel Aviv in an office with men may not be so in line with their religious principles, Lotus has designed an office space that caters to that exact niche.
Its offices incorporate a shared workspace, equipped with new computers, a conference room, and even a play area, where women can bring their children to work.
A female Druze programmer works in the Lotus hub's shared office space. Photo: Maysa Halabi AlsheikhA female Druze programmer works in the Lotus hub's shared office space. Photo: Maysa Halabi Alsheikh
Was it particularly hard being a woman of faith - something that perhaps your community looked down upon - as having women enter this fast-paced workforce?
"Well, we did receive a blessing from the Druze religious leaders. On one hand, we wanted to preserve our religious traditions and identity, while on the other we wanted to expand our future and reach fields that might clash with those beliefs, such as tech. We wanted to combine the two and make it possible for women of our faith to adhere to tradition, and still integrate into the sector."
She explained that the Druze population in Israel is made up of some 140,000 people, and comprises 1.4% of the Israeli population. However, because of strict religious adherences and observing tradition, women typically can't pursue separate areas to study outside of traditional gender-specific subjects such as education. In accordance with the Druze faith, women aren't encouraged to work outside of the village. These women that Lotus has recruited score particularly high in areas such as mathematics and English, yet can't study in university. "There aren't many opportunities to choose from or break into," she said.
"Yes. I thought of how we have so many talented women here, yet that talent is being wasted," she said and added. "I'd always read articles on Calcalist saying how there weren't enough female programmers out there, and I asked myself why we couldn't fill that gap? Why couldn't we work in those fields? The Israel Innovation Authority has plenty of opportunities to help women enter the workforce, and I've met some amazing women that way who have encouraged me."
Rami Schwartz from the Portland Trust was one of those people who helped form Lotus, his organization strives to help weak populations and close social gaps. The foundation helped build and construct the office workspace in northern Israel.
"In the beginning it was hard. We had to go around our town and knock on people's doors. We even asked them to be volunteers. In the beginning, we had nothing, just a dream. Once we started our boot camp, things really started to pick up," she said.
"We knew we needed to make women a place that they could work in and feel safe. Some 40% of them are even mothers, yet the common denominator among them is that they love technology and aren't afraid of changes."
"No, Lotus is a hub that accompanies these women after boot camp. Within those eight months, we have a sort of learning marathon of the hottest topics in programming and computer science. We also incorporate academia. We want to make sure that the women in our group can offer a strong tech advantage for tech companies. Our hub doesn't only train and help women join companies, it also helps them after they get accepted. We are a sort of social buttress for these women, a safe space if you will. While we are a nonprofit, we do receive donations and funding from the Israeli government."
The Lotus hub's open work space provides religious Druze women with a safe place to work remotely for high tech companies. Photo: Gali SegevThe Lotus hub's open work space provides religious Druze women with a safe place to work remotely for high tech companies. Photo: Gali Segev
It can be incredibly difficult as a woman to adhere to religious faith while working in a male-dominated field. It's also hard to "stray from the fray" especially for religious women of many faiths where modesty and humility are important values, yet aren't necessarily accepted or embraced by the corporate world. What is your message to religious women out there who want to break into these types of sectors?
"First of all, I think it goes without saying that these are things that religious women, of any faith, struggle with. I remind myself daily that as women we choose to be religious. Our faith is important to us. It definitely becomes much easier when you have a like-minded community around you supporting you. We're doing it together, we're talking about these things with other women. But, I can say that sometimes feeling strange or unaccepted by male peers is legitimate. However, the Israeli community is embracing us in this aspect despite the social and cultural gaps."
"It's usually very difficult for young Arab girls to learn how to say no, and now we know what we must do or say in the workplace. It's difficult for us because we're very modest and it's hard for us to express ourselves. Now, with Lotus, we have more security, and more self-confidence to be able to express ourselves in the workplace."
She added that Lotus has incorporated some traditional Muslim women as well, although religious Muslim women have yet to join. "We want women to enter the high tech workforce together, it makes them feel more secure. We're also giving our children better education, we're showing them that women can enter the workforce."
"Women should be successful in these fields, and I want to let them know that they're not alone. We're stronger as a community when we're together. We're also making a better future for the next generation. And you'll inspire other girls to be like you when they grow up."
https://www.calcalistech.com/ctech/articles/0,7340,L-3886824,00.html
------
URL: https://www.newageislam.com/islam-women-feminism/dawn-maqsood-converted-islam-stopped/d/124032
New Age Islam, Islam Online, Islamic Website, African Muslim News, Arab World News, South Asia News, Indian Muslim News, World Muslim News, Women in Islam, Islamic Feminism, Arab Women, Women In Arab, Islamophobia in America, Muslim Women in West, Islam Women and Feminism