New Age Islam News Bureau
27 Jun 2015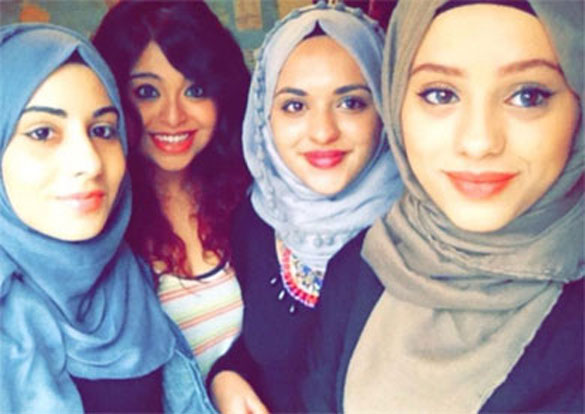 Sheffield Muslim Women Yusra Ahmed, 20, and her three also Muslim friends
-----------
• Sheffield Muslim Women Suffer 'Curry' Taunts
• SIS Full Of 'Lusts & Desires', That's Why They Say Hair Not Part Of 'Aurat' - Isma
• Saudi Videogame Lets Women Take the Wheel In Feminist Virtual Reality
• More Children Get Caught Up In Pornography, Cybercrime in Indonesia
• Samia Zaman: Bangladesh in Cannes
• Johor Prince Posts Message on Judging How Women Dress
• Lebanon's Laws Still Leave Women Vulnerable
• 12 Women Who Are Leading Right-Wing America's Crusade against Muslims and Arabs
• Women Fend For Themselves on Unsafe Public Transportation System in Jakarta
• Implementation of Child Marriage Restraint Law Urged In Pakistan
Compiled by New Age Islam News Bureau
URL: https://www.newageislam.com/islam,-women-and-feminism/new-age-islam-news-bureau/dashed-ambitions-stark-reality-of-education-in-kingdom's-girls-schools/d/103675
-----------
Dashed ambitions Stark reality of education in Kingdom's girls schools
June 27, 2015
That state of school buildings plays an important role in the overall education of a student as good facilities appear to be an important precondition for learning.
Schools are places where students learn basic skills and other valuable information that will help them in their lives; therefore, students should be provided with an environment that is conducive to learning and teaching and also enhances the education process.
According to a report in Al-Sharq Arabic daily, female students continue to voice concerns about shortcomings at girls schools and how these shortcomings affect their educational development.
Reem Saud is a fifth grade student who says schools should be reasonable when asking students to buy school supplies.
Art classes in particular, according to Saud, are financially taxing, especially for low-income families.
"I think I speak on behalf of all schoolgirls when I say schools burden students with a lot of work for art class throughout the year.
What bothers us is that schools don't consider the financial status of students; some students come from poor families and can't afford to buy the supplies art teachers ask them to buy every month," said Saud.
Another problem is that school administrators often fail to accommodate the needs of students with disabilities.
For example, students who suffer from low vision are not given priority when it comes to the distribution of seats in classes.
Saud suffers from poor vision but she has been assigned a seat in the back of the class because of a school policy that states students' assigned seating should be changed at the beginning of every semester.
"I can't see the blackboard from the back row in the class. Besides, I get a terrible headache when I have to strain my eyes to try make out what's written on the blackboard," she complained.
Saud also said her school's cafeteria is too small to handle the number of students, which results in long lines during lunch break.
"Many students are unable to buy something to eat at the cafeteria during recess because of the long lines. Moreover, there is only one window where you can buy food," she said.
Complaints
Amirah Salim, a sixth grader, has to study in a rented building as her school does not have its own premises.
Salim said the air-conditioners in the building do not cool the classrooms, making it hard for students to concentrate.
She also said the school does not pay enough attention to students with special talents. "The school should nourish and develop the special talents of students and provide them with courses and take them out on field trips just like male students.
Many of our demands remain unfulfilled because the condition of the school building is so poor," Salim said.
She called on the Ministry of Education to inspect boys' and girls' schools in Al-Ahsa as most of them are in a dilapidated condition.
In some neighborhoods, like Al-Rashidiya, there aren't enough schools for all educational grades and residents end up having to commute to neighboring districts so they can attend the right school.
lass schedules
Sarah Al-Sebaee, a middle school student, said the first week of each academic year is hard on students because they have to carry all their books with them until schools issue class schedules.
"Schools do not give students their class schedules until the second week of classes even though most teachers and administrative staff begin working a week before that start of the academic year.
They should take advantage of this time and set class schedules and spare students the trouble of carrying all of their heavy books around," she said.
Lack of resources
Wajdan Al-Eneizi, also a middle school student, said many schools are unequipped to handle emergency medical situations.
She also wants girls' schools to introduce physical education classes, as well as activities that improve students' English, computer and public speaking skills.
"I love architecture and engineering but I know I cannot study to be an engineer because girls are not allowed to specialize in these fields.
If girls were allowed to specialize in these fields, I would do my master's and PhD in one of them," she said.
Noora Salih, a high school student, complained about the small size of her school's library. She also said students should be given crash courses to prepare them for the general aptitude test, the results of which determine what university and program students will be accepted to.
Salih wants to be a lawyer and believes that women make better lawyers than men because they can talk more eloquently and are more convincing.
Academic achievement
According to sociologist Monirah Hamad, the condition of most school buildings is unsuitable for an academic institution and this has a negative impact on students' psychological state and academic achievement.
"Authorities should provide PE classes to students and allow them to take field trips and provide rooms for extracurricular activities," she said.
http://www.saudigazette.com.sa/index.cfm?method=home.regcon&contentid=20150627248544
-----------
Sheffield Muslim women suffer 'curry' taunts
27 June 2015
A Sheffield Muslim woman was left humiliated after a bus driver told her: "You'd better not be taking curry onto the coach."
Yusra Ahmed, aged 20, said the National Express driver's hostility was obvious from the moment she and three friends started queueing for a service from Manchester to Leeds.
In a Facebook post which went viral, the student said: "She analysed our tickets very closely, which is something we noticed she didn't do to any other passengers.
"After checking our tickets, she scanned us up and down and aggressively asked if we had any hot food in our bags."
Yusra replied they were only carrying cold lasagne and rice and reassured her there would be no smell.
"The driver then shouted quite loudly that 'we had better not be taking curry on to the coach,'" Yusra wrote.
"I told her we were not intending on eating on the coach but she continued shouting to us about stinking up her coach with curry.
"She was obviously targeting us of her preconceived ideas about brown people. We were visibly Muslim so this made it easier for her."
When they accused the driver of racism, Yusra said the driver lost her temper and said the women were not allowed on the coach.
The women then had to wait to catch the next coach an hour and a half later on the evening of June 14 .
Yusra said she heard nothing from National Express until her posts went viral on Twitter and Facebook four days later.
She said: "Ten days after the incident, we were told the driver admitted she had made the remarks about curry.
"National Express informed us they would issue a written apology for leaving us behind – but not for the remarks that were made about us by the driver.
"We feel they have not taken our complaint seriously and have done their best to brush the issue off. The incident made us feel humiliated, frustrated and angry."
A National Express spokesman said: "We take allegations of employee misconduct extremely seriously and a thorough investigation into the issues raised by this highly unusual complaint has been undertaken by our senior management team.
"We're sorry this issue was not followed up to the customer's satisfaction, and for the distress of those involved and are committed to taking on board any lessons which could be learned."
http://www.thestar.co.uk/news/sheffield-muslim-women-suffer-curry-taunts-1-7329763
-----------
SIS Full Of 'Lusts & Desires', That's Why They Say Hair Not Part Of 'Aurat' - Isma
27 June 2015
KUALA LUMPUR - An Ikatan Muslimin Malaysia (Isma) cleric accused Sisters in Islam (SIS) today of being driven by lust when the women's rights group said that the Quran does not specifically mention hair as part of a woman's "Aurat".
Isma Ulema council member Ustaz Muhammad Firdaus Zalani cited Islamic scholars like Imam Abu Muhammad Hazm, Al-Hafiz Abu Umar Abdul Bar Al-Maliki and Imam al-Qurtubi al-Maliki who described hair and the rest of a woman's body, except for her face and hands, as "aurat" that must be covered up.
"We have long been aware that the fact is, SIS' struggle on how women's hair is not aurat is not a real struggle for the truth about Islam, but it's a struggle based on their lusts and desires that are disguised with so-called academic arguments," Muhammad Firdaus said in a statement.
"If it's true that they really support the Quran, as shown in this case, then they should be at the forefront in supporting hudud because all of the punishments under hudud are clearly stated in the Quran," he added.
On Monday, Malay Mail Online reported SIS as saying that the Muslims' holy book does not specify hair as part of a woman's Aurat, but that such a perception came from a hadith narrated by Asma Abu Bakar, which they said has been contested by Islamic scholars like Thariq Iwadullah and Sheikh Nasiruddin Al-Abani on grounds of authenticity.
The increasingly conservative stance of Islamic authorities and figures in Malaysia has been reflected in the way Muslim women are told to wear the tudung and are harshly criticised if they do not so, even though most Malay-Muslim women in the 1950s and 1960s, before the 1979 Iranian Revolution, did not cover their heads.
Tudung brands in Malaysia have boomed since the Iranian Revolution started the popularisation of the tudung in the country, with one company estimating about 80 to 90 per cent of Muslim women aged between 25 and 50 years now wear headscarves.
Conservative clerics and Islamic figures in Malaysia have repeatedly censured SIS, with Selangor even gazetting a fatwa labelling the organisation as "deviant". - Malay Mail
http://www.malaysia-chronicle.com/index.php?option=com_k2&view=item&id=540632:sisters-in-islam-full-of-lusts--desires-thats-why-they-say-hair-not-part-of-aurat-isma&Itemid=2#axzz3eFddkbcX
-----------
Saudi videogame lets women take the wheel in feminist virtual reality
June 27th, 2015
Barren mountains, parched landscapes, dark clouds, impassable rocks, zombies, soldiers, and giants. Behind this gloomy backdrop emerges a group of women on loud motorcycles – at full speed and with their abayas waving in the wind. Welcome to a post-apocalyptic version of the Kingdom of Saudi Arabia, surrounded by a world sinking into war over the last natural resources.
"Saudi Girls Revolution" (SGR), a game soon available for smartphones, takes us into a Saudi Arabian "Mad Max"-scenario and it is already making headlines months before the official release. Eight women fight against brutal tyrants. Among them are the women's rights activist Um Bandar, Leila from the country's overthrown elite, and Hussa who is gay. The women roar on their motorcycles as they drive through destroyed and corrupted lands.
But it's not just the plot that gives the virtual revolution of these Saudi girls so much attention: Behind the idea is His Highness Prince Fahad Al-Saud, grandson of the brother of the king of Saudi Arabia, the country which faces some harsh international criticism because of the ban on driving for women, for not being accepting of homosexuals and for its hard punishments.
Studies at Stanford, work in London
So now a Saudi prince creates characters such as a women's rights activist fighting next to a gay woman against tyrannical rulers in a dystopian Saudi Arabia. "Why not? We wanted the world of SGR to be a diverse one", says Prince Fahad Al-Saud. A world as diverse as the one the prince lives in.
He studied at Stanford University, worked at Facebook on the launch of the Arabic version, has lived in Los Angeles and London and has founded several companies – including NA3M Games, the company behind "Saudi Girls Revolution" which is now getting its finishing touches. On his Facebook page, the 31-year-old comes across as a modern, cool hipster guy. It is hard to imagine him in the highly regulated and restricted world of his homeland.
Al-Saud has very clear ambitions that go beyond the kingdom. The head of more than 25 game developers from 16 countries thinks beyond borders. "I want to inspire the youth in the Arab world to be more creative. We want the Arab world to become an internationally recognized player in the entertainment industry". Of course he created a matching hashtag: #NA3MWeCan. The company's name NA3M stands not only for New Arab Media, but is also the Arabic word for Yes. To what exactly does the prince say Yes? "We have the impression people say no too often. The Yes is to serve as a reminder that we can achieve anything we set our hearts and minds to," says Al-Saud.
Saudi Arabian women have wanted to drive and been fighting for their right to do so for decades. But in spite of their struggle and numerous campaigns this is still denied. While no law explicitly prohibits women driving in the country, the required license is reserved for men. Driving licenses issued abroad are not accepted. And now the grandson of the king's brother is working on a game in which Saudi women ride tuned motorcycles boards through a post-apocalyptic Kingdom: Is this a political provocation? "Saudi Girls Revolution addresses the issue of female inequality in entertainment while inspiring women to believe that they can be the protagonists of their own stories. This is very much about social progression rather than politics", answers the Prince.
That underlines a note, which is already present on the NA3M Games-website: Saudi Girls Revolution is aimed to highlight "social, not political issues". But where is the boundary between political and social issues? The answer sounds diplomatic: "We only mean to entertain and inspire people by creating high quality content. By being bold in our content, we are not letting conventions get in the way of creativity".
The world in which his motorcycle riding heroines engage in a brave fight, is a world in which women are able to do and achieve the same things as men, he explains. The idea of Saudi Girls Revolution came to him for a very simple reason: "Arab stereotypes, in particular the women portrayed in the entertainment industry, do not represent the Saudi women we grew up with". Al-Saud is a young, modern entrepreneur, but traditional Arabic heritage is very important to him and plays a key role in most of NA3M's products.
As a consequence, Islamic history and girl power go hand in hand in the virtual world of the Saudi Arabian rebels. The group of the eight women is called the "Mu'tazilah". That is also the name of a group of Muslim Scholars of the early days of Islam who fought for the use of reason and human willpower. Translated, this means "those who break away". To Al-Saud, it is the perfect name for his heroines: "In our fictional world, the girls are called Mu'tazilahbecause they have separated themselves from mainstream society by rebelling. In this sense, it is a very appropriate name for our group of heroines."
Rebelling in Saudi Arabia's reality can cost a high price, such as the case of blogger Raif Badawi shows. Badawi had to face a punishment of 1000 lashes. Last December, two female Saudi activists were detained for rebelling against their right to drive.
Against all conventions
Al-Saud and his team believe in the strength of women, not only in the fictional future scenario, but also in reality: "NA3M wants to demonstrate that women cannot only challenge gaming and social conventions from within the content itself, but also by being behind the making of the actual game itself". Mobile Games are not only one of the fastest growing sectors of the video game industry, but Arab countries also provide one of the biggest markets, which is growing annually by 29%. Saudi Arabia has a higher smartphone penetration than the United States.
On these smartphone screens, the Saudi Girls Revolution will soon take place and destroy all conventions. The exact release date of the game is not yet set. "We hope everyone enjoys it when it comes out, and this includes the Saudi audience". His company embraces what the future may bring. "Always remember: #NA3MWeCan!"
http://www.albawaba.com/editorchoice/saudi-videogame-lets-women-take-wheel-feminist-virtual-reality-712508
-----------
More Children Get Caught Up In Pornography, Cybercrime in Indonesia
June 27, 2015
The number of children involved in pornography and cybercrime cases has increased rapidly over the years, a report from the Indonesian Child Protection Commission (KPAI) states.
The report recorded 322 cases in 2014, an increase from 247 cases in 2013 and 175 cases in 2012, with most cases relating to online pornography.
"The rise of access to information and technology has contributed to this increase, as well as a lack of parental guidance," KPAI deputy chairperson Maria Advianti told The Jakarta Post earlier this week.
According to the Indonesian Internet Service Providers Association (APJII), Indonesia's total number of internet users reached 88.1 million people in 2014, placing it sixth in the world. Ninety-five percent of these internet users access social networking sites.
Apart from being victims, children have also become perpetrators of sexual violence on the internet, the report adds.
"The most common cases involve children who during romantic relationships send nude pictures to each other, and then one of them makes threats to his or her boyfriend or girlfriend that they will spread the pictures if the other does not do what he or she says," Maria said.
Maria criticized the government's attempt to block pornographic sites based only on complaints received despite the fact that millions of new websites appear each day.
However, she applauded the existence of a team within the Communication and Information Ministry that actively monitors pornographic sites, although she also urged parents to be cautious when buying smart phones for their children.
"If it's only to communicate, why not just buy them a cheap cellphone just to make phone calls and send messages? It will minimize their access to negative sites," she said. (fsu/ika)
http://www.thejakartapost.com/news/2015/06/27/more-children-get-caught-pornography-cybercrime.html
-----------
Samia Zaman: Bangladesh in Cannes
June 27, 2015
The glitz and glamour of the red carpet, an army of photographers, the awards and the intense security is not what the Cannes Festival is about. These are only the tip of the iceberg. Visiting the festival's film market (which translates to Marche du Film in French) is an enthralling and useful experience.
"All the different kinds of stakeholders of the cinema – from technicians to makers to film critics – hailing from all over the world, take part in this market," Samia explains. "The primary objective may be to buy and sell films. But the film market is essentially an elaborate and international platform, which allows people from numerous countries who are somehow related to cinema, meet and share ideas."
The market hosts numerous booths of movie-related organisations from across the globe. Name any type of film-related stakeholder, and you have got them at Marche du Film.
Presentations and screenings are always going on to promote one's films.
And there are country booths as well, which usually do not have any commercial purpose, but rather focus on promoting the respective countries to the cinematic world by arranging talks, showing their films, etc.
It is high time that Bangladesh starts actively taking part in such film markets. "The film festivals and their film markets are a tremendous platform to promote our movies. During the Cannes Festival, I have been asked numerous times about the status of our movie industry; many people don't know much about it," Samia pointed out. "Commercial or art, we need to at least get the word out in the global arena, which we can easily do by screening them at the film festivals. And this needs to be a continuous effort. Inconsistency or sporadic occurrences is not enough to register in the minds of the international film arena. Moreover, it is not just Cannes: there are many such international film fiestas where we ought to attend. "
If you want to visit the market, you of course have to apply beforehand, and a prerequisite is that you need to be involved in films, currently or in recent past.
Samia had also signed up for a particular programme of the film market, called Producers Network. "One of the reasons I attended this programme was to add Bangladesh in the list of countries on the official document."
Many nations have bulks of producers attending this event, and it is not necessary that only the producers whose films are featured in the festival can take part.
Samia thought it would be some sort of a mere networking event. Little did she knew that the seven-day programme would be a carefully designed system of rigorous sessions and discussions, with renowned and highly respected people from all industries working as moderators in various groups focusing on different subject matters. "I met people from all over the world: Argentina, Korea, Canada, the European nations and what not. Through this process, we, as producers, gained a comprehensive understanding about a wide array of trends in the global movie industry," Samia talked about her experience.
The festival, with its market and various programmes like the Producers' Network, also allows meetings with the movie funding agencies.
There are even sessions that discuss issues like the movie industry's effect on climate change. Making a movie also generates carbon footprint. Minimising this is very important. On the other hand, such sessions also brought together people who work on climatic issues, be it international organisations, volunteer groups, etc.
Needless to say, the Cannes Film Festival, with its many wings and programmes, is a window of opportunity. Apart from benefitting the country, you can also benefit yourself. The film market of Cannes swarms with investors looking for promising projects. An investor can either provide fund individually or collectively with other investors. An investor could also either fund a portion of the project (e.g. pre-production) or the whole of it. And of course, you can sell your rights (of scripts, the whole film, etc.).
Indeed, going to the Cannes requires paying a fee, but that fee is not very high or unaffordable. Given that you are somehow related to this industry, it would be money well spent.
So don't find comfort in a cocoon. Go beyond borders and explore new frontiers.
By Rafi Hossain & M H Haider
http://www.thedailystar.net/showbiz/cover-story/samia-zaman-bangladesh-cannes-102910
-----------
Johor prince posts message on judging how women dress
FMT Reporters | June 26, 2015
PETALING JAYA: Those who choose to judge women over how they dress as being spiritually lacking, a message posted by Johor prince Tunku Idris Sultan Ibrahim on Instagram read.
He had posted the words of internationally renowned Zimbabwean scholar, Mufti Ismail Menk, who said, "When you see a female dressed in a manner that is unacceptable Islamically, do not for a moment think that she is lower than you spiritually.
"If you do that, you are lower than her. Believe me, that is the teaching of your religion.
"She might have a heart that is tons better than yours. She might have one weakness that is outward, and you have 50 weaknesses that are hidden."
This posting comes in the wake of numerous incidents in the country when unsuspecting women were made to wear sarongs to cover up their exposed legs before entering government departments and hospitals.
Another incident was that of national gymnast Farah Ann Abdul Hadi, who instead of earning praise for bringing home a gold medals, was condemned by Muslim netizens for exposing her aurat during her floor routines in the recent SEA Games.
Followers of the prince, sharing his sentiments, posted messages of support with one haziak saying, "Well said… realiti mentaliti majority hair ini… agama hanya pada pakaian. pakai tudung baik… x pakai tudung jahat… judgemental." (Well said… the reality today is that the majority have the mentality that religion is only about how we dress. Those who wear head scarves are good… those who don't are bad… judgemental."
noobiuh meanwhile said, "ur father taught u well!" and evalee100 posted a message saying, "Words of wisdom! feel proud of you Tunku."
Many others said, "Agree", "Salute", with one follower giving a thumbs up emoticon.
http://www.freemalaysiatoday.com/category/nation/2015/06/26/johor-prince-post-message-on-judging-how-women-dress/
-----------
Lebanon's laws still leave women VULNERABLE
June 27, 2015
AS the sun rose on May 18, Sara Al-Amin was shot 17 times with an assault rifle and killed; her husband was later arrested and charged with her murder.
Amin is just the latest in a growing number of women in Lebanon who are beaten, harassed and killed by their partner or spouse.
Amin's brutal murder comes despite legislation — enacted on April 1, 2014 — that explicitly criminalizes domestic violence.
A year later, nothing seemed to have changed. This is why Amin's death has left many so jarred. On May 30, more than 1,000 people gathered in a public outpouring of anger, demanding the government do more to protect women.
The demonstration was organized by KAFA, a local NGO that supports victims of abuse and a key leader of last year's legislative battle.
The organization fields around 2,600 calls a year to its helpline for victims of domestic violence. Rothna Begum, researcher on women's rights in the Middle East and North Africa for Human Rights Watch, says levels of domestic violence remain stubbornly high in the region.
Lebanon is one of only five countries in the region with laws on domestic violence, but the legislation only goes so far: the biggest issue is proper implementation.
KAFA founder Leila Awada says the law has sparked a notable change in the behavior of the Internal Security Forces (ISF) in cases of domestic violence, as the law now threatens jail time for ISF members who do not report cases. She says this has improved reporting and helps those who come forward.
Nonetheless, the law is riddled with shortcomings. Civil society groups criticize the vague definition of domestic violence, the failure to specifically criminalize marital rape, and as KAFA spokeswoman Maya Ammar points out, the removal of gender from the text, leaving the law without specific mention of issues faced by women.
A senior official at the Social Affairs Ministry, who spoke on condition of anonymity, says the government takes the issue seriously, adding that the ministry led an inter-departmental task force, bringing together government and NGO representatives, to look at issues of protection.
It has published a code of ethics and a training document for medical professionals on how to handle suspected domestic violence cases.
However, the official said, "the main gap in combatting domestic violence is that there's no national referral system for cases.
There also needs to be more training for police — they're the front line in the field." Begum, too, stressed the need for a national strategy, but went further, pointing out that the legislation, while a positive step, is still up against a legal and social framework that does not assist victims of domestic violence.
Religious rather than civil courts govern many social and family matters for each of the 18 official sects in Lebanon, and each sect has its own personal status laws.
Women seeking divorce are subject to different laws based on their sect's specific court, and many of Lebanon's conservative religious communities may not view domestic violence as sufficient grounds for granting a separation.
"We found that every single one of the personal status laws discriminates against women," said Begum, pointing to the lack of financial support or alimony for divorced women, the difficulty for women to get and retain custody of children, and the ability to get a divorce in the first place.
"Many women don't realize these issues until they run into them, and then they find out that the whole system is against them."
Last year's law is feeding into this unequal system. Protection orders are temporary until the courts — at times, the religious court — decide the outcome of the case.
If a sect's judiciary does not recognize domestic violence as grounds for divorce, legal protection is removed.
"The killing of Amin stoked the debate" about domestic violence in Lebanon again, said Ammar. This case has reignited the anger felt by many at the failure to act over the unrelated killing of three women by their spouse in a single month last year.
This helped galvanize support for the protest on May 30, she added. "Countries have a duty of care and a responsibility to act against domestic violence," said Begum. "The new law has gone some way to improving protection for women, but it is still largely inadequate and unimplemented." — Al Arabiya News
http://www.saudigazette.com.sa/index.cfm?method=home.regcon&contentid=20150627248560
-----------
12 Women Who Are Leading Right-Wing America's Crusade Against Muslims and Arabs
June 25, 2015
When two apparent Muslim radicals attacked a Muhammad cartoon contest in a Dallas suburb this May, a national spotlight was focused on the group that hosted the provocative event — the American Freedom Defense Initiative, whose leader is Pamela Geller, the country's most flamboyant and visible Muslim-basher.
The gunmen were killed by a police officer almost immediately as they tried to break into the event, although not before they wounded another officer in the leg. But in the aftermath of the jihadist attack, the national conversation turned not only to the dangers of radical Islam, but also to professional provocateurs like Geller. After all, although nothing she or her allies had said or done merited the violence, Geller had a long and infamous record of smearing and demonizing Muslims.
The radical right, and more broadly the political right, has generally been dominated by men. And there are certainly plenty of men in the world of Muslim-bashing activism — men like Robert Spencer, Geller's partner; David Yerushalmi, who has led the charge against an imaginary plot to impose Shariah religious law in the United States; and a crew of terrorism "experts" who see Islam as the enemy.
But the universe of American anti-Muslim activists is peculiarly dominated by women. They are a mixed bag of bloggers, politicos, authors, TV personalities, radio talk show hosts, and leaders of anti-Muslim organizations. Many of them have other windmills to tilt at, from gay rights to communism to President Obama, but most have increasingly focused on attacking Muslims. That has been even truer in recent months, in the wake of the horrific Islamist attacks on the Charlie Hebdomagazine in Paris and the many barbaric murders carried out by the Islamic State.
What follows are short profiles of a dozen of the most hardline anti-Muslim women activists in America. These are people who do not merely criticize radical Islam, but effectively describe all Muslims as part of a serious global problem.
CATHIE ADAMS
born 1950
Dallas, Texas
Texas Eagle Forum
As former chairwoman of the Texas Republican Party and current leader of the Texas chapter of Phyllis Schlafly's Eagle Forum, Cathie Adams believes that while Muslims are "extremely hospitable when you are under their roof," as their religion requires, "Walk out of their home and you can be shot in the back." She has said that immigration reform is a "tool of Satan that will lead to the enactment of Sharia law and usher in the End Times." In a 2013 interview with "End Times" radio show host Rick Wiles, she said that refugees from Muslim, Hindu and Buddhist societies — "who are not here because they love America" — are coming to the United States and "want Sharia law" implemented here. (Hinduism and Buddhism have nothing to do with Islamic Shariah law.) Adams also attacked conservative anti-tax crusader Grover Norquist because "he had a beard, and he's showing signs of converting to Islam" and is "married to a Muslim woman." She has compared President Obama to Adolf Hitler and questioned his Christianity. She opposed funds for cancer research in Texas, falsely claiming that scientists would soon be "cloning humans, injecting them with diseases … and killing them." And she was against the Children's Health Insurance Plan because it would allow "illegal aliens" to insure their offspring.
ANN BARNHARDT
born 1976
Centennial, Colo.
barnhardt.biz
Ann Barnhardt, a blogger and former commodities brokerage owner whose house was sold in 2013 to satisfy a federal tax lien, is one of the most extreme Muslim-bashers in the United States. She refers to Muslims as "musloids," says that Islam is a "seditious system working against every government" in the world that must be "exterminated," and once burned a Koran with a bacon bookmark for a YouTube video. In 2011, she said "the Muslim population is mentally and developmentally disabled on a mass scale," describing it in the same essay as the only population that "is mentally and physically devolving." But Barnhardt's blind rage isn't only directed at Muslims. She says that beginning in 2008, when Barack Obama was elected, a "cold putsch" began that she predicts will lead to riots and civil war, the importation of "millions of socialist Latin Americans," and, ultimately, the Chinese Red Army landing in America. She urges people to buy long guns because "THERE WILL BE MASS RAPES when the inner city hip-hop contingent can no longer be contained by standard law enforcement." And she opposes women's suffrage, saying that it "effectively castrated" men and wrecked the family. She once described herself as "a buzzsaw crossed with a blowtorch," and about that, at least, she is surely right.
ANN COULTER
born 1961
New York, N.Y.
anncoulter.com
Ann Coulter hates many things — Bill Clinton, Democrats, immigrants, the declining percentage of white people in America, and anything that remotely smacks of liberalism. But she reserves a special animus for Muslims. In 2001, three days after Al Qaeda's World Trade Center attacks, she wrote that "[w]e should invade their countries, kill their leaders and convert them to Christianity." The same month, she said, "Not all Muslims may be terrorists, but all terrorists are Muslims — at least all terrorists capable of assembling a murderous plot against America." In 2013, on Fox News, she put it like this: "Someone needs to explain to me why gassing Arabs is such a bad thing. I mean, aren't these the same people that attacked us on September the 11th? … I say we send them all the chemical weapons we have, and let them sort it out amongst themselves. Hopefully, when it's all over we'd be left with some empty space to colonize." In 2013, on Fox News, she went after black and Muslim Americans. "If you compare white populations, we have the same murder rate as Belgium," she said in a conversation about gun violence. "So perhaps it's not a gun problem, it is a demographic problem." She went on to discuss a black and a Muslim mass murderer, making it clear just where she saw the problem.
BRIGITTE GABRIEL
born 1964
Virginia Beach, Va.
ACT! for America
The founder of ACT! for America in 2003, Brigitte Gabriel has been described by The New York Times Magazine as a "radical Islamophobe," and it's not hard to see why. In a 2007 course at the Department of Defense's Joint Forces Staff College, she said that any "practicing Muslim who believes the word of the Koran to be the word of Allah … who goes to mosque and prays every Friday, who prays five times a day — this practicing Muslim, who believes in the teachings of the Koran, cannot be a loyal citizen of the United States." The same year, The Australian Jewish Newsquoted her saying, "Every practicing Muslim is a radical Muslim." Four years later, she claimed that "[t]ens of thousands of Islamic militants now reside in America, operating in sleeper cells, attending our colleges and universities." Gabriel's anger at Muslims is apparently rooted in her background as a Lebanese Maronite Christian who, she claims, lived in a bomb shelter for seven years "in pitch darkness, freezing cold, drinking stale water and eating grass to survive." But a number of critics have questioned parts of her story, even calling her a con woman — she once described Hamas as bombing Jordan in the 1970s, but the group did not form until 1987.
PAMELA GELLER
born 1958
New York, N.Y.
Stop Islamization of America
Pam Geller is probably the best known — and the most unhinged — anti-Muslim ideologue in the United States. Aside from the more ridiculous claims on her Atlas Shrugs website, like the assertion that President Obama is the "love child" of Malcolm X, she is known for claims like the one she made on Fox Business in 2011: "Islam … is an extreme ideology, the most radical and extreme ideology on the face of the earth." Geller, who is also a co-founder of the American Freedom Defense Initiative, made her name opposing the Park51 project in New York City in 2010, labeling it a "victory mosque" being raised by Muslims to celebrate the 9/11 attacks and insinuating without evidence that its financing might be tied to terrorists. She once posted a video implying that Muslims regularly practice bestiality with goats; another time, it was a cartoon depicting the Prophet Muhammad with a pig's face. Geller has a special hatred for Obama, who she says is "a third worlder and a coward" who seeks only to "appease his Muslim overlords," "a muhammadan" who "wants jihad to win." Geller, who is Jewish, has spoken to a neo-fascist group in Germany and to the white nationalist Bloc Identitaire group, which opposes all race-mixing, in France. She also has invited a notorious British nationalist group, the violently inclined English Defence League, to speak at one of her rallies.
CATHY HINNERS
born 1960
Spring Hill, Tenn.
DailyRollCall.com
A retired New York police officer, Cathy Hinners now lives in Tennessee, where she runs the Muslim-bashing Daily Roll Call blog and has aligned herself with other anti-Muslim groups and leaders, including Brigitte Gabriel's ACT! for America and the Tennessee Freedom Coalition. Reacting to news about Islamic State atrocities in North Africa in 2014, she sneered at American Muslim leaders' attempts to distance themselves from the violence, saying, "it's not working. Islam for those demented barbaric savages is the same Islam practiced by Islamists here in our neighborhood mosques." In 2015, Hinners attacked the Muslim Public Affairs Council for creating a Congressional Leadership Development Plan, saying that its sole purpose was "to alter political policies and laws to fit an agenda designed to radically transform the United States of America." She called the moderate Council for American-Islamic Relations a "Muslim terrorist organization" that was using the Ferguson, Mo., police shooting of an unarmed black youth "to 'revert' those disgruntled blacks to Islam." She has railed on about Muslim "training compounds" in the U.S. and claimed that a certain current White House advisor is "a known Muslim Brotherhood supporter." Hinners also believes American Muslims are on a mission to convert all other Americans to their faith, saying in 2012, "I cannot stress enough the seriousness of their push to spread their religion to all non-Muslims throughout our country."
LAURA INGRAHAM
born 1963
Washington, D.C.
"The Laura Ingraham Show"
Laura Ingraham is a radio talk show host, author, and ABC News contributor who is known for her hard-right positions on a wide range of issues, including Islam. In the aftermath of the Charlie Hebdo attacks in Paris in early 2015, she agreed with the statement that "hundreds of millions of Muslims" were delighted with the killing of 12 people at the offices of the satirical magazine. "If most Muslims were against this happening," she said on her show, "we wouldn't have so much of this happening." She went on to blame liberals and "governments that refuse to restrict immigration" from places that "do not share [American] values." Immigration by such Muslims "is pure insanity," she said a few days later. "A suicide pact." She added that French "elites" were making regular people suffer by wrongly endorsing multiculturalism. She made a similar point in 2013, writing, "I would submit that people shouldn't be coming here from Chechnya after 9/11. Dagistan [Dagestan], Chechnya, Kergystan [Kyrgyzstan], uh-uh." Complaining that Muslims weren't sufficiently condemning the Islamic State, she asked, "Where are those people?" She has repeated the myth of "no-go zones" in France and, most recently, reacted angrily to the news that a New York high school student had recited the Pledge of Allegiance in Arabic.
CLARE LOPEZ
born 1953
Woodbridge, Va.
Center for Security Policy
After two decades with the CIA, both here and abroad, Clare Lopez is now a senior fellow at the Center for Security Policy, run by anti-Muslim activist Frank Gaffney. She is also vice president for the Intelligence Summit; a senior fellow at the Clarion Project, which specializes in rabidly anti-Muslim films; and co-founder of the Iran Policy Committee, whose advisors have called President Obama a "radical Islamic sympathizer" and advocated that Muslim men between 18 and 28 years old "be strip searched." Lopez has long claimed that the Muslim Brotherhood has "infiltrated and suborned the U.S. government to actively assist … the mission of its grand jihad." She wrote a 2013 report that linked Huma Abedin, deputy chief of staff to Hillary Clinton when she was secretary of state, to the Muslim Brotherhood — a favorite, but false, allegation on the far right. In 2014, she wrote: "When people in other bona fide religions follow their doctrines they become better people — Buddhists, Hindus, Christians, Jews. When Muslims follow their doctrine, they become jihadists." That same year, she said that because Obama's father was Muslim, that "de facto makes him [Obama] a Muslim," which in turn explains why the president "attacks and punishes Israel while allowing the Islamic State to grow and conquer."
JEANINE PIRRO
born 1951
Elmira, N.Y.
Fox News Channel
Jeanine Pirro is a former prosecutor, judge and elected official in New York who is now the host of Fox News' "Justice With Judge Jeanine" and a persistent critic of Islam and President Obama. In early 2015, she said that Muslims "have conquered us through immigration. They have conquered us through interfaith dialogue." "Muslims," she complained in the same essay, "were even invited to worship at the National Cathedral in Washington, D.C." (by then-President George W. Bush, a fact that Pirro does not mention). She went on to assert that "as sure as I'm talking to you, there will be efforts to limit our First Amendment — our free speech — to comply with Sharia blasphemy laws." In 2014, she offered her solution to ISIS: "Bomb them! Bomb them! Keep bombing them, bomb them again and again." At the same time, she attacked Obama, saying he "didn't have the balls" to try the inmates of Guantanamo and "only knows how to cut and run." And she claimed that "ISIS was trained by U.S. instructors at a secret base in Jordan" to fight Syrian President Bashar al-Assad — a baseless conspiracy theory. Pirro was the keynote speaker at the 2014 ACT! for America conference and also the Fox host who allowed terrorism "expert" Steve Emerson to claim, unchallenged, that Birmingham, England, was totally Muslim and a "no-go zone" for non-Muslims. Pirro, Emerson and Fox News all had to apologize profusely for that completely bogus claim.
SANDY RIOS
born 1949
Chicago, Ill.
American Family Association
Sandy Rios is a radio talk show host for the American Family Association, a group listed by the Southern Poverty Law Center as an anti-gay hate group, and, as such, she generally specializes in defaming LGBT people. Former president of the right-wing Concerned Women for America, Rios is a Fox News contributor and writes for The Daily Caller, Townhall, RealClearPolitics and Onenewsnow, all right-wing media outlets. However, as with many on the religious right, she has increasingly turned her guns on Muslims. In 2013, she said on air that "Muslim Americans do not have First Amendment rights" and went on to describe Islam as "a complete and total system that demands usurpation of whatever the local authority is, it demands to dominate it, it demands to conquer, to kill or convert." She has said that there is "no question" that President Obama's "sympathies are with Islam," more than with "his own people." In early 2015, she launched an attack on U.S. Rep. Andre Carson (D-Ind.), saying that he should be banned from his post on the House Intelligence Committee because he is a Muslim. Around the same time, she said that Obama's State of the Union speech had betrayed his Muslim sympathies because he used the word "pillar," which reminded her of the "five pillars of Islam." And she is known for using truncated radio clips to falsely suggest that Obama is really a Muslim.
DEBBIE SCHLUSSEL
born 1969
Southfield, Mich.
debbieschlussel.com
Few enemies of Islam can match Debbie Schlussel, an attorney, columnist and blogger, for sheer viciousness. The granddaughter of Holocaust survivors, Schlussel has referred to Muslims as "animals"; described the 77 Norwegians murdered by anti-Muslim terrorist Anders Breivik as "hateful, privileged brats" who "sided with Jew-killers" (a completely false allegation); and called Rima Fakih, a Lebanese American who became the first Muslim Miss USA winner in 2010, "Miss Hezbollah USA" and "simply a sharmuta" (whore). When CBS correspondent Lara Logan was sexually assaulted in Egypt in 2011, causing an array of serious injuries, Schlussel responded with this: "So sad, too bad, Lara. No one told her to go there. She knew the risks. And she should have known what Islam is all about." In 2015, she similarly went after Kayla Mueller, an American aid worker who was murdered by ISIS, calling her a "Jew-Hating, Anti-Israel Bitch." Perhaps most remarkable of all, however, was Schlussel's apparent call for the genocide of all Muslims after the 2011 killing of Osama bin Laden: "Rot in Hell, Osama Bin Laden," she wrote on her blog. "One down, 1.8 billion to go … many of 'em inside U.S. borders."
DIANA WEST
born 1961
Hollywood, Calif.
dianawest.net
A syndicated columnist and the author of two books, Diana West is a relatively calm critic of Islam, at least compared to some of her fellow travelers. But that doesn't prevent her from adopting views that are remarkably similar. "When American lawmakers, generals, and security experts omit 'Islam' from their debates and war councils, focusing instead on what they have dubbed 'radical Islam' and the like … [t]hey are protecting Islam," she blogged in early 2015. Around the same time, she said in a speech to the Center for Security Policy's "Defeat Jihad Summit" that "[u]nless we can come to an understanding that it is the teachings of Islam — not the teachings of some peculiar strain called 'Islamism' or of an organization such as the Muslim Brotherhood or ISIS — that directly undermines our constitutional liberties, we cannot protect our way of life from these teachings that grow with the increasing Muslim demographic." Two years earlier, West set her sights on Huma Abedin, calling her "a veritable Muslim Brotherhood princess" with "privileged access to U.S. policymaking through Hillary Clinton," whose position had implications for "national security." She also has paraphrased anti-Muslim Dutch politician Geert Wilders, saying "the more Islam there is in a society, the less freedom there is."
http://www.alternet.org/media/12-women-who-are-leading-right-wing-americas-crusade-against-muslims-and-arabs
-----------
Women Fend For Themselves on Unsafe Public Transportation System in Jakarta
Dewanti A. Wardhani, The Jakarta Post
June 27 2015
Jakartans, especially women, have no one but themselves to rely on for safety on public transportation amid messy management and an absence of law enforcers.
Tini, 35, a shopkeeper at Sarinah shopping mall in Central Jakarta, said that she preferred being picked up by her husband or boarding the Transjakarta bus than taking a public minivan (angkot) if she happened to go home late from work.
"It's [taking a Transjakarta bus] much safer although it's not a guarantee of safety either," she said.
Last Friday at midnight, a female worker, identified as NA, 35, was raped by an angkot driver, identified only as DAS, 21, in his minivan on Jl. TB Simatupang, East Cilandak, South Jakarta. The driver had offered to transport the victim to her house in Pasar Rebo, East Jakarta, from her workplace in Kebayoran Lama, South Jakarta. DAS was detained by the South Jakarta Police last Saturday while the victim continues to suffer from trauma.
Rika Rosvianti, one of the founders of perEMPUAan, a group that combats sexual assault against women in public places and on transportation, expressed her concern over the recent case.
"Actions taken by the authorities are usually just temporary and forms of moral panic," she said on Friday.
Rika suggested that victims were usually reluctant to report their experiences to the police because officers sometimes blamed the victims themselves, citing mistakes they'd made such as going out at night or being good-looking.
"In 2014, we decided to write a guide on the prevention of sexual abuse in public places and on transportation," she said, adding that the booklet, which was written in Indonesian, could be freely downloaded via a link on the bio of @_perEMPUan_, the community's Twitter account.
She said that the reluctance of victims to report abuse caused only a small number of cases to be recorded.
From 2011 to 2015, at least five cases of sexual abuse on angkot were reported.
On Aug. 16, 2011, a student of Bina Nusantara University in West Jakarta, LP, was raped and murdered by four minivan drivers. The perpetrators then took her cash and cell phone before leaving her body in a ditch in Cisauk, Tangerang, Banten. The West Jakarta District Court punished the perpetrators with life sentences.
After that and other sexual abuse cases on angkot, the Jakarta Transportation Agency obliged the drivers, among others, to wear uniforms and display their details on their minivans' dashboards. However, the regulations enforcement was weak.
Jakarta Organization of Land Transportation Owners (Organda) chairman Shafruhan Sinungan said on Thursday that his office could do nothing but ask their operators to comply with regulations.
"Only the Transportation Agency and the police can legally take actions against operators," he said, adding that passengers' safety was the operators' responsibility.
Jakarta Transportation Agency head Benjamin Bukit said on Thursday that his team only held responsibility for bus terminals until the end of their working hours, which was 7 p.m., after which they should be handled by the police.
South Jakarta Police spokesman Comr. Aswin said that his office did not deploy more officers following the recent rape case. The police would only intensify patrols at crime-prone areas.
Separately, Governor Basuki "Ahok" Tjahaja Purnama acknowledged that traveling using public minivans late at night was unsafe, adding that he would continue to improve Transjakarta's services and add more buses so that residents could stop using minivans. "We will also add more CCTV across the city so that the police can easily monitor dangerous areas," he said. (prm) - See more at: http://www.thejakartapost.com/news/2015/06/27/women-fend-themselves-unsafe-public-transportation-system.html#sthash.Kej8Uygs.dpuf
http://www.thejakartapost.com/news/2015/06/27/women-fend-themselves-unsafe-public-transportation-system.html
-----------
Implementation of Child Marriage Restraint Law Urged In Pakistan
June 27, 2015
KARACHI: Highlighting the issues religious minorities are facing at various levels in the country, participants in a meeting held on Thursday demanded that the government implement the Sindh Child Marriage Restraint Act, 2013 to address the issue of forced conversion.
There was also a strong call for implementation of Article 20 of the Constitution (relating to religious freedom) as well as the Supreme Court's judgement on religious minorities that came last year.
The programme was organised by the South Asia Partnership-Pakistan (SAP-PK) on Thursday to discuss implementation and enactment of new laws to protect religious minorities at a local hotel.
The event started off with a short introduction of the SAP-PK and its activities by Shahnaz Sheedi. The organisation, she said, was working to empower neglected communities through advocacy and lobbying.
Briefing the audience about the kind of problems religious minorities were facing in the country, she said they were discriminated against at every stage of life while crimes like kidnapping, forced conversion and attacks on worship places had increased against these communities in recent years.
On the performance of the provincial assembly regarding protection of religious minorities, she said so far resolutions on five per cent job quota for religious minorities, prevention of forced conversion and removal of hate content from syllabus being taught at public and private sector educational institutions had been passed.
Sharing his views, Pakistan Muslim League-Functional Member of Provincial Assembly Nand Kumar Goklani said that religious minorities would feel secure if the government implemented the laws directly relating to them. The PML-F, he said, would endorse the minority commission draft in the provincial assembly.
A legal draft on forced conversion and two private bills on the rights of religious minorities, he told the audience, had been submitted to the provincial assembly.
MPA and president of PPP minority wing of Sindh Dr Lalchand Ukrani said the resolutions concerning religious minorities had been passed with the collective commitment of political parties. The PPP, he said, had always made efforts to protect rights of marginalised communities and it would support the proposed commission on religious minorities as well as the bill on forced conversion in the assembly.
Retired justice Majida Rizvi said that the draft on forced conversion had been fully designed and would help protect rights of non-Muslim girls. Often the girls who converted to Islam didn't want to meet their parents, she said, adding that in such cases girls should stay at shelter home and provided proper information about religion.
Dr Jaipal Chhabria said the child marriage restraint act that had made marriage under 18 years punishable could help address the problem of forced conversion and needed to be implemented in letter and spirit.
In his opinion, the constitution of Pakistan was based on discrimination and there was a need to provide equal opportunities to religious minorities.
He demanded an autonomous body comprising non-parliamentarians and headed by a non-Muslim that could protect rights of religious minorities.
Advocate M. Parkash said that lobbying with the law ministry, political parties and parliamentarians was needed to get laws aimed at protecting rights of religious minorities approved.
Karamat Ali representing the Pakistan Institute of Labour Education and Research said civil society should exert pressure on the government to implement the Supreme Court judgement that talked about detailed steps to protect the rights of religious minorities.
Published in Dawn June 27th, 2015
http://www.dawn.com/news/1190643/implementation-of-child-marriage-restraint-law-urged
-----------
URL: https://www.newageislam.com/islam,-women-and-feminism/new-age-islam-news-bureau/dashed-ambitions-stark-reality-of-education-in-kingdom's-girls-schools/d/103675