New Age Islam News Bureau
4 Jan 2018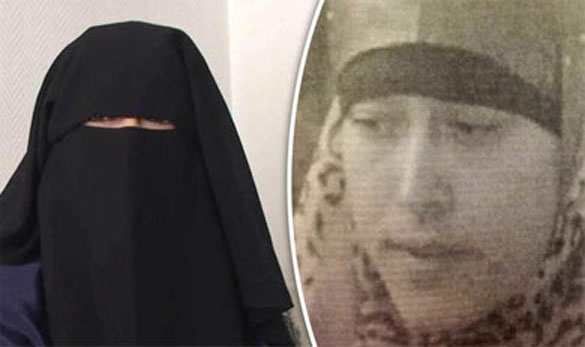 France's most wanted female jihadist, Émilie König, has been arrested by Kurdish forces
-----
• Pak Council of Islamic Ideology Supports Punishment for Triple Talaq
• Ground Services Recruit Saudi Women to Work At Local Airports
• Iran: Women Engage In Confronting Suppressive Security Forces
• 'France's Most Wanted Female Jihadist' Arrested By Kurdish Forces in Syria
• Traditions, Drugs, Absence of Deterrence behind Violence against Women: Survey
• Iran: A Woman's Horrifying Arrest in the Dark of Night
Compiled by New Age Islam News Bureau
URL: https://www.newageislam.com/islam-women-feminism/darul-uloom-releases-third-fatwa/d/113813
--------
Darul Uloom Releases Third Fatwa of 2018 to Declare Designer and Tight Burqas 'Haram'
By Namita Bajpai
03rd January 2018
LUCKNOW: Darul Uloom Deoband has issued yet another fatwa on Wednesday, this time, to declare designer burqas, donned by Muslim women, 'haram' (not allowed) in Islam.
Darul Uloom, one of the biggest and prominent seminaries of Asia, situated in Deoband town in Saharanpur district, has claimed that the burqa in various styles, colours and designs used by Muslim women was not allowed in Islam. "In the name of hijab (veil) designer and slim fit burqa is haram and strictly prohibited in Islam," the fatwa said. It added that getting out of the house wearing such slim fit clothes was a bigger crime in Islam as it attracted prying eyes.
Notably, a person from Deoband had written to Darul Uloom asking the muftis of the seminary to give insight if wearing designer burqas, which were sometime body-hugging and drew male gazes, was permitted in Islam.
A bench of Muftis replied: "Prophet Mohammad says woman should be kept hidden because when she steps out, evil forces stare her. So she should not get out of the house without reason. If the situation demands her to get out, she should hide her body in a long loose robe as a burqa. Donning slim fit, body-hugging clothes to attract men was illegal and a grave crime in Islam."
Calling the fatwa on dresses relevant and need of the hour, Tanzeem Abna-e-Darul Uloom chief Mufti Yade Ilahi said it was very pertinent to guide the women of the day through such fatwas as a western culture had overpowered Indian cultural sophistication and tradition. "Women have shattered the veil and roam in small and skimpy dresses now a days," said Ilahi.
He added that Muslim women, especially the college going girls, were wearing designer burqas in the name of veil and drawing evil eyes. "Such burqas are against Islam. Only loose robe should be used by them," he maintained.
On the latest fatwa, chairman, online fatwa department of seminary, Mufti Arshad Farooqui said it was the duty of the Muslim religious leaders to sensitise the community over the religious norms every now and then. "However, the compliance of fatwas and farmans depends largely on the believers of Islam," he added.
This is the third fatwa issued by Darul Uloom in the first three days of 2018. On January 1, the seminary had issued the fatwa against new year celebrations. Ustad Maulana Mufti Tariq Kasmi of Madarsa Jamia Hussainia had said that new year celebration was unislamic as Islamic calendar year started from Moharram. On January 2, the seminary had issued a fatwa against 15-year-old Alia Khan of Meerut for reciting Bhagwad Gita.
http://www.newindianexpress.com/nation/2018/jan/03/darul-uloom-releases-third-fatwa-of-2018-1743805.html
--------
Pak Council of Islamic Ideology Supports Punishment For Triple Talaq
Kalbe Ali
January 04, 2018
ISLAMABAD: Though it is legal and in accordance with the Hanafi school of thought, the Council of Islamic Ideology (CII) on Wednesday supported the imposing of punishment for triple talaq in one sitting.
CII Chairman Dr Qibla Ayaz said the council believes that this is in accordance with fiqh, but it is something which needs to be discouraged.
Talking to media persons on Wednesday, Dr Ayaz discussed the ruling by the Indian Supreme Court regarding the announcement of triple talaq at one time.
"This is a technical issue and needed a careful approach, but we have suggested that there should be some punishment for those who announce triple talaq at one time. The matter is now in the hands of the government," he said.
Experts on the matter in the CII told the media that triple divorce is not applicable in the Shia and Ahl-i-Hadis schools of thought either.
Dr Ayaz added that the CII should not limit itself to the role of formulating laws in accordance with Sharia and that there is also need for suggesting ways and means for resolving issues faced by society.
He suggested the CII be turned into an official think tank to work in fields related to Muslims and demands of the current times.
"We have a responsibility towards the non-Muslims living in our country the same way as it is our duty to draw some guidelines for Muslims living in other countries.
"Like we demand halal food and for states to help establish mosques, the CII will also hold a discussion to devise guidelines for Muslims in other countries in regards to their conduct and responsibilities," he said.
He added that society is changing and that it is the CII's responsibility to issue suggestions in accordance with Sharia for the upcoming challenges.
"One such challenge will be the post CPEC scenario when many people in Pakistan will have Chinese spouses, and the growing role of girls and women in society," he said.
The CII chairman also brought up US President Donald Trump's recent statement about Pakistan and stressed on the need to counter internal weaknesses in the country. He said the most serious threats faced by Pakistanis are sectarianism and terrorism.
"Clerics have a key role in countering these threats and we will work on involving them in the matter," he said.
https://www.dawn.com/news/1380686/cii-supports-punishment-for-triple-divorce-in-one-go
--------
Ground services recruit Saudi women to work at local airports
4 January 2018
RIYADH: Bassam Al-Bokhari, chief shared-services officer at Saudi Ground Services Co. (SGS), told Arab News that new Saudi female recruits will join the company and start their training program in February.
Al-Bokhari said that the women will work at check-in counters.
To help them prepare, Al-Bokhari said: "They will be enrolled in an intensive training program. The program includes technical training courses such as passenger services, check-in procedures, safety, security, and soft skills courses such as communication skills, customer services skills and time management."
Training will be held in cooperation with the Human Resources Development Fund and the Ministry of Labor and Social Development.
Previously, SGS organized the first recruitment forum in Jeddah, under the "Your Way to the Future" program, held Dec. 24-27, 2017. The program aimed to recruit fresh university graduates of both genders to work in service areas at King Abdul Aziz International Airport terminals.
Omar Najjar, SGS CEO, said that these efforts were part of the company's support for the Kingdom's directions to "empower Saudi females to become a productive part of society."
Al-Bokhari said that the response they received was massive. "We have received over 10,000 applications through our online career portal."
http://www.arabnews.com/node/1218771/saudi-arabia
--------
Iran: Women engage in confronting suppressive security forces
04 January 2018
January 3, 2018, marked the seventh consecutive day of nationwide uprisings in Iran when clashes and demonstrations continued a dozens of cities across the country.
In Tehran, women were involved in the scenes of Resistance in the against the repressive security forces.
The families and mothers of those arrested in Tehran, gathered in front of the notorious Evin Prison demanding release of their children and chanted Allah-o Akbar (God is Great).
Also in Takistan, in Qazvin Province northwest of the capital, the families and mothers of those arrested gathered outside the police station and demanded that their children be freed.
In Rasht, capital of Gilan Province, in northern Iran, a group of female Bassij agents poured into the streets and confronted the brave women of this city.
http://www.women.ncr-iran.org/iran-women-news/4647-iran-women-engage-in-confronting-suppressive-security-forces
--------
'France's most wanted female jihadist' arrested by Kurdish forces in Syria
Jan 3, 2018
FRANCE'S most wanted female jihadist has been arrested by Kurdish forces in Syria and is currently being held in a refugee camp on the Turkey-Syria border, the French radio station RMC reported.
The radical Islamist, the first woman to be listed on the US' international terrorist 'blacklist,' has been "tortured" in custody, according to her mother.
The French interior ministry refused to comment on RMC's report, but her arrest has since been confirmed by Khaled Issa, the Kurdish Syrian representative in France.
She was allegedly arrested in Chaddade, a town in the north-eastern Syrian province of Hasaka, in December.
The daughter of a gendarme from the northern French town of Brittany, Émilie König, 33, fled to Syria to join Islamic State (ISIS) in 2012, and quickly became the terrorist group's most prominent female voice.
A hardline Salafist who converted to Islam at the age of 17 and changed her name to Samra, Mrs König was once quoted as saying that the niqab – an Islamic garment that covers everything but the eyes – was like a "second skin".
A top ISIS recruiter and propagandist, she appeared in several propaganda videos in which she called for armed jihad, and has also been accused of encouraging friends and family members to launch attacks on French soil.
In September 2015, she became the first woman to be listed on the United States' foreign terrorist 'blacklist'. She has also been blacklisted by the UN.
Mrs König's 70-year-old mother, however, told the French daily Ouest-France that her daughter had been "tortured" while in Kurdish custody.
She said: "I spoke to Émilie last week. She's being held in a Kurdish refugee camp, where she has been interrogated and tortured."
Her mother, who is raising Mrs König's two eldest children (she had three more children with an ISIS militant after moving to Syria), said that her daughter wanted to return to France.
"I have asked [foreign minister Jean-Yves Le Drian] to help bring her and her children home," she said, before adding that her daughter had "repented" and no longer adhered to ISIS' ideology.
"She told me before her arrest that she wanted to come home, and that she was sorry for what she'd done," her mother said, adding that her daughter had ditched her niqab and gone back to wearing makeup.
https://www.express.co.uk/news/world/899698/french-woman-isis-female-recruiting-arrested-emilie-konig-kurdish-forces-syria
--------
Traditions, drugs, absence of deterrence behind violence against women: Survey
January 04, 2018
RIYADH — Social traditions, drugs and a lack of effective deterrence are found to be the main reasons behind violence against women, according the results of a survey.
The survey found that husbands are the main instigators of abuse against women in the majority of cases.
The survey, published by Al-Madina newspaper on Wednesday, was conducted by the National Center for Public Opinions and the National Safety Program for Families. It covered a sample of 1,199 Saudis, of whom 69 percent were men and 31 percent women.
According to the results of the survey, about 90 percent of the citizens believed there is violence against women indeed exists and 73 percent thought husbands are the main instigators of such violence.
The participants of the survey, of whom about 80 percent were married, believed that 46.5 percent cases of violence against women is psychological.
About 10 percent said violence against women was on the rise while 9 percent said it did not exist. About 44 percent said there is very little violence against women while 36 percent stood the middle ground.
About 16 percent of the women who participated in the survey said the cases of violence against women were numerous while only about 4.5 percent of them believed there was no violence against them.
About 51 percent of the females surveyed said women were mostly victims of psychological violence, 27 percent of them said negligence was another form of violence against women, while 12 percent said violence was mostly physical and 10 percent said women are usually exploited by their husbands.
About 83 percent of the citizens surveyed believed that home was the place where women were subjected to abuse while 25 percent blamed the social traditions and customs.
About 22 percent of the participants were of the opinion that the abuse against women was mainly caused by drugs and narcotics and 13 percent thought a lack of deterrent punishments was to blame.
According to the survey, about 50 percent of the citizens had no idea that there was a program in the Kingdom to protect families against violence while 61 percent did not know where to report the cases of violence and 83 percent did not know how to follow up the cases after reporting them to the authorities.
The survey said 66 percent of the surveyed women believed that about 49 percent of the women victims do not usually report abuses against them.
According to the survey, about 83 percent members of society have no idea that there are programs to empower women in the Kingdom. About 79 percent of the women surveyed supported this conclusion.
http://www.saudigazette.com.sa/article/525399/SAUDI-ARABIA/Traditions-drugs-absence-of-deterrence-behind-violence-against-women-Survey
--------
Iran: A woman's horrifying arrest in the dark of night
04 January 2018
Simultaneous with and despite the nationwide protests in Iran, Vice Patrols continue to harass and crack down on Iranian women to impose the compulsory veil (Hijab).
In the video clip recently received from Iran, you can see that a solitary woman is surrounded by five agents of the so-called Vice Patrol, two women and three men. They push the woman by force without explaining why she is being detained and force her into the car.
The young woman repeatedly asks, "What did I do wrong?" but does not receive any answer.
Another remarkable issue evident in this video is that the regime deploys female agents in order to pretend that it observes the Sharia law and no strange man touches women in the streets. While in practice and in reality, the female agents are actually helpless and it is the men who grab and touch and drag the poor woman into the car.
These are the horrifying scenes created for at least 2000 women arrested every day, according to the commander of the State Security Force, Hossein Ashtari. (The state-run Tasnim news agency – September 29, 2016)
http://www.women.ncr-iran.org/iran-women-news/4645-iran-a-woman-s-horrifying-arrest-in-the-dark-of-night
--------
URL: https://www.newageislam.com/islam-women-feminism/darul-uloom-releases-third-fatwa/d/113813
New Age Islam, Islam Online, Islamic Website, African Muslim News, Arab World News, South Asia News, Indian Muslim News, World Muslim News, Women in Islam, Islamic Feminism, Arab Women, Women In Arab, Islamophobia in America, Muslim Women in West, Islam Women and Feminism