New Age Islam News Bureau
9 Aug 2018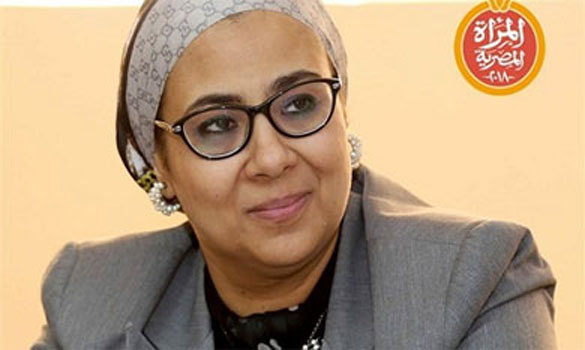 A file photo of Judge Amal Ammar (Photo: The official Facebook of National Council For Women)
------
• Malaysia Finds Champion for 'Invisible' Women in Deputy Premier
• Driving Abayas for Comfortable Journey
• Ammara Athar First Female DPO: Setting Example for Others to Follow
• 16 Egyptian Women Judges Promoted To Top Judicial Positions
• Kuwaiti Women Granted Full Political Rights in Elections, Candidacy, Leadership Positions
• Malaysia under Fire over Plan to Control What Women Wear To Work
• Telangana Muslim Girls Stay Longer In School than Boys: Study
• Mosul Woman Raising 23 Grandkids Orphaned by IS Conflict
Compiled by New Age Islam News Bureau
URL: https://www.newageislam.com/islam-women-feminism/danish-designer-uses-runway-make/d/116084
--------
Danish Designer Uses Runway to Make Statement on Burqa Ban
August 08, 2018
COPENHAGEN: An Iranian-born designer made more than a fashion statement in Denmark on Wednesday by showcasing models wearing the conservative Muslim niqab, and others dressed as police officers, days after a law banning the full-face coverings worn by a tiny number of women in Denmark took effect in the country.
Denmark's much-debated "Burqa Ban" is mostly seen as being directed at the conservative Muslim dress known as burqas, which conceal the entire face, and niqabs, which only show the eyes, in public places since Aug. 1. Both are extremely rare in Denmark.
"I have a duty to support all women's freedom of speech and freedom of thought," Reza Etamadi said of his MUF10 streetwear brand's Copenhagen Fashion Week show in a statement.
The government says the law is not aimed at any religion and does not ban headscarves like the more-common Muslim hijab, turbans or the traditional Jewish skull cap.
The Danish law allows people to cover their face when there is a "recognizable purpose" like cold weather or complying with other legal requirements, such as using motorcycle helmets. Anyone forcing a person to wear garments covering the face by using force or threats can be fined or face up to two years in prison.
Austria, France and Belgium have similar laws.
By enforcing the ban, authorities are violating women's rights and "the free choice we in the Western world are known for and proud to have," he said in connection with the semiannual fashion industry event.
"In Iran where I was born, women fight to freely choose what to wear," Etamadi said, adding "In Denmark, where I grew up, (...) women were free to choose how dressed or covered they wanted to dress."
"I have no unanimous attitude toward the ban in general but I have a principle: No man should decide what women should wear," Etamadi said the statement.
On Sunday, a woman wearing a face veil became the first person in Denmark to be penalized for violating the new law, and was fined 1,000 Danish kroner ($156). Police asked her either to remove the veil or leave the premises. She opted to leave.
http://www.arabnews.com/node/1353186/offbeat
--------
Malaysia Finds Champion for 'Invisible' Women in Deputy Premier
AUG 09, 2018
[KUALA LUMPUR] Wan Azizah Wan Ismail, Malaysia's new deputy prime minister, said one of the darkest moments of her life came in 2015 when her husband Anwar Ibrahim, the former opposition leader, was sent to jail for a second time.
In hindsight, she ended up appreciating the moment in one sense as it pushed her back into politics in an effort to free him. Today, Mr Anwar is out of jail and considered a possible prime minister, while she has become the first woman to serve as second-in-command in Malaysia's government. Wan Azizah has also taken up another cause: Improving the lives of women who haven't worked outside the home.
"Men must be contributing to the empowerment of women," Mdm Wan Azizah, 65, said at her office in Putrajaya.
In a country where the median household income stands at RM5,228 (S$1,750) a month and about 2.8 million women don't seek employment because of housework, according to government data, Mdm Wan Azizah says it's time to help these "invisible" women.
As she was brought up by a mother who had only a basic education, Mdm Wan Azizah said promoting the financial protection of this group is a key goal.
An eye surgeon by training, Mdm Wan Azizah spent much of her married life as a housewife before she was drawn into a political career about two decades ago. She became a more significant national figure when her husband, Mr Anwar, was first jailed in the majority-Muslim nation on charges of committing sodomy and abusing power, allegations he denied.
Mr Anwar was released in 2004 after a judge overturned the guilty verdict. Then, he was jailed for a second time in 2015 on a separate sodomy charge before receiving a pardon from the king after the current government took office in May. During those years, Mdm Wan Azizah went on to establish the forerunner of what's now known as the People's Justice Party, of which she is president, and was elected a lawmaker in the constituency that Mr Anwar once held.
Mdm Wan Azizah later became president of Pakatan Harapan, which included Prime Minister Mahathir Mohamad's party. Her role as deputy prime minister was agreed upon by the allies before the election.
RETIREMENT SAVINGS
She is advancing several proposals to help women who haven't worked outside the home. One would raise the ceiling on the government's contribution to homemakers who voluntarily save RM600 a year, up from RM250, with the national pension fund. Another would allow wives a share of payouts from their husbands' state-run pension plans.
The plans were well received despite initial concerns that they may add to the burden of married men. Finance Minister Lim Guan Eng, who holds Malaysia's purse strings as Mr Mahathir's government slashes costs to pare debt, has said he fully supports the idea as it would fulfill a campaign promise.
Among Mdm Wan Azizah's other goals are to tighten laws protecting children against sexual violence. In the long run, she said her ministry will look at social security programs for those who are not supported by the current system. Challenges posed by Malaysia's aging population, falling productivity and duplication of government agencies are other key issues she wants to address.
'STRONG MESSAGE'
Mdm Wan Azizah's appointment as the highest-ranked woman in power was greeted with enthusiasm by many - particularly women. Yet even her supporters acknowledge that she needs to overcome a perception that she's just a supporting actor to her husband as she tries to help reverse stubborn sexism and misogyny in Malaysia.
"Initially people were saying: Oh, she's a seat warmer," said Angela Kuga Thas, executive director of Empower, a Malaysia women's rights group. "She's now proving them wrong. It sends a strong message to the Malaysian people that women can hold top positions."
Mdm Wan Azizah holds a second portfolio as the minister of women, family and community development in a new administration formed after Mr Mahathir, 93, was elected again as prime minister after 15 years in retirement. She heartily campaigned for Mr Mahathir, despite the fact her husband had a bitter falling-out with the premier in the late 1990s.
While her husband, Mr Anwar, was the de facto leader of an opposition group that had made progress in previous general elections culminating in Pakatan Harapan's historic election in May, Mdm Wan Azizah held the disparate parties together with official duties during Mr Anwar's absence. He continues to have restrictions on his political involvement.
MEDICAL BACKGROUND
Mdm Wan Azizah graduated as a ophthalmologist from Ireland's Royal College of Surgeons where she was awarded a gold medal in obstetrics and gynecology. She worked as a government doctor for 14 years before quitting to focus on volunteer work when Mr Anwar became deputy prime minister in 1993.
During the years in opposition, reporters and supporters fondly called her Kak Wan, a Malay term for an elder sister. Though she was respected, her maternal image and a record of vacating her parliamentary seat to make way for her husband's return to politics raised questions about her seriousness as a politician.
Mdm Wan Azizah's traits of diplomacy, patience and passion for her job will serve her well as a leader in the government, said Faisal S. Hazis, head of the Centre for Asia Studies at the National University of Malaysia. Still, he maintains that her leadership style hasn't been strong enough to play the role effectively, at least not yet.
"She's not a politician to start with and she's basically there to warm the seat for the husband and became the proxy leader for Anwar," Mr Faisal said. "It's a lot about the leadership vacuum that's very glaring in Pakatan without Anwar in the picture."
Mdm Wan Azizah's leadership skills recently were questioned when she failed to speak out against child marriage after a recent report of a 41-year-old man marrying an 11-year-old girl sparked an uproar, Mr Faisal said.
Still, Empower's Thas said the public must be fair in judging women leaders and allow Mdm Wan Azizah some time to gain experience as a newcomer to a Cabinet role.
For her part, Mdm Wan Azizah dispels any notion that Mr Anwar - who held her position as a deputy prime minister in the 1990 - is schooling her on how to do her job. Instead, she says she's adapted lessons from stories he had told when he was a minister.
"I don't think he had to offer me advice because I think I could learn it very fast myself," Mdm Wan Azizah said. "People would think I am in the shadow of Anwar, but for me, the most important thing" is having the respect of those who have worked with me, whether as a physician or a politician.
https://www.businesstimes.com.sg/government-economy/malaysia-finds-champion-for-%E2%80%98invisible%E2%80%99%C2%A0women-in-deputy-premier
--------
Driving Abayas for Comfortable Journey
August 09, 2018
JEDDAH — Following the lifting of the ban on women driving in the Kingdom, comfort and fashion are the key drivers in the women's statement while driving.
Keeping this in mind, abayas for driving have been produced in the Saudi market in a new way to present females' new lifestyle.
This new line of abayas focuses on practicality, and some of the abayas' designs are such that there's a marked similarity to the jumpsuits style.
Saudi Gazette interviewed the founders of 'Alaa and Hala Fashion House,' Alaa Alharazi and Halah Ajeeb, who launched a driving Abayas' line during June.
"We created a new line of abayas that are more practical and comfortable for woman who drive. We created this line after they allowed Saudi woman to drive. We were determined to let Saudi women still wear the traditional abayas while driving, but with a twist that will allow them to be comfortable while driving.
"For example, this abaya includes fit sleeves, light material, and a new style of pants and jumpsuit abayas that will allow them to feel free and not be hindered while driving. The styling is such that it will allow them to use the brake pedal and the accelerator with ease," said Ajeeb.
People can either go to the shop and buy these abayas directly or can see the abayas for driving line on their social media accounts with the name of 'alaaandhala' in Snapchat and Instagram.
During the interview Alharazi mentioned that other than these trendy abayas, their fashion house is gearing up to launch other new abayas and clothes collections in the coming months.
Alharazi said, "We will be presenting for the next month our summer collection that includes, beach dresses, veiled dresses summer abayas. What makes this collection so special is that all the colors are bright and summery and the fabrics are soft and light."
Ajeeb added, that since their business is expanding they will be opening their new shop in Basateen Center soon, and are planning a limited edition collection, too.
"For the first, because of the opening of our new shop, we will launch a limited edition collection which is called 'Alaa and Hala's Journey.' This journey is so unique and special because it describes our journey through 12 years.
"Our customers will find in this collection the most demanded pieces and the most lovable designs throughout the previous collections in this line but with a new style," Ajeeb said.
According to Alharazi since 2015 the owners started producing fragrances lines that has continued to be in their shops annually ever since.
Alharazi added, "This year we will have three new perfumes that have different scents such as, musk and powder, amber and oud wood, and the third special one includes the cardamom scent with different spices. For me the third one is very unique."
http://saudigazette.com.sa/article/540749/Life/Art-&-Culture/Driving-abayas-for-comfortable-journey
--------
Ammara Athar First Female DPO: Setting Example for Others to Follow
08 August,2018
(Web Desk) – Police as a department is in charge of maintaining law and order in the area under its jurisdiction. Police personnel are considered to be the protectors and should set remarkable examples. Following this, Ammara Athar took charge of DPO Bahawalnagar. She is the first female officer on this post. Working in South Punjab is always deemed complex and challenging but she assumed charge of DPO with an aim to serve humanity to the best extent possible.
Talking to Dunya News, she said, "As DPO, corruption and injustice will never be tolerated." She further added that she had seen a number of things related to crimes in Bahawalnagar and in the upcoming time, there would be clear reduction in them. According to her, police visibility needs to be obvious everywhere.
She is not alone in this field. Her better half Rana Athar Waheed is also a cop and serving DPO of Rahim Yar Khan. Undoubtedly couples like this are rare to find. He expressed his feeling by saying that crucial thing would be to create respect of police among the masses and terror among the culprits.
It definitely is a proud moment not only for the police but also for the entire nation. Women in Pakistan, from lower level to upper level, need appreciation indeed.
The couple has been giving public appearance through various means and encouraging women join police and other tough, intricate jobs. Women too can face daring challenges just like men, and the only thing required in this regard is utter determination and willpower.
On social media, people from various walks of life congratulated her and praised her courage to take charge of the post which requires intense efforts. They are hopeful that through determination and will she will be able to curtail the number of crimes in the district.
https://dunyanews.tv/en/Pakistan/451658-Ammara-Athar-first-female-DPO-assumed-charge-of-dpo-Bahawalnagar
--------
16 Egyptian Women Judges Promoted To Top Judicial Positions
8 Aug 2018
Egypt's National Council for Women (NCW) announced Wednesday that 16 women judges were promoted by the Supreme Council of the Judiciary into high positions within the judiciary service, congratulating them on their new positions.
On Tuesday, the Supreme Council of the Judiciary promoted hundreds of judges across the country, including women, most notably Judge Amal Ammar, who became president of the Qena Appeal Court.
Judge Ammar is also a member of Egypt's National Council for Women.
Judge Hassana Shaaban was also promoted and appointed head judge of the Tanta Economic Court.
In the statement released Wednesday, the NCW described the decisions of the Supreme Council of the Judiciary as a reflection of its deep belief in the capacity of women to perform judicial duties, adding that women judges contribute to upholding justice in the country.
According to the NCW, there are currently 66 women judges appointed in several stages, starting from 2007, then 2008, and in 2015.
The NCW also recalled the appointment of Judge Ghada El-Shahawy as the first woman assistant to the minister of justice on women and child affairs in 2015, as well the appointment of Judge Susan Abdel Rahman as assistant to the minister of justice on human rights.
http://english.ahram.org.eg/NewsContent/1/64/309255/Egypt/Politics-/-Egyptian-women-judges-promoted-to-top-judicial-po.aspx
--------
Kuwaiti Women Granted Full Political Rights in Elections, Candidacy, Leadership Positions
August 09, 2018
KUWAIT: The State of Kuwait has given female citizen all their rights in voting and electing after a long journey in order to recognize their constitutional and political right. Kuwaiti women were able to prove, through a history full of achievements, their leading and active role in the development process witnessed by the country in various social, economic, political and other fields. They were able to achieve this success due to several factors, including the development of the legislative and social system which allowed many Kuwaiti talents to occupy the highest positions locally and regionally.
Kuwaiti women were not only concerned with their political rights but exceeded this to spread awareness economically, culturally and socially. A good example of this was during the Iraqi invasion of Kuwait in 1990 and her resistance to the occupation when she stood side by side with the Kuwaiti men in defending their country. The competence of Kuwaiti women and their educational and cultural levels enabled them to win many leadership positions. They have become ministers, undersecretaries, university rectors, ambassadors and directors of large regional and international economic companies and were popularly elected to the National Assembly.
On May 16, 2005, the National Assembly approved a bill submitted by the government to amend the text of article 1 of the election law to allow women to exercise their right to vote and run for election. In June 2005, the cabinet announced the selection of Engineer Fatima Saud Al-Sabah and Engineer Fawzia Mohammed Al-Bahr as members of the Municipal Council, and selected Dr Masouma Al-Mubarak to be as the Minister of Planning and State Secretary for Administrative Development. In April 2006, Kuwaiti women, exercised for the first time, their political right to vote and run for election when Engineer Janan Boshehri announced her candidacy in the supplementary elections to the Municipal Council.
In 2008, a total of 27 women applied for official candidacy for the 2008 parliamentary elections, but none of them were able to win. However, this actual practice gained her more experience in winning the council elections in 2009 when four candidates won and they were Dr Masouma Al-Mubarak, Dr Aseel Al-Awadhi, Dr Rola Dashti, and Dr Salwa Al-Jassar.
Kuwaiti women continued to participate in the political process in the country, since the presence of women in the formation of the ministry was necessary. Dr Masouma Al-Mubarak was appointed as Minister of Transportation in 2006, and in March 2007 she became Health Minister, while Nouriya Al-Sabeeh was chosen as Minister of Education and Higher Education. In 2008, Dr Moudhi Al-Hamoud was appointed as Minister of State for Housing Affairs and Minister of Development Affairs, while Nouriya Al-Sabeeh was re-appointed as Minister of Education and Higher Education. Both held office in in 2009. In May 2011, Dr Amani Bouresli was appointed Minister of Commerce and Industry, and then appointed, in addition to her position, as State minister of Planning and Development. In July 2012, Dr Rola Dashti was selected as Minister of Planning and Development and Minister for Parliamentary Affairs, while Dr Thikra Al-Rasheedi was appointed as Minister of Social Affairs and Labor in November 2012. In August 2013, Hind Barak Al-Sabeeh was appointed Minister of Social Affairs and Labor and Minister of State for Planning and Development, and held office until 2016.In December 2017, Dr Jenan Boushehri joined the new ministerial reshuffle to become the Minister of Housing and Minister of State for Services, along with Minister of Social Affairs and Labor and Minister of State for Economic Affairs Hind Al-Sabeeh. Kuwaiti women continued their march to success, leaving their mark and determination in various fields to prove to their society and the world, that women are already half the society that cannot be dispensed with or marginalized. – KUNA
http://news.kuwaittimes.net/website/kuwaiti-women-granted-full-political-rights-in-elections-candidacy-leadership-positions/
--------
Malaysia under Fire over Plan to Control What Women Wear To Work
August 09, 2018
The Malaysian Government's plan to introduce a dress code for Muslim women in the workplace has sparked a backlash from women's rights groups, which accuse officials of acting like "fashion police".
Women in the Muslim-majority country, which has a large population of ethnic and religious minorities, have been barred from government offices in the past for attire that officials deemed as indecent, such as skirts or shorts.
Those who work in the civil service already have to follow regulations that typically prohibit women from wearing sleeveless tops or skirts above knee level.
But the Government has now said it is in the final stage of drawing up guidelines for Muslim women in the private sector, which will comply with Islamic principles.
No details have been made public, but Malaysian women's rights groups condemned the dress code.
Tan Heang Lee of the Women's Aid Organisation branded it as "dehumanising".
"There has been a trend where various agencies attempt to police women's bodies and their clothing," she said.
"Why is there this obsession with what women wear?
"They should be focusing on women's talent and capability.
"The last thing we should be thinking of is the length of a woman's skirt."
Mujahid Yusof Rawa, a minister who oversees religious affairs, told parliament this week the guidelines were meant to protect Muslim women who wished to wear to headscarves or other Islamic garb.
Islamic groups have previously complained about policies at some hotels that reportedly banned female frontline staff from wearing headscarves.
Some groups have also criticised female flight attendant uniforms as being too tight and un-Islamic.
The leading rights group Sisters in Islam said the Government should, instead of focusing on women's clothing, prioritise eliminating discrimination to protect women from "injustices and bigotry".
"It is not right to try to control what women wear," spokeswoman Majidah Hashim said.
Siti Zailah Yusoff, a female lawmaker from the conservative Pan-Malaysian Islamic Party, who is in favour of a dress code, said on Twitter that covering up was an "obligation" under Islam.
The latest controversy has re-ignited a debate about rising conservatism and gender inequality in Malaysia, which was ranked 104 out of 144 countries in the World Economic Forum's 2017 Gender Gap Index after scoring poorly on political empowerment.
http://www.abc.net.au/news/2018-08-08/malaysia-told-to-stop-27policing27-women27s-clothing/10091280
--------
Telangana Muslim Girls Stay Longer In School than Boys: Study
SYED MOHAMMED
AUGUST 09, 2018
Trend attributed to better access to education in Telangana, increased security measures
Girls from the Muslim community in the State tend to stay longer in school than boys from the same community, a research paper has found, the reason being better access to schools and increased security measures for women in Telangana as compared to several other States.
Authored by Commission of Inquiry (CoI) member Amir Ullah Khan, a research paper on Educational Status of Muslims - Focus on Telangana noted that the mean years of schooling, or the average number of completed years in school education of Muslim girls in Telangana is higher than that of boys. The research paper is one of 18 such documents compiled in a recently-released book 'Vision 2025 Socio Economic Inequalities' edited by Mr. Khan and academician Abdul Azim Akhtar.
The research paper uses data obtained from the National Sample Survey Organisation which shows that Muslim girls in rural Telangana spent 6.1 years in school as compared to 5.4 years by boys. In urban areas, the number rose to 6.7 years as compared to 5.9 years for boys.
Data also showed that other minority communities – Sikhs, Christians, Jains, Budhhists and Parsis – have fared better as compared to other socio-religious groups including Hindus, Scheduled Castes and Scheduled Tribes. Explaining the trend, Mr. Khan said, "The book has a study of 16 States. What we found is that as compared to many States, in Telangana, there is relatively better access to education for Muslims. Security and safety is an advantage for Muslim girls, which is why their mean years of schooling is higher than that of Muslim boys."
Touching upon the mean years of schooling being higher in other minority communities, Mr. Khan said, "Jains in India have the highest percentage of literates above seven years of age among India's religious communities. Literacy in Christians is also high. This is why other minority communities have fared better."
While the situation in terms of education of minorities is gradually improving in Telangana, he cautioned about a high drop-out rate. Monetary problems remained the top-most reason across communities for students dropping out of school in the State.
https://www.thehindu.com/news/cities/Hyderabad/muslim-girls-stay-longer-in-school-than-boys-study/article24636691.ece
--------
Mosul Woman Raising 23 Grandkids Orphaned by IS Conflict
August 08, 2018
When Iraqi forces announced the recapture of Mosul from Islamic State (IS) militants in July 2017, the joy of victory and the hope for a return to normalcy echoed across the country. But for Sana Ibrahim, who lost all of her children during IS rule, things would never be the same again.
Now, at 61, Ibrahim has to take care of 23 grandchildren left behind from her three sons and two daughters killed in the brutal conflict.
"IS destroyed us and left us nothing," said Ibrahim, surrounded by her grandchildren. "They assaulted my home and killed my children."
Before IS took control of Mosul in June 2014, Ibrahim and her family lived in the city's densely populated district known as Old Mosul. She said her house was now among thousands of other buildings destroyed by war.
Mosul is Iraq's second-largest city, with a population of more than 1 million, and the largest city once controlled by IS across Iraq and Syria.
Prime Minister Haider al-Abadi declared the city free of IS in July 2017. The jihadist group has since been routed out of all territories it once controlled in Iraq, and it struggles to hold the remaining small pockets of territory it has in eastern Syria.
'Now, I am in pain'
"Before IS, I was living at peace. True, I was worried for my children, but at least I was feeling comfortable. Now, I am in pain, and I have to take care of the young and the old in my house," Ibrahim told VOA.
She said her two older sons were killed by IS in 2016 after the group found they were members of the Iraqi security forces. Her younger son, 20, was shot by a sniper. Her two daughters were hit by airstrikes as they were fleeing the city in 2017.
Her children's bodies are still missing, and local officials have told Ibrahim that they are still searching for them.
The nine-month campaign to recapture Mosul came at a great cost for its residents. An Associated Press investigation has estimated that about 11,000 people were killed in the battle. The Norwegian Refugee Council last month revealed that around 54,000 houses in the city and surrounding areas are still uninhabitable, and 383,934 people remain displaced.
Iraqi officials have said reconstructing the city is beyond their capacity and requires an international effort.
An international conference in Kuwait earlier this year collected about $30 billion, mostly in credit and investments, to help rebuild Iraq's economy and infrastructure. However, that amount fell far short of Iraq's hope for $90 billion for post-IS recovery.
No longer willing to wait for help, many residents have started borrowing money to rebuild their homes, especially in Mosul's historic Old City, which has suffered the most damage.
Return would be difficult
Ibrahim, who is renting a house in a Palestinian neighborhood, said she wanted to go back to her home in the Old City. But settling there will not be easy for her in a patriarchal community where women faced restrictions even before IS jihadist rule.
Her husband, Mouafaq Hamid Ibrahim, 71, cannot help because he is suffering from Alzheimer's. Her 23 grandchildren, ages 2 to 16, are still young and depend on donations from some of Mosul's wealthy families to pay for their education.
Despite the difficulties, Ibrahim told VOA she was proud that all her grandchildren were passing their exams this year.
"I don't want my grandchildren to get on Mosul streets and turn into beggars. I want them to one day enter colleges and find prestigious jobs," she said.
https://www.voanews.com/a/mosul-woman-raising-23-grandkids-orphaned-by-is-conflict/4519472.html
--------
URL: https://www.newageislam.com/islam-women-feminism/danish-designer-uses-runway-make/d/116084
New Age Islam, Islam Online, Islamic Website, African Muslim News, Arab World News, South Asia News, Indian Muslim News, World Muslim News, Women in Islam, Islamic Feminism, Arab Women, Women In Arab, Islamophobia in America, Muslim Women in West, Islam Women and Feminism