New Age Islam News Bureau
5 Apr 2016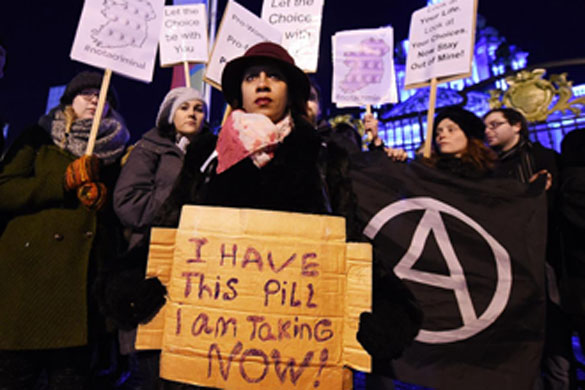 Photo: Campaigners protest the prosecution of the 21-year-old outside City Hall in Belfast in January Getty Images
-----------
• An Egyptian Woman Seeks Divorce Because Husband Is Too Handsome
• Woman Given Suspended Sentence for Having Abortion in the UK
• UAE Women Too Shy To Go For Breast Cancer Screening
• Review of Women Protection Act: Religious Parties Shun Protest Plan, Join Govt Committee
• Female Staff to Have Separate Space In Shops in Saudi Arabia
• Review of Women Protection Act: Pakistan Religious Parties Shun Protest, Join Govt Committee
• How the Inclusion of Women Could Help Mideast Nations' Development
• Moment Stranger Angrily Confronts Muslim Woman in Full-Face Veil after 'Batman' Jibe Caught On Camera
Compiled by New Age Islam News Bureau
URL: https://newageislam.com/islam,-women-and-feminism/new-age-islam-news-bureau/cultural-transformation'-as-british-muslim-girls-out-perform-boys-academically,-research-says/d/106879
--------
Cultural Transformation' As British Muslim Girls Out-Perform Boys Academically, Research Says
4 April 2016
Muslim girls are performing better academically than Muslim boys, in a "cultural transformation" of previous trends, research says.
In a new shift, more young Muslim women than men have degrees, research presented at the British Sociological Association's annual conference in Birmingham this week will reveal.
Dr Nabil Khattab, of the Doha Institute for Graduate Studies, Qatar, and Professor Tariq Modood from the University of Bristol's School of Sociology, Politics and International Studies, found 25 per cent of Muslim women aged 21 to 24 had degrees, compared with 22 per cent of Muslim men of the same age.
Using survey data on 6,600 people in England, they also found that GCSE results and average scores in school tests at age 11 and 14 were higher for Muslim girls.
"Muslim girls seem to now be outperforming Muslim boys, especially in relation to their school performance," said Dr Khattab. "This is a very interesting and a new finding, especially given what we know about the gender gap among Muslims, not only in education but also in the labour market.
"While older men are more likely to be degree holders than their female counterparts, younger women are more likely to have degrees.
"This trend has been present amongst white Christians for some time. On the other hand, it is very new amongst Muslims, with women more likely than men to have degrees only in the 21 to 24 age bracket.
"Nevertheless, that it has happened at all is quite remarkable when one considers that in 1990 and 1991, Pakistani and Bangladeshi men admitted to higher education outnumbered their female peers by more than two to one and more than three to one respectively."
Dr Khattab added: "One reason for this is that Muslim women, especially those planning to become economically active after leaving school, understand that they are likely to face labour market penalties due to widespread stereotypes and racism, perhaps more so than Muslim men.
"This can reinforce their determination to obtain higher education qualifications not only as good as those of the majority group but even better, in order to resist the anticipated labour market discrimination preventing them from achieving a desired job.
"It is possible that Muslim women who are British born, unlike their mothers, have undergone a cultural transformation."
Dr Khattab and Professor Modood also found that the reason that Muslims overall were less likely to have degrees and attend an elite university than white people was due to their falling behind at primary school. When they adjusted the data statistically to remove that initial deficit, they found that in secondary school they performed as well as white students, and were catching up when they took GCSEs.
"Once we take the previous school performance into account, Muslim students seem to be performing as well as the majority group, even in attending elite Russell group universities.
"At the GCSE level, there was a clear advantaged among Muslims. This finding is striking given the well-established educational disadvantages among some Muslim ethnic groups, most notably Pakistanis and Bangladeshis."
Further information
Notes
1. The researchers used results from the Longitudinal Study of Young People in England, carried out from 2002-2013. The number of people surveyed varied from 1,824 to 8,343, depending on which questions were asked. The sample sizes are representative of the wider population.
2. Among Muslims, they found that 25% of women aged 21-24 had degrees, and 22% of men. For older age groups, more men than women had degrees. They found that on average Muslim girls achieved 6.46 GCSE/GNVQ examinations at grades A* to C, compared with 4.98 for Muslim boys. In school tests at age 11 and 14, Muslim girls scored higher than Muslim boys.
3. When analysing progress at school, they found that at age 11, Muslim students overall had fallen behind their white counterparts. But when looking at their progress at age 14, and when taking GCSEs and applying to university, they found that they had not fallen behind further – by removing statistically the advantage gained at age 11, they found white students and Muslims were equally likely to succeed.
4. The British Sociological Association's annual conference takes place Aston University from 6 to 8 April 2016. Around 600 research presentations are given.
bristol.ac.uk/news/2016/april/muslim-women-degrees.html
---
An Egyptian Woman Seeks Divorce Because Husband Is Too Handsome
4 April 2016
According to emirates247.com, the woman from Cairo said her three years of marriage to her husband, a doctor, have been miserable because of his good looks.
The news website reports that the woman does not trust her husband and fears he may have an affair as women look at him all the time.
Social media was quick to respond to the woman's emotional saga.
Taz Khurram said, "Well try to look at other side please. Being handsome is other thing! Being handsome n flirt is other thing. Most of the handsome men are into flirting!".
Desmond De Silva posted, "Really! Was she BLIND before she married him????
Tahniat Jawaid I want to see the husband now!".
Amabella Cantiberos posted, "Why not enjoy all the moments you can share together with your handsome husband and just let him decide if he will stay with you or leave... Its not a mistake from his side to be blessed with such a handsome face.... Instead let him drive your way to a forever relationship... If he will failed, just stay,,, but dont end up your realtionship.. Let him decide for both of you!".
Nand Zurc said, "Lools! Yeah it's better to end d marriage and have peace of mind rather than messing your life being paranoid. The woman should seek psycho help to have her paranoia and insecuties cured."
Darwin Baldwin Baldemoro added, "Even how handsome he is but if he is really true to you then why need for divorce,,, sometimes thinking is only in the mind but not in his act... But if the guy really loves you she will not let u go.... Just my opinion..."
Juyee Nair Das said, 'Polygamy' is a habit same as 'jealousy' or 'insecurity'...depends who is having this habit! Looks or No looks...alas!
Anyways ,congrats to the woman who divorced her Handsomehusband...May she find a not -so- good looking man and a remedy to her insecurities....lol!
P.S 'Men will be Men....no matter what...!'
asianimage.co.uk/news/14401881.Woman_seeks_divorce_because_husband_is_too_handsome/
---
Woman given suspended sentence for having abortion in the UK
Apr 04 2016
A Northern Irish woman has been given a suspended prison sentence for buying pills over the internet to induce an abortion.
The 21-year-old pleaded guilty to procuring her own abortion by using a poison and of supplying a poison with intent to procure a miscarriage at Belfast Crown Court.
She was given a three-month sentence suspended for two years.
Her flatmates reported her to the Police Service of Northern Ireland (PSNI) when they found the remains of a male foetus in the bin in July 2014.
In Northern Ireland, abortions can only be legally carried out when the life or mental health of the mother is believed to be in danger.
Many women are forced to travel to Britain to have the procedure but they are often not eligible for NHS treatment and have to pay for their own flights.
The court heard how the woman - who was 19 at the time of the incident - told her flatmates she had tried to get an abortion in England but could not cover the costs.
She contacted a clinic in England who told her she could take mifepristone and misoprostol - drugs available on the internet which will induce a miscarriage.
Her defence barrister Paul Bacon said his client's prosecution highlighted the difference in legislation between Northern Ireland and the rest of the UK.
He told the court "had she lived in any other jurisdiction, she would not have found herself before the court" and said she felt "victimised by the system".
Mr Bacon said at the time the woman was living with people in Belfast she did not know very well and felt "isolated and trapped...with no one to turn to".
The woman has now had a baby with her partner and is "trying to put her life back together".
She was convicted under the Offences Against the Person Act 1861 which carries a maximum sentence of life in prison.
Its rules on abortion were superseded in the rest of the UK by the Abortion Act of 1967.
Amnesty International condemned the conviction with its Northern Ireland Director Patrick Corrigan saying the country's government was "violating women and girls' human rights".
He said: "We're utterly appalled by the court's decision to impose a suspended prison sentence on this woman. A woman who needs an abortion is not a criminal. The law should not treat her as such.
"This tragic case reveals, yet again, that making abortion illegal does not stop women in Northern Ireland needing or seeking terminations.
"Those who can afford it travel to England for the treatment they need - over a thousand women make that journey from Northern Ireland every year.
"Those that can't afford it, as appears to be situation in this case, may take medication in an attempt to terminate their pregnancy – without medical supervision or support."
He called on Northern Ireland's government to stop "sanctioning women and girls for seeking the healthcare they need".
independent.co.uk/news/uk/crime/woman-given-suspended-sentence-for-having-abortion-in-the-uk-a6968676.html
--
UAE Women Too Shy To Go For Breast Cancer Screening
April 5, 2016
A top expert has urged women in the UAE to go for breast cancer screening voluntarily, as early detection saves lives.
Reports say, on an average one in 10 Arab girls born today will develop breast cancer at some point in her lifetime and the disease has become a leading killer among Arab women.
Dr László Tabár, one of the world's leading experts in diagnosis of breast cancer, said: "Despite commendable efforts by the UAE health authorities, local screening capacity is actually low compared to other developed countries because of lack of demand from women themselves."
"Too many women in the UAE and Arab region only seek examination and medical care when they feel something may be wrong. Unfortunately by then it may be too late for them to benefit fully from the advanced medical capabilities for treating breast cancer in this country. This is a tragedy for these women, their families, and the nation," Dr Tabár added.
Dr Tabár was speaking at a seminar for doctors and radiologists at the Iranian Hospital in Dubai, the latest in a series he has led around the world to pass on his 40 years of experience in the field.
He recommends women between 40 and 54 years old to undergo screening at least every 18 months and preferably every year and that women over 55 should consider screening every 18 months.
Abu Dhabi has implemented a screening programme for national women, while the criterion varies from emirate to emirate.
Health Authority Abu Dhabi recommends women to be screened for breast cancer every two years after the age of 40.
Dr Asma Khammas, a specialist in radiology and Breast Imager at the Ministry of Health and Prevention's National Breast Screening Programme, said: "Unfortunately, I see too many patients for the first time when their disease is already advanced.
"Thanks to the support of our leaders and their constant interest in spreading awareness of early detection and providing us with the most advanced technology, we are able to screen patients effectively.
"I believe the visit of Professor Tabár will have a positive impact on the future of breast imaging in the UAE."
Dr Tabár is Professor Emeritus of Radiology at Falun Central Hospital in Sweden. His four decades of pioneering research have laid the foundation for early breast cancer detection.
khaleejtimes.com/nation/uae-health/uae-women-too-shy-to-go--for-breast-cancer-screening
------
Review of Women Protection Act: Pakistan Religious Parties Shun Protest, Join Govt Committee
Apr 05 2016
LAHORE: Two days after showing their resolve to launch an anti-government movement on the Women Protection Act issue, religious parties agreed on Monday to shun their protest plan and join an official committee to review the recently-passed law.
The consent came after a meeting of leaders of religio-political parties with Chief Minister Shahbaz Sharif here.
The delegation, led by JUI-F chief Maulana Fazlur Rehman, was consisted of Jamiat Ahle Hadith president Sajid Mir, Jamaat-i-Islami's Asadullah Bhutto, MPA Mehfooz Mashhadi and Maulana Amjad Khan.
Minister of State for Religious Affairs Pir Aminul Hasnaat, Maulana Fazal Rahim of Jamia Ashrafia, Maulana Ghulam Muhammad Sialvi, Maulana Raghib Hussain Naeemi and Punjab Law Minister Rana Sana were also present.
Leaders of the parties critical of the role of JUI-F and JI in the past, particularly during the last two dictatorships, were conspicuous by their absence.
Jamiat Ulema Pakistan (JUP) president Pir Ijaz Hashmi, who had criticized both the JUI-F and JI in a conference this Saturday for "selling out the Nizam-i-Mustafa movement for a few assembly seats", told Dawn that he or any other leader of his party was not taken on board for meeting with Shahbaz Sharif.
It had been decided in a meeting with the chief minister to form a joint committee for developing consensus on the Women Protection Bill.
The joint committee comprising clerics and government representatives would propose necessary reforms after a detailed review of the bill.
Mr Sharif assured the visitors that the government could not even think of any legislation in contravention of Quran and Sunnah.
He said that violence against women is a social reality and this fact cannot be denied.
He said the violence against women is a cognizable offense under every religion and moral system.
He assured them that their proposals would be given due importance for reforming the law, which has not yet been notified despite its passage from the Punjab Assembly about a month ago.
"Difference of opinion can be addressed through negotiations and consultation and the government is ready to make necessary corrections where necessary."
Maulana Fazl appreciated that a meeting had been held for talks on this important issue and the government had given importance to reservations of clerics.
dawn.com/news/1250046/review-of-women-protection-act-religious-parties-shun-protest-plan-join-govt-committee
---
How the inclusion of women could help Mideast nations' development
04 April 2016
One of the most fascinating aspects of my recent trip to Rojava, the Kurdish region of Syria, was its leaders' focus on empowering women.
The failure of many Mideast nations to let women play a major role in politics and society has severely impeded their development. At the farthest extremes, Saudi Arabia treats women like mentally impaired children while the Islamic State enslaves them.
But in Rojava and North Syria — a self-proclaimed federal state that is recognized by no other country — things are very different. There, the non-Arab but Sunni Muslim Kurds have taken the opposite tack.
Women hold many of the highest posts in Rojava and women's rights are taught in school. Moreover, the Syrian Kurds have a female force, the YPJ, that fights fiercely alongside male soldiers against Islamic State jihadis in Syria and even inside neighboring Iraq.
Would that this approach could be copied throughout the region, although that is hard to imagine. One can only hope that Rojava's philosophy of female liberation can survive in this Kurdish enclave that is threatened from all sides.
Drive through Kurdish towns in Rojava and you will see banners on the main streets that display the faces of fallen Kurdish soldiers, including many women. Sometimes the female portraits are clustered around the mustached visage of Abdullah Ocalan, the ideological guru of the Turkish PKK rebel group. Ocalan's thinking has also shaped the outlook of the dominant political party in Rojava, the Democratic Union, or PYD.
Whatever one thinks of Ocalan, now imprisoned in Turkey, his philosophy insists that freedom for women is the essential component of political freedom. "We call this the 'revolution of women,'" says Hediye Yusuf, co-president of the Kurdish federal state.
I interviewed her in an ornate, former state-owned oil company headquarters in the northern Syrian town of Rumaylan. A petite women with uncovered hair and wearing a black pants suit, white sweater, and no makeup, Yusuf exuded authority. "If you want to see the revolution of Rojava, women are the majority of the structure," she said.
Yusuf became politicized in the 1990s when Ocalan was living in exile in Syria. "It was his ideas on women that attracted me the most," she says. "I believe in the freedom of women. We were interested in how PKK women were fighting in the mountains. We began thinking, 'Why couldn't we do things like this?'"
Yusuf spent more than two years in prison under the Assad regime. Released after the Arab spring revolt started, she helped draft a new law on women's rights that abolishes polygamy, which is facing resistance from Arabs in Rojava. She also helped establish the YPJ.
At a YPJ office in Qamishli, Rojava's largest city, I got a glimpse of the impact that the force has had on many young Kurdish women.
Deniz Sipan, an attractive 21-year-old, dressed in fatigues, was an architecture student in Damascus when the Arab Spring began in 2011. Her nervous family decided to relocate (temporarily, they thought) to their ancestral home in the Kurdish region of Syria.
Sipan soon realized that in this more conservative area her options were limited to teaching — and getting married.
"Kurdish women when they get married, they give up life," she said, making a face, and speaking in the excellent English she learned from watching old American movies. "I didn't like this idea."
So, despite her parents' misgivings, she joined the YPJ and became a front-line sniper.
"Female fighters have their own personality," she said proudly. "No one can control them and they are highly respected. It gives you the confidence to trust yourself more."
In the fierce battle to liberate the Yazidi areas of Sinjar, Iraq, which were seized by the Islamic State in 2014, she was initially assigned to the rear guard.
"I couldn't believe it at first that I could do it," she says. Eventually, she was on the front lines in 2015.
"I am fighting for society to understand that they have to let women do what they want," she says. "I fight for my country and for women. I saw many women fight better than any man."
"The men like to fight alongside women," she added, "because the women smile and laugh when they are fighting. It keeps morale up."
Sipan says she intends to stay in the military, and is eager to go back to the front. If women just return home, she says, the situation will revert to male control "over everything."
It is hard not to wonder what will happen to her and her colleagues. On her cellphone are pictures of military mates who look like U.S. college students on spring break, the women with long flowing hair, the men with happy smiles. But Kemal, a 24-year old commander who trained her as a sniper, was blown up by a suicide bomber, and her best friend, Penaber, 19, fellow female sniper, was shot dead at the front.
Can the example of Kurdish women fighters inspire Arab women elsewhere in the Middle East? Unlikely, but one would like to think so.
"If women are free, society is free," says Sipan's older colleague Nujin Roj, who returned from Turkish exile to join in the struggle.
The Rojavan Kurds are trying to promote this message in a resistant Middle East.
Trudy Rubin is a columnist and editorial-board member for the Philadelphia Inquirer. Reach her at trubin@phillynews.com.
dallasnews.com/opinion/latest-columns/20160404-trudy-rubin-kurdish-women-on-the-front-lines-of-feminism.ece
---------
Moment stranger angrily confronts Muslim woman in full-face veil after 'Batman' jibe caught on camera
April 05, 2016
Ahlam UmmAqsa videoed her confrontation with the man pictured YouTube/Ahlam UmmAqsa
This is the moment a Muslim woman wearing a niqab full-face veil was told "who the f**** are you .... this is a Christian country" by a stranger during an angry exchange in a West London shop.
The woman claimed the incident began when the unidentified man, who was with his two daughters in the shop in the Shepherd's Bush area, called her "Batman", then began singing the TV show's theme tune.
She said she decided to confront him and an angry argument ensued which she captured on video using her smartphone.
In response to her accusation of ignorance, the man shouts: "My kids can't even see your face, who the f*** are you? Are you a man or a woman? This is a Christian country."
At one point, the man apologises for calling her "Batman" but tempers flare again when she says: "Don't tell me to shut up."
Two bystanders intervene to try to calm the situation, but the man proceeds to threaten them, saying "I'm going to knock you out".
He follows this by a rant about a white woman he knew who had married a Muslim man and "now has an Isis flag on her wall".
The woman who was wearing a niqab posted the video of the incident on YouTube, writing in a caption below the video: "As I entered, this guy who I've seen around the area decided to call me ' batman' he even sang the theme tune to his little girls and told them to guess if I'm a man or a women.
"He told his girls that people like me don't speak English. I tried to hold it all in but I couldn't after everything he was saying."
The woman in the niqab videoed the confrontation with the man.
She added: "I told him he is ignorant and that his kids will be ignorant also if he doesn't change his way and attitude .
"He kept going on so I decided to record him and he was aware of this."
Detectives from Hammersmith and Fulham's Community Safety Unit said they were treating the exchange as a potential hate-crime and were appealing for witnesses.
independent.co.uk/news/uk/home-news/muslim-woman-batman-niqab-shepherds-bush-camera-veil-a6968391.html
URL: https://newageislam.com/islam,-women-and-feminism/new-age-islam-news-bureau/cultural-transformation'-as-british-muslim-girls-out-perform-boys-academically,-research-says/d/106879
New Age Islam, Islam Online, Islamic Website, African Muslim News, Arab World News, South Asia News, Indian Muslim News, World Muslim News, Womens in Islam, Islamic Feminism, Arab Women, Womens In Arab, Islamphobia in America, Muslim Women in West, Islam Women and Feminism