New Age Islam News Bureau
13 Jul 2015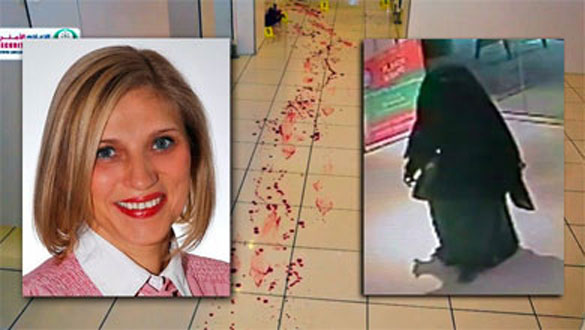 Trail of blood: The crime scene was covered in the victim's blood in images revealed by police in Abu Dhabi
-----------
• UAE Executes Woman over U.S. Teacher's Murder
• American Artist Shows Strength of Muslim Women
• Malala Turns 18, Says World Failing Syrian Children
• Women Bangle Makers Showcase Work At Lok Virsa, Pakistan
• Unidentified Gunmen Blown Up Girls' School in Nangarhar
• Chad Warning On Veil Ban after Deadly Boko Haram Bombing
• Minerva Art Gallery, Pakistan, To Hold Milaad for Women
• King Salman to Sponsor 2nd Women's Business Forum
• Younger Generation of British Muslims Showing Shift In Attitude to Gender Roles
• Pak Govt Set To Establish Independent Commission on Child Rights
Compiled by New Age Islam News Bureau
URL: https://www.newageislam.com/islam,-women-and-feminism/new-age-islam-news-bureau/courts-record-six-cases-of-'marriage-without-girls'-consent'-in-saudi-arabia/d/103882
---------
Courts Record Six Cases Of 'Marriage without Girls' Consent' In Saudi Arabia
13 July 2015
JEDDAH: Riyadh and the Eastern Province topped the list of lawsuits related to marriages without prior consent of the female during the first half of this year, according to statistics released by the Ministry of Justice.
The statistics include other civil cases mostly concerning divorce, marriage contracts, alimony and child custody.
This year witnessed a new category of cases under the name "marriage without consent." The number of cases in this category in EP amounted to only two cases, or 28.6 percent of the total. Riyadh came second, followed by Qassim and Makkah with one case each.
Last year, Riyadh led in terms of this category of cases with five cases, or 83.3 percent, followed by Makkah with one case, or 16.7 percent. The other regions of the country did not record any cases in this category.
In 1434 Makkah led in terms of cases of marriage without consent with four cases, with only one case in Riyadh. The other regions did not record any of this type of case.
The majority of cases registered in Riyadh involved divorce, alimony and child custody. Makkah also topped the other regions of the Kingdom in Adal cases, where the guardian, the father, uncle or brother, refused to give the female for marriage, followed by Riyadh, Al-Sharqiyah and Qassim.
إعلان
Lawyers and legal experts said the cases of marriage without consent are among the new cases seen by Saudi courts. "This is proof and concrete evidence that Saudi women are now aware of their rights. But males, nonetheless, suffer more than the females in this regard."
Speaking to a local publication lawyer Salim Al-Muhaimed said the reasons for cases of marriage without consent are traced to family strictness, among relatives in particular.
http://www.arabnews.com/saudi-arabia/news/775771
---------
UAE executes woman over U.S. teacher's murder
13 July 2015
An Emirati woman was executed on Monday after being found guilty in the jihadist-inspired murder of an American teacher in Abu Dhabi last December, Al Arabiya News Channel reported.
The UAE Supreme Court last month found Alaa Bader al-Hashemi guilty of stabbing to death teacher Ibolya Ryan, 47, in a shopping mall toilet, as well as "creating a handmade bomb" she placed in front of an Egyptian-American doctor's home.
See also: UAE woman gets death penalty for killing U.S. teacher
See also: Abu Dhabi mall murder suspect found to be 'mentally stable'
See also: UAE police detain suspect in U.S. woman killing
The ruling was made by the Federal Supreme Court in Abu Dhabi, which meant it could not be appealed.
The attacks took place within hours of each other in the UAE capital on December 1. Hashemi was arrested by Abu Dhabi CID during a raid at her home three days after the incident.
Hashemi "was also found guilty of sending money to Al-Qaeda in Yemen, knowing the funds would be used in terrorist acts," a report in Abu Dhabi-based newspaper The National said.
Hashemi, surrounded by four police officers, "showed no emotion as the verdict and sentence were announced," the daily said.
"As she was led from court she smiled and waved at her father and brother, who were in court to witness the proceedings."
International media have been denied access to her trial, which began in March.
Hashemi had asked the court to provide her with psychological help, saying she had "unreal visions" and would see "ghost-like people" due to a chronic mental illness.
The court ordered psychiatric tests which it said showed she was aware of her actions.
https://english.alarabiya.net/en/News/middle-east/2015/07/13/UAE-woman-executed-over-killing-of-U-S-teacher-.html
---------
American Artist Shows Strength of Muslim Women
July 12, 2015
When talking about Muslim women, one artist says there's a tendency in America to categorize Muslim women into either the victim who needs to be rescued and saved from her people or from her religion.
Ameena Khan, local contemporary artist whose art communicates the everyday struggles and victories of Muslim women, said she is creating pieces that expand the narrative about Muslim women.
Hosted by the USF Department of Women and Gender Studies and artist-led organization Art2Action, Khan's work will be featured in the on-campus gallery "Dialogue in Color," which is free and open to the public in 202F of the College of Arts and Sciences Multidisciplinary Complex (CMC) until July 31.
Khan said she began wearing the hijab in 1998 when she was still in college. Becoming a Muslim as a white woman was a culture shock, not from her fellow Muslims but from her fellow Americans.
"I went from being a regular American – fitting in, no one looked at me twice," Khan said.
"I was an American basically, you don't even need to say 'regular'. Just American and now I'm a foreigner. So I've had both sides of the equation where I've fit in and then I don't fit in anymore. Where I'm part of the majority and then where people probably assumed I was Christian and now I'm obviously Muslim and so now I'm part of a minority. So it's been a very interesting transition, something I didn't expect at all. That experience is quite different than what one might experience if you were raised in a predominantly Muslim country."
Khan said one of her main objectives in galleries like the one at the CMC, is to project stories of Muslim women that are complex and dive further into the emotional burdens behind them.
One piece in particular, "No Need for Rescue" depicts a fierce Muslim woman glaring at the viewer from the frame. Her lips pursed and eyes fixed, her face and clothes left unpainted on an indigo backdrop, the piece demands attention.
"With that piece in particular, it's addressing the idea of the Muslim woman being a victim of her religion, of the male figures in her family because that's a common perspective – that the men are controlling the women," Khan said.
The emotions Khan felt toward this and other misunderstandings of Muslim culture manifested themselves in an unexpected way when she began sketching "No Need for Rescue." After about five sketches, she said the direction had shifted away from the original outline.
"I was going to move in a very different direction with the work," Khan said. "But when the woman was realized and staring back at me on the canvas, as a sketch before I painted her, I realized she was much more powerful than what my original plan was. So I kind of went with it and tried to bring out the power and the energy behind the work."
Ultimately the piece became a symbol for a woman who is very strong and not a victim, Khan said.
"In general, most Muslim women that you would meet are like that, they're very brave and courageous and they believe in what they do and what they wear and how they choose to dress and I like that," she said.
Khan describes herself as an emerging artist with a long road ahead of her in the Tampa art scene. She moved here from her hometown of Gainesville three years ago. While she builds her portfolio in the city, Khan said the motivation behind her work is more than simple notoriety and fortune. Her motivation comes from God and from spreading awareness and acceptance throughout the community, at universities in particular.
"My focus right now is creating a series of pieces for this show which is all about communicating the American Muslim woman perspective and then once that is ready, to have it travel to different universities because I think that is the best place to have those conversations," Khan said.
She said women's studies departments, religion departments and other fixtures of a college campus are where her work will have the greatest impact, not necessarily selling it at an art or street festival.
"I do that too, but I think the galleries at universities are more appropriate for my work," she said.
Escape is a recurring theme in Khan's work, many of her subjects look upward and even her brushstrokes tend to lift up and away from the canvas. She expressed this as a reaction to how Muslim women face various stigmas in the West, where they often want to escape from persecution and discrimination.
"There's a very real need for Muslim women, and me as well, this need to escape the tension and the sadness and the fear," she said.
Khan said fear was something that has shut down the conversation between Muslims and the rest of Western Civilization.
"Many of my friends have had scary experiences where their physical being is at risk, but thankfully I haven't," Khan said. "What I do feel is the barrier between people. So people are afraid to talk to me or avert their gaze or just don't want to have that interaction."
Khan said she would like to have a conversation, if only others were interested in what she has to say.
"There could be any number of reasons," she said. "I don't get to have those conversations because they're not willing to have those conversations with me. So I feel the barrier and it's a very significant difference between who I was when I wasn't wearing the scarf to who I am now."
http://www.usforacle.com/news/view.php/867596/Local-artist-shows-strength-of-Muslim-wo
---------
Malala Turns 18, Says World Failing Syrian Children
July 13, 2015
LONDON - Malala Yousafzai told world leaders they were failing Syria's children, as the Nobel Peace Prize winner spent her 18th birthday Sunday on the Syrian border.
As she became an adult, the teenager, who was shot by militants in her native Pakistan for campaigning for girls' rights, opened a school for more than 200 Syrian girls living in refugee camps in Lebanon's Bekaa Valley.
The Malala Yousafzai All-Girls School will offer education and skills training to girls aged 14 to 18.
"I am honoured to mark my 18th birthday with the brave and inspiring girls of Syria," Yousafzai said in a statement received in London.
"I am here on behalf of the 28 million children who are kept from the classroom because of armed conflict. "Their courage and dedication to continue their schooling in difficult conditions inspires people around the world and it is our duty to stand by them.
"On this day, I have a message for the leaders of this country, this region and the world: you are failing the Syrian people, especially Syria's children. This is a heartbreaking tragedy - the world's worst refugee crisis in decades."
Lebanon is hosting nearly 1.2 million registered Syrian refugees, though the total number in the country may be even higher. The influx has placed strains on Lebanon, which has just four million citizens. The Lebanese government has prevented the establishment of official refugee camps, giving rise to informal shanties known as "tented settlements" in rural areas.
Malala was flown to Britain for treatment after the Pakistani Taliban tried to kill her in October 2012, and now lives permanently in Britain with her family.
Reuters adds: "I decided to be in Lebanon because I believe that the voices of the Syrian refugees need to be heard and they have been ignored for so long," Malala told Reuters in a schoolroom decorated with drawings of butterflies.
The Malala Fund, a non-profit organisation that supports local education projects, paid for the school.
"Today on my first day as an adult, on behalf of the world's children, I demand of leaders we must invest in books instead of bullets," Malala said in a speech.
Lebanon is home to 1.2 million of the 4 million refugees that have fled Syria's war to neighbouring countries. There are about 500,000 Syrian school-age children in Lebanon, but only a fifth are in formal education.
Lebanon, which allows informal settlements on land rented by refugees, says it can no longer cope with the influx from Syria's four-year conflict. One in four living in Lebanon is a refugee. The UN says the number of Syrian refugees in neighbouring countries is expected to reach 4.27 million by the end of the year.
"In Lebanon as well as in Jordan, an increasing number of refugees are being turned back at the border," Malala said. "This is inhuman and this is shameful."
Her father Ziauddin said he was proud she was carrying on her activism into adulthood.
"This is the mission we have taken for the last 8-9 years. A small moment for the education of girls in Swat Valley: it is spreading now all over the world," he said.
Malala was feted with songs and a birthday cake. Moved to tears by the girls, she was modest when asked for advice.
"They are amazing, I don't think they need any message, I don't think they need any other advice because they know that education is very important for them."
http://nation.com.pk/national/13-Jul-2015/malala-turns-18-says-world-failing-syrian-children
---------
Women Bangle Makers Showcase Work At Lok Virsa, Pakistan
July 12, 2015
Islamabad - Eid Families Mela organised by the National Institute of Folk and Traditional Heritage (Lok Virsa) is in full swing here at Shakarparian. Though the festival features various activities like art and craft bazaar, artisan stalls, garments and Hina stalls, yet the major attraction remains the demonstration of work by a group of women bangle makers specially invited by Lok Virsa for festival from Hyderabad, Sindh.
They are Rubina, Irfana and Quratulain accompanied by facilitator Jibran. These creative women are beautifully embellishing glass bangles with the help of different tools specially made for the purpose. They use this profession as a source of their livelihood and contribute to alleviate poverty among women of their community.
Bangles are a special traditional ornament worn by women. It is a common jewellery item worn by almost all females of all ages on special occasions like Eid, wedding and other festivals. Bangles were also in use in ancient times as bangles made from shell, copper, bronze, gold etc, have been excavated from multiple archaeological sites. These days various types of bangles are available in the market, in different colours, designs and shapes, and made from different materials. Young girls like glass bangles coated with glitter and with ghungroo hanging to them the most.
Bangles are an essential element of our culture and tradition. They enhance the elegance of every young girl; a wrist adorned with bangles has a charm of its own. A gift of bangles conveys the message of love and compassion. Whatever the value or tradition, bangles are a passion with most females and they let no opportunity to adorn their arms with bangles in matching colours on every occasion.
The Eid Mela will continue with all its festivities till Chand Raat daily from 5.00 to 11.00 p.m. The women bangle makers are here till July 15, 2015 thereafter they will leave for their hometowns to celebrate Eid.
http://nation.com.pk/islamabad/12-Jul-2015/women-bangle-makers-showcase-work-at-lok-virsa
---------
Unidentified gunmen blown up girls' school in Nangarhar
By ZABIHULLAH MOOSAKHAIL
Jul 13 2015
Unidentified gunmen have blown up a girls' school in eastern Nangarhar province, destroying all of its rooms and burning school books and school documents inside.
Mohammad Asif Shinwarai, spokesman for the education directorate of Nangarhar province says that a group of unknown armed men set explosives around the girls' school in Bodyalai area of Shiwa District late last night.
He said that the school building is almost completely destroyed in the explosions and fire.
According to Shinwari, 850 students were studying in this school.
This is at least sixth attack on schools in the eastern part of the country this year.
On the night of January 29, a group of unidentified gunmen attacked two schools in Haska Mina District of Nangarhar province. They blew up the girls' school with bombs and broke windows and doors of the boys' school.
Another girls' school was blown up with bombs in Naray District of Kunar province on the night of February 7.
Following this incident, a school was blown with bombs in Mohmand Dara District of Nangarhar province on the night of February 9.
Two days later another school came under attack in Kunar province. Unidentified gunmen went to a school in Sarwan area of Dangam District and set it on fire on the night of February 11.
There is no claim of responsibility for these attacks. Security officials after every incident have said that an investigation is underway to detain the culprits but six months pass and there is no report of the arrest of any suspect into this connection. http://www.khaama.com/unidentified-gunmen-blown-up-girls-school-in-nangarhar
---------
Chad warning on veil ban after deadly Boko Haram bombing
12 July 2015
Chadian police on Sunday warned that anyone found wearing the Muslim full-face veil would be arrested, after a Boko Haram suicide bombing in the capital left 15 dead.
Saturday's attack in a bustling N'Djamena market by a man disguised as a woman in a full-face veil also injured 80 and spread panic across the city.
"This attack just confirms that a ban" on the full-face veil was justified, national police spokesman Paul Manga said, adding that "it now must be respected more than ever by the entire population."
"Anyone who does not obey the law will be automatically arrested and brought to justice," he warned.
The bomber detonated his explosives belt when he was stopped for security checks at the entrance to the city's main market.
Muslim-majority Chad banned the full-face veil, ramped up security measures and bombed militant positions in Nigeria last month after the first ever Boko Haram attack in its capital.
Security was tightened across the dry and dusty capital on Sunday with police and soldiers deployed in all areas, including intersections, markets and mosques.
Nine of the dead were women traders, and fear still permeated the market on Sunday.
"What was happening elsewhere and what we heard about from media reports is now happening here," said Zenaba, a woman trader in her forties.
"I'm really scared for me and my children," she said.
Boko Haram claimed responsibility on Twitter for the suicide bombing, signing off as "Islamic State, West Africa province" -- the militants' self-styled moniker since pledging allegiance to the Islamic State group in March.
Boko Haram's deadly insurgency has killed at least 15,000 people since 2009 and left more than 1.5 million homeless.
A four-nation coalition of Nigeria, Niger, Chad and Cameroon has reportedly pushed out the militants from captured towns and villages in an operation that began in February.
https://english.alarabiya.net/en/News/middle-east/2015/07/12/Chad-warning-on-veil-ban-after-deadly-Boko-Haram-bombing.html
---------
Minerva Art Gallery, Pakistan, To Hold Milaad for Women
July 12, 2015
Islamabad - Minerva Art Gallery is organising a Milaad for women on Tuesday (July 14) from 1100 to 1300 hours. The invitation is free for all. However, due to limited seats, reservation would be required. "If you want to share a story from Prophet Muhammad (Peace Be Upon Him) life, or want your daughter to recite a Naat, or contribute in the form of snacks for the kids, please mention it in the reservation form," said a press release.
http://nation.com.pk/islamabad/12-Jul-2015/minerva-to-hold-milaad-for-women
---------
King Salman to sponsor 2nd Women's Business Forum
13 July 2015
RIYADH: Under Custodian of the Two Holy Mosques King Salman's aegis, the Council of Saudi Chambers (CSC) will organize the 2nd National Business Women's Forum (NBWF-2015) in September.
The two-day forum will be held under the theme "The reality of women's investments in the Kingdom and how to develop them," at the Four Seasons Hotel in Riyadh.
"The high profile event will identify the reality of women's investments, the challenges they face in different regions of the Kingdom and how to overcome them," according to the CSC statement.
It also seeks to educate businesswomen on new regulations for investment procedures and other issues concerning this sector.
It will also highlight initiatives undertaken by various agencies in the country, especially the private sector, to empower Saudi women in the areas of finance, training and employment.
The forum will aim to introduce successful experiences of women, both locally and internationally, in the field of investments, and raise awareness of the importance of integration of businesswomen and merging their investment projects, in addition to methods necessary to facilitate the process.
إعلان
It will also seek businesswomen's opinions on various executive bodies, the government and private sectors on ways to create a conducive climate for investment.
The event will also work to develop mechanisms that can contribute to motivate and encourage Saudi women to more broadly enter the world of investment and in a professional manner.
According to the CSC source, the event will discusses four major topics including development of women's investments; women's investments in the Kingdom between diversity and concentration; a review of the role of entrepreneurship and innovation in women's investments; and regional experiences in the development of women's investments.
http://www.arabnews.com/saudi-arabia/news/775761
---------
Younger generation of British Muslims showing shift in attitude to gender roles
13 July 2015
Most young British-born Muslims reject the view that married women should stay at home while their husbands go to work, marking a shift of attitudes from older generations of Muslims in the UK, according to a report by a thinktank.
The difference of views between younger and older British Muslims regarding the role of men and women in society is stark, according to new findings shared with the Guardian from the thinktank Demos, with more than half of 16- to 24-year-olds disagreeing with the statement: "A husband's job is to earn money, a wife's job is to look after the home and family." Fewer than 24% agreed. In contrast, 50% of those respondents aged 55 or older agreed with the statement, while less than 17% disagreed.
The findings, taken from a sample size of 38,952 respondents from randomly selected households, builds on recent census analysis that shows there is a young and increasingly well-educated Muslim population in Britain. In the last census, there were nearly 330,000 Muslim full-time students in the UK, of which 43% were women. But analysis of the 2011 census shows that within the 16 to 74 age band, 18% of Muslim women are "looking after home and family", compared with 6% in the overall population.
The question asked to respondents was "a robust and legitimate question" phrased in "everyday language" said Dr Richard Norrie, lead analyst of the Demos Integration Hub.
Duncan O'Leary, research director at Demos, said: "These are encouraging findings," and added that ensuring the workforce is more representative of the country "would be a step forward for us as a society.
"It would be good for future generations in providing role models for young people to emulate. And it would be a boost for our economy too, if talented people find their way into the right jobs,"
He added that the government had a role to play in driving up educational achievement and eradicating labour market discrimination. "But as this study shows, generational changes in attitudes and outlook could be be the biggest factor of all," he said.
Dr Sundas Ali, lecturer in politics and political sociology at the University of Oxford, said that while the new findings helped understand some of the "soft" factors – such as as attitude – behind the low economic participation of British Muslim women, they do not take into account factors such as provision for childcare services and perceived discrimination in the workplace.
According to the Demos findings, about 11% of respondents with no religion agreed that husbands should work while wives stayed at home, with nearly 63% disagreeing. For Christians who were asked, 18% agreed while nearly 52% disagreed.
Recent analysis of the labour force survey found that Muslim women were 71% more likely than white Christian women to be unemployed, even when they had the same educational level and language skills, with discrimination being a key factor according to Dr Nabil Khattab, lecturer of sociology at the University of Bristol.
British Muslim author Shelina Janmohamed said: "The way the question is phrased doesn't really reflect the reality, although women may stay at home it does not mean they are economically inactive.
"Even those over 55, we know many of them did work. We know lots of young women are getting more professional and employable skills, and so are more likely to want to use those skills. Muslims often have very strong family values, and so many young Muslim women will want to work but perhaps think they won't have the right flexibility."
The research shows gender differences among all Muslim respondents. Nearly 42% of Muslim men agreed that husbands should work while wives stayed at home, while 26% disagreed. Nearly 35% of Muslim women agreed and about 38% disagreed with the same statement.
Halima Khanom, 25, a projects coordinator at the Imperial War Museum, said she was the first person in her family to go to university: "My mum was stay-at-home, as were most of her peers," Khanom said. "She worked hard to create a home for us, that should be recognised as an achievement in itself."
Khanom, who describes herself as a second generation British Bangladeshi, said Muslim women in the UK now had more educational options: "I've always been academic and loved school and so naturally saw myself as doing more, I think I was curious more than anything. I don't know whether this curiosity was fostered by family or at school or through my friends, but university was probably where I was really able to explore it fully."
She said that as more opportunities became available, some of the older women in her family were thinking of going back to education. "Change has happened as more services are becoming accessible."
The findings show significant differences in views among Muslim women born in the UK and respondents from overseas, with fewer than 24% of British-born Muslim women believing that wives should stay at home, compared with nearly 45% of Muslims born abroad. http://www.theguardian.com/world/2015/jul/13/british-muslims-gender-roles-attitude-shift
---------
Pak Govt Set To Establish Independent Commission on Child Rights
July 13th, 2015
ISLAMABAD: After setting up the National Commission on Human Rights (NCHR), the government is now preparing to establish a similar body to protect rights of children in accordance with the United Nations Convention on the Rights of the Child.
The bill to set up the National Commission on the Rights of Child (NCRC) was moved by Minister of State for Parliamentary Affairs Sheikh Aftab Ahmed on behalf of Law Minister Pervez Rashid in the National Assembly on April 20.
The bill seeking to establish an independent commission to monitor, protect and promote children's rights is on the agenda of a meeting of the National Assembly's standing committee on law and justice to be held on Monday (today).
It suggests formation of an independent commission comprising 18 members, including chairperson, with powers of a civil court. Of the 18, 10 will be ex-officio members and the remaining eight, including chairperson, will be appointed by the federal government.
"A person... of not less than 45 years of age, having experience of not less than 15 years of working in the field of child rights" is eligible to be appointed as the commission's chairperson.
"Six members, one each from each province, the Islamabad Capital Territory and the Federally Administered Tribal Areas, of whom two members shall be from women and one from minorities, all having experience of not less than 10 years of work in the field of child rights" will be nominated by the federal government.
One child member and secretary of the commission will also be appointed by the federal government. However, the bill does not explain the criteria for selection of the child member.
The secretary of the division responsible for protecting child rights, representatives of foreign affairs and interior ministries and heads of the NCHR, the National Commission on the Status of Women and the provincial commissions on children's rights will be ex-officio members of the NCRC.
"The chairperson and every member, other than ex-officio members, shall hold office for a term of three years, extendable to a further term of three years, provided the chairperson or a member... shall not hold office for more than two terms," says the bill.
The chairperson or a member may be removed from the office "on the grounds of misconduct" or through a resolution passed by 50 per cent of the members of the commission.
The proposed commission is bound to meet at least once in every quarter and the quorum of the meeting "shall not be less than 50 per cent of its total membership... provided that 50 per cent of ex-officio members are also present".
The basic functions and responsibilities of the NCRC will be to "examine existing or proposed legislations and administrative instruments and proposals related to child rights and to make commendations".
The NCRC will liaise with the provincial commissions and other provincial organisations concerned, review any policy or practice aimed at protection of child rights and recommend measures for their effective implementation.
The commission will have the powers to hold an inquiry into "violation of child rights and recommend to the relevant agency or department initiation of proceedings in such cases".
The NCRC will examine "all factors that inhibit enjoyment of rights of child, for example, violence, abuse and exploitation, trafficking, torture, pornography and prostitution and recommend appropriate remedial measures".
The commission will be tasked to "spread awareness and promote dialogue on child rights among different sections of society and promote awareness of the safeguards available for protection of these rights".
The NCRC will "advise the federal government to sign, ratify or accede to an international treaty, protocol, etc".
While inquiring into complaints of violations of child rights, the NCRC "may call for information or report from the federal government, civil society organisations and autonomous bodies". In this regard it "shall have the powers vested in a civil court under the Code of Civil Procedure, 1908 (Act V 1908) for enforcing the attendance of any person and compelling the production of documents".
The proposed commission will prepare an annual report on the situation of child rights in the country and its own performance and submit it to the federal government for its presentation in the National Assembly and the Senate.
The draft law suggests that the federal government will establish a fund to be known as the "Child Rights Fund", which will be utilised by the commission to meet its expenditure.
The federal government will allocate non-lapsable grant to the commission every year and voluntary donations or subscriptions as may be made by provincial governments will also be utilised for this purpose.
http://www.dawn.com/news/1194101/govt-set-to-establish-independent-commission-on-child-rights
---------
URL: https://www.newageislam.com/islam,-women-and-feminism/new-age-islam-news-bureau/courts-record-six-cases-of-'marriage-without-girls'-consent'-in-saudi-arabia/d/103882