New Age Islam News Bureau
7 Jul 2014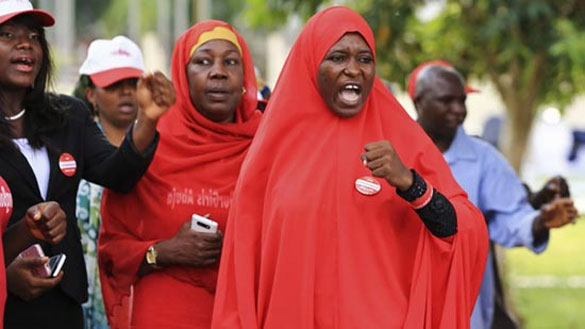 Members of the Bring Back OurGirls Abuja campaign group sing a song during a sit-in protest at the Unity fountain in Abuja. (File photo: Reuters)
----------
• Dutch Parents Warned After Girl (15) Tries To Join Jihadists
• Burundian Women Want Greater Say in Running of Country
• State Dept. Spends $450K to Teach Afghan Women to Play Cricket
• Ban Birth Control! Iran Mulls Extreme Baby Boom Plans
• Malala Urges Help for Waziristan Displaced
• More than 60 women, girls escape Islamist abductors in Nigeria]
• 23 Businesswomen Take Part in 'Ramadan Lanterns' Exhibition in Jeddah
• Man Arrested For Cross-Dressing in Bahrain
• Second Saudi Arabian Woman Secures Commercial Pilot Licence
• UAE Donations Help Fund School Project in Afghanistan
• Ideal Orphans Village in Lebanon Is Now Complete
Compiled by New Age Islam News Bureau
URL: https://newageislam.com/islam-women-feminism/couple-imparts-hi-tech-schooling/d/97955
------------
Couple Imparts Hi-Tech Schooling to Muslim Girls in Jharkhand
07 July, 2014
A couple in remote Itki village, about 30 kms from Ranchi, educates young Muslim girls to be self- dependent by familiarising them with hi-tech know-how.
On one hand, while the usual restrictions are imposed by fundamentalists on Muslim women, particularly in the field of education, Fatima Education Academy in the Naxal-affected village has come up with an advanced system of teaching.
The wife and principal, Tabassum Fatima, on Friday said she believes that girls should not be confined to cooking alone.
"This is the thinking of our community that girls should not be educated. They should know all about household chores, how to cook food, etc. What else do they need to do except cook food? But I am against this," said Fatima.
A teacher at the school, Bilkis Asmin, said students in the academy are imparted education up to Class 10 under the Jharkhand Board in the fields of religion, science and technology, computer, handicraft.
"All the optional courses are being taught because of which the students become self dependent. Even if they do not get a job, they can begin with a small venture and can start their own boutique," said Asmin.
After receiving education in Lucknow, the Nadvis came to Itki where, they set up the Fatima Educational and Health Trust in 1998 with just 17 girls, with an aim to do their bit for society.
The Fatima Girls Academy now has 500 girl students, including 50 orphans, whose entire expenses are met by the trust.
"Earlier, no importance was given to female education in Muslim community. So unless we educate the girls, the possibility of advancement is difficult," said the husband and director, Naseem Anwar Nadvi.
The girls themselves are very enthusiastic about their future in the modern world and are raring to find a place for themselves.
"This is very useful. It will help us to work in railways. In case I become a teacher, I can teach using computers," a student, Shafiqua Nikhat, echoed the mood of her other schoolmates.
The couple has been determined in their mission and said that Islam is never against imparting modern education to women.
Such an effort in this remote area of Jharkhand is an inspiration and an example for others.
http://www.business-standard.com/article/news-ani/couple-imparts-hi-tech-schooling-to-muslim-girls-in-jharkhand-114070500358_1.html
------------
Dutch Parents warned after girl (15) tries to join jihadists
07 July, 2014
Parents of Muslim teenagers who want to travel to Syria to join rebels fighting against President Bashar al-Assad have been warned they may have to confiscate their children's smartphones to prevent them contacting other would-be jihadists through social media.
The warning to parents across Europe came from the Worldwide Relief Foundation, based in the Netherlands, after a 15-year-old Dutch girl was detained by police at Dusseldorf airport in Germany, en route to Turkey and then Syria with a group of four other "sisters", all under 18. The girl, whose first name is Moezdalifa, from Hilversum, southeast of Amsterdam, was reported missing by her family a fortnight ago – after they found a note saying she was travelling to Syria and didn't want them to worry.
She was stopped by German police before boarding a flight after a tip-off from the Dutch security service, AIVD, and is being questioned about her plans.
http://www.irishtimes.com/news/world/middle-east/parents-warned-after-girl-15-tries-to-join-jihadists-1.1854649
------------
Burundian Women Want Greater Say in Running of Country
07 July, 2014
Bujumbura — As Burundi heads towards the 2015 general elections, and despite a quota of 30 percent women's representation in parliament, women in this southeast African nation feel that they are yet to have a significant say in the management of their country.
Bernardine Sindakira, the chairwoman of Synergy of Partners for the Promotion of Women's Rights (SPPDF), a Burundian coalition of women's rights organisations, tells IPS that the country's very traditional culture still considers women as "homemakers" as women are educated to play this role from young. "A hen doesn't crow when the rooster is there," says a Burundian proverb.
"We've got so many woman engineers at building sites, doctors, heads of organisations, business women, security women, and so many others." -- Marceline Bararufise, Burundian Member of Parliament
"This has long kept her in the position of being unable to [ensure] her empowerment and have the place she deserves in the country's management," says Sindakira.
This country is still recovering from a 12-year ethnic-based civil war after the 1993 assassination of the country's first democratically-elected president, Melchior Ndadaye. Almost 300,000 people died in the Hutu-Tutsi violence and the conflict "had a very negative impact on women and young girls who experienced rape and other forms of sexual violence," according to a 2011 Global Network of Women Peacebuilders report.
According to the Inter-Parliamentary Union, after the 2010 elections women in Burundi held 34 out of 106 seats in the lower house, about 32.1 percent, "as well as a significant rise in the upper house to 46.3 percent, due to a considerable degree to its quota system."
But according to a 2011 report by the Global Network of Women Peacebuilders "the law does not specify the quota for women in other decision-making bodies. Thus in the top three offices i.e. President, First Vice President and Second Vice President, there are no women."
SPPDF figures show that although the 30 percent quota is almost fully respected in elective agencies like parliament and local administration, there is still a long way to go to fill the gap in government institutions where women represent only an average of 20.15 percent.
In security services, women's representation remains the lowest.
The 2012 official records of the Burundi National Defence Force show that women represent just 0.5 percent of the force -- 148 woman soldiers of the total 25,000.
The Burundi National Police comprises 2.9 percent women.
Marceline Bararufise, a Member of Parliament (MP), head of the Parliamentary Education Sub-committee, and head of the Association of Parliamentarian Women in Burundi, told IPS that there is proof that women can perform better than men when it comes to public service delivery.
A 2012/2013 national survey conducted to assess the public service delivery at the district level, revealed that the district which came in first place for service delivery was a northern district headed by a woman. Many other districts headed by women were among the most successful, Bararufise said.
As SPPDF has launched a nationwide campaign for increasing women's representation in the overall management of the country, Sindakira regrets that the law itself still discriminates against women.
"For example, we have been fighting for a parliamentary review of the matrimonial law so as to enable women to benefit from [inheritance], but the current situation is that we are even banned to raise the issue. This hampers all women's efforts to stand for their rights," Sindakira said. Here, women are not allowed to inherit and property passes from father to male heir.
She also regretted that so many women still consider that a review of the matrimonial law would be a breach of culture.
"Having educated women implies that the culture has also changed and thus no reason for the dark cultural practices to keep the Burundian woman behind," said Sindakira.
Bararufise, who served as a governor before becoming an MP, points out though that Burundian woman have made significant steps towards self-empowerment.
"Now, apart from these political positions enshrined within the constitution, we've got so many woman engineers at building sites, doctors, heads of organisations, business women, security women, and so many others. This is to show that a woman of 20 years back is totally different from women now," she told IPS.
She said that while she understood that Burundian culture was among several factors impeding women's emancipation, it was important to note that women's empowerment did not mean standing completely against culture as there remain some positive aspects of Burundian culture that need to be preserved.
"The only thing is that both men and women must understand that the sustainability of their family is the duty of both of them [and comes] with equal responsibility," she said.
Bararufise regretted that Burundian women in leadership positions were disrespected by their male counterparts. "In some situations, women in positions of leadership find it difficult to command respect from men."
She also acknowledged that a lot still needed to be done to evolve and change these current attitudes. "We want men to understand that women are able and have rights to contend for higher positions, instead of staying home."
http://allafrica.com/stories/201407070307.html?viewall=1
------------
State Dept. Spends $450K to Teach Afghan Women to Play Cricket
07 July, 2014
(CNSNews.com) – The State Department is spending $450,000 to teach Afghan women to play cricket in a leadership exchange with female cricket players from Pakistan and India.
"Cricket is increasingly popular among Afghan women, but opportunities to participate in the sport are still rare. Women who play sports are powerful symbols of moderation, equality and progress," the grant said. "Their participation in sports in public fora is a powerful visual that counters negative narratives about the role that women should play in Afghan society."
The Public Affairs Section (PAS) of the U.S. Embassy in Kabul, Afghanistan invited eligible organizations to submit proposals for the development, coordination, and implementation of a regional sports leadership exchange for female cricket players from Afghanistan, Pakistan, and India.
About 15 participants from each of the three countries (consisting of players, coaches, staff, and chaperones as necessary) will take part in a week-long leadership and cricket skill-building exchange programs in each of the three countries.
"For each exchange week, the implementing partner will work closely with the hosting country to organize a program that includes professional cricket training, leadership and team-building activities, cultural excursions to familiarize guests with the host country, and friendly matches," the grant said.
"On an individual level, participating in sports helps women feel empowered and teaches them the value of teamwork. It also gives them increased confidence, strength, and strategic thinking abilities they can use in all aspects of their lives," it said.
Although India and Pakistan have "well-developed professional women's cricket programs," the exchange could greatly benefit Afghanistan as it develops its own cricket programs for women.
"A regional women's cricket exchange between women cricket players from Afghanistan, Pakistan, and India will build the skills of Afghan women as cricket players, demonstrate their role as equal members in Afghan society, increase Afghanistan's capacity to provide opportunities for women to play cricket at the national and regional levels, and foster positive relationships between Afghanistan, Pakistan and India through sports," the grant said.
The objectives for the leadership exchange are as follows:partnerships with the official cricket bodies and governments of each country involved cricket training and athletic development strategic thinking and team-building activities increased familiarization with host country culture
social media outreach activities and traditional media engagement activities to build familiarity and sustain project momentum between exchanges sustainability safety, security, and outreach participation Cricket players will take part in a week-long exchange three times a year.
"Proposals should describe what sort of activities will be planned to help the players become and stay familiar with each other before and in-between the exchanges and to familiarize them with the other cultures," it said.
The grant calls for "a heavy social media aspect" to the exchange.
"Diverse social media tools such as blogging, Twitter, Facebook, a dedicated website, and Instagram should be incorporated into the program to allow audiences in all three countries and around the world to learn more about the countries involved, cricket as a sport, and the women's own experiences," the grant said.
"Proposals must also address how the women's safety, security and privacy will be handles," the grant said. It should include a plan for how the women will take part in "photo opportunities, social media, and media interviews while still respecting cultural norms and expectations."
The grant was announced on June 3, 2014, and the closing date for applications is July 3, 2014.
CNSNews.com contacted the State Department for comment regarding the grant, but no response was given by press time.
http://cnsnews.com/news/article/melanie-hunter/state-dept-spends-450k-teach-afghan-women-play-cricket
------------
Ban birth control! Iran mulls extreme baby boom plans
07 July, 2014
Iran's Supreme Leader, Ayatollah Ali Khamenei, is contemplating a ban on vasectomies and other birth control measures in an attempt to rekindle the Islamic Republic's falling birthrate.
The birth rate has dropped from 3.2 percent in 1986 to 1.22 percent now, according to the CIA World Factbook. At present fertility rates, Iran's median age is projected to increase from 28 in 2013 to 40 by 2030, according to U.N. data.
In his 14-point decree online, Khamenei said increasing Iran's 76 million-strong population would "strengthen national identity" and reverse "undesirable aspects of Western lifestyles."
Khamenei is ambitiously calling for a population of 150 million.
In reaction, Tehran lawmakers passed a bill that would see the imprisonment of doctors for five years if found guilty of performing birth control procedures. The bill is yet to be ratified and will be scrutinized by a constitutional watch dog.
The Iranian leadership is performing major U-turns with their population policy; flitting from the post Islamic Revolution baby boom to fuel the Gulf War, to the "fewer kids, better life" motto of the late 80s and now reverting to the "more kids, stronger Iran" policy.
As the current Iranian leadership attempt to roll-back the reforms made in the 80s, many Iranians — particularly women — are not happy. They fear the movement could further weaken the legal and social status of women in Iran.
Sexual health issues also exist.
"In order to fight AIDS, our only route is to distribute and teach people how to use condoms," Dr Minoo Moharez, head of the AIDS Research Centre at Tehran University told Shargh daily.
"If, based on some policies, the distribution of condoms in the country is faced with limitations, it will cause horrible events, the increase of AIDS patients from unprotected sex will be compounded," she added.
http://english.alarabiya.net/en/variety/2014/07/07/Ban-birth-control-mulls-Iran-s-Supreme-Leader.html
-------------
Malala Urges Help for Waziristan Displaced
07 July, 2014
Malala Yousafzai, the young Pakistani girl shot by Taliban militants, has called upon the world community to help the tens of thousands displaced in Pakistan's North Waziristan region due to the fighting in the area.
The Pakistani military has launched an operation in the area to clear all militants from what is considered to be the stronghold of groups such as the Pakistani Taliban, the Haqqani network, and the Afghan Taliban.
Malala was 15 when she was shot in 2012 as she traveled to school in Pakistan.
She was specifically targeted by the Taliban because of her blog posts about the need for girls' education in her native Swat Valley.
http://www.rferl.org/content/malala-urges-help-for-waziristan-displaced/25445209.html
------------
More than 60 women, girls escape Islamist abductors in Nigeria]
07 July, 2014
More than 60 women and girls are reported to have escaped from the Nigerian Islamist group Boko Haram, security sources say.
They were among 68 abducted last month near the town of Damboa in north-eastern Borno state.
Reports say the women escaped when the militants went to attack a military base near Damboa on Friday.
The Nigerian military said it killed more than 50 rebels in a clash that night.
Boko Haram is still holding more than 200 schoolgirls abducted in April.
Local vigilante Abbas Gava told journalists he had "received an alert from my colleagues... that about 63 of the abducted women and girls had made it back home".
"They took the bold step when their abductors moved out to carry out an operation," he said.
A high-level security source in the state capital Maiduguri confirmed the escape, AFP news agency reported.
Boko Haram triggered an international outcry when it captured 200 girls in Borno's Chibok town on 14 April.
It is demanding the release of its fighters and their relatives in exchange for the girls but the government has rejected this.
Last week three women were arrested for recruiting female members for the militant group, the country's military said.
They were said to have targeted widows and young girls, promising them marriage to Boko Haram members.
A state of emergency is in force in northern Nigeria because of the group's increasingly violent campaign to overthrow the government and create an Islamic state.
Maiduguri was the headquarters of Boko Haram until it was forced out by the military and vigilante groups.
http://www.thedailystar.net/60-nigerian-women-escape-from-boko-haram-32215
------------
23 Businesswomen Take Part in 'Ramadan Lanterns' Exhibition in Jeddah
07 July, 2014
JEDDAH — At least 23 businesswomen are participating in a four-day "Ramadan Lanterns" exhibition at Jeddah Hilton Hotel, Al-Riyadh newspaper reported.
These businesswomen are part of the productive families program of Al-Bir Charitable Society and will showcase handicrafts, traditional clothes and food, among others.
The exhibition aims to promote the handicrafts and to encourage Saudi women to work and become productive members of the community.
Secretary-General of Al-Bir Waleed Bahamdan said productive families taking part in the exhibition were carefully chosen.
He explained that the chosen items received acclaim from other women. By holding the exhibition, Al-Bir Society aims to increase the income of these women who run very small projects, he added.
Bahamdan pointed out that these women are provided financial assistance to ensure that they continue to run their project from their houses. He said the project helped many needy women to become productive members of society.
He added that the program also seeks to defeat dependency on others by creating productive families and providing them with work opportunities.
http://www.saudigazette.com.sa/index.cfm?method=home.regcon&contentid=20140707210738
------------
Man arrested for cross-dressing in Bahrain
07 July, 2014
Manama: A man was sentenced to one month in prison followed by deportation after he was apprehended for wearing women's accessories and makeup in Bahrain.
The expatriate Arab was arrested by a police patrol as he was walking "in a feminine way" in the Bahraini capital Manama and attracted the attention of the servicemen.
He said that he worked in a women's beauty salon and that his profession demanded that he always looked elegant and wore the latest fashion accessories to set a positive example for his clients.
The public prosecution was not convinced by the arguments and charged him with encouraging debauchery. He was subsequently referred to a court that ruled to keep him in jail for one month.
Cross-dressing is banned in Bahrain and in the other Gulf Cooperation Council (GCC) states — Kuwait, Oman, Qatar, Saudi Arabia and the UAE.
Foreigners who are apprehended for their "unacceptable looks" in public are often jailed for a short period before they are sent home.
Local conservatives have regularly called for tougher measures against cross-dressers and gays, accusing them of spreading vice, particularly among young people.
http://gulfnews.com/news/gulf/bahrain/man-arrested-for-cross-dressing-in-bahrain-1.1356706
------------
Second Saudi Arabian woman secures commercial pilot licence
07 July, 2014
Dubai: Yasmeen Mohammad Al Mainmani started to dream about flying when she was just seven years old. She was not particularly dreaming of being a captain, as she was not sure what she wanted to be — a hostess or a pilot.
But she still can recall how she loved flying at a young age.
Today, 23-year-old Yasmeen has fulfilled her dream. She was trained in flying academies in Jordan and the US and recently became the second Saudi women to receive a commercial pilot licence.
"After God, my family has the biggest role," Yasmeen told Gulf News on the phone from Jeddah. "They stood next to me and supported me. I owe all this to my family."
"My father took my hand and travelled with me to Jordan after I completed high school" in 2009 to join the flying academy, Yasmeen said.
She is happy to know that she was the only student in her class to join such an academy after, according to her estimates, between 30 per cent and 40 per cent of her classmates said they wanted to be pilots.
"I found myself alone. It was a big shock for me," she said with a laugh.
"Why should I object? It is a normal thing " asked Mohammad Yousuf Al Mainmani, Yasmeen's father when asked about his reaction to his daughter's plans to enter the aviation field.
"God willing, there will be no field closed in the face of Saudi women in the near future" he added to Gulf News.
Al Mainmani, a businessman and father of 12 children, expressed his "extreme happiness" at his daughter's success in getting the commercial pilot licence.
In 2010, Yasmeen got a private pilot licence from Amman, and returned home in Jeddah, hoping to get a scholarship to continue her education. She said she preferred to be "independent" and not to seek financial help from her family.
"I tried everything but got nothing," she said.
She worked for Rabigh Wings Aviation Academy for a year. And, because of the media attention on her, Yasmeen became known and got an offer from Aerosim Flight Academy in the US to be their ambassador to the Middle East.
She was also offered a scholarship to be trained in the US to obtain an auto commercial pilot licence. She travelled to Florida and continued her education.
After completion of her training in June 2013, she returned to Jeddah, where she joined Nexus Company for flight operation services.
Recently, she passed the practical and oral tests of the General Authority of Civil Aviation (GACA) in Saudi Arabia and got the commercial pilot licence to become the second Saudi woman to obtain what was looked at in the past as unthinkable.
Hanadi Zakaria Al Hindi was the first Saudi woman to become a commercial airline pilot. She received all her licences from abroad, but only got the Saudi one earlier this year.
Before 2014, women were not allowed to take the test to receive the licence. Women were simply not allowed to join aviation.
Still Yasmeen has not been given the green light to fly a commercial plane. She is waiting for an opening to apply for a job as she meets all the requirements. Meanwhile, she continues logging on flying hours.
The required flying hours differ from one company to another. They range from a few hundreds to a few thousand.
Meanwhile, she dreams of flying one of the planes of her current employer, Nexus. She hopes she can ask the CEO, Abdullah Al Sayed, CEO of Nexus Flight operations, to join her.
"He is my idol, and that is why I would like him to be on the plane I am flying,"
The number of women captains are still very low even in other Arab countries where women are allowed to obtain the licence and take the captain's seat of a commercial plane.
Asked about the people's general preference for a male captain in planes, she paused before responding. "Both men and women receive the same training. I don't think you need big muscles to carry the plane on your head. The whole aviation field is about knowledge and information. It is about how much you know the system. It is all about knowledge."
http://gulfnews.com/news/gulf/saudi-arabia/second-saudi-arabian-woman-secures-commercial-pilot-licence-1.1356016
------------
UAE donations help fund school project in Afghanistan
07 July, 2014
DUBAI // In the remote Afghan village of Abdara, girls and boys are being given equal access to education thanks to the generosity of Emiratis.
The Dubai Cares charity recently completed its first school infrastructure project in the war-ravaged country using financial donations from UAE residents and corporations.
The campaign funded the reconstruction of the only two schools in the village, which is located north-west of Kabul in the Panjashir Province, affecting about 950 pupils.
The five-month project was carried out in partnership with Mahboba's Promise, an Australian non-profit organisation dedicated to Afghan women and children.
It involved hiring labourers to build a roof and a solar panel, buying 50 chairs and desks and installing a 2,000-litre water tank at the girls' school.
The boys' school received 100 chairs and desks, a 5,000-litre water tank and had a wall erected around the perimeter to ensure the pupils' safety.
The work was carried out after consultation with villagers, said Maria Al Qassimi, Dubai Care's country programme manager.
"We got the reports about the levels of need in that community and we decided to intervene," Ms Al Qassimi said.
"We asked the community members to come up with ways that they thought we could help them, and for them to propose what they would like to be changed in their community. This was one of the things they proposed and we felt that it was in line with what we do."
The restoration work has given the girls' school a roof for the first time in 10 years, allowing it to continue to operate through the winter, according to Dubai Cares.
Saleh Mohammad, a community elder in Abdara, said he was grateful for the project, which has not only benefited his grandchildren, but the village at large.
"Now we have no worries about their education," Mr Mohammad said. "My grandsons have the benefit of the surrounding wall and my granddaughter will be protected from rain and snow by the new roof throughout winter."
The project also benefited the community through the creation of job opportunities, he said.
"All the workers, including skilled and unskilled labour, were recruited from the local community and reaped the financial benefits of the project."
Dubai Cares is in the process of completing a second, larger education project in the Afghan districts of Bamyan and Baghlan. The initiative is being carried out in partnership with the Aga Khan Development Network and involves building 45 early childhood development centres, refurbishing 72 existing ones, providing teacher training and buying educational materials.
The three-year project, which is expected to benefit about 11,200 pupils, is scheduled for completion next year. It will ensure 60 per cent of pupils are girls by improving enrolment, retention and performance. The programme will also offer literacy classes for mothers and train high-school girls to work as teachers' assistants.
"There's grave need for kindergartens in Afghanistan, because at the moment in the entire country the number of kindergartens or preschools serve only 1 per cent of the under-six population," said Ms Al Qassimi. "It's a staggering figure. So, this is what drove us to intervene."
These initiatives fall under Dubai Care's "What if ..." Ramadan campaign, aimed at raising awareness about the importance of education in breaking the cycle of poverty.
"All these images of half-built classrooms, or ruined classrooms, classes with no teachers, lack of textbooks in classrooms, these are all issues that we face across all the countries that we work in," Ms Al Qassimi said. "So the 'What If ...' campaign is supposed to shed light on things that maybe the population in the UAE is not aware of. The issues that children face in other countries, but maybe people here don't know that they face, that we take for granted.
"This was the purpose of the 'What If ...' campaign, it's to put people in the community of the UAE – for a second – to have them live the circumstances the children in other countries live."
rpennington@thenational.ae
http://www.thenational.ae/uae/education/uae-donations-help-fund-school-project-in-afghanistan#ixzz36lsuyLWg
------------
Ideal Orphans Village in Lebanon is now complete
07 July, 2014
Dar Al Ber Society has accomplished up to 65,785 charitable and constructional projects in 25 countries
The Shaikha Hind bint Maktoum bin Juma Al Maktoum Ideal Orphans Village in Lebanon is now complete, and all facilities of the Dh8.6 million premises have been fully furnished.
The announcement was made by Mohammed Ahmed Al Bahari, board member and head of charity projects at the Dar Al Ber Society at the ninth Orphans Day held at the World Trade Centre on Friday.
"The pioneering project, worth Dh8.6 million, is a milestone in the government-run Dar Al Ber Society's charity works targeting orphans abroad," Bahari told Khaleej Times.
Elaborating, Bahari said the Dar Al Ber Society is currently sponsoring over 29,000 orphans locally and abroad. "The budget specified for the sponsored 29,265 orphans hits Dh55 million every year while the poor and low-income families being sponsored reached 523, let alone 45 special needs people."
Dar Al Ber has also chipped in to the Children's Cancer Hospital Egypt 57357 that offers free treatment, following a protocol of understanding signed recently, he added. "We, via our branches and representatives all over the country, are honoured to unveil a nation-wide campaign to collect donations for the Children's Cancer Hospital Egypt 57357."
Dar Al Ber has further accomplished up to 65,785 charitable and constructional projects in 25 countries, he stated. "These include 1,872 medical schemes, 15,556 mosques, 2,339 endowment projects, 4,547 ventures for productive families, and 41,471 water wells, tanks and supplies projects."
Paying a tribute to Dar Al Ber Society for sponsoring orphans, Dr Khalid Al Anbari, prominent Saudi scholar, said Prophet Muhammad (Peace be upon him) lost his father before being born and later his mother when he was six.
"However, he was protected, sheltered and given a refuge by Almighty Allah as affirmed in Verse No 6/93 of the Holy Quran, reflecting how refined it is to sponsor an orphan, and that both the individual and society may live in peace and harmony only by taking care of necessary requirements of the needy."
The annual ceremony is held every Ramadan under the auspices of Shaikha Hind bint Maktoum bin Juma Al Maktoum, wife of His Highness Shaikh Mohammed bin Rashid Al Maktoum, Vice-president and Prime Minister of the UAE and Ruler of Dubai.
Emirati philanthropist Easa Saleh Al Gurg, the charity personality of the year, was honoured during the celebrations, better known as the 'Mother of Giving' ceremony.
ahmedshaaban@khaleejtimes.com
http://www.khaleejtimes.com/kt-article-display-1.asp?xfile=data/nationgeneral/2014/July/nationgeneral_July27.xml&section=nationgeneral
------------
URL: https://newageislam.com/islam-women-feminism/couple-imparts-hi-tech-schooling/d/97955