New Age Islam News Bureau
1 Nov 2014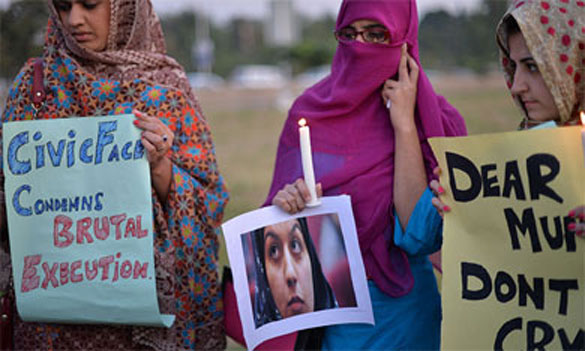 Candlelight Vigil Held In Reyhaneh's Memory Photo by AFP
------------
• Boko Haram Says 219 Kidnapped Schoolgirls 'Married Off'
• Candlelight Vigil Held In Reyhaneh's Memory
• Youth Kills Sister for Honour in Layyah, Pakistan
• 100 Women 2014: Cooking in Iraq, Egypt, Gaza and Yemen
• Pakistan Women Protection Act to Be Reformed
• Saudi Women-Only Shops Charged With Violations
• Female Poverty in Saudi Arabia Due To Illiteracy and Lack of Education
• Indian Schoolgirls Show Talent and Innovation
• Who Takes The Big Share Of Marriage Expenses In Saudi Arabia?
• 'Bad Hijab' Linked To Acid Attacks on Iranian Women
• Jakarta Public Transportation Not Women Friendly
• Yemen Worst Nation for Gender Equality, Women Lag in Economics, Politics - Report
Compiled by New Age Islam News Bureau
URL: https://newageislam.com/islam-women-feminism/cosmopolitan-new-afghan-first-lady/d/99825
------------
Cosmopolitan new Afghan first lady backs French veil ban
October 31, 2014
Issam Ahmed and Emmanuel Parisse
AFGHANISTAN'S cosmopolitan new first lady has backed France's controversial ban on the niqab, comparing the full veil to "blinders" as she prepares to campaign for more respect for women in her conservative adopted homeland.
Rula Ghani shocked Afghan observers earlier this year when she appeared with her husband during the country's presidential campaign, a rare example of a political wife sharing the spotlight.
Now the Lebanese-American of Christian heritage is set to carve out a role for herself as the patriarchal and deeply Muslim nation's first high-profile first lady.
In an interview with AFP at the presidential palace, Ghani, who speaks five languages, reminisced about her time as a student at the prestigious Sciences Po university in Paris which she attended during the late 1960s.
Wearing a vintage Hermes scarf over her hair, she recalled in fluent French that "all the young women at Sciences Po had their headscarves which they would wear as they stepped out of school."
"When issues began to arise around the veil and hijab in France, I was a little shocked, people seem to not have a very long memory."
Wearing the full veil in public was banned by French law in 2011, igniting a fierce debate over the value of religious freedom against social cohesion.
Ghani said she supported the ban. "Regarding the French law against the niqab and burqa which prevent women from being able to move freely and see, because the niqab is a bit like blinders, I am in full agreement with the government of France," Ghani said.
It is a typically forthright view from a woman of strong opinions who has already taken a far more prominent role than her predecessor, Zeenat Karzai, who was practically invisible during the 13-year rule of her husband Hamid Karzai.
Karzai came to power after a US-led coalition toppled the hardline Taliban government that banned women from leaving their homes without male guardians.
Ghani admits she is still trying to define her role, but hopes that by the end of her husband's five-year term, "men in Afghanistan will be more inclined to recognize whatever role their wives take."
"In one word, more respect," she said. Her husband is already leading by example, praising his wife's work with internally displaced people, women and children during his Sept. 29 inauguration speech.
By the standards of most women in Afghanistan, who are confined to domestic family roles, Ghani has had an extremely liberated, globe-trotting life.
Highly educated, with degrees from leading universities in France, Lebanon — where she met her future husband — and the United States, she spent three years in Kabul with her in-laws during the 1970s while her husband worked as a lecturer.
They left for the United States, where he was to pursue his PhD at Columbia University, and could only watch helplessly as their country was invaded by the Soviet Union.
Ghani says she benefits from her diverse background, despite being attacked by political rivals during the campaign for being a Christian. "There are two ways of dealing with it — one is to cling on to one identity alone and the other is to embrace all of them, to try to take advantage of all of them," she said.
Ghani returned to Kabul in 2002 when her husband, then a successful World Bank economist, returned home as the country's finance minister. Though immersed in the affairs of her adopted country, she is a self-professed Francophile who recalls vividly her time in Paris during the student uprising of 1968.
"I found it very refreshing to see people decide that there are certain things they wanted and some things they did not want. It showed some independence of mind," she said.
Her time at the university, together with two years working as a journalist for Agence France-Presse in Beirut, trained her to "think in a very logical way" she says. At AFP her role involved monitoring Arab radio and press every morning for news related to the political upheavals of the early 1970s.
"It was great training for a journalist, because it taught you to be quick but at the same time you had to be accurate," she said. Now aged 66, Ghani hailed the work of brave activists and female politicians for breaking new ground for women in Afghanistan despite discrimination and violence.
Given the hostility of opponents during the campaign, observers believe Ghani will be forced to strike a delicate balance in her new role — a fact she seems keenly aware of. "I am kind of finding my way," she said. "Listening and trying to understand what is happening in Afghanistan." — AFP
http://www.saudigazette.com.sa/index.cfm?method=home.regcon&contentid=20141101222961
-----------
Boko Haram says 219 kidnapped schoolgirls 'married off'
November 1st, 2014
KANO: Boko Haram has claimed the 219 schoolgirls it kidnapped in Nigeria earlier this year have converted to Islam and been married off, according to a new video obtained by AFP on Friday.
The Islamist group's leader, Abubakar Shekau, also denied claims by Nigeria's government that it had agreed to a ceasefire and apparently ruled out future talks.
In addition, Shekau said the Islamists were holding a German national, who was kidnapped in Adamawa state in northeastern Nigeria in July.
The schoolgirls were kidnapped from the remote northeast town of Chibok in Borno state in April, raising global awareness about the group whose five-year insurgency in northern Nigeria has claimed an estimated 13,000 lives.
The new video comes after a surprise announcement by the Nigerian military and presidency on October 17 that a deal had been reached with the militants to end hostilities and return the children.
There was immediate scepticism about both claims. Previous ceasefires have proved fruitless and there is little trust in the influence of the purported Boko Haram envoy, Danladi Ahmadu.
Violence — and fresh kidnappings — have continued unabated since the announcement, including a triple bombing of a bus station in the northern city of Gombe on Friday that killed at least eight.
Nigeria's government maintains that talks are ongoing in the Chadian capital, Ndjamena.
But Shekau, speaking in Hausa, dressed in military fatigues and boots with a black turban, and flanked by 15 armed fighters, said: "We have not made ceasefire with anyone.
"We did not negotiate with anyone... It's a lie. It's a lie. We will not negotiate. What is our business with negotiation? Allah said we should not." He also said he did not know Danladi.
Kidnapped girl
There was no indication of when or where the video was shot but it was obtained through the same channels as previous communications from the group.
In it, Shekau mentions the Chibok girls for the first time since a video obtained on May 5, when more than 100 were shown in a rural location dressed in the hijab and reciting verses from the Holy Quran.
Then, the militant leader said many of the girls had converted to Islam but in the latest, he indicated that all of those held had become Muslims.
"Don't you know the over 200 Chibok schoolgirls have converted to Islam? They have now memorised two chapters of the Koran," he said.
Shekau previously threatened to sell the girls as slave brides and also suggested he would be prepared to release them in exchange for Boko Haram prisoners.
In the latest message, he said while laughing: "We have married them off.
They are in their marital homes. "Human Rights Watch said in a report published this week that Boko Haram was holding upwards of 500 women and young girls and that forced marriage was commonplace in the militant camps.
One former hostage said she saw some of the Chibok girls forced to cook and clean for other women and girls who had been chosen for "special treatment because of their beauty".
German national
Shekau's claim in the video that they were "holding your German hostage" is the first claim of responsibility for the abduction, which happened on July 16.
The German foreign ministry in Berlin said it did not want to comment when contacted by AFP.
Armed gunmen kidnapped the foreigner, who was said to be a teacher at a government technical training centre in Gombi, about 100 kilometres from the Adamawa state capital Yola.
Suspicion immediately fell on Boko Haram, which has repeatedly attacked schools teaching a so-called Western curriculum, as well as teachers and students.
An offshoot of Boko Haram, Ansaru, has previously claimed the kidnapping of at least eight foreigners in northern Nigeria since 2012 but the group has been largely dormant for more than a year.
The group reportedly broke with Boko Haram to specifically target foreigners instead of Nigerians and executed seven expatriates it seized from Bauchi state in 2013.
In January 2012, Boko Haram kidnapped German engineer Edgar Raupach at a construction site on the outskirts of the northern city of Kano.
He was killed during a military raid on a Boko Haram hideout on the outskirts of the city four months later.
Kidnappings for ransom by criminal gangs are common in the oil-producing south. On October 24, armed men shot dead one German national and kidnapped another in Ogun state, southwest Nigeria.
Both were working for the construction firm Julius Berger. The hostage was later released, the company said on Thursday.
The United Nations refugee agency (UNHCR) on Friday said worsening Boko Haram violence in northeast Nigeria and cross-border attacks inside Cameroon had heightened fear and made it increasingly difficult to relocate refugees.
"Cameroonian civilians are living in a state of terror due to frequent insurgent attacks," a statement said.
http://www.dawn.com/news/1141803/boko-haram-says-219-kidnapped-schoolgirls-married-off
------------
Candlelight vigil held in Reyhaneh's memory
November 1st, 2014
ISLAMABAD: Human rights activists and students from various universities of the federal capital gathered in front of the National Press Club on Friday and held a candlelight vigil for Reyhaneh Jabbari.
Twenty-six years old Jabbari was executed by the Iranian government on October 25 for murdering her alleged rapist, an ex-military official.
Reyhaneh Jabbari had been imprisoned for five years prior to her execution, and the international community had appealed for a retrial.
Know more: Woman hanged despite international appeals in Tehran
The vigil was organised by Civic Face Pakistan, a youth activism forum on human rights and social democracy.
Participants of the vigil, holding placards, chanted slogans against the incident and said the Iranian regime's actions were a violation of human rights.
A moment of silence was observed in Reyhaneh's honour and her letter to her mother was also read out which left many among the participants teary-eyed.
The protesters also condemned the violence against minorities in Pakistan, especially target killing of the Hazaras in Quetta.
A participant of the vigil, Asad Shoaib, a student of MPhil at Pakistan Institute of Development Economics, while talking to Dawn, said it was not a political issue and participants of the vigil did not have affiliation with any political group.
"The incident is very relevant to Pakistan because we have so many flaws in Hudood Ordinance and laws dealing with rape," he said.
"In the letter Reyhaneh has said that she has never even killed a cockroach, how can she kill a person? She was an interior designer," he said.
While replying to a question, Mr Asad said the international community should have raised its voice for the Reyhaneh much earlier.
"However I do not think that Iranian government would have stopped the execution because it did not announce retrial despite demands by the international community," he said.
http://www.dawn.com/news/1141760/candlelight-vigil-held-in-reyhanehs-memory
------------
Youth Kills Sister For Honour In Layyah, Pakistan
November 01, 2014
LAYYAH- A young man killed his sister for honour today and escaped the scene.
Police said that accused hailing from Chaman Shah, in a suburb of Layyah was suspicious about the character of his sister. He asked his sister to mend her ways and both exchanged hot words over the issue after which the youth opened fire, killing the girl on the spot and fled with the murder weapon.
The body was shifted to hospital and later handed over to heirs after medico-legal formalities. Police have registered a case against the murderer and started raids for his arrest.
http://nation.com.pk/national/01-Nov-2014/youth-kills-sister-for-honor-in-layyah
------------
100 Women 2014: Cooking in Iraq, Egypt, Gaza and Yemen
28 October 2014
For many women in the Middle East, making the daily meal is an essential task. But how do they go about their daily life while war rages around them?
As part of the BBC's 100 Women series, mothers in Yemen, Egypt, Iraq and Gaza talked to the BBC as they prepared a typical meal for their family in extraordinary circumstances.
Maha: Every Thursday, which is my best day, I wake up early to make breakfast for my little family - my husband and my four-year-old son Ayman.
Thursday is always the day we eat fish.
Yemen, Woman
Maha's market was bombed
But on this day we couldn't go out to buy fresh fish from our favourite market as the news of a deadly suicide bomb in the centre of Sanaa scared us and forced us to stay at home.
A few hours later and despite the difficulties, my husband still tried to buy fish from other markets. He passed different checkpoints and was finally able to buy 1kg of fish.
At 12:30 I started cooking fish with different types of spices: cumin, Adeni pepper, black pepper and olive oil. I also made side dishes like salad and soup.
I had a delicious lunch with my family but we were really sad about the victims of the deadly attack.
Asia: I am a working woman so I have to organise my day to be able to fulfil my family tasks in addition to my job.
My husband and I put aside an exact amount of money each month for the food and the daily expenses.
For our lunch today, I am cooking chicken and pasta with tomato sauce.
In the morning we have breakfast together, then we go out to buy the groceries.
The market is near my house. I find everything I need there. But the market sellers told us it was in the middle of where the violence erupted.
The protests and clashes caused a rise in the tomato prices and some of the vegetables have disappeared.
We have lunch together with our daughter Nirvanaa after I have finished cooking.
We are a big family. I have two sons and two daughters-in-law to feed in addition to my husband and me.
I am from Ramadi in Anbar, but we had to leave after Islamic State members in the area killed one of my sons, Mohammed, and bombed our homes.
We are now in Baghdad where we rent a house. I take the money for our food from my husband, who gets a pension of $600 (£375) every two months.
Neither my husband nor my elder son Ahmed works.
Lunch costs us around $50 (£31). Today I am cooking chicken, beans and rice.
Ahmed goes and buys the vegetables, chicken and the groceries we need. Then my sons' wives and I cook together.
We finish cooking and wait for my son Abdel-Qader to come back from the school, then we sit together and eat.
I am from Shejaiya, an area that has been destroyed during the war with Israel. Our house has been hit by a rocket. I have six children.
My husband took us to stay in one of the United Nations Relief and Works Agency (Unrwa) shelters in schools in Tell al-Hawa.
We live in a school classroom with another two families in the same room. We separate the classroom into three spaces using bed sheets.
I don't cook and we don't have any income now. My husband doesn't work and we don't receive any aid apart from the canned food, such as meat and sardines, which we receive from the agency.
They come every day at 14:00 local time and give us canned foods and 20 breadstuffs.
We then eat together and store the rest of the food in case any of us gets hungry before they come the next day.
My children don't go to school on a regular basis as it depends on the availability of transport. One day there is a minibus and another there is nothing.
In Egypt, the main meal of the day is lunch. I am married and have two children but I am the one who cooks for the family. I am an engineer but currently I am on maternity leave.
As I write this, I am cooking roast beef and basmati rice.
In my neighbourhood, 15th of May City, there is no market. Instead there are vendors who appear on occasion but I can't depend on them to get my food.
Instead, I ask my husband to go every two weeks to buy the groceries and the meat from one of the big markets nearer to the city centre. He drives there.
I decide what basics we will need and when he returns I divide the groceries and put each meal separately in the freezer.
On the day I just unfreeze what I will cook.
My kids and I have a late breakfast, then I start cooking lunch. Then we wait for Mohamed, my husband, to come back from work so we can have lunch together at 19:00.
http://www.bbc.com/news/world-middle-east-29687876
------------
Pakistan Women Protection Act to Be Reformed
November 01, 2014
JAVED IQBAL
LAHORE - The Punjab government is about to bring reforms to Protection against Harassment of Women at the Workplace Act, 2013. The act would be amended to fight off woman harassment including girl students from the menace. The government woke up to reforms after the media reported harassment to female students in educational institutes. The amended draft will be tabled in the Punjab Assembly soon, an official said.
Sources in Women Development Department said that the purpose of the legislation was to increase horizon of the women. Though the existing law provided protection to the women working at workplaces like offices and factories, there was no provision about those who did not work but were being victimized by others. The official said that the amendment would include women who did not work like the university or college students. The female students had been repeatedly harassed at educational institutions but the current legislation could not apply on them as they were not working women.
The women rights organizations, who had earlier lauded the legislation of 2013 and called it a historic step in order to safeguard and protect the rights of women and gave credit to the Chief Minister Shahbaz Sharif, have called upon the government to further amend the law and increase horizon for the women being harassed.
Cases of sexual harassment at workplace were fallen under the mandate of the Punjab Female Ombudsperson and the office enforced the law to curb such exploitation. Provincial liaison offices have also been set up at Sargodha, Rawalpindi and Multan besides central office in Lahore to provide protection to women workers.
It was pointed out in many seminars that the need was to amend the existing law to the effect of those women who were not working at offices etc. The sources added that the legislation for eradication of domestic violence, formulation of provincial commission for women, effective implementation and monitoring of the approved laws, eradication of underage marriages, and formulation bodies for home-based working women were on the cards. A sexual harassment scandal rocked many educational institutions including the Quaid-i-Azam University when the complainant, an MBA students, had made a complaint to the vice chancellor and alleged that an assistant professor at the School of Management Sciences had tried to molest her when she visited his office for rectifying a mistake in her marks sheet. The university syndicate had to remove a senior faculty member after holding an inquiry.
On International Women's Day in 2012, the Punjab government had announced a comprehensive package of measures "Punjab Women Empowerment Package 2012". Its purpose was to enhance their socio-economic status by expanding opportunities available to them and protect them from sexual harassment and ensure inheritance rights.
http://nation.com.pk/lahore/01-Nov-2014/women-protection-act-to-be-reformed
------------
Saudi Women-Only Shops Charged With Violations
1 November 2014
Inspectors from the Ministry of Labour carried out inspections of 140 shops selling women's clothes and accessories on Wednesday during visits to several commercial complexes in Riyadh.
While six shops were charged with serious violations, 27 businesses were warned that all services of the ministry would be denied to them if they failed to correct their violations, the Saudi Press Agency reported.
The inspectors were sent to ensure that the businesses followed the regulations governing Saudi female workers, and the implementation of the third phase of the women's employment scheme for shops selling women's items. The third phase monitors shops selling female gowns and accessories — a retail sector that was brought under the government's women's employment program last Saturday.
Assistant Undersecretary for special programs at the Ministry of Labor Fahd Al-Takhyyufi and Director General of the Riyadh branch of the ministry Abdullah Al-Olayan also accompanied the officials in the field inspections. Many of the businesses found to be in violation of the new laws were given a respite of two weeks to rectify their issues.
Al-Takhayyufi said that the third phase comprises five stages beginning with the sales of gowns and accessories and will be followed by shops selling shoes and bags, women's stockings, and other textiles. He added that within the next two years, all salesmen would be replaced by saleswomen.
The inspectors also arrested 11 security guards posted at women's shops for without proper documents.
Olayan added that the inspectors observed that most of the shops strictly followed the regulations governing women's accessories shops.
Al-Takhayyufi said penal action is being taken against violators of the regulations in a gradual manner beginning with advice, followed by oral warning, written warning, exacting fine, degrading them to Red Category establishment of the Nitaqat system, suspension of all services of the ministry and finally closing the store down.
http://www.arabnews.com/saudi-arabia/news/653361
------------
Female Poverty in Saudi Arabia Due To Illiteracy and Lack of Education
1 November 2014
Economic studies confirm that the issue of women living in poverty is the result of increase in rates of illiteracy and poor education as well as a lack of employment opportunities.
Business writer Abdullah Al-Maghlouth says that women's poverty directly proportional to the spread of illiteracy, poor education, lack of employment opportunities, as well as the lack of a male provider.
He pointed to a study published by the King Khaled Foundation, and conducted by Efad Researches and Consultations Center, which based its analysis on several key factors, including the large illiteracy rate, and low levels of education, which have resulted in a decline in public health and social awareness and poor knowledge of human and civil rights.
Other factors contributing to female poverty is the male's absolute authority, particularly denial of education, resulting in lack of qualification.
Then there are other factors, such as lack of freedom of movement and mobility, that lead to a decline in social security, increased social exclusion, as well as a high cost of living.
Al-Maghlouth pointed out that the an effective mechanism would be to work toward relaxing masculine authoritarian hold on women's lives, as well as increasing educational opportunities for girls, across all ages and educational levels, while raising public awareness of human, health and social rights.
In addition, we must provide job opportunities for girls in dignified jobs and careers along with training to help them acquire new skills.
A recent study prepared by a local university has revealed that 60 percent of educated women in Saudi Arabia are unemployed.
"In matters of employment, we must provide adequate modern transportation or allow women to drive. In short, we should meet the demands of Saudi women's rights, and change the culture of perceptions and habits of hard-line minds, to correct concepts and ambiguous visions of negative norms and customs," Al-Maghlouth said.
http://www.arabnews.com/saudi-arabia/news/653346
------------
Indian schoolgirls show talent and innovation
1 November 2014
There was widespread praise for the innovative skills of young girl students at the International Indian School Jeddah's (IISJ) two-day education exhibition that ended on Thursday.
B.S. Mubarak, the Indian consul general, who opened the event, was among several officials and visitors who were impressed by the students. The officials included Raghib Qureshi, head of the chancery and senior diplomat; Syed Masood Ahmed, principal of the IISJ; and Haroon Rashid, chairman of the school's managing committee.
"The opportunity to display their talents will not only enhance their skills but also boost their self confidence," said Mubarak. He urged all schools to hold such talent exhibitions to support the development of students.
Ahmed said the school encourages students to participate in events that would help develop their capacity to create and innovate. "It is also an opportunity for parents and community members to recognize and appreciate the great talents of our students," he said.
About 1,000 students exhibited their projects. The show stealer was "The Pride of India" project in which the architectural grandeur of the country was brought alive. The children presented the Rashtrapati Bhavan, India's Parliament, Humayun Gate, and Amar Jawan Joyti. Girls in the fourth and fifth grades acted as leading journalists from various media houses and presented news stories. They also played the role of Helen Keller, the famous blind writer.
Among the highlight of the exhibits was a live presentation on online shopping, to demonstrate how it is changing the world of commerce.
There were other presentations including on how India was becoming one of the world leaders in science and technology; the origins of Arabic, Urdu, Telugu, Hindi and Malayalam in various Indian regions; and Saudi Arabian culture. There was also a sand art display presented with the poetry of Allama Iqbal.
Manha Najam, Haleema and Nimra Rawia were some of the many young first grade students who impressed visitors with their communication skills. Najam told Arab News: "We had an opportunity to practice what we studied in the classroom."
Farahd Unnisa, the school vice principal, said the combined efforts of students, teachers and parents ensured the event was a success. "Our students put forward new ideas and this made the exhibition really interesting and informative. They performed well and I enjoyed watching them explaining their projects with confidence."
http://www.arabnews.com/saudi-arabia/news/653301
------------
Who Takes The Big Share Of Marriage Expenses In Saudi Arabia?
October 31, 2014
THERE has been an increased demand to have an equitable distribution of marriage expenses among the couple. The amount of marriage expense and sharing it by both the parties depend by and large on the customs and traditions prevailing in the society as well as on the financial position of families. In some cases, it becomes a burden on the groom's family while in other cases, the onus falls on the family of the bride to meet a major share of the expense, according to a report in Al-Riyadh daily.
There are some men who pay the entire expenses of marriage. This consists of mahr (dowry) in the form of gold and dresses and the cost for the wedding party. In most cases, the average amount for this is valued at SR100, 000. In some cases, the groom's family gives a dowry of SR60,000 for gold and clothing or SR40,000 for clothing. The bride's family meets the remaining expenses. This amount might be much higher than the dowry given by the groom. In some cases, the marriage puts the bride's family in a big financial trouble after spending a whopping amount, especially for the marriage party, which generally is a big one featured by a buffet dinner, musical event and exchange of expensive gifts at a posh wedding hall.
Maram Al-Salem said most young women want to have a big wedding party. But this becomes a big financial burden if she belongs to a middle class family. After payment of dowry, families of some young men think that all other expenses should be met by the bride's family, she noted. Wardah Al-Abdul Mohsen, another young woman, said that most often the bride's family has to shoulder the responsibility for holding the wedding party and thus are forced to spend around double of the dowry received from the groom's family. In our families, the average dowry is between SR40,000 and SR50,000, and in most cases it does not exceed SR60,000. In such a situation, the bride's family is forced to take loan or borrow money to meet the wedding expenses, she pointed out.
On her part, Tihani Al-Obaid said that some families of the bride are not in a position to meet the mammoth marriage expenses and this happens mostly in the cases of women whose fathers have died or retired from service and they do not have any elder brothers to support them. "This is what happened to one of my colleagues, and she sought our help along with some of her relatives."
Afrah Al-Hamad said some selfish grooms put forward a condition for marrying, that the bride's family shall meet such and such expenses. "Insisting the bride's family to spend the whole amount for the marriage party is one way that's deprivation of her rights," she said. Echoing the same view, Amani Al-Jasser said that some women might accept such conditions provided that the marriage party is a smaller one with a limited number of guests.
Iman Al-Abdullah sees nothing wrong in demanding from the bride's family to meet the wedding party expenses provided that the amount of dowry shall not be less than SR100,000, in addition to gold. She objected to the idea of taking loan to meet the marriage expenses.
Fahd Al-Nasser, a young man, said that he is against those people who insist the bride's family to meet the marriage expenses after receiving dowry. "Even if the dowry is sufficient to meet the marriage expenses, the groom's party should not make such a condition at all," he said.
Abdullah Al-Jasser said both families should meet marriage expenses equally. Ahmed Al-Nasser called for a total change in the customs and traditions with regard to marriage expenses. The marriage expenses should not be a burden either on the groom or the bride. "The expenses shall be moderate and should never put either of the parties in a debt trap," he said.
Wadad Al-Mutawwa, a community specialist, said that neither the groom nor the bride should meet the entire expenses. "There are several cases in which the groom's family meets the whole expenses and vice versa. In such cases, the impact of financial burden will haunt either of the two partners for a long period of time and sometimes will spoil their married life itself," she said, adding, "On the other hand, the expenses should be met equally by the two parties."
http://www.saudigazette.com.sa/index.cfm?method=home.regcon&contentid=20141101222971
------------
'Bad Hijab' Linked To Acid Attacks on Iranian Women
19 October 2014
A series of acid attacks on women in the historic Iranian city of Isfahan has raised fears and prompted rumours that the victims were targeted for not being properly veiled.
Police have declined to comment on a motive but suspects have been arrested and an investigation is ongoing, General Hossein Ashtari was quoted as saying by the official IRNA news agency.
He said four acid attacks had been reported in Isfahan, 450 kilometres south of Tehran, but he gave no other details.
The violence led to chatter on social networks that there had been up to 13 acid attacks against women drivers who were "badly veiled" with accompanying warnings against leaving car windows open.
Such incidents have risen in recent years in Pakistan, Afghanistan and India, with the abusers claiming they punished women for "sullying" their family "honour" by committing "indecent" behaviour.
Under Islamic law in force in Iran since the 1979 revolution, women must wear loose clothing, known as hijab that covers the head and neck.
Recent years, however, have seen many wear a thin veil that hardly covers the hair and tight clothing or coats reaching mid-thigh - an ensemble often denounced by conservatives as "bad Hijab" - instead of a traditional chador that covers the whole body.
A senior cleric of Isfahan, considered Iran's top tourist attraction for its carpets, ancient mosques and giant square - second only in size to Tiananmen Square in Beijing - condemned the attacks.
"Such an act under any pretext is reprehensible," Hojatoleslam Mohammad Taghi Rahbar, a Friday prayers leader, told the ISNA news agency.
"Even if a woman goes out into the street in the worst way, no one has the right to do such a thing," he said.
A fearful resident of the city was quoted by ISNA as saying: "I roll the windows closed and I panic every time I hear the sound of a motorcycle approaching."
Iranian MPs have written to President Hassan Rowhani in recent months to demand that police better enforce wearing of the veil.
http://english.alarabiya.net/en/News/middle-east/2014/10/19/-Bad-hijab-link-to-acid-attacks-on-Iranian-women.html
------------
Jakarta public transportation not women friendly
November 01 2014
A recent survey has revealed that Jakarta's public transportation is among the top five in the list of the world's most dangerous public transportations for women. Jakarta ranked in fifth position while Bogota, Colombia secured the first position on the list.
While New York, on the other hand, is the city with the most women-friendly public transportation in the survey.
The survey was jointly conducted by YouGov and the Thomson Reuters Foundation. It interviewed 6,550 women respondents in several major cities; Seoul, London, Moscow, Paris, Lima, Manila, Bangkok, Bogota, Delhi, Kuala Lumpur, Tokyo, Jakarta, Beijing, Buenos Aires, Mexico City and New York.
Mary Crass of the International Transportation Forum said the failure to provide women-friendly transportation would directly affect women's capability to choose their line of work.
"Women are likely to rely more on public transportation," she said as quoted by kompas.com on Saturday.(dic)
http://www.thejakartapost.com/news/2014/11/01/jakarta-public-transportation-not-women-friendly.html
------------
Yemen worst nation for gender equality, women lag in economics, politics - report
Mon Oct 27, 2014
By Kieran Guilbert
LONDON, Oct 28 (Thomson Reuters Foundation) - Yemen was the worst performer in a gender equality index released on Tuesday, which found women worldwide are almost on a par with men in terms of health and education, but lag behind in economic and political participation and opportunities.
Ranked the least gender-equal of 142 countries for the ninth successive year, Yemen fared worse than Pakistan, Chad, Syria and Mali, according to the Global Gender Gap Report.
Yemen has no female members of parliament, and only one in ten ministerial positions are held by women, while the gap between the literacy rate and enrolment in education of girls compared to boys is among the widest in the world.
Last year's leading four nations, Iceland, Finland, Norway, Sweden, remain the most gender-equal societies in the world, followed by Denmark, up to fifth place from eighth.
Saadia Zahidi, a senior director at the World Economic Forum and lead author of the report, said much of the progress on gender equality over the past decade was a result of more women entering politics and the workforce.
"While more women and more men have joined the workforce over the last decade, more women than men entered the labour force in 49 countries," Zahidi said as the report was released.
"And in the case of politics, globally, there are now 26 percent more female parliamentarians and 50 percent more female ministers than nine years ago," she said in a statement.
The report found that having more women in the workforce contributes to economic productivity, and said the narrowing of the male-female employment gap has been an important factor behind European economic growth over the last decade.
Closing this gap further would have significant implications for developed economies, boosting GDP in the United States by as much as 9 percent and eurozone GDP by as much as 13 percent, the report said.
While many countries have closed the gender gap in terms of education and health, the trend is reversing in some parts of the world, including Bahrain, Colombia and Japan.
Nearly 30 percent have wider education gaps and more than 40 percent have wider health and survival gaps compared to 2006.
Of the 111 countries continuously covered in the report over the last nine years, prospects for women have deteriorated in Sri Lanka, Mali, Croatia, Macedonia, Jordan and Tunisia.
The report measured gender gaps in salaries, workforce participation, highly-skilled employment, access to basic and higher education, representation in positions of power, life expectancy and the proportion of men and women in the population. (Reporting By Kieran Guilbert; Editing by Ros Russell)
http://af.reuters.com/article/commoditiesNews/idAFL5N0SM29220141027
------------
URL: https://newageislam.com/islam-women-feminism/cosmopolitan-new-afghan-first-lady/d/99825