New Age Islam News Bureau
5 Jun 2020
• Coronavirus Frustrates Saudi Women's Push for Financial Independence
• Muslim Neighbours Performed 75-Year-Old Woman's Last Rites as Per Hindu Rituals
• Plea to Recognise Muslim Nikah Marriagesby South African Law
• Indonesian Brothers May Face Death For 'Honour' Killing of Schoolgirl Sister
• Japan Funds UN Women Progs to Address Challenges of Women, Girls During COVID-19
• Women at Lower Risk for Cardiovascular Disease Than Men
• Kiran Mazumdar-Shaw Becomes First Indian Woman to Win EY World Entrepreneur of The Year 2020
• World Environment Day: 10 Women POC Planet Activists to Celebrate Everyday
• A White Woman Arrested on Assault, Hate Crime Charges After Threatening Muslim Woman and Daughters with Gun
• How African Feminists Are Helping To Sustain Peace In A Pandemic
Compiled ByNew Age Islam News Bureau
URL; https://www.newageislam.com/islam-women-feminism/coronavirus-frustrates-saudi-women-push/d/122041
-------
Coronavirus Frustrates Saudi Women's Push For Financial Independence
June 04, 2020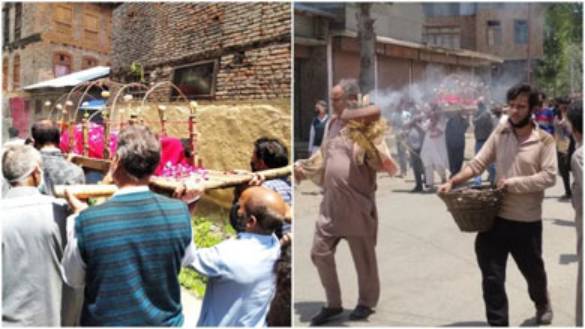 The deceased belongs to the only Kashmiri Pandit family living in the village. (Photo: India Today/Tariq
-----
Al ULA, Saudi Arabia (Reuters) - Abeer al-Howayan despaired of ever working after spending eight years trying to find a job that would put her chemistry degree to use in the Saudi Arabian town of Al Ula.
She eventually abandoned her scientific ambitions and turned to selling homemade cakes, before she was chosen last year for a government training programme to support a $20 billion flagship tourism project in the kingdom's northwestern region.
The 31-year-old learned how to make artisanal soap from French experts flown in by Saudi authorities, and in late December started selling her creations at a booth near the rock-hewn tombs of Madain Saleh, site of an ancient civilisation.
The pandemic has hammered Saudi Arabia's nascent non-religious tourism industry - among the few new sectors to have emerged under Crown Prince Mohammed bin Salman's drive to diversify the economy from oil and create millions of jobs.
"It is very tough, but I keep telling myself things will get better after corona. One has to remain optimistic," Howayan, whose online business has also slowed, told Reuters.
Women in the United States and Europe have taken an outsized hit from the wave of unemployment caused by the coronavirus, but for women in Saudi Arabia the downturn is particularly damaging because it struck just as their efforts to enter the workforce and gain greater financial independence were gaining traction.
Howayan is among nearly one million unemployed Saudis - 12% of the working-age population - pinning their hopes on the prince's vision to modernise the conservative and patriarchal country with ambitious projects.
Women make up about 83% of the jobless, according to the Saudi statistics office. And it's an educated group; 70% of those women have high school diplomas or university degrees.
Tackling unemployment is a main pillar of Prince Mohammed's plan. He promised in 2017 "better unemployment numbers by 2020" and to cut the jobless rate to 7% over the next decade.
A tough task has become even tougher as coronavirus disruptions and austerity measures have squeezed the finances of the private sector.
"To reduce unemployment, the private sector will need to create at least 500,000 to 1 million jobs for Saudis, said John Sfakianakis, a Gulf expert at the University of Cambridge, "But this year alone, the private sector will unavoidably contract by 7% ... and that's just this year."
Finance Minister Mohammed al-Jadaan told Reuters that the government remained committed to job creation targets and was still funding training and capacity building.
"Coronavirus is with us this year and possibly for a part of next year, but then it will go away and when it goes away we need to make sure that we have seized this time to build more capacity and train more people to be ready when we start offering services again," said Jadaan. He did not specifically address the issue of women.
According to regional experts, a faltering of the reform drive could lead to the public questioning the social contract between the ruling Al Saud family and the people in a country where 80% of the population is under 30.
Oil wealth is shared across the kingdom in exchange for popular submission to absolute monarchical rule. However there could be some social discontent if jobs do not materialise and Saudis find themselves paying more taxes with less state benefits, according to Yasmine Farouk at the Carnegie Middle East Center.
Saudi Arabia has largely struggled to lure foreign capital outside the energy sector as many investors hesitate over Riyadh's human rights record and the commercial viability of some domestic mega projects.
But the entertainment and tourism industries started taking off last year, accompanied by social reforms to open up the kingdom, including ending gender segregation in most public places and introducing public entertainment. Thousands of jobs were created and Saudis flocked to concerts, festivals and sporting events.
Last year, the kingdom attracted international acts from Cirque du Soleil to Mariah Carey, Italian tenor Andrea Bocelli and Greek musician Yanni. Saudis also cheered female WWE wrestlers in Riyadh, and heavyweight boxers Anthony Joshua and Andy Ruiz Jr in a custom-built 15,000 person stadium.
However the Saudi tourism minister told Reuters in April that the industry, including Muslim pilgrimages, could decline by 35-45% this year due to coronavirus measures.
Abeer Mohammed Jumuah is another example of a woman who benefited from the prince's reform drive. She spent years looking for a job as a teacher after graduating from university in home economics, and eventually joined a government training programme last year to learn cooking skills in Paris.
The 31-year-old has returned to a catering role in Saudi Arabia helping Michelin-starred chefs, but it is only temporary and she will eventually need to find new work - something that has become a trickier proposition in the wake of the pandemic.
"I hope that one day I can open a café where I can offer a breakfast menu with lots of French pastries," she said. "I want to be financially independent and I want my two daughters, aged four and seven, to have a better living standard."
Analysts said they expected a recovery in tourism and entertainment to start in the first half of 2021, with the sectors requiring government support for at least a few years.
The Royal Commission for Al Ula, set up in 2017 to carry out reforms in the crown prince's drive, said it planned to reopen in October this year, and a spokesman said it was committed to job creation.
Madiha al-Anazy, 29, joined a five-month tour guide training programme when she returned from Florida in May 2019 with a masters degree in biotechnology, and now has a permanent job as a tour guide.
Her 33-year-old husband, Mohamad, was temporarily taken on as a part-time "ranger" to protect heritage sites and the couple is betting on a revival in the tourism sector.
Private-sector job creation is partly intended to wean citizens off reliance on the state as more than two-thirds of the Saudi workforce is employed by the government and their salaries account for roughly half of 2020 budget spending.
Low oil prices would make it difficult for past state largesse to continue. This could lead to many young Saudis taking lower-income jobs typically relegated to foreigners, in a societal shift, according to Karen Young, a Gulf analyst at the American Enterprise Institute in Washington.
https://wkzo.com/news/articles/2020/jun/04/coronavirus-frustrates-saudi-womens-push-for-financial-independence/1025504/
------
Muslim Neighbours Performed 75-Year-Old Woman's Last Rites As Per Hindu Rituals
Ashraf Wani
June 4, 2020
A Muslim neighbourhood in North Kashmir's Bandipora district helped a Kashmiri Pandit family perform the last rites of a 75-year-old family member on Thursday.
Sources told India Today TV that soon after the news of the death of 75-year-old woman, Rani Bhatt, Muslim neighbours came together to help the Kashmiri Pandit family in performing her last rites.
Many people, amid Covid-19 scare, visited the deceased's family and expressed their condolences.
Locals said that Rani Bhatt died on Wednesday night and was cremated on Thursday. Muslim neighbours performed her last rites as per Hindu rituals.
The deceased, a resident of Kalosa in Bandipora, died naturally. Her husband, Moti Lal Bhatt, had not migrated when militancy erupted in Kashmir Valley.
They are the only Kashmir Pandit family living in the village with Muslim neighbours.
https/www.indiatoday.inindiastorymuslim-neighbours-help-kashmiri-pandit-family-perform-elderly-woman-last-rites-1685460-2020-06-04
------
Plea To Recognise Muslim Nikah Marriages By South African Law
By Bongani Hans
23h ago
Johannesburg - Muslim communities are pleading with Parliament to pass a bill that recognises their marriages by South African law as they feel that this will be important to assist women whose spouses have been killed as a result of the coronavirus.
Speaking to Independent Media on Thursday on behalf of the South African Muslim Council, lawyer NkazimuloQaaimMoyeni said the bill had been sitting idle for years with Parliament not doing anything to pass it into an act.
"Our issue with not recognising Muslim marriages is that in polygamous marriage (in Muslim culture) the first wife is automatically registered under customary marriage with Home Affairs and the other wives are not recognised and they are unable to claim anything that the husband leaves behind when he passes away," said Moyeni.
He was responding to Home Affairs Minister Aaron Motsoaledi who told Parliament this week that "a marriage entered into in terms of Muslim rites is thus far not recognised in South Africa".
Moyeni said Muslim communities had been struggling for the past 20 years to get their marriages recognised by the Department of Home Affairs.
He said currently couples who get married through Muslim rites and go to court to get their relationship registered under their religious law would find themselves recognised under the Religious/Customary Law, which only protects one wife.
He said a promising move was made after Western Cape High Court had last year ruled in favour of marriage by Muslim rites, and ordered the Cabinet to within 12 days work on passing the bill into an act.
"We have seen the progress of same-sex marriages and customary marriages. We have seen the progress in government exhausting assets in making sure it stretches itself in allowing participants in different communities using changes in-laws in other countries to see how they find their way around recognising these (same-sex and customary) marriages," he said.
Moyeni said in case of a divorce women who were married under the Islamic rites were not protected as they were not recognised by law.
"So we believe that the government should exercise and stretch itself as much as they did for same-sex and customary marriages and realise that Muslim law is as flexible as any other legal framework and can allow and cooperate and work hand-in-hand with the constitution and with the South African law," he said.
He said recognising Muslim marriage would be in the good spirit of the country's constitution as Muslim communities had contributed towards the country's democracy and its progress.
https://www.iol.co.za/news/politics/plea-to-recognise-muslim-nikah-marriages-48958226
------
Indonesian brothers may face death for 'honor' killing of schoolgirl sister
Randy Mulyanto
June 5, 2020
Two Indonesian brothers will go on trial next month for the murder of their teenage sister in a so-called honor killing, police said on Tuesday, a rare case in the country that has prompted calls for action to protect women and girls.
The men are accused of killing the 16-year-old girl by attacking her with a machete and a wooden stick because they believed she had had sex outside marriage with a cousin, according to police in the Bantaeng Regency of Sulawesi island.
"The investigation showed the motive ... was due to the family feeling ashamed," he said earlier, adding that the case had forced the remaining family to leave their home in the area due to the rejection of the local community.
So-called honor killings, which are more common in some parts of the Middle East and South Asia, are extremely rare in Indonesia, a Southeast Asian archipelago of 260 million people.
The United Nations estimates about 5,000 women are killed each year by family members over perceived damage to "honor" that can involve having a boyfriend, seeking a divorce or behaving in a way that is deemed inappropriate.
Socially conservative Indonesia has the world's eighth-highest number of child marriages, according to UN data, and the Bantaeng Regency case has sparked calls for public education campaigns to help end traditional practices that harm women and girls.
"The victim must be given justice," said BekaUlungHapsara, a commissioner at Indonesia's National Commission on Human Rights, a government-backed body.
"Local government and law enforcement officials must provide public education about existing traditions and eliminate them," he added.
In Pakistan in May, police arrested the cousin of two teenage sisters whom he is suspected of killing after a video of the girls kissing a man went viral on social media.
Thousands of incidents of violence against women perceived to have "damaged" family honor are reported in Pakistan each year and many more go unreported, rights groups say.
In Iran, a father's killing of his 14-year-old daughter over her relationship with a man caused widespread anger in the country last month, with President Hassan Rouhani urging lawmakers to work on a bill to prevent violence against women.
https://www.thejakartapost.com/news/2020/06/05/indonesian-brothers-may-face-death-for-honor-killing-of-schoolgirl-sister.html
------
Japan funds UN Women progs to address challenges of women, girls during COVID-19
JUNE 05, 2020
The government of Japan has contributed US$4,545,454 to UN Women programmes to protect the lives and dignity of women and girls, as well as address the challenges they face by COVID -19.
With generous support from the Government of Japan, UN Women will implement its programmes aimed at supporting women and girls facing challenges in the midst of COVID-19 in Asia and the Pacific, Arab States, Eastern and Southern Africa, and Europe and Central Asia.
Women are disproportionately affected by the impact of COVID-19, as more women work in low-paying, insecure and informal jobs, while carrying the bulk of burden on unpaid care work at home, said the UN Women.
As more countries report infections and lockdown measures, domestic violence helplines and shelters across the world are increasingly reporting calls for help.
In addition, this increased isolation for women with violent partners creates a perfect storm for controlling and violent behavior to happen behind closed doors.
"The Government of Japan, which is committed to creating 'a society in which all women shine,' has been an important long-standing partner for UN Women," said Kae Ishikawa, Director of UN Women Japan Liaison Office.
"The Government of Japan has contributed to a number of UN Women programmes and activities around the world to promote gender equality and the empowerment of women."
"The concept of 'human security,' which Japan promotes as one of the critical pillars of its foreign policy, is perfectly in line with the objectives of the UN Women programmes, which aim to protect women and girls affected by the impact of COVID-19 as well as build a resilient society where women play a critical role in decision-making," Ishikawa said.
"UN Women would also like to acknowledge and thank Japan for being the first donor to announce its financial contribution to UN Women's initiatives on COVID-19."
The partnership between UN Women and Japan covers many areas, such as programme implementations in developing countries, conducting policy dialogues, and collaboration around key international conferences on gender equality and the empowerment of women.
Thus, it is critical to have a gender-responsive approach in creating effective and equitable preventative plans and long-term response interventions for COVID-19, said the UN Women.
In this context, with generous support from the Government of Japan, UN Women will implement prevention and response programmes to COVID-19 in 4 regions, with particular focus on following thematic areas:
Promotion of protection mechanisms throughout the COVID-19 response, with a focus on access to gender-based violence (GBV) and other relevant services.
Programme budget: Grand total US$4,545,454 (US$1,818,181 for Asia and the Pacific region, US$909,091 for Arab States region, US$909,091 for Eastern and Southern Africa region and US$909,091 for Europe and Central Asia region)
http://www.unb.com.bd/category/Bangladesh/japan-funds-un-women-progs-to-address-challenges-of-women-girls-during-covid-19/52567
------
Women at lower risk for cardiovascular disease than men
4-Jun-2020
Newswise — Women's risk of falling ill with cardiovascular disease, and dying from it, is lower than that of men of the same age, irrespective of where in the world they live. This is shown by a study of, in total, more than 160,000 men and women in 27 countries. Scientists at the University of Gothenburg, Sweden, are among those presenting the results.
Now published in The Lancet, the Prospective Urban Rural Epidemiological (PURE) study is the first worldwide to have documented differences between women and men in risk factors, treatment, proportions affected by heart attack (recurrent myocardial infarction, MI) and stroke, and the outcomes for those affected. The participants were monitored for more than 10 years.
One co-author of the study is Annika Rosengren, Professor of Medicine at Sahlgrenska Academy, University of Gothenburg. Sweden is the only country im Northern or Western Europe to be included Just over 4,000 of the participants come from Gothenburg and Skaraborg.
The results show that women had a more favorable risk pattern. Above all, fewer smoked; but the women also had lower blood pressure and healthier blood fat levels. Compared with men, women in good health with no history of cardiovascular disease, CVD, had a higher propensity to take preventive medication, have well-controlled blood pressure, and avoid smoking.
Concern is often expressed that women with CVD are given less intensive treatment than men. If this is true, it might have a negative influence. However, the researchers behind the present study think it is not a matter of discrimination.
"Our interpretation is that there doesn't seem to be discrimination against women. Rather, women have less marked changes in the coronary arteries, which means they don't need such intensive treatment," Rosengren says.
The study shows that men with, for example, myocardial infarction, MI, received invasive treatment, such as balloon dilation (coronary angioplasty) or coronary bypass surgery, more often than women. Despite this, women had less risk of a new MI.
The main difference in prognosis after MI is, instead, between poor and rich nations. In low-income countries like Bangladesh, India and Pakistan, roughly 40 percent of men and women alike die within 30 days after MI or stroke, while the corresponding proportion for high-income countries like Sweden and Canada is below 10 percent.
The PURE study comprises participants from Argentina, Bangladesh, Brazil, Canada, Chile, Colombia, Ecuador, Philippines, United Arab Emirates, India, Iran, Kazakhstan, China, Kyrgyzstan, Malaysia, Pakistan, Palestine, Peru, Poland, Russia, Saudi Arabia, South Africa, Sweden, Tanzania, Turkey, Uruguay and Zimbabwe. The study is led from Canada.
https://www.newswise.com/articles/women-at-lower-risk-for-cardiovascular-disease-than-men
------
Kiran Mazumdar-Shaw becomes first Indian women to win EY World Entrepreneur Of The Year 2020
June 5, 2020
Through an award ceremony, EY announced that Kiran Mazumdar-Shaw, Executive Chairperson of India-based Biocon Limited, was named as the EY World Entrepreneur Of The Year 2020. She was picked from among 46 award winners from 41 countries and territories vying for the world title. While she is the first Indian woman to win this award, she is the second woman to hold the title, following Olivia Lum of Hyflux Limited from Singapore in 2011.
Shaw is the third EY World Entrepreneur Of The Year Award winner from India since the inception of the awards. In the past, Uday Kotak of Kotak Mahindra Bank (2014) and Narayana Murthy of Infosys Technologies Limited (2005), had been awarded.
Shaw founded Biocon, a bio-enzymes company, in 1978 with just two employees and USD 500. Since its inception, Biocon has grown to employ more than 11,000 people and become one of the strongest innovation-driven biotechnology companies in Asia with revenues of USD 800million for FY19.
Manny Stul, Chairman and Co-CEO of Moose Toys and Chair of the EY World Entrepreneur Of The Year judging panel, said, "Kiran is an inspirational entrepreneur who demonstrates that determination, perseverance and a willingness to innovate can create long-term value. The judging panel were impressed by her ability to build and sustain growth over the past 30 years and by her integrity and passion for philanthropy that has delivered huge global impact."
Kiran Mazumdar-Shaw, Executive Chairperson of Biocon Limited, said, "Wealth creation can be a catalyst for change, and all entrepreneurs have a responsibility to the world around them and the communities in which they operate. Women also play a hugely important role in economic development, and for too long their contribution has been ignored. It is important that we use the platform of EY World Entrepreneur Of The Year to encourage more women to participate in entrepreneurial pursuits. I'm truly honored to receive this prestigious award."
Carmine Di Sibio, EY Global Chairman and CEO, said, "Entrepreneurs are the unstoppable visionaries who inspire innovation and fuel growth and prosperity by building remarkable companies and services. Kiran's passion to develop low-cost, cutting-edge pharmaceutical alternatives has brought affordable health care to patient communities all around the world."
https://www.freepressjournal.in/business/kiran-mazumdar-shaw-becomes-first-indian-women-to-win-ey-world-entrepreneur-of-the-year-2020
-----
World Environment Day: 10 Women POC Planet Activists To Celebrate Everyday
By Sally Ho
Jun 5, 2020
This year, we are celebrating World Environment Day by spotlighting female persons of colour who are leading the fight to save our planet. From campaigning to end deforestation to protecting wildlife species, combating rising global emissions and telling the stories of environmental injustice, these women are at the forefront of the global battle against the climate emergency and ecological destruction. Without further ado, here are the 10 women POC environmentalists and conservationists that you need to know about.
Francia Márquez is an Afro-Colombian environmental and human rights activist based in Colombia. After years of pressure on the Colombian government and organising a 350-mile protest march with 80 women from La Toma to the nation's capital Bogotá, Márquez is considered one of the central figures to put an end to illegal gold mining on the community's ancestral land. She has since been awarded the Goldman Environmental Prize in 2018 for her work.
Brazilian indigenous artist, activist and feminist DaiaraTukano is a member of the Tukano indigenous people from the Amazon. As a political correspondent and coordinator of RádioYandê, the first indigenous web radio station in Brazil, Tukano has been at the centre of the fight to protect the Amazon rainforest from destruction, and is also a vocal campaigner for women and human rights.
Varshini Prakash is the executive director and co-founder of the environmental organisation Sunrise Movement, which has been a fierce driving force behind proposals such as the Green New Deal in the United States. Alongside other young climate activists, Prakash has been credited with putting the climate crisis into the top of the national spotlight and emphasised the connection between economic and environmental justice.
Wangarĩ Maathai was a renowned Kenyan environmental and sociopolitical activist, famously the first African woman to win the Nobel Peace Prize in 2004. She founded the Green Belt Movement, an organisation dedicated to conserve the environment by planting trees. Since its founding, the Green Belt Movement has planted over 51 million trees. As a result of her activism, similar initiatives came about in a number of other African countries including Tanzania, Zimbabwe and Ethiopia as a part of the Pan-African Green Belt Network established by her organisation. Maathai passed away in 2011 and will forever be remembered for her efforts to replenish the planet.
Dr. Vandana Shiva is an Indian environmental and social activist and food sovereignty campaigner. She famously led the charge against multinational agribusiness firms such as Monsanto for imposing "food totalitarianism" on the world, but particularly in rural agricultural communities in India where GMO crops were introduced and became a death knell for many farmers. She heads the Navdanya Trust to support organic farming in India, and has to date converted over 200,000 farmers in different parts of the country and established more than 100 community seed banks in 17 Indian states.
Majora Carter is an urban revitalisation strategist from New York City, who founded and headed the non-profit environmental justice organisation Sustainable South Bronx. Her inspiring talk on TED called "Greening the Ghetto" has been viewed over 2.6 million times and has been widely praised for drawing the connection between environmental, economic and social destruction. She continues to promote grassroots activism to support the New York City's most under-resourced and ecologically oppressed communities.
Vanessa Nakate is a Ugandan climate justice activist. Inspired by Swedish climate activist Greta Thunberg, Nakate launched her own strike against environmental inaction in 2019, and founded the Youth for Future Africa and Rise Up Movement. She has since become one of the most recognisable faces in global conferences and forums on climate change, including the COP25 gathering in 2019 and the World Economic Forum in 2020. After being cropped out of the Associated Press' photo alongside Thunberg and other youth activists, Nakate has been vocal against racism in the media.
Yasmin Rasyid is a Malaysian environmental activist who has worked to campaign for sustainability research, waste management, social responsibility and community development in her country. She is the founder of Malaysian environmental nonprofitEcoKnights, whose mission is to assist communities to develop sustainably and promote eco-friendly living.
Kari Fulton is an environmental and climate justice advocate and organiser. She is currently the national campus campaign coordinator for the Environmental Justice and Climate Change Initiative in the United States, a campaign educating policymakers and communities about the connection between environmental and social issues. She also acts as the spokesperson for the Energy Action Coalition, a youth climate movement demanding a just, resilient and clean energy future.
Liliana Madrigal is a conservationist who has led the fight to protect rainforests and indigenous cultures and communities in Central and South America. As the co-founder and senior director of the Amazon Conservation Team, Madrigal liaises between different programs and indigenous communities within countries in South America, with her primary focus on the indigenous Inga, Kamsa, Cofán and Kogi peoples. She also uses her activism to advance human rights for women throughout Amazonia.
https://www.greenqueen.com.hk/world-environment-day-10-women-poc-planet-activists-to-celebrate-everyday/
------
A White Woman Arrested on Assault, Hate Crime Charges After Threatening Muslim Woman and Daughters with Gun
June 4, 2020
A white Mountlake Terrace woman was arrested earlier this week after allegedly holding a gun to a Black Muslim neighbour and her two juvenile daughters, according to Mountlake Terrace police.
The 67-year-old woman was arrested at Lakeside Apartments, located in the 6100 block of St. Albion Way, Monday for second-degree assault and committing a hate crime after reportedly pointing a .22 calibre revolver at the 34-year-old victim and her two daughters, both under 15 years old.
After seeing the victim and her daughters pass by her residence, the suspect reportedly went inside her residence and returned with the firearm, telling them to "go back to your country. It's not safe right now and you might get hurt." Fearing for hers and her daughters' safety, the victim returned to her residence and called 911.
After contacting the suspect, police said she appeared to be having mental health issues. When officers arrived on the scene, the suspect barricaded herself in her residence, refused to speak to them, and accused them of impersonating law enforcement and harassing her, according to police records.
Eventually, police were able to contact her through a window and she was detained. After she was taken into custody, Commander Pat Lowe said the suspect voluntarily turned over the handgun, which was located in her closet. Police also reported confiscating a BB gun located on a dresser.
https://mltnews.com/sponsor-spotlight-covid-19-may-mean-higher-pud-bills-but-help-is-easy-to-find/
-----
How African feminists are helping to sustain peace in a pandemic
JUNE 4, 2020
Throughout the COVID-19 crisis, African feminists have been essential in responding with care to the challenges facing their communities. COVID-19 cases are on the rise in Africa, but not at the exponential rate experienced in other parts of the world, suggesting the success of early prevention measures. Yet, grassroots feminists also point out that the pandemic has laid bare inequalities that have long been a reality—underscoring the urgent need for an approach to peace and security that is inclusive and broad in its scope.
In a series of webinars, the Women, Peace and Security program has convened grassroots women's organizations from Lesotho, Sudan, Nigeria, Uganda and Democratic Republic of Congo, to discuss their work in the context of COVID-19. On a recent call, these organizations, which are participating in the Peace and Social Change Fellowship, exchanged their strategies for addressing the impacts that the ongoing pandemic has had in their communities.
In the face of layered challenges in their communities, grassroots activists are engaged in developing new strategies and practices to forward and sustain peace—from advocating for attention to the gendered impacts of the crisis, to leveraging networks of mutual aid and digital activism to respond where government efforts fall short.
Women's organizations participating in the call cited digital activism as an increasingly useful tool during the pandemic. Several organizations have found innovative means to connect and organize across distances through media and technology.
The Federation of Muslim Women's Associations (Nigeria) and the SuubiCenter (Uganda) has used radio and social media to spread awareness about COVID-19 prevention, promote compliance with social distancing measures, and highlight the pandemic's impacts on women's rights. In Sudan, activists from MANSAM, in addition to using traditional outreach methods, such as workshops and community dialogs—where permitted—also discussed the use of media to share drama and music containing health-related messages. In eastern DRC, the REFEADES team indicated that creating local digital platforms such as WhatsApp groups to communicate with other human rights activists has been critical.
MamelloMakhele, a midwife and advocate with the Barali Foundation in Lesotho, shared that that due to limited mobility, women and girls face increased difficulty in accessing healthcare and justice. In response, the Barali Foundation has used social media to connect with women and girls in need of a safe space. They initiated a Facebook campaign to amplify women's stories related to sexual violence and reproductive health.
Facing challenges such as limited mobility, grassroots organizations have found that leveraging strategic partnerships is increasingly important to deliver essential services.
For example, leaders from the SuubiCenter in Uganda mentioned that the government's ban on motorbike drivers—a primary source of transport in the region—from taking passengers has made women's access to health centers more difficult and dangerous. Sylvia Katooko, executive director of the SuubiCenter in Uganda, is leveraging her position on local COVID-19 taskforce to draw attention to the particular gendered impacts of the crisis.
Meanwhile, other organizations built on their relationships with local stakeholders in order to sustain their activism. The Federation of Muslim Women's Associations of Nigeria (FOMWAN), for example, partners directly with religious leaders to connect more deeply with community members and raise awareness. The Barali Foundation is working with a collective of other local youth-led organizations to deliver needed items like children's clothes and menstrual hygiene products to families across the country. To do so, they partnered with organizations with essential services licenses to conduct the distribution.
Grassroots activists also point to the intersections of the pandemic with structural issues such as climate change, healthcare inequities, and gender-based violence. A locust outbreak and recent flooding—both consequences of climate change—along with COVID-19 have presented a "triple threat" in several regions of the continent. Activists from Kenya, Uganda, and eastern DRC each cited recent episodes of flooding, resulting in displacement, food shortages, and increased burdens on women and girls.
"The [pandemic] has caused many problems [related to] poverty and hunger, and climate change aggravated the situation… People who are suffering in particular are women and girls," said Rose Faida, of REFEADES in eastern DRC. "Women who are producers and the pillars of the society find it difficult to work in that situation. A lot of women and girls turned to prostitution to cover their daily needs."
Activists also highlighted that some policies enacted by governments in response to COVID-19 often have had negative impacts on women's lives and health. The diversion of resources toward the virus, for example, has in some cases led to the de-prioritization of sexual and reproductive health, making access to these services more difficult to obtain.
Another common concern that grassroots activists expressed was the rise in cases of domestic violence in their communities, exacerbated by lockdown and shelter-in-place measures. In response, activists collectively discussed how to use this moment to advocate for more inclusive policies that prioritize gendered violence, expand women's economic power, and center women and girls' voices in decision-making.
Collective movement building across issues, localities and borders emerged as a primary means to achieve these goals. Sharing strategies and stories, and building opportunities for transnational collaboration, can pave a path toward a more just and peaceful post-pandemic future. As Ruth Ochieng, a co-facilitator of the fellowship program, said, "We need to rethink our strategies. Building cross-border collaboration as networks could be one of the ways. The more we are making noise, giving cross-country data, collaborating on campaigns, [we] will make an impact… Strength is in our numbers."
https://phys.org/news/2020-06-african-feminists-sustain-peace-pandemic.html
-----
URL: https://www.newageislam.com/islam-women-feminism/coronavirus-frustrates-saudi-women-push/d/122041
New Age Islam, Islam Online, Islamic Website, African Muslim News, Arab World News, South Asia News, Indian Muslim News, World Muslim News, Women in Islam, Islamic Feminism, Arab Women, Women In Arab, Islamophobia in America, Muslim Women in West, Islam Women and Feminism