• Calgary's Muslim Women Athletes Sporting A Respect for Games and Culture
• Female Participation in Sports Up 150% In Saudi Arabia
• Hollywood Actresses Join Turkish Women's Calls for End to Domestic Violence
• Women Wearing 'Burkinis' Not Banned from Pools, Beaches in Egypt: Govt
• Afghan Women Assert Themselves with Martial Arts
• Challenge Accepted: Turkish Feminists Spell Out Real Meaning of Hashtag
Compiled by New Age Islam News Bureau
URL: https://www.newageislam.com/islam-women-feminism/coronavirus-forces-makkah-women-abandon/d/122520
--------
Coronavirus Forces Makkah Women to Abandon 70-Year-Long Noble Tradition of Flocking to The Holy Kaaba in Droves
July 31, 2020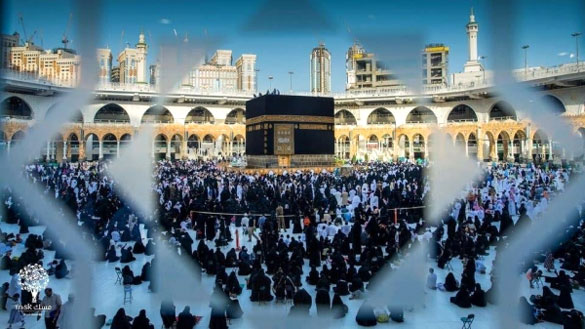 Women in Droves used to be a rare scene every year
----
MAKKAH — The coronavirus pandemic turned out to be a villain as it caused Makkah women to abandon their 70-year-long tradition of flocking to the Holy Kaaba in droves as all the pilgrims and male citizens of Makkah would move to Arafat on Dhul Hijjah 9, the Arafat Day, marking the climax of the annual pilgrimage.
It used to be a rare scene every year when a large number of the local women faithful, in their black abayas, gathered around Islam's holiest shrine, giving a distinct visual treat of the mataf (area around Kaaba for circumambulation) with white marble flooring.
The women used to make the most of the opportunity and perform tawaf (circumambulation), kiss the Black Stone, pray at Multazam (the area between the Black Stone and the door of Kaaba), and break their fast at mataf at their free will. They spent many hours of the day near the Kaaba, and then go back to their homes.
This tradition dates back to more than 70 years as male citizens of Makkah began accompanying Hajj pilgrims to offer them different kinds of services when the pilgrims ascended the vast plains of Arafat, marking the climax of Hajj.
Sameer Barqa, a researcher on the history of Makkah, said that Arafat Day came to be known among the Makkah women as "Al-Khaleef Day." Al-Khaleef means one who stayed back (from Hajj).
"In the past, it was the tradition of all male members of the Makkah's society to be fully involved in Hajj activities and thus giving a rare opportunity for women to spend the blessed day in the most blessed place on earth."
"When men went to the holy sites from the day of Tarwiyah, the first day of Hajj, the holy city of Makkah would be empty of men and then the women would go out to guard the neighborhoods also," he said. However, this year, the coronavirus prevented women from maintaining this tradition as they were forced to stay indoors due to precautionary measures and preventive protocols.
https://saudigazette.com.sa/article/596171/SAUDI-ARABIA/Coronavirus-forces-Makkah-women-to-abandon-70-year-long-noble-tradition
--------
Calgary's Muslim Women Athletes Sporting A Respect for Games and Culture
July 31, 2020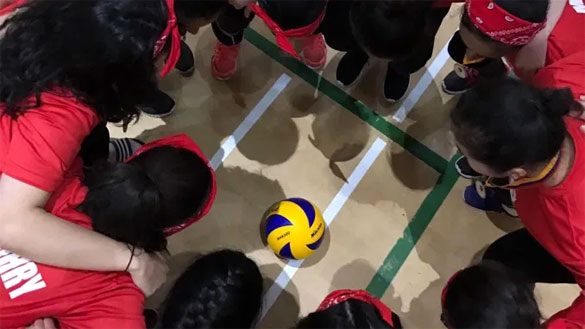 Playing with respect to their culture, Calgary's Muslim women hit the court providing women an opportunity to stay active. CONTRIBUTED
-----
Even with cultural and religious barriers around mixed-gender sports and clothing considerations, women at a Calgary mosque are sweating it out on the courts.
Baitun Nur mosque in Calgary has been consistently encouraging women in the Muslim community to participate in sports.
"A saying from our Holy Prophet Muhammad is that 'A physically strong person is better than a physically weak person,'" said Amtul Qayyum Anjum, general secretary in charge of Lajna (women's auxiliary organization) at Jama'at e Ahmadiyya in Calgary.
So, we encourage our ladies to participate in sports and exercise."
The mosque has made sure to not let any of this act as a hindrance for women who want to play sports. They create an environment that allows women to be comfortable playing and still respect their cultural identity.
"When we play inside our gym, it's amongst the women only. So, they do not have to wear a scarf, although, we still dress in modest clothing and members do not find any difficulty with playing to their full capacity in this clothing," said Qayyum.
"Rather, they feel even more comfortable," she said.
Many sports groups don't take religion into consideration
For Daniyya Haleem, the sports secretary and the captain of the women's volleyball team at Baitun Nur mosque, the feeling is mutual.
Haleem said that most public teams fail to consider Muslim women's ethnic concerns.
"That is a big reason as to why we have it in the mosque. We are all women, we all wear the same things, we are all comfortable and no men are coming in at that time," she said.
With a motive to teach the female members of the community to work hard, live in sisterhood, and to increase their physical strength, Qayyum believes that sports is the way to go.
"Islam teaches us to do good deeds with an active mind. One way to achieve this is through having an active and healthy body," said Qayyum.
COVID-19 put a hold on the sports
The players usually meet four days a week to practice volleyball. Due to COVID-19, the game has been put on hold for now.
All eight teams from Lajna Ahmadiyya Muslim Jama'at's Calgary Region Volleyball play against each other once a year in a tournament.
"Within our community, participating is seen as a good thing rather than a bad thing or stigma," said Haleem.
Haleem has been a part of the Baitun Nur volleyball team for six years now.
"People really support it and they look up to people who are participating. Everyone is always encouraging people to join," she said.
She feels thankful for having such a supportive space within the community.
The mosque also has a women's badminton team. Every year, they hold a Sports Day events where participants win prizes.
"By having these initiatives, we encourage our members to participate and try their best in sports. This is a fun opportunity for our members and it helps diminish the negative stigma around Muslims and sports," said Qayyum.
According to Haleem, this is also a good way to bring people towards the mosque and feel comfortable around the people you know.
"The idea that Muslim women cannot play sports in modesty is absolutely incorrect. Our team members would agree that it does not limit them in any capacity."
https://livewirecalgary.com/2020/07/31/calgarys-muslim-women-athletes-sporting-a-respect-for-games-and-culture/
--------
Female Participation in Sports Up 150% In Saudi Arabia
31/07/2020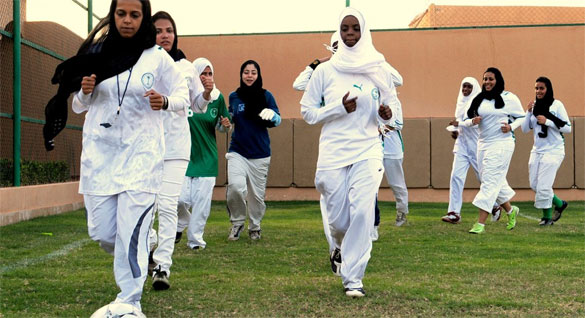 Female participation in sports increased by nearly 150% over the past five years in Saudi Arabia
-----
São Paulo – Female participation in sports increased by nearly 150% over the past five years in Saudi Arabia, its Ministry of Sports said, in the wake of the Vision 2030 program, which has created opportunities for women to engage in sporting activities.
The Vision 2030's Quality of Life program has seen the Saudi Sports for All Federation (SFA) work to increase weekly participation in sports by up to 40% by 2030, introducing a more inclusive sporting environment and encouraging girls and women to take up sports.
"Championing a healthy and active community means that we help to provide all members of Saudi society with access to high-quality opportunities to discover their love of fitness," SFA president Prince Khaled bin Alwaleed bin Talal told Arab News.
According to Talal, the SFA is en route to meeting the Vision 2030 goal of getting women to engage in physical activity.
February saw the SFA launch the country's first-ever Women's Football League (WFL). SFA special projects manager Rawh Abdullah Alarfaj said that "Having a women's football league is a huge boost for female football. We have been playing football, forming leagues and training since 2007, without any tangible support."
Football is the most popular sport in the Arab world, and Saudi Arabia is not an exception. The WFL includes women aged 17 and older.
Its launch came in the wake of the creation of SFA-Saudi Greens, in 2018, under SFA supervision. The new team finished second in the UN Global Goals World Cup 2019 (GGWCP). It was the first Saudi women's team ever to join an international event.
"It was an awesome experience in terms of learning how to connect our passion for sport with goals that affect our society, country and the world. Being part of the first team to compete internationally was an honor and a dream come true," coach Maram Adel Albutairi told Arab News.
The SFA's "Your Home, Your Gym" campaign is encouraging people to stay active throughout the coronavirus pandemic. Leading names in sports have been recruited as ambassadors for the campaign.
Last June saw the SFA host the first Saudi Women's Fitness Festival (WFF), "a three-day virtual event with sessions on nutrition, fitness, virtual workouts and thought leadership discussions," Arab News reported.
https://anba.com.br/en/female-participation-in-sports-up-150-in-saudi-arabia/
--------
Hollywood actresses join Turkish women's calls for end to domestic violence
July 31 2020
Hollywood actresses and world-famous celebrities have joined Turkish women's social media campaign
-----
Hollywood actresses and world-famous celebrities have joined Turkish women's social media campaign calling for putting an end to domestic violence with the hashtag #ChallengeAccepted, urging other women to join the trend.
The challenge came hot on the heels of a social media trend started by women in Turkey, including celebrities, actresses and journalists, posting black and white photos of themselves in a show of solidarity with women survivors and victims of domestic violence and in support of the Istanbul Convention, a Council of Europe treaty to combat violence against women.
The social media furor later quickly morphed into a show of female solidarity in the West, albeit without a shoutout to where the campaign most likely originated in Turkey.
Actresses like Jessica Biel and Cobie Smulders were quick to realize the movement may have had a starker importance instead of a simple women's empowerment trend.
"It took me a sec to catch up and learn what this is really all about. To put it simply – it's a global reminder for women to support women… especially those whose voices are not being heard (here, and around the world). To the women in Turkey, we stand with you and hear you…" Biel said in a post on Instagram, while making calls for gender-based justice in the U.S. as well.
Grammy-winning singer Christina Aguilera used the hashtag #IstanbulSözleşmesiYaşatır (Istanbul Convention Saves Lives) in the caption beneath her black and white photograph.
Frustrated with the rise in femicides and domestic violence, women in Turkey posted their photos mentioning the importance of the Istanbul Convention after senior government officials said Turkey, the first country to ratify the European treaty in 2012, may withdraw from the convention.
The groundswell of support for the convention comes right after the murder of Pınar Gültekin, a 27-year-old university student murdered in the Aegean province of Muğla by a man who was reportedly her ex-boyfriend.
The We Will Stop Femicides Platform (Kadın Cinayetlerini Durduracağız Platformu) logged more than 157 deaths at the hands of violent men so far in 2020.
https://www.hurriyetdailynews.com/hollywood-actresses-join-turkish-womens-calls-for-end-to-domestic-violence-157009
--------
Women wearing 'burkinis' not banned from pools, beaches in Egypt: Govt
31 Jul 2020
Hotels and tourist resorts in Egypt have no right to ban women from wearing burkinis at pools and on beaches, so long as these suits are made of materials "compliant with health specifications," the tourism and local development ministries said in separate statements on Friday.
This week, a video showing an altercation over women wearing the body-covering swimsuits, which are popular with some conservative Muslims, went viral on local social media.
The video showed a group of guests at a resort on the country's north coast engaged in a dispute with a family at the resort over the fact that two of the family group had entered the pool while wearing burkinis.
The group are shown saying that the fabric of the burkinis is unhygienic, while one said the suits had a "bad" appearance.
The family members describe the comments as "discrimination and racism" and deny that there is a difference between the swimsuit material and other swimsuits.
Many Egyptian women have complained that they are banned from going to pools in some tourist areas because they prefer to wear burkinis.
"The incident took place at a private pool in a tourist compound, which is not overseen by the tourism ministry but by the local development ministry," Abdel-Fattah El-Assi, deputy tourism minister, was quoted as saying in Friday's statement.
Hotels and resorts have no authority to ban veiled women from entering into pools in burkinis since they have no negative impact on public health, El-Assi added, according to Al-Ahram Arabic news website.
He noted that the tourism ministry had previously issued a circular in this respect to all hotels and resorts.
He also called on all women to file a complaint with the ministry if they experience such actions.
The local development ministry in its Friday statement reiterated that hotels and tourist resorts should not prevent veiled women who would rather wear burkinis from swimming in pools and going to the beach, as long as their suits don't affect the water.
Local Development Minister Mohamed Shaarawy instructed the coastal governorates to be in touch with owners of hotels and tourist resorts to guarantee these regulations are implemented, according to the statement.
Shaarawy also stressed the importance of adhering to all restrictions related to the coronavirus during the four-day Eid Al-Adha holiday, which began on Friday and continues until Monday.
These include keeping all beaches and public parks nationwide closed, and operating hotels, tourist villages and resorts at reduced capacity in accordance with new regulations.
Hotels in Egypt are allowed to operate at 50 percent of their occupancy rate provided that they have received the necessary hygiene safety certificates from the authorities.
Egypt has recorded a total of 93,757 coronavirus cases, including 4,774 fatalities and 38,236 recoveries, as of Thursday.
http://english.ahram.org.eg/NewsContent/1/64/375721/Egypt/Politics-/Women-wearing-%E2%80%98burkinis%E2%80%99-not-banned-from-pools,-be.aspx
--------
Afghan women assert themselves with martial arts
July 23, 2020
KABUL, Afghanistan (AP) -- A year and a half ago, Liqa Esazada for the first time stepped into a martial arts club for women in Kabul, something of a rarity in this still deeply conservative Muslim society.
At the time, she had just accompanied her older sister but was immediately intrigued. The 22-year-old is now one of two dozen Afghan women who find inspiration and empowerment in Japanese jujitsu, a martial arts form that dates back centuries.
They love the sport and dare to dream big, hoping someday to compete on the international level.
In war-torn Afghanistan, where gender discrimination has deep cultural and historical roots and where many women suffer from domestic violence, jujitsu seems an ideal sport for women. It teaches self-defense against a stronger and heavier opponent by using certain holds and principles of leverage.
Esazada said she wants to show a more positive side of Afghanistan -- and "become famous and win the world jujitsu championship medal."
Sayed Jawad Hussiani, a jujitsu instructor at the Nero club where Esazada trains, said this martial arts form with roots in feudal Japan was first brought to Afghanistan in 2005 but has since become popular among boys and girls alike.
The women in Hussiani's group find strength in their team spirit. They braid each other's hair before training sessions, spar against one another, take turns on the even bars. In winter, they practice their wrestle holds on snow-covered hilltops above Kabul.
Today, about two-thirds of Afghanistan's population is 25 or younger and Esazada said she has no memory of the Taliban regime, which hosted al-Qaida leader Osama bin Laden and ruled Afghanistan before the 2001 U.S. invasion.
But since the United States and the Taliban earlier this year signed a deal on ending America's longest war -- an accord that also envisages peace talks between the Taliban and the Kabul government -- women in Afghanistan have become increasingly worried about losing some of the rights and freedoms they have gained over the past two decades.
Under the Taliban, women were not allowed to go to school, work outside the home or leave their house without a male escort. And though they still face many challenges, Afghan women are increasingly stepping into their own power in this male-dominated society, finding a voice even in sports.
Esazada said she is not afraid of the Taliban, and if they come back, she would simply "continue my training to reach my dreams."
She looks to Afghan women athletes who have made their mark on the world stage. Female athletes from Afghanistan have won more than 100 medals at regional and international tournaments.
Tahmina Kohistani, Afghanistan's first female Olympic athlete, competed in the 100-meter run at the 2012 London Olympics. In 2010, the Afghan female soccer team defeated Pakistan 4-0 at the South Asian Football Championship. In 2011, Afghan female power lifters won three gold and two bronze medals at pan-Asian games held in Kazakhstan.
Esazada's fellow jujitsu student at the Nero club, Rana Rasuli, 21, said she worries about her future if the Taliban manage to retake all of Afghanistan.
For now, Rasuli said she is happiest when she can come out of her home and exercise with the other girls at the club.
https://mainichi.jp/english/articles/20200722/p2g/00m/0et/114000c
--------
Challenge accepted: Turkish feminists spell out real meaning of hashtag
Bethan McKernan
31 Jul 2020
Feminists in Turkey have called on the rest of the world not to forget the original context of Instagram's #challengeaccepted trend, which was supposed to draw attention to skyrocketing rates of gender-based violence in the country before it was co-opted by western celebrities.
Femicide, violence against women and so-called "honour" killings are deeply rooted issues in Turkey. Last week, the country was rocked by the brutal killing of Pınar Gültekin, a 27-year-old student, who was allegedly killed by an ex-boyfriend.
Campaigners are also deeply worried about fresh efforts by President Recep Tayyip Erdoğan's ruling party to repeal a Council of Europe treaty known as the Istanbul convention, groundbreaking legislation from 2011 that protects victims of domestic and gender-based violence and effectively prosecutes offenders.
Marches in four Turkish cities last week mourning Gültekin's death and calling on Turkish politicians to uphold the Istanbul convention were accompanied by hundreds of thousands of social media posts: one initiative involved posting photos on Instagram in black and white to emphasise how pictures of murdered women end up in black and white in the pages of newspapers.
The black and white challenge appears to have started in 2016 to raise awareness of cancer, but the repurposed idea along with appeals for women to tag others who inspire or support them and hashtags such as #challengeaccepted and #İstanbulSözleşmesiYaşatır, or "Enforce the Istanbul Convention", quickly took off in Turkey.
As the hashtags were translated and shared in other languages and western celebrities such as Jennifer Aniston, Eva Longoria and even Ivanka Trump picked up on the trend, the original context appears to have been lost on most users, morphing into a lighthearted - if directionless - display of female solidarity.
"The black and white photo challenge and #challengeaccepted movement did not start in Turkey, but Turkish women sparked the latest round of pictures because we are worried about withdrawing from the Istanbul convention. Every day, after the death of one of our sisters, we share black and white photographs and keep their memory alive," said Fidan Ataselim, the general secretary of the campaign group We Will Stop Femicide.
"The Istanbul convention keeps Turkish women alive. We call on women from all over the world to spread this message and stand side by side with us against inequality."
Chef Nigella Lawson's original #challengeaccepted post was followed up with an apology after activists pointed out the original meaning of the campaign.
"I have only just found out that this challenge was originally meant to draw attention to the growing number of murders of women in Turkey, and am mortified didn't know [sic] when I posted. It seems inappropriate now, and hardly fitting for the serious and terrible issue of femicide. I apologise," she wrote.
Comedian Miranda Hart also issued a mea culpa for posting a photograph without realising where the campaign had come from.
"I am one of many women who didn't research the #challengeaccepted #blackandwhitechallenge thoroughly. Although I am always grateful for a chance to support and uphold the women who uphold me, this 'challenge' is about raising awareness of the atrocious Femicide in Turkey."
Gültekin is one of 120 women who have been killed in Turkey so far this year, mostly by partners and relatives. A total of 474 women were killed in 2019, the highest rate in a decade in which the numbers have increased year on year. The figures for 2020, affected by coronavirus lockdowns, are expected to be even higher.
Despite the fact Turkey has the highest femicide rate among 34 OECD countries, conservative elements in Turkey's political sphere have repeatedly petitioned for the country to withdraw from the Istanbul convention on the grounds that it encourages divorce and 'immoral lifestyles'.
On Tuesday, Meral Akşener, the leader of the opposition İYİ Parti (Good party) called on Erdoğan to uphold the legislation, saying that the government's failure to properly implement the law since it was ratified in 2014 was contributing to the rising levels of gender-based violence.
https://www.theguardian.com/world/2020/jul/31/challenge-accepted-turkish-feminists-spell-out-real-meaning-of-hashtag
--------
URL: https://www.newageislam.com/islam-women-feminism/coronavirus-forces-makkah-women-abandon/d/122520
New Age Islam, Islam Online, Islamic Website, African Muslim News, Arab World News, South Asia News, Indian Muslim News, World Muslim News, Women in Islam, Islamic Feminism, Arab Women, Women In Arab, Islamophobia in America, Muslim Women in West, Islam Women and Feminism