New Age Islam News Bureau
9 May 2020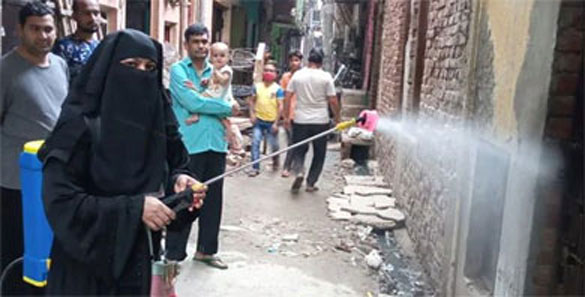 Mother of three, Imrana Saifi proved to be a good samaritan. With a sanitiser tank provided the 32-year-old woman in a burqa fulfills her duty as a good citizen and sanitises the Nav Durga Temple and other mosques and gurdwaras in North Delhi's Nehru Vihar locality.
-----
• Corona Warrior: Clad in Burqa, Muslim Woman, ImranaSaifi, Is Sanitizing Temples, Gurdwaras And Mosques in Delhi
• Former Child Bride Sues Pakistan For Wrongful 19-Year Imprisonment
• Pakistan's Cultural Norms Discourage Women from Becoming Surgeons: Study
• Five Million Babies Expected to Be Born In Pakistan In 9 Months Since Covid-19 Outbreak: UNICEF
• Afghanistan- Afghan Millennial Woman Opens Jewellery Business in the U.S.
• A Saudi Woman's Journey with Coronavirus Disease
• Women Protest Spike in Domestic Violence As Locked-Down Israel Simmers
• Closing Pakistan's Maternity Wards Puts Women at Risk
Compiled ByNew Age Islam News Bureau
URL; https://www.newageislam.com/islam-women-feminism/corona-warrior-clad-burqa-muslim/d/121804
-------
Corona Warrior: Clad in Burqa, Muslim Woman, ImranaSaifi, Is Sanitizing Temples, Gurdwaras And Mosques In Delhi
8 May 2020
In an exemplary show of communal harmony, a Muslim woman is helping to sanitise several temples in Delhi amid the coronavirus pandemic, reported NDTV. Clad in a burqa from head to toe, 32-year-old ImranaSaifi has taken up the responsibility of sanitising numerous temples, mosques and gurdwaras in the North Delhi neighbourhood. She's welcomed by the priests who lend her a helping hand in spraying the disinfectant inside and outside the temples. As its the holy month of Ramzan, the mother of three observes the day-long fast and goes out every day to do her work with the sanitiser tank provided by the local residential welfare association.
"I want to uphold the secular culture of India. I want to send a message that we are all one and we will stay together," Saifi told the media. "We aren't stopped by the temple priest or anyone else and we haven't faced any difficulty as of now," she added. Saifi has made a team of three other women to work amid the pandemic. Earlier, she had made arrangements to help people affected by the violence in Northeast Delhi in late February over the Citizenship Amendment Act (CAA). "Such steps are welcome for communal harmony and we must support each other. We must discard hatred and adopt love and be the each other's well-wishers," he priest of Nehru Vihar's Nav Durga Mandir of Nehru Vihar, Pandit Yogesh Krishna told the media.
As people are aware of the dangers of COVID-19, they don't create an obstacle in the sanitation drive. "People are aware that it is a dangerous disease that is why we don't face any problem on our sanitisation drive. The pandemic has brought the communities together," she said. Saifi has studied only till the seventh grade. Her husband Niyamat Ali works as a plumber and to make ends meet, Saifi also took up the work. However, the ongoing nationwide lockdown rendered both of them jobless. Saifi has now taken up community service.
https://thelogicalindian.com/story-feed/get-inspired/muslim-woman-sanitise-temples-20985
--------
Former child bride sues Pakistan for wrongful 19-year imprisonment
May 9, 2020
A former Pakistani child bride who was wrongly accused of killing her husband at 13 and subsequently spent almost two decades in prison is making history by being the first victim of a miscarriage of justice to seek compensation from the state, say legal human rights experts.
According to an article by the Inter Press Service, Rani Tanveer, who was released in 2017 after 19 years in prison, filed a petition seeking compensation this March. Her lawyer called the petition "ironic".
"It would be the first time a victim is asking the state to compensate her for the miscarriage of justice meted to her," Michelle Shahid, Tanveer's lawyer from the legal advocacy group, Foundation for Fundamental Rights (FFR), told IPS.
Tanveer, her brother and other members of her family were arrested in 1998 after her husband's body was found buried in their residence. According to report, the family was the last to see him alive.
Tanveer's mother was released after serving six months in jail. Her father and brother, however, passed away from tuberculosis while they were still serving a prison time of 11 and 15 years respectively.
Tanveer was sentenced in 2001 and was not allocated any state counsel. She still tried numerous times to file appeals through the prison superintendent. None of them were filed.
In 2014, however, her case was taken up by legal aid organisation AGHS Legal Aid Cell and three years later her conviction was overturned. Tanveer is now seeking compensation.
"Rani's is a typical case that highlights the plight of those who suffer silently behind bars through no fault of their own, only to be exonerated years later, if at all," her lawyer said.
Shahid revealed that a negligent and lackadaisical attitude could be found among the police, prosecutors, jail officials and even judges.
"Pakistan does not have precedent for payment of compensation or damages," Pakistan's representative for Human Rights Watch Saroop Ijaz said.
"It has to start somewhere; I hope that it is this case," he said, adding that Pakistan's criminal justice system was "dysfunctional" and that people spent decades in prison to be acquitted later without so much as an apology from the state.
A 2020 report published by the Ministry of Human Rights, discovered that there were 389 convicted women across Pakistan's prisons while 755 women are currently undergoing trial.
"Pakistan's criminal justice system is in urgent need of reform and we are hoping that the court recognises that Rani is not alone in her struggle; countless innocent persons continue to be wrongfully convicted, said Shahid.
"This petition is an opportunity for the government to atone for its mistake and ensure that the state machinery collectively upholds its obligations towards citizens in the administration of justice."
She, however, hopes that it's enough to buy things for her home such as "a pair of charpais [woven rope bed], blanket and linen, an iron, a fan, a washing machine and a stove" — all the things her mother and brother would have given her as "dowry" when she re-married last year but could not because of their financial circumstances.
Presently, in the midst of a the coronavirus lockdown, Tanveer thinks it was better to be in prison where she could get meals and did not have to worry about anyone.
Due to the lockdown, both her and her husband have lost their jobs as labourers and have moved back to the village with her in-laws.
"This coronay [COVID-19] has made my life miserable" as she has to bear the continuous jibes and scorn for her past life from her in-laws.
"I also flare up at the slightest of provocation," she confessed, adding: "No one understands me; sometimes I don't even understand myself. Once the words are out of my mouth, I always feel guilty, but it's too late," she lamented.
Her husband insisted she was not as bad as she made herself out to be. "I keep telling her not to worry about the world or what my family says to her, as I am by her side; I love her smile and I think she is beautiful inside out," he said.
https://www.samaa.tv/news/pakistan/2020/05/former-child-bride-sues-pakistan-for-wrongful-19-year-imprisonment/
--------
Pakistan's cultural norms discourage women from becoming surgeons: study
Atika Rehman
May 09, 2020
LONDON: A new study by the Aga Khan University Hospital (AKUH) has found that significant cultural barriers prevent women from pursuing a surgical career in Pakistan, amid calls for policymakers to address underrepresentation.
The study titled "Cultural barriers for women in surgery: How thick is the glass ceiling?" was published after peer review by the World Journal of Surgery this week as an analysis from a low middle-income country.
The publication detailed the findings of a cross-sectional survey in which questions were put to 100 full-time faculty members and trainees in the Department of Surgery at AKUH from July 2019 to November 2019. The respondent breakdown was 32 per cent female and 68pc male.
Results revealed that nearly 72pc of female surgeons said cultural barriers to a surgical career existed for their gender, as compared to 25pc of male surgeons. Around 40pc women reported having been discouraged by family or close friends from pursuing surgery, as compared to only 9pc of males.
It also found that a greater percentage of female surgeons were responsible for household cooking, cleaning and laundry, as compared to male surgeons. Nearly 71pc of female surgeons felt that having children had hindered their surgical career, as compared to 5pc of males.
At the time of the study, a total of 194 surgeons were working or in training at the university hospital, of which only 47 were female. The surgical specialties at AKUH with the lowest percentage of female surgeons were vascular surgery (0pc), orthopaedic surgery (6.06pc) and otolaryngology (11.1pc). However, all breast surgeons were female.
Majority (47pc) of female surgeons reported having been told that they could not become a surgeon, as compared to 22pc male surgeons. A higher percentage (86pc) of females felt the "culture" perceived surgery as a field suited for males, as compared to male surgeons (54pc). A large percentage of the respondents (40pc) felt that a surgical career was not conducive to raising a family, with this opinion being more common in females as compared to males.
A significantly higher percentage (76pc) of male surgeons were married, as compared to female surgeons (44pc). While all married female surgeons had a spouse who was currently employed, 38pc of male surgeons reported having stay-at-home spouses.
The majority (86pc) of surgeon mothers felt that their motherhood was perceived negatively at work. Moreover, most women (71pc) worried that their hectic work schedule and duties might compromise their health or the health of their children.
Dr Mahim Malik, the head of cardiothoracic surgery at AKUH and Pakistan's only paediatric cardiac surgeon, was among the lead authors of the study, which was presented at the 15th Annual Academic Surgical Congress in Orlando this February. She said the idea of the study came about when her peers decided to form a female surgeons association which would help women network and access mentors.
"The issue of low female representation in surgery is not unique to Pakistan, as it reflects a trend prevalent in the United States as well," said Dr Malik, who received her training in the US and returned to Pakistan two years ago.
She added that women who become doctors are often confronted with the challenge of balancing demands of professional duties with pressures of family life, which keeps them out of a demanding field like surgery. "Women are often viewed just through the lens of 'mother' and boxed into paediatrics or OB GYN which are seen as more 'feminine'."
Dr Malik felt that the culture today reflected the stereotypes of the 50s and 60s, when surgery was growing in the world and was dominated by men. "Men are perceived as more intelligent. You often hear things like 'women can't do this' or 'don't have the temperament', which creates a toxic atmosphere."
While she considers herself lucky for having a supportive family, she is cognisant that the experience of many women is starkly different. "I am definitely an outlier in that sense, because during the survey I saw exactly what women have to face."
To increase female representation in a field like surgery, Dr Malik said Pakistan needed a change in the work environment. "It is lagging behind and can only change at the institutional level. It is not up to one person."
She said the environment was still "fairly toxic" and that women had to face taunts from their colleagues. Questions such as 'how will you work if you are married?' or 'your career is over now that you have a baby' are thrown at women quite commonly.
"This implicit bias is normalised here. People saying these things have to be held accountable, but still this is challenging because the hierarchical structure is also male-dominated."
She emphasised the need for an approach of "equity over equality", as policies like flexible hours and flexible pay structures must be enacted to support women. "Right now, women know that if they take time off to have a baby, they will be sidelined for a promotion. This needs to change."
https://www.dawn.com/news/1555710
--------
Five million babies expected to be born in Pakistan in 9 months since Covid-19 outbreak: Unicef
May 08, 2020
An estimated 29 million babies will be born in South Asia in the nine months after the Covid-19 outbreak was classified as a pandemic by the World Health Organisation (WHO), while five million births will be reported in Pakistan, according to a report released by the United Nations Children's Fund (Unicef).
The report — released on May 6 — has predicted that an estimated 116 million babies will be born across the world in the 40-week period between March 11 and December 16, with almost a quarter of them in South Asia.
India is expected to report 20 million births, the highest in the region, during this period, the report said, followed by Pakistan, Bangladesh (2.4 million) and Afghanistan (one million).
The report also warned that lockdown measures imposed to curb the spread of the coronavirus may cause disruptions in life-saving health services "putting millions of pregnant mothers and their babies at great risk".
"The continuing rapid spread of Covid-19 across South Asia means new mothers and newborns will be greeted by harsh realities, including global containment measures such as lockdowns and curfews, health centres overwhelmed with response efforts, supply and equipment shortages, and a lack of sufficient skilled birth attendants as health workers [...] are redeployed to treat Covid-19 patients.
"Unicef cautions that although evidence suggests that pregnant mothers are not more affected by Covid-19 than others, countries need to ensure they still have access to antenatal, delivery and post-natal services.
"Likewise, sick newborns need emergency services as they are at high risk of death. New families require care to ensure the health and well-being of mothers, support to start breastfeeding, and to get medicines, vaccines and nutrition to keep their babies healthy," the report said.
Ensuring health workers are provided with the necessary personal protective equipment and priority testing and vaccination for Covid-19 when it becomes available
Allowing healthcare workers to reach pregnant women through home visits, encouraging women living in rural areas to visit maternal waiting homes, and using mobile health strategies for tele-consultations
The report also urged pregnant women to take precautionary measures by practicing social distancing, avoiding physical gatherings and using online health services.
It also advised them to continue breastfeeding their children even if they are infected as "the virus has not been found in samples of breast milk".
"Mothers with Covid-19 should wear a mask when feeding their baby, wash hands before and after touching the baby, and routinely clean and disinfect surfaces," it cautioned.
https://www.dawn.com/news/1555583/five-million-babies-expected-to-be-born-in-pakistan-in-9-months-since-covid-19-outbreak-unicef
--------
Afghanistan- Afghan Millennial Woman Opens Jewelry Business in the U.S.
5/8/2020
(MENAFN - Wadsam) 'As an Afghan economist I have always wondered whether Afghanistan is a rich or poor country?' says Tania Aria, the founder of Afghan jewelry brand Veezha . Looking at the GDP rates obviously one would say it is a poor country, but considering the $1-3 trillion untapped natural resources and minerals, Tania does not think so. After all, Afghanistan treasures some of the world's most wanted gemstones such as emerald, ruby, tourmaline, sapphire, spinel, lapis lazuli, and more.
An emerging entrepreneur, Tania dug deeper into and worked in the supply chain of the gemstone and jewelry industry of Afghanistan. She connected producers with international markets through international tradeshows. She knew the hidden potential of the sector– gemstones being one of the prominent export commodities of the Afghan economy – and its hindering gaps. She decided to establish her own venture to fulfill her dream of representing her country and culture in a more sophisticated and innovative way through business, while empowering her fellow Afghans by training and employing them.
To found Veezha – a Dari word meaning 'distinguished' and 'special' – she combined her passion for art, business acumen and tech-savviness to highlight the brilliance of Afghan gemstones and craftsmanship to the international markets. When asked about the unique features of her products, Tania says: 'Veezha'sjewelry are authentic, handmade, and contemporary in design, presented with a story and message with origins from centuries-old rich Afghan culture. We distinguish our brand through artistic design details, the quality of gemstones and metal, and ultimately the way the pieces are cherished and worn with standard instructions on jewelry care.'
The care that goes into creating every necklace, bracelet, ring, and earring reflects her belief that the pieces are to be viewed as collectible, modern heirlooms that will stand the test of time and trends. Each collection is named with feminine Dari, Pashto and other language names describing her take in voicing Afghan women.
Now a promising emerging jewelry brand, Veezha has already resolved the major hurdles that many Afghan businesses have struggled with over the years. Tania has persistently focused on building a complete value chain from Afghanistan to the world. 'On Veezha's website, we offer secure online payment system, standard shipping in the U.S., Canada, and Afghanistan; and a wide product range, including one-of-a-kind pieces that are my personal favorites.' In the age of expanding global e-commerce, Afghanistan's future economic growth highly depends on its ability to export and connect with international markets. Entrepreneurs like Tania are paving the way. Veezha's primary markets are Kabul and the Unites States, and it plans to supply all over the world with branches in London, Germany, and Turkey in the near future. As a conscious buyer herself, Tania offers her customers not only elegant jewelry with the precious stones, but also the pride and satisfaction of contributing to a good cause and empowering Afghan artisans.
She also advocates for the private sector development and aware the public through her articles about standardizing the gemstone sector, such as 'The Wonders of Little Gems', 'Gemstones: A Beautiful Way to Brand Afghanistan', 'Emerald: The Hidden Treasure of Afghanistan', 'The Role of Public Policy in Supporting Private Investment' and Impact of the International Programs in Promoting Women Entrepreneurship in Afghanistan.
Tania comes from an academic family and has always been passionate about education. After completing her bachelor's degree in Economics from Kabul University, Tania started teaching at Oruj Institute of Leadership and Management and worked for a World Bank project at the Ministry of Finance to bring financial management reforms. She then went to Purdue University in Indiana, USA for a fellowship to advance her teaching and research skills. She attained UK's Chevening Scholarship to pursue her master's in Finance and Economic at the University of Southampton. Upon her return, she served in the Afghan government as advisor to the chief of staff at the Administrative Office of the President. As an advocate for women's economic empowerment, Tania joined USAID's Promote project where she supported women entrepreneurs to establish sustainable ventures and mentored tens of young women throughout their career path. Another opportunity came her way and she joined United States Agency for International Development's Economic Growth Office where she not only directly worked in projects design, implementation and evaluation of economic growth projects for the country but also worked on trade and mining sectors in partnership with key government policy makers, private sector and other international allies.
Her passion for education and supporting her fellow Afghans has never stopped and now she uses Veezha as a better platform to support education of Afghan kids and women by partnering with two NGOs called 'Farkhunda Trust' and 'Sarak-e-Awal' and shares a percentage of Veezha's profit as its social corporate responsibility. She has been volunteering with Farkhunda Trust since its establishment for the last 5 years that sponsors the higher education of women who are victims of violence and come from poor families across Afghanistan, and Sarak-e-Awal sponsors kids' education to prevent child labor.
https://menafn.com/1100138528/Afghanistan-Afghan-Millennial-Woman-Opens-Jewelry-Business-in-the-US
--------
A Saudi woman's journey with coronavirus disease
LOJIEN BEN GASSEM
May 09, 2020
RIYADH: Despite an increase in the number of deaths from the coronavirus disease (COVID-19), the recovery rate is relatively high. While there are carriers with mild or no symptoms at all, others have no choice but to seek treatment at the hospital.
Arab News talked to a Saudi woman who caught the disease while she was isolated with her family, with 11 members in the house also infected. Their symptoms ranged from mild to severe.
Khuloud Mullah, 43, who works in the diplomatic sector in Riyadh, visited her family in Yanbu before the nationwide curfew was put in place.
"It all started before the government issued the curfew order, when my brother-in-law went to a weekend getaway (isteraha) and was joined by other men who just came from abroad and carried the coronavirus without knowing," she said.
"Unfortunately, the disease spread to four houses, two in Riyadh, one in Yanbu and one in Madinah, and the members of these houses all tested positive for COVID-19."
During her recovery journey, Mullah said she learned and discovered many things while at the hospital struggling with her illness. "For the first time, I feel the true values of the blessings I have and I wanted to share them with everyone."
The blessing of health cannot be compared to any other blessing, she said, adding that there were moments she felt that her death was close. "He (Allah) will hold me accountable for this blessing, whether I take care of my health or neglect it."
The blessing of freedom was also something Mullah felt while in quarantine. She started to appreciate all the things she took for granted before the virus outbreak.
"(Before COVID-19) I was free to go out, enter, decide, discuss, express, travel, change … and do whatever I wanted. And in one moment everything was taken away from me. I became trapped in a bed, imprisoned in a hospital room. It was not my choice or my decision, but forced on me for the first time in my life," she said.
Fighting the disease for two weeks, Mullah said that some of the symptoms that she and her family suffered from included "losing the sense of taste and smell, lack of appetite to eat, instability when walking or standing, always falling to the ground whenever walking, high fever, severe pain in the body … very severe and constant headaches, shortness of breath where I couldn't fill my lungs."
"I was struggling and trying to move despite the constant feeling of dizziness. I also tried to fight the headaches by taking painkillers and drinking a lot of water and fluids. I was practicing breathing exercises even though it was painful. All these pains took me 14 days to heal, I was patient," she added.
Mullah mentioned that the only thing that kept her strong during her illness was the presence of her family and siblings who supported her despite going through the same struggle. "
She learned that the blessing of real relationships is priceless regardless of the differences and conflicts which disappear during crisis. "You find them standing next to you at the time of hardship and when you need them the most, especially in your illness."
She said that all the unprecedented changes imposed on the world since the virus outbreak reminded people that they can adapt to any unforeseen circumstances life brings them face to face with.
She added: "Whoever was infected with coronavirus will relate and understand what I am saying because they have certainly gone through the period of reflection that I have been through during my illness."
Mullah has left the hospital and is now in a hotel until she fully recovers before she can come into contact with other people.
https://www.arabnews.com/node/1671896/saudi-arabia
--------
Women protest spike in domestic violence as locked-down Israel simmers
Mazal Mualem
May 8, 2020
Figures collected by the Ministry of Welfare since the lockdown began about seven weeks ago show that there were four times as many incidents of violence against women than in the same period last year. In 2019, 13 women were killed in Israel by domestic violence. The past few weeks show a sharp rise in the prevalence of this tragic phenomenon.
Professionals in the field agree that the reason is the extended lockdown, which has forced people to remain at home. Living in such close proximity under tense conditions has had a pressure-cooker effect, increasing the likelihood of violence within the family. Helplines and women's shelters have reported a rise in the number of women contacting them, but they also note that they are having a hard time providing an adequate response to everyone.
Just a few days ago, two women were murdered by their partners — MastwellAlaza on April 28 and Tatiana Haikin on May 3. To make matters worse, in both cases, the men had been arrested in the past and even served time in prison for assaulting their partners. Nevertheless, the violence continued after their release as the authorities failed to protect the victims.
Alaza, 37, from Holon, was murdered by her husband after she ignored requests he made at dinnertime. Infuriated, he began to beat her. She tried to defend herself and flee the apartment, but he pulled a knife on her and stabbed her to death in front of their children. Making this tragedy even more infuriating, Alaza was living in a shelter for battered women until recently. She returned to live with her family only when the coronavirus lockdown started. She was hoping to find a more home-like environment, but in the end, she paid dearly for it. Once she arrived home, she was beaten daily until she was finally killed.
Haikin, 50, from Bat Yam, was also killed by her partner. He had already spent time in prison for assaulting her, but upon his release he ignored a restraining order and returned to live with her. She also suffered a brutal death.
This rise in violence against women has led to a wave of nationwide protests and demonstrations over the last few days. The biggest took place on May 6, when hundreds of women gathered in 17 cities across the country to protest the government's failure to address the phenomenon. The demonstrations were led by women's groups under the banner, "Not at my expense." A Facebook page dedicated to the initiative says, "We are the invisible victims of the coronavirus," and "Violence against women in Israel is reaching unimaginable proportions. Women across the country are paying with their blood."
In one particularly moving show of solidarity by the "Sisters in Misery," Jewish and Arab women stood side by side with masks covering their faces to protect themselves from the virus. They had gathered together to demand that the government wake up and enact emergency measures to help women at risk, remove them from their homes and place them in shelters for battered wives.
NailaAwad, the director of Women against Violence and one of the demonstration's organizers, accuses the authorities of abandoning women. She says that women's group appealed to the prime minister, the ministers of public security and welfare and the local Arab leadership as well as all members of the Knesset to warn them of the danger. "We let them know that we are caught in a pressure cooker, and it's about to explode. Israel is abandoning women. It continues to marginalize them everywhere, without batting an eye.''
On May 3, the Knesset's Welfare Committee held an emergency meeting to discuss the rise in violence against women since the start of the pandemic. During its discussions, participants heard reports about two women who committed suicide after being subjected to violence during the lockdown. Both women were unable to convince the authorities to remove them from the home.
The chair of Israel's Union of Social Workers, InbalHermoni, painted a grim picture for the Knesset committee about the rise in violence in the Bedouin community since the start of the lockdown. According to her, domestic violence is twice as common in this group as in the rest of the country. Hermoni explains that the women affected are constantly with their abusers and have no way to file their complaints.
The Ministry of Welfare is experimenting with housing abusive men who were removed from the home but have nowhere else to go because of the crisis in hotels and hostels across the country.
In Israel today, there is no such thing as compulsory mental health treatment or therapy for men who abuse their partners. While men can receive help and therapy from centers to prevent family violence, they make up only about a quarter of the people being helped by such facilities. All the rest are women and children.
https://www.al-monitor.com/pulse/originals/2020/05/israel-domestic-violence-demonstrations-coronavirus-women.html
--------
Closing Pakistan's Maternity Wards Puts Women at Risk
May 9, 2020
With one of the highest maternal mortality rates in South Asia, Pakistan was already in crisis before the Covid-19 pandemic. Now, the reported closing of maternity wards in Islamabad, the capital, and Khyber-Pakhtunkhwa province could exacerbate an already grim situation, especially for impoverished women and girls.
Like other countries, Pakistan faces huge challenges providing essential health services, including sexual and reproductive health care, while responding to the pandemic. But restricting access to health care for already marginalized Pakistani women is not the answer.
Pakistani authorities say they need to close the maternity wards because staff members have been diagnosed with Covid-19. The gynecology ward in Lady Reading Hospital, Peshawar was closed after 29 staff members tested positive for the virus.
Instead of closing maternity wards and cutting off access to essential health care, the Pakistan government needs to do a better job protecting healthcare workers.
As of May 7, more than 500 Pakistani healthcare workers have been infected with Covid-19. Instead of doing everything possible to ensure protection for healthcare workers, Pakistani authorities have taken legal action and threatened force to silence doctors and medical workers expressing their concerns.
On April 6, police arrested 150 doctors and medical staff in the city of Quetta, Balochistan for protesting the lack of personal protective equipment (PPE) after 13 doctors in the city tested positive for Covid-19. All those arrested were subsequently released. Doctors in Punjab province have been on symbolic hunger strikes to draw attention to their demands of PPE. The Punjab government responded with police carrying batons.
Sexual and reproductive healthcare, including pregnancy and birth care, is always an essential service and the staff providing this care are essential workers. They need to be kept safe through provision of adequate PPE and other measures such as creating conditions to isolate any patients with Covid-19 symptoms to prevent exposure for uninfected staff and patients.
The Pakistan government should act quickly to ensure that necessary measures are taken to safely reopen maternity wards and that sexual and reproductive health services continue to be available throughout the pandemic in a manner that is safe for both patients and staff.
https://www.hrw.org/news/2020/05/09/closing-pakistans-maternity-wards-puts-women-risk
--------
URL: https://www.newageislam.com/islam-women-feminism/corona-warrior-clad-burqa-muslim/d/121804
New Age Islam, Islam Online, Islamic Website, African Muslim News, Arab World News, South Asia News, Indian Muslim News, World Muslim News, Women in Islam, Islamic Feminism, Arab Women, Women In Arab, Islamophobia in America, Muslim Women in West, Islam Women and Feminism