New Age Islam News Bureau
21 March 2020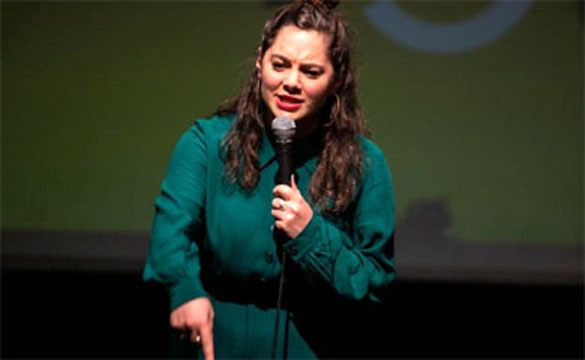 The comedy line-up at East London's Rich Mix was hosted by Lebanese British standup Isabelle Farah (Photo credit Stephanie Claire Photography)
------
• Women Make Their Presence Felt In New Lebanon Cabinet
• UK Official: Saudi Women's Progress 'Striking' and 'Strong'
• Christian Woman Can't Marry Because Identification Card Wrongly States She's Muslim
• It's Time NP Ashley Stops Saving the Muslim Women
• Police Violence on Women Protesters at Lucknow's Ghanta Ghar Leaves Three Critical
• Jinwar, the Middle East's First Feminist Commune For Arab, Kurdish, And Yazidi Victims Of Islamic State
• One Woman's Dream Fuelled Gilgit Baltistan's Flower Industry
Compiled By New Age Islam News Bureau
URL: https://www.newageislam.com/islam-women-feminism/corona-comedy-arab-women-comics/d/121372
--------
Corona Comedy: Arab Women Comics Laugh In The Face Of Adversity
By Joe Gill
20 March 2020
Amid the coronavirus pandemic, they came to laugh. Social distancing and self-isolation may be the order of the day, but at East London's Rich Mix venue on Friday the 13th there was little sign of it, except perhaps for elbow bumps in place of cheek kissing and hugs.
Arabs Are Not Funny, the comedy brand created by UK Arab cultural promoter Arts Canteen, brought together six Arab women comedians in what its founder and chief executive, Aser El Saqqa, describes as "really a miracle" under the circumstances.
"People are very concerned but again people want to laugh, for this particular night, just perhaps to get over what's happening on the screens and the news," he tells MEE before the show.
Friday night's show was part of the sixth Arab Women Arts Now (AWAN) festival in London this month, a programme of arts and performances by women from the Arab world. "We had a very successful opening, a very intensive weekend, four packed dates," says El Saqqa.
The comedy line-up was international: hosted with great charm by Lebanese-British standup Isabelle Farah, she introduced fellow Bahraini Brit Jenna al-Ansari, two acts from Europe - Serine Ayari (Belgium) and Leila Ladari (Swiss Tunisian); and Moroccan Laila Alj.
With an escalating pandemic, Britain is gradually shutting down entertainment venues in order to stop the spread of disease, so the night felt like a last hurrah. "This is my last gig of the month - everything else got cancelled," says Ayari as she arrived on stage, fresh in from Belgium.
Several of the comedians alluded to the virus - one, Alj, even ended her act with a Shakespearean "sonnet COVID-19" (more of which later).
The show was put on by Art Canteen's standalone comedy brand, Arabs Are Not Funny (AANF), which promotes a range of Middle Eastern comedy talent and has put on more than 30 sellout shows, including two at Dubai Opera house in 2018. But this all-female night represents a new turn.
Freedom of speech
As she took the stage, Ayari celebrated the presence of a diverse Arab crowd - Tunisians, Palestinians, Algerians, Iraqis, Moroccans, and at least one Saudi (who defiantly shouted "not representing").
Ayari is engagingly funny on the trials of being a Tunisian girl growing up in Belgium. "Every time I had a question, my dad said 'just do what the Belgians do'. So December 25th, I said 'yo dad I've been doing like the Belgians did, it's Christmas, where the f*** are the gifts?'"
Then, aged six, she had to confront a Flemish neighbour who said he wouldn't let her play with his daughter because she was "Turkish" - her telling him she was Tunisian made no difference. "Don't worry," she quips. "I got my revenge, I dated his nephew."
For Ayari, 28, this is her third outing at AANF after her first appearance at Awan in March 2019 and then at the Shubbak Arab arts festival last summer in London. She has been doing standup for less than two years but she's already come a long way since her first gig in Flanders, the Flemish-speaking northern part of Belgium where she lives, near Brussels ("You remember that place?" she asks, post-Brexit).
"I got a pretty easy jump when I started doing standup in Belgium and Flanders because there I was the first Arab female comedian doing it, so immediately a lot of people were curious about what I was doing," she tells MEE.
Ayari adds that for her, standup means more than just being funny, it means standing up for something. "My comedy really comes from a personal perspective, and I'm never going to try to please the crowd by saying things I don't necessarily stand behind or believe in that moment."
In France and Belgium the rules of comedy are stricter than in the UK and US, she says. Some jokes can get you in trouble - both from local authorities who set down rules on what is acceptable, and also from some within Muslim communities in a polarised atmosphere of pervasive Islamophobia. In fact, she has faced death threats for her comedy routine, which, with lines such as "I'm not the halal type", touches in an irreverent way on religion and sex.
Following threats made online last October, French police opened an investigation against three hardline Muslim influencers who incited their followers against her. "The case is still going on against three people who police are investigating, because they asked all of their followers to boycott me, to send me threats, to find me. There's one who asked his followers to find me and to make sure that when they found me that this is the moment when I take my last breath."
As a result of the threats she lost a lot of money because of gigs getting cancelled, she says.
Couscous wars
Laila Alj is less upbeat and more deadpan than some of the other acts. Describing herself as a "bit of a cold bitch", a singleton with a cat as a flatmate, she offers sharp, misanthropic takes on London life. "I really hate London at the moment," she tells the audience. "I'm only finding joy in the misery of other people... these days I enjoy coughing in public places and watching the panic unfold around me."
Her staple, though, is her family and life in Morocco. Her grandmother telling her to get a nose job, her parents' refusal to accept she's a vegetarian. "There's so much we do well in Morocco - we've got the best couscous (this is a running theme of the night with Ayali already claiming this for Tunisia, to much uproar), we have sunshine, we have sexism."
It's not at all clear when she's being serious, or not, which creates moments of comedic unease. "You can't shout too loudly about women's rights in Morocco. We don't really have a word for feminists in Morocco, we just call them lesbians."
Alj studied drama in the US before moving to London a decade ago: "I was really cool and exotic, I was generically ethnic, no one knew where I was from," the 32-year-old says of her time in Chicago. "No one knew where Morocco was." (The Americans in the audience, who whoop as she acknowledges them, took this and other putdowns very well.)
Alj says her dad, who features a fair bit in her act, is an inspiration. "He's a funny man, he loves that I talk about him, he won't say he's proud but he'll send the videos to everyone," she tells MEE.
Alongside small parts in TV drama Homeland, films and on British TV, Alj is a theatre actor. "I love the stage, which is what drew me to comedy in the first place, because I wasn't performing as much as I wanted to," she says. "And it was an opportunity for me to be in control when I got up on the stage to perform."
She, like the other artists, is grateful to be part of this all-female line-up within a woman-centred Arab arts festival. "When you see films and TV, plays as well, when there's the Middle East Arabs, its 90 percent men versus one or two female characters, if even that. Something like Awan is a whole month dedicated to women artists who are there, existing, working just as hard as the men, so it's definitely important that it's there."
El Saqqa agrees. "Historically the comedy scene has always been dominated by men. It was about time that we tried to trace and reveal some of this incredible material that is written by Arab female comedians, and to be active in English, it does enrich the whole scene."
LA, London, Gaza
One of those talents is veteran Egyptian-American standup Maria Shehata, who closed the night at Rich Mix with a superbly assured, rapid-fire act that left the crowd sated and ready to face whatever news cycle horrors awaited them.
Shehata moved from Los Angeles to London several years ago, she tells the audience. "I miss LA a lot, but it's nice being around smarter people for a change," she quips.
Shehata has appeared on American cable networks Comedy Central and Showtime, and her set - with themes of cultural mishaps and dating hell ("women don't accidentally fall in love, we hunt that shit out") - felt fresh, finely honed and unerring in its relentless punch power.
Like Alj before her, Shehata also ribs Americans over their lack of knowledge of the Arab world. She quotes a friend in LA saying, "Ah dude, you're Egyptian, I thought those people were extinct."
On the street in LA, a man insists that she's Latina and wants her to speak Spanish. "I'm short, I'm brown, my name's Maria, I get it, I tricked you... now if you don't mind I'd like to get back to eating my burrito."
Now in the UK there are new challenges. On dating an English guy, she says: "Our money spending styles were different, I'm eight credit cards in debt and he gets physically sick if he has to buy dinner."
She complains about her overprotective dad, who needs to know where she is all the time - so when she went to Palestine on a Middle East tour in 2011 he wasn't happy. "Then the Arab Spring broke out, so one by one we were crossing off countries - Egypt, Yemen, Syria, Lebanon - so in the end we just went to Gaza, where it was safe." The audience is in stitches, but she's not done. "I'm in Gaza and I'm teaching refugees and somebody from Hamas comes in, 'your dad is on the phone, you need to take this, we can't negotiate with this man.'"
If there was a sense of what all the acts had in common, it was turning familiar themes - love or the lack of it, career failures, cultural difference and parents who don't quite get it - into something unusual and exciting, about what it feels like to be female and Arab, dealing with the same everyday stuff as the diverse crowd who came to see them.
And with coronavirus shutting down live performance in the UK for the foreseeable future, the last word should go to Alj's sonnet: "Please wash your hands, and stay home if you're sick, and don't buy all the toilet roll, you p****."
https://www.middleeasteye.net/discover/coronavirus-female-arab-comedians-london-night-stand-up
--------
Women Make Their Presence Felt In New Lebanon Cabinet
NAJIA HOUSSARI
March 08, 2020
BEIRUT: Fifty days ago, six women were nominated to one third of government portfolios in a political and economic situation that no Lebanese politician would be envied for.
Six women holding bachelor and doctorate degrees in management, law, engineering, social sciences, law, political science and French literature were appointed to six ministries: Defense, justice, media, employment, youth and sports, and the displaced.
These women had never held political positions before, but were chosen by the main political parties.
The number of women ministers is a record for Lebanon.
The new government saw the appointment of Zeina Akar as the first Lebanese and Arab woman deputy prime minister and minister of defense.
So does Prime Minister Hassan Diab's insistence on the appointment of a large number of women in his government represent changing attitudes toward the role of women in Lebanese society?
Former head of the Lebanese Council of Women and women's rights activist, Iqbal Doughan, told Arab News that the appointment of the women ministers was the result of 50 years of struggle, and that the international agreements on women's rights that Lebanon adhered to have boosted the status of Lebanese women.
"Politicians in Lebanon want to show the international community that they are implementing what they have signed on, and they may have done so under pressure, but the aspiration of women is not limited to this. We want to reach parity between men and women in government appointments based on competence," Doughan said.
She added: "The empowerment of Lebanese women is still deficient," and that, "a change in prevailing laws, minds and mindset is required."
"We saw revolutionary women in the protests that invaded Lebanese streets. We were at the forefront and were the engines of the revolution, yet we fear that once the objectives are achieved, women will be put back home, after having been part of the achievements," she said.
Iman Abdel Nabi Ballout, a student of higher education at the Faculty of Arts and Humanities at the Lebanese University, pointed out in research published in "Awraq Thaqafiyyah" (Cultural Papers), the magazine of the School of Arts and Humanities published in Beirut, that "due to all efforts and transformations that contributed to the endorsement of the Convention on the Elimination of All Forms of Discrimination Against Women and the integration of women's rights into human rights mechanisms, the Lebanese Parliament passed a law that permits the government to sign the convention.
Yet the Lebanese ratification included a reservation that prevents women having equal rights to men regarding granting citizenship to their children and her eligibility to custody of her children, which constitutes an obstacle to guaranteeing full dignity and rights of women."
Discrimination against women in the workplace represents another obstacle.
According to Ballout there is "discrimination in wages between women and men who do similar work, delayed promotion of women and not allowing them to reach top administrative positions in private and public institutions, denying married women or mothers the opportunity to work in some areas, and discriminating against women in social benefits.
The constitution grants equal rights to all Lebanese citizens by a general clause that applies to all citizens, without referring to economic, social and cultural rights."
Ballout believes that "the status of women in Lebanese politics and public affairs remains modest" for reasons including: "The structural male model, the absence of concepts for human resource development, the lack of societal culture, the lack of freedom of political action, and the spread of corruption in politicians."
Among the reforms to empower women, a decision was recently issued by the director general of personal status at the Ministry of Interior that allows divorced Lebanese women to obtain a family registration statement that includes the names of their children.
This decision aims to provide women with the right to obtain official documents with full information, whatever their family status is.
Randa Yassir, consultant on gender equality in Lebanon told Arab News: "The large and balanced presence of Lebanese women in the current government and the former Hariri government which paved the way for women to take over the ministries of interior and of energy had a positive shocking impact on Lebanon and the Arab world, due to the sensitivity of the ministries headed by women, and some considered it an inspiring experience to break stereotypes not only on the Lebanese level, but also on the Arab level."
Yassir saw that "political activity needs competence and experience, and women and men alike confront the same political and security conditions that they should handle to achieve any success, but women also confront a male mindset that tries to hold them more accountable than men and puts their performance under more supervision and accountability than their male colleagues."
https://www.arabnews.com/node/1638231/middle-east
--------
UK Official: Saudi Women's Progress 'Striking' and 'Strong'
March 08, 2020
RIYADH: Saudi Arabia's Vision 2030 reform program has secured strong progress for the country in many areas, particularly women's empowerment, Stephanie Al-Qaq, director of the Middle East and North Africa department at the UK's Foreign and Commonwealth Office, said. "The pace of change under Vision 2030 is really striking, with particularly strong progress for women in terms of giving them greater access to the labor market and education," Al-Qaq said on Wednesday at the British Embassy in Riyadh.
To mark International Women's Day on March 8, the embassy and the British Council organized a special forum with leading women sharing their experiences about their careers, challenges they faced and the opportunities offered by Vision 2030.
Al-Qaq, the first female director of the Middle East and North Africa section at the Foreign and Commonwealth Office, has visited Riyadh twice in the past 12 months. "I passionately believe in empowering women," she said.
"We have really amazing role models for all of us here. I want to support both women and men who are looking to the future female leaders in this country."
The British diplomat urged women to "try to be themselves."
"It's so important that you show other women that you can be yourself and still be successful."
In a panel discussion titled "Enabling Future Leaders," Shaima Al-Husseini, managing director of the Saudi Sports for All Federation, said that successful individuals were "soldiers of change."
"Sport is a new sector in Saudi Arabia, and giving everyone an opportunity, and changing their perspective about sports or physical activity is important," she said.
The royal decree turning the Saudi General Sports Authority into a ministry reflects sport's growing importance. "One of the most important initiatives was introducing sports in public female schools, allowing women to attend sports matches and allowing female gyms that did not exist in the past. Now, in three years, we have at least one woman on every board of the federations. I'm proud to say that 50 percent of my team is female.
Nouf Al-Numair, adviser to the deputy minister of planning and transformation at the Ministry of Health, said that she heard from Princess Haifa bint Mohammed that women made up 70 percent of Formula E management.
"(This) reflects how this sector is welcoming females and there is a clear path for them in the future."
Moudhi Aljamea, general manager of digital technology at the Saudi Telecom Company (STC) academy, said that she realized how much impact she had made as STC's first female general manager when several women came to her office to tell her how proud and happy they were that she had taken the position.
Film director and producer Hajjar Al-Naim, a member of the Saudi Film Council, said that she focuses on helping others and giving them the access they need.
"I love education and I want to share the opportunity that I have with other women in my industry," she said.
https://www.arabnews.com/node/1638241/saudi-arabia
--------
Christian Woman Can't Marry Because Identification Card Wrongly States She's Muslim
21 Mar 2020
KOTA KINABALU: A woman is facing difficulty getting married because her religion is mistakenly stated as Islam in her identification card (IC) and is pleading for help from the government.
Nusiah Pulod from Kampung Limbuak Darat Pulau Banggi, Kudat, said she was born a Christian and had always been one.
She said she realised the mistake when she first got her IC on her 12th birthday over 10 years ago.
"When I was 12 and applied for my IC, I realised that the word 'Islam' was stated in my IC, " she said.
"However, I did not understand the implications then. Only now that I am preparing for my marriage do I realise how difficult it is to rectify information on my IC," Nusiah said.
She said both her parents were Christians and so were her six siblings.
"I have no idea how the National Registration Department (NRD) recorded me as a Muslim," she said.
Nusiah said she had tried to rectify the matter from last year after her engagement, but instead of making things easy for her, the various departments she went to, including the Islamic Religious Department and NRD, had been directing her here and there.
"I have tried dealing with the NRD in Kudat, but was directed to the Jabatan Agama Islam in Kudat. There, I was informed that they did not have my records and hence was unable to issue a religious status verification for me, " she said.
"They then told me to go to the Sabah Islamic Religious Council office in Kota Kinabalu to obtain verification. There, the officer asked me to write an official letter to check my status which I later produced," she said.
Nusiah said she was then redirected to the NRD headquarters in Kota Kinabalu where she was asked to fill in another form for rectification of information.
"Now they said I have to wait three months for the process but my wedding is scheduled for June, " she said.
She said she hoped the government could help speed up the rectification process.
Nusiah feels that such applications should be straightforward.
She claimed there were many others like herself in her village who faced similar problems.
"What is the meaning of religious freedom in this state if an application for a simple rectification of religious status that should be done immediately is delayed with the imposition of complicated procedures?" Nusiah asked.
https://www.thestar.com.my/news/nation/2020/03/21/non-muslim-woman-can039t-marry-because-ic-wrongly-states-she039s-muslim
--------
It's Time NP Ashley Stops Saving the Muslim Women
By Almas Saeed
21st March, 2020
At the outset, the title of the piece 'How Men turned a Peaceful, Women-Led Protest into an Excuse to Riot', by NP Ashley (March 8, 2020), is highly reductionist as he doesn't bother to mention the men in the question and categorically reduces an allegedly premeditated pogrom into a riot, pitting men against women, as he glosses over the complexities in the "macro-male world order" and 'violent male assertion' that he so emphatically rescues the women, precisely the Muslim women from drowning in.
In the organic female assertion, as the "poor Muslim women" come out in public, challenging the hitherto established frame of 'Hindu-Muslim male politics' as they continue with their sit-in at Shaheen Bagh, and occupy public spaces that the author stresses upon, the Muslim men in these ghettos, who organise the protests, incur upon themselves capital losses, their businesses affected, shops closed, as they guard the protest sites and ensure that they don't turn into sites for massacres by the Hindutva mobs or bear a crackdown by the police, stand ousted in NP Ashley's 'Man vs Women' imagination.
The Hijab-clad Muslim women, a group of four of them, saved their friend Shaheen Abdullah from the police personnel in the widely circulated video from Jamia Millia Islamia, pointing fingers and shouting at them to go away as the latter look for an opportunity to bring him down, the world applauds, valorises these brave Muslim women, emancipated, courageous, fierce as they are, but forgets the position of Shaheen Abdulla in this 'macro-male order'.
When a man, supposedly identified as Rambhakt Gopal, opens fire at the protesting Jamia students shouting "Ye lo azadi" (Here, take freedom) and a Kashmiri student, Shadab Najar, was injured and held by his female friend, emerged on the posters and pictures, as we capture the compassion, friendships, resistance and the state-sanctioned Hindutva terror, as Police stood with folded arms behind the shooter, those who pit men against women pass by the vulnerability of Shadab Najar, a Muslim, a Kashmiri, a student of Jamia Millia Islamia at that, as they celebrate his courage of confronting the Hindutva violence.
Shaheen Bagh, Jaffrabad, and the sit-ins by the Muslim women might be seen as the female assertion of the "poor Muslim women" by NP Ashley as he links these protests to the Partition and the violence that accompanied it and it ensued, arguing that the ghosts of Partition are carried on "the horse-cart of the CAA-NRC", and in a bid to make people relive the partition, never did the state know that it has to counter the unexpected citizens, the women, who not only defy the set norms of Hindu-Muslim male politics but also undo the legacy of the Partition. But, does NP Ashley want to hear the Muslim women?
The author argues that Partition, like war and violence, has to be seen as a crisis of the Masculine craze for control as he questions the readers "In the voting to decide on the partition, who had the right to vote?", "The landed gentry made up of upper caste, upper-class men from both Hindu and Muslim communities," he continues.
That the voting rights were accorded as a privilege to the elites, subject to their social and economic class as the colonial state deemed the masses unfit to vote, that the women were accorded their rights in relation to their husbands and fathers and not as individuals unlike in Independent India is what, again, NP Ashley omits as he relentlessly insists upon the macro-male order and women victims of Hindu-Muslim politics.
DELHI, INDIA – FEBRUARY 29: Grandfather of Amir 27 and Hashim 17 mourn to take up the funeral procession of two brothers who were killed during the deadly violence over CAA took place in Mustafabad of North East Delhi, India on February 29, 2020. More than 40 people have been reported dead so far termed as worst violence in Delhi after decades. (Photo by Javed Sultan/Anadolu Agency via Getty Images)
Historically incorrect, as he positions the women as merely the 'victims' of this same male-order during the Partition, and assigns the responsibility of depriving them suffrage to men, he forgets to mention the women, the Burqa-clad Muslim women from the Muslim League and the women from the Congress who stood like a rock beside their male counterparts. The women who held some significant positions on both the sides, even if we restrict the partition to a war of feudal elites, notwithstanding the subaltern women and their roles in independence, because that's what NP Ashley seems uninterested in. He is focused on voting rights.
The author leaves me wondering at how conveniently he has missed out on those thousands of women like Fatima Jinnah, Amjadi Bano Begum, Rana Liaqat Ali Khan, Begum Tasadduq Hussain, Begum Jahan Ara as also the women from the Congress who not only survived the Partition but also made it to the Constituent Assembly.
The macro-male order of NP Ashley supersedes the colonial space in which it operated.
The author stresses upon the impact of synergized subaltern women and students' movements as they challenge the state and the prevailing Hindu-Muslim male politics but again "men cannot let that happen," he writes.
In his attempt to pit the women against the men, NP Ashley obliterates the dynamics of the ghettos and these protest sites, the violence they invite, the very reason why these protest sites are being targeted. As in the oversimplified yet dehumanising man-woman reduction of the beleaguered Muslim minority of the author, there is no space for a Muslim except for the Muslim women being the subjects, objects, victims of patriarchy and Muslim men being a part to the "macro-male order."
As the author continues with his rescuing these "poor Muslim women" from "violent male assertion" from "both sides", harping on false equivalences between the perpetrators enjoying state impunity and those who defend themselves and in the process getting stigmatised, he doesn't, for once, slightly point at the essentially hypermasculine Hindutva mobs and self-loathing assertion of masculinity upon the Muslim women. He puts the former at par with the Muslim men, again stereotyping Muslim masculinity and patriarchy.
The author argues that the initial attempts at provoking the protestors through violent actions and threats were handled by the women protestors before they finally succeeded at Jaffrabad, where it became a male scene all over again. The male scene and male violent assertion all through the oversimplified write up in the rather criminalising undertones of NP Ashley as he brings at par the males who resort to stone-pelting in the face of ghastly mobs barging into the houses shouting "Jai Sri Ram", murdering people, throwing them alive into the fire, setting ablaze their houses, plundering their lifelong earnings, and devastating them emotionally, mentally, physically, and financially, and denying them even a peaceful death is no less dehumanising for these Muslim men whom he has criminalised for their right to survival.
The impunity that these mobs enjoyed in the brazen pogrom wherein the Police stood as mute spectators, broke the cameras, letting a free hand to the murderous mobs and later on criminalised the Muslim men for their bare survival by arresting them has been passed off as "crimes of omission" by 'another set of men' by the author while the pogrom has been passed off as a "riot" in the title itself.
While NP Ashley reduces the Muslim women to subjects, objects, victims of macro-male order and at the same time "hopes that we all survive politically through these women", a responsibility that he too bears as he rescues the Muslim women from drowning in the same of which he is very much a part of, while jumping into in the same ship as Hindutva in criminalising Muslim men, negating their oppression at the hands of the state and Hindutva terror, NP Ashley seems to have forgotten that for us all to survive politically, Muslim women are not the sole bearers of his political survival.
As NP Ashley seemingly fantasises the actualisation of promises of India through the Muslim women, I am compelled to question him on whether for once, did he ever think about these women marching time-and-again against the criminalisation of Muslim men through constitutional measures by the state such as Triple Talaq Bill or their marching against the state as Muslim men get killed in encounters? In the self-professed rescuing mission of the subjects, objects, victims that he calls the Muslim women from the macro-male order, where does the author stand as he brings the Muslim men, the subjects of Hindutva and state terror, at par with the Hindutva men?
Where do the Hindutva women who are jeering and cheering for the blood of Muslims, of men and women alike who are perpetrators in pogroms stand in Ashley's frame of frivolous binaries?
Where do the Shaheen Abdullas, Shadab Najars, Faizans, Junaids, and thousands of those criminalised Muslim men stand in this "macro-male order"?
Where is the agency of Sadhvi Pragya, Sadhvi Prachi, Uma Bharati, Ragini Tiwari, and those Hindutva women who have been demonising the Muslim men and perceive them as a threat to the Hindu Rashtra?
NP Ashley wants us, the Muslim women, to save the country politically, reduces us to objects, subjects, victims and saves us from drowning in the macro-male order. But do I, as one of those women whom he appropriates, have the agency to question him on why is he so blinded to look at the stereotyping of the Muslim men that he gives into, turn the victims of a pogrom into rioters and refuses to acknowledge the State ever turned against these men?
Almas Saeed is an independent researcher.
https://www.youthkiawaaz.com/2020/03/its-time-np-ashley-stops-saving-us/
--------
Police Violence on Women Protesters at Lucknow's Ghanta Ghar Leaves Three Critical
Abdul Alim Jafri
20 Mar 2020
In more evidence of their continuing brutality towards protesters, officials from the Uttar Pradesh were caught on camera beating those protesting the anti-Citizenship (Amendment) Act (CAA) and National Register of Citizens (NRC). The violence at the iconic Ghanta Ghar of Hussainabad, Lucknow on March 19, 2020, left five women protesters injured. They were later admitted to hospital. Three of the injured are in critical condition after they fainted, an eye witness confirmed.
According to the protesters, thousands had gathered in protest against the CAA, NRC, and NPR.
At around 1.30 am, a large deployment of policemen along with the Rapid Action Force (RAF) landed up at the protest site and pulled down banners and posters. The security forces allegedly manhandled women protesters and tried to remove them from the protest site. An eyewitness, Azra, told NewsClick that "a large number of police came to the protest site in the wee hours. Their faces were covered with masks and they even did not wear name badges. They mercilessly hit women in their stomach and slapped them. They did not even spare an 80-year-old woman and punched her in her stomach. Three women fainted on the spot," she added.
Protesters alleged that the police even disrespected the Quran and also pulled off the bed sheets and tarpaulin on which the women were sitting. This led to scuffles and tensions arose.
An organiser and an eyewitness, Kahkasha, told NewsClick, "This is the third time that the police made a most brutal attempt to break the protesters and mute our voices but they forget that the more they suppress our voice, the louder it will emerge."
She said that two women protesters were admitted in Balrampur Hospital while one was in the medical college. "The protest started on January 17 and we will not give up until the government rolls back this black law. As for coronavirus, we are taking all necessary precautions including masks and sanitisers."
When questioned about the protest's timing given the pandemic, Lubna, a woman protester who runs a makeshift library said that they had survived "for two months even in bone-chilling cold. Still, our spirits are still not flagging. We will not vacate the site until our demands are met," she added.
Fatima Khan, who was also present at the protest, said that they have been protesting over the past two months to save the constitution and the BJP government cannot remove them using any excuse or pressure. "If the government had good intentions, it should have sent a delegation to talk to the protesting women," she added, mentioning that the police had shown "fear" by resorting to lathis.
On Thursday, the police first tried to convince the protesters about the novel coronavirus scare and vacate the protest site but the women did not budge. "Police has beaten us in the name of coronavirus. Their intention was never to spread health awareness but to remove the protest site in the name of coronavirus," she added.
The women protesters alleged that after every crackdown, police arrest innocent Muslims and send them to jail.
The police registered First Information Report (FIRs) against 22 named and 150 unnamed people who have been part of the protest. They have been booked under several sections of Indian Penal Code (IPC) for allegedly "rioting and damaging" the Ghanta Ghar monument.
As per FIRs, the protesters at Ghanta Ghar damaged the historical monument and turned it into an illegal protest spot against the CAA, NPR and NRC. The FIR also read: "Several men, who were encouraged by the acts of these women, also raised inciting slogans against police and the government. It affected the environment around the Ghanta Ghar area."
However, the women protesters accused the police of spreading lies. "It has been two months and there was no controversy or any slogans raised against the nation. Police is lying and showing their muscle power to break the protesters," they said.
Meanwhile, reports coming from Roshan Bagh of Prayagraj, formerly known as Allahabad, mention that protesting women alleged that the district administration is threatening them to call off the protest. The women were inspired by the resilient women of New Delhi's Shaheen Bagh and had begun a sit-in protest at Mansoor Ali Park on January 12.
https://www.newsclick.in/Anti-CAA-Protest-Lucknow-UP-Police-Crackdown
--------
Jinwar, the Middle East's First Feminist Commune For Arab, Kurdish, And Yazidi Victims Of Islamic State
15 Mar 2020
Coming to Jinwar in northern Syria was Bedra Darwish's "only chance to have a better life".
The 35-year-old Arab woman from the Syrian town of Deir Ezzor has seven children. Her husband died one year ago fighting with the YPG — a Kurd-majority militia in Syria battling the Islamic State.
"I lived with the Islamic State and the situation was very difficult for women," she says.
"My husband was also tired of living with ISIS, that is why, as soon as he had the chance, he joined the YPG."
In the far north-east of war-torn Syria, Jinwar is the Middle East's first-ever feminist commune.
Far from the battlefront where the Islamic State saw its caliphate disappear, Jinwar lies among croplands and fruit trees.
Created by a group of female activists from a diverse range of backgrounds, this eco-village was born to be a haven of peace, love and communal living.
It opened its doors on November 25, 2018, the International Day for the Elimination of Violence Against Women.
Its mission is to be an alternative space for every woman in the world.
Democracy, diversity, ecology
The commune is arranged in a triangle, made up of 30 houses of one to three rooms.
Twelve of the houses have been given to Kurdish, Yazidi and Arab women, but more are expected to arrive in early spring.
"This place will be a shelter for those who suffer abuse, a home for widows with children who lost their husbands during the war, and a place for those women who want to get away from a capitalist society."
Jinwar, which is based on democracy, diversity and ecology, took several years of work to come to fruition.
"All women have helped to build the houses using mud, forage and wood — natural products that do not pollute the environment," Nujin said.
"Renewable energies are used, mainly solar power."
Bedra says her life is "completely different" now that she is in Jinwar.
"I will never be able to get married again because I have many kids [and] no man will marry me," she said.
Women of varying ethnicities live in harmony.
"There are Kurds and Arabs in Jinwar and we all get along with each other," Bedra said.
"I don't understand Kurdish but people help me with translations.
"If I came back to my village I would not be accepted, so I will remain here forever."
'Come here and free yourself'
Fellow resident Hawan Suli lives on the corner of the commune.
She has a fictitious name to preserve her identity.
She lived in Suleimaniya, Iraq, and was 13 years old the first time she got married.
"I was very young and I did not know anything about life, I didn't know what being married means," she said.
Hawan divorced her first husband and eventually remarried.
She told her second husband she was a widow because she "wanted to be accepted", but her situation did not improve.
"I have suffered a lot, my experience with men has been very negative," she said.
In Iraqi Kurdistan, Hawan's case is considered normal, and no help from the government is offered.
Instead, women are sent to shelters that are similar to jails.
Hawan stayed in one of these shelters for a month until she decided to break out.
"I found out about Rojava [the autonomous region of northern Syria] on TV," she said.
"At that moment I contacted a political party linked to YPG and they brought me here through Sinjar [Iraq]."
Hawan has encouraged other women in her situation to "come here and free themselves".
"It was a bit difficult at first because I was alone and I speak a different Kurdish dialect, but now I feel pretty good with these families," she said.
"I have learnt to make things; I work at the bakery and in the fields. I would tell those women who want to commit suicide that there are other solutions, such as Jinwar."
Call for more eco-villages to allow women to live in safety and happiness
The commune is self-governed by an assembly that is held every month.
All women can provide new ideas to improve communal living. Every opinion is heard and all have the same value.
Assemblies are also used to distribute tasks. The different assignments rotate so everyone has the chance to learn different jobs.
The idea is to create more eco-villages like this one in the entire Syrian Kurdistan region.
Its origins can be found in the YPJ or Women's Defence Units, an army made of Kurdish women — unprecedented in the Arab world.
They joined this army when the civil war started in Syria.
Armed struggle made women equal to men and the social struggle set them free from the patriarchy.
The residents of this commune have the necessary basic services to live by their own, but the commune is not an enclosed space.
"Residents can come and go at will and visits are allowed, but men can't stay over," Nujin said.
Women work the fields, tend their livestock, are trained and teach children at school.
There is a bakery, library, a natural medicine dispensary and a communal kitchen in the middle of the town, near a children's park.
The construction of the swimming pool is scheduled to be completed for everyone next summer. Traditionally, swimming is seen as an activity just for men.
'I fell for Jinwar'
Fatima Umm Nasrin is a 34-year-old Kurdish woman.
Her life changed four years ago when her husband died in Kobane, Syria fighting against the Islamic State.
She has been living in Jinwar for the last three months.
"I was an activist and I knew this project, that is why I came here," Fatima said, while holding her six-year-old daughter.
"My family is quite traditional and I come from a conservative city where women are not allowed to be independent, but I tried to raise my daughters in a different way because I want them to be successful in life.
"I will never get married again, I fell for Jinwar and I want to devote my life to this place."
https://www.abc.net.au/news/2020-03-15/jinwar-female-only-commune-victims-of-islamic-state-syria/12029818
--------
One Woman's Dream Fuelled Gilgit Baltistan's Flower Industry
Shabina Faraz
March 20, 2020
Rozina Babar is at the heart of the new and thriving floriculture business that has come up in Pakistan's Gilgit-Baltistan region.
"Flowers are a childhood love," Babar said, recalling how enthusiastically she would participate in floral decoration at the Jamat Khana — the place of worship of the Shia Ismaili community.
It is this passion which compelled Babar to pursue a career in flower decoration after she completed her Masters from the Karakoram University. But she realised in the early days that it would not be an easy task.
At the time farmers in the region never thought of planting flowers for commercial purposes. Flower cultivation was not understood to have any commercial value and often men thought the flower trade was beneath them.
"I am a man and have to deal with strong crops like wheat, maize and potatoes yields," said Rashid, a farmer from a small village near Gilgit.
Babar recalled how, in those early days, "many male farmers would laugh at us and predict failure."
Today, the story is very different. Babar runs a successful flower cultivation business, in which she employs 76 women and makes an adequate revenue by selling flowers grown on just 1,800 square yards (1,505 square metres) of land.
A success story
In the days before she began her own cultivation Babar said the lack of a flower business in the region meant that she would order shipments from bigger cities like Lahore or Islamabad if she wanted to make floral decorations for events. This not only added to overall costs but also took time, as the suppliers often took up to 20 hours to deliver the shipment.
In 2017, Babar approached the agriculture department of Gilgit-Baltistan with a business proposal and asked for support. Her idea inspired the department and officials asked her to select a group of women to train for flower cultivation. The department provided 80,000 gladiolus bulbs for the women to kick-off the project. With this, Babar began the experiment and used her own land for cultivation. If it had failed, she would be the only one to suffer a major loss.
Ghulam Ullah Saqib, the deputy director of the agriculture research centre in Shigar district who heads the project on the government end, said the experiment flourished as Gilgit-Baltistan (GB) is an "ideal region" for floriculture. Low rainfall and moderate temperature support flower cultivation, conditions which GB witnesses from March till October.
"Disasters related to climate change have badly affected the seasonal crops of the Karakoram region. There is a serious need to reset our agricultural calendar and also to opt for new crops, especially those which are harvested earlier or later after the cultivation season," Saqib told thethirdpole.net.
He also emphasised on the advantage of farming flowers, a low-risk crop which grows in 90 days. "Flowers are less expensive cash crops and give better returns than the potato and other regional crops."
According to Saqib one 605 square yard (505 square metre) field of potatoes yields a profit of about PKR 21,000, whereas harvesting gladiolus in the same area earns PKR 83,000.
"After training from the agriculture department, now 450 women from 22 different organisations are working on floriculture in the Gilgit Baltistan region," he said.
As the demand for flowers is not high in GB, 80% of the flowers are exported to bigger cities like Lahore, Rawalpindi and Islamabad where demand is considerably higher. Depending on the size of their land, women earn an average of PKR 25,000 to PKR 80,000 per month through the cultivation and sale of flowers. It has transformed lives as some of the women farmers who had been deprived of opportunities due to a lack of education or an inability to travel for other jobs.
For export to other cities, flowers are packed in cartons with 100 sticks in each box. A bus service charges PKR 200-300 per box in order to transport them to Islamabad or Lahore. During the Eid and wedding season, flowers sell for twice the average price of PKR 25 per stick. Babar's group exported 50,000 sticks in 2019 alone.
Shahida is one of the 50 women who cultivate flowers in Rahimabad, a village situated about 50 kilometres from Gilgit. While she was primarily a schoolteacher, Shahida decided to join the floral industry for extra income last year. Initially, she cultivated flowers on a small piece of land and surprisingly earned PKR 30,000. The returns inspired her to grow her business, and she now spends after-school hours tending to her fields. Shahida is confident that her income from the flower business will help her complete her Master's degree in sociology from the Allama Iqbal Open University.
Mobeeka, another flower grower, said that cultivating flowers is better than potatoes, as the latter are hard to harvest. "Flowers need attention from seeding to harvesting but are not physically as tough as other crops," she said. Wheat, maize and potatoes are difficult for women to handle as cutting crops, carrying big bales of crops, and digging potatoes from the soil are strenuous activities. "These crops are harvested in the hot summer season, so staying the whole day in the field isn't an easy job for women."
Challenges
The main challenge for women farmers at present is the lack of opportunities in the local market. According to Babar, currently they only manage to get a few contracts for decoration at government and NGO events as locals prefer not to have flowers at their events. Babar is the main supplier of flowers at Serena Hotel in Gilgit, but the demand of the region's hotel industry is far behind that of a booming tourism industry.
The CEO of Sustainable Tourism Foundation, Aftab Rana, seconded Babar's claim that small hotels don't use flowers for decoration. To boost the local market and also uplift the hotel sector, the foundation is working with the National Tourism Coordination Board (NTCB) to create the 'national minimum standard for tourism and hospitality' which will categorise hotels in the area. Based on these categories, the standards will be set for local hotels and service. Interior decoration of the rooms will be one of the main criteria. Babar hopes this will help the flower industry.
Babar and her fellow women farmers have already established a new business in GB — and they are not going to stop here. They hope to expand the market to include flower-based perfumes and cosmetics. They are in the process of asking the GB government for a cold storage facility where extra harvest can be kept. Having worked their way up, their future looks as bright as some of the flowers they now raise and sell.
https://www.dawn.com/news/1542374/one-womans-dream-fuelled-gilgit-baltistans-flower-industry
--------
URL: https://www.newageislam.com/islam-women-feminism/corona-comedy-arab-women-comics/d/121372
New Age Islam, Islam Online, Islamic Website, African Muslim News, Arab World News, South Asia News, Indian Muslim News, World Muslim News, Women in Islam, Islamic Feminism, Arab Women, Women In Arab, Islamophobia in America, Muslim Women in West, Islam Women and Feminism