New Age Islam News Bureau
19 March 2014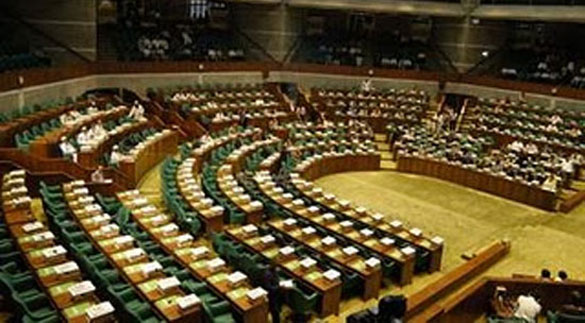 Photo: Bangladesh Parliament
-------------
• Sheikha Latifa Al-Fahad Discusses Arab Women Problems
• Difficult To Find Grooms for Hyderabad's 'Over Qualified' Muslim Women
• 24 Women Cited In Aceh Sharia Raid
• 48 Female MPs Elected Unopposed In Bangladesh
• British Convert Woman Sentenced to Life in Pakistan for Smuggling Heroin
• Viral Video of Harassed Blonde Egypt Women Sparks Backlash
• Women's Movement in Iraq Faces Setbacks
• Iran Says Woman Sentenced To Stoning Given "Leave" From Prison
• 'Women in Finance Have a Bright Future'
• Blasphemy Hearing for Jailed Christian in Pakistan, Asia Bibi, Delayed
• Candidates Vie For Afghan Women's Vote
• Is Multiculturalism Bad For Women In Canada?
Compiled by New Age Islam News Bureau
URL: https://newageislam.com/islam-women-feminism/convert-british,-22,-refused-remove/d/56193
--------------
Convert British, 22, Who Refused To Remove Niqab in Court Jailed For Six Months
18 March 2014
A Muslim convert who refused to remove her Niqab in court was jailed for six months today after she terrorised a mosque security guard because he allowed non-Muslim women inside without veils.
Last week Rebekah Dawson, 22, was sentenced to 20 months at the Old Bailey for making three videos glorifying the murder of Fusilier Lee Rigby while her husband Royal Barnes, 23, was jailed for five years and four months.
However, today she was sentenced to a further six months after admitting to threatening and intimidating Daudi Yusuf at Finsbury Park Mosque in north London.
Dawson had initially denied a single charge of intimidating a witness but, in a bizarre twist, changed her plea to guilty in January after the jury failed to reach a verdict against her and her brother Matthias Dawson, 32.
She had tried to stop Mr Yusuf from testifying against Barnes, who had assaulted him.
Barnes had angrily confronted Mr Yusuf after they took offence when he let three Portuguese women tourists tour the mosque without wearing headscarves on June 10 last year.
She later returned to Mr Yusuf's office and confronted him about letting non-Muslims into the mosque asking him 'Why are you inviting naked women in the mosque.'
Dawson then ran off and her husband attacked Mr Yusuf who then reported it to the police.
Two weeks later, on June 23, Dawson returned to the mosque in an attempt to stop Mr Yusuf from giving evidence.
She told the frightened security guard: 'Now I've seen your face you're finished - you're not safe'.
Barnes was found guilty of assault and harassment at Westminster Magistrates' Court in December 2013.
Mr Yusuf said he was left feeling 'worried' about another attack because he did not know what Dawson looked like due to her having her face covered.
A defence statement previously made to the court said: 'She attended on June 23 to ask him why he was lying.
'She did not threaten him or do anything to interfere with him being a witness in other proceedings.'
During her trial Dawson had to remove her veil for a female police officer who then verified that she was the defendant at the start of every court session.
During her trial at Blackfriars Crown Court she refused to remove her Niqab - which leaves only the eyes on show.
She claimed her religion prevented her removing the veil in the presence of men but Judge Peter Murphy ruled it was of 'cardinal importance' that a jury could see her face while she gave evidence.
In his original ruling Judge Murphy said that Dawson could not expect the court to 'set aside its established procedure' to accommodate a 'particular religious practice'.
Susan Meek, defending, today told the court that Dawson, of Stroud Green, north London, has suffered 'great intrusion into her life' due to 'unprecedented media interest' for her wearing of the Niqab.
She also said that Dawson's dreams of becoming an English teacher were now in "tatters" and that she wanted to get on with her life being a law abiding citizen.
But Judge Murphy said the court must show that witness intimidation was not acceptable.
He said: 'I have given a great deal of thought to this case. Mr Daudi Yusuf was doing his job. Obviously there was a difference of opinion but it did not justify the offence committed against him.'
The judge jailed Dawson for an extra six months for intimidating Mr Yusuf, to run consecutively to her current term of imprisonment, and also handed her a five-year restraining order banning her from contacting Mr Yusuf, going within 500 meters of Finsbury Park Mosque and from entering the Muslim Welfare Centre..
'Your brother said that your husband Royal Barnes had changed your life considerably for the worse - I'm sure you don't agree with that', he said.
'I have to say I find his evidence compelling and whether you wish me to or not I'm going to take into account my own belief that this offence was committed by you at least partly under your husband's influence.'
He added: 'It was not a systematic campaign but took place on one occasion and no violence was used but the threats were obviously very real.'
Dawson, who refused to stand in court, bowed her head as she received her latest prison sentence.
Last week Dawson and her husband were jailed at the Old Bailey after she filmed Barnes - a Muslim extremist with links to one of Lee Rigby's killers Michael Adebowale - as he glorified the Woolwich killing in a series of YouTube videos.
Barnes was filmed by his veiled wife laughing hysterically as he drove past the scene of the attack near Woolwich Barracks last May.
The couple ridiculed the memorial flowers left by friends, family, and members of the public for Drummer Rigby and Barnes described the murder as 'absolutely brilliant' on videos uploaded on to YouTube.
In the clip shot as the pair drove close to tributes left to Drummer Rigby, Dawson asked her husband to drive around again as he said: 'These Kuffar, they fail to realise that their foreign policy is the reason why this Lee Rigby is no more...he got chopped up in Woolwich...'
http://www.dailymail.co.uk/news/article-2583577/Muslim-woman-22-refused-remove-Niqab-court-jailed-six-months-terrorising-mosque-security-guard-allowed-non-Muslim-women-inside.html
--------------
Sheikha Latifa Al-Fahad discusses Arab women problems
19/03/2014
(WITH POL-UN-KUWAIT-WOMEN) NEW YORK, March 19 (KUNA) -- Chairperson of the Kuwaiti Cabinet's Committee on Women's Affairs, and President of the Kuwait Union of Women's Societies Sheikha Latifa Al-Fahad Al-Salem Al-Sabah held late on Tuesday a dinner banquet, during which she discussed issues of the Arab women with senior officials in the field.
Head of Department of Family and Childhood at the Secretariat General of the Arab League Inas Makkawi told KUNA and Kuwait official TV channel following the banquet, she is working diligently for coordination of efforts at the Arab and international levels to best serve the women issues, especially concerning the violence practiced against women, which is considered a top priority issue.
Makkawi and Regional Director of United Nations (UN) Women Regional Office for Arab States Dr. Sameera Al-Tuwaijri were Sheikha Latifa's guests at the banquet.
They discussed the initiative launched by Sheikh Latifa last December in Kuwait on a comprehensive strategy to fight all forms of violence practiced against Arab women, especially in those areas suffering political unrest, Makkawi said.
Sheikh Latifa's initiative is the first of its kind in the Arab region, a matter to be "highly appreciated", she added.
Moreover, they discussed means to allow women to be more interactive and productive in her societies, especially in the Arab region, and also tackled the Arab-African cooperation in that matter, she said.
They also discussed during the banquet means to set a strategy to end all the negative practices done by youth in the Arab nations, upon a Kuwaiti initiative presented years ago, in order to spread it in all other Arab nations in order to set laws and regulations coping with the latest critical developments in the region, she added.
Makkawi said they discussed issues on the agenda of the fifty-eighth session of the Commission on the Status of Women, pointing out this is the first time the Arab block takes a united position towards the strategic priorities for women upon what was agreed on in Cairo declaration in February 23 of the this year, which was attended by Sheikha Latifa who strongly supported it, Makkawi affirmed.
They also talked over a very critical issue, which is the systematic violence against women, especially in Palestine, Syrian and the surrounding countries, reflected in various negative forms like trafficking of women and early marriage, Makkawi said.
Dr. Al-Tuwaijri praised the remarkable role Kuwait plays in the Gulf and Arab regions, as well as in the international arena, being of "a source of high pride for everyone".
She expressed her happiness for sheikh Latifa's participation in Commission on the Status of Women during its 58th session.
She discussed with Sheikh Latifa means of establishing partnership between UN Women Regional Office and Kuwait, especially the national committee for women affairs, in order to benefit from Kuwait's expertise in that field, in order to transfer it to the Arab and intentional levels.
They also discussed the suffering of the Syrian women, hailing the distinguished Kuwaiti contributions to alleviate their grief, through the Syrian donors' first and second conferences that were held in Kuwait. (end) sj.lb KUNA 191217 Mar 14NNNN
http://www.kuna.net.kw/ArticleDetails.aspx?id=2367308&language=en
--------------
Difficult to find grooms for Hyderabad's 'over qualified' Muslim women
Mar 17, 2014
HYDERABAD: City match-maker, Shahid Farooqui, has been faced with an unusual problem of late: of 'over qualified' brides-to-be. Though his bag is teaming with profiles of several eligible women from the Muslim community between 23 and 35 years of age, he has been struggling to get many of them a perfect match. Reason? All these girls are armed with graduate/post-graduate degrees (M Sc, B Ed, M Tech or even B Tech) now a trend, almost unheard of until a few years ago. As a result, Farooqui says, it's become a herculean task to find these educated women, equally qualified grooms.
"Seven out of 10 women seeking alliances these days are well educated. Given that several men aren't still particularly interested in a girl's education (many aren't qualified themselves) and pay more attention to her looks and financial status, it's getting difficult to find these prospective brides an appropriate match," the middle-aged marriage 'guru' says while also adding how a lot of families from the lower rungs of society are, thus, forced to "compromise".
Take for instance, Roshna (name changed) of Mallepally. Despite a B Ed degree in her kitty the young girl was forced to marry a school drop out, as the family failed to find her a better match.
Ditto a graduate from Yakutpura who eventually married a man with no degree. The only bright spot: the decent returns from the groom's family transport business.
Sadly, such a predicament, observers rue, is often visible in other marginalised communities too. Take for instance, 33-year-old Harika (name changed). This doctor from Madiga Community who registered with a matrimonial site three years ago, is still anxiously waiting to find her 'Mr Right'-a doctor from her own community.
"It's been a long wait and we hope she eventually gets what she is looking for," said a family member, who did not wish to be named. The slight tinge of hopelessness in the voice was, however, hard to miss.
"If a man earns well, families overlook his qualification. Mostly, it's the women who end up compromising," reiterates Yogita K from the matrimonial site shaadi.com.
Clearly, Harika's MBBS education, which might be good news for a country slogging to improve its literacy rate, has its flipside.
Observers term this conflict as a "transitional issue". "Thanks to schemes like free education and fee reimbursement, there are an increased number of girls who are enrolling for higher studies now. Even the drop-out rate among them has lowered. While this has narrowed the educational gap between boys and girls, such issues (related to marriage) have cropped up. That's also because several boys even today drop out early to help with family businesses or running households," said an observer, though confident of these creases being ironed out in the future.
Similar sentiments were echoed by Jaleesa Sultana Yaseen, member of the Muslim Women Intellectual Forum: "There was a lot of insecurity among women until a few years ago and they took to education to support themselves. But that brought along a lot of practical problems which we need address to correct this imbalance. Parents need to push male children to study to resolve this," she says.
But not many college-going girl students from the community are so optimistic. The current trend has, in fact, instilled in them a fear of losing out on their studies. "My parents did not want me to take up post-graduate studies [for the same reason] but I somehow managed to allay their concerns. Now, seeing so many women who are struggling to find suitable matches around me, I am not sure what will happen," said Suhela Sheikh, who is pursuing M Sc (Nutrition) at a private college.
According to activist and writer Kancha Illaiah this problem is more prominent in the middle and lower rungs society as higher education within this section is mostly first generational. "Girls don't get well educated grooms within their own caste. Unless the caste problem is over come, this cannot be done away with," he stresses.
Professor Mustafa Ali Sarwari of Maulana Azad National University, meanwhile, considers it a serious social issue. Taking it a step further he says, "If these girls (out of lack of choice) get married to men who are less educated, compatibility issues are bound to crop up."
But nonetheless, educationists are happy with the trend, with those like just-retired professor of Osmania University, B S Rao, even terming this rise in women education as a "silent revolution" - a stark contrast to the feelings of Farooqui who confesses to be reeling under "bad business".
http://timesofindia.indiatimes.com/city/hyderabad/Difficult-to-find-grooms-for-Hyderabads-over-qualified-Muslim-women/articleshow/32205155.cms
--------------
24 Women Cited In Aceh Sharia Raid
March 18 2014,
A two-hour-long Sharia police checkpoint aimed at encouraging people to follow the Sharia dress code cited 24 women and a man in Ingin Jaya district in Aceh Besar on Tuesday.
The Sharia police targeted people riding motorcycles wearing tight clothes. They ignored those in cars or buses, antaranews.com reported.
The head of law enforcement division of the Aceh Sharia police and Public Order Agency, Syamsuddin, said that the officers took down the names of the offenders and reprimanded them for improper behaviour.
Syamsuddin said Sharia officers had yet to cite a repeat offender, which meant awareness of the Islamic law was growing.
He said as further evidence that the officers could cite up to 80 people in a checkpoint, thus the 25 cited Tuesday was a significant reduction.
Sharia rules governing behaviour, formally known as the Qanun Jinayat, are being fully implemented in Aceh province starting this year.(atw/dic)
http://www.thejakartapost.com/news/2014/03/18/24-women-cited-aceh-Sharia-raid.html
--------------
48 Female MPs Elected Unopposed In Bangladesh
March 19, 2014
The Election Commission has declared that a total of 48 women MPs officially elected unopposed from reserved seats as they had no rival.
Returning Officer Jesmin Tuli issued a notification declaring them elected unofficially on Wednesday morning.
Of the 48 women MPs, 38 were nominated by the ruling Awami League while five by Ershad-led Jatiya Party, three by a coalition of 16 independent MPs and one each by Workers Party and JSD.
The AL-nominated candidates are Selina Jahan Lita, Safura Begum, Hosne Ara Lutfa Dalia, Advocate Umme Kulsum Smriti, Begum Akhter Jahan, Selina Begum, Selina Akhter Banu, Laila Arjuman Banu, Shirin Nayeem, Kamrul Laila Jolly, Happy Boral, Rifat Amin, Nasima Ferdousi, Lutfun Nesa, Momtaz Begum Advocate, Advocate Tarana Halim, Monwara Begum, Mahjabin Khaled, Fatema Zohra Rani, Dilara Begum, Fatematuz Zohura, Fazilatunnesa Indira, Pinu Khan, Sanjida Khanam, Nilufar Jafar Ullah, Rokhsana Yasmin Chhuti, Advocate Navana Akhter, Asmatul Kibria Keya Chowdhury, Shamsun Nahar Begum, Fazilaunnesa Bappy, Wasika Ayesha Khan, Jahanara Begum Surma, Firoza Begum Chinu, Amina Ahmed, Sabina Akhter Tuhin, Rahima Akhter, Advocate Hosne Ara Bably and Kamrun Nahar Chowdhury Lovely.
The Jatiya Party candidates are Nur-e-Hasna Lily Chowdhury, Mahzabin Morshed, Merina Rahman, Rawshan Ara Mannan and Shahanara Begum.
Lutfa Taher, wife of late Col Taher, is from Jasad while Hazera Khatun from Workers Party.
The remaining three candidates – Kazi Rosy, Nurjahan Begum and Umme Razia Kajol — are from the alliance of independent candidates.
Earlier, the AL led alliance submitted 41 nominations, Jatiya Party six and independent alliance three.
However, following the scrutiny of nomination papers for the women reserved seats in the 10th parliament, the Election Commission has cancelled the nominations of Awami League nominated Sabiha Nahar Begum and Jatiya Party nominated Khorshed Ara Haque for defaulting telephone bills.
Bangladesh Telecommunications Company Limited (BTCL) will get Tk223, 488 from Khorshed Ara and Tk11, 835 from Sabiha Nahar.
According to the laws, the candidates have to clear their bills and loans before seven days of filing nomination papers.
Earlier, the commission asked the Bangladesh Bank for information on loan defaulters, as well as on bill defaulters from the BTCL, Wasa and other utility authorities.
http://www.dhakatribune.com/bangladesh/2014/mar/19/48-female-mps-elected-unopposed
--------------
British Convert Woman Sentenced to Life in Pakistan for Smuggling Heroin
March 19, 2014
RAWALPINDI: A court on Tuesday jailed a British mother-of-three for life for attempting to smuggle 63 kilogrammes of heroin out of the country.
Khadija Shah, who is from the central city of Birmingham and of Pakistani descent, was arrested at Islamabad airport in May 2012 when the drugs were found in her luggage.
She was convicted and sentenced at a special narcotics court in Rawalpindi, according to legal papers seen by AFP. She was also fined Rs 300,000.
Khadija Shah, 26, who was six months pregnant when she was arrested, denied the allegations. She gave birth to a daughter in September 2012 while in custody on the drugs charges.
Her other children, a five-year-old boy and a four-year-old daughter, have returned to Britain.
Her lawyer Shehzad Akbar said she had no idea there were drugs in her luggage and they would appeal.
Legal charity Reprieve urged the British government to help.
"This is a terrible outcome for Khadija and her baby Malaika," Maya Foa of Reprieve said in a statement.
"As happens in hundreds of cases, she was used as a drugs mule without her knowledge, and yet is facing life in a Pakistani prison." A spokesman for the British High Commission in Islamabad said they were providing consular support to Khadija Shah and her family.
Pakistan's war-torn neighbour Afghanistan is the world's largest producer of opium, the raw material for heroin. Efforts to cut production have failed in the 13 years since US-led forces toppled the Taliban regime there. More than 45 percent of Afghanistan's illicit opiates pass through Pakistan on their way to markets in Europe and Asia, according to the UN Office on Drugs and Crime.
http://www.dailytimes.com.pk/national/19-Mar-2014/british-woman-jailed-for-smuggling-drugs
--------------
Viral video of harassed blonde Egypt women sparks backlash
19 March 2014
A video of a young Egyptian woman with long blonde hair being aggressively sexually harassed by a group of university law students has sparked country-wide controversy.
In the video, the female university student can be seen with long, platinum-blonde hair wearing a pink top, matching pink shoes and fitted jeans, quickly attracting the attention of scores of male students.
While the woman appears to be walking fast to get away from the growing group of men following her, a shot of her face is not available.
Cairo University guards escorted the student off campus after she hid in the toilets from the dozens of male students who were allegedly trying to remove her clothes.
The bellicose harassment at one of Egypt's largest universities sparked outrage after the video went viral on social networking sites and was picked up by local media.
Fathi Farid, found member of the anti-sexual harassment group "I saw harassment," said male students had verbally attacked the woman and attempted to undress her, AFP reported.
Blaming the victim!
The controversy deepened after law school dean Gaber Nasser said it was the student's outfit, which he described as, "a bit unconventional," led to the harassment.
"This girl entered the university wearing an abaya (loose cloak) and then took it off in the faculty, and appeared with those clothes, that caused, in reality -- but this doesn't justify at all [the incident]," Nassar said on private Egyptian channel ONTV.
While he was quick to add that her dress did not excuse the harassment, backlash ignited over implying that it was the girl's fault.
Nassar later wrote on Twitter that he was misunderstood and that he was not blaming the student for the incident.
"I assure that this is not true and I apologize for the misunderstanding and I repeat that those who (harassed the girl) will be severely punished," he wrote.
"The worst is that people always find justification for the harassment and blame it on the victim," said Farid.
Women's rights activist Mariam Kirollos said on her Twitter account that the dean "should be interrogated and expelled" and that "investigations into the incident should start immediately."
Several popular talk-shows covered the incident.
"A girl is naked, does it mean someone should jump on her?" television host Amr Adib asked in disbelief.
http://english.alarabiya.net/en/variety/2014/03/19/-Viral-video-of-harassed-blonde-Egypt-women-sparks-backlash.html
--------------
Women's movement in Iraq faces setbacks
Ali Mamouri
When well-known feminist activist Mona Eltahawy put forth her theory that women are hated and detested in the Middle East, she faced objections from both men and women in various Arab countries. Yet, when we consider the Iraqi model and watch the decline and regression in the status of women and feminist activism, we might have no choice but to accept this theory.
Iraq was a pioneer of women's movements demanding equality between women and men in Arab countries. Very early on, Iraq saw the emergence of important figures who fought for women's rights and to liberate them from social and religious persecution. In 1910, the famed Iraqi poet and teacher Jamil Sidky Zahawi published an article in the Egyptian journal Al-Moayed about the need to liberate women from the shackles of backward social traditions. It was later republished in the Iraqi journal Tanweer al-Afkar. This article sparked a widespread social movement, with participants split between supporters and opponents of the idea.
In 1924, renowned Iraqi journalist Hussein al-Rahal and his colleagues founded a broad social movement for the liberation of women. The same year, the Women's Renaissance Club was established in Baghdad. Since that time, women activists emerged calling for the liberation of women. Among the most famous of these activists is Paulina Hassoun, one of the leaders of the women's renaissance. Hassoun launched the first Iraqi feminist journal in 1923, called Layla. Moreover, Iraq witnessed the first female minister of state in the entire Arab world, with Naziha al-Dulaimi serving as minister of municipalities from 1959-62. In 1952, Dulaimi founded the Iraqi League for the Defense of Women's Rights (later known as the Iraqi Women's League) and served as its first president.
Since its founding, the Iraqi women's renaissance has been concerned with calling for a personal status law to replace the discriminatory laws that remained from the Ottoman era. After years of struggle, their efforts finally succeeded, when Iraq issued a civil personal status law in 1959. This law tried to comply with international conventions concerning women's equality, without compromising the prevailing religious beliefs in society.
Despite the succession of dictatorships in Iraq, the secular system employed by those regimes protected the women's movements and did not suppress them. However, when the regime of late Iraqi President Saddam Hussein launched its famous "faith campaign" in 1991, things changed completely. The political regime sought to regain legitimacy after the defeat of the Kuwait War via a union with tribal forces and fundamentalist religious groups. This resulted in a decline in social enlightenment movements, first and foremost feminist activism demanding equality for women. This activism contradicted the nature of patriarchal authority in the tribal structure and the religious beliefs of fundamentalist groups.
After 2003, the women's current did not have the opportunity to thrive, in light of emergence of Islamic parties whose fundamentalist principles did not believe in the equality of women and men. These parties considered feminist movements a type of Masonic activity that was imported from the corrupt West. It is very clear that the beliefs of decision-makers have an obvious impact on the path of society. When the Ministry of Women's Affairs in Iraq was taken charge of by Ibtehal Qasid al-Zaidi in 2011 — a woman with a religious background who opposed the freedom of women — and when she stated that she was against equality between men and women and believed in the necessity of the guardianship and power of men over women, then what chance did women's rights institutes in the country have for growth and prosperity?
A number of feminist activists in Iraq have tried to conduct research and fieldwork to elevate the status of women in the country, but these attempts have ended in failure. One of the most important examples is the Iraqi Women Foundation, founded by Asmaa Jamil in 2005. This foundation submitted a number of studies and reports on various matters related to the persecution of Iraqi women, including their subjection to violence, exclusion and other forms of persecution in tribal environments or in special cases such as those of widows. The foundation also submitted legal proposals to improve the status of women in the patriarchal environment that surrounds them. However, the foundation finally closed its doors in 2011 due to a lack of finances and a complete lack of interest in its legal and social output by the concerned governmental agencies.
Furthermore, as part of an ongoing effort from 2005-11, feminist activist Nadje Sadig al-Ali tried to open feminist studies branches at Iraqi universities, as is common in international universities. But this did not attract interest or support from the concerned agencies in the Iraqi government.
After all these failures, civil activists are trying to stop draft laws that discriminate against and target women who are adopted by the religious parties in the government. The latest such incident was the passing of the Personal Status Code by the Council of Ministers, which legalized polygamy and marriage to girls as young as 9, treating the woman as a sexual commodity in society.
Finally, the civil current — which includes the feminist movement — feels very disappointed. It feels that a hundred years of struggle to advance society in women's affairs is facing a miserable defeat, and that there has been a regression from the achievements obtained by women previously. This, in turn, emphasizes the need for concerned international institutions to support this current so that it can continue its work in spreading education, enrichng society, confronting despotic legislation and replacing the latter with civilized legal proposals.
http://www.al-monitor.com/pulse/originals/2014/03/iraq-women-rights-challenges-setbacks.html
--------------
Iran says woman sentenced to stoning given "leave" from prison
March 18, 2014
DUBAI: An Iranian woman sentenced to die by stoning for adultery and later given a 10-year jail term instead has been allowed to leave prison, the judiciary said, in a new twist to a case that has triggered years of criticism of Iran's rights record.
A judiciary spokesman told Reuters that Sakineh Mohammadi Ashtiani had been given "a leave" from prison several weeks ago for good behaviour. He said, without elaborating, that the decision was a sign of "our religion's leniency towards women".
There was no immediate word on whether the release was permanent or whether it was subject to some form of probation.
Ashtiani, who has two children, was convicted of adultery and complicity in the murder of her husband in 2005.
A court sentenced Ashtiani to be stoned in 2006 but the sentence was suspended in 2010 in the face of international pressure on Tehran. Her sentence was then reduced to 10 years, for being an accessory to her husband's murder.
Iranian authorities dismiss allegations of human rights abuses, saying they are following Islamic law.
Under Islamic law in force in Iran since the 1979 revolution, adultery may be punished by death by stoning and crimes such as murder, rape, armed robbery, apostasy and drug trafficking are all punishable by hanging.
The European Union called Ashtiani's stoning sentence "barbaric". The Vatican pleaded for clemency and Brazil offered her asylum. The case added to tensions between Iran and the West arising from its contested nuclear programme.
http://www.dailystar.com.lb/News/Middle-East/2014/Mar-18/250636-iran-woman-to-be-spared-stoning-sentence-judicial-official.ashx#axzz2wOlMuKDT
--------------
'Women in finance have a bright future'
By Our Correspondent
March 19, 2014
LAHORE: Studying accounting is not as tough as it is assumed, especially for women. The field has a bright future and a huge scope for those who want to take part and lead the corporate sector of Pakistan. The perception of how difficult accounting is for women needs to change now.
This was the crux of a round table discussion of senior female finance experts who looked at ways to enable more women enter the world of finance with the event being organised by the Association of Chartered Certified Accountants (ACCA).
The meeting heard that while a great many women have entered the finance profession, they account for only 20% of the most senior posts held in the sector.
"There are proven economic benefits of female participation in the work force, which in turn have a direct impact on gross domestic product (GDP) and other economic indicators. Our research shows that the benefits of having women on board include the belief that women protect business interests, and that they ensure the boards make more balanced decisions," said Jenny Gu, ACCA Council Member. "Despite these perceptions, there is still much more that needs to be done to ensure boards are more diverse, and discussions such as these will help raise these issues up the agenda."
Women Chamber of Commerce and Industries (WCCI) President Qaisra Sheikh said that financial security is dependent on one's attitude and beliefs about money and willingness to take financial future in your hands. Women-run small enterprises have been unsuccessful in attaining the status of medium or large enterprises due to gender specific blockade and financial impediments. While speaking about the solutions, Sheikh highlighted that women should invest in their education particularly in financial management.
"Gender diversity requires commitment at all levels, it must cascade from the board down to the basic unit in an organisation", said Roshaneh Zafar, Managing Director at Kashf Foundation. "There is no doubt that there is a strong business case for including women in corporate decision making," she added.
The experts said that following the modern world, Pakistani women need to get better position, with equal opportunities.
Published in The Express Tribune, March 19th, 2014.
Like Business on Facebook, follow @TribuneBiz on Twitter to stay informed and join in the conversation.
http://tribune.com.pk/story/684405/women-in-finance-have-a-bright-future/
--------------
Blasphemy Hearing For Jailed Christian In Pakistan, Asia Bibi, Delayed
18 March 2014
An appeal hearing for a Pakistani woman sentenced to death for blasphemy against Muslim beliefs has been postponed.
Asia Bibi sits in a Pakistan prison, on death row, accused of breaking the country's blasphemy laws back in 2010. Authorities said she verbally abused Islam, the Prophet Muhammad and two Muslim co-workers. Bibi has denied those accusations.
A new date for the appeal hearing has not been set.
According to Pakistani law, two judges are required to be present in death penalty cases. When one of the judges was absent for Monday's proceedings, the hearing was rescheduled.
The blasphemy laws say that "whoever by words, either spoken or written, or by visible representation or by any imputation, innuendo, or insinuation, directly or indirectly, defiles the sacred name of the Holy Prophet Muhammad (peace be upon him) shall be punished with death, or imprisonment for life, and shall also be liable to fine."
In 2009, Bibi was working for a Muslim landowner on a farm. The Muslim women told Asia about Islam, and Bibi responded by telling the Muslim women that Jesus is alive.
"Our Christ sacrificed His life on the cross for our sins…Our Christ is alive," she said.
She was then punished, charged with blasphemy and sentenced to hanging.
Shahid Khan, Vice-Chairperson of GMA and author of "Invisible Citizens of Pakistan: Minorities in Focus" said that successive Pakistani governments "have failed to protect and safeguard the fights of minorities."
"Instead they have feasted upon the weaknesses and vulnerabilities of the smaller minority groups by introducing laws which further pushed them deep into a sea of despair, injustice and inequality," he said.
http://www.theglobaldispatch.com/blasphemy-hearing-for-jailed-christian-in-pakistan-asia-bibi-delayed-21823/
--------------
Candidates vie for Afghan women's vote
03.19.14
BY KIM GAMEL
ASSOCIATED PRESS
KABUL, Afghanistan -- The candidate strode down the aisle separating hundreds of male and female supporters at a campaign rally in Kabul. She shook hands with the women filling the chairs to her right. To the men on the other side, she simply nodded.
Habiba Sarabi is the most prominent woman running on a ticket in the April 5 election to choose a successor to President Hamid Karzai. Sarabi once served as Afghanistan's first female governor, and her current bid to become Afghanistan's first female vice president is part of an effort to get out the women's vote as candidates scramble for every ballot.
Women "can affect the transition, the political transition," she said in an interview after addressing the rally to support Sarabi and her running mate, presidential candidate Zalmai Rassoul. The event was held in a wedding hall in a Kabul district dominated by her ethnic minority Hazara community.
But Sarabi, a 57-year-old former governor of Bamiyan province, still must conform to cultural norms in this deeply conservative Islamic society. Her challenge highlights the difficulties facing Afghan women who worry about losing hard-won gains as international combat forces prepare to withdraw from the country by the end of this year.
Afghan women were granted the right to vote in the constitution adopted after the U.S.-led coalition toppled the Taliban regime in late 2001. Under the Taliban, women were also banned from school and forced to wear the all-encompassing burqa.
But security concerns have marred their participation in previous elections. In areas of the country still controlled by the Taliban, women have been threatened with violence if they vote.
In 2009, many Afghan women registered but then gave their voting cards to male relatives, who ended up casting multiple ballots as polling officials and police conveniently looked away — one of many forms of fraud that tarnished Karzai's re-election.
Although voting cards are supposed to include a photo for identification, in some areas women refused to be photographed.
Naheed Farid, a lawmaker from the western province of Herat, predicted fraud will be rampant this year as well.
"I am so optimistic that we will have more women to vote in this election, but who they vote for and what happens to their vote will be a problem," she said in a telephone interview. "There's lack of awareness that women can decide on their own, and families, especially the fathers, have an influence, and this is something we can't change now, not this time."
Still, she and others said, there are signs of progress.
There are nine candidates in the crowded race, but only three are considered front-runners — Rassoul; Abdullah Abdullah, who was runner-up to Karzai in the disputed 2009 election; and Ashraf Ghani Ahmadzai.
Gul Makai Safi, the head of the women's council for Abdullah's campaign, said women are streaming into their offices to learn about the process. She expressed concern that women in areas where militants are active will be unable to vote.
"We are very hopeful and optimistic that this time the women's vote will decide the fate of the candidates in the election," she said. "Women will bring a change in the result of the election this time."
Ahmadzai's wife, Rula, has even stumped for votes at campaign events, something that is very rare in a country where the current first lady has almost never appeared in public.
There are officially 12 million eligible voters in Afghanistan, according to the Independent Election Commission, but the number of people who go to the polls may be higher because many voter cards were issued in past elections and are unaccounted for. Since registration began last year for next month's election, the commission has document 3.6 million new voters, including 1.2 million women.
Volunteers have visited villages and districts around the country to inform women about the issues and how their participation could help improve their lives.
But many obstacles remain.
To help prevent suicide bombings and other attacks, police will search voters before they are allowed to enter the polling stations. The Interior Ministry said it is training 13,000 women to search female voters, but there is concern there will be too few of them — and that some women will be turned away from the polls as a result.
And even in Kabul, some women have no idea how to register.
"No one guided us and we haven't got voting cards now. If we could get our voting cards, we could have fulfilled our part in making the government," said Gul Sara, a woman living in an internal refugee camp in the Afghan capital.
Activists also warned the situation has not changed in areas where the Taliban remain active and conservative mores are entrenched, including many parts of the east and in the southern provinces of Kandahar and Helmand.
Covered from head to toe in a black veil in downtown Kandahar city, Shaqiba Ahmadi acknowledged the difficulties facing women and chastised the government for not doing more on their behalf.
"I think we have to try harder," the 20-year-old tailor said. "Afghan women are not very active. They should vote. I will vote."
The hall in Kabul where vice presidential candidate Sarabi gave her address was packed equally with men and women, though they sat on separate sides of the room.
Sitting at the rally with a turquoise campaign scarf draped over her head, Gul Chaman said she plans to vote for the first time.
"I didn't care in the last election and I couldn't figure out how to get a voting card," said Chaman, who has nine grandchildren. "I hope the election will bring security, reconstruction and prosperity and stability to Afghanistan."
http://www.miamiherald.com/2014/03/19/4003932/candidates-vie-for-afghan-womens.html
--------------
Is multiculturalism bad for women in Canada?
BY AZEEZAH KANJI | MARCH 18, 2014
On Thursday March 6, Torontonians were treated to two doses of Irshad Manji: a CBC Metro Morning interview to start the day, and the 2014 Bluma Lecture at the Toronto Public Library to end it. Both purported to address the question "is multiculturalism bad for women?" Unsurprisingly, the self-styled "Muslim refusenik" answered "yes!" -- a response Manji backed up with her trademark farrago of inanities, inaccuracies and inflations.
Revelling in her position as a native informant, Manji claimed her identity as a "Brown chick" permits her to say things "white guys or white women" would be branded as racist for articulating. (The prevalence of negative portrayals of racialized minorities in mainstream Canadian media suggests that non-Brown Canadians actually feel quite capable of castigating marginalized groups. Manji functions more as a Brown fig-leaf for prejudice than a brave flag-bearer of critique.)
Such supposed un-utterables include Manji's denunciation of multiculturalism -- a policy she insisted prevents interrogation of misogynistic cultural practices, endangering women's lives and well-being.
Manji provided scant evidence that multiculturalism is imperilling women's rights in Canada. She relied primarily on the murder of Aqsa Parvez (as well as the Shafia murders in the CBC interview), whom she represented as killed by an overdose of Canadian multicultural tolerance. This despite the facts that the guilty parties in both cases were duly sentenced to life imprisonment, and no one argued that their cultural backgrounds entitled them to leniency. On the contrary -- the labelling of the murders as culturally motivated "honour killings" inspired greater excoriation of the perpetrators, not less.
(Also contra Manji: the Charter of Rights and Freedoms does not subjugate women's rights to multiculturalism, and the Bouchard-Taylor Commission report on reasonable accommodation did not omit the question of gender equality.)
Given Manji's habit of substantiating sweeping claims with nothing more than one or two personal anecdotes, her low standard of proof is hardly unexpected. But such threadbare reasoning is not the mark of a serious, responsible thinker.
As Law Professor Leti Volpp has observed, the simplistic "feminism versus multiculturalism" frame is unsound. The fixation with holding certain cultures culpable for gendered violence and oppression ignores the various extra-cultural forces (economic, social, psychological) involved in producing such violence. It also diverts scrutiny of mainstream patriarchal structures in society.
Indeed, reflexively "blaming culture for bad behaviour" fails to explain or address the high rates of violence against women in Canada -- a phenomenon manifestly not limited to any particular cultural or ethnic community.
For instance: In 2011, 76 women were killed by an intimate partner; this averages one femicide every five days. Half of all women in Canada have experienced at least one incident of physical or sexual violence since the age of 16 -- and only around ten per cent of all sexual assaults are ever reported to police. On any given night, 3300 women (and 3000 children) are forced to sleep in emergency shelters to escape domestic violence. And as of 2010, there were 582 known cases of murdered or missing Indigenous women in Canada.
These alarming statistics indicate that the danger for women -- all women -- in Canada is endemic patriarchy, not excessive multiculturalism. But since acknowledgement of such facts would disrupt Manji's virtually uncritical panegyric of "the West as against (if not rescuing) the benighted Rest," she blithely ignores them.
This blend of superciliousness and shoddiness is classic Irshad Manji.
Reviewing Manji's break-out book The Trouble With Islam Today, Professor Justin Podur dismissed it as "a multi-faceted fraud" replete with "factual errors, biases, manipulations, [and] distortions." "Reading her book," Podur remarked, "it becomes clear that it is not the work of a self-critical individual trying to hold the Muslim community accountable, but a self-congratulatory Westerner, cheering for powerful states and whitewashing the crimes of her 'family' [ie 'the West']." Similarly, Professor Leila Lalami described The Trouble With Islam Today as "a narrow polemic, selectively citing events and anecdotes that fit one paradigm only: Muslim savagery, which of course is contrasted with Western enlightenment."
Yale Professor Zareena Grewal took Manji to task for "parrot[ing] a long string of stereotypes and historically baseless myths about Islam, from the idea that Islam was 'spread by the sword' to the classic and widely discredited Orientalist narrative of 12th-century Muslim scholars closing the doors to reason (ijtihad), a crude distortion of the history of Islamic law." "The trouble with native neo-Orientalists such as Manji," wrote Grewal, "is the pervasiveness of their ideas. I have to explain again and again that their ('native') explanations are different from my ('native') explanations because mine are based not on the colour of my skin or my individual experience in Sunday school but on years of research, on the disciplined study of history and culture."
Manji not only largely fails to credit the many Muslim scholars and activists working for justice, equality and pluralism within the tradition (such as Kecia Ali, Farid Esack, Scott Kugle, Azizah al-Hibri, Ziba Mir-Hosseini, Ebrahim Moosa, Musawah, Omid Safi, Laury Silvers, Amina Wadud, and countless others), but she makes the task more difficult: by reinforcing popular but inaccurate generalizations about Islam and Muslims, and by promoting herself as the religion's primary agent of reform.
As a representative of the Safra Project (devoted to working with lesbian, bisexual, and transgender women) told Manji during her appearance last year on Al Jazeera's Head to Head: "A lot of the work you're doing has actually detrimentally affected our work [because it] generalizes and essentializes ... when you say more people need to speak up, we don't get a platform. The reason you get a platform is because what you say continues to support the racialization of Muslims."
But Manji forges on, bravely undeterred by her shortcomings in the knowledge department (after all, she does have the weighty mantle of NYU "Professor of Moral Courage" to uphold -- a panjandrum title if ever there was one. One would have thought the combination of chutzpah with ignorance is more liability than asset.) Happily for Manji, her demonstrated lack of expertise has proved no barrier to her continued treatment as an "expert" commentator on everything to do with Islam and Muslims -- from Qur'anic interpretation to Middle East politics to Canadian multiculturalism.
It seems the only qualification Manji needs is her membership in the exclusive club of so-called "good Muslims": that rarefied group of Muslims who "berate other Muslims for their cultural backwardness and ... acquiesce to American imperial interests, vociferously defend these, and know their proper place as supplicants to the west" (to use the words of Professor Sunera Thobani).
And as the case of Irshad Manji demonstrates, the exaltation of professional "good Muslim" pundits inevitably produces bad analysis.
Azeezah Kanji is a recent graduate of University of Toronto's Faculty of Law, and Programming Coordinator at Noor Cultural Centre.
http://rabble.ca/blogs/bloggers/views-expressed/2014/03/multiculturalism-bad-women-canada
--------------
URL: https://newageislam.com/islam-women-feminism/convert-british,-22,-refused-remove/d/56193