New Age Islam News Bureau
21 Sept 2017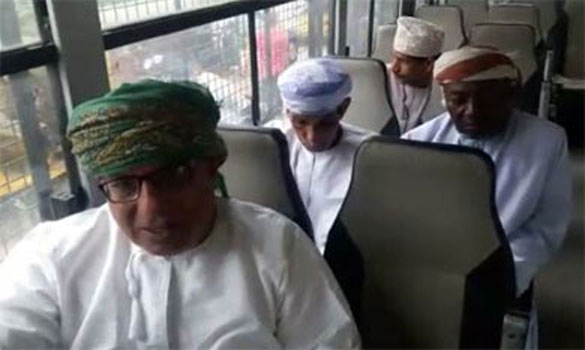 Two other local qazis who performed fake marriages recently have also been arrested. Cops sealed several residence-cum-guesthouses in Falaknuma and Chandrayangutta area. (Express photo)
-----
• 'Killing Is Easy For Them:' Egyptian Girl Exposes Her Family's Big Secret
• 82pc Women Travel 1-5km to Fetch Water in Kohistan, Pakistan
• Israel Holding 58 Palestinian Women 'Under Dire Conditions'
• Saudi Arabia Allows Women into King Fahd Stadium to Join National Day Celebrations
• Iran: Nurse Fired for Defending Women's Rights At Workplace
• Plea in SC to Stall NIA Probe into Marriage of Kerala Hindu Woman to a Muslim Man
• Midwives Come To Aid of Pregnant Rohingya Women In Bangladesh Camps
Compiled by New Age Islam News Bureau
URL: https://www.newageislam.com/islam-women-feminism/contract-marriage-racket-police-arrest/d/112610
--------
Contract marriage racket: Police arrest eight Arab sheikhs in Hyderabad who wanted to 'marry' minor girls
By Sreenivas Janyala
September 20, 2017
In a major crackdown on contract marriages racket involving old Arab sheikhs "marrying" local teenage Muslim girls, Hyderabad Police raided several guesthouses and lodges and arrested five Oman and three Qatar nationals, who were camping in the city to "marry" teenage girls.
Two of them are in their 80s and walk with the help of sticks and walkers. "They were in the process of "interviewing" more than 20 minor girls when the raids were conducted at various guesthouses," Police Commissioner M Mahender Reddy said. Cops also arrested the chief qazi of Mumbai Farid Ahmed Khan who was issuing marriage certificates for contract marriages performed in Hyderabad for Rs 50,000 each.
Two other local qazis who performed fake marriages recently have also been arrested. Cops sealed several residence-cum-guesthouses in Falaknuma and Chandrayangutta area. In an elaborate operation that was started after the arrest of an Oman national on August 17 for marrying a minor, cops kept a watch at the Hyderabad Airport for sheikhs arriving from the Middle East in recent days. They followed these eight men to the various lodges and guesthouses where they checked in. As cops watched, several brokers including some women visited them and brought the girls for "interviews". After gathering enough evidence, cops started raids last night.
South Zone Police raided one private guesthouse in Chandrayangutta area just in the nick of time and rescued a 15-year-old girl who was about to be married to a 70-year-old Omani Al Mayahi Ali Issa. The raids, which started last night, were still going on.
Cops arrested Al Mayah Ali Issa, Al Salehi Talib Humeid Ali, Al Ubaidani Juma Shinoon Sulaiman, Al Salehi Nasser Khalif Hamed, Al Qasimi Hassan Mazaaul Mohammed (all from Oman), and Omer Mohammed Seraj Abdal Rahman, Hamad Jabir o Al-Kuwari,and Safeldin Mohammed Salih (all from Qatar).
"They were in the process of selecting young girls to enter into fake marriage agreements. Brokers were bringing the girls to the guesthouses where the eight men were staying and displaying them. They have been arrested along with three brokers and three qazis who were paid to perform the marriages. The brokers have promised the girls' parents if the sheikhs select their daughter for marriage they would pay Rs 1 lakh. The brokers take Rs 2 to 3 lakhs," said Assistant Commissioner of Police of Falaknuma Division Mohammed Tajuddin Ahmed.
"The raids are based on our investigations into the August 18 incident when another Oman national was arrested for marrying a 17-year-old," he said.
Besides the eight men who have been arrested, cops took into custody several sheikhs found living in lodges. At the FK Lodge, cops found Al Sheyadi Sulaiman Khamis Salim who is also from Oman. He told police that he came to Hyderabad to marry a young girl. He came with his son and a friend.
In another lodge, cops found 80-year-old blind sheikh M Abdullah who admitted that he came for a contract marriage; he would have left the bride after three weeks and returned to Muscat.
South Zone Deputy Commissioner of Police V Satyanarayana said they have identified at least 15 Hyderabadi brokers who live in Oman and Qatar and make contact with sheikhs there who are in search of teen brides. "These brokers help the sheikhs get in touch with families of girls here and deals are struck after which the sheikhs come to Hyderabad. There are several women whose main job is to identify poor families who are interested in giving away their daughters in the name of marriage for money without bothering about the age and intention of the groom. In cases where the sheikhs arranged visas and took the newly-married girls with them, the girls end up getting exploited by several others. A few victims we have interviewed have themselves told women police about it," he said.
Among the 35 Hyderabadi brokers cops have identified so far, 25 are women. Police said brokers not only identify and keep the young girls ready for marriage but also offer various packages. In brokers' parlance 'Shaikh' is a rich Arab who is willing to pay a lot of money for a teenage bride and would like to stay at a decent hotel and hire luxury cars. "Ambassador carwala" is not willing to spend too much, will hire a normal car and stay in a lodge or guesthouse. "Autowalla" is one who prefers to stay in cheap rented rooms and travel in autorickshaws.
The packages — from arranging meetings with girls to accommodation to marriage — range from Rs 3 to 10 lakhs.
Cops arrested five brokers who were bringing the girls to the rooms of the sheikhs. Mohammed Asif Mohammed, who had converted his house at Kalapather into a plush guesthouse and was inviting sheikhs to visit and meet young girls for marriage, was also arrested.
Two Qatari sheikhs were arrested from this guesthouse. Raids were conducted on residential apartments, which have been converted into guesthouses including FK Plaza, Ghalib Residency, MJ Anas Guesthouse, and Wincity Developers in Chandrayangutta.
http://indianexpress.com/article/india/contract-marriage-raids-police-arrest-eight-arab-sheikhs-in-hyderabad-who-wanted-to-marry-minor-girls/
--------
'Killing Is Easy For Them:' Egyptian Girl Exposes Her Family's Big Secret
Sep 21, 2017
By Ashraf Abd al-Hameed
CAIRO — A girl's heroic story has won the hearts of the Egyptian people, to the extent that they are demanding the government to protect and care for her.
They have also asked that she is provided with a residence and granted a monthly pension. 
The girl, Mariam Abduljalil Al-Asawi, reported members of her family to authorities. She reported her father, a member of the Muslim Brotherhood, and her mother and brother, who are both Daesh (the so-called IS) members, she said.
Asawi also revealed insight on other terrorist cells belonging to the Muslim Brotherhood. The cells, run by her father, were commissioned to carry out terrorist operations by Brotherhood leaders on-the-run.
Speaking to Al Arabiya.net, Asawi said that she presented security with footage which illustrate her father's involvement in the assassination of a military officer and police.
Similarly, Asawi provided evidence on her mother's involvement in providing logistical support to Daesh and Brotherhood cells in Sinai. 
Asawi stressed that a majority of the Brotherhood's youth joined Daesh. They formed various cells to carry out terrorist organizations in Sinai and other governorates.
She also said that her father was responsible for the uprising dissolved in August 2013. The uprising was organized by the Flag Party, which belongs to former presidential candidate Hazem Saleh Abu Ismail. The party is also funded by the Brotherhood.
As such, her father was arrested for being involved in the assassination of army and police officers three years ago.
Asawi provided pictures and several details on meetings her father held with Brotherhood and Daesh elements in their own house.
According to Asawi, her father stored weapons in the house. She explained that the Brotherhood would send him money and he would designate a task to each concerned element.
She also revealed key passwords that the elements exchange amongst themselves during phone calls to distract security.
Abdulrahman, Aswai's brother, was revealed to have been involved in the Badrashin terrorist incident and many other operations. The attack resulted in the death of several police officers.
Awasi noted that her brother and his colleagues would take drugs before carrying out any terrorist operations.
She also provided important information about those involved in the Badrashin operation, top of this list is Ezzedine Al-Aswad, who security forces were recently able to locate and take down. 
Asawi explained that while her father was serving jail time, her mother would hold the meetings and delegate tasks to terrorist groups in Sinai. Consequently, her mother was influenced by Daesh ideology and became part of the terror outfit.
Asawi's mother tortured her and threatened to kill her if she revealed any information on what happens inside their house. This is particularly due to Asawi's refusal to participate in the meetings and join the terrorist organizations.
Asawi also refused her mother and uncles' desire to marry her to a Daesh element.
Among the videos and details about various phone calls she provided, one was about Mohammed Ali Saad al-Hanadi. This man runs a terrorist camp in Siwa. 
In the concerned phone call, Hanadi explains how young people are recruited into Daesh, how they are smuggled in to Syria and Iraq and details about their training areas. 
Other information revealed to local security includes methods to transport Brotherhood elements in Iraq, Syria and Sudan. Various women take part in the terrorist operations from time to time. Most hide weapons and ingredients necessary to create explosives under their clothes. 
There's an established organization of women from the Muslim Brotherhood who are trained to use weapons and fire them when necessary, explained Asawi
The girl has been living with a friend's family for some time to stay away from her family and uncles. Security forces are also working on protecting her.
Killing is an easy task for her family, explains Asawi. It's as if they are slaughtering chickens without mercy, religion or conscience, she added. — Al Arabiya English
http://saudigazette.com.sa/article/517663/World/Mena/Killing-is-easy-for-them-Egyptiangirl-exposes-her-familys-big-secret
--------
82pc Women Travel 1-5km to Fetch Water in Kohistan, Pakistan
September 21, 2017
KARACHI - Around 82 percent of women, including those with pregnancy, fetch 15-20 litres of water for their homes after travelling one to five kilometres daily in Kohistan, which is an arid hilly region in Thatta district bordering Karachi.
This trouble-making situation for women in this modern era is due to negligence of the authorities concerned.
Media men were briefed during their visit to Thatta arranged by Indus Earth Trust.
They were told that only eight percent of males took responsibility for fetching water for their household needs.
Speaking on the occasion, Indus Earth Trust member Aafia Salam said that under Water for Women project, check dams were being built to store rainwater for nearby villages, while some dams had already been deepened and widened, where recent rainwater is restored.
"It is an irony that women, including girls, are used for fetching water from far-flung areas in Kohistan as authorities concerned have deprived people of the area of their basic facilities of life," she regretted.
She said the project would focus on water replenishment through rainwater harvesting and rehabilitation of dug wells. She further said that villages in Kohistan had also been deprived of electricity and other facilities of life. "We have also installed four solar grids at four villages in Gharo which are functioning successfully," she said, and added, "Efforts will be made to provide solar power to the people of Kohistan as well."
Aijaz Ali, Chief Operating Officer at Indus Earth Trust, said that Water For Women project was aimed at reducing sufferings of women and girls who had to fetch water for their homes by covering long distances. He further said that under this project, check dams were being built in Kohistan to store water.
He said that IET was also training women for improving health and hygienic conditions in their villages.
Ali told newsmen that at some places, people drank water with animals. He said that Water for Women Project would benefit 15,000 people of 22,000 households residing in 34 villages of one union council in Kohistan. "The components of this project are check dams, rainwater harvesting, social mobilisation, wash awareness sessions, hand pumps, dug wells, and health and hygiene training," Ali concluded.
http://nation.com.pk/karachi/21-Sep-2017/82pc-women-travel-1-5km-to-fetch-water-in-kohistan
--------
Israel holding 58 Palestinian women 'under dire conditions'
Sep 20, 2017
The Israeli regime is holding at least 58 Palestinian women, including 10 minors, "under dire conditions" in its jails, the Prisoners and Freed Prisoners Committee says.
The committee recently said the female prisoners were being held in HaSharon and Damon jails. It said the Palestinian women suffered physical and emotional abuse by the Israeli Prison Service (IPS).
The basic rights of the inmates, the committee said, are violated as they have no access to essential needs such as medical care. Several of the jailed women were under 18 when they were sentenced and they have turned 18 behind Israeli bars.
The number of female prisoners in Israeli jails has increased in the past several months. The Palestinian women are serving sentences of eight months to 16 years, and some of them are held without charge or trial under the so-called administrative detention policy.
Many Palestinian prisoners have gone on hunger strike in recent months to protest the administrative detention. In 2015, the Israeli regime passed a controversial bill allowing the force-feeding of hunger-striking inmates.
Some 6,500 Palestinians are currently being held in Israeli jails, 536 of them arbitrarily, according to figures provided by the Palestinian prisoners' rights group Addameer. Palestinian inmates complain that they have been subjected to assault and torture at Israeli prisons.
'Israel has detained 110,000 Palestinians since Oslo Accords'
The committee also said the Israeli regime had arrested 110,000 Palestinians since signing the Oslo Accords in 1993; the detainees included 16,000 children and 1,700 women and girls. It said 103 Palestinian prisoners had died or were killed inside Israeli jails during this time.
An overwhelming majority of Palestinian prisoners are civilians and they have been arrested in areas under full control of the Palestinian Authority, the committee said.
Oslo: 24 years of Palestinian losses
The Palestine Liberation Organization (PLO) and Israel signed the Oslo Peace Accords on September 13, 1993, under American and Russian sponsorship. It stipulated the establishment of a Palestinian state by the end of 1999 in Palestinian territory occupied in 1967. However, Israel did not commit to the terms of the accords and instead expanded its settlements in occupied Palestinian territory, including East Jerusalem al-Quds, the capital of a future Palestinian state.
http://www.presstv.ir/Detail/2017/09/20/535859/Israel-Palestine-HaSharon-Damon-Oslo-Accords
--------
Saudi Arabia allows women into King Fahd stadium to join national day celebrations
21 September 2017
RIYADH: Saudi Arabia has invited women to a sports stadium for the first time to attend annual national day celebrations with their families, state media said Wednesday, opening up a previously male-only venue.
Families will be allowed into the King Fahd stadium in Riyadh, used mostly for football matches, and seated separately from single men to mark the kingdom's 87th National Day this weekend.
"The stadium is ready to receive about 40,000 people divided between individuals and families to be seated separately," the official Saudi Press Agency said in a statement, citing the general authority of entertainment.
This marks a shift from previous celebrations in the kingdom where women are effectively barred from sports arenas by strict rules on segregation of the sexes in public.
This measure represents another step into relaxing some norms as part of its "Vision 2030" plan for economic and social reforms.
In July, rights campaigners welcomed an "overdue" reform by the education ministry to allow girls to take part in sports at state schools.
http://www.arabnews.com/node/1164426/saudi-arabia
--------
Iran: Nurse fired for defending women's rights at workplace
20 September 2017
An Iranian nurse was fired from her job due to efforts to gain the rights of nurses in the hospital where she worked. Parvin Heydari, a nurse who used to work at the Nabavi Hospital of Dezful in Khuzistan Province, said she had been expelled from her job for having pursued the implementation of the law on improvement of productivity.
She has been fired despite having 17 years of work experience.She explained, "Within six months when I represented the nurses at this hospital, I seriously followed up the implementation of the law to improve productivity. I worked with the staff, and with their cooperation, we gathered signatures and sent a letter to the Department of Labor, demanding implementation of this law. I faced heavy opposition for doing so and was eventually fired from my job." (The state-run ILNA news agency – September 18, 2017)This is while according to the UN and CSW programs for women's economic empowerment, women have the right to organize in workplaces and communities to uphold women's labor rights, ensuring decent work and defining policy priorities.
http://www.women.ncr-iran.org/iran-women-news/4309-iran-nurse-fired-for-defending-women-s-rights-at-workplace
--------
Plea in SC to stall NIA probe into marriage of Kerala Hindu woman to a Muslim man
Sep 20, 2017
A plea has been filed in the Supreme Court seeking recall of its order directing the NIA to investigate a controversial case of conversion and marriage of a Hindu woman to a Muslim man in Kerala.
The Kerala High Court had annulled the marriage terming it as an instance of 'love jihad', following which the man had approached the apex court.
The top court had on August 16 directed the National Investigation Agency (NIA) to probe the incident under the supervision of retired apex court judge, Justice R V Raveendran.
The man has now approached the apex court seeking recall of its August 16 order besides a direction to Kerala Police to produce the woman, who is residing in her father's house, before the court.
Petitioner Shafin Jahan, in an interim application filed in his appeal against the high court order, has referred to media reports and claimed that NIA has already started its probe "without the guidance of Justice Raveendran".
In the plea, filed through his counsel Haris Beeran, he has claimed that as per these reports, "Justice R V Raveendran has refused to oversee the said probe by the NIA" and the agency should be directed not to proceed further with its investigation.
"Therefore, now since the above reports are surfacing that NIA has already commenced investigation and already found a link, all without the guidance of Justice Raveendran, the worst fears of the petitioners have therefore been realised," the plea said, adding, "such an investigation is clearly not fair and is against the orders of this Court".
Jahan has claimed in his plea that the Kerala human rights commission has received several complaints regarding the detention of the woman at her father's house.
He has also claimed that the woman has made it clear that she had accepted Islam on her own free will and after the May 24 order of the high court, she has been detained against her will and her rights have been violated.
"The detenue (woman) clearly wishes to leave her parents' home and that she is being physically abused while being under house arrest," the plea alleged.
The apex court had directed the NIA to submit its final investigation report in the court to enable it to arrive at any conclusion in the matter.
Additional Solicitor General Maninder Singh, appearing for the NIA, had earlier told the bench that prima facie it appears that woman's conversion to Islam and her subsequent marriage to a Muslim was not an isolated incident and other such instances have come to the agency's notice.
Jahan, who had married a Hindu woman in last December, had moved the apex court after the Kerala High Court annulled his marriage, saying it was an insult to the independence of women in the country.
The woman, a Hindu, had converted to Islam and later married Jahan. It was alleged that the woman was recruited by Islamic State's mission in Syria and Jahan was only a stooge.
Ashokan K M, the father of the woman, had alleged that there was a "well-oiled systematic mechanism" for conversion and Islamic radicalisation.
The high court, while declaring the marriage as "null and void", had described the case as an instance of 'love jihad' and ordered the state police to conduct probe into such cases.
http://www.hindustantimes.com/india-news/plea-in-sc-to-stall-nia-probe-into-marriage-of-kerala-hindu-woman-to-a-muslim-man/story-hTBQ6zVVKbfohmJGCI7DyK.html
--------
Midwives come to aid of pregnant Rohingya women in Bangladesh camps
September 20, 2017
MUMBAI: Dozens of midwives have been deployed to camps in Bangladesh to deliver babies and help young mothers among the hundreds of thousands of Rohingya refugees who have fled across the border from Myanmar and are now living in squalid settlements.
About 35 midwives trained by the United Nations Population Fund (UNFPA) to work in crisis situations have been attending to women and girls in the two government-run refugee camps in Cox's Bazar over the past few weeks, according to UNFPA.
The midwives are providing emergency services including for sexually transmitted disease and sexual violence, as well as caring for pregnant women and young mothers.
"The sheer number of people pouring in, the magnitude of the situation is quite overwhelming," said Sathya Doraiswamy, chief of health at UNFPA.
"Our midwives are used to working in more stable situations, with other Bangladeshi women; there is a language issue and other challenges, but they are facing up to them," he told the Thomson Reuters Foundation by phone.
The midwives have delivered about 200 babies since the recent influx of refugees began August 25, Doraiswamy said.
More than 400,000 Rohingya Muslims have fled a Myanmar military offensive that began after a series of guerrilla attacks on August 25 on security posts and an army camp in which about a dozen people were killed.
Unicef estimates that an "unprecedented" 60 per cent of new refugees in Bangladesh are children.
Besides sexual violence, early marriage is a risk for Rohingya refugee girls.
Earlier this year, a UN survey found that over half of Rohingya girls who fled to Malaysia, India and Indonesia became child brides.
In Bangladesh, which has been hosting hundreds of thousands of Rohingya refugees since the 1990s, about two-thirds of the refugees in the camps are women and girls, including many pregnant women and young mothers, Doraiswamy said.
"The people coming in are hungry, thirsty, sick, they have been walking for days and they are emotionally traumatised," said Rondi Anderson, UNFPA's midwifery specialist.
"Still, pregnant women and young mothers in the camp know they have a safe space and good care with the midwives." The midwives are part of a national programme backed by the Bangladesh government and supported by UNFPA and the World Health Organization to improve maternal health and reduce infant mortality, particularly in the country's rural areas.
The midwives at the camps have been trained for crisis situations including floods.
"There are many challenges. But even in these difficult circumstances, there is some happiness for everyone at the safe birth of a child," said Anderson.
http://gulfnews.com/news/asia/rohingya/midwives-come-to-aid-of-pregnant-rohingya-women-in-bangladesh-camps-1.2093305
--------
URL: https://www.newageislam.com/islam-women-feminism/contract-marriage-racket-police-arrest/d/112610
New Age Islam, Islam Online, Islamic Website, African Muslim News, Arab World News, South Asia News, Indian Muslim News, World Muslim News, Women in Islam, Islamic Feminism, Arab Women, Women In Arab, Islamophobia in America, Muslim Women in West, Islam Women and Feminism