New Age Islam News Bureau
2 Jan 2020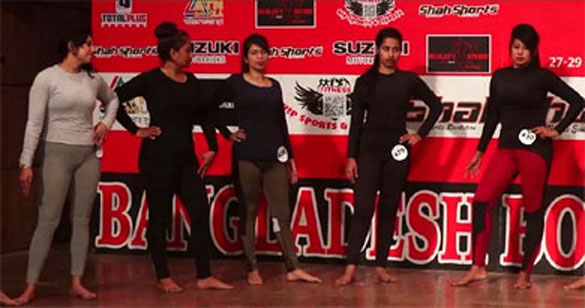 Contestants of first women's bodybuilding competition in Bangladesh asked cover up bodies to respect religious sentiments
-----
• Contestants Cover Up at First Women's Bodybuilding Competition in Bangladesh
• Muslim Fast Food Worker In US Sent Home For Wearing Hijab
• Iran's Religious Capital Has the Highest Number of Women Addicts
• Meet the Silent Women Protesters at Zakir Nagar, New Delhi
• Indonesian Muslim Scholars Reject Ban on Female Circumcision
• Muslim Women Detained In China Claim Forced Abortions
• Pope Francis Apologised On Wednesday For Slapping A Woman Who Had Grabbed Him As He Greeted A Crowd Of Devotees
• UMSL Archaeologist Takes Photographs to Study Tattoos on Ancient Egyptian Women
• 2019 Would Surely Be Remembered As the Year When Malaysian Women Led The Way
• Vatican Magazine Looks At Women In The Church In The Age Of Pope Francis
• Greta Gerwig Shows Us 'Little Women' Like Never Before
Compiled By New Age Islam News Bureau
URL: https://www.newageislam.com/islam-women-feminism/contestants-cover-up-first-women/d/120689
------
Contestants Cover Up at First Women's Bodybuilding Competition in Bangladesh
January 1, 2020
Bangladesh's first women's bodybuilding championship was won by a 19-year-old student in a contest where most of her muscle was covered up to prevent controversy in the Muslim-majority nation.
While skimpy bikinis are the norm at international body-building contests, Awhona Rahman and her 29 rivals kept their brawn under wraps in front of the crowd of hundreds.
Rahman and the other competitors struck poses on stage wearing tight leggings and body-hugging outfits during the three-day event that finished on Sunday and was held in the capital Dhaka.
"I am really happy, I really worked hard for this," Rahman told AFP.
"It never entered my mind that someone might criticise me for showing my body. My brother, who runs a fitness centre, has always encouraged me," she added.
"We were told there would be proper dress code and the outfit provided was perfect from a Bangladeshi perspective."
Bangladesh Bodybuilding Federation general secretary Nazrul Islam said there had been a huge response to the landmark women's competition which aimed to encourage health and fitness.
"We were very careful about the dress code because of our religious and social culture. We selected long sleeve crop tops and leggings for the girls," he added.
Islam predicted the competition would help create jobs for women in the growing number of gymnasiums in Bangladesh where women now have memberships.
Nearly 90 per cent of Bangladesh's population is Muslim and women are making a growing impact in sport including cricket, football and archery.
https://www.news18.com/news/buzz/contestants-cover-up-at-first-womens-bodybuilding-competition-in-bangladesh-2442025.html
------
Muslim fast food worker in US sent home for wearing hijab
1 January, 2020
A Muslim fastfood worker shared a clip on Twitter Monday which shows her boss sending her home, for coming to work at Chicken Express in Fort Worth, Dallas wearing a hijab.
Folake Adebola shared a short video which shows a confrontation with her boss, where she pleads, "It's part of my religion... I felt like if I work here y'all could be able to (accomodate) my religion".
But her boss sees matters differently. According to him, the traditional Muslim headress is "a different thing" and part of her "personal life out there".
The hijab, he believes, has "nothing to do with religion".
Adebola and her boss remain at a deadlock on the issue by the end of the clip, but the fastfood worker resolutely affirms that she will continue to wear the head covering.
In a follow-up thread on Twitter, she shared another clip, where a man is heard insisting that the hijab is "not part of the uniform" and that as she, as a paid emloyee, 'cannot wear it'.
The videos have ammased almost 8,000 retweets and over 22,000 'likes'.
Describing the events, Adebola wrote on Twitter, "This is discrimination at its finest! I will not tolerate this at all."
Many on the platform have shown sympathy and support for Adebola's defence of her values.
One user lauded her decision to share the videos as inspiring others in similar situations to find to the "courage for themselves to stand up".
Other users urged her to "stay strong" in the face of discrimation.
"Definitely trying, I cried all day yesterday because I just couldn't believe it happened to me it's like 2019 almost 2020 this needs to stop."
Chicken Express refused to speak to the Metro when reached for comment.
https://www.alaraby.co.uk/english/news/2020/1/1/muslim-fast-food-worker-sent-home-for-wearing-hijab
------
Iran's Religious Capital Has The Highest Number Of Women Addicts
January 01, 2020
The city of Qom, the Shi'ite religious capital of Iran south of Tehran, is at the top of the table for female drug addicts in the country, a local website Qom Farda cited an official at the Islamic Republic President's office, as saying.
Deputy for coordinating women's affairs, Zahra Javaherian, also noted that Qom has the highest number of women arrested for crimes related to narcotics and drug addiction.
Furthermore, Ms. Javaherian asserted on Tuesday, December 31, that, on average, villages around Qom have the highest rate of divorce in the country's rural areas.
"Qom is also number one for girls dropping out of elementary and high schools," Javaherian said.
Meanwhile, the official insisted that the number of women serving as managers is significantly lower in the holy city, ranked at 31 in Iran.
However, without elaboration, Javaherian noted that the data presented by her had been collected in 2016, and since then, some positive changes have occurred in the city.
In 2014, the Secretary-General of the Office for Combating Drugs for Women and Family Affairs, Zahra Bonyanian, had said that 68 percent of female addicts are aged between twenty and 39 years; of this total, 62 percent were married.
In 2016, the head of Qom's registrar's office said that the city had the highest number of divorces in Iran, and the rate of alimony in the town showed a 5,000% growth.
https://en.radiofarda.com/a/iran-s-religious-capital-has-the-highest-number-of-women-addicts/30355273.html
------
Meet The Silent Women Protesters At Zakir Nagar, New Delhi
Thursday | 2nd January, 2020
They do not raise slogans, they do not give speeches, no chants and no noise, this is Zakir Nagar's 'Silent' protest by women against CAA and NRC. Barely 2 kilometres from Shaheen Bagh, away from the camera flashes and media glare, hundreds of women line up in long queue holding candles and placards in their hands at Zakir Nagar. Suboohi resides in Zakir Nagar and quickly completes her household chores by evening and takes her two children along with her to Zakir Nagar 'dhalaan'( slope). People now know that Muslim women would fight for their rights no matter what," Malaika said. We are not standing here for ourselves but for those who need us at this hour," Amina , a protester said.
https://www.nyoooz.com/news/delhi/1426798/meet-the-silent-women-protesters-at-zakir-nagar/
------
Indonesian Muslim Scholars Reject Ban On Female Circumcision
FEBRUARY 15, 2013
Jakarta: Indonesia's highest council of Muslim scholars has stirred up a new controversy after urging the government to continue allowing female circumcision, objecting to a United Nations' plan to ban the procedure. "What we reject is the ban," Ma'ruf Amin, the chairman of the country's highest Islamic authority, the Indonesian Ulema Council (IUC), was quoted by ABC News on January 24, 2013. The comments came as a response to the UN approval last month of a non-binding resolution urging its 193 member states to enforce legislation prohibiting female genital mutilation (FGM). FGM includes procedures that intentionally alter or injure female genital organs for traditional socio-religious and other non-medical reasons. The procedure has no health benefits for girls and women, but instead causes severe bleeding, and later, childbirth complications and newborn deaths. The practice is mostly carried out by traditional circumcisers, who often play other central roles in communities, such as attending child births. FGM is internationally recognized as a violation of basic human rights of girls and women and is mainly carried out on young girls sometime between infancy and the age of 15. Other Muslim countries where FGM is most prevalent is Egypt, followed by Sudan, Ethiopia and Mali.
https://islamicvoice.com/muslim-world-news-online/indonesian-muslim-scholars-reject-ban-on-female-circumcision/
------
Muslim women decry CAA, take out rally in AnantapurMuslim minority women took out a massive rally in Anantapur on Teusday from the Clock Tower junction decrying the Central government's decision to implement the Citizenship Amendment Act(CAA). Clad in burkas, these women marched with placards that read 'We are Indians by choice; We are Indians not by chance'.
Economic crisis
Highlighting the rising unemployment scenario, they said, "We are witnessing an economic crisis which will only be intensified if more people were to enter our country."
Raising demands for repealing the Act, they criticised the Centre for singling out the Muslim community and for making them feel excluded and disoriented.
https://theworldnews.net/in-news/muslim-women-decry-caa-take-out-rally-in-anantapur
------
Pope Francis Apologised On Wednesday For Slapping A Woman Who Had Grabbed Him As He Greeted A Crowd Of Devotees
January 02, 2020
VATICAN CITY; Pope Francis apologised on Wednesday for slapping a woman who had grabbed him as he greeted a crowd of devotees, shortly before he delivered a speech denouncing "every form of violence against women."
The image of a visibly annoyed Pope Francis slapping his way free from the clutches of an admirer as he walked by Catholic faithful on New Year's Eve instantly went viral on social media. A personal apology followed.
"We lose patience many times," he confessed.
"It happens to me too. I apologise for the bad example given yesterday," the head of the Catholic church said before celebrating Mass at the Vatican.
Twitter enthusiasts commented on the pontiff's prompt riposte to the exuberant woman.
Pope Francis had greeted children before the Nativity scene on Saint Peter's square and was turning away when a woman who had crossed herself then cried out something, yanked his hand and almost caused him to fall.
The 83-year-old pope grimaced and scowled before managing to break free, slapping her hand twice as a security guard intervened.
The pontiff continued his tour, walking with some difficulty while maintaining a slightly greater distance from visitors, and gradually relaxed again as he met with other children.
Twitter comments revealed some support for his instinctive reaction.
"I'm not a Catholic, but the woman is wrong. It even seemed as if the Pope experienced pain at one moment," one comment read. Others were less favourable, however.
"Yikes. She was totally wrong but his reaction was not very Pope like," another commented.
The blessing of God for all, he said, was "not magic but requires patience, patience and love." The pontiff then repeated "patience and love" in a comment that was not contained in a text distributed to media ahead of time and which seemed to be his reaction to what had occurred the night before.
The pope is known to enjoy greeting the public, and also has a reputation for speaking his mind and having a determined temperament.
https://www.dawn.com/news/1525810/pope-sorry-for-slapping-woman
------
UMSL Archaeologist Takes Photographs To Study Tattoos On Ancient Egyptian Women
DEC 30, 2019
Five years ago, archaeologist Anne Austin stood in an ancient Egyptian tomb, staring at strange markings on the neck of a mummified woman.
She placed a scanning device over the mummy to cast infrared light, an invisible light often used to detect heat. Almost like magic, several tattoos revealed themselves, Austin said.
Since then, Austin has used infrared photography to study tattoos on seven Egyptian mummies.
"It's almost like taking something that's totally invisible and making it visible again," said Austin, an anthropology professor at the University of Missouri-St. Louis. "It's this thrill of discovery and also the magic of having technology that can do things we previously could never do."
The mummies that she studies are located at Deir el-Medina, a village where craftsmen built tombs during the New Kingdom era, 3000 to 1500 B.C. Austin recently presented her findings at the annual meeting of the American Schools of Oriental Research.
Infrared photography can see beneath the skin to detect the tattoo. The tattoo ink and the skin also absorb the light differently, allowing there to be contrast between the two, Austin said.
Researchers also have to edit the photos because mummification shrinks the skin.
"We would stretch the photos like we're stretching the skin back to real life," Austin said. "And then we can see the actual figures that were originally on the body."
The history of tattooing in ancient Egypt is largely unknown. Before researchers discovered the tattooed mummies at Deir el-Medina, only six individuals were found with them.
One mummy Austin studied had a tattoo of the Wadjet eye, an Egyptian mark that symbolizes protection, with two seated baboons and the hieroglyph for goodness. The symbols translate to "do good."
Given where the tattoos are located on the woman's body, it's possible she spells and sang to practice religion or medicine, Austin said.
"We proposed maybe she acted like a healer in her community. The tattoos are placed in parts of her body, like her voicebox and on her arms. We suggested maybe they enable her 'to do good' in her community," she said.
The Egyptian texts at Deir el-Medina do not say much about the tattoos and describe the women as prostitutes and servants. But those texts were mainly written by men, so the tattoos could tell a different history, Austin said.
"Maybe [the tattoos] represent text, but on women's bodies," she said. "The history of studying tattoos in ancient Egypt has been focused on thinking of ways to eroticize a female body. I'm pushing back on that to say the evidence I'm pointing to many more functions of these tattoos than symbols of sex."
Austin plans to return to Deir el-Medina in January.
https://news.stlpublicradio.org/post/umsl-archaeologist-takes-photographs-study-tattoos-ancient-egyptian-women#stream/0
------
2019 Would Surely Be Remembered As The Year When Malaysian Women Led The Way
01 JAN 2020
THE year 2019 would surely be remembered as the year when women led the way; whether in sports, politics, administration of justice, law enforcement or national unity.
This year marked the graceful retirement of Datuk Nicol David from competitive squash. Her seamless transition from the world's greatest female squash player to the role of an enabler, motivator, ambassador and most of all, a young "elder stateswoman" of her sport may be taken as a guide to those who overstay their positions on the mistaken belief that they and only they can "do the job".
On the political front female ministers have also shown the way. Teresa Kok showed the rest on how to focus on one's own ministry; to understand the challenges and to attempt to overcome the obstacles in its path. It was not for her to wander into and interfere with the portfolios of her Cabinet colleagues.
Acquiring a home has been a great challenge to Malaysians generally. A roof over one's head was becoming increasingly unattainable while housing developers were making inordinate profits. For long housing developers have been abusing the phrase "affordable housing". That catch-phrase had been used even where prices were well out of the reach of the common man. I recall in one instance where houses costing RM600,000 were described as "affordable housing".
Into this scenario marched Zuraida Kamaruddin. In one fell swoop, the ceiling price on "affordable housing" was brought down to RM300,000. She caused shivers within the developers' community when she stated that it was possible to provide reasonable houses at not more than RM150,000. Zuraida was not shooting in the dark. She knew what she was talking about. She knew that most state governments owned tracts of land on which really affordable houses could be constructed. This would be possible if state governments took a more "egalitarian" rather that "business-like" approach in their dealings. Lamentably, many state governments conduct their affairs as if they were profit-oriented bodies.
Come May 2019 our first female chief justice was appointed. The legal fraternity welcomed her with joy and great relief; we just could not take anymore of the "same old", "same old". Even from her days in the High Court, Justice Tengku Maimun Tuan Mat displayed the qualities of judicial courage and independence, reminiscent of a forgotten era in our administration of justice.
At her elevation, Tengku Maimun remarked that she wished to improve the image of the judiciary. Truth be told, she does not have to do much except to continue to be herself. As they say, morale filters from the top. It would surely take some time but given the probable length of her tenure, the administration of justice in our country is headed for better days.
To top it all, for the first time we now have six women at our apex court. They have already begun deciding cases without fear or favour; a clear example being Justice Nalini Pathmanathan's lucid judgment on the extent and ambit of "the public servant".
The appointment of Latheefa Koya as head of MACC was yet another high-water mark. Her detractors tried very hard to derail her; finding fault with the manner of her appointment right down to the manner she wore the rank badges and ribbon bars. The nation was not impressed with her critics and the tough as nails Latheefa was undaunted. Her public pronouncements on the war on corruption, just by themselves, sent shivers down the spines of the guilty. However, it must be admitted that Latheefa has a most unenviable job. It is not easy to undo a culture of corruption that has ingrained itself into the national psyche over the last three decades. Despite the massive challenges and knowing that the ordinary reasonable Malaysian is with her, Latheefa has continued in her mission with fearless consistency, in a manner and style that has put other enforcement bodies in the shade.
It is suggested that Latheefa may want to persuade the government to pass legislation in the nature of the British-like Unexplained Wealth Order (UWO) to compel disclosure of unexplained wealth, where the issuance of such order would have to be by the High Court and the subsequent seizure of the unexplained assets, if at all, would also have to be by way of a court order. The UWO has two great advantages – the information obtained in the context of an UWO cannot be used in criminal proceedings and in any event, at all stages there would be judicial supervision.
I would be remiss if I fail to mention Tun Dr Siti Hasmah Mohd Ali in this appreciation of women leaders. Though she had served as wife of the prime minister before, some did not fully appreciate her role then. It was not our fault; we did not know how bad it could get. Our recent experiences have thought us well. Siti Hasmah has reminded, indeed re-educated, everyone of the dignity and respect of the person (not "office") of the spouse our prime minister. Her leadership lessons have not been lost on us.
Finally, the icing on the collective cake of all Malaysians must surely be Raja Permaisuri Agong Tunku Azizah Aminah Maimunah Iskandariah. She has been a beacon of hope.
Her frank sharing of her Chinese heritage was so courageous that it must have irked those seeking to divide and rule. Her simple, down-to-earth style, from her dance moves through her Twitter quotes to her train ride, has earned the affection and respect of most Malaysians.
I dare say that if a vote is taken, now, our Queen would easily be "the best loved Malaysian".
This song of praise would not be complete if I did not address the leaders of my gender. Other than very few exceptions, our male leaders have failed our nation miserably. There is so much to be done to improve the state of our nation but positive energies seem to be expanded on negative undertakings. The real state of our nation needs no reminder nor repetition.
Whilst, this is not designed as a battle between sexes but the Brotherhood has to get its act together and show greater will and desire to keep up with the Sisterhood.
Happy New Year Malaysia.
Watson Peters has been a practicing advocate and solicitor for more than three decades. Comments: letters@thesundaily.com
https://www.thesundaily.my/opinion/malaysian-women-led-the-way-IH1845921
------
Vatican magazine looks at women in the church in the age of Pope Francis
December 30, 2019
Cindy Wooden
Pope Francis sees the "masculine monochrome" of leadership and influence in the Catholic Church as "a defect, an imbalance" that harms the church itself and its mission of proclaiming the Gospel to the world, said the lead article in a Vatican magazine.
"Women and Francis" is the theme of the January 2020 issue of Women-Church-World, a monthly supplement to L'Osservatore Romano. It was released Dec. 28.
The 24-page magazine opens with "The urgency of overcoming a monochrome church," an article by Stefania Falasca, a Vatican correspondent for the Italian bishops' daily newspaper, Avvenire.
Taking Pope Francis' repeated remarks about the church "being feminine" and about how the church cannot be itself without the presence, ministry, input and vision of women, Falasca argues that for the pope, the question of women and the church goes to the heart of one's vision of the church and what it means to say the church is a communion.
[Don't miss the latest news from the church and the world. Sign up for our daily newsletter.]
In 1959, Bishop Leon Uriarte Bengoa of San Ramon, Peru, suggested the approaching Second Vatican Council discuss the restoration of the permanent diaconate and the institution of "deaconesses," according to an article in the magazine by Serena Noceti, a professor at a Catholic school of theology in Florence, Italy. She said Bishop Uriarte cited a need for more ordained ministers to preach the word of God and administer the sacraments in remote areas of the world.
The question came up again at October's Synod of Bishops for the Amazon, she noted.
"While safeguarding the apostolicity of the faith," Noceti wrote, "the salvation of souls and the good of the church" often has led to changes, including in the types of ministries and the theological understanding of them.
"In the framework of the vision of ordained ministry handed on by the Second Vatican Council, systematic theology today is called to evaluate the possibility of ordaining women deacons," she said.
In another article, Marinella Perroni, a biblical scholar at Rome's Pontifical University of St. Anselm, noted how Pope Francis has said on occasion that women do not need simply more "functions" in the church, but that the church needs a "theology of the woman."
She said if she had a chance to discuss the issue with the pope, she would point out how, throughout history, male theologians -- from Tertullian to St. John Paul II -- have spoken about women. Their comments have varied greatly, she said, but they always express "the need and perhaps the pretext of having something to say about women."
"In addition, more than once someone even has suggested dedicating a Synod of Bishops to the theme of the woman," she said, admitting that she and many others think that would be a bad idea.
"Isn't the unstoppable exodus -- as silent as it is painful -- of many women who have left the churches in the few past years a strong word, a cry that the women launched because they do not want people to keep talking about them, but want to be listened to?" she asked.
In the church, she said, everyone has a different role and different gifts to bring, but all the baptized are fully members of the church and have an equal right to share that with the wider community without one group being the "subject" of the conversation and the other being the "object" of it.
https://www.americamagazine.org/faith/2019/12/30/vatican-magazine-looks-women-church-age-pope-francis
------
Greta Gerwig shows us 'Little Women' like never before
Haley Stewart
December 31, 2019
Greta Gerwig loves the book Little Women. You know this in your bones when you watch her new film adaptation of Louisa May Alcott's classic 19th century novel.To accomplish the Herculean effort of creating a "Little Women" that is both a wildly innovative take for modern audiences and deeply true to the beloved characters, you have to love this story. Luckily for us, Gerwig does, and her exploration of the four March sisters' tale is nothing short of a masterpiece.
Little Women is having a bit of a moment. When it was announced that Gerwig, the writer and director of "Lady Bird," would be releasing yet another movie adaptation of the novel (new versions were released in 2017 and 2018) I admit to wondering if yet another new "Little Women" was necessary. Oh me of little faith! This star-studded production succeeds where others have failed.
The cast sparkles with Saoirse Ronan (Jo), Timothée Chalamet (Laurie) and Florence Pugh (Amy) stealing the show. The whole production is infused with a vibrant energy—save for Emma Watson's ho-hum depiction of oldest sister Meg March. The music and cinematography are stunning and the attention to detail with every costume and set is meticulous. The film manages to be both breathtakingly new yet as cozy as your favorite afghan. Each frame is composed like a painting and yet the cast's interactions of rough housing, bickering and hair tousling are so natural and intimate that it is like watching a pile of Beth's kittens or memories of your cousins on Christmas morning.
Gerwig's "Little Women" is not a rehash of previous adaptations, but neither is it a clumsy, heavy-handed modernization. Even my fellow Little Women purists will agree that the tale is in capable hands. It features creative storytelling and even a different ending for Jo, but every liberty taken with the story is thoughtful. Despite (and even because of) controversial directorial choices, the whole production is anchored in a deep respect for the original text and author. Far from ruining a beloved story, all of the brave changes work to draw out the complexities present in the novel and in Louisa May Alcott's life experiences.
Viewers will immediately notice that the story is relayed out of order. We are thrown smackdab into bustling New York City with Jo's attempts at making a living as a writer. We meet each of the four sisters not as children piled around Marmee but as grown women leading separate lives. Amy is in Europe, Meg is already married, and Beth is still in the nest. The story is then told through flashbacks—a bold move on Gerwig's part that pays off beautifully. Jumping around in the story allows this film to highlight themes that are unexplored in other adaptations without ignoring the classic and nostalgic scenes of the March sisters' childhood. This unusual style of storytelling feels like a mystery that is slowly being revealed, a tapestry that is being woven together for the viewer.
By beginning near the end, this adaptation also achieves what no other Little Women film has in brilliantly solving what I like to call "The Amy Problem." By introducing Laurie with grown up Amy first,Gerwig presents the youngest March sister not as the annoying, selfish child who is always second to Jo, but as the strong and fascinating woman she becomes. Amy's commitment to speak with brutal honesty is necessary for Laurie to develop from self-centered boy to man. We can finally see their romance as a relationship of mutual respect and not a consolation prize. While other adaptations failed to develop Amy beyond girlhood (leading to confusion and dissatisfaction for viewers when Laurie marries her), Florence Pugh and Timothée Chalamet are given the time to do justice to Amy and Laurie's relationship.
Gerwig's "Little Women" transcends a coming-of-age story and dives into the experience of womanhood. It asks: what does it mean to be a woman, a sister, an artist, a mother, a wife? Rather than inserting heavy-handed and anachronistic 21st century feminism into a period piece, this film draws out the 19th century woman's challenges already present in the text and Louisa May Alcott's life in a way that will resonate with modern audiences. While a significant portion of the dialogue is word-for-word from the book, Gerwig's March sisters remind the viewer of the very real difficulties young women without fortunes faced in 19th-century New England. But rather than becoming mouthpieces for Gerwig or 21st century women, one gets the sense that Gerwig's little women are speaking for Louisa May Alcott herself.
And now for the most controversial change: the ending. Gerwig elegantly conflates the end of Jo's story with Alcott's real life experiences. By drawing on the pressure Alcott faced from readers and publishers to wrap up Jo's story with a nuptial bow, Gerwig presents Jo/Louisa fighting for her characters in her editor's office and finally agreeing to write the ending he expects.
The viewer gets to watch the "under the umbrella" scene of Professor Bhaer's proposal to Jo with the sense that it is only happening to the Jo in the book, not in her real life. We then watch Jo (or perhaps Alcott herself) eagerly observing the printing of Little Women while the final picnic scene in her book plays out at Plumfield. While this new ending lacks a satisfying romantic finish, it forces the viewer to consider whether Jo's marriage to Bhaer was satisfying to begin with.
Louisa May Alcott's experience as a woman and author is emphasized and brought to the viewer's attention at the very first moment of the film with her quote: "I had lots of troubles; so I write jolly tales." Lovers of the novel may hate the ending, but Gerwig has clearly done her homework and studied Alcott's letters: She is revealing what was very likely the ending Alcott would have preferred.
But despite the unconventional ending, the film elevates rather than dismisses the domestic realm. Marmee's wise guidance and the home she has built is presented with beauty and awe. There is a lovely moment when Laurie is introduced to the family's home life and the lonely orphan watches the joyful domestic chaos with longing and wonder. He is like a weary pilgrim who has finally come home. On the day of her wedding, maternal and domestically-inclined Meg reminds Jo that "just because my dreams aren't the same as yours doesn't make them unimportant." And when Jo assumes that her book about their lives will not be of interest because it centers on women's home life, Amy reflects that sharing stories about domestic life reveal that those experiences matter.
By adapting this women-centered story into an unforgettable film, Greta Gerwig does what Jo's character and what Louisa May Alcott herself accomplished: sharing a story about women that reminds the world of the depth of women's lives and their extraordinary and unique experiences. By uncovering what was always there, Gerwig helps us see the March sisters as if for the first time.
https://www.americamagazine.org/arts-culture/2019/12/31/greta-gerwig-shows-us-little-women-never
------
URL: https://www.newageislam.com/islam-women-feminism/contestants-cover-up-first-women/d/120689
New Age Islam, Islam Online, Islamic Website, African Muslim News, Arab World News, South Asia News, Indian Muslim News, World Muslim News, Women in Islam, Islamic Feminism, Arab Women, Women In Arab, Islamophobia in America, Muslim Women in West, Islam Women and Feminism