New Age Islam News Bureau
25 Jul 2014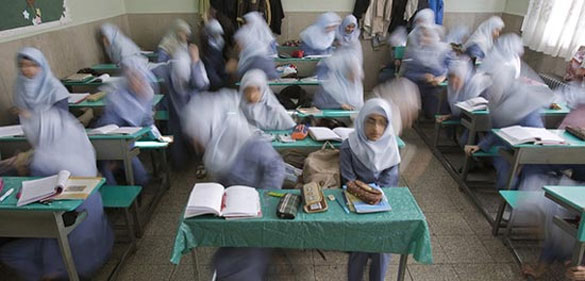 Iranian schoolgirls in a Tehran classroom, Nov. 29, 2008.Photo by Reuters/Morteza Nikoubazl
-----------
• Women and Children among 14 Civilians Executed By Taliban in Afghanistan
• Twin Manchester Girls 'Married ISIS Fighters, Stay Indoors and Read the Qur'an
• A Girl's Day Out At Turkey's Female-Only Beaches
• Challenge the Ancient Traditions, Say FGM Victims
• Video of Small Girl's Reaction to Muslim Call to Prayer Goes Viral
• Spared Sudanese Christian Woman Meets Pope in Rome
• Pakistani Transgenders Join Anti-Israel Protest
• Candlelit Vigil for Nigerian Girls
Compiled by New Age Islam News Bureau
URL: https://newageislam.com/islam-women-feminism/complaints-expose-sexual-physical-abuse/d/98296
-----------
Complaints Expose Sexual and Physical Abuse in Iranian Schools
25 July, 2014
The emergence of a series of horrifying stories about minors being sexually and physically abused by their teachers or headmasters in schools and kindergartens has once again raised public concerns about students' security in Iranian schools, where the education system has Islamic underpinnings.
"Our son is an elementary school student. A few days ago, we realized that his behavior had changed, and we became suspicious," read an official complaint filed by the parents of a young student against the headmaster of an elementary school in west Tehran. "After speaking with our son, we realized that he has been harassed by the headmaster at school." Following these events, a warrant was issued, and the 33-year-old headmaster was arrested on May 9. The Mehr News Agency reported on his trial.
Monika Naadi, a member of the legal committee of the Society for Protecting Children's Rights told the newspaper Shahrvand: "We have spoken to some of these kids. They say that they have seen some of their classmates being sexually assaulted by the headmaster. However, since they did not know what he was doing, they assumed that he was disciplining their classmate."
Only a few weeks after the story appeared about the headmaster, whose name was not been released, Iranian publications ran a story about a gym teacher who had assaulted at least 14 of his students, who were 13 to 17 years old. According to a report published by Shargh, "The investigator in charge of this case found that the young students were not only beaten, but also sexually assaulted by their gym teacher. He had forced some of the students to stand naked in front of him so he could take pictures of them."
It's unknown how many cases similar to these are taking place in Iran. Many children are unaware of what sexual abuse is.
Shirzad Abdollahi, an education expert, told Al-Monitor: "In the educational system, there are no educational or supervisory mechanisms preventing sexual harassment. The educational system has regulations that prohibit physical punishment, but there is no mention of sexual harassment."
Abollahi said that in many cases, parents do not file a complaint because the children are too scared to say anything to them. Even if the parents do learn of an incident involving their child, they may feel compelled to "sweep it under the rug in order to save face," due to societal concerns and taboos associated with victims of sexual abuse. Abollahi also said that given the difficulty of proving such cases in court, because of the bureaucratic culture of "school staff usually supporting each other," many parents are deterred from taking the risk.
There is also the culture of media censorship of the issue. The website Tabnak reported that security officials in the Ministry of Education had promised to help the parents of abused students in exchange for their not notifying the press about the incidents.
Deputy Minister of Education Hamidreza Kaffash is also supportive of media staying out of this issue. During an interview with Shahrvand, he harshly criticized the media for covering the issue, stating: "In the West, there are five cases of sexual harassment every day, but no one hears about them. Our country is, after all, an Islamic country." He then asked, "Where is our national sensibility?"
Abdollahi said that part of the problem with addressing these issues is that the views of the Ministry of Education toward sexual abuse are regressive and "behind the rest of the society." She said that a quick survey of the ministry's websites and publications clearly shows that they are only interested in news stories portraying the ministry in a positive light.
The third case of abuse that made headlines involved the physical assault of a small child. A video posted on YouTube shows a kindergarten teacher pinning a young boy on the floor under her legs. She is seen force feeding him while holding his nose and periodically jamming the spoon into his mouth. In the secretly recorded video, other children can be seen running around and playing. The teacher then strikes the child several times on his head and torso before pulling him up by his hair and throwing him outside the camera's range. After the child's family lodged a complaint against the teacher, she was arrested and the kindergarten closed.
Of course, this wasn't the first time a video of physical abuse has been posted online. The age of the child and the violence touched a nerve among many Iranians. Benyamin, a 28-year-old philosophy graduate, has seen the video. He told Al-Monitor that he had suffered from physical and psychological abuse.
"Myself and another student were taken to a room to be punished for something we had done earlier. The room was full of kids, and our teacher told the other kids to undress us," Benyamin said. "I was so frightened by the idea of other kids undressing me that I started undressing myself. After that, our teacher scolded us for taking off our clothes. It was only then that I realized she was not really going to let the other kids undress us. She was planning to stop them if they approached us and tell them that it is wrong to undress other people."
He said the entire ordeal and the lesson the teacher was trying to teach caused him terrible anxiety, which he carries to this day although he said he was never sexually assaulted by a teacher or headmaster. Nonetheless, Benyamin and other students who spoke to Al-Monitor said that many of them have heard of rapes and sexual assaults in boys' schools. They all said that the issue of the sexual abuse of minors was never been properly discussed in Iran.
Unfortunately, the emergence of sexual abuse cases involving school officials has not prompted a discussion of the issue on social media or the press. Kaffash said that the Ministry of Education plans to implement sexual education courses for teachers, but only for those who are married. Some believe that sex education for unmarried individuals would be controversial in that it could lead to sexual corruption. Critics such as Abdollahi contend that even this measure will not be addressed by the school system.
http://www.al-monitor.com/pulse/originals/2014/07/school-physical-sexual-abuse-iran.html#ixzz38VOGfvfh
-----------
Women and children among 14 civilians executed by Taliban in Afghanistan
25 July, 2014
Taliban militants executed at least 14 civilians in western Ghor province of Afghanistan early Friday morning.
Provincial governor spokesman, Abdulhai Khatebi said the civilians were shot dead by Taliban militants around 12:30 am local time.
Khatebi further added that the incident took place in the vicinity of Feroz Koh city.
He said the civilians including three women and children were blindfolded, shot dead and their bodies were left on the roadside.
In the meantime, another security official in Ghor province said at least 16 civilians were shot dead by Taliban militants which also include an advisor to the provincial governor.
The security official further added that the civilians were on their way towards their home when they came across with the Taliban militants.
The Taliban militants group has not commented regarding the report so far.
http://www.khaama.com/women-and-children-among-14-civilians-executed-by-taliban-in-ghor-6474
-------------
Twin Manchester Girls 'Married ISIS Fighters, Stay Indoors and Read the Qur'an
25 July, 2014
Twin schoolgirls who followed their Jihadi brother from Manchester to Syria have reportedly married ISIS fighters.
Salma and Zahra Halane, 16, from Chorlton ran away to Syria three weeks ago - and their father has also since travelled out to find them.
Social media accounts reportedly belonging to the girls show them posting about learning to use guns and seeing grenades and Kalashnikov rifles.
Communicating with a reporter online, they said they mainly stay in and read the Qur'an unless their husbands take them out.
The social media account says one of the twins is now married to a British man of Afghan origin, reported BBC's Newsnight.
An expert in extremism has checked the social media accounts and they are thought to be genuine.
Shiraz Maher, an expert on radicalisation, said on the programme: 'These women are saying they have chosen to go because they want to support fighters.
The sisters were hard-working students who hoped to train as doctors.
The pair achieved 28 GCSEs between them, but last month they left their parents' home in the middle of the night and caught a flight to Turkey, before crossing the border.
Police said the pair are thought to have followed their elder brother, who ditched his own 'excellent' academic career to join the ISIS terror group around a year ago.
Friends said the twins had appeared to be typical teenagers, pouting for selfies and shopping at Primark – but they are now feared to be training for battle.
Last month a rebel fighter boasted that he was teaching girls as young as 16 how to fight. Yilmaz, a Dutch national who has been in Syria for two years said: 'It's extremely easy to get here. People go on holiday ... they end up in Syria.'
The twins' parents raised the alarm after finding the girls' beds empty and their passports and clothes missing.
A former neighbour said the couple had been 'quite strict', and did not allow the girls to 'mix with other children on the street'.
Others recalled that the twins wore headscarves when they were as young as nine. But Rhea Headlam, who sat next to Zahra in primary school, said they were 'just normal teenage girls'.
'I'm really shocked – I used to bump into them at Primark,' she added. 'They were both really clever.'
Last summer Salma achieved 13 GCSEs – 11 of them at grades A* to C – while Zahra passed 15, of which 12 were A*-C. The results put them in the top 10 per cent of their year group at Whalley Range High School for Girls in Manchester.
They went on to study at Connell Sixth Form College, where fellow students said they hoped to follow in the footsteps of their elder sister Hafsa, 25, who is at medical school in Denmark after graduating from Manchester University.
'The twins both have aspirations to become doctors – that is their ambition,' said one.
Another claimed it was 'typical' of the girls to head to Syria 'after they had finished term', adding: 'They wouldn't want to mess up their education.
'I'm shocked they have gone. They didn't seem to be radical or extremist in their views.'
The girls' devoutly Muslim Somali refugee parents and their 11 children had been moved from an estate made famous by the TV series Shameless to an upmarket suburb, after telling the council they needed more bedrooms.
They were given a six-bedroom end-terrace despite the protests of the existing tenant.
Neighbours said the twins' parents were keen to share elements of Somalian culture with them, taking round dishes of traditional delicacies for them to try.
The twins' father Ibrahim is understood to teach at a nearby mosque, where leaders this week issued a statement repudiating extremism and opposing violence of all kinds.
Mohammed Shafiq, of the Ramadan Foundation, said the family were moderate Muslims who know all about the dangers of war-torn countries. 'They were desperately unhappy to discover [their son] had gone to Syria, and they thought they were keeping a watchful eye on their other children. Then this happens,' he said.
Sources believe Salma and Zahra were inspired by their brother's transformation into a jihadi fighter, and became radicalised themselves while viewing extremist Islamist material online.
According to police sources, their brother also travelled to the family's native Somalia, where he may have linked up with another Islamist terror group al-Shabab.
A friend told The Sun the brother was known for his ability to recite long passages of the Koran.
Officers are investigating how the girls funded their own trip, over fears they have been bankrolled by jihadi fighters who want them as their wives.
As many as 1,500 Britons may have travelled to Syria to fight alongside rebels. Many of them have posted messages online promising to use their 'terror skills' if they return to Britain.
http://www.dailymail.co.uk/news/article-2703792/Twin-Manchester-schoolgirls-ran-away-Syria-married-ISIS-fighters-mainly-stay-indoors-read-Quran-unless-jihadi-husbands-out.html#ixzz38VNyaKyf
-----------
A Girl's Day Out At Turkey's Female-Only Beaches
Nur Özdil
25 July, 2014
Women-only beaches used to be the preserve of headscarf-wearing women. Instead of swimming in a hashama, a piece of modest swimwear worn on public beaches, women who adopted the Islamic way of life preferred to spend time with their friends on women only beaches where they could wear whatever they liked.
As time has passed, these beaches have become popular among all women who are either not comfortable wearing bathing suits in public or who are disturbed by the constant gazing from the opposite sex.
After the Metropolitan Municipality of Antalya recently announced the opening of a women-only beach, people objected claiming the move was unnecessary. The reason for their objection was that women-only beaches are a part of the Islamic lifestyle. Yet, the odd thing is that protesters overlooked are that having an exclusive beach for women does not affect Antalya's 640-kilometer-long coastline. The beach, which will open despite the protests, is located in the Sarısu Recreation Area near the Konyaaltı beach. The beach will offer its services to all women in Antalya, without making any distinction, after the opening ceremony on Saturday.
The Mayor of Istanbul Metropolitan Municipality, Kadir Topbaş, announced that the 403-kilometer coastline is suitable for swimming, 28-kilometer of which has already been turned into beaches. Comparing the number of their coastlines and beaches, Istanbul has more women only beaches than Antalya.
Still there remains a lack of options for women who want to get away from the city's chaos and cool off in a blue sea, even if just for a day. Sarıyer Altınkum Beach, Florya Menekşe Beach and Beykoz Poyrazköy Beach are the only women-only beaches in Istanbul, all of which are well connected to the rest of the city. Food and beverages are not a problem since people can bring their own food and have a picnic. Facilities at the beaches also provide food and drinks.
Although Turkey is a country with abundant lakes and coastlines, there are, strangely, only a few beaches allocated for women. Some of them are located outside of Istanbul, including Akçakoca, Marmara Ereğli, Esenköy and the Avşa Island. The more important problem is that most of them are situated in rocky regions with dirty water. Also the quality of women-only beaches is generally low. Since there are fewer of them, the beaches are also very crowded due to high-demand. The Kocaeli Municipality previously separated the public beach with a folding screen for women. However, this practice was protested against with people writing the "2012 model shame wall" on it. Last week, a group of women residing in Antalya reacted against a new women-only beach.
Some people denounce women-only beaches as a place where women are separate from men, a practice - they believe - is far removed from modern life.
http://www.dailysabah.com/travel/2014/07/25/a-girls-day-out-at-turkeys-femaleonly-beaches
-----------
Challenge the ancient traditions, say FGM victims
25 July, 2014
ENDING the "barbaric practices" of female genital mutiliation (FGM) and child- and forced marriage will require faith leaders to challenge ancient traditions and extremist voices, a gathering in London heard on Tuesday.
The Girl Summit was hosted by the Government and UNICEF, and was attended by delegates from more than 50 countries, including government ministers from countries where the practices are commonplace.
New UNICEF data was released that suggested that more than 130 million girls and women have undergone FGM in the 29 countries where it is most prevalent. Overall, the risk has decreased by about a third in the past 30 years. One in four young women today are married in childhood, compared with one in three in the 1980s.
Also released was new data from City University, London, and Equality Now which suggests that more than 135,000 women and girls in the UK are survivors of FGM - more than twice the existing NHS estimate. The study estimates that 60,000 girls are currently at risk.
The Home Secretary, Theresa May, announced several reforms, including a £1.4 million FGM prevention programme, and new legislation that will mean that parents can be prosecuted if they fail to prevent their daughters from being cut.
The Prime Minister announced that he would make it mandatory for teachers, doctors, and social workers to report FGM. He suggested that, in the past, people had been "worried about upsetting people's sensitivies and sensibilities" - turning a blind eye, for example, to girls who did not return to school after the summer holidays. The founder of the charity Karma Nirvana, Jasvinder Sanghera, said that she knew of teachers who had torn down posters that were educating pupils about forced marriage.
A session on the part played by faith leaders highlighted the extent of their influence. The national network co-ordinator at the UK Muslim Women's Network and chaplain at the University of Birmingham, Shahin Adhraf, warned: "Faith leaders can act as a major roadblock. They do not understand gender equality." While willing to condemn one form of FGM, they deemed other forms to be sunnah ("usual practice").
She had "harrowing" stories to tell. One 47-year-old woman had been cut repeatedly at the age of seven, over the course of three weeks. After intercourse with her husband, she had to sit in a bowl of cold water. Another woman had undergone cutting at the age of 17, at a private clinic in London.
The director of the International Islamic Centre for Population Studies and Research at Al-Azhar University in Cairo, Professor Gamal Serour, echoed several speakers who insisted that there was "no reli-gious basis whatsoever in Islam for any form of female genital mutilation".
The problem, he said, was unqualified preachers and extremists who turned to unauthorised hadiths (the teachings of Muhammad). A professor of obstetrics and gynaecology, he has worked with the Al-Azhar mosque and the Coptic Christian community of Egypt to provide faith leaders with "credible" teaching on the subject. Egypt has one of the highest rates of FGM in the world: 91 per cent of all girls.
Dr Anne-Marie Wilson, the executive director of 28 Too Many, a charity that is campaigning to end FGM, said that faith leaders had affirmed that FGM was not required by any holy scripture.
Speaking after the session, the director of policy and public affairs at Christian Aid, Christine Allen, said: "FGM and child-, early-, and forced marriage are the tip of the iceberg. . . We have to recognise that there are some extreme voices, and it is in that context that the voices of religious leaders, ideally coming together, speaking out on gender inequality and these barbaric practices, is so powerful." Christian Aid has launched a new strategy, Gender Justice for All.
The Bishop of Coventry, Dr Christopher Cocksworth, said that religious leaders should "recognise that there are social norms prevalent in their religious communities that must be challenged by our fundamental religious and theological principles about the dignity of all, especially young girls."
Addressing the delegates alongside the Prime Minister of Bangladesh, Sheikh Hasina; and the First Lady of Burkina Faso, Chantal Compaoré. Malala Yousafzai, the Pakistani schoolgirl shot by the Taliban, concluded: "We should not be followers of those traditions that go against human rights; we . . . make the traditions; so we should have the right to change them. Traditions are not sent from heaven, they are not from God."
http://www.churchtimes.co.uk/articles/2014/25-july/news/uk/challenge-the-ancient-traditions,-say-fgm-victims
-----------
Video of small girl's reaction to Muslim call to prayer goes viral
25 July, 2014
A video showing a small girl's reaction after hearing the Muslim call to prayer for the first time has gone viral on the internet.
The incident reportedly took place in a shopping center in Dubai.
http://english.alarabiya.net/en/webtv/reports/2014/07/24/Video-of-small-girl-s-reaction-to-Muslim-call-to-prayer-goes-viral.html
-----------
Spared Sudanese Christian Woman Meets Pope in Rome
25 July, 2014
ROME — Mariam Ibraheem Ishag, a Christian woman whose death sentence in Sudan for refusing to renounce her faith set off an international protest, arrived in Rome on Thursday morning to a hero's welcome and a private audience with Pope Francis.
The pope spent a half-hour speaking with Ms. Ishag; her husband, Daniel Wani, who is an American citizen; and their two young children, Maya, born in prison just days after Ms. Ishag's conviction two months ago for apostasy, and Martin, a toddler. Apostasy carries a death sentence in Sudan, where President Omar Hassan al-Bashir has imposed Islamic law.
Pope Francis thanked Ms. Ishag for her "courageous witness to perseverance in the faith," in the face of possible death, the Vatican Radio reported. In turn, the young woman thanked the pope "for the great support and comfort she received from his prayers and from so many others believers of good will," the Vatican said in a statement.
With this gesture, "Pope Francis desired to show his closeness, attention and prayer also to all those who suffer for their faith, in particular to Christians who are enduring persecution or limitations imposed upon their religious freedom," the Vatican statement said.
The pope has spoken out repeatedly about the plight of Christian communities whose religious freedom is being threatened, in recent days highlighting the trials of Christians in the Middle East and in Mosul, Iraq, threatened with death by Islamic militants unless they convert.
Ms. Ishag became the focus of global headlines in May when a court in the overwhelmingly Muslim country sentenced her to death on charges of apostasy. Her father was a Muslim, but she had been raised by her Christian mother and had joined the Catholic Church shortly before marrying her Christian husband in a church ceremony in 2011.
The sentence unleashed international outrage, and efforts to free Ms. Ishag were begun on various fronts: via diplomats, human rights groups and through the public opinion. A court eventually overturned the sentence and last month released Ms. Ishag, who in the meantime had given birth to her second child while in prison.
Appearing tired but serene, the family landed in Rome on Thursday morning traveling on an Italian government plane, accompanied by Lapo Pistelli, the deputy foreign minister, who had flown to the Sudanese capital, Khartoum, on Wednesday after getting word that Ms. Ishag's travel documents had been approved. The family had been living at the American Embassy there after an unsuccessful attempt to leave the country in June.
In a televised news conference from the airport, Mr. Pistelli thanked the Sudanese authorities for allowing the family to travel to Rome. "Italy has friendly relations with everyone in the Horn of Africa, and in this case, we had the patience to speak with everyone on friendly terms," Mr. Pistelli said. "In the end, this paid off."
The Italian government had taken the case to heart.
In his speech to inaugurate Italy's six-month presidency of the European Union this month, Prime Minister Matteo Renzi singled out Ms. Ishag's case and called for a unified European diplomatic reaction. Greeting the family in Rome on Thursday, Mr. Renzi said it was a "day of celebration."
Ms. Ishag and her family will remain in Italy for a few days before continuing to the United States.
http://www.nytimes.com/2014/07/25/world/europe/sudan-christian-woman-spared-death-sentence-meets-pope-in-rome-.html
-----------
Pakistani Transgenders join anti-Israel protest
25 July, 2014
MULTAN: Members of the All Pakistan She-males Association joined civil society activists to protest against the ongoing military offensive in Gaza.
The participants marched from Kutchery Square to Bosan Road. The protest was led by Tariq Naeemullah, the Civil Society Network South Punjab president.
Civil society members dressed in Pakistani and Turkish colours, while the transgenders were draped in flags of various Arab countries. The protesters criticised the role of several Islamic countries in Gaza conflict. They said the Arab countries, including Saudi Arabia, were silent on the daily killings of Palestinians. The demonstration continued for more than two hours.
Almas Bobby, the All Pakistan She-males Association chairperson, said the rulers of Muslim countries had done nothing to stop Israel. Kiran, another transgender, said Arab countries were afraid to criticise Israel for fear of offending the US. "They should pressure Israel to stop it from killing innocent civilians," Kiran said.
http://tribune.com.pk/story/740124/gaza-offensive-transgenders-join-anti-israel-protest/
-----------
Candlelit vigil for Nigerian girls
25 July, 2014
LAHORE: The civil society organisations held a protest demonstration and a candle vigil outside Lahore Press Club to express solidarity with the international community on the 100 days of abduction of 219 Nigerian girls from Chibok Town.
The candle vigil participants were carrying banners and placards bearing inscriptions "Bring back our girls and make schools safe", "Safe schools for all", "Raise your voice – Bring back our girls", and "World vigils on 100th day".
The protest and candle vigil was organised by Idara-i-Taleem-o-Aagahi in collaboration with Beydaari (a youth-led initiative), Godh and Child Right Movement.
Muslim world's silence
Addressing the protesters, ITA Director (Programmes) Dr Baela Raza Jamil said the candle vigils were being organised around the world to mark the 100 days of the dreadful tragedy of abduction of 219 Nigerian girls from Government Secondary School in Chibok town of Borno State, Nigeria, by Boko Haram, a religious extremist group.
She said terrorism was being committed against girls and they were being deprived of their basic right to education.
She said it was time to get united otherwise the right to education would be denied to girls in one country to another and this vicious cycle would run around the world.
"If Pakistan will stand for the cause of girls in Nigeria now, the world will also rise for the cause of education in Pakistan," she asserted.
Similarly, Dr Baela said there were over one million displaced persons in Bannu having larger population of women and children, and they were being denied their basic right to education. She said the world would become darker, if girls would be denied their right to education.
The participants also chanted slogans against Boko Haram and Taliban.
Alif Laila Book Bus Society's Rabia Khan and Aghaz Foundation's Zafar Malik also spoke on the occasion.
http://www.dawn.com/news/1121281/candlelit-vigil-for-nigerian-girls
-----------
URL: https://newageislam.com/islam-women-feminism/complaints-expose-sexual-physical-abuse/d/98296