New Age Islam News Bureau
1 Jul 2020
• Major General NigarJohar Appointed As The First Female Lieutenant General Of Pakistan Army
• Saudi Arabia Moving in Positive Direction on Gender Equality for Women: UK Ambassador
• Calls for UN Probe on China's Forced Birth Control on Muslim Women
• Former President's Daughter, Faezeh Hashemi, Says Iran's Govt Is 'Neither Religious nor Revolutionary'
• Kuwait Boosts Women's Empowerment in Judicial System
• Deepening Vulnerabilities: COVID-19's Effect On Women in Egypt
• The Women Fighting to Protect Yemen
Compiled by New Age Islam News Bureau
URL: https://www.newageislam.com/islam-women-feminism/commonwealth-prize-hindu-muslim-love/d/122261
--------
Commonwealth Prize for Hindu-Muslim Love Story to Indian Woman, Kritika Pandey
Jul 1, 2020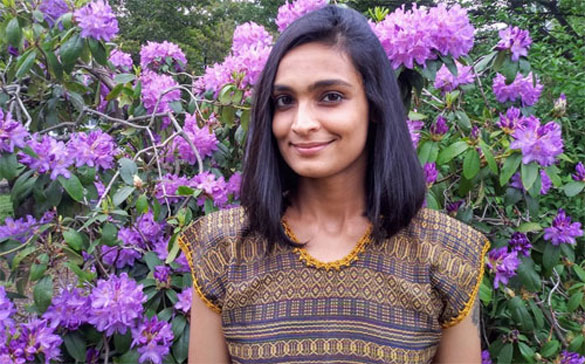 Kritika Pandey, The Telegraph
------
LONDON: A woman from Ranchi currently studying in the US has won £5,000 after her tale about a Hindu girl falling in love with a Muslim boy beat more than 5,000 entries from 49 countries to win the 2020 Commonwealth Short Story Prize.
Kritika Pandey, 29, was speechless and tearful when announced as the overall winner of the prize for "The Great Indian Tee and Snakes" at an online ceremony on Tuesday.
The prize is judged by an international panel of writers, representing each of the five regions of the Commonwealth. The award was presented by the chair of the 2020 judging panel, Ghanaian writer and editorNiiAyikwei.
Her story tells of an unlikely friendship between a strong-willed Hindu girl who chooses to love a Muslim boy in India, even though she is not supposed to, mostly set at a tea seller's stall. The energy of the piece of fiction derives from a few looks between a boy and a girl.
"This is an incredible moment for me. All the aspirational middles class people, like my parents, wanted me to become an engineer," Pandey said upon hearing she had won. "I went to an engineering college and I hated it. In India you can't just stop going to college and switch if you are middle class like me, as my father only had so much money. I had to finish it. My parents couldn't afford the kind of education they managed to provide me. They were very conservative and they are still and wanted me to marry a certain kind of guy and have a certain kind of life. I just said 'No'. I am supposed to have had two children already and be living in India. To get this award tells me I was not wrong. I was following something leading me somewhere. I have lived with so much guilt for letting my parents down. This really made up for so much of the struggle I went through," she added.
"Messing up was never an option because so many young women back home would be told, 'See this is why you shouldn't get too big for your boots'," she said. "If you, like me, are a young woman from Jharkhand, then you must have immense caste and class privilege to get an education in the first place, and even if you do you would be expected to get married as soon as you finish college. I chose to read and write instead. I am honoured beyond words. I hope this helps more people trust their daughters and their dreams."
Her story has been published online in literary magazine Granta.
Pandey, a Pushcart-nominated Indian writer who is in her final year of a Master of Fine Arts at the University of Massachusetts, Amherst, had been announced the regional winner for Asia on June 2.
Ayikwei described the story as "beautifully complex". "I have no doubt you will be creating some fantastic work in the years to come," he said.
https://timesofindia.indiatimes.com/india/indian-woman-29-wins-5000-commonwealth-short-story-prize-for-hindu-muslim-love-story/articleshow/76720186.cms
--------
Major General NigarJohar Appointed As The First Female Lieutenant General Of Pakistan Army
June 30, 2020
Ashfaq Ahmed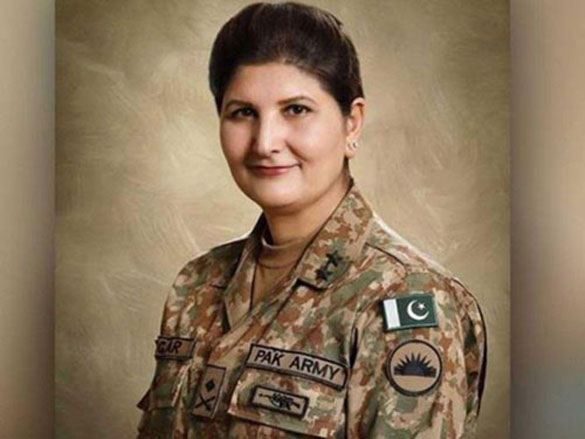 Major General Nigar Johar has been appointed as the first female Lt General of Pakistan Army.
-----
Dubai: Major General NigarJohar has become the first female army officer in history of the country to be appointed as the Lieutenant General of Pakistan Army.
"The officer has also been appointed as the first female Surgeon General of the army," said a press release by the Inter-Services Public Relations (ISPR), the media wing of Pakistan army.
Lieutenant General Johar hails from Panjpai, a small town in the backward district Swabi in the Khyber Pakhtunkhwa province of Pakistan. She is currently serving as Commandant Military Hospital (CMH) in Rawalpindi.
In 2017, she also became the third woman officer in the history of Pakistan to reach the rank of Major General. Lt Gen Johar belongs to the Army Medical Corps and is the niece of Major (R) Mohammad Aamir, a former Pakistan Army officer who served in the Inter-Services Intelligence (ISI). Her father Colonel Qadir also served in the ISI.
Lt Gen Johar Khan is now the first three-star general in the Pakistan Army. In 2015, she was featured in a video released by the ISPR honouring women in the Pakistan armed forces. In the video, she says: "Pakistan is my country and I was born here. I was raised here and I think there is no match to Pakistan to anywhere in the world."
She completed her high school at the Convent Girls High School, Rawalpindi in 1978. She joined the Army Medical College in 1981 graduating in 1985. She is from the 5th MBBS course of Army Medical College and she has served as female company commander of Ayesha Company at the same college.
In 2010, she completed the examination for membership of the College of Physicians and Surgeons Pakistan. In 2012, she completed her diploma in Advance Medical Administration through the Armed Forces Post Graduate Medical Institute and in 2015; she has received a Master of Public Health degree from the same institute.
https://gulfnews.com/world/asia/pakistan/major-general-nigar-johar-appointed-as-the-first-female-lieutenant-general-of-pakistan-army-1.72333405
--------
Saudi Arabia Moving in Positive Direction on Gender Equality for Women: UK Ambassador
30 June 2020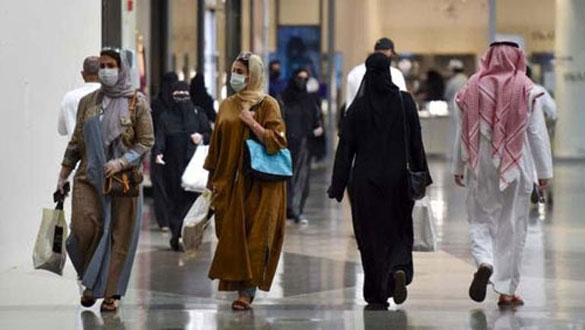 Saudis shop at the Panorama Mall in the capital Riyadh on May 22, 2020.
------

Saudi Arabia is moving in a positive direction when it comes to establishing gender equality and Sharia law does not contradict equality between men and women, the Kingdom's ambassador to the UK said.
"The development and the change that has happened in the society of Saudi Arabia has been dramatic over the last hundred years… We've moved from a very, very different place a hundred years ago to where we are today and we're continuing to develop," Prince Khalid bin Bandar bin Abdulaziz said during an interview with British news website UnHerd published on Tuesday.
"I firmly believe that Saudi Arabia is moving positively in the right direction… And we've opened up a lot in the last four or five years."
He highlighted the fact that women are now allowed as one of the positive changes in the Kingdom: "You've seen the changes in the last three years, women driving for instance."
Answering a question on whether Sharia law (Islamic law) was compatible with gender equality, the Prince said: "Gender equality is not counter to Sharia law. Sharia law is often misunderstood. It is adaptable, and if you look throughout the history of Islam, things have adapted based on the circumstances that people are in."
He also stressed that Saudi Arabia is not looking to more "Westernized": "It's about developing what is right for us."
The Prince added that religion was "at the heart" of the Saudi identity and highlighted how religion is "part of daily life" in the Kingdom: "Going to the mosque isn't something you do once a week, you do it every day."
According to a World Bank report in January, Saudi Arabia made the biggest progress globally toward gender equality since 2017.
https://english.alarabiya.net/en/features/2020/07/01/Saudi-Arabia-moving-in-positive-direction-regarding-gender-equality-Saudi-Amb-to-UK.html
--------
Calls for UN Probe on China's Forced Birth Control on Muslim Women
Jul 1, 2020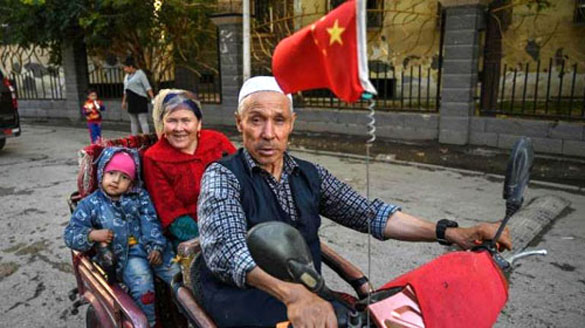 A man driving a vehicle in an ethnic Uighur neighbourhood in Aksu in the region of Xinjiang.
------

Politicians around the world have called for a United Nations probe into a Chinese government birth control campaign targeting largely Muslim minorities in the far western region of Xinjiang, even as Beijing said it treats all ethnicities equally under the law.
They were referring to an Associated Press investigation published this week that found the Chinese government is taking draconian measures to slash birth rates among Uighurs and other minorities, while encouraging some of the country's Han majority to have more children. The Inter-Parliamentary Alliance on China, a group of European, Australian, North American, and Japanese politicians from across the political spectrum, demanded an independent U.N. investigation.
"The world cannot remain silent in the face of unfolding atrocities," the group said in a statement.
The AP found that the Chinese government regularly subjects minority women in Xinjiang to pregnancy checks and forces intrauterine devices, sterilization and even abortion on hundreds of thousands. New research obtained by The Associated Press in advance of publication by China scholar Adrian Zenz also showed that the hundreds of millions of dollars the government pours into birth control has transformed Xinjiang from one of China's fastest-growing regions to among its slowest in just a few years.
The AP found that the population control measures are backed by mass detention both as a threat and as a punishment for failure to comply. Having too many children is a major reason people are sent to detention camps, documents and interviews show, with the parents of three or more ripped away from their families unless they can pay huge fines.
The U.S. Commission on International Religious Freedom called for a U.N. and State Department investigation, saying the Chinese government's birth control campaign "might meet the legal criteria for genocide." According to a U.N. convention, "imposing measures intended to prevent births" with "intent to destroy, in whole or in part, a national, ethnical, racial or religious group" is considered evidence of genocide. The last colonial governor of Hong Kong, Chris Patten, told Bloomberg Television that the birth control campaign was "arguably something that comes within the terms of the UN views on sorts of genocide."
The U.S. Senate Foreign Relations Committee called the forced birth control "beyond deplorable," and said that "a nation that treats its own people this way should never be considered a great power." U.S. senators Kirsten Gillibrand and Kamala Harris wrote a letter urging the Trump administration to respond to an "alarming" AP investigation, and U.S. Senator Marco Rubio and Representative Ro Khanna also called for action.
U.S. President Donald Trump told China President Xi Jinping he was right to build detention camps to house hundreds of thousands of ethnic minorities, according to a new book by former national security adviser John Bolton. However, Secretary of State Mike Pompeo said the reports of forced birth control for minorities were "shocking" and "disturbing" in a statement Monday.
"We call on the Chinese Communist Party to immediately end these horrific practices," he said.
Chinese foreign ministry spokesman Zhao Lijian fired back on Tuesday by calling Pompeo "a brazen liar," saying the Uighur population had more than doubled since 1978 in response to criticism of Xinjiang's birth control policies.
"If Mr.Pompeo is telling the truth, how can he explain the big increase in the Uighur population?" Zhao asked.
For decades, Xinjiang's population grew quickly, as minorities enjoyed laxer birth control restrictions than Han Chinese. But in just three years, new measures have caused the birth rate in Xinjiang's Uighur-majority areas to plunge, and it is now well under the national average.
Zhao also said the American government had been responsible for "genocide, racial segregation and assimilation policies" on Native Americans. on them." University of Colorado researcher Darren Byler said the Chinese state-orchestrated assault on Xinjiang's minorities does echo past birth control programs.
"It recalls the American eugenics movement which targeted Native and African Americans up until the 1970s," he said. "China's public health authorities are conducting a mass experiment in targeted genetic engineering on Turkic Muslim populations."
In response to the AP story, which he called "fake news," Zhao said the government treats all ethnicities equally and protects their legal rights. Chinese officials have said in the past that the new measures are merely meant to be fair, with the law now allowing minorities and China's Han majority the same number of children.
However, the AP's reporting found that while equal on paper, in practice Han Chinese are largely spared the abortions, sterilizations, IUD insertions and detentions for having too many children that are forced on Xinjiang's other ethnicities, interviews and data show. Some rural minorities are punished even for having the three children allowed by the law.
British members of Parliament debated Xinjiang in the House of Commons on Monday, with both Labor and Conservative politicians urging the U.K. Foreign Ministry to adopt a stronger stance against the Chinese government. Nigel Adams, the British Minister of State for Asia, said the reports added to the U.K.'s "concern about the human rights situation in Xinjiang" and that it will be "considering this report very carefully." Australian Foreign Minister Marise Payne also told Australian broadcaster SBS that the reports "further compounded" their concerns.
Bill Browder, CEO of investment fund Hermitage Capital Management and brainchild of the Magnitsky Act, asked the U.S. government to level sanctions against Chinese officials, calling the birth control campaign part of a broader assault he called "vile persecution."
https://www.deccanchronicle.com/world/neighbours/010720/calls-for-un-probe-on-chinas-forced-birth-control-on-muslim-women.html
--------
Former President's Daughter, FaezehHashemi, Says Iran's Govt Is 'Neither Religious nor Revolutionary'
June 30, 2020
FaezehHashemi, a former Iranian lawmaker and the daughter of one of the founders of the Islamic Republic says Iran is neither a religious government, nor a revolutionary state.
Taking part in a question and answer program moderated by prominent Iranian academic Abbas Milani, the director of Stanford University's Program in Iranian Studies via video teleconference Hashemi discussed issues relating to the Iranian women's movement.
In another remarkable statement, Hashemi said support for Iran's women's rights by President Donald Trump and other leaders could strengthen the rights movement and that support should continue.
FaezehHashemi is the daughter of Ayatollah Akbar Hashemi Rafsanjani, who played a key part as kingmaker in electing Ali Khamenei as the successor to Ayatollah Ruhollah Khomeini in 1989. He also served two terms as president. FaezehHashemi took a position against the disputed reelection of Mahmoud Ahmadinejad and spent six months in jail as a prisoner of conscience for supporting the reformist Green Movement in 2009.
Asked what in her mind was the single most important right that has been denied to women in Iran under the Islamic Republic, she said: "There are many rights that have been denied in many areas, but the most important ones are the discriminatory laws enforced after the Islamic revolution and the glass ceiling that prevent women's progress and their serious participation in social life."
She said women's issues have been turned into political and security matters in recent years. Even women's demand to ride bicycles or go to stadiums are viewed as security problems and part of the intelligence discourse of the country.
FaezehHashemi who was the publisher of Zan (Woman) newspaper in the late 1990s, focusing on women's issues, charged that "even many reformist men in Iran do not believe in equal rights for women. Solving women's problems are not among male reformists' priorities."
She added that "A wrong understanding of Islam, a male-dominated culture, and fearing that women's freedom would limit men's freedom are among other factors that lead to discrimination against them in Iran." However, she said women should continue their struggle for their rights although it might be difficult.
Referring to the recent surge in the incidents of honor killing, she was asked if there is any hope in solving such social problems. FaezehHashemi said: "As an Islamic feminist, I do not believe real Islam is against human rights. Even when there are strict rules in matters such as inheritance, deferring to reason and rationality can solve the problem."
As regards the various interpretations of Islam, Ms.Hashemi was asked why shouldn't we base the system of government on the rule of law and rationality rather than Islam. She said: "Ideologies can be taken advantage of. The government in Iran is neither religious nor revolutionary."
Although Ms.Hashemi has turned into a critic of the Islamic Republic she has remained silent about the role of her influential father in establishing many of the policies she now disagrees with. Akbar Hashemi has also been accused of having been part of the Islamic Republic schemes to conduct terror activities outside Iran, especially the 1994 bombing of the Jewish community center in Argentina.
Asked what her opinion is about the impact of the Trump Administration's use of Iran women's movement to justify sanctions on Tehran, Ms.Hashemi said: "Help from outside is important. Trump or other leaders' emphasis on women's rights is important although international organizations leave a better impact on women's rights campaigns than governments."
However, she reminded that Trump's support for women's rights does not mean Iranian women activists are spies who depend on the United States, as the government sometimes charges. However, support from outside strengthens rights movements in Iran and that is good."
She added that this is a globalized world and any movement that can become global has a better chance to succeed.
Meanwhile she praised Iranian young women for using social media to further their campaign for equal rights.
Although she wears hijab as a Muslim woman born in a Muslim clerical family, she said that she does not believe in compulsory hijab.
https://en.radiofarda.com/a/former-president-s-daughter-says-iran-s-government-is-neither-religious-nor-revolutionary-/30699021.html
--------
Kuwait Boosts Women's Empowerment in Judicial System
July 01, 2020
Samir Salama
Abu Dhabi: Kuwait's Attorney General, Dirar Al Asousi, approved the promotion of eight female prosecutors to the position of judges in a historic move to empower women, Kuwaiti media reported.
"In support of the judiciary, a group of prosecutors, including eight women, were promoted for the first time, after they had been involved in the prosecution service for more than five years, and involved in investigating various cases," Al Asousi told Al Qabas.
He added the new judges will sit for a one and a half month course at the Kuwait Institute for Legal and Judicial Studies, to gain more experience in various branches of law.
"This is our plan that will be annually for the qualification of women prosecutors, to complete the plan for the Kuaitisation of the judiciary," Al Asousi said.
Four heads of prosecution were promoted to be judges along with 54 prosecution officials including Lulwa Al Ghanem, Fatima Abdel Moneim, Fatima Al Kandari, Fatima Al Farhan, Bashayer Al Rakdan, Rawa Al Tabtabae, Sanabel Al Houti, and Bashayer Abdul Jalil.
The list of promoted prosecutors also include Nasser Al Badel, Faisal Al Mutairi, Khaled Al Tahous, Ali Bin Naji, Abdel Wahab Al Moaili, Ahmed Al Khalaf, Saad Al Daijani, Muhammad Al Sanoot, Hassan Al Mulla, Abdulaziz Al Faras, Abdullah Al Ghareeb, Abdul Rahman Al Rifa'i, Fahd Al-Asousi, Shamlan Al Shamlan, Abdulaziz Al Turiji, Tariq Al-Sweit, Khaled Al Kandari, Fahd Al Atal, Suhaib Nabil, Ahmed Al Hajri, Ahmad Al-Tabtabae, Ahmad Al-Mutairi, Sulaiman Al-Shunn, Abdul Rahman Al Neck, Omar Al Muqata, Bandar Al Dhafiri, Dhafer Al Hajri, Abdul Rahman Al Saraawi, Dhari Al Anzi, Mohammed Al Khudhari, Abdulaziz Al Moadadi, Mohammed Al Nouibet, Ayed Al Marri, Othman Al Rabah, Hassan Al Rashidi, Ahmed Al Mutairi, Ahmed Al Failakawi, Amer Al Mutairat, Mohammed Al Anzi, Falah Al Rashidi, Sultan Al Mutairi, Dawood Ali, Fahd Bouresli, Abdel Hadi Al Ajmi, and Mohammed Al Mutairi.
https://gulfnews.com/world/gulf/kuwait/kuwait-boosts-womens-empowerment-in-judicial-system-1.72348197
--------
Deepening Vulnerabilities: COVID-19's Effect On Women in Egypt
AMINA ZAINELDINE
JUNE 30, 2020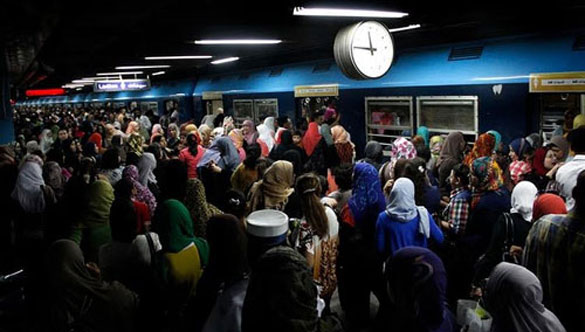 Egyptian women board a car at the Shohadaa (Martyrs) metro station in Cairo.
------

Unforeseen and devastating, the coronavirus pandemic has disrupted the lives of all. But while many are describing it as an equalizer, a threat to everyone in equal measure, data from around the world increasingly shows that COVID-19 has affected the vulnerable disproportionately.
This has manifested itself in a variety of ways. In the United States, for instance, communities of colour, though a smaller percentage within the population, have faced higher proportions of infection and fatalities than White communities.
In Egypt, little data is available on how the pandemic and the subsequent economic crisis have affected each social group differently, but lack of access to quality healthcare, affordable medicine and education, as well as a lack of ability to social distance have undoubtedly placed some people at a disadvantage.
In many, if not most, cultures, women find themselves socially and economically vulnerable, and this has meant that they, too, have been among the groups whose lives have been heavily impacted by the pandemic.
In a number of countries, rising numbers of domestic violence cases and calls to domestic violence helplines have been recorded, often attributed to tensions of confinement and financial difficulties.
A UN Women report shows that France, Germany, Spain, Canada, the UK, and the US are among the countries where reports of domestic violence have increased, while in Argentina, Cyprus, and Singapore, helplines have registered a significant increase in demand. In Mexico, where lockdown measures were implemented on 23 March, April became the deadliest month for women in five years.
Women in Egypt are among the most vulnerable members of society—both socially and economically—for a variety of reasons. For one thing, they are subjected to gender-based violence at home and in their communities, as well as frequent sexual abuse and harassment in their everyday lives. For another, they are essential income producers, as well as the primary caregivers in most households. In other cases, they are the sole providers and caregivers for their families. Nevertheless, the flexibility needed for such a social role is not afforded in the positions most of them occupy.
While at the outset of this crisis, government positions allowed female employees paid leave as needed, an overwhelming number of women are employed in positions that cannot or do not afford them such a leeway. Deputy Executive Director at the Banaty Foundation NGO, Nadine Khalife, tells Egyptian Streets that many women in the Egyptian labour force are employed in tourism, retail, and hospitality, three of the sectors that were hit hardest by the COVID-19 closures and safety measures.
As women are likely to have the lowest-paid jobs in these industries to begin with, often employed informally or on a part-time basis, and usually unable to shirk their responsibilities as caregivers at home, it has made them more susceptible to being laid off by the companies or organizations that employ them, as well as giving them less access to social protections, Khalife explains.
She further points out that due to the coronavirus pandemic, daycares and nurseries, which normally allow women more flexibility and give them the opportunity to work longer hours to provide for their households, are less accessible due to closures and decreased capacities.
Women are also vulnerable to contracting the virus, as they represent 70 percent of the workforce in paid care, that is teaching, social work, home help, and nursing homes. They represent an even larger proportion of nursing positions in Egypt, at 90 percent, a job that exposes them even more directly to the threat of the virus.
Khalife tells Egyptian Streets that around 19 percent of households in Egypt are headed by single women, and women have less access to healthcare services and governmental social protections than men. Coupled with the risks of losing their jobs or contracting the virus, such homes are at an extremely significant risk in the midst of this crisis.
In Egypt, there is no specific data as to whether there has been a rise in domestic violence. Where there are helplines and shelters provided by the government and NGOs, there are issues of accessibility as well as stigma around complaints.
While globally, as well as in Egypt, men are more likely to contract and die from the coronavirus, the crisis is laying bare deep vulnerabilities and inequalities that need addressing in Egypt as well as around the world. The numbers detailing the social and economic struggles of women in the midst of the pandemic are lacking, and Khalife impresses on the importance of collecting accurate and representative data to understand the problems at hand, and empower Egypt to solve them
"If we can collect gender disaggregated data on the impact of COVID-19 on women, we will be able to respond with adequate gender socio-economic measures, because the impact on women is different than the impact on men," Khalife tells Egyptian Streets.
https://egyptianstreets.com/2020/06/30/deepening-vulnerabilities-covid-19s-effect-on-women-in-egypt/
--------s
The Women Fighting to Protect Yemen
6/30/2020
(MENAFN - Somali Land Sun) Somalilandsun: Yemen has been ripped apart by terrorism, civil war, and famine, leading to the worst humanitarian crisis in the world. Women and girls are bearing the brunt of the crisis, and there has been a dramatic rise in reported incidents of gender-based violence. In this report, Isobel Yeung follows resilient Yemeni women, who are finding surprising ways to rise above the conflict and their traditional roles in Yemen's conservative society.
https://menafn.com/1100411703/The-Women-Fighting-to-Protect-Yemen
--------
URL: https://www.newageislam.com/islam-women-feminism/commonwealth-prize-hindu-muslim-love/d/122261
New Age Islam, Islam Online, Islamic Website, African Muslim News, Arab World News, South Asia News, Indian Muslim News, World Muslim News, Women in Islam, Islamic Feminism, Arab Women, Women In Arab, Islamophobia in America, Muslim Women in West, Islam Women and Feminism