New Age Islam News Bureau
4 March 2019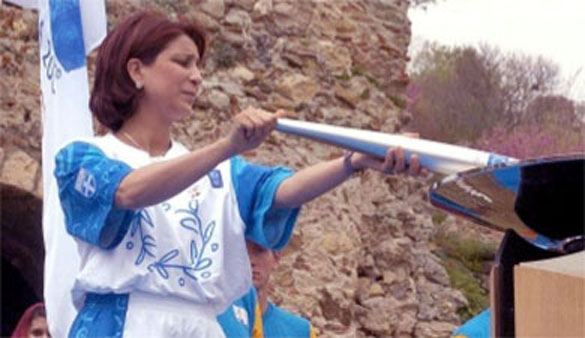 Nawal El Moutawakel told AFP she embraces being a role model for Muslim women thanks to her historic gold medal at the 1984 Olympic Games POOL/AFP
------
• Muslim Women Organisation Extends Financial Aid for Naamghar in Lakhimpur
• Girl Power on Display at Calligraphy Exhibition
• El-Moutawakel, Torch Bearer for Muslim Sportswomen, Winning Olympic Gold in the 400 Metres Hurdles at the 1984 Games
• Emirates Chosen as Top Brand by Women In UAE, Apple Tops Saudi List
• Freedoms Should Not Be Sacrificed For Peace, Say Afghan Women
• Iranian Teachers Hold Fifth Round Of Nationwide Strikes and Sit-Ins
• 15 Egyptian Laws, Rulings That Protect, Support, Empower Women
• Children of Converted Pakistani Muslim Woman Handed Over To Hindu Father
Compiled by New Age Islam News Bureau
URL: https://www.newageislam.com/islam-women-feminism/come-with-shamima-begum-dutch/d/117916
--------
Come With Me: Shamima Begum's Dutch Husband
By Amit Roy in London
4.03.19
Shamima Begum's 27-year-old Dutch husband, Yago Riedijk, who was a fighter for the Islamic State, has said he wants her and their newborn son Jarrah to return with him to the Netherlands.
"We should live in Holland," said Riedijk, who is being held in a Kurdish detention centre in north-eastern Syria.
Shamima, 19, has been stripped of her UK nationality by the British home secretary. Bangladesh, too, has disowned her, so she appears to be stateless.
Riedijk has not been deprived of his Dutch nationality but he faces at least six years in prison for belonging to a terrorist organisation if he returns home — which he might find difficult to do.
Local media in Arnhem have revealed he was raised in a "lovely" middle class family before converting to Islam and leaving for Syria in October 2014 to join the IS.
Their "marriage" also may not be considered legal either in Britain or in the Netherlands because Shamima, a Bangladeshi girl who was only 15 when she ran away from her school in Bethnal Green in East London in 2015, found a partner barely 10 days after arriving in IS-controlled Syria.
Riedijk told the BBC he saw nothing wrong with marrying Shamima because it was "her choice". Describing how he met her in a women's centre in Raqqa, he said he was initially not interested because she was too young.
He said: "To be honest, when my friend came and said there was a girl who was interested in marriage, I wasn't that interested because of her age, but I accepted the offer anyway."
He added that she had seemed to be "in a good state of mind".
Riedijk insisted: "It was her own choice. She asked to look for a partner for her, and I was invited."
He conceded "she was very young, maybe it would have been better for her to wait a bit", before adding, "But she didn't, she chose to get married and I chose to marry her."
The IS fighter told the BBC's Quentin Sommerville that he was imprisoned in Raqqa and tortured after the extremists accused him of being a Dutch spy. He admitted fighting for the IS but said he later rejected its ideology and had tried to leave the group. Riedijk also said he attended the stoning of a woman for "fornication", saw piles of dead bodies in the city and lost an infant daughter to malnutrition. Another son also did not survive.
Riedijk and Shamima escaped the town of Baghouz, the terror group's last territory in eastern Syria, as the self-styled "caliphate" crumbled. Riedijk surrendered to a group of Syrian fighters, and Shamima ended up among 39,000 people in the al-Hol refugee camp in northern Syria.
She has now moved to the Al-Roj refugee base nearer the Iraqi border, apparently because of threats from other extremist brides.
However, Kurdish security sources denied claims from Shamima's lawyer that this was because of safety fears after reports that IS hardliners, angered by her high profile and uncovered face in interviews with the media, had put a bounty on her head.Officials insisted that Shamima was moved to make space for a surge in IS fighters and their families pouring into al-Hol from Baghouz.
https://www.telegraphindia.com/world/come-with-me-shamima-begum-s-husband/cid/1686139
--------
Muslim Women Organisation Extends Financial Aid for Naamghar in Lakhimpur
March 3, 2019
At a time when cases of communal animosity are being reported from different parts of the country, a women organisation of Muslim community has given financial aid to a Naamghar in Assam's Lakhimpur district.
Ashroy Mahila Samaj, a Muslim women's group in North Lakhimpur on Sunday offered financial aid for a Naamghar here.
Asfiya Hussain, the president of the NGO and its secretary Tajwar Sultana Talukdar presented the cash amounts to Gunin Dutta, the president of the managing committee of Borimuri Naamghar at Borimuri near the NH-15 by-pass here.
A function was organized on that occasion inside the Borimuri Naamghar which began with Naam-Kirtaan by the Bhagawat Samaj.
Media adviser of Ashroy Mahila Samaj Farhana Ahmed said the objective of the step by the NGO in building bridges between Hindu and Islamic faiths that has been defining Assamese identity.
She said that it was a small step towards a bigger cause for the unity and integrity of the society.
The fund, comprising of Rs 7 thousand has been contributed for some construction works of the Naamghar.
The secretary of Ashroy Mahila Samaj Tajwar, Sultana Talukdar and treasurer Anowara Begum also spoke on the occasion.
Nitul Sarma, the secretary of the Borimuri Naamghar managing committee, expressed gratitude to the women's body for its rare gesture and hoped that such an initiative would send a strong message to the society.
https://nenow.in/north-east-news/muslim-women-organisation-extends-financial-aid-naamghar-lakhimpur.html
--------
Girl Power on Display at Calligraphy Exhibition
March 03, 2019
Mohammad Siddique
Hyderabad: At an exhibition of magnificent pieces of Arabic Calligraphy of internationally renowned Indian calligrapher Muqtar Ahmad and his students, the works of two young girls from Kerala and Bengaluru have become cynosure of all eyes.
Jehan Kottiyal Hyder from Kerala and Beebee Laisa from Bengaluru left visitors impressed with their Arabic calligraphy. Their creations were among nearly 200 'Tughras' or works of calligraphy that were on display at two-day exhibition at the auditorium of Masjid-e-Baqee in Hyderabad.
Ahmad, who runs an Arabic Calligraphy training centre for young generation in Bengaluru under the Institute of India Islamic Art and Culture said, Jehan Hyder was highly talented and a fast learner who has mastered Riqqa style of Arabic calligraphy in just four months. "She has done in four months what others will normally take a couple of years to do".
"If she continue to practice like this I am sure she will be among the top Arabic calligraphers in the world. Her hand is very strong. After Riqqa she is now practising in Nasq", said Muqtar.
Muqtar, who originally worked as a Katib (calligrapher) in Bengaluru-based Urdu newspaper Salar for five years, developed his skills in Arabic calligraphy under the tutelage of world's top most calligraphers, specially from Turkey and Arab world.
As his meagre resources did not allow him to go abroad to learn the art, he used online tools to take lessons from top experts of the field, like Mohammad Zakaria in the US and Dawood Batashi.
After passing various online examinations and earning praise from top calligraphers, Nisar started participating in international exhibitions and competitions. His works were displayed at the exhibitions in Dubai, Qatar, Algeria and Malaysia and several other countries and earned awards.
His other student who impressed with her works at Hyderabad is Laisa, an M.Tech in communication technology from Bengaluru who is practising Arabic calligraphy for last two years. She is also a trained English calligrapher.
Laisa who has completed learning Thuluth style of Arabic calligraphy, and it now masterning the Nasq style. "My plan is to set up an institute to teach Arabic as well as English calligraphy, specially to girls. Unlike Turkey and Arab countries, we hardly have any women calligraphers in India".
Urdu calligraphy fell on hard times after Urdu newspapers and book publishers replaced the calligraphers with computers; a majority of them gave up the profession thinking it was all over. But Ahmad said: "I looked at it from a different angle and decided to go for Arabic calligraphy and master it as an art. There are many calligraphers and artists practising Arabic calligraphy. But unfortunately most of them are either ignorant of its intricacies and rules or don't feel it necessary to follow them. Because of this shortcoming they don't get recognition at the international level", he said.
https://gulfnews.com/world/asia/india/girl-power-on-display-at-calligraphy-exhibition-1.62430293
--------
El-Moutawakel, Torch Bearer for Muslim Sportswomen, Winning Olympic Gold in the 400 Metres Hurdles at the 1984 Games
March 4, 2019
MONACO: Nawal el-Moutawakel took just 54 seconds to go from the "dark to the light" when she became the first Muslim woman from Africa to win Olympic gold in the 400 metres hurdles at the 1984 Games.
The 56-year-old Moroccan has since forged a successful career as a sports administrator having twice been Minister of Sports and is an influential member of both the International Olympic Committee (IOC) and the International Association of Athletics Federations.
"I consider myself a role model with my other Olympic champions back home in Morocco," she told AFP.
"I could have stayed and spent most of my life enjoying my glory of 1984 but no, that's wrong.
"54 seconds allowed me to go from dark to light, like I said from zero to hero. I would like to share every single moment with the younger generation."
El-Moutawakel, whose victory in Los Angeles was marked by the then King Hassan II ordering every girl born that day named in her honour, said the hurdles on the track reflected the challenges she had faced in her life.
However, she always met them head-on, claiming, "My victory meant no more just washing the dishes for women".
"In my religion, women were never forbidden to compete," she said at the recent Laureus awards.
"Our prophet (Mohammed) used to run against his wife, and she used to beat him, until she found out she was pregnant, that's how he beat her."
"Women could compete equally as men, and that's why I felt growing up in an environment that was very supportive, very positive until today, so I don't think there is any resistance whatsoever."
El-Moutawakel supports her claim by citing a passage from the Koran in Arabic.
"Teach your children how to run, do horse-back riding, and also swimming," she said.
"This is in our religion. He never said, teach your daughter, or teach your son. It says 'teach your children', and in children, there is a son and daughter."
'Rubies, diamonds come in small packages'
El-Moutawakel, a mother of two children, daughter Zineb and son Roda, certainly received all the support she desired from her parents, especially her father Mohammed.
He allayed her fears of how much bigger some of her rivals were by saying, "Rubies and diamonds come in small packages."
"My father was a judoka, my mum did physical activities at high school, we grew up five brothers and sisters, we were all in the same club and we all did athletics so I was in an environment that was very positive, very supportive," she said.
"I never felt any resistance (to her wanting to be an athlete) whatsoever."
"Until the day I won in 1984, August 8th, when many microphones were placed in front of me, talking about this resistance."
"And I was like, what do you mean?"
El-Moutawakel, whose great regret is her devoted father did not live to see her moment of glory, dying in a car crash in early 1984 a week after she had started university in the United States, found the spotlight unnerving.
"When I ran in 1984, my coaches (Iowa University's Ron Renko and Pat Moynihan) were teaching me how to run, but they weren't teaching me how to speak," she said.
"So all of a sudden I had hundreds of journalists with microphones wanting me to speak, and I said 'I have nothing to say, I showed you in my performance'."
https://www.freemalaysiatoday.com/category/sports/2019/03/04/el-moutawakel-torch-bearer-for-muslim-sportswomen/
--------
Emirates Chosen as Top Brand by Women In UAE, Apple Tops Saudi List
04 March 2019
Dubai airline Emirates has emerged as the top brand for women in the UAE for the third time in a row, according to the latest survey by YouGov.
The carrier received the highest positive impression score of 70 among women in the UAE, the survey found.
WhatsApp also retained its second position this year, while Carrefour moved up one place in the list to third, replacing Apple.
The rankings were compiled using the impression score from YouGov's daily brand tracker, BrandIndex, by asking respondents, "Which of the following brands do you generally have a positive/negative feeling about?" over the past 12 months.
Another brand that moved the rankings this year is Samsung, which went to fifth from eighth place last year. Dairy brand Almarai also improved its perception among women moving up one place to ninth. Baskin-Robbins made an entry into the list at sixth position this year, while Facebook exited the rankings.
"The past year has been difficult for technology brands, with each of those present in the top 10 list showing declining scores year-on-year," the report said.
YouGov also revealed the 10 brands that made the largest improvement to their impression scores over the past 12 months. Coca-Cola topped the list, followed by Netflix, and fast-food brands KFC and McDonald's.
In Saudi Arabia, the YouGov survey found that Apple beat Almarai to become the top brand for women.
"Amidst the launch of the new iPhones and Apple watch last year, the brand generated a lot of noise and has strengthened its appeal among women. Apple's smartphone brand, iPhone, has likewise seen great improvement and places in second," the report said.
Fast food restaurant chain Al Baik has climbed from seventh place last year to third this year.
"Last year was a tough one for dairy brand Almarai. The rise in the price of milk by the brand generated substantial resentment among consumers and they took to social media to boycott the brand. Almarai's perception among women in Saudi Arabia has declined subsequently, pulling it down from first to fifth place this year," the report explained.
In Saudi too, technology brands seem to have had a rather difficult year with both WhatsApp and YouTube seeing a decline in their ranks.
In terms of the 10 brands that made the largest improvement over the past 12 months, Saudi payments network mada topped the list, followed by food and beverage brands Maestro Pizza and Coca-Cola.
https://gulfbusiness.com/emirates-chosen-top-brand-women-uae-apple-tops-saudi-list/
--------
Freedoms Should Not Be Sacrificed For Peace, Say Afghan Women
March 4, 2019
A group of women activists and residents of Jawzjan at a ceremony in the province announced their support to the ongoing talks in Qatar but said that the achievements of Afghanistan in women's rights, freedom of press and other gains should not be ignored the process.
They called o government to share the developments of peace talks with the people. The women said they want peace but their freedoms should not be sacrificed for it. "We support the peace talks which are ongoing abroad on condition that Taliban will not ignore the [Afghan] Constitution and women's freedoms," said Sayera Shakib Sadat, a women's rights activist in Jawzjan. "Peace is a need in today's society and every citizen of this country is thinking about this."
Jawzjan activists said peace is a basic need for Afghanistan and that government and Taliban should not ignore the values of the Constitution. "At least 40,000 soldiers paid the ultimate sacrifice in the war in past five years. We can find few families who have not been affected by the war," said Farahnaz, a civil society activist.
https://www.thenews.com.pk/print/439319-freedoms-should-not-be-sacrificed-for-peace-say-afghan-women
--------
Iranian Teachers Hold Fifth Round Of Nationwide Strikes and Sit-Ins
Mar 3, 2019
Iranian teachers and educators held nationwide strikes and sit-ins for the fifth time this year, on Sunday, March 3, 2019, upon a previous call.
The nationwide strikes and sit-ins have taken place in 31 cities of Iran so far and are currently spreading with more hardworking Iranian teachers and educators joining the protest movements.
Female teachers and educators have played an active role in these strikes and sit-ins.
Teachers and educators have refused to go to classrooms and have stayed in the school offices to protest the current status of their livelihood and living below the poverty line.
Iranian teachers are also demanding the release of imprisoned teachers, the removal of all legal barriers for free guild union activities, the suspension of school monetary policies, the allocation of adequate and sufficient resources for education in the 2019 budget plan, the increase in wages, and the cancellation of contracts with ineffective supplementary insurances.
The cities that have participated in this strike and sit-ins are as follows:
Tehran, Isfahan, Tabriz, Jolfa, Ardabil, Shiraz, Buin Zahra, Mashhad, Babol, Iranshahr, Najaf Abad, Sari, Shahreza, Qorveh, Takestan, Mohammadiyeh Qazvin, Muchesh Kurdistan, Urmia, Nishapur, Ziviyeh, and Falavarjan.
In addition to the protests, students joined the sit-in in support of their hardworking teachers. In Hamadan, students joined the strike and sit-in in solidarity with their teachers.
Iranian teachers and educators had held nationwide protests, strikes, and sit-ins on four previous occasions in the months of May, October, November, and February. Female teachers had extensive participation in these protests and strikes. Women also got arrested in the wave of crackdown on teachers in the aftermath of the second round of their protests in November.
Teachers' salaries in Iran are one-third of the poverty line, but most of the teachers are on temporary contracts and they receive even smaller wages, less than one-fourth of the poverty line.
https://women.ncr-iran.org/2019/03/03/iranian-teachers-5th-strikes-sit-ins/
--------
15 Egyptian Laws, Rulings That Protect, Support, Empower Women
Mar. 3, 2019
CAIRO – 3 March 2019: Two main legislative documents protect, support and empower women in Egypt: The Egyptian constitution of 2014 and the Criminal Code of 1937 and its amendments.
These legislative pieces divide crimes against women in Egypt to two separate groups: Misdemeanors and felonies. Misdemeanors, such as catcalling or sexual harassment, are seen as less significant crimes than felonies, and are usually punished by fines and short-term jail time; the trails are also shortened. Felonies, like FGM, rape, kidnapping a female, or sexual assault, are punished by longer jail time, and a permanent record is placed for those convicted.
In celebration of the Month of Women, March, Egypt Today looks at the top 15 rulings and laws that protect women.
Sexual assault
According to the Criminal Chamber of the Court of Cassation in Ruling No. 289 of April 24, 1950, there is no need to prove that the offender had complete sexual intercourse with the victim against the victim's will. It is sufficient for the offender to touch the victim with their hands, reproductive organs, or device against the victim's will. To ensure justice, Ruling No. 4794 of February 14, 1985, was amended to add that the assailant must have had mental intent, meaning that it was not accidental. Law No. 11 of 2011 was later added to increase the penalty against attackers of children under the age of 18, under article 269 of the Criminal Code, to three to fifteen years in prison.
Female Genital Mutilation (FGM)
FGM was condoned in the early 2000s by the state and the community, and later, the state, in 2008, launched a nation-wide campaign to condemn and limit the practice.
To solidify its stance, in August 2016, Article 242 of the Criminal code suggested that the punishment of performing FGM is imprisonment with hard labor for up to 15 years.
Filing for a divorce—Khula
In 2000, the groundbreaking Khula Law, known as Law No. 1 of 2000, allowed women to file for divorce, in registered and unregistered marriages, without the husband's consent. During the same year, Egypt also saw the establishment of the right for women to apply for a passport and travel without the husband's consent.
Domestic violence
Law No. 10 of 2004 introduced the Family Courts, allowing women to demand their rights and seek legal protection from domestic violence. Building on Law No. 10, Law No. 11 of 2004 established the Family Insurance Fund, a system through which women can collect court-ordered alimony and child support money. Law No. 154 was also changed in 2004 to allow children of Egyptian mothers and a foreign father to have equal citizenship rights; in the past, one could only be an Egyptian citizen if their father is Egyptian.
Legal Custody
In 2008 reforms were also made to extend the mother's legal custody to 15 years of age, raise the legal age of marriage to 18, and allow children to take their mother's name, if their father is not proven.
Against violence, torture and mutilation
Articles 11, 52, 60, 67, 71, 80, and 89 of the 2014 Constitution ensure the protection of women against violence, torture, mutilation and organ trade, incitement of violence against women or specific women-based groups, "impingement of individual honor", sexual exploitation and assault, and human trafficking, respectively.
http://www.egypttoday.com/Article/2/66500/15-Egyptian-laws-rulings-that-protect-support-empower-women
--------
Children of Converted Pakistani Muslim Woman Handed Over To Hindu Father
March 4, 2019
NAWABSHAH: District and Sessions Judge Zahoor Ahmed Hakro ordered to handover children to a Hindu father when the mother converted and embraced Islam. The father, Bhero Chand, pleaded the court that his children with his former wife Poonam, who has changed her religion and married to a Muslim, should be handed over to him.
The court after hearing the case ordered the woman to hand over their three children, Haresh, Mahesh and Pawna, to their father Bhero Chand. The court, however, ordered the father to arrange at least twice a month meetings of the children with their mother Poonam. The mother who embraced Islam and changed her name as Hasina, said that she married Rab Nawaz for the better future of her children and requested the court not to separate them.
https://www.thenews.com.pk/print/439372-children-of-converted-muslim-woman-handed-over-to-hindu-father
--------
URL: https://www.newageislam.com/islam-women-feminism/come-with-shamima-begum-dutch/d/117916
New Age Islam, Islam Online, Islamic Website, African Muslim News, Arab World News, South Asia News, Indian Muslim News, World Muslim News, Women in Islam, Islamic Feminism, Arab Women, Women In Arab, Islamophobia in America, Muslim Women in West, Islam Women and Feminism