New Age Islam News Bureau
28 Jul 2018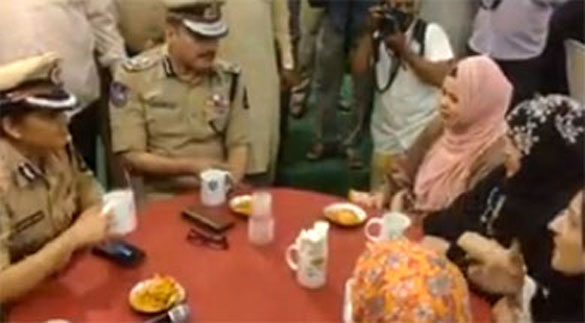 Unique initiative for Muslim girl: Hyderabad City Police conducts "Coffee with a cop" to help them know about the various pro-women initiatives taken up by the police
-----
• Entry of Women from Minority Communities in Higher Education Sees Upward Trend
• Women like Us: British Muslimahs Resist
• Jeddah Artists Eulogize Homeland during Women's Poetry Night
• Women Defied Decades of Tradition to Vote in Pakistan Election
• Women's Wellness and Research Centre Launches Qatar's First Postnatal Midwifery Home Care Program
Compiled by New Age Islam News Bureau
URL: https://www.newageislam.com/islam-women-feminism/coffee-with-cop-hyderabad-cops/d/115969
--------
Coffee with a Cop - Hyderabad Cops' Initiative for Muslim Girls
Jul 27, 2018
HYDERABAD: City police on Friday conducted a programme for Muslim Women titled "Coffee with a Cop" for the benefit of women in Chaderghat to help them know about the various pro-women initiatives taken up police.
Hyderabad police commissioner Anjani Kumar while speaking to reporters after the event said that the purpose of the event was to create awareness among the girls about rights of women. "The women were explained about the ways to protect themselves against crime, how a woman should react during crisis situation, features of dial-100, features of various APPs of Telangana police which people can use, SOS button, purpose of SHE Team and Bharosa," Anjani Kumar said.
The event was attended by nearly 200 women, mostly college-going girls, and after police explained about the various initiatives of police, the students interacted with senior police officers by seeking explanation about various doubts they had.
Police had coffee with the girl students as part of the event.
In an another development, Hyderabad police commissioner Anjani Kumar on Thursday night took a surprise walk, reportedly from his Basheerbagh office till his residence in Amberpet, in his civil dress without his regular security protocol by walking on the main road. He also interacted with locals and personally observed the situation on the roads. The whole thing was captured in a camera and it is unsure who captured his movements and this development since Thursday night and on Friday too became a talking point. In the video, which got circulated widely, a safari man was seen walking behind the commissioner.
However, he maintained a reasonable distance from CP
https://timesofindia.indiatimes.com/city/hyderabad/coffee-with-a-cop-hyderabad-cops-initiative-for-muslim-girls/articleshow/65169734.cms
--------
Entry of Women from Minority Communities in Higher Education Sees Upward Trend
July 28, 2018
New Delhi: There has been a rise in the enrolment of women from minority communities in higher education in many states, with New Delhi, Haryana, Odisha, Chandigarh and Nagaland being the exceptions.
The numbers, collated since 2012, have been recorded in the All India Survey on Higher Education (AISHE) report 2017-18, which was released by HRD Minister Prakash Javadekar at the conference of vice-chancellors. The three-day conference began on July 26. Vice-chancellors of central universities, state public universities, deemed-to-be universities, state private universities and directors of central institutes are participating in the conference.
The trend in Muslim community shows that across India, 8,98,121 Muslim women enrolled in higher education during 2017-2018, as compared to 8,22,830 women during 2016-17.
In Bihar, the number went up from 64,585 in 2016-17 to 67,841 in 2017-2018.
In Jammu and Kashmir, it rose from 57,200 in 2016-17 to 69,561 in 2017-18. Kerala showed a jump from 65,947 to 85,316 , while Rajasthan saw an increase from 13,909 to 16,276.
Uttar Pradesh, which has a sizeable Muslim population, saw the enrolment of women from the minority community go up to 1,62,990 in 2017-2018 from 1,58,490 in 2016-17.
According to Syed Zafar Mahmood of Zakat Foundation of India, the numbers are encouraging. "Muslims face adverse situations, especially in times of propaganda and prejudice. These conditions also drive a community to move towards education. It is important to have a community internally strong to counter all biases against it," he said.
The AISHE report added that 4,48,517 women from other minority communities enrolled for higher education this year as compared to last year's 4,28,866.
https://www.news18.com/news/india/entry-of-women-from-minority-communities-in-higher-education-sees-upward-trend-1826401.html
--------
Women like Us: British Muslimahs Resist
27 July, 2018
It often feels like everyone's opinions of Muslim women receive airtime, apart from those views that are actually held by, you know, Muslim women.
A recent report by the Open Society Justice Initiative highlighted that at present, around one in three EU member states have applied a legal restrictions on Muslim women's dress, with almost half having applied bans - including on headscarves - within workplaces and public institutions.
This growing, racist, political trend is actively shutting Muslim women out of jobs, education and public life, despite their supposedly 'feminist' and liberatory character.
Is hardly surprising then, that our daily reality on the streets across the continent and beyond, is a backdrop of racist, sexist street harassment and violent attacks. Emboldened by official state policy and government sanction, Islamophobes across the West are growing in number and confidence.
Last week, during the gathering of racists and fascists for the 'Free Tommy Robinson' demonstrations in London, a powerful image circulated on social media of a Muslim woman bus driver smiling in defiance with her eyes closed, as she was blocked by the demonstrators holding up 'Britain Loves Trump' placards and St George flags, banging on the window of her vehicle, while shouting 'We want Tommy out'.
For many Muslim women who circulated the image, rightly praising the sister for her strength, it also depicted exactly how they feel living in the UK.
Like the sister in the picture, we are surrounded. We feel threatened and under siege. Violent incidents are multiplying, as attackers become more confident. The screen protecting us is weakening, and could crack at any moment. Yes, Islamophobia is on the rise in the UK, and as Muslim women, we experience the bulk of it.
Read more: You can't take Islamophobia out of the Tory party
One of the headlines which followed, read 'Bus driver in headscarf shows far-right Tommy Robinson demonstrators everything that's great about Britain,'. A person quoted in the Metro commented that "Like a true Brit and a woman she is keeping calm and carrying on."
I can only imagine what the woman must have felt in the eye of such an Islamophobic storm, with very few exit options.
While some claim her strength is a testament to Britain (ignoring that those targeting her did so while claiming to represent Britain and defend its women), I wish that instead we could celebrate our society's ability to build effective, grassroots anti-fascist and anti-racist movements, whose work would make it impossible for her - or any other Muslim woman - to find herself in such a situation.
This is often the problem. As Muslim women we are held up as examples as long as our resistance is considered acceptable, and not a threat.
If we endure silently and on our own, or - even better - if we celebrate the state as our protector, we are quintessentially British, integrated and celebrated.
If we organise collectively, fight back, and point the finger back at the structures which oppress us, we are vilified, rejected, and branded as dangerous.
For this, and so many other reasons which relate to discrimination against Muslim women in the West, more and more of us take action in a plethora of ways, and in different spaces across society.
A recent speech made by teacher Latifa Abouchakra at the National Education Union's national conference was but one of those examples.
Abouchakra called out the decision by Ofsted to interrogate young girls on their choice to wear the hijab, and talked of the direct link between such policies and the emboldening of far-right groups, many of whom were seen marching in defense of 'Tommy Robinson'.
She added, that "we reject this imperialistic saviour thinking" when it comes to the idea that the British state is there to liberate us from the misogynistic grip of Muslim men.
The teacher asked the conference to stand in solidarity with her choice to wear the hijab, in line with all women's emancipation after delegates had voted in favour of reproductive rights. The union, she said, had been central to defending her rights and this should be the basis on which we organise and fight back.
It should be that simple, that if you oppose the oppression of women, you oppose it in all the many forms it takes, including at the intersection of race, class and gender.
In recent weeks, I have also had the pleasure of participating in a series of initiatives by Muslim women deciding to take matters into their own hands and fight back.
The arrival of Donald Trump, and his meeting with fellow Islamophobic politician Theresa May served as an opportunity for a group of young Muslim women - Radical Muslimahs Resist - to come together and consider the links between US and UK policy regarding Muslims and communities of colour.
We marched, took direct action, and addressed the demonstration. In all our actions we stressed that when it comes to targeting Muslims, extraditing them, torturing them in Guantanamo, and stripping them of basic civil rights, May and Trump have more in common than sets them apart.
I've also been involved in a project led by Ayman Khwaja at British Muslim TV, with an incredible team of Muslim Women including Sabah Choudhry, Sumayyah Al-rashid, Aina Khan and Amina Elbayoumi.
The unique panel show they developed, 'Women Like Us' aims to highlight the strength, power and knowledge of Muslim women in the face of rising structural violence.
It is a weekly panel discussion on the questions that impact us across British society today, and serves as a one-of-a-kind platform in which Muslim women can talk for and about themselves, debate, analyse and strategise over the ways in which we navigate, resist and take on the discriminatory society in which we live.
Recently, and for the first time in history, the women's rights committee of the European parliament addressed the conditions for Muslim women in Europe.
Over 100 Muslim women from different nations signed an open letter stressing the need to tackle the growing hostility and racist conditions which permeate public spaces and workplaces.
The statement asked, "Why has it been so hard so far to choose inclusion over exclusion in support of women's emancipation?".
The answer is simple. Muslims have been at the centre of western imperialism abroad and repressive policies at home, and served as the sharp edge of the wedge in terms of rolling back basic civil liberties across our societies.
The open letters, the protests, the speeches, the standing our ground and resistance are the only weapons we have to force the powerful to back off, and and to rein in the racists on the streets.
The hijab-wearing woman bus driver, the radical Muslimahs, Abouchakra in the NEU, and the Women Like Us panelists demonstrate in practice that Muslim women are prepared to lead the way, but alone we won't succeed.
As Abouchakra pointed out at the conference, allowing Islamophobia to fester undermines everyone's freedom. It is therefore necessary for all of us - trade unionists, students, activists, concerned citizens - to unite, in order to quell the growing bigotry and hatred across society and fight the racists back.
https://www.alaraby.co.uk/english/comment/2018/7/27/women-like-us-british-muslimahs-resist
--------
Jeddah Artists Eulogize Homeland during Women's Poetry Night
July 28, 2018
JEDDAH: The Saudi Arabian Society for Culture and Arts (SASCA) organized a women's poetry night on Wednesday at its Jeddah headquarters in cooperation with the General Authority for Culture (GAC).
The poetry night, moderated by poet Dalal Radi, was attended by prominent Saudi poets who recited some of their famous works, notably Fatima Al-Ghamdi, Nadia Al-Maliki named "Khashaf," and Khadija Al-Sayed.
Dr. Juman Al-Ghamdi, supervisor of the Cultural Forum's Committee at the Society, stressed that the poetry night, which saw the participation of a number of women Saudi poets, differed from previous evenings. "It is the first women's poetry night that is attended by a large turnout of connoisseurs of culture and arts."
Mohammed Al-Sabeeh, director of SASCA in Jeddah, highlighted the attention accorded by SASCA to poetry and poets by organizing several poetry nights.
"Poetry hones and promotes positive habits within the society, as it reveals and highlights many of the morals and ethics. Poetry is the language vessel and a fundamental subject for teaching the language and developing the eloquence aptitude," he said.
Al-Sabeeh thanked the GAC for holding the event, as also to the poets and the audience for participating in the event.
http://www.arabnews.com/node/1346751/saudi-arabia
--------
Women Defied Decades of Tradition to Vote in Pakistan Election
July 28, 2018
Women turned out in force in Pakistan's general election this week, shoving aside often decades of patriarchy and taboo to make their voices heard at the ballot box.
A day later, after claiming victory in a hard-fought election race, Imran Khan said that he would use his mandate to fight for those without a voice -- and in deeply conservative, religious Pakistan, that can often mean women.
"My policies will be geared towards minorities, women, all the oppressed," he said in a televised address. "My entire efforts will be to raise the rights of the oppressed."
While official figures have not been released, women turned out in large numbers to register their voices in the pivotal election -- only Pakistan's second transition of power from one civilian administration to another.
Before the election, described as one of the most consequential in Pakistan's short history, advocacy group Human Rights Watch released a report that found while women have a constitutional right to vote, "millions... have been de facto barred from voting through agreements among political parties, local elders, and powerful figures, using outdated customs as an excuse."
Newspaper columnist and analyst Rafia Zakaria said the old system is crumbling. "It seemed a lot of (women) voted and that I think is hopeful. I think it's connected to urbanization, connected to the fact that democracy is what people are coming to expect."
Playboy cricketer to politician, Imran Khan says he's Pakistan's best hope
Decades of taboo broken
In the far north of the country, where voting as a woman has traditionally been difficult -- if not impossible -- for many years, large numbers of women queued to ensure their voices were heard.
Farzana Bibi a schoolteacher from Khyber Pakhtunkhwa province's Lower Dir, where women were voting for the first time since the 1970s, said she voted to exercise her "basic right," and was able to express herself at the ballot for the first time in four general elections.
"See this interesting dilemma. My family needs my salary, but they don't provide me my basic rights of freedom of expression," she told CNN.
"I had been deprived from casting a vote for the last three elections. This was the fourth consecutive election that came in my life when I exercised my basic right of casting my vote for the first time in my life. I am very relieved now."
Bibi also acted as a polling officer, and said that almost all female registered voters in the area had followed through with their votes.
"I didn't only exercise my vote but also ensure the maximum turnout at the polling station. Out of 856 (registered) women voters, 739 votes were cast -- which was a big achievement."
Meanwhile, in Balochistan, Pakistan's restive southwestern province, long queues of female voters, lined up next to similarly snaking queues of men, spoke to how women have fought back to vote.
"This is my fundamental right to elect my candidate," said Bibi Khadija, who voted for Imran Khan's PTI party in Quetta, the provincial capital.
Conditioning
Zakaria said that often, women's lifestyles, especially in rural areas, are completely disconnected from politics. So while they may not be barred from voting by their male relatives, they are conditioned not to pay attention to elections.
"There is a lifestyle that is extremely centered in the private sphere, absolutely unengaged from the election or politics, that imposes different rituals or daily routines," she said.
"I know people in my neighborhood who I doubt would have voted, they don't watch any TV besides religious TV, they're constantly centered around events in the home.
"And there are people there, hardliners, who said, don't participate in the election, it's haram (forbidden); it's still hard for women to leave the home, those who aren't from liberal or urban backgrounds."
Najma Ali, organizer of the Sarhad Rural Support Program in Peshawar, said that in the 2013 general election "local elders" had denied women their right to vote."But this time, it doesn't happen. In my area, women cast more votes than men."
A lack of women's issues discussed in election campaigns means that women don't tend to vote en bloc, but rather based on ethnic lines or on other issues, Zakaria said.
Rukhshanda Taj, from the Balochistani town of Turbat, close to the Iranian border, said she voted "because I want promotion of education and health facilities in my area."
Promises of security
Khan's conservatism and promises to bring more religion into public life is comforting to some women, Zakaria said.
"He's saying he's going to create an Islamic welfare state. For working class and lower middle class women, that is the thing, if you can create that Medina city state that he's promised to do, all will be right with the country.
"He (also) has this strict side, that appeals to women. In terms of safety, some women think about it in very religious terms, like, 'in a very Islamic society I won't be harassed.'"
She says that, often, women are unaware of their rights. Sadaf Ali, a 29-year-old health technician said that that is changing.
"Earlier we don't know our rights and powers. But when I start education only then I realized that women do have equal rights. But ironically whenever election comes, our elders would deprive us from exercising our basic right -- casting the vote.
"What kind of society is this where men decide the rights of women? Here men are considered more conservative-- but women voted against their mens' ideology."
https://edition.cnn.com/2018/07/28/asia/women-voters-pakistan-intl/index.html
--------
Women's Wellness and Research Centre Launches Qatar's First Postnatal Midwifery Home Care Program
July 22nd, 2018
Hamad Medical Corporation's (HMC) Women's Wellness and Research Center (WWRC) has launched a pilot postnatal midwifery home care program for new mothers and their babies.
The Postnatal Midwifery Home Care Program, which is the first of its kind in Qatar, is run by a team of qualified midwives and will initially just be available to new mothers who had a high-risk pregnancy or caesarian delivery and require extra care.
A team of qualified midwives will provide new mothers and their newborns with check-ups, education, and support during the postnatal period. With as many as one in three women delivering by caesarian section at WWRC, staff at the hospital care for a large number of women with high-risk pregnancies.
Speaking about the launch of the new service, Ms. Haila Johar, Executive Director of Nursing at the Women's Wellness and Research Center said, "We are so proud to be piloting this postnatal midwifery home care program. By visiting women in their homes shortly after childbirth, HMC's community midwife team will be able to help identify and prevent many common maternal and newborn health issues and will play an important role in enabling women to make informed decisions about when and where they access care."
In addition to supporting the health and well-being of a mother and her infant, the program aims to prevent and/or decrease unnecessary visits or admissions to the WWRC Emergency Department by women who had a high-risk pregnancy or gave birth by caesarian section. Up to a quarter of women who delivered by caesarian section will visit the Emergency Department after her baby is born for a related non-urgent medical issue.
"During the home visit, one of our midwives will assess the physical and emotional well-being of the mother and her newborn, educating her about what to expect in the coming days and weeks, and providing her and her family with support managing the care of their newborn," said Ms. Fatima Yusuf, Director of Nursing at Women's Wellness and Research Center. "During the visit, our midwives will also be able to identify if the mother or her baby has any health issues which may need further attention. They will be able to advise the new mother if she, and/or her baby, requires any additional follow-up care from her primary healthcare provider – potentially preventing an unplanned visit to the Emergency Department."
Currently, the Postnatal Midwifery Home Care Program is only available to women who deliver at WWRC, live in Doha, and have had a high-risk pregnancy or caesarian delivery and require wound care. The service will be managed by a team of six community midwives, with each team conducting12 to 14 home visits per month.
Women will be referred to the postnatal midwifery home care team by their discharging physician and their first home visit will be scheduled within 48 to 72 hours of their delivery. Subsequent follow-up visits will be scheduled as needed.
"The six weeks directly after a woman gives birth can be both a happy and difficult time as she adjusts to physical, emotional, and social changes," said Ms. Johar. "By providing an in-home service with a qualified midwife, our goal is to develop a trusting and supportive relationship with our mothers and ensure they receive consistent advice about maternal health issues and well-being. The ultimate goal is to keep mother and baby healthy after the birth."
According to Ms. Johar, in the near future, the pilot program at WWRC will be expanded to all HMC maternity facilities. She added that there are plans to further expand the service to all birthing facilities in Qatar, providing care to new mothers who experience a high-risk pregnancy or caesarian delivery within 28 days of giving birth.
https://www.albawaba.com/business/pr/women%E2%80%99s-wellness-and-research-center-launches-qatar%E2%80%99s-first-postnatal-midwifery-home-car
--------
URL: https://www.newageislam.com/islam-women-feminism/coffee-with-cop-hyderabad-cops/d/115969
New Age Islam, Islam Online, Islamic Website, African Muslim News, Arab World News, South Asia News, Indian Muslim News, World Muslim News, Women in Islam, Islamic Feminism, Arab Women, Women In Arab, Islamophobia in America, Muslim Women in West, Islam Women and Feminism