New Age Islam News Bureau
14 Oct 2015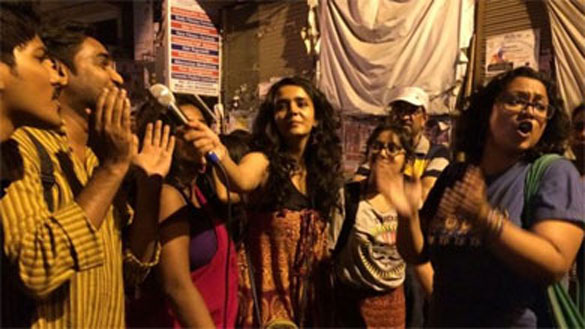 Young female students in the Indian capital, Delhi, are fighting to assert their right to public spaces with a campaign called Pinjra Tod (Break the Cage)
----------
• Divorce ruling: Alison Sharland and Varsha Gohil win appeal
• Women Office Goers Queue Up to Sample Life of a Monk in China
• Indian Women Most Likely to Report Harassment at Work: Study
• Indian Navy Pitches for Women Pilots But No Combat Role Yet
• Turkish, Indian Women Tend To Stay Silent on Unequal Treatment
• Kedah CM Denies Dress Code for Muslim Women
• Women in Madinah Form Committee to Help Visitors
• World Union of Muslim Women Condoles Martyrdom of Hundreds of Pilgrims in Mina Incident
• Women Bandits Held In Pakistan
Compiled By New Age Islam News Bureau
URL: https://newageislam.com/islam-women-feminism/claiming-delhi-streets-break-cage/d/104917
-----------
Claiming Delhi's Streets to 'Break the Cage' For Women
14 October 2015
From the section India
Young female students in the Indian capital, Delhi, are fighting to assert their right to public spaces with a campaign called Pinjra Tod (Break the Cage). The BBC's Geeta Pandey joins them for a night as they go out to "claim the streets" and fill them with their "dreams and desires".
Just as night falls, about 60 young women and men begin marching through some of Delhi University's premier colleges.
Many are carrying posters; they shout slogans, halt outside women's hostels, recite poems and break out into impromptu dances.
"We don't need any false protection, you can't cage half the nation," they sing.
One young man plays a drum hanging around his neck, while a woman wearing a red sari gives a lively speech.
At regular intervals, the participants - Delhi university students past and present - whistle and clap in approval or chant "shame, shame".
The issue that has brought all these men and women out on to the streets is what is called the "curfew hour" in women's hostels - the deadline by which residents must return to their rooms.
"It is discriminatory," says Devangana Kalita, a 26-year-old researcher and co-founder of the Pinjra Tod movement.
"Curfews and deadlines in the name of providing protection and safety are actually mechanisms of reproducing patriarchy. We are saying this is not about women's safety really, this is about moral policing."
Students say most women's hostels - whether run by the university or privately-owned - follow curfew hours. Some lock their gates as early as 6:30pm or 7:30pm while a few allow students to remain out until a little later.
They say while curfew times are stringently enforced in women's hostels and those who break them run the risk of being expelled, hostels for men, which also have curfew hours on paper, rarely enforce them.
Libraries and laboratories in the university are open until much later - till midnight or in some places, even until 2am - and curfew hours mean women have no access to them.
"The university infantilises you," says Ms Kalita.
"They don't see you as equipped to handle your safety on your own, they say we will be your guardians, they impose these restrictions on you so they can mould you into a particular kind of a girl who is saleable in the marriage market, who does not cross boundaries.
"But tonight, we are out to claim the streets, to fill the streets with the audacity of our dreams and desires," she adds.
Shambhawi Vikram, a 23-year-old arts student, who lives in a private hostel - which are called PGs or "Paying Guest" hostels - says the restrictions are "humiliating" but being locked up can also be dangerous and life-threatening.
"Two years ago, there was an earthquake in Delhi. As our building shook, all of us who lived on the lower floors rushed out, but 20 students who lived on the fourth and fifth floors were stuck, because they were locked up. It was frightening, they all ran out into the balcony and looked at us. We could only look at them. We all felt so helpless."
Rafiul Rahman, a 23-year-old postgraduate student who is among the protesters, says the march to claim the streets is "unprecedented" and "historic".
"Something like this has never happened before in the university. It's crazy to lock up women after 7pm. You have to question and challenge irrational norms."
Mr Rahman says whenever he steps out at night, there are a lot of men sitting and smoking and drinking chai, "but you don't see a single woman - and that must change".
Campaigners say that the idea that locking up women will keep them safe is very flawed logic.
"You can't keep women safe by keeping them away; it does not make any sense. Streets will be safer only when we have more women on the streets," Mr Rahman says.
With their night walk, Ms Kalita says, "we are trying to create a new imagination, about what public spaces could be like".
Protests by students in the past have forced the authorities to relax timings somewhat, but the Pinjra Tod campaigners say that's not enough.
The campaigners are using social media to mobilise students - and others - across Delhi and beyond to broaden their movement for freedom.
Ms Vikram says in India, women across ages and class live in cages and they have to fight to escape these prisons throughout their lives.
"Some 40-50 years ago, women had to break the cage to get in to university, today we are trying to break the cage to get to the library after 7pm.
"Even Cinderella could stay out until midnight. Why can't we," she asks?
http://www.bbc.com/news/world-asia-india-34486891
-----
Divorce ruling: Alison Sharland and Varsha Gohil win appeal
14 10 2015
Two women who say they were misled by their ex-husbands and should get more money in their divorce settlements have won their Supreme Court fight.
Alison Sharland, who accepted £10m in her divorce, and Varsha Gohil, who got £270,000, say the men hid the extent of their wealth when the deals were made.
The court indicated that both claims would return to the High Court.
After the ruling, Ms Sharland said she was "relieved" and Ms Gohil said there were "no winners in divorce".
The ruling could pave the way for many more people to seek to renegotiate their divorce settlements.
BBC legal correspondent Clive Coleman said it was an "incredibly significant ruling" that meant a division of the parties' financial assets had to be based on a "valid agreement".
"If one of the parties is dishonest, if they are misleading about what their assets are, then this is a very clear signal that the other party can go back to court, can have the agreement set aside and can have the whole thing considered again," he said.
Ms Sharland, from Wilmslow in Cheshire, believed the £10m settlement she accepted in her 2010 divorce from her husband Charles, a software entrepreneur, represented half of his wealth.
Under the settlement, the 48-year-old would also receive 30% of the proceeds of shares held by her husband in his company when he sold them.
Varsha Gohil and Alison SharlandImage copyrightPA
It later transpired he had lied about his company's value - which the financial press estimated to be worth about £600m - as well as plans to float it on the stock market.
Ms Gohil, 50, from north London, accepted a car as well as £270,000 as a settlement when she divorced her husband Bhadresh in 2002.
In 2010, Mr Gohil was convicted of money laundering and jailed for 10 years.
At his criminal trial, evidence revealed he had failed to disclose his true wealth during divorce proceedings.
'Matter of principle'
"I hope that their decision sends out a message to everyone going through a divorce," Ms Sharland said.
"My legal battle has never been about the money, it has always been a matter of principle.
"I entered into an agreement with my estranged husband thinking that it was a fair one."
She said she wanted to move on "safe in the knowledge that my future divorce settlement will be based on the true value of our assets".
Giving the judgement of the court, Lady Hale said Ms Sharland had been "deprived of a full and fair hearing" because of "her husband's fraud".
Ms Gohil said: "There are absolutely no winners in divorce and more than a thought has to be given to the children of families locked in this type of litigation."
James Brown, a partner with JMW Solicitors, which is acting on Mr Sharland's behalf, said his client was "bitterly disappointed that his family will continue to be locked in litigation for the foreseeable future".
"Family law is complicated and entirely discretionary and there could be a danger that this change may open the floodgates to thousands of couples revisiting the agreements they reached," he said.
"Mr Sharland's primary objectives have always remained the same - to arrive at a fair settlement with Mrs Sharland and to make generous provision for his children."
http://www.bbc.com/news/uk-34524641
---------
Women Office Goers Queue Up to Sample Life of a Monk in China
World | Press Trust of India
October 14, 2015 13:22 IST
BEIJING: More Chinese office goers, mainly women are joining programmes to experience life of a Buddhist monk to de-stress themselves from high pressure jobs.
Shanghai's Yufo Temple has received a good response to its week-long program that lets people experience life as a monk.
Most of the participants are female office workers, state-run Global Times reported.
The program will be held from October 15 to 21, and it is aimed at reducing stress by experiencing monks' daily lives.
Activities include listening to the abbot's teaching, copying Buddhist sutras, meditating and chanting.
Master Huihong of the temple said that there were 108 places for the program and it was filled within 10 days.
During the programme, participants will go through a modified tonsure ceremony.
"We will not shave off all of the hair, but will only cut a bit of it, symbolising the ceremony," he said adding that the program's purpose is to let people experience the life of a monk, not to recruit people.
He also emphasised that meals will be provided in the temple, correcting some media reports that participants will have to beg for all of their food.
"(Begging for food) is a Buddhist ceremony and will be held at noon on the last day of the program. Participants will follow the master and walk a planned route," Huihong said.
According to Yufo Temple, each participant has to pay 2,000 yuan (USD 315) for the program, to cover costs such as clothing, meals and renting venues.
The temple is currently considering launching a second round of the program.
http://www.ndtv.com/world-news/women-office-goers-queue-up-to-sample-life-of-a-monk-in-china-1231959
------
Indian Women Most Likely to Report Harassment at Work: Study
All India | Press Trust of India
October 14, 2015
LONDON: Indian women face some of the worst cases of unequal treatment at the workplace among G20 countries but are most likely to speak out against harassment, a new study has found.
Only one in four Indian women perceived a lack of equal career opportunities as a major issue in the workplace, according to an Ipsos MORI poll of more than 9,500 women commissioned by the Thomson Reuters Foundation and The Rockefeller Foundation.
"Work-life balance topped the list of the most important challenges Indian women face in the workplace, with 57 per cent saying it was their biggest concern... the most surprising finding in India was related to harassment," the '5 key issues facing women working in the G20' study found.
"Over a quarter of Indian women, or 27 per cent, said that they had been harassed at work and Indian women were more likely than any other women in the G20 to speak out.
"Of those harassed, 53 per cent said they would always or most of the time report this," it said.
"Contrary to data showing the gender pay gap in India was one of the largest in the G20, over six in 10 Indian women, or 61 per cent, said they were confident they were earning the same as men doing the same job," it added in reference to its India findings.
Turkey, India, Mexico and Argentina topped the list of G20 nations where women were most concerned about harassment in the workplace while women in South Korea, Russia, Germany and Britain were the least worried.
Women in India, however, were most likely to speak out, followed by the United States, Canada and Mexico. By contrast, women in Russia, South Korea, Brazil, Japan and Indonesia were most likely to never or rarely report harassment.
The report attributed India's high number to a "blitz in the media" following the December, 2012 Nirbhaya rape case.
The latest survey comes as growing number of studies show economies benefit when more women work and increasing women's income changes spending patterns to benefit children.
At a G20 meeting in November 2014, leaders agreed to reduce the gap in labour participation rates by 25 per cent by 2025. The global female rate currently is about 56 per cent versus 82 per cent for men.
Nearly half of women overall in the G20 do not believe they have the same access to jobs or career advancements as men, according to the study.
Only four in every 10 women were confident they earned the same as a man doing the same job.
The study coincides with another UK-based academics' report which proposed that gender quotas should be mandatory for senior positions across the private and public sectors in Britain.
The London School of Economics (LSE) Commission of Gender Equality and Power wants the burden of the argument to "shift from the under-representation of women to the unjustifiable over-representation of men".
http://www.ndtv.com/india-news/indian-women-most-likely-to-report-harassment-at-work-study-1231917
-------
Indian Navy Pitches for Women Pilots But No Combat Role Yet
All India | Press Trust of India
October 14, 2015
NEW DELHI: The Indian Navy has ruled out combat role for women for the time being citing government rules but has pitched for inducting them as pilots for its fleet of maritime reconnaissance aircraft.
Navy Chief Admiral RK Dhowan said the force was proud of its women officers and that their induction started in 1992. He pointed out that women serve in the Navy in various fields - from air traffic controllers to observers on board aircraft, training, legal and even overseeing various aspects relating to construction of ships among others.
"Therefore, it would be unfair to say we are lagging behind anybody," he said addressing a press conference on the International Fleet Review scheduled in February next year in Visakhapatnam.
He was asked if the Navy has any plans to induct women in combat roles as many of the Navies coming in for the International Fleet Review will have women officers on-board their ships.
He said the Navy has looked into how to increase the participation of women in other arenas of Naval way of life.
"We are looking and we have taken up the issue to the Ministry of Defence as a proposal which is still under consideration to see how women pilots can be allowed in our maritime reconnaissance aircraft. That is something which is under consideration. Government will have to take a view," he said.
Defence sources said this is being pushed forward because the aircraft flies from a land base and also lands back to the land base only.
"As far as aspect related to combat are concerned, this is in consonance to the policy of the Government of India, the policy of MoD, as is applicable to three Services. As and when we look at the aspect of changes that come about, we will proceed step by step," he said.
In a major policy shift, the Indian Air Force had last week announced that it is planning to induct women as fighter pilots.
Till now, all the three Services were cold to the idea of having women in combat rules because of various reasons including safety, extreme living conditions and lack of proper facilities.
The Navy currently has about 9,000 officers, including about 500 women officers.
Defence sources said that the idea of having women in combat role in the Navy would take some time as it demands changes in the interior layout of battle platforms like separate toilets and bathrooms, bunks and rooms for women.
"I can assure you that our women officers will have a major role to play in the International Fleet Review and we look forward to their showcasing our Navy with pride," Admiral Dhowan said.
http://www.ndtv.com/india-news/navy-pitches-for-women-pilots-but-no-combat-role-yet-1232141
------
Turkish, Indian women tend to stay silent on unequal treatment
October 14, 2015
Kieran Guilbert - Women in Turkey and India face some of the greatest workplace inequities among the G20 nations but are least likely to speak out, according to a survey released on Tuesday.
Nearly half of women overall in the G20 do not believe they have the same access to jobs or career advancements as men, according to the poll of more than 9,500 women by the Thomson Reuters Foundation and The Rockefeller Foundation.
Only four in every 10 women were confident they earned the same as a man doing the same job.
But in a surprise finding, the survey conducted by pollster Ipsos MORI revealed that only one in five Turkish women, and one in four Indian women, perceived a lack of equal career opportunities as a major issue in the workplace, the poll found.
This runs contrary to World Economic Forum (WEF) data showing that Turkey ranks only ahead of India and Saudi Arabia in the G20 in terms of the gender pay gap and the percentage of women in the workforce, in skilled jobs and in leadership roles.
Despite the statistics, only a third of the Turkish women polled believed men had better access to jobs.
Turkish entrepreneur Bedriye Hülya, who opened her women-only B-Fit gym business in 2006, said workplace inequality is "the norm for the masses".
"I wish women would talk about inequality but (they) choose not to act on it as they think 'this is how it is'," Hülya told the Thomson Reuters Foundation.
Women need to feel empowered to act and be aware that change is possible and acceptable before speaking out in the workplace, according to gender and legal experts.
"We have aspirations and norms in our heads, what we think is achievable," said Iris Bohnet, director of the Women and Public Policy Program at the US's Harvard University.
Professor Ayse Ayata, who teaches gender studies at the Middle East Technical University in Ankara, said the findings of the poll highlighted deeply ingrained attitudes about gender within Turkish society.
Turkish President Recep Tayyip Erdogan last year declared that "men and women are not equal; it is against nature".
"There is an ideology that says if women are employed, this means there will be fewer jobs for men, so the government has not encouraged female labour participation for a long time," Ayata told the Thomson Reuters Foundation.
"Increasing conservatism and the idea that women and men are different has influenced some of the middle class and pushed more women towards home and away from work," she said.
SPEAKING OUT
By contrast, women in France were among the most likely to point out inequality in the workplace with 55 percent saying both that men had better access to jobs and had better access to career advancements.
France, which passed a law in 2011 requiring publicly listed companies to make 40 percent of their directors women by 2017, has made strides in the number of women in skilled jobs and senior positions, according to the WEF Global Gender Gap Index.
Business experts say this has given women confidence to demand parity in the workplace.
"Women in France are aware of inequality now more than ever," said Brigitte Grésy, secretary general of the Superior Council for Professional Equality between Women and Men.
"They are empowered to stand up, speak out and demand the same jobs, opportunities and promotions as men.
"
Yet such progress masks the reality for many French women, according to Christiane Robichon, president of Business and Professional Women (BPW) France, who said companies often favour men over women due to childbirth and maternity leave.
Only one third of French women polled said they felt they could have a family without damaging their career, compared with six in 10 women in Turkey and India.
"Even if women only take maternity leave for a few months, employers will question their motivation and commitment .
.
.
it is a barrier for women's careers," Robichon said.
French journalist Fabienne Marie, who works for a weekly newspaper in Brittany, said motherhood was a "gamechanger" for women looking to progress in their career.
"Women with children may be given the flexibility to work part time, but in turn, they will find it difficult to claim positions of responsibility," said 37-year-old Marie.
"Career development is slower for a woman who wants to have children," she told the Thomson Reuters Foundation.
COMPANIES MUST DRIVE CHANGE
The survey comes as growing numbers of studies show economies benefit when more women work and increasing women's income changes spending patterns to benefit children.
At a G20 meeting last November, leaders agreed to reduce the gap in labour participation rates by 25 percent by 2025.
The global female rate currently is about 56 percent versus 82 percent for men.
Barrister Catarina Sjolin Knight, a senior lecturer at Britain's Nottingham Law School who co-wrote the Sexual Offences Handbook, said companies must drive change in the workplace.
"There are a lot of positive statements coming out of international conferences and conventions on this but when you scratch the surface, there is no enforcement behind it," Sjolin Knight told the Thomson Reuters Foundation.
"The big companies need to take the lead on this, particularly the ones procuring from other countries as that could drive change in the countries they source from.
"
The survey was carried out online by Ipsos Global @dvisor from July 24-Aug 7 and face-to-face in South Africa and Indonesia from Aug 6-Aug 25.
Data are weighted to match the population profile of each country and the margin of error between two country sample sizes of 500 is about 6 percent at the 95 percent confidence interval.
Respondents were aged 18-64 in the United States and Canada, and 16-64 in all other countries.
Approximately 45 percent of the sample was below the age of 35, 33 percent were between 35 and 49 years old and 23 percent were between 50 and 64.
http://nation.com.pk/international/14-Oct-2015/turkish-indian-women-tend-to-stay-silent-on-unequal-treatment
-----------
Kedah CM Denies Dress Code for Muslim Women
October 13, 2015
ALOR SETAR: Menteri Besar Mukhriz Mahathir has denied that the Kedah government has planned to implement a dress code for Muslim women in the state.
He said the message sent through WhatsApp could be an effort to sabotage the "Discover Kedah" programme next year.
"It is untrue. We have no plans to impose a dress code for women in Kedah. Here, we give women space and it is not so strict.
"In the end, it is between the person and God," he told reporters after launching the 'Exporters Forum' organised by the Malaysia External Trade Development Corporation (Matrade) here.
Mukhriz was commenting on a statement by Kedah Religious, Indian and Siamese Community Affairs, Human Resources and Tourism Committee chairman Mohd Rawi Abdul Hamid on the matter yesterday.
Mohd Rawi had said the state government was planning to implement a dress code although for now, it was still being discussed with the state religious council.
Earlier, while launching the forum which was also attended by Matrade chairman Noraini Ahmad, the menteri besar urged more companies in Kedah to register with the agency.
He said only 369 companies from Kedah were registered with Matrade and efforts should be made to increase this number in the near future.
http://www.freemalaysiatoday.com/category/nation/2015/10/13/mukhriz-denies-dress-code-for-muslim-women/
-----------
Women in Madinah form committee to help visitors
Oct 13, 2015
MADINAH — To facilitate the administrative processes for women visitors to the Prophet's City, an Haj, Umrah and tourism committee of women has been established in the city.
Head of the first-of-its kind committee, Raedah Basharheel, said six members of various specialties have been included in the committee, Al-Madinah reported.
"We work 24/7 and we have various responsibilities. Our job is to act as direct mediators between the women visitors of the city and the public directorates. We supervise other services such as airport services, mosque services and health center services for women," said Basharheel.
She said the committee ensures that quality services are offered to the visitors.
"We make sure that the mosques have good air-conditioning and that the airport staff treats women appropriately. Women have several clinics and hospitals to go to when visiting Madinah. There are Al-Ansar Health Center, King Fahd Hospital, Bab Jibreel Health Center and Al-Safiah Health Center," said Basharheel.
She added women may come to us with all of their concerns and we will try our best to address them. "We are the first women committee to fully serve women visitors. We offer visitors tours and show them the city of Madinah," said Basharheel.
Kholoud Junaid, a committee member, said her task with the committee is a fulfilling one.
"We get to serve the women who visit Madinah as best we can. We check after the services in the city and we even supervise some of them by receiving performance reports to ensure their services are up to par," said Bajunaid.
She added she is happy in her job and is honored to serve the pilgrims who travel just to be at the Prophet's Mosque.
Another member, Abeer Saqr, said it is the duty of the people of Madinah to serve the pilgrims.
"Part of our work is administrative but we also have field workers in the committee. They are responsible for doing inspection campaigns on the facilities of the city and following up with the administrative paperwork," she said.
http://saudigazette.com.sa/saudi-arabia/women-in-madinah-form-committee-to-help-visitors/
-----------
World Union of Muslim Women Condoles Martyrdom of Hundreds of Pilgrims in Mina Incident
October 13, 2015
The World Union of Muslim Women in a statement expressed condolences over the martyrdom of hundreds of pilgrims from different countries in a crush in Mina, near the holy city of Makkah during Hajj.
According to the website of the World Forum for Proximity of Islamic Schools of Thought, the union also called on international bodies to pursue the causes of the incident and help the countries that lost their pilgrims in the incident to cope with the tragedy.
On September 24, some 4700 Hajj pilgrims, including at least 465 Iranians, died in the crush in Mina, when performing the Hajj rituals.
Among them were five members of the Iranian Quran delegation to Hajj: Hassan Danesh, Amin Bavi, Mohsen Hajihassani Kargar, Foad Mash'ali and Saeed Saeedizadeh.
The tragic crush of people in Mina came nearly two weeks after tens of Hajj pilgrims were killed in another tragic incident in Makkah.
On September 11, a massive construction crane crashed into Makkah's Grand Mosque in stormy weather, killing at least 107 people and injuring 201 others.
Saudi authorities have been blasted for their failure to ensure the safety of hundreds of thousands of pilgrims who converge on Makkah for Hajj every year.
http://en.abna24.com/service/women-children/archive/2015/10/13/714989/story.html
-----------
Women Bandits Held In Pakistan
October 14, 2015
LAHORE - Two women were caught red-handed when they were fleeing after committing a house robbery in Harbanspura yesterday.
Both the suspects brutally tortured and stabbed the housewife who fought back the robbery at her residence yesterday morning.
Police have described the suspects as "lady bandits" and said they were being interrogated regarding recently reported robberies in posh localities.
Both the sisters were employed as housemaids at the house Ilyas just two days before they attacked his foreign national wife. The Japanese national woman told the police that both the housemaids attacked and stabbed her when she saw them stealing jewellery from the cupboard. The victim was present alone at her house when her maids attempted robbery. She made hue and cry to attract neighbours.
Locals managed to capture the lady bandits as they tried to flee the crime scene with gold ornaments. They gave them a good thrash in the open before handing over the ladies to police for investigations. The police have registered a case and are investigating.
http://nation.com.pk/lahore/14-Oct-2015/women-bandits-held
-----------
URL: https://newageislam.com/islam-women-feminism/claiming-delhi-streets-break-cage/d/104917