New Age Islam News Bureau
13 Dec 2017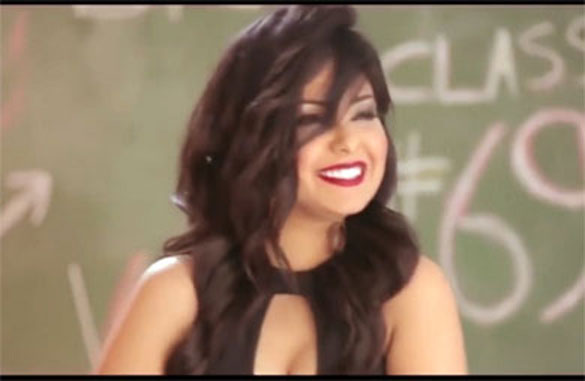 Pop singer jailed for 'inciting debauchery' over eating a banana in a racy music video Shyma, whose real name is Shaimaa Ahmed, was also fined $560 (screengrab)
-----
• Bangladesh Arrests Cleric over Fatwa against Women Farming
• Egyptian Pop Singer Sent To Prison for Video That 'Incited Debauchery'
• Iranian Media in Tailspin over Female British Diplomat's Lack of Headscarf
• Canada's Military Wants To Know Why Women Join ISIS and How to Stop Them
• UK Hijab Outcry Leads To Consultations between Schools' Watchdog and Muslim Campaigners
• MPAs Demand CNICs for 0.6m Balochistan Women
Compiled by New Age Islam News Bureau
URL: https://www.newageislam.com/islam-women-feminism/cinema-ksa-help-women-tell/d/113555
--------
Cinema in KSA will help women tell their stories, says filmmaker
13 December 2017
NADA HAMEED
JEDDAH: Hajjar Al-Naim was one of the first women in Saudi Arabia who jumped into the field of filmmaking. Her country lacked cinemas and she studied abroad to fulfill her passion.
Al-Naim is the director and co-writer of a film called "Detained," which was screened at the 2017 Dubai International Film Festival this week.
The movie is about a young Syrian refugee who fights to proclaim her innocence when the US Homeland Security detains her after her father is identified as the suicide bomber in a terrorist attack at a London airport.
After the screening of her film in the US and at the Dubai festival, Al-Naim told Arab News: "It represents the two perspectives — the American and the Middle East perspective. I am happy because I showed my movie to people in the US and the Middle East. I want the American audience to understand our struggle as Middle Eastern and Muslims."
"There was a huge wave of questions; they were like, why would I make this type of movie? My answer was: 'It's because the media in the US and Middle East are representing both perspectives in a wrong way and my goal was to wipe these wrong perspectives away'," she said.
"My film was funded by Saudi individuals and institutions and I think these people deserve to see the movie they funded and helped to make happen in their country.
"I am so excited about the news… I can't imagine that we will have cinemas in Saudi Arabia. Such a decision, I believe, will encourage the government itself to open institutions and to teach more filmmakers to become professional. I hope by this news more women will get their stories filmed," the Saudi filmmaker said.
"As a Saudi female director and filmmaker, one of my goals is to teach filmmaking in Saudi Arabia and help female directors to film movies. I know that a lot of producers will control the content but I think it is our job now as directors to do our best to control the content and let the audience control it too," she said.
"We want people to understand that we are trying to get better and we will take few steps, but at the beginning it might be a slow process because the culture might not accept the idea fully and immediately," the filmmaker added.
http://www.arabnews.com/node/1208076/saudi-arabia
--------
Bangladesh arrests cleric over fatwa against women farming
13 December 2017
DHAKA: A Muslim cleric accused of issuing a fatwa banning women from working on farms has been arrested in Bangladesh, police said Wednesday.
The imam and five mosque officials face charges after their announcement prompted locals in the western town of Kumarkhali to try and prevent women from going to work in the fields.
"They took the decision after prayers on Friday, banning women from going out of their homes," local police chief Abdul Khaleque said.
"They used the mosque's loudspeakers that evening to spread the news."
Muslim-majority Bangladesh is officially secular, but Muslim clerics are hugely influential, particularly in the more socially conservative rural areas of the country.
Fatwas were banned in 2001, but the nation's highest court in 2011 ruled that they could be issued on personal and religious matters if they did not impose physical punishment.
Rights groups have criticized that ruling, saying villages far from Bangladesh's secular courts use fatwas to issue sentences that go against the nation's laws.
Women were once largely confined to the home in rural Bangladesh, but a labor shortage has meant millions now work in the fields during harvest or crop-sowing season.
Women also account for some 80 percent of four million workers in the country's 4,500 textile plants — the mainstay of the impoverished nation's economy.
Police said the six arrested would face charges under the special powers act, a controversial military-era law.
http://www.arabnews.com/node/1208331/world
--------
Egyptian Pop Singer Sent To Prison for Video That 'Incited Debauchery'
12 December 2017
An Egyptian pop singer has been sentenced to two years in prison for "inciting debauchery" in a racy music video clip.
Shyma, a little-known 21-year-old singer, was also fined 10,000 pounds (£420) by a Cairo court.
The director of the clip, Mohamed Gamal, received the same sentence. Both can appeal against the ruling.
Shyma was arrested on 18 November, police said, following complaints about the video for her song I Have Issues.
In the video, she appears singing in her underwear and suggestively eating an apple and a banana before a classroom of young men.
The video created a stir on social media in conservative Egypt and was discussed on TV talk shows.
"Singer Shyma presents a lesson in depravity to youths," said the Youm 7 newspaper in an article after the video was released.
In a Facebook post at the time, Shyma apologised for the video and said she had not anticipated the backlash.
"I didn't imagine all this would happen and that I would be subjected to such a strong attack from everyone, as a young singer … who has dreamt from a young age of being a singer," she wrote.
The authorities under President Abdel Fattah al-Sisi have used wide-ranging morality laws to crack down on a range of artists.
In 2015, a court jailed a female dancer to a year in prison for "inciting debauchery" in a raunchy music video for a song called Let Go of My Hand.
https://www.theguardian.com/world/2017/dec/12/egyptian-pop-singer-sent-to-prison-for-video-that-incited-debauchery
--------
Iranian media in tailspin over female British diplomat's lack of headscarf
12 December 2017
The UK's top diplomat has caused a stir on a recent trip to Tehran after it appeared the Iranian Foreign Minister had told her to put a headscarf on.
Karen Pierce, the UK's permanent representative to the UN, accompanied foreign secretary Boris Johnson as part of a delegation to Iran on Sunday widely understood to be aimed at freeing dual national Nazanin Zaghari-Radcliffe from an Iranian jail.
In video of the high level bilateral talks Ms Pierce is seen arriving for a meeting with foreign minister Javid Zarif with a scarf around her shoulders rather than over her head.
Mr Zarif greets the other members of the British party with a handshake, but instead of reaching for Ms Pierce's hand instead points towards the ceiling with both hands, a gesture state news reported as the diplomat telling the visiting dignitary to pull the scarf up over her hair.
Ms Pierce is also photographed in talks without wearing the scarf on her head. In what appears to be a different meeting, she is wearing a different, orange headscarf.
State-run Fars News and Tasnim News Agencies both labelled her appearance "inappropriate", unleashing a storm of comments from Iranians with opinions on both sides of the argument on social media.
"I was bombarded with comments from ordinary people who was shocked that how humiliating that a high representative of Iran [was] acting like the morality police," Mahsi Alinejad, founder of anti-hijab movement My Stealthy Freedom, told The Independent.
"One of the women wrote to me that Zarif's humiliating gesture is familiar to millions of Iranian women who are told every day to improve their [appearance], sometimes with fake smiles, sometimes using violence," the exiled activist added.
The hjiab has been compulsory in Iran since the Islamic Revolution of 1979. Women face significant cultural and legal discrimination in the country.
In recent years, women's rights activists have begun to rebel against the religious authorities' strict dress and morality codes.
"Finally, a western female politicians stood [up] for her dignity and rejected the compulsory hijab at the meeting with Islamic Republic officials," Ms Alinejad said from New York.
A Foreign Office spokesperson told The Independent the government had no comment on the matter.
Ms Pierce took over from Matthew Rycroft as the UK's permanent representative to the UN last month. She is the first woman to ever hold the position.
Previously she served as the UK's ambassador to Afghanistan.
On his return to the UK on Monday, Boris Johnson said he held "worthwhile" meetings in Tehran over Ms Zaghari-Radcliffe's case, but warned he did not wish "to raise false hope" for her release.
The foreign secretary was roundly criticised for comments made last month in which he falsely claimed the journalist had been in Iran to train other media professionals - remarks Iranian officials seized on as justification for her detention.
He eventually apologised. Ms Zaghari-Radcliffe's situation has since rocked to the top of the foreign office's priorities list.
http://www.independent.co.uk/news/world/middle-east/iran-british-diplomat-karen-pierce-no-headscarf-hijab-uk-media-anger-muslim-clothing-rules-a8105966.html
--------
Canada's military wants to know why women join ISIS and how to stop them
December 12, 2017
OTTAWA — The Canadian government is studying why women and girls join groups like ISIS and devising ways for the military to use gender-specific "counter-messaging" to throw a wrench in terrorist recruitment efforts.
Social psychologist Angela Febbraro, a "defence scientist" with the government, is leading the three-year project out of Toronto. In a telephone interview with the National Post Friday, she explained how Defence Research and Development Canada is taking a special interest in the role of women and girls within extremist organizations.
"Women are very key in sustaining those networks," she said.
ISIS, which Canada refers to by its Arabic name, Daesh, attracts men and women to its ranks in different ways. While boys and men are promised wives and paid jobs that can buy them houses and cars, women and girls are enticed with a promise not just of a husband but also of "a sense of sisterhood or the opportunity to help build a state," said Febbraro.
"So there are very sophisticated marketing strategies, on social media and so on, to appeal to women and girls or to men and boys," she explained. It's "very deliberate."
There is also a specific "ISIS manifesto" for women which apparently governs what happens once a girl or women enters the organization. "Primarily it's about supporting the Jihadi or the ISIS fighter as the wife. You know, helping to keep the cause going through giving birth to the next generation, building the caliphate, building the society," she said.
Women also become involved in education within the organization and in recruiting other women and girls, especially online. There is evidence to suggest some women are involved in the fundraising arm of the operation, while recent reports suggest increasing openness to women's participation in more violent roles.
Sometimes they escape. "You have the narrative of women who have been in ISIS, where they talk about the brutality of ISIS, or they talk about the harshness of the conditions of living with ISIS in Syria or Iraq," Febbraro said.
"You can basically build a counter-argument. ISIS promises this idyllic world for women, but the reality is much different. So you can start to raise challenges about the ideal life, the message that ISIS is trying to sell. You get that from those real, first-person accounts."
Privacy concerns make Western governments leery of interfering on social media, Febbraro said, but there is growing recognition that they "can't just sort of sit back and let the extremist groups dominate social media."
While it is too early to know whether social media will be used by the military for counter-radicalization purposes, that's a possibility the project is trying to explore. It may also look at other "information operations" the military could embark upon. This could include face-to-face interactions, distributing leaflets or using radio broadcasts.
Coming up with gender-specific "counter-messages" to use in those scenarios is the eventual goal of Febbraro's research project and the reason for a recent request for proposals that seeks independent research help. The maximum funding allotted for such a contract is $60,000, procurement documents say.
"I think to date the military's role has been primarily sort of a reactive one. … The military gets involved typically after a terrorist attack has already happened, so they may be there on the ground to sort of normalize things. There's been less attention paid to the role of the military in potentially preventing radicalization," said Febbraro, who is almost two years into this specific work.
"My research is actually pretty cutting-edge in that respect."
Febbraro added the current Liberal government seems particularly receptive to ways it can use gender-based analysis. And under the current Chief of Defence Staff, Gen. Jonathan Vance, gender advisors have become fixtures in military operations.
While the Canadian Armed Forces could play a role, especially abroad, Public Safety Canada is the lead on counter-radicalization at home. Neither organization may be the one necessarily delivering the "counter-messages" identified by Febbraro's project. Other "credible messengers" could emerge, and researchers are tasked with identifying them.
The public safety department estimated in a report this summer that about 180 Canadians are fighting in conflicts abroad, a number that includes ISIS fighters. Last month minister Ralph Goodale said in the House of Commons that about 60 Canadians have since returned from foreign conflict and they are "under very careful investigation."
Canada's military has remained involved in a U.S.-led coalition against ISIS since 2014 though it stopped conducting air strikes early last year. Up to 850 military members are approved to be part of the effort, according to the Department of National Defence. Iraq recently declared that ISIS had been fully driven out of its territory but clashes continue.
http://nationalpost.com/news/politics/canadas-military-wants-to-know-why-women-join-isis-and-how-to-stop-them
--------
UK Hijab Outcry Leads To Consultations between Schools' Watchdog And Muslim Campaigners
Muna Habib
DECEMBER 13, 2017
London: United Kingdom's Office for Standards in Education (Ofsted) has started consultations with Muslim campaigners following outrage over its decision to question Muslim school girls about their reasons to wear hijabs.
In a statement, a spokesperson for Ofsted has confirmed that Amanda Spielman, the chief inspector, met a group of Muslim women last week to discuss the rising number of primary schools introducing hijab as part of their uniform dress code for girls.
"This was a matter of concern to the group given that, traditionally, the hijab is not worn until girls reach puberty, as a mark of modesty as they become young women," the spokesperson has said.
Further explaining the decision to engage Muslim campaigners, the Ofsted spokesman has said, "we intend to hold further discussions with our inspector workforce and with groups such as the Association of Muslim Schools, school leaders and individual MPs as we develop our guidance for inspectors on this sensitive matter in a considered way."
The meeting between Ofsted and the Muslim women campaigners came in the aftermath of Spielman's announcement in November that U.K school inspectors had been instructed to investigate Muslim primary school girls – some as young as four-years-old – about their decision to wear the hijab. She explained that she had made the decision to prevent 'an environment where primary school children are expected to wear the hijab. This could be interpreted as sexualisation of young girls'.
The decision had sparked condemnation from faith leaders, academics and over a thousand school teachers who termed it 'a kneejerk, discriminatory and institutionally racist response'.
An open letter signed by 1,136 faith leaders, teachers and academics in response to Ofsted's decision had warned that the decision will 'violate civil liberties and create a climate of fear and mistrust in schools, and must be retracted immediately'.
The letter called on Ofsted to provide evidence of research to substantiate its claims. "Ofsted has provided no evidence that some children wearing the hijab creates an environment where 'school children are expected to wear the hijab', or that this 'could be interpreted as the sexualisation of young girls," it said.
Further, the Ofsted decision heightened concerns in the Muslim community that the U.K schools watchdog was discriminating on the basis of race, religion, and gender. "While a wider conversation about the sexualisation of girls in Britain's culture and economy is welcome, the singling out of Muslim children for investigation is unacceptable."
Spellman's, surprise announcement in November had been preceded by a meeting with campaigners against the hijab. In September, these campaigners sent an open letter to The Sunday Times, a U.K newspaper, seeking protection of Britain's 'hard-won freedoms'. The campaigners labelled the rise of the hijab among the children as an 'affront' to the historical fight for gender equality and called for its ban.
Following the 2014 'Trojan Horse' incident in Birmingham, the Ofsted's decision on hijab – the recommendation to inspectors, rather than an update to the inspectorate's official handbook – has been seen by many in the British Muslim community as just the latest in a series of discriminatory restrictions towards Muslim schools by the watchdog. The Trojan Horse incident had stoked fears amongst the British public about Islamist influence in state schools. Although the claims were later debunked, the damage remained.
Meanwhile, Muslim parents of children at Clifton school in Birmingham where girls as young as four- or five-years-old wear the hijab had mixed reactions to the Ofsted's recommendations.
Elham Kassim, mother of a six-year-old, welcomed the decision. "Our daughter is too young to wear the hijab, but she wants to wear it because her friends do," she said. She expressed her dismay with parents who encourage young girls to wear the hijab. "It makes young girls aware of their sexuality, robs their innocence, makes them aware of adult issues," she said. However, Mr Hussain whose five-year-old daughter wears a hijab said, "the hijab is part of our Muslim identity and this decision shows again how they [Ofsted] discriminate against Muslims."
His views were also echoed by the Muslim Council of Britain secretary-general Harun Khan in his public response to Ofsted's move. "It is deeply worrying that Ofsted has announced it will be specifically targeting and quizzing young Muslim girls who choose to wear the headscarf.
"It sends a clear message to all British women who adopt this that they are second-class citizens, that while they are free to wear the headscarf, the establishment would prefer that they do not," he said.
"Many British Muslims who choose to wear the headscarf have done extremely well in education and are breaking glass ceilings."
https://dailytimes.com.pk/158399/uk-hijab-outcry-leads-consultations-schools-watchdog-muslim-campaigners/
--------
MPAs demand CNICs for 0.6m Balochistan women
December 13, 2017
QUETTA - Balochistan lawmakers yesterday expressed deep concern over non-issuance of computerised national ID cards to 600,000 women of the province and feared they would be deprived of their right to vote in the forthcoming general elections.
The legislators flayed the National Database & Registration Authority (Nadra) for its failure to take concrete efforts for facilitating women to acquire national ID cards.
The assembly session began one hour and 20 minutes late with Speaker Raheela Hamid Khan Durrani in the chair.
A joint resolution was moved in the house by the lawmakers of Pashtoonkhwa Milli Awami Party (PkMAP) Ubaidullah Jan Babat, Nasrullah Zeray, Spozmai Achakzai, Arifa Siddique and Masooma Ayat regarding issuance of national ID cards to the women of the province.
"As many as 0.6 million women of Balochistan amongst 12.7 million women across the country are not enlisted in the voters' lists mainly because they have no registration with Nadra," the lawmakers quoted figures of a new report of the Election Commission of Pakistan (ECP) in the house.
They said 100,000 women belonging to Quetta only would be unable to utilise their right to vote in the upcoming elections because they didn't have national identity cards. The legislators also seemed disappointed over inaction on part of the interior in this regard.
Dr Hamid Khan Achakzai said there was a dire need of filling 180 more vacant posts in Balochistan which the former and sitting interior minister had promised, but no action had been taken to materialize their promises.
"There are only 21 mobile vans for 34 districts in Balochistan , which are given to one district for 15 days," he noted, adding this was not enough to meet the demand .
Health Minister Mir Rehmat Saleh Baloch, backing the resolution, said there were 11 districts in the province where a large number of women did not have national identity cards owing to uncertainty and chaos, urging Nadra to take immediate efforts to resolve the issue. JUI-F member Shida Rauf said keeping women away from electoral process was injustice.
The lawmakers urged the provincial government to contact the federal government for issuance of computerised identity cards to women in the province to enable them to use their right to vote.
Other legislators also spoke on the occasion and backed the resolution. The speaker presented the motion as a joint resolution of the house before the session, which was unanimously approved by the lawmakers.
The Balochistan lawmakers tabled a joint resolution in the session, seeking launch of service of Pashto language in Quetta-based Associated Press of Pakistan (APP) and regularisation of contract employees in the official agency.
The joint resolution was tabled by Pashtoonkhwa Milli Awami Party (PkMAP) members, Abdul Rahim Ziaratwal, Ubaidullah Jan Babat, Nasrullah Zeray, Spozmai Achakzai, Arifa Siddique and Masooma Ayat.
Speaking on the occasion, Arifa Siddique said that in view of the increasing CPEC western route significance, the information ministry's national news agency, APP, was providing news, videos and pictures to its Quetta-based bureau to highlight significance of the China-Pakistan Economic Corridor.
In this pretext, she said services in all indigenous languages of Balochi, Bravi and Parsi except Pashto had been launched in the province, while all contract employees in the APP Islamabad-based bureau had been regularised, but contract employees of Quetta couldn't be regularised.
The lawmaker urged the provincial government to contact the centre with the request to launch service in Pashto language and regularize all contract employees to remove the prevailing uncertainty and anxiety amongst them.
Throwing light on the significance of the resolution, PkMAP lawmaker Nasrullah Zeray said the official news agency of APP had only one office with 1,100 employees whose budget was Rs 750 million.
He regretted four employees had been appointed against Balochistan quota with fake domiciles. Chief Minister Nawab Sanaullah Zehri said he would order an investigation into the matter. Later, the house unanimously approved the resolution.
http://nation.com.pk/13-Dec-2017/mpas-demand-cnics-for-0-6m-balochistan-women
--------
URL: https://www.newageislam.com/islam-women-feminism/cinema-ksa-help-women-tell/d/113555
New Age Islam, Islam Online, Islamic Website, African Muslim News, Arab World News, South Asia News, Indian Muslim News, World Muslim News, Women in Islam, Islamic Feminism, Arab Women, Women In Arab, Islamophobia in America, Muslim Women in West, Islam Women and Feminism