New Age Islam News Bureau
25 Oct 2016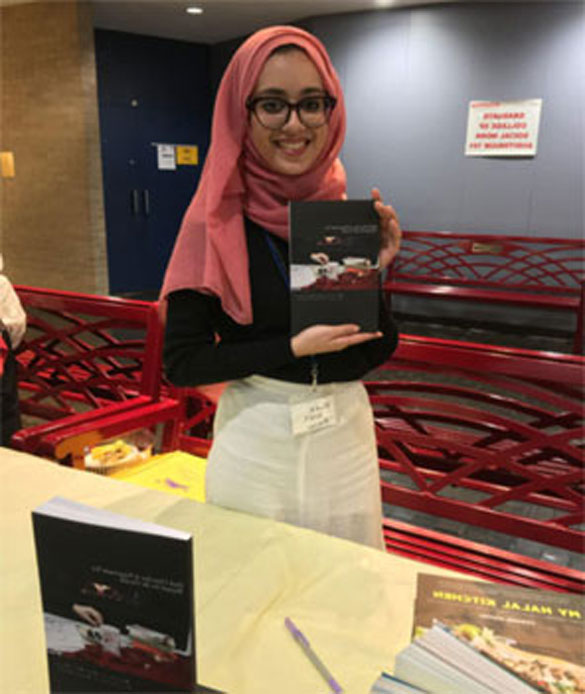 UH-Sugar Land education senior Huda Bint Adnan was one of the many authors at the second annual event that celebrates Muslim women's commitment to writing and changing perception. | Rafa Farihah/The Cougar
------------
• Women India Movement Launches Drive For Triple Talaq
• 'Rate of Divorce among Muslims Less Than Other Religions'
• Pakistan Senate Panel Passes Bill on Women's voting
• Second Muslim Women's Literary Conference Inspires Creative Pursuits
• Westpac Unveils First Official Hijab, Designed By Carla Zampatti
Compiled by New Age Islam News Bureau
URL: https://www.newageislam.com/islam,-women-and-feminism/new-age-islam-news-bureau/christian-girls-who-escaped-islamic-state-say-virgin-mary-saved-them/d/108917
----
Christian Girls Who Escaped Islamic State Say Virgin Mary Saved Them
OCTOBER 25, 2016
Seven young women in Kirkuk credit the Virgin Mary for their safety after spending a harrowing eight hours hidden underneath beds while Islamic State group fighters used their room as a hideout during an assault on the city.
"The Virgin Mary was with them," Fr. Roni Momika told CNA Oct. 23.
The priest, who ministers in refugee camps of Ankawa, Erbil in northern Iraq, was in cell phone contact with two of the girls while they hid under the beds. They gave him a play-by-play account of what was happening.
Seven women, university students in Kirkuk, found themselves threatened by the Islamic State group's assault on the city Friday, Oct. 21.
"ISIS entered the house of our students, the girls," the priest reported.
When they heard the militants coming, the women quickly darted under four beds in one of the rooms, where they remained undiscovered for eight hours as ISIS fighters used the room as a refuge to eat, pray and hide from Iraqi Army forces.
"I was speaking with them all the time," Fr. Momika said, noting how there was "a strong girl" who told him "Father, I will continue speaking with you and tell you all our news and what ISIS is saying."
For the duration of their time there, the militants not only ate and prayed, but used the beds to care for two of their fighters who were wounded.
"On one bed there is a lot of blood," the priest said.
He shared with CNA some photos taken of the room after the soldiers left. He explained that "when ISIS was attacked by our army (the Iraqi Army) there were two people from ISIS injured, and ISIS put them here on these beds…and under the beds were the girls."
Fr. Momika said he was in constant contact with the girls, telling them not to forget their faith, and to "pray to the Virgin Mary, she will come to help you."
In what both the priest and the girls view as a miracle, "ISIS didn't see them," Fr. Momika said. One of the girls told him later that "when ISIS entered our room, they didn't see us (and) we feel that the Virgin Mary closed their eyes from seeing us."
The attack on Kirkuk took place amid a wider offensive on the part of the Iraqi and Kurdish armies to retake the city of Mosul, which was taken by Islamic State group forces in 2014 and declared a caliphate.
On Oct. 17 Iraqi Prime Minister Haider al-Abadi announced the ground offensive to retake Mosul from the clutches of Islamic State, which has been months in the making.
In addition to the Kurdish Peshmerga forces, U.S. troops, British and French Special Forces, and a number of Turkish soldiers are supporting the Iraqi army in the battle, which was initially expected to take between several weeks to several months to complete. However, the process has been going quicker than expected.
Mosul is the last major stronghold the Islamic State has in Iraq. They have been steadily retreating since the end of last year in battles against Iraqi and Peshmerga forces, as well as airstrikes from the U.S-led coalition.
The attack on Kirkuk left some 80 people, mostly security forces, dead. It was largely seen as an attempt to distract Iraqi and Kurdish forces from the Mosul offensive.
According to the U.K. newspaper The Guardian, at least 30 members of ISIS were still holed up in different parts of Kirkuk. However, the assault was officially declared over as of Saturday morning.
Fr. Momika explained that the seven girls were among more than 100 refugees taking university classes in Kirkuk after being driven out of their hometowns by the Islamic State group in 2014.
Many of the girls come from Mosul and other cities nearby such as Bartella, Alqosh and Telskuf, he said. All of them had studied at the University of Mosul before the invasion.
Although their families are living inside the refugee camps in Erbil, the girls, in addition to a number of boys, wanted to continue their studies, but were unable to attend university classes in Erbil.
They then enrolled at the University of Kirkuk. Since traveling back and forth everyday was dangerous, they stayed in houses the Church had been renting in the city, returning to Erbil on the weekends.
Fr. Momika said he is happy that all of the students escaped unharmed. Two of his fellow priests, Fr. George Jahola and another named Fr. Petros, who was ordained with him Aug. 5, traveled to Kirkuk Saturday to pick the girls up and bring them back to Erbil.
He also spoke about the liberation of his hometown, Qaraqosh. The town was formerly regarded as the Christian capital of Iraq before the invasion in 2014 forced 120,000 people to evacuate in one night. Most of its residents are now living in refugee camps in Erbil.
On Saturday Iraqi and Kurdish forces entered Qaraqosh, which sits about 20 miles from Mosul. Although the town is said to be largely empty, Islamic State group militants have destroyed much of the city. They left landmines strewn along the road to Mosul.
Fr. Momika said that Iraqi soldiers have raised the Iraqi flag in Qaraqosh, replacing that of the Islamic State.
"Qaraqosh is liberated," he said. He cautioned that there are still dangers, like Islamic State group fighters who are hiding throughout the city still.
He passed on a report that Islamic State fighters "made a big, deep hole" in the ground, climbed into it and "bombed themselves" as the Iraqi and Kurdish armies advanced.
The priest, who was still a seminarian when he himself forced to flee the city, said he finds it hard to talk about what happened to Qaraqosh, "because we saw some photos, and they made us feel sad."
"There are a lot of places destroyed, and ISIS burned our church and ISIS broke all our crosses that were above the churches," he said. A very important church in the region had been destroyed.
"It's difficult for us because it's our history. It's a big church in the Middle East, in Qaraqosh," he said, explaining that the sight is similar for the neighboring town of Bartella. That Christian village was recently liberated by the Iraqi Army.
"Yesterday the priests, they entered the church in Bartella and they saw everything was dark, because ISIS burned everything," he said.
He voiced hope that there would be no sight of Islamic State militants in Qaraqosh as the city is secured over the next few days. He had a request: "pray for us."
http://www.eurasiareview.com/25102016-christian-girls-who-escaped-islamic-state-say-virgin-mary-saved-them/
--
Women India Movement Launches Drive For Triple Talaq
Oct 25, 2016
JAIPUR: On a day when Prime Minister Narendra Modi strongly asserted that he can't allow lives of Muslim women to be ruined by triple Talaq, a body of Muslim women in Rajasthan launched a state-wide campaign for the validity of triple Talaq. Modi's strong statement came in the Parivatran rally in the poll bound Mahoba district in Uttar Pradesh.
The body, Women India Movement (WIM), asked all Muslims to use all democratic tools to stand against the Central government affidavit in the Supreme Court for ending Triple Talaqpractice based on Sharia. The body has issued a form and asked its volunteers to visit door-to-door seeking opinion of women on the Centre's stand.
The body termed the Central government move `misleading' and interference in the religious law of Muslims.Addressing the press conference, Maharunnisa Khan, state president of WIM, said, "The holy Quran clearly states that divorce is a sin and allowed triple Talaqin those circumstances when arbitration and amicable solution between the couple is not possible," said Khan.
Quoting Census report on religion wise divorce, separation and widowed, Khan said that figures may say that in In dia or in Rajasthan Muslims are leading in divorces but are far behind in separation rate."Muslims are being attacked for having highest divorce rate but why do they forget that when it comes to separated couples, the community is far behind. I ask which condition is better for a women - divorcee or separated?," said Khan.
She also called on other communities to support Muslim community in their struggle for practising their religious rights. Khan viewed that Muslims have full right to question Centre's move as they have not taken All India Muslim Personal Law Board (AIMPLB) into account. National president of WIM, Yasmeen Faraqui has clearly stated that they will be reaching out to Muslim women in districts to accelerate this movement.
http://timesofindia.indiatimes.com/city/jaipur/Muslim-womens-body-launches-drive-for-triple-Talaq/articleshow/55042026.cms
--
'Rate of divorce among Muslims less than other religions'
25th October 2016
LUCKNOW: Opposing any reform in the Muslim personal law, a group of women today said the ratio of divorce among Muslims vis-à-vis its population is less than any other religious community.
Speaking during a conference organised by Darul Uloom Farangi Mahal, they also backed the stand taken by All India Muslim Personal Law Board (AIMPLB) in this regard. "Some women are trying to suggest through media that all Muslim women want changes in personal laws but it is not so. Majority of women in the community don't want any reform in the laws," Gazala Afroz, principal of Convent School, Gonda, said. According to a statement, another teacher Asia Bano, said, "The rate of divorce among Muslims is also on the lower side as per the 2011 census.
So, it is obvious that they (government) are trying to attack personal laws (by) stoking a non-issue." The women also urged community members to raise a voice against the Centre's affidavit which said the practice of triple Talaq, 'nikah halala' and polygamy among Muslims needed a relook on grounds like gender equality and secularism.
http://www.newindianexpress.com/nation/2016/oct/25/rate-of-divorce-among-muslims-less-than-other-religions-1531445.html
--
Pakistan Senate Panel Passes Bill on Women's Voting
25th October 2016
ISLAMABAD: A Senate committee has passed a bill that on becoming law will require re-election in a constituency where women voters' turnout remains less than 10 per cent.
The Representation of the People (Amendment) Bill 2016, seeking an amendment to the Representation of the People Act (ROPA) 1976, had been introduced in the upper house by Sherry Rehman of the Pakistan Peoples Party (PPP). It was passed by the Senate's Standing Committee on Parliamentary Affairs which met here on Monday with Senator Saeed Ghani in the chair.
An important amendment to Section 42 of the ROPA 1976 says: "In any constituency in which less than 10 per cent registered female voters have voted in the election, the Election Commission of Pakistan (ECP) shall declare election of such constituency void in accordance with sub-section (1), and order re-polling within thirty days of the declaration of the decision of the Commission."
A new sub-section, 5A, suggested in Section 39 states: "All the ballot papers shall also be shown disaggregated by gender in the consolidated statement."
The bill suggests insertion of a sub-section (7) in Section 78 of the ROPA which defines "corrupt practice" during an election. The sub-section reads: "A person is guilty of corrupt practices if he has knowledge of; been privy to; or has personally or through any representative, made an agreement, understanding or promise of any kind, written or unwritten, by which women voters are to be or have been restrained or hindered in casting their votes in any manner whatsoever which may include any type of threat, coercion, force, intimidation or duress."
The proposed law provides the right of appeal to a person aggrieved by the ECP decision to order re-polling in a constituency on the basis of the proposed law.
"If the commission declares election in a constituency void, any person aggrieved by a decision of the ECP, within fifteen days of the announcement of the decision, may appeal to the Supreme Court for a final decision and the Supreme Court shall give a final decision within fifteen days of the submission of the appeal."
The statement of objectives and reasons attached to the bill says: "There have been numerous reports during every election in recent years whereby women voters have been restrained from voting in the election as a result of an agreement or understanding between different persons which have included politicians, persons representing political parties, the clergy and leaders of the community.
"This process of systemically disqualifying women is a clear violation of their fundamental rights and amounts to an outright discrimination and negation of rights guaranteed under Article 25 of the Constitution. This bill seeks to address such barriers."
Moreover, it says, "the bill seeks to make available gender disaggregated data, not only an effective, transparent and clear method of documentation, but also a tool to identify gender breakdown of voting structures and to identify and understand the number of women voting, the issues they face, how to eliminate them."
http://www.dawn.com/news/1292112/senate-panel-passes-bill-on-womens-voting
--
Second Muslim Women's Literary Conference Inspires Creative Pursuits
October 24, 2016
Their bodies may be completely covered, but their minds are as liberated as can be.
On Saturday, the Islamic Society of Greater Houston (ISGH) and Daybreak Press Publishing, of the nonprofit Rabata, held the second annual Muslim Women's Literary Conference at UH in the Graduate College of Social Work auditorium. The seven-hour event was packed with performances and speeches from renowned Muslim poets, pioneering authors, educators and spoken-word artists.
This year's theme was "Once Upon a Faithful Heart: The Power of Pen & Paper." The panel of speakers presented topics ranging from combating the stereotyping of Muslim women in academic literature to women writers taking back their own narrative.
Many attendees traveled across the nation, some across the world, to attend the conference.
Last year's conference was held at the George Memorial Library. Afshan Malik, Daybreak Press project manager and volunteer for Sisters Committee of ISGH, said that this year the board decided UH was the perfect venue to evoke an empowering and academic vibe no local library can compare with.
"We wanted to embrace people of different backgrounds, and this year our panel had a large number of converts," Malik said. "Houston appreciated that because of its ethnically diverse demographic."
Umm Juwayriyah, a children's book author, flew in from Kuwait to speak at this conference. She discussed the importance of reading to children every night, even if it is just a small paragraph.
The event commenced at 10:30 a.m. with an introduction from the organizers, followed by readings from each member. With an audience of approximately 100 members, there were constant lines of fans waiting to get their books signed by the authors during the lunch break.
Huda Bint Adnan, an education senior at UH-Sugar Land, independently published a collection of poems called "Dark Chocolate & Peppermint Tea: Warmth for the Fireside."
She performed two poems of great emotional importance to her. Her mother was an inspiration for one of them.
"I became a late reader," Adnan said. "I started experimenting with poetry in elementary school, and let me tell you, when you rhyme 'cool' with 'school,' and that's the only two rhymes you know, it is really bad poetry. I wish I had explored poetry a little more because it would have given me a larger exposure with that type of writing."
Malik said that Daybreak Press represents social justice and a powerful movement on how Muslim women are perceived. A commonly used phrase among the organization's representatives are "Muslim women taking back their narratives."
Some of the audience members, Malik said, were truly inspired.
"I think it was interesting to have Muslim women come together and have a conference in a casual setting because you usually don't see that," Psychology and sociology junior Tasnim Choudhury said. "I love what Anse Tamara said about the representation of women because it is pretty much non-existent."
Malik mentioned she will definitely invite more women exhibiting a diverse background and add more Muslim journalists to the panel next year.
http://thedailycougar.com/2016/10/24/2nd-muslim-womens-literary-conference/
--
Westpac Unveils First Official Hijab, Designed By Carla Zampatti
October 25, 2016
"Multiculturalism is everywhere in my design room and in my retail spaces," she told Fairfax Media. "I have Chinese, Vietnamese, Australian, Brazilian and Argentinian artisans - that is my team. Each culture brings an element of ideas which you would never experience if you didn't look outside what you know. It's a very important element for me."
"Multiculturalism is very important. It's what a country is. That's why we do it better than any other country and respecting that is very, very important," Zampatti said.
While she is renowned for her show-stopping gowns and statement suits, a hijab is another feather in her creative cap.
The designer was recruited by Westpac to design the bank's new official uniform, which will include everything from socks, puffer vests for agribusiness bankers and a head covering for Muslim employees.
The collection, that will be worn by 8000 staff across 680 branches from April 2017, was unveiled with a catwalk show in Sydney on Tuesday.
The range took Zampatti more than a year to create after months of research was conducted by the bank.
Ainslie van Onselen, director of women's markets, inclusion and diversity, spearheaded focus groups with employees and said the hijab was a popular request after 18 months of discussion and product testing.
"[Our Muslim staff] told us that having an official hijab would help them fit in. Otherwise they were going to have to source their own and the whole point of inclusion is making people feel like they belong and making them feel valued," she said.
"It's going to be very easy to get dressed in the morning. It's so beautiful, I feel great," Manija Akbari, a bank officer who has been an employee for five years, said after she walked the catwalk debuting the hijab.
The move follows other Australian businesses like Optus and the Commonwealth Bank which also incorporate hijabs – the traditional covering for the hair and neck worn by Muslim women – in staff uniforms.
It has been available to women in the Victorian police force since 2004.
http://www.smh.com.au/lifestyle/fashion/westpac-unveils-first-official-hijab-designed-by-carla-zampatti-20161025-gsaasg.html
--
URL: https://www.newageislam.com/islam,-women-and-feminism/new-age-islam-news-bureau/christian-girls-who-escaped-islamic-state-say-virgin-mary-saved-them/d/108917
New Age Islam, Islam Online, Islamic Website, African Muslim News, Arab World News, South Asia News, Indian Muslim News, World Muslim News, Women in Islam, Islamic Feminism, Arab Women, Women In Arab, Islamophobia in America, Muslim Women in West, Islam Women and Feminism