New Age Islam News Bureau
01 March 2021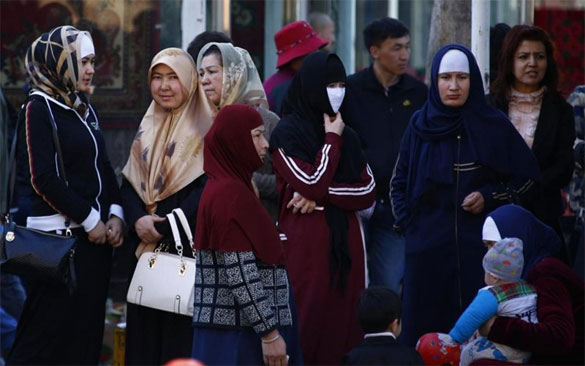 China has been accused of torture, forced labour, sterilisation and systematic sexual abuse of Muslim Uighurs. (Reuters pic)
-----------
• 'Protecting dignity': Iran's push to fight violence against women
• 'Restore FGM' for Egyptian women: Reconstructing the body and soul
• Canada: Muslim women offered self defence classes in wake of attacks in Edmonton
• UAE is best in region for women economic empowerment
• Ahmadiyya Muslim Community Switches to Virtual Event to Celebrate International Women's Day
• In oil-rich Iraq, a few women buck norms, take rig site jobs
• Beach volleyball stars boycott Qatar tournament over bikini ban
Compiled by New Age Islam News Bureau
URL: https://www.newageislam.com/islam-women-feminism/china-counters-female-muslim-uighur/d/124425
--------
China counters female Uighur critics by calling them 'loose' women
March 1, 2021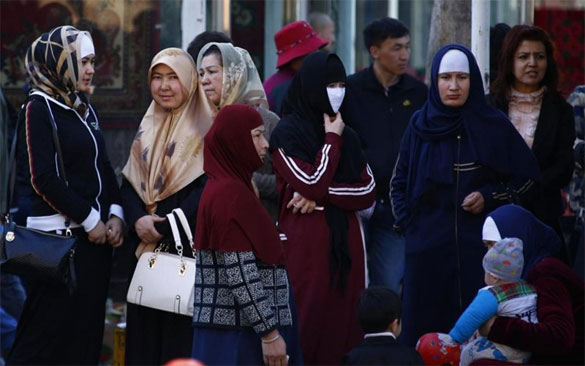 China has been accused of torture, forced labour, sterilisation and systematic sexual abuse of Muslim Uighurs. (Reuters pic)
---------
BEIJING: China, under growing global pressure over its treatment of a Muslim minority in its far west, is mounting an unprecedented and aggressive campaign to push back, including explicit attacks on women who have made claims of abuse.
As allegations of human rights violations in Xinjiang mount, with a growing number of Western lawmakers accusing China of genocide, Beijing is focussing on discrediting the female Uighur witnesses behind recent reports of abuse.
Chinese officials have named women, disclosed what they say is private medical data and information on the women's fertility, and accused some of having affairs and one of having a sexually transmitted disease. The officials said the information was evidence of bad character, invalidating the women's accounts of abuse in Xinjiang.
"To rebuke some media's disgusting acts, we have taken a series of measures," XuGuixiang, the deputy head of Xinjiang's publicity department, told a December news conference that was part of China's pushback campaign. It includes hours-long briefings, with footage of Xinjiang residents and family members reading monologues.
A Reuters review of dozens of hours of presentations from recent months and hundreds of pages of literature, as well as interviews with experts, shows a meticulous and wide-reaching campaign that hints at China's fears that it is losing control of the Xinjiang narrative.
"One reason that the Communist Party is so concerned about these testimonies from women is because it undermines their initial premise for what they're doing there, which is anti-terrorism", said James Millward, a professor of Chinese history at Georgetown University and expert in Xinjiang policy.
"The fact that there are so many women in the camps … who don't have the faintest appearance of being violent people, this just shows how this has nothing to do with terrorism."
Uighurs make up most of the 1 million people that a UN estimate says have been detained in Xinjiang camps under what the central government calls a campaign against terrorism. Accusations by activists and some Western politicians include torture, forced labour and sterilisations.
In rare US bipartisan agreement, the top diplomats of the former administration of Donald Trump and the new one of Joe Biden have called China's treatment of the Uighurs genocide, a stance adopted last week by the Canadian and Dutch parliaments.
China faces sanctions such as a ban on US purchases of Xinjiang cotton and tomatoes, and calls by some Western lawmakers to boycott the 2022 Beijing Winter Olympics.
The Ministry of Foreign Affairs did not immediately respond to a request for comment on Monday. The government denies accusations of abuse at the "vocational training centres" in the remote western region, and says claims of systematic sexual abuse are unfounded.
Beijing has rejected calls for an independent UN investigation into Xinjiang's internment programme.
Journalists and diplomats have not been permitted access to the camps outside of tightly controlled government tours. Uighurs in Xinjiang have told Reuters they fear reprisals for speaking to the press while in China
Lies and slander
China's tightly controlled, invitation-only media events on Xinjiang require journalists to submit questions days or weeks in advance. They include pre-recorded videos and prepared testimony by former camp inmates and religious figures.
Beijing has packaged content from the events in two volumes titled, "The Truth About Xinjiang: Exposing the US-Led Lies and Slanders About Xinjiang".
In January, the Twitter account of China's US embassy was suspended for a tweet that said Uighur women had been "baby-making machines" before Beijing instituted its system of camps.
"The biological, the reproductive, the gendered aspect of this is particularly horrifying to the world," said Georgetown's Millward. China "seems to have recognised that… You now see them trying in this clumsy way to respond".
During a regular daily press briefing last week, foreign ministry spokesman Wang Wenbin held up images of witnesses who had described sexual abuse in Xinjiang. The account of one of them, he said, was "lies and rumours" because she had not recounted the experience in previous interviews. He gave medical details about the woman's fertility.
Xinjiang officials in January said a woman who had spoken to foreign media had syphilis, and they showed images of medical records — unsolicited information that was not directly related to her account.
A Xinjiang government official said of another witness last month: "Everyone knows about her inferior character. She's lazy and likes comfort, her private life is chaotic, her neighbours say that she committed adultery while in China."
Last week, the top spokeswoman for China's foreign ministry, Hua Chunying, tweeted images of four named witnesses, saying they had "raked their brains for lies", adding "they will never succeed".
China has declined to provide data on the number of people in the camps. Beijing initially denied the camps existed but now says they are vocational and education centres and that all the people have "graduated".
https://www.freemalaysiatoday.com/category/world/2021/03/01/china-counters-female-uighur-critics-by-calling-them-loose-women/
--------
'Protecting dignity': Iran's push to fight violence against women
By MaziarMotamedi
28 Feb 2021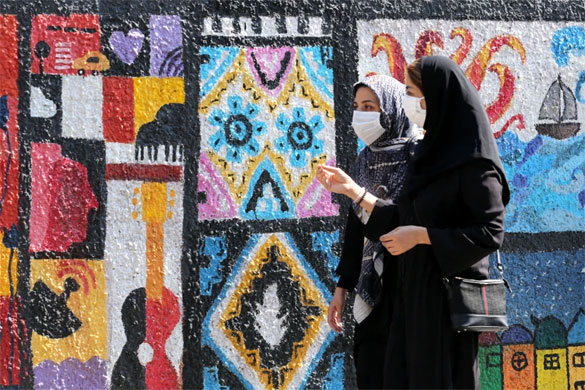 The draft legislation was approved by the government in early January [File: Atta Kenare/AFP]
-------------
Tehran, Iran – After almost a decade in the making, Iran may finally be on track to pass legislation that, while far from perfect, would signal progress in addressing a wide range of issues relating to violence against women.
A draft bill called Protection, Dignity, and Security of Women Against Violence, which has been in the works since the administration of former President Mahmoud Ahmadinejad, was approved by the government in early January.
While the administration of President Hassan Rouhani hopes to turn the bill into law before he finishes his second tenure in June, the bill must first clear the parliament and the constitutional vetting body called the Guardian Council, which consists of jurists and religious experts.
Parliament, which has been at odds with the government over Iran's nuclear deal with world powers and the annual budget bill among other things, has yet to begin work on the legislation.
The bill finalised by the government is the result of years of work by different factions of the administration in addition to dozens of legal experts, judges and executives at the judiciary.
The judiciary, under the new leadership of former presidential candidate EbrahimRaisi since early 2019, finished its lengthy review in September 2019.
The most senior woman in Rouhani's outgoing government told Al Jazeera that the bill's background makes it significant.
"In addition to being strong legally, this bill has a rare strength and formidability because it has been devised, reviewed and pursued through the indirect participation of the two reigning political thoughts of reformism and principlism [conservatism] across three governments," said MasoumehEbtekar, Vice President for Women and Family Affairs.
"Not only did the judiciary not oppose its principles, but had an effective cooperation with the government in expert review and follow-up sessions."
However, the bill may face opposition at the conservative parliament, and the powerful Guardian Council, which about two decades ago rejected a bill to join the United Nations Convention on Elimination of All Forms of Discrimination Against Women.
That bill has been in a legislative deadlock ever since as Iran remains one of only four countries in the world not to have ratified the convention.
"Before waiting for and expecting the bill to be passed during the tenure of the current government, the issue of whether it will be passed by the parliament and approved by the Guardian Council is considered a major concern," Ebtekar said in reference to the women's bill she spearheaded.
"The parliament can make changes in the bill as per the law. But there's hope that considering the amount of expert reviews conducted by both the executive and judicial branches, because the bill was originally devised by a principalist government, and because of demands in the society, changes in the bill would either not take place or be kept at a minimum."
What's in the bill?
The bill's dozens of articles and provisions offer up a new definition for violence against women, set up new responsibilities for various state-run agencies, and envision new support systems.
The legislation defines violence as "any behaviour inflicted on women due to sexuality, vulnerable position or type of relationship, and inflicts harm to their body, psyche, personality and dignity, or restricts or deprives them of legal rights and freedoms".
It envisages the formation of a fund by the judiciary to support victims of violence, provide teachings on "life and job skills" to imprisoned women, and contribute to paying blood money to families of women murdered by men.
The draft law says the judiciary can issue a protection order in case of a serious threat of harm to a survivor of violence or her children, which can include a restraining order, obliging the husband to attend therapy, or transfer the victim and her children to a safe house.
It also contains provisions aimed at boosting job creation for vulnerable women, and reducing or managing working hours for employed women who need to spend more family time. It further advocates more comprehensive insurance coverage for housewives.
The bill dedicates a significant portion of its provisions to education and expanding knowledge and know-how on women's issues.
For instance, in addition to obligating the judiciary to create offices tasked with providing support to victims of violence, it calls for organising educational courses for judges and other judiciary staff.
If passed into law, it will obligate the state broadcaster to produce more programmes that promote the support of women and the prevention of violence against them as family values.
It sees a role for the ministry of education in holding courses for students, teachers and parents, and in better identifying vulnerable students.
The legislation also includes the ministry of health, law enforcement and prison organisations among others as part of its vision.
What's missing?
In a thorough analysis of the bill in December, Human Rights Watch (HRW) said the legislation has a several strong points including coordination of efforts inside and outside the government.
However, the New York-based organisation said "the bill falls short of international standards," including those stipulated in the United Nations Women's Handbook for Legislation on Violence Against Women.
For one, the HRW said, the bill does not specifically define domestic violence even though it includes measures that could help better protect women subjected to it.
Moreover, while the legislation criminalises various forms of violence against women including forced marriage, sexual harassment in public and physical and psychological abuse, it does not criminalise marital rape and virginity testing, or abolish child marriage.
The mandatory punishment for rape remains the death penalty, which is one of the factors that could deter survivors from reporting rape.
The most recent reflection of this dilemma came in September 2020 after countless Iranian women took to social media to report sexual traumas, launching their own version of the #MeToo movement.
At least one man was arrested and has since been charged with "corruption on Earth" which carries the death penalty. A number of the accusers elected not to formally sue him as they did not wish for him to be executed.
The legislation says in cases of violence where the father or the husband is the accused, authorities should refer the case to a medical council for a month in a reconciliation effort, which the HRW said could reduce accountability for the offender.
Alternative sentences considered for the victim's husband, father, or mother could also be problematic, the organisation said.
Most recently, the gruesome beheading of 14-year-old RominaAshrafi by her father in an "honour" killing in May 2020 directed national attention towards lenient sentences for offenders related to the victims. The father received a sentence of only nine years.
The draft law also does not explicitly exclude prosecution for consensual extramarital affairs that are criminalised under Iran's current criminal code even though relationships outside marriage have seen growing social acceptance in recent years.
It also fails to remedy a number of existing discriminatory laws, including one that asserts women must receive permission from their husband or legal guardian to leave the country.
Earlier this month, the women's national alpine skiing team left Iran for Italy to take part in international competitions without its head coach Samira Zargari, because her husband did not allow her to leave the country.
'Frameworks of Iranian religion and culture'
When asked about the bill's shortcomings in terms of international standards, the vice president for women's affairs said social and cultural diversity in nations means that laws that aim to guide people towards positive behaviour vary across different countries.
But laws that aim to deter individuals from harmful behaviour, Ebtekar said, tend to be more uniform, and are contained in the government's proposed legislation.
"The innovations predicted in this bill have created a smooth path to combat violence proportionate to the necessities and needs of Iranian women and within the frameworks of Iranian religion and culture," she told Al Jazeera.
"This bill pays attention to three important and vital elements in women's issues: the dignity and position of women, their rights, and their security at home and in society. Considering how important these three elements are, if the bill is passed, approaches toward the elements will change and will be reformed. This will be the most important thing for women's issues."
Ebtekar also pointed out that in his report for UN Women's upcoming session of the Commission on the Status of Women, UN Secretary-General Antonio Guterres also pointed to Iran's efforts to support vulnerable women.
'More societal sensitivity'
An Iran researcher at the HRW told Al Jazeera that, like other legislative reforms that have had a positive effect on the situation of human rights in Iran, this bill could also help build consensus among different factions of governance.
"I think this bill with all its shortcoming is still an attempt to recognise the importance of providing adequate legal protection for women in society, and creates opportunities to push the authorities to do more awareness raising, and even for lawyers who work on protecting survivors of violence," Tara Sepehri Far said.
"I think this law is also going to contribute to empowering women to demand better protections, but it does not go far enough to address all the issues."
The HRW researcher noted that like other countries, legislation on women's rights is easily politicised in Iran and has been slow-moving, but a majority of authorities dealing with social issues recognise the need for reform.
"Iranian women and the civil society have been shaping the cultural shift that is probably facilitated by easier access to information through social media," Sepehri Far said.
"You can't deny the fact that there is a lot more societal sensitivity about issues such as femicide and violence against women with media openly discussing them, and this will continue to create pressure on elected officials to take action."
https://www.aljazeera.com/features/2021/2/28/protecting-dignity-irans-push-to-fight-violence-against-women
--------
'Restore FGM' for Egyptian women: Reconstructing the body and soul
Dina Ezzat
1 Mar 2021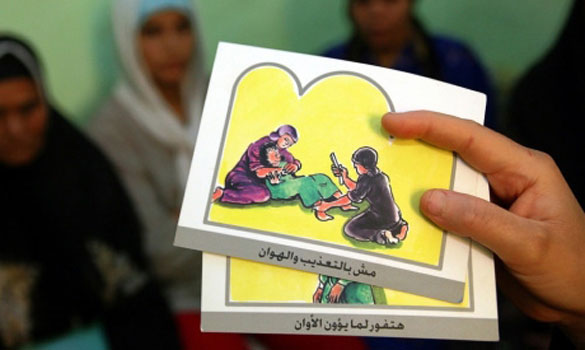 AmrSeifeddin has been a practicing gynaecologist for over 35 years. He works in public hospitals, where he caters for the majority of economically challenged women, and private hospitals that provide medical services to more economically advantaged women. Seifeddin doesn't recall a day in which he didn't come in contact with a Female Genital Mutilation (FGM) survivor.
"It is really widespread, to a devastating point," he said.
While statistics have roughly estimated that close to 90 percent of women in Egypt, between the age of seven and 70, have undergone FGM, Seifeddin, like other gynaecologists, would argue that it is perhaps more.
"We are talking about a range of harm really – sometimes it is much more devastating than others, but in general what one sees often is the cut of a big part, if not all, of the external part of the clitoris," he added.
During the past 10 years, Seifeddin has been providing a medical service that could help some of these women find a way out of the harm that they had to endure – "unfortunately sometimes at the hands of medical doctors who agree to do this operation."
Seifeddin has indeed been one of the first in Egypt to introduce restorative surgeries that allow the unharmed part of the clitoris to regain its function.
"The clitoris is an 8-12cm organ. Only the palpable part is removed during genital cutting, the rest lies within the body. We can remove peri-clitoral adhesions, basically the tissues around the clitoris, and with a delicate surgical technique, make the clitoris more accessible to stimulation and thus able to function, as close as possible, like the uncut clitoris," he explained.
Surgical intervention is one of the options FGM survivors Seifeddin and RihamAwwad are offering at their medical centre Restore FGM, which they co-founded to help FGM survivors overcome the damage they suffer from.
"Overcoming the damage is a process that starts essentially with psychological assistance to help women overcome the trauma they had and to make sure that their perception of their bodies is not undermined," he said. "Then there is a range of therapies that help improve the functions of the sexual organs to allow for women to better enjoy sexuality," he added.
Then, Seifeddin added, there is always the surgical path that helps women with their body functions and with the aesthetics of their bodies "and the latter is very important."
Throughout the past 10 years, Seifeddin and Awwad have helped dozens of women through the medical services of their centre.
According to Seifeddin, the "restorative operation of the clitoris" will be in higher demand once the centre is registered as an NGO. This will help funds to flow to provide the centre's services at at no or very low cost for the majority of women who need the operation but cannot afford the cost, "which varies a great deal depending on the case."
"The government has been encouraging families to abandon this practice which is part of a deeply rooted culture all across East Africa," Seifeddin said.
Since 1995, several legal penalties have been introduced to put a cap on the widespread practice. Only in January this year, the penalties have been relatively toughened against those who pursue FGM and those who practise it.
Still, Seifeddin believes it is a very long way before the numbers could significantly drop. And in any case, he argued, "we are talking about millions of women" today who are into their reproductive age and are suffering the many complications of FGM.
"So, yes, we need tougher laws, more awareness campaigns, and of course the medical services to help those who had to go through this ordeal to find their way out," he said.
At the end, Seifeddin argued, the restoration of the clitoris is part of the wider and growing cosmetic gynaecology that has been finding its way in Egypt during the past 10 to 15 years.
Women who require these medical services are not necessarily victims of FGM. According to Seifeddin, the most non-FGM related cosmetic surgeries are the vaginoplasty and labiaplasy that often attend to the side effects of recurrent childbirth.
http://english.ahram.org.eg/News/404986.aspx
--------
Canada: Muslim women offered self defence classes in wake of attacks in Edmonton
March 1, 2021
AhlulBayt News Agency (ABNA): There's a sense of fear in Edmonton's Muslim community after several attacks on Black, Muslim women in recent weeks.
"It's been a trend where we've seen five in a span of weeks so the community came together and felt that action needed to be taken," said Noor Al-Henedy, the communications and public relations director for Al Rashid Mosque.
"It is really in a way taking a stand and saying we will not tolerate the abuse that our women are going through," she said. "It's not right."
She said they were given permission from Alberta Health but must keep class sizes to a maximum of 25 people and follow other public health guidelines.
Al-Henedy believed the need for such a class was urgent and participants were grateful to learn ways to keep themselves safe.
"I think it's really important that we all get to know the basics so we're not in a situation where we're too afraid or we panic," said one participant who asked not to be identified.
The goal is to replace the fear the women feel with confidence.
"Believing and understanding that you can and you are strong enough," said Aisha Barise, a World Taekwondo Federation 3rd Dan Black Belt and class instructor.
"It really starts before an attack. It starts within yourself. You have to have the right mental state. You have to have the right sort of confidence and as females that really tends to be very difficult," Barise said.
"Any woman, regardless of whether she's a Muslim or not need to be very vigilant and very aware especially if she's walking alone," said Al-Henedy.
"There could be a form of harassment or attack against her unfortunately it's just something women around the world have to go through."
Al-Henedy said Edmonton is home to Canada's oldest mosque which was built in 1938 and doesn't understand why Muslim women are being targeted now.
"We kind of built our city together so to see right now that Muslim sisters are being targeted for hate attacks 80 years after the first mosque was built it raises a lot of questions of where is this coming from? How did we get here? And how can we undo it," said Al-Henedy.
https://en.abna24.com/news//canada-muslim-women-offered-self-defence-classes-in-wake-of-attacks-in-edmonton_1119532.html
--------
UAE is best in region for women economic empowerment
February 24, 2021
The UAE has topped the Middle East and North Africa (Mena) region when it comes to the economic participation of its women, a new report has found.
According to the World Bank's newly released 2021 'Women, Business and the Law' (WBL) report, the UAE has topped the Mena region rankings, as a result of several legislative reforms related to women's economic participation that were enacted over the last three years.
Considered one of the most significant global indexes that analyses laws and regulations affecting women's economic inclusion in 190 economies, the annual report is composed of eight indicators structured around women's interactions with the law as they begin, progress through, and end their careers. The indicators are: Mobility, Workplace, Pay, Marriage, Parenthood, Entrepreneurship, Assets, and Pension.
This year, the UAE achieved 82.5 points out of a total of 100 points, compared to 56 points scored in the report's 2020 edition and 29 points in the 2019 edition. The UAE also achieved a full score (100 points) in five indicators in the latest report: Movement, Workplace, Wages, Entrepreneurship, and Pension.
SheikhaManal bint Mohammed bin Rashid Al Maktoum, President of the UAE Gender Balance Council, said that the massive strides made by the UAE in the latest report are the result of new laws and more than 20 legislative reforms focused on enhancing women's economic participation. She said that these achievements are significant additions to the UAE's scientific, economic and social accomplishments that are set to propel the country's accelerated progress in the next fifty years.
She also stressed that the UAE's successes in promoting gender balance have been driven by the unwavering support of the UAE's leadership, which has been committed to ensure women have equal opportunities to contribute to the nation's sustainable development. Right from the country's foundation in 1971, the leadership granted equal rights to women and worked tirelessly to protect women's freedoms and rights, and to remove all barriers to their advancement. Their vision inspired all stakeholders to work together to raise women's participation in every sphere of life, she noted.
Some of the legislative reforms that are credited with enhancing the UAE's ranking include amendments to the laws regarding discrimination in the workplace, parental leave, access to credit for business, political participation, as well as protection and social security. This year, the UAE became the first and only country in Mena region to offer parental leave. The UAE labour law also prohibits the termination of a woman's contract due to pregnancy. It also prohibits discrimination between employees in the workplace, granting women equal access to employment and promotion opportunities.
The UAE Central Bank has also issued a notice for all banking and financial institutions in the UAE to promote gender equality and prohibit any gender discrimination in all banking and financial transactions, including obtaining loans and credit facilities. In 2019, the UAE government issued a Federal Decree to ensure equality in the representation of both genders in the judiciary sector. In addition, as per a directive of the UAE President, His Highness Sheikh Khalifa bin Zayed Al Nahyan, Emirati women must occupy 50 per cent of the Federal National Council's seats.
https://www.khaleejtimes.com/news/uae-is-best-in-region-for-women-economic-empowerment
--------
Ahmadiyya Muslim Community Switches to Virtual Event to Celebrate International Women's Day
By: Jackie Kozak
March 1, 2021
The Women's Auxiliary of the Ahmadiyya Muslim Community (AMWA) is hosting a free, virtual event for women on Sunday March 7, 'Role of Women in My Faith' starting from 3 to 5 p.m.
Organized by Interfaith Symposium, the event will have a number of guest speakers from different faith groups discussing the role women play in each religion.
Guest speakers will include Rabbi Audrey Kauffman, a registered nurse, representing Judaism, teenager Alexia Seedial, representing Christianity, Dr.NaureenSohail, a physician at Sick Kids Hospital and Vice President of the Women's Auxiliary AhmadiyyaMuslimJammat, representing Ahmadiyya Muslim, and KekaDasgupta, a Public Relations and Marketing professional who is also a TEDx speaker and will be representing Hinduism.
Participants can register online for this inspirational event at: http://nrointerfaithsymposium.eventbrite.com
The Women's Auxiliary of the AMWA is a group of Muslim women who follow and practice the principles of the Islam faith. They are inclusive of all religions and faiths and respect others' spiritual practices. The group consists of women who are mothers, doctors, teachers, social workers, and entrepreneurs, who strive to support one another as well as the community through education and charitable acts. Their motto is "Love for All, Hatred for None".
"An Interfaith Symposium is held every year to encourage dialogue among different faith groups," explains SadafNaseem, Regional Outreach Coordinator of the AMWA Northern Ontario Group. "The purpose is to invite speakers from multiple faiths and backgrounds, listen to their views and involve in peaceful conversation with them. Moreover, it also helps to highlight the true and beautiful teachings of Islam and to remove misconceptions."
Last year, the group was able to 'squeeze in' their in-person, live event before the pandemic, and although this year they must resort to virtual events, event organizers share they are excited to have further reach across the world.
"We're so blessed," expresses NaheedKhokhar who is the group's national social media secretary. "It's allowed us to have these events and unify us across the country. It's bringing people together like we've never imagined."
AMWA has 17 regional chapters and 107 local chapters in Canada with 50 in the Greater Toronto Area. The group is a non-profit, charitable, religious organization that was founded in 1889 and spans over 212 countries with memberships exceeding tens of millions.
"The objective of our community is to share the true and peaceful teachings of Islam. To achieve that, we organize and endorse open houses, interfaith dialogue and exhibitions educate and ultimately foster religious tolerance and understanding," explains Naseem.
https://www.bradfordtoday.ca/local-news/ahmadiyya-muslim-community-switches-to-virtual-event-to-celebrate-international-womens-day-3460053
--------
In oil-rich Iraq, a few women buck norms, take rig site jobs
February 28, 2021
BASRA: It's nearly dawn and ZainabAmjad has been up all night working on an oil rig in southern Iraq. She lowers a sensor into the black depths of a well until sonar waves detect the presence of the crude that fuels her country's economy.
Elsewhere in the oil-rich province of Basra, AyatRawthan is supervising the assembly of large drill pipes. These will bore into the Earth and send crucial data on rock formations to screens sitting a few meters (feet) away that she will decipher.
The women, both 24, are among just a handful who have eschewed the dreary office jobs typically handed to female petroleum engineers in Iraq. Instead, they chose to become trailblazers in the country's oil industry, donning hard hats to take up the grueling work at rig sites.
They are part of a new generation of talented Iraqi women who are testing the limits imposed by their conservative communities. Their determination to find jobs in a historically male-dominated industry is a striking example of the way a burgeoning youth population finds itself increasingly at odds with deeply entrenched and conservative tribal traditions prevalent in Iraq's southern oil heartland.
The hours Amjad and Rawthan spend in the oil fields are long and the weather unforgiving. Often they are asked what — as women — they are doing there.
"They tell me the field environment only men can withstand," said Amjad, who spends six weeks at a time living at the rig site. "If I gave up, I'd prove them right."
Iraq's fortunes, both economic and political, tend to ebb and flow with oil markets. Oil sales make up 90% of state revenues — and the vast majority of the crude comes from the south. A price crash brings about an economic crisis; a boom stuffs state coffers. A healthy economy brings a measure of stability, while instability has often undermined the strength of the oil sector. Decades of wars, civil unrest and invasion have stalled production.
Following low oil prices dragged down by the coronavirus pandemic and international disputes, Iraq is showing signs of recovery, with January exports reaching 2.868 million barrels per day at $53 per barrel, according to Oil Ministry statistics.
To most Iraqis, the industry can be summed up by those figures, but Amjad and Rawthan have a more granular view. Every well presents a set of challenges; some required more pressure to pump, others were laden with poisonous gas. "Every field feels like going to a new country," said Amjad.
Given the industry's outsized importance to the economy, petrochemical programs in the country's engineering schools are reserved for students with the highest marks. Both women were in the top 5% of their graduating class at Basra University in 2018.
In school they became awestruck by drilling. To them it was a new world, with it's own language: "spudding" was to start drilling operations, a "Christmas tree" was the very top of a wellhead, and "dope" just meant grease.
Every work day plunges them deep into the mysterious affairs below the Earth's crust, where they use tools to look at formations of minerals and mud, until the precious oil is found. "Like throwing a rock into water and studying the ripples," explained Rawthan.
To work in the field, Amjad, the daughter of two doctors, knew she had to land a job with an international oil company — and to do that, she would have to stand out. State-run enterprises were a dead end; there, she would be relegated to office work.
"In my free time, on my vacations, days off I was booking trainings, signing up for any program I could," said Amjad.
When China's CPECC came to look for new hires, she was the obvious choice. Later, when Texas-based Schlumberger sought wireline engineers she jumped at the chance. The job requires her to determine how much oil is recoverable from a given well. She passed one difficult exam after another to get to the final interview.
Asked if she was certain she could do the job, she said: "Hire me, watch."
In two months she traded her green hard hat for a shiny white one, signifying her status as supervisor, no longer a trainee — a month quicker than is typical.
Rawthan, too, knew she would have to work extra hard to succeed. Once, when her team had to perform a rare "sidetrack" — drilling another bore next to the original — she stayed awake all night.
"I didn't sleep for 24 hours, I wanted to understand the whole process, all the tools, from beginning to end," she said.
Rawthan also now works for Schlumberger, where she collects data from wells used to determine the drilling path later on. She wants to master drilling, and the company is a global leader in the service.
Relatives, friends and even teachers were discouraging: What about the hard physical work? The scorching Basra heat? Living at the rig site for months at a time? And the desert scorpions that roam the reservoirs at night?
"Many times my professors and peers laughed, 'Sure, we'll see you out there,' telling me I wouldn't be able to make it," said Rawthan. "But this only pushed me harder."
Their parents were supportive, though. Rawthan's mother is a civil engineer and her father, the captain of an oil tanker who often spent months at sea.
"They understand why this is my passion," she said. She hopes to help establish a union to bring like-minded Iraqi female engineers together. For now, none exists.
The work is not without danger. Protests outside oil fields led by angry local tribes and the unemployed can disrupt work and sometimes escalate into violence toward oil workers. Confronted every day by flare stacks that point to Iraq's obvious oil wealth, others decry state corruption, poor service delivery and joblessness.
But the women are willing to take on these hardships. Amjad barely has time to even consider them: It was 11 p.m., and she was needed back at work.
"Drilling never stops," she said.
https://www.arabnews.com/node/1817111/business-economy
--------
Beach volleyball stars boycott Qatar tournament over bikini ban
22 Feb 2021
German beach volleyball stars Karla Borger and Julia Sude have said they will boycott a tournament in Qatar because it is "the only country" where players are forbidden from wearing bikinis on court.
"We are there to do our job, but are being prevented from wearing our work clothes," Borger told radio station Deutschlandfunk on Sunday. "This is really the only country and the only tournament where a government tells us how to do our job – we are criticising that."
Qatar is hosting the upcoming FIVB World Tour event but strict rules about on-court clothing have led the world championships silver medallist Borger and her doubles partner Sude to shun the event.
The event in March is the first time that Doha has hosted a women's beach volleyball event, after seven years hosting a men's competition.
Yet female players have been asked to wear shirts and long trousers rather than the usual bikinis, a rule which the world beach volleyball federation, FIVB, claims is "out of respect for the culture and traditions of the host country".
Borger and Sude told Spiegel magazine during the weekend they "would not go along with" the rules imposed by the Qatari authorities. Borger said that they would normally be happy to "adapt to any country", but that the extreme heat in Doha meant that bikinis were necessary.
Her team mate Sude pointed out that Qatar had previously made exceptions for female track and field athletes competing at the World Athletics Championships in Doha in 2019.
Though not as hot as the scorching summer months, temperatures in the Gulf state can reach as high as 30C (86F) in March.
Speaking to Deutschlandfunk on Sunday, Borger questioned whether Qatar was a suitable host nation.
"We are asking whether it's necessary to hold a tournament there at all," she said.
Qatar has hosted an increasing number of major sporting events in recent decades, though its human rights record, lack of sporting history and brutally hot weather make it a controversial venue.
Heat and humidity were major issues during the road races at last year's World Athletics Championships, while discriminatory labour practices and alleged human rights abuses have been the subject of intense scrutiny ahead of next year's football World Cup.
https://www.theguardian.com/sport/2021/feb/22/qatar-beach-volleyball-bikini-ban-karla-borger-boycott
--------
URL: https://www.newageislam.com/islam-women-feminism/china-counters-female-muslim-uighur/d/124425
New Age Islam, Islam Online, Islamic Website, African Muslim News, Arab World News, South Asia News, Indian Muslim News, World Muslim News, Women in Islam, Islamic Feminism, Arab Women, Women In Arab, Islamophobia in America, Muslim Women in West, Islam Women and Feminism