New Age Islam News Bureau
25 Apr 2017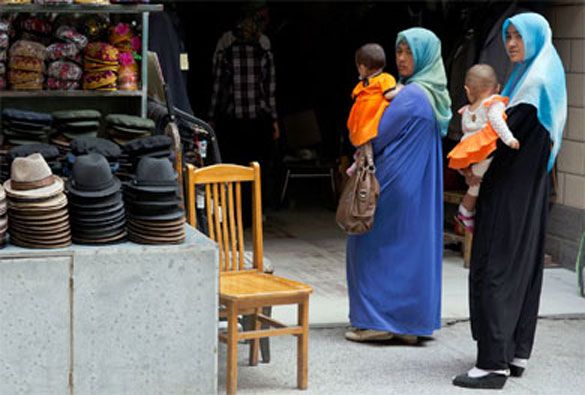 Uighur women in loose, full-length garments and headscarves associated with conservative Islam visit a market in the city of Aksu in western China's Xinjiang province. Photograph: Ng Han Guan/AP
----
• Indonesia's First Female Clerics Congress To Feature International Speakers
• Two Female Suicide Bombers Kill Four In Nigeria
• Muslim Women Feel Comfortable Getting Abortion Service In Nepal
• Women Entrepreneurs Capacity Enhancement Programme Held In Pakistan
• Saudi Arabia Elected To UN Women's Council Despite Gender Inequality In Kingdom
• This Saudi Woman Is Fighting To Improve The Poor's Access To Education
Compiled by New Age Islam News Bureau
URL: https://www.newageislam.com/islam-women-feminism/china-bans-many-muslim-baby/d/110902
--------
China Bans Many Muslim Baby Names in Xinjiang
April 25, 2017
When prospective parents deliberate over baby names – a joyful, private discussion – they tend to make decisions based on hopes for the child, passing on a family name, or some other tradition. Few would ever dream of having to consult a list of banned names – but this is the latest absurd restriction that the Chinese government has imposed on people in Xinjiang region, home to 10 million Muslim Uyghurs.
According to media reports, Xinjiang authorities have recently banned dozens of names with religious connotations common to Muslims around the world, such as Saddam and Medina, on the basis that they could "exaggerate religious fervor." Children with banned names will not be able to obtain a "hukou," or household registration, essential for accessing public school and other social services.
This is just the latest in a slew of new regulations restricting religious freedom in the name of countering "religious extremism." On April 1, Xinjiang authorities imposed new rules prohibiting the wearing of "abnormal" beards or veils in public places, and imposing punishments for refusing to watch state TV or radio programs. These policies are blatant violations of domestic and international protections on the rights to freedom of belief and expression.
Punishments also appear to be increasing for officials in Xinjiang who are deemed to be too lenient. In January, the authorities imposed a "serious warning" on an official for complaining to his wife through a messaging app about government policies. In March, a Uyghur official was reportedly removed from her job for holding her wedding ceremony at home instead of at a government-approved venue. Earlier this month, 97 officials in Hotan prefecture were reprimanded, including one who was demoted for "not daring" to smoke in front of religious figures, which supposedly reflected an inadequately "resolute political stance."
Violent incidents and ethnic tensions in Xinjiang have been on the rise in recent years, but the government's farcically repressive policies and punishments are hardly solutions. Instead, they are only going to deepen resentment among Uyghurs. If the government is serious about bringing stability and harmony to the region as it claims, it should roll back – not double down on – repressive policies.
https://www.hrw.org/news/2017/04/24/china-bans-many-muslim-baby-names-xinjiang
--------
Indonesia's first female clerics congress to feature international speakers
April 25, 2017
Speakers from Pakistan, Afghanistan, Malaysia, Saudi Arabia, Kenya, and Nigeria will on Tuesday speak at an international seminar held on the sideline of Indonesia's first national congress of female clerics in Cirebon, West Java.
Afghan Ambassador to Indonesia Roya Rahmani will share her experience on "engaging female ulema [Muslim scholar] in promoting women's rights and peace," while Kenyan speaker Ulfat H. Masibo of the Supreme Council of Kenya Muslims will speak on "strengthening community resilience" and "engaging women ulema in responding to ISIS [the Islamic State]."
Pakistani Bushra Qadeem will share his experience on challenging religious extremism at the community level. Nigerian Rafatu Abdul Hamid will talk about the fate of hundreds of girls abducted by extremist group Boko Haram in his presentation on "Islamism, politics and women's security in Nigeria."
During the three-day congress, Indonesian female clerics will discuss and issue fatwas (an Islamic ruling) regarding crucial issues directly affecting millions of Indonesian women, such as child marriage, sexual violence and environmental damage.
In addition to clerics, academics will also address the congress, held at the Kebon Jambu Al Islamy Islamic boarding school led by noted female cleric Masriyah Anva. (ary)
http://www.thejakartapost.com/news/2017/04/25/indonesias-first-female-clerics-congress-to-feature-international-speakers.html
--------
Two female suicide bombers kill four in Nigeria
April 25, 2017
KANO:- Four people were killed in two separate suicide attacks in northeast Nigeria on Monday, local militia members said, in the latest violence blamed on Boko Haram. Babakura Kolo, who assists the military with security against the insurgents, said the first incident occurred in Mammanti village, 15km east of Maiduguri. "Three female suicide bombers were intercepted by the vigilantes while trying to sneak into the village around 5:00 am (0400 GMT), just as the morning prayers were about to start," he told AFP.–AFP
http://nation.com.pk/international/25-Apr-2017/two-female-suicide-bombers-kill-four-in-nigeria
--------
Muslim Women Feel Comfortable Getting Abortion Service In Nepal
April 25, 2017
According to Family Health Centre Itahari's senior consultant Durga Sharma, Muslim couples, who used to hesitate to use contraceptives, have started going for abortion if it becomes necessary.
"Male partners of well-educated and elite class come to the health facility bringing along their spouses for abortion," said Sharma. Muslim women have started feeling comfortable after abortion was made legal.
According to data with the health facility in Itahari, as many as 120 women came to the health facility for abortion in January, 111 in February and 103 in March respectively this year.
A considerable number of women from the Muslim community also are included in the list, according to Sharma. However, she could not say the exact number of the Muslim women who resorted to abortion.
There are as many as 15 abortion centres authorised by the government of Nepal in Sunsari, according to District Public Health Office Sunsari Chief Mukunda Gautam.
District Hospital Sunsari, BP Koirala Institute of Health Sciences Dharan, Mary Stops in Itahari and Dharan, among other places of the district provide abortion service.
https://thehimalayantimes.com/nepal/muslim-women-feel-comfortable-getting-abortion-service/
--------
Women Entrepreneurs Capacity Enhancement Programme Held In Pakistan
April 25, 2017
Rawalpindi - The Career Counseling Centre (CCC) Fatima Jinnah Women University (FJWU) in collaboration with Punjab Higher Education Commission and PakW2E2- Pakistan Wireless Women Entrepreneurship & Empowerment Monday organised a session on "Addressing gender and digital divide through Information Communication Technologies (ICTs) for aspiring students".
The project funded by US State Department and World learning talks beyond the gender and digital divide. This programme will help them address the socio-cultural barriers currently impeding the entrepreneurial development in Pakistan and give them an opportunity to expand their business.
Durre Mahmood, project head PAKW2E2 while addressing the students said 'PAKW2E2' is going to be a sustainable project move cashing down number of responsibilities successfully. It will generate ripple impacts in five devious and neglected regions of Pakistan and women universities in Pakistan.
"We are empowering the women entrepreneurs through our ICT capacity enhancement programmes which will upgrade your business skills with the most powerful tool of information, communications and technologies", she said. The trainers also run basic computing and project management modules for the students. At the end, Prof.
Humayun Iqbal, Manager CCC presented the university souvenir to Durre Mahmood.
http://nation.com.pk/islamabad/25-Apr-2017/women-entrepreneurs-capacity-enhancement-programme-held
--------
Saudi Arabia elected to UN women's council despite gender inequality in kingdom
April 25, 2017
Saudi Arabia has been elected to the United Nations Commission on the Status of Women, despite the country being ranked by human rights experts as one of the worst for gender equality.
The Middle Eastern kingdom was one of 12 new countries elected to the UN body in a secret ballot.
It will serve a four-year term beginning next year, according to a statement from the UN Economic and Social Council.
The role of the UN's Commission on the Status of Women is to promote gender equality and the empowerment of women.
According to its website, the body said it was "instrumental in promoting women's rights" and "documenting the reality of women's lives throughout the world and shaping global standards on gender equality".
But Human Rights Watch said Saudi women were forbidden from obtaining a passport, marrying or accessing higher education without the approval of a male guardian — usually a husband, father, brother, or son.
Saudi women are also banned from driving and are forced to have the permission of a male guardian to travel or work in the oppressive Middle East theocracy.
In a report last year, the NGO said "as long as it [Saudi Arabia] fails to take steps to eliminate the discriminatory practices of male guardianship and sex segregation, the Government is undermining the ability of women to enjoy even the most basic rights".
Former New Zealand prime minister Helen Clark, who recently retired from a high-level UN position as the administrator of the UN Development Program, has defended the election of Saudi Arabia to the council.
http://www.abc.net.au/news/2017-04-25/saudi-arabia-un-womens-council-gender-equality-concerns/8469258
--------
This Saudi woman is fighting to improve the poor's access to education
25 April 2017
Saudi citizen Solafa Batterjee says being raised in a household that cared about community service has played a big role in her love and passion for what she is doing now.
Batterjee, who started volunteering at just 13, is still active in community service through her role in several civil society organizations. She is one of the few Saudi women who have been associated with many initiatives in the field of education as well.
In her interview with Al Arabiya, Batterjee said she was interested in education as a tool for change since her childhood and that her parents taught her that education was the main tool for human empowerment.
Batterjee said she began volunteering in education when she was 13 years old and worked as a teacher of during summer programs when she first realized that she liked the experience of teaching others. Batterjee said she worked for years in an "unlimited semester called the world" and that she was more a "teacher of leadership skills and positive change in societies" rather than being an academic one. She started training in different learning directions, where she received a master's degree in curriculum design and evaluation from the Phoenix University in United States.
Solafah added that there are multiple humanitarian needs, but the need for education is the most important and comprehensive, as it eliminates poverty, sickness and ignorance, explaining that's why her grandfather, Sheikh Abdul Jalil Batterjee and her grandmother Mrs. Thuria Nazer, established an endowment to fund and support gifted students with economic challenges. From which the "Doroob" educational scholarships were launched.
She clarified that the initiative is a specialized scholarship for public education students, in contrast to what is prevailing in the field of scholarships, indicating that the investment in the young age is more profound than the others. Each year, the initiative accepts dozens of students and provides them with all tuition fees as well as academic, medical, proficiency and social care for nine years.
"To empower the students with the 21st century skills, through training programs in various human disciplines, which will prepare the student to be a successful leader, as well as developing the children's emotional intelligence, which is a part of us as human beings, where it highlights our ability to initiate and influence, especially since scientific studies proved that academic excellence, is not the only measure of a successful person, the superior might be unable to manage his personal life properly," she told Al Arabiya.
On her concerns in the field of education development, she stresses the importance of "equipping students with the skills of the 21st century from an early age to ensure that our children are prepared for future jobs. There is an urgent need to equip them with the skills of creativity, invention, problem solving, thinking, criticism, communication, self-management, time management," she said.
https://english.alarabiya.net/en/features/2017/04/25/This-Saudi-woman-is-fighting-to-improve-the-poor-s-access-to-education.html
--------
URL: https://www.newageislam.com/islam-women-feminism/china-bans-many-muslim-baby/d/110902
New Age Islam, Islam Online, Islamic Website, African Muslim News, Arab World News, South Asia News, Indian Muslim News, World Muslim News, Women in Islam, Islamic Feminism, Arab Women, Women In Arab, Islamophobia in America, Muslim Women in West, Islam Women and Feminism