New Age Islam News Bureau
5 March 2018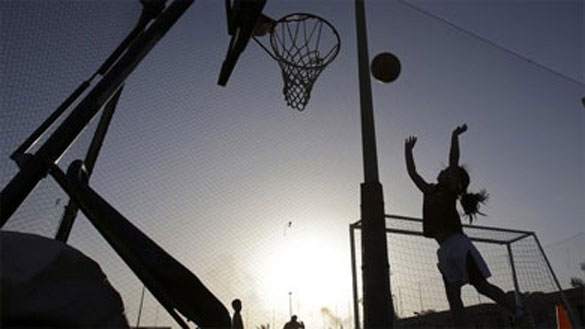 FILE- In this May 12, 2014 file photo, a girl shoots baskets during team practice at a private sports club in Jeddah, Saudi Arabia. Saudi Arabia's Education Ministry said Tuesday July 11, 2017, it will introduce physical education classes for girls in public schools next year, a decision that comes after years of calls by women across the kingdom demanding greater rights and greater access to sports.(AP)
----
• Female Teachers Join Sports Training Program In 3 Major Saudi Cities
• Saudi Women's Technology Businesses Incubated by Badir Up 144%
• Turkey Riot Police Break up Women's Rights March
• Saudi Arabia's First Female Hotel GM Lives a Life Less Ordinary
• Turkey Promising in Women's Rights but Must Lift Barriers: UN Representative
• 47 Women Killed In Turkey in February: Women's Rights Group
• Bosnian Women Set Off For All-Women Convoy In Turkey
Compiled by New Age Islam News Bureau
URL: https://www.newageislam.com/islam-women-feminism/china-accused-arresting-dozens-muslim/d/114485
--------
China Accused of Arresting Dozens of Muslim Women Married to Pakistani Men
March 04, 2018
ISLAMABAD —
China has allegedly detained dozens of Muslim women in its restive Xinjiang province for marrying men in a northern border region of neighboring Pakistan.
The issue was addressed in a unanimously passed resolution of the legislative assembly of the Gilgit-Baltistan region, known as GB, that was revealed by the Pakistani lawmakers Sunday.
The resolution demands the Pakistani government take urgent steps to secure the release of more than 50 Chinese wives, who it says were taken into custody last year while they were visiting relatives in their native towns in Xinjiang.
The deputy speaker of the assembly was quoted as saying the women were rounded up during a Chinese anti-terrorism crackdown on the ethnic Uighur Muslin community in Xinjiang.
The detainees are married to GB men who are mostly associated with trading activity through the Khunjerab Pass, the only land route linking Pakistan and China, about 4,500 meters above sea level.
Regional lawmakers insisted the history of intermarriages between GB and Xinjiang is decades old, and both the border regions share deep cultural ties. They asserted the detained Chinese women were innocent and had no links to any radical elements.
Chinese and Pakistani federal officials have not immediately offered any reaction to the allegations leveled in the resolution.
Religiously-motivated violence in Xinjiang has been a cause of concern for Chinese officials. They blame the outlawed East Turkestan Islamic Movement, or ETIM, for plotting the terrorist attacks in and beyond the province.
The separatist group was founded by militant Uighurs apparently in response to alleged government restrictions on religious and cultural expression, charges Beijing denies as baseless.
ETIM is believed to have ties with militants operating in Afghanistan and Pakistan.
The Gilgit-Baltistan region is the gateway to a massive economic cooperation deal, called China-Pakistan Economic Corridor.
The project is a combination of building roads, rails, economic free zones and power plants in Pakistan with an estimated $62 billion Chinese investment. Thousands of Chinese are currently in Pakistan, working on CPEC-related projects.
The corridor aims to link the Arabian Sea, Pakistani port of Gwadar to Xinjiang through Khunjerab Pass, giving Beijing a secure and shortest trade access to international markets.
https://www.voanews.com/a/china-accused-of-arresting-dozens-of-muslim-women-married-to-pakistani-men/4279839.html
--------
Female teachers join sports training program in 3 major Saudi cities
5 March 2018
JEDDAH: A youth leadership initiative run by the British Council KSA and the UK-based Youth Sports Trust, in collaboration with the Ministry of Education, has almost completed its training tour in the three main provinces in Saudi Arabia.
The initiative focuses on raising awareness of the importance of physical education (PE), through helping sports teachers and young students to drive passion and fun for sports in their communities. It aims to increase society's fitness level by creating an atmosphere of healthy entertainment.
This initiative has covered almost 52 schools in the three main provinces of Saudi Arabia: Riyadh, Jeddah and the Eastern Province. It started in the three main cities because they are well-equipped to hold sports events and festivals.
Lamia Al-Issa, the general supervisor at the Ministry of Education, told Arab News: "Through this program, we aim to achieve 60-70 percent of one of Saudi Arabia's 2030 primary goals, which is to increase the percentage of individuals exercising at least once a week from 13 to 40 percent of the population."
The ministry aims to expand the program and provide PE coaches in the rest of the Kingdom, with the opportunity to benefit from such training programs. Fifty-two female coaches from different areas of the three main provinces have benefited from this training tour.
Mona Al-Shehri, English and physical education teacher for 6th grade students, one of the coaches participating in the program, told Arab News: "I think this is a unique experience as it is the first time it has been held in Saudi Arabia. The program gives rise to a new generation that will be more aware physically and health-wise."
Coaches receive intensive training for two weeks. The second week is a practical application of what the coaches learn in the first week.
The training program focuses on building leadership and team-building skills, and increasing fitness awareness among students and teachers through engaging in creative activities.
Al-Shehri said: "We also engage with the young female leaders to direct them to plan a safe and enjoyable sports festival, which includes around 100 female elementary-school students.
"The young leaders are trained to choose different creative and innovative activities to develop their own leadership skills, and then to be able to build teams and achieve success. This way, the young leaders become sports ambassadors within their society and community."
In realizing the Kingdom's Vision 2030, and supporting the theme of having a vibrant society with fulfilling lives, PE classes have been gradually implemented in all-girls schools this academic year, 2017-2018.
According to Al-Issa, there is a dedicated team preparing and constructing the coming year's curricula, to be able to deliver an appropriate program to benefit our students.
Youth Sports Trust is an international charity based in the UK that is passionate about building a brighter future for young people through PE and sport.
http://www.arabnews.com/node/1259221/saudi-arabia
--------
Saudi women's technology businesses incubated by Badir up 144%
5 March 2018
RIYADH: The number of women's businesses incubated by the Badir Program for Technology Incubators grew by 144 percent in 2017 to 44.
The businesses are active in the fields of telecommunications, software, e-commerce and smartphone apps.
Badir, an initiative of King Abdul Aziz City for Science and Technology, expects the coming years to see a rise in Saudi entrepreneurship due to support from government agencies.
The Kingdom is encouraging innovation and technical development in startups, and expects the sector to play a vital role in the economy.
Badir CEO Nawaf Al-Sahhaf said the program is supporting the ambitions and initiatives of Saudi female entrepreneurs, helping them participate in local and regional conferences, and providing them with women-only offices to conduct workshops that prepare them to efficiently manage their businesses.
"Badir has raised Saudi women's awareness about technology entrepreneurship, and promoted a culture of free enterprise through conducting workshops and training programs, speaking to college students, and participating in university events," he said.
Al-Sahhaf urged Saudi female entrepreneurs to reach out to Badir, which he said will provide logistic, technical and consultative support as long as the idea is innovative.
"Badir will also provide an office for the business, and the right to access modern and advanced facilities and labs," he added.
The program has incubated 239 technology projects since its establishment until the end of 2017. Those projects have created some 1,615 full-time and part-time jobs for Saudi youths.
http://www.arabnews.com/node/1259216/saudi-arabia
--------
Turkey riot police break up women's rights march
4 March 2018
ANKARA: Turkish police on Sunday fired tear gas to break up a women's rights march in Ankara with some 15 protesters reportedly detained.
The protesters, mainly from the Ankara Women's Platform, a NGO promoting women's rights, had gathered in the Turkish capital for the march called ahead of International Women's Day on March 8.
"We are getting stronger in solidarity," read one banner as riot police moved in and fired tear gas after the group ignored calls to disperse, AFP photographers at the scene said.
Fifteen women were detained by police, the private Dogan News Agency reported.
In Istanbul Sunday, a group of around 1,500 women rallied in the Bakirkoy district on the European side of the city, an AFP journalist reported.
The group was protesting Turkey's military operation in Syria targeting Syrian Kurdish militia, considered a terror group by Ankara.
"There is a war on our border. We cannot remain indifferent," one woman protester Meltem said.
http://www.arabnews.com/node/1259196/middle-east
--------
Saudi Arabia's first female hotel GM lives a life less ordinary
4 March 2018
DUBAI: They say that the seeds of success are sown during childhood. That would definitely apply to Maram Kokandi, who credits a warm and open-minded home environment during her growing-up years for making her the ambitious go-getter she is today.
"I was exposed to many cultures, both in Saudi Arabia and during our summer vacations, when I traveled with my family, of which I have very positive memories," she says. "I remember both my parents always encouraged me to explore my potential and discover the world around me."
Perhaps it was a debt she subconsciously owed to travel, that she ended up in the hospitality industry, which was more by chance than design for this biology graduate.
"I got this opportunity to work as a health club coordinator as my first job, and I loved the interaction with people," she explains. "I moved into cosmetics sales after that, but heart was always in hospitality. Seeing this, my then boss actually helped me get a job as a sales manager at the Rosewood hotel, which was also a first – I was the first female hotel sales manager in Saudi Arabia."
The rest, as they say, is history.
Hospitality also runs in her blood, Kokandi believes. "This is our culture, especially here in this region (Jeddah and Makkah). We have always been welcoming people here, for religious tourism", she says. "Plus, I had this potential to be and do something different by joining this industry."
She has certainly made a difference, as now there are more and more women in Saudi Arabia starting to work in the hospitality industry. For example, Accor Hotels included females in its management training program in 2016, and in 2015, the "Young Hotelier of the Year" award at the well-respected Hotelier Middle East awards ceremony went to a Saudi Arabian woman. Closer to home, Kokandi has seen an impact in her youngest sister opting to get a degree in hotel management, as she wanted to follow in her pioneering sister's footsteps.
There are some industry-specific challenges that women in hospitality have to overcome, however, which Maram navigated through the course of her career.
"When I first began working in hospitality there were even fewer women in the industry than now, and there were times when it was difficult," she reveals. "For example, doing night shifts as a duty manager was a big challenge. It was a battle not only with society's perceptions, but also an internal battle that I had to fight, of whether this was appropriate."
The spectrum of challenges ranged from deeper issues such as moral code, to the practical – such as wearing her hijab at work, where the norm in the industry is uniforms. But she overcame them with creative solutions such as designing her own abaya! "I got a very modern abaya made, to make it easier for me to do my work and stay true to my culture," she says.
But the biggest challenge that she had to face as a woman in a leadership role is probably a universal one.
"I had to work even harder to prove myself as a capable leader. And while many male colleagues have been incredibly supportive, there have been periods where I had to convince others of my competencies as a female leader," she says. "Previously, there were barriers — including a lack of mentoring for women and use of differing methods when it comes to evaluating the performances of men and women in the workplace — which have prevented women from career progression, but it is good that these are being gradually overturned."
Such challenges notwithstanding, Kokandi is emphatic about the fact that she wouldn't be where she was without the support of her organization, and the government.
"It was the Balanced Leadership program at Carlson Rezidor [renamed Radisson Hotel Group as of 5th March 2018] and its drive toward improving diversity and inclusion within the business that led me to successfully applying for the General Manager position," Kokandi says. "They have a leadership program STEPS, which is focused solely on high potential women, encouraging and empowering them to progress."
Support at a governmental level, in the form of Saudi Vision 2030, which she elegantly describes as "a golden hand leading women to help achieve their dreams" has also played a big role in her success.
"One of the reasons Saudi women are more successful than ever is because of the King Abdullah Scholarship Program [which she directly benefited from, to get a hotel management degree]. This program opened the door for young Saudis in general, and women in particular, to have a better standard of professional education," she says. "Part of the emphasis of Vision 2030 is also to develop tourism in Saudi Arabia, which necessities a hospitality sector able to accommodate different needs and expectations. Vision 2030 also emphasizes the significance of Saudi women and their role in leading the development of the Kingdom."
Given the importance of female participation in the nation's growth, Kokandi has only this to say to other women aspiring to succeed in the business world:
"I would like to ask all Saudi women to step out of their comfort zones and challenge themselves. It is not a choice anymore!"
http://www.arabnews.com/node/1258746/business-economy
--------
Turkey promising in women's rights but must lift barriers: UN representative
March 05 2018
Turkey was number one in 2017 for the number of companies signing up to the U.N.'s Women Empowerment Principles, according to Alia El-Yassir, who is the UN Women Regional Director for Europe and Central Asia and Representative to Turkey.
While lauding progress to date, El-Yassir also spoke to the Hürriyet Daily News about the obstacles to empowering women in the post-coup attempt political environment. "You have very good legislation in place, the challenge is the implementation," she said, insisting that now was the time to open up the relevant communication channels.
Have UN Women projects progressed in Turkey?
Before we opened a regional office for UN Women in Turkey we already had an ongoing project about women's political participation. Together with this program, our overall programming in Turkey is now the largest in the region as of this year. The increase is owed to refugee response, with a particular focus on refugee women.
We have continued with the women-political-participation project's next phase, which deals with gender responsive governance and gender responsive budgeting.
Turkey has experienced shifts, and our programing has been adapting to these shifts. One of the project's achievements entailed reviewing all legislation, together with members of parliament, to see how well they align with international monitoring standards. In general Turkey has very good legislation.
How did changes in the political situation affect your project?
Our partner is the Equal Opportunities Commission in the Parliament. With the recent shift in the system, it is unclear how all the investment we made in the commission will translate into the presidential system.
You have very good legislation in place, the challenge is the implementation. We focused on gender responsive budgeting, which we would like to call transformative financing: How could financing in a different way bring about the empowerment of women? We have also worked with some municipalities and registered good progress with some.
How receptive is the central and local administration to gender equality issues? Will the next national budget be a test case in terms of implementation?
It is a matter of political buying. We see success where there has been the highest political buying.
I don't think you can expect an immediate result. It is a dialogue. Opening a conversation is the challenge. We are looking for more engagement for instance with the ministry of finance. It is not just enough to work with parliamentarians. At the same time we are also targeting the private sector.
Last year Turkey became number one globally in terms of the number of companies signing the Women Empowerment Principles (WEPs).
To what do you attribute this achievement?
The private sector is very much engaged. You have a very vibrant private sector. The web working group they set up was around even before our expanding to UN Women. We directly engaged with this group. But to give them credit, this was not something we had to advocate. The buying was already there. So in terms of commitment Turkey is number one but I would say it is beyond just a commitment because we have been using this working group as an example globally as a best practice. It was something that the Turkish private sector set up and we worked with them on developing this implementation guide, which is Turkey specific, but it has been such a good practice that we translated it and distributed it as a tool kit.
It looks at the mechanism that measures progress. This group is building peer accountability so that they report to each other about the steps they have taken.
What is your general overview about gender equality in Turkey?
The advantage is that you have a fantastic foundation to work on; huge human capital and an enabling environment. On the challenging side, you need to address the barriers to women engagement. Women's increasing engagement in public and economic life would benefit the country, this is something everybody agrees on. So that's a good starting point. Economic participation is very low given the high level of human capital, and a lot of this has to do with the provision of adequate services and the burden of care work on women.
The reason women are not in the labor force is not because they lack the right kind of education, skills or because there is discrimination. It is more a question of a dearth of quality, affordable and accessible care services.
How would you rate the performances of the public sector, the private sector and civil society?
The government's commitment rates highly but the results speak for themselves. In terms of the gender inequality index, Turkey is close to the bottom. In the private sector, the commitment is great but we need to look at what Turkey is funding in terms of corporate social responsibility programs, which can have the trap of feel good initiatives. So in terms of looking on how to implement, it is too early. We have not seen the result. In the public sector the information is also public. The numbers don't lie. In terms of the private sector, they are only now opening up in terms of transparency.
And civil society?
Turkey has one of the strongest women's movements historically. But I think this is a difficult moment for the civil movement and there tends to be a polarization even within women in the civil society movement. We believe this is holding back potential because internal polarization complicates work on common issues and reduces the effectiveness of civil society's engagement with the government.
Turkey has very capable civil society organizations and academics that are driving international discourse on gender equality. This is something that Turkey should be proud of. But when we look at sustainable development challenges in terms of Turkey, the danger is the country will start to lag behind.
So polarization is holding back progress?
The political situation has created a challenge. Since the coup attempt, the processes have been put on standby. Now is the time to rebuilt trust and open dialogue channels. A lot of people support political participation. It is not only the government's responsibility to make it happen. Civil society has an important role. As you fight to further the cause of gender equality, you also have to fight for the basic right to be politically active and have a voice in the leadership. Then you turn your attention towards reaching the sustainability target on women empowerment.
Polarization has become an increasing challenge. We have to find a bridge to move forward because we risk losing the momentum that has been built collectively.
Turkey promising in women's rights but must lift barriers: UN representativeWHO IS ALIA EL-YASSIR?
Alia El-Yassir has been acting UN Women Regional Director for Europe and Central Asia and Representative to Turkey since April 2017.
El-Yassir has been working with U.N. Women since 1997. She previously worked as the U.N. Women Special Representative in the occupied Palestinian territory. She is also part of the U.N. Development Group roster of gender experts. Before joining UN Women, El-Yassir briefly worked with the UNDP and was engaged in the education field. In addition to volunteering with a number of rights organizations, she has worked on educational media for children.El-Yassir graduated from McGill University in Montreal and pursued post-graduate studies in Education and Anthropology, with a specialization on Gender Studies, at Ben Gurion University.
http://www.hurriyetdailynews.com/turkey-promising-in-womens-rights-but-must-lift-barriers-un-representative-128234
--------
47 women killed in Turkey in February: Women's rights group
March 05 2018
Some 47 women were killed in February in Turkey, marking one of the highest femicide figures in recent months, according to a recent report released by the Kadın Cinayetlerini Durduracağız Platformu (We Will Stop Femicides Platform), a women's rights organization that monitors violence against women.
The organization said the number of women who were killed in January was 28.
In addition to the high rate of femicide, the report added that child abuse and sexual assault cases continued in February.
According to data provided by the platform, 21 of the 47 women killed in February were murdered at home, seven were killed on the streets, three were killed in cars and two were killed at work, while it hasn't been determined where the seven others were killed.
Similar to last month's figures, 26 percent of women killed in February were murdered by their husbands, the report stated.
The report also underlined that more than half of the women killed last month were aged between 36 and 65.
According to data provided by the platform, 11 out of the 47 women were murdered for making decisions regarding their own lives, while the reason for 15 other cases are yet to be determined. Divorce and economic problems were among the other reasons behind the murders, the report stated.
In 2017, a total of 409 women were killed and 387 children were sexually abused in Turkey, according to data compiled by the same group.
http://www.hurriyetdailynews.com/47-women-killed-in-turkey-in-february-womens-rights-group-128243
--------
Bosnian women set off for all-women convoy in Turkey
March 4, 2018
Around 200 Bosnian women on Saturday set off from Sarajevo to Istanbul to join an all-women convoy to raise awareness about the suffering of women and young girls imprisoned in Syria by the regime forces.
The International Conscience Convoy which describes itself as the "voice of the oppressed women in Syria" will set off from Istanbul on Tuesday with the participation of women from nearly 55 countries.
Conscience Convoy logoAmong the women joining from Bosnia are women who shared the same fate with Syrian women during the Bosnian war between 1992-1995 including members of the Mothers of the Srebrenica group.
The President of the Association of the Mothers of Srebrenica and Zepa Enclaves, Munira Subasic joined the send off ceremony of the Bosnian women. Speaking to Anadolu Agency, she said:
Srebrenica's mothers are well aware of what pain means, now Syrian women are experiencing the same pain we went through
"We are in the 21st century, the United Nations, the U.S. and Russia need to be ashamed," she added.
Speaking to Anadolu Agency, the Balkan Cultural Alliance Association (BAKIDER) representative Enida Gujo said that the Bosnian women joined the convoy with the support of Turkey.
"On March 08 we will all together call out for help for the Syrian women held in Syrian prisons," she said.
Nearly 150 buses will take part in the journey which will make stops at Izmir, Sakarya, Ankara and Adana cities before reaching the southern Hatay province at the Turkey-Syria border.
https://www.middleeastmonitor.com/20180304-bosnian-women-set-off-for-all-women-convoy-in-turkey/
--------
URL: https://www.newageislam.com/islam-women-feminism/china-accused-arresting-dozens-muslim/d/114485
New Age Islam, Islam Online, Islamic Website, African Muslim News, Arab World News, South Asia News, Indian Muslim News, World Muslim News, Women in Islam, Islamic Feminism, Arab Women, Women In Arab, Islamophobia in America, Muslim Women in West, Islam Women and Feminism