New Age Islam News Bureau
28 May 2018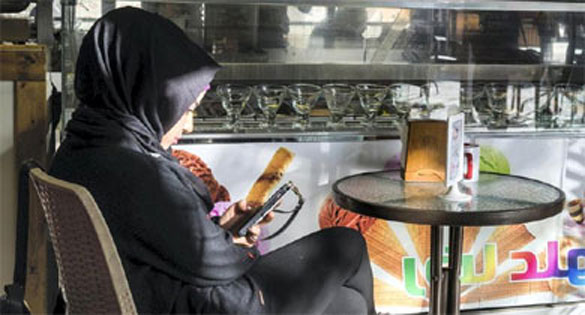 Ridha Alwan was the first coffee house in Baghdad to serve roasted coffee and is now a bustling hub for the creative vanguard of Baghdad's political and cultural scene. Arianna Pagani for The National
• Love and Politics in Baghdad: The Iraqi Female Writers Breaking Taboos
• Saudi Arabia Says All Preparations Finalized For Women to Drive on June 24
• Middle East Needs Its Own 'Me Too' Movement for Minority Women
• Disabled Yemeni Girl Enters US despite Ban
• Israeli Forces Shoot Deaf Palestinian Woman In Jerusalem Al-Quds
• Workshops Call For More Women Participation in Tourism Sector
• What Does The FATA-KP Merger Mean For Women?
• Women's Views Will Be Missing in New Turkish Gov't Model
Compiled by New Age Islam News Bureau
URL: https://www.newageislam.com/islam-women-feminism/charlie-hebdo-again-portrays-hijabi/d/115376
--------
Charlie Hebdo Does It Again, Portrays Hijabi Student 'As a Monkey'
May 28, 2018
NEW DELHI: Satirical French magazine Charlie Hebdo does it again and this time, it published a provocative cartoon depicting French Muslim student 'as a monkey' wearing the hijab.
The text, written on the cartoon, reads: "They chose me to head the UNEF (French National Student Union)."
19-year-old Maryam Pougetoux, leader of a student union at Paris' Sorbonne University, is the latest victim of Islamophobic hate after she appeared in a documentary on French television wearing a hijab to talked about the ongoing student protests in France over education reforms proposed by French President Emmanuel Macron, reported MSN news.
She is currently facing intense bullying, harassment and hate online – not for her views, but solely because she was seen in a hijab.
According to a BBC report, France's interior minister Gerard Collomb was among those who criticized the student's appearance and referred to her choice of attire as a "provocation."
In an interview with BuzzFeed News, Maryam called the entire debate "pathetic."
"I wasn't expecting it to become a government matter," she said.
"My veil has no political function. It is given a political meaning that I don't give it myself. It is my faith," she added. "I shouldn't have to justify myself."
The French magazine which has previously sparked controversy over its anti-Islam cartoons sparked outrage for their racist attack on Maryam.
https://www.siasat.com/news/charlie-hebdo-does-it-again-portrays-hijabi-student-monkey-1361017/
--------
Love and Politics in Baghdad: The Iraqi Female Writers Breaking Taboos
Sara Manisera
May 27, 2018
On a warm afternoon in early March, a group of female poets gathered in Ridha Alwan, a coffee house in Baghdad's middle-class Karrada neighbourhood.
When Ridha Alwan first opened in the 1960s, it was the first café to serve roasted coffee in Baghdad. It has since become a bustling hub for the creative vanguard of the city's political and cultural scene and a safe haven for women.
In a country where being female and having your work published rarely goes hand in hand, a fresh generation of women has chosen to overlook limiting social norms and instead follow in the footsteps of a long line of influential Iraqi female writers. For them, the written word serves to denounce social injustices in a society they regard as antiquated and conservative.
Today, Ridha Alwan visitors share books, organise debates and collective readings and discuss their dreams and passions as well as how to survive war, misogyny and grief.
"We met on social media three years ago," explains Lamiaa Alnasiry, a 30-year-old poet with a nose piercing. "Then we started collaborations and collective publications."
Sitting next to Lamiaa is Bida Ahmad – a jovial, flashy, middle-aged woman. Bida's eyes are heavily made up, and she wears a python-skin jacket and a pink-orange hijab.
She lights a cigarette before she begins to speak: "This country stresses me out a lot."
"I'm married but I've never met my true love. That's why I started writing, to take refuge in love stories created by my imagination," says Bida. "Now I feel free in my mind and my heart. The real problem in Iraq is the social pressure that takes away your freedom."
Lamiaa nods in agreement: "if I were in prison I would have more freedom, because here we must always follow what the community wants, especially in love," she says, her brow furrowed.
I was asked of which blood I am is a collection of poems written by Lamiaa, depicting the love between two women through a series of verses that are as romantic as they are tormented.
The young poet is adamant that everyone should be free to love whoever they want. "But we need a revolution to change the mentality of people, especially in Iraq," she says banging a fist on the table.
For centuries the Arab world has been at the forefront of the literary world – Al Mutanabbi Street, in the heart of Baghdad, is the most vivid representation of Iraq's love of the written word.
Filled with bookcases and roadside stalls, Al Mutanabbi dates back to Baghdad's Abbasid era, between the 8th and 13th centuries.
Surrounded by ancient Ottoman architecture, it has long been the place for booksellers to ply their wares. Today it is one of the capital's busiest streets. With an almost inexhaustible supply of books, Al Mutanabbi street has been the scene of the political and cultural shifts that have enveloped Iraq over the centuries.
In the 1950s most of the books available were Marxist writings. These were later replaced by writings that glorified Arab nationalism. Then, for more than 30 years, traders could only sell books that glorified Saddam Hussein and the Ba'athist ideology.
Iraqi poetry has always responded to an urgency to communicate and talk about social problems and current events, explains Elena Chiti, Postdoctoral Fellow at the Department of Culture Studies and Oriental Languages at the University of Oslo.
"Many Iraqi female poets, such as Nazik Al Mala'ika or more recently Dunya Mikhail, Amal El Juburi and Manal El Sheikh were not politicised ... the most important thing for them was saying something," says Ms Chiti.
"For example, writing about poverty, diseases, war, widows or other issues affecting Iraqi society. Today we find the same tradition with the younger female poets."
This is true of Tamara Shaker, a 28-year old pharmacist in a health centre in the Al Nahrawan district south-east of Baghdad. Tamara's novels and poems are inspired by everyday social problems.
"I hope to try to change and influence the society through writing," she says. Tamara is disillusioned with a system of governance she feels belongs in the past. "There was a girl who wasn't allowed to go to school and she dreamed of being a pharmacist, like me. I wrote her story because we need to tell these stories to change the mentality of our communities," she says.
Her latest book Sleeping pain: five stories features controversial topics like paedophilia, honour killings, forced marriage and sexual violence. "My husband asked me why I wrote a story of a girl raped by her mother's husband. I said these stories must be told," she says.
As the coffee ground settles at the bottom of the poets' cups, Tamara, Lamiaa and Bida are joined by writer and journalist Nawal Ali Alazzawi. She walks into the coffee house with a stack of newspapers under her arm.
Nawal, who works for a local daily newspaper, says: "The Iraqi government doesn't care about its citizens and children. That's why I wrote a book about children reduced to begging and poverty, which should not exist with the oil that we have." Nawal says her hope is to amplify women's voices.
"Women's voices are oppressed in Iraq. It's a shame, we have so many hidden talents that need to be heard and shown. Only in this way we can change Iraqi society. Or at least make an attempt to do so."
https://www.thenational.ae/world/mena/love-and-politics-in-baghdad-the-iraqi-female-writers-breaking-taboos-1.734471
--------
Saudi Arabia Says All Preparations Finalized For Women to Drive on June 24
28 May 2018
Saudi Arabia's General Saeed bin Abdullah Al-Qahtani, assistant minister of interior for operations affairs, has said everything is ready for women to begin driving from June 24, adding that all women who can drive will be eligible to drive.
"All women who can drive will be eligible to drive and will be well-informed of all the violations so they will avoid them. I expect women's driving to be safer and that detentions will be made in very rare cases," Qahtani said on Sunday during the special forum for the command of Special Forces for road security.
"Those who will drive cars are our daughters, wives and sisters, and it's our duty to remind them of rules and prevent any harm against them," he said, adding that the decision to allow women to drive serves the country.
"Road security checkpoints will respectfully deal with women who will begin driving on June 24 while implementing the law and making sure there are no violations," Qahtani added.
Commenting on women's work in general security, Qahtani said women already work there and in other security sectors, adding that what is new about that is the increasing number of women personnel.
https://english.alarabiya.net/en/News/gulf/2018/05/28/Saudi-Arabia-says-all-preparations-finalized-for-women-to-drive-on-June-24.html
--------
Middle East Needs Its Own 'Me Too' Movement for Minority Women
05/27/18
After Israel won the Eurovision Song Competition with Netta Barzilai's "Toy", a feminist empowerment song that takes a strong stance against sexual harassment, the Me Too movement has now conquered both Israel and Europe. Across the political establishment in Israel, from left to right, everyone is praising Barzilai for her talent as well as her promotion of diversity and feminism. Even in the Arab world, the Israeli Foreign Ministry claimed that Barzilai's song has its fans.
At this time, as Iranian women continue to protest against compulsory hijab, women in the Arab world speak out against sexual harassment during the Hajj with the Mosque Me Too movement, Israel's prime minister dances to Netta's chicken beat in solidarity with the Me Too movement and plus size women across the world feel inspired that for once they can be judged by their talents rather than how they look, one must ponder, when will the minorities in Pakistan and Bangladesh also get to take part in the Me Too movement?
The minority women and girls in the Islamic world certainly also need a Me Too movement as well. Numerous Hindu and Christian girls in Pakistan have been abducted, compelled to convert to Islam and then subsequently forced to marry their captors. Even if a case manages to be brought in front of a Pakistani court, the victims are often pressured into saying that they left the religion of their ancestors and married their captors willingly, so that the case will be dismissed. According to the movement for Solidarity and Peace, around 1,000 Hindu and Christian girls in Pakistan are kidnapped, forcefully converted and married to Muslim men against their will every year.
It is true that the plight of Muslim women in Pakistan is also horrible. Fortunately, the world has paid attention to the plight of Pakistani Muslim women thanks partially to the wonderful work done by Nobel Prize Winner Malala Yousafzai. However, public awareness does not mean that their situation is good. In Pakistan, 6-year-old girls can end up marrying men old enough to be their grandfather in order to settle tribal feuds or a woman can be gang raped for the alleged crimes of her brother. And to their credit, Pakistanis are now protesting against this, as demonstrated by the protests not too long ago after an 8-year-old girl was raped and burned alive in the country.
However, while the horrible fate of Muslim women and girls in Pakistan is getting international media attention, the human rights abuses endured by Hindu, Christian and other minority women in Pakistan gets significantly less international exposure. While many claim that the plight of Muslim women is often ignored due to the fact that the Me Too movement prefers to focus on rape culture and sexual harassment within Western society, I would argue that the plight of minority women in the Islamic world is ignored internationally to an even greater level. This is especially the case for minority women in Pakistan and Bangladesh.
According to Shipan Kumer Basu, the president of the World Hindu Struggle Committee, many Hindu women and girls in Bangladesh are kidnapped, raped and forcefully converted to Islam. He told me that Hindu women and girls are often the primary victims of the present ruling government in Bangladesh, which seeks to silently remove Hindus from the country. This is best demonstrated by a recent rape of a Hindu woman, who was subsequently burned with a gas lighter after the rape. However, the masses in Bangladesh did not protest against the rape and burning of this Hindu woman like the masses in Pakistan did for the 8-year-old Pakistani Muslim girl.
This leads one to ponder, why are the people of Bangladesh not speaking out more in favor of the rights of minority women? How many Americans, including American women active in the Me Too movement, know anything about the plight of Hindus and Christians in Bangladesh and Pakistan? Where are the female Hindu voices crying out in the American media for justice?
Even though there is widespread awareness in the human rights community about the plight of Asia Bibi, a Pakistani Christian woman sentenced to death for blasphemy, who so far has not been killed and many ultimately be free one day due to international pressure, how come this support for Bibi has not translated into wider support for other persecuted Christian Pakistani women? And where are the American female voices calling out for justice for Hindu women in Bangladesh?
As an Israeli American journalist, I am proud that Netta Barzilai broke the glass ceiling and won the Eurovision competition with a call for women's empowerment. At the same time, I want the message of her lyrics, "I'm not your toy you stupid boy", to reach to the wider Islamic world, where minorities across the region are being oppressed, raped, abducted and forcefully converted to Islam and ethnically cleansed from the region merely because they got the wrong faith in the eyes of the Islamists and no other reason.
And I would like for the minorities in Bangladesh and Pakistan to get the same level of international media attention that Muslim women's rights activists have managed to obtain at the very least.
http://thehill.com/opinion/international/389323-middle-east-needs-its-own-me-too-movement-for-minority-women
--------
Disabled Yemeni Girl Enters US despite Ban
by Arwa Ibrahim
May 28, 2018
A disabled Yemeni girl who had been denied entry into the US as a result of US President Donald Trump's travel ban arrived in New York for resettlement after a reversal by the government.
Shaima al-Omari, 11, whose case was questioned by Supreme Court justices reviewing the Trump administration's travel ban, arrived with her family in the US on Saturday, her father Najeeb al-Omari told Al Jazeera.
After denying her application in January, the US embassy in Djibouti changed course and issued visas on Wednesday allowing al-Omari - a US citizen who has been trying to get visas for his wife and three girls for years - and his family to migrate to the United States.
Shaima, who was born with cerebral palsy, suffers severe mental and physical disabilities, according to her family, who say the war in Yemen compounded her suffering as medicine and healthcare services became increasingly scarce in the city of Ibb, where the family resided.
"I'm glad the US embassy eventually reconsidered our case and granted us our rights," al-Omari said by telephone before boarding his flight from Djibouti to New York.
Al-Omari's family was among thousands of Yemeni Americans who have been stranded in Djibouti for months, or forced back into war-torn Yemen, after being denied visas to travel to the US because of the controversial travel restrictions - often referred to as the Muslim ban - implemented by Trump.
Unveiled in September, the third version of the ban was allowed to come into full force on December 8, even though it was challenged in the courts. It restricts travel for nationals of five Muslim-majority countries - Iran, Libya, Somalia, Syria, Yemen, as well as individuals from Venezuela and North Korea.
The Trump administration has said the restrictions target countries that inadequately vet prospective migrants to the US and, therefore, represent a threat to US security.
Human rights groups and others argue, however, the ban disproportionately targets Muslims.
Years-long wait
Al-Omari, 39, divided his time between California, where he worked at a petrol station, and Ibb, where his wife and three daughters had lived since 2010, when he was granted US citizenship, 13 years after moving to the US.
But after a Saudi-led coalition of Arab states launched a military campaign in 2015 to defeat the Houthi rebels who had taken over the capital Sanaa in 2014, al-Omari decided it was time to bring his family to the US.
"Providing Shaima with the healthcare she needed was becoming increasingly difficult. So many doctors had left Yemen and the medication she depended on was no longer readily available," he told Al Jazeera in April.
Al-Omari described a long struggle with the immigration bureaucracy to relocate his family from Ibb to the US, where prospects for Shaima's healthcare were far better.
After filing their paperwork, the al-Omaris were given a visa interview with US consular officers for January 2018. But while they waited, Trump was elected and eventually enacted the ban.
The Department of Justice had noted exceptions for individuals with compelling reasons to enter the US. Among them were cases where denial would cause "undue hardship" and "an infant, a young child or adoptee [or] an individual needing urgent medical care".
Mosheer Fittahey, a translator and immigration consultant in New York, who had been advising al-Omari, said he was certain Shaima's waiver would be granted because of her condition.
But following the January interview, a consular officer denied the application.
"Taking into account the provisions of the Proclamation, a waiver will not be granted in your case," said the rejection document seen by Al Jazeera.
"Today's decision cannot be appealed."
Between December 2017 and January 2018, only about 100 waivers were granted, according to Department of State data.
Ongoing challenges to the ban, led by the state of Hawaii, argue it is based on religious prejudice. Lower courts largely agreed it lacks adequate justification and violates immigration laws prohibiting discrimination based on nationality in issuing visas.
In oral arguments before the Supreme Court on April 25, several justices focused on Shaima's case, which had been highlighted in a brief filed in March.
Change of course
To the al-Omaris' surprise, a day before the Supreme Court arguments, an American vice consul in Djibouti sent an email to al-Omari saying their case was being reviewed.
"I determined the very same day that your family's case clearly met the standard of hardship and necessity specified ... and I therefore recommended your family for a waiver," the email said.
"However, I could not inform you of this at the time of the interview because under department rules, the waiver still required review from my supervisor. The waiver was approved," it said, adding the visas would come after further processing.
According to al-Omari, his family received a call from the US embassy in Djibouti on May 17 telling them to come to the East African country as soon as possible in anticipation of being granted the waiver and receiving their visas.
"We couldn't believe what we had heard when we received the call," said al-Omari.
"As soon as we arrived in Djibouti, we received another call from the embassy and we were asked to come in the same day. We were handed our passports and visas on Wednesday and arrangements for our flight to New York were soon under way.
"It was a feeling of sheer happiness. After all this hardship, waiting and losing all hope, things had finally worked out," al-Omari said.
Wave of change?
According to Fittahey, who set up a Facebook page to advise Yemeni migrants on how to proceed, the number of Yemeni applicants whose waivers were approved appears to have increased following the Supreme Court's arguments.
Fittahey said, like al-Omari, many of those applicants previously had been denied without explanation or opportunity to appeal.
"They [the consular office] are sending applicants emails saying that the waiver is being reconsidered and that they should check the status of their applications online," he told Al Jazeera.
"I don't know what prompted this change, but maybe the consular office was given a revised idea about how to process the waiver requirements."
The Supreme Court's ruling on Trump's travel ban is expected sometime in June.
https://www.aljazeera.com/news/2018/05/disabled-yemeni-girl-enters-ban-180527085710070.html
--------
Israeli Forces Shoot Deaf Palestinian Woman In Jerusalem Al-Quds
May 28, 2018
Israeli forces have shot and injured a deaf Palestinian woman in Jerusalem al-Quds over her alleged refusal to heed calls by cops to stop.
Israeli police said that they opened fire at the woman near the residential neighborhood of Pisgat Ze'ev in Jerusalem al-Quds on Sunday, claiming that the shooting took place after she did not heed calls to stop.
Palestinians said the woman is deaf, that is why she didn't respond.
A video of the incident showed the woman was shot along the light rail tracks.
"A short while ago a suspect approached by foot along the train tracks from the area of Beit Hanina toward Pisgat Ze'ev, and was noticed by civilians and security guards who alerted Border Police soldiers who were nearby," Israel's police said in a statement on Sunday night.
"The woman," the statement added, "was fully clothed in black attire that also covered her face."
According to the statement, policemen shot the woman after she allegedly ignored police calls, suspecting she was carrying an explosive device.
Police later found that the woman was not carrying any weapons. She was transferred to a hospital with injuries to her legs.
The occupied Palestinian territories have witnessed a new wave of tensions ever since US President Donald announced his decision on December 6 to recognize Jerusalem al-Quds as Israel's capital and relocate the US embassy in Israel from Tel Aviv to the occupied city.
The dramatic shift in Washington's policy vis-à-vis the city triggered demonstrations in the occupied territories, Iran, Turkey, Egypt, Jordan, Tunisia, Algeria, Iraq, Morocco and other Muslim countries.
Israeli forces killed at least 62 Palestinian protesters near the Gaza fence on the eve of the 70th anniversary of the Nakba Day (Day of Catastrophe), which coincided with the relocation of the US embassy.
More than 2,700 Palestinians were also wounded as the Israeli forces used snipers, airstrikes, tank fire and tear gas to target the demonstrators.
Israel to ban photographing or filming soldiers
The Israeli parliament will discuss a law banning the photographing or filming of soldiers in a move condemned by critics as a "dangerous" attempt "to silence criticism of the army".
Robert Ilatov, a member of the Knesset and the chairman of the right-wing nationalist Yisrael Beiteinu party, proposed a legislation that would punish those found photographing Israeli forces "with the intention of undermining the spirit" of the army by up to 10 years in jail.
The proposal was put forward in the wake of Israel's massacre of protesters in Gaza on May 13. The bill is reportedly supported by Israel's minister of military affairs Avigdor Liberman.
An editorial in Israeli newspaper Haaretz on Sunday denounced the proposed legislation as "dangerous", saying it aims "to silence criticism of the army, and in particular to prevent human rights organizations from documenting the Israeli army's actions in the territories".
"The immediate result of such a prohibition is serious harm to the possibility of protecting human rights and overseeing the army's activity," it said.
"The bill does serious harm to freedom of the press and the public's right to know," the editorial added.
http://www.presstv.com/Detail/2018/05/28/563120/Israel-deaf-Palestinian-woman-alQuds
--------
Workshops Call For More Women Participation in Tourism Sector
May 28, 2018
JEDDAH — Women have an integral role in building the tourism sector in Makkah as current developmental activity has opened up plenty of opportunities to enhance the rich tourism experience in the province, stated industry experts at a workshop organized by the Makkah Economic Forum in Jeddah.
The discussions at the workshop have much relevance in view of the significance of tourism in realizing the Saudi Vision 2030 and driving economic growth in the Kingdom. It is expected that the tourism sector will create 1.2 million jobs in the country by 2030.
Maryam Al-Harbi, a female tourist guide, said, "The position of tourist guide was one of the professions prohibited for women before the launch of Vision 2030. But now in the changed situation, an increasing number of women are coming forward to join the sector and apply for a tourist guide license."
Calling upon Saudi women to contribute to the efforts to revive the tourism sector, Al-Harbi pointed out that currently the ratio of women investors in the sector is still a modest 15 percent. Expressing optimism that this figure will improve, she said women need to be entrusted with senior roles to enhance their contribution to the sector.
Al-Harbi called for more women participation considering the massive shortage of human resources in the sector. She urged universities to set up tourism schools to fill the gap of professional expertise, and commended Princess Noura Bint Abdulrahman University for announcing plans to open a tourist guide school.
Maria Mahdaly, co-founder of Rumman Company, stressed the importance of increasing public awareness on domestic tourism and the opportunities the sector provides for women. She called for women empowerment through tourism institutes, and urged women to tap into the opportunities available in the sector.
The second workshop highlighted the importance of setting boundaries in interaction with others in work environment.
Dr. Majed Ashy, a psychology consultant, described the common traits of personal boundaries, listing them in three categories: Rigid, Porous and Healthy. Studies show that people with rigid boundaries have negative impact on themselves because they build boundaries between themselves and others, creating isolation. Describing porous boundaries as a combination of rigid and healthy, Dr. Ashy said it is advisable to maintain healthy boundaries because it contributes to building healthy relationships.
Dr. Salma Al-Mofti, psychology consultant, drew attention to the rampant issue of workplace bullying, and explained that it can take place in emotional form as well. She also spoke about bullying in schools and its long-term negative impact on children. The best treatment in instances of bullying is for the victim to muster up strength, find his or her weaknesses and then face the bully, she said.
Dr. Rola Ashour, psychotherapist and founder of Act Center for Psychology Consultation, explained that some people harass others by sending explicit content online or using expressions with improper intentions.
Citing global statistics, she said France has the lowest number of such cases while the US has the highest.
She said the best way to contain harassment at the workplace is by changing the work environment and enforcing strict rules and penalties on violators.
The workshops were held as part of a series of activities lined up by the Makkah Economic Forum across the entire year to involve the private sector as an active partner in the region's development programs and help realize the objectives of Saudi Vision 2030. — SG
http://saudigazette.com.sa/article/535700/SAUDI-ARABIA/Workshops-call-for-more-women-participation-in-tourism-sector
--------
What Does The FATA-KP Merger Mean For Women?
Dr Noreen Naseer
May 28 2018
Merging the erstwhile Federally Administered Tribal Areas (FATA) with the neighbouring province of Khyber Pakhtunkhwa is a huge step for the rights of over five million people, living on the troubled and under-developed peripheral areas of Pakistan.
While the integration makes no distinctions, yet women living on the periphery, who are to this day maimed, displaced and brutally killed with impunity should be given special preference moving forward. Ironically, the state and many other humanitarian and advocacy groups (feminists' networks, international amnesty and human rights commissions) ignored women living in the border areas. Therefore, it is important that extra-cautious measures be taken to protect their rights and ensure the presence of women in the decision-making process.
For a long time now, the Pakhtun border has been devoid of legal structures. Therefore, a council of village elders (Jirga) in the light of customary practices (Riwaj) deal with most of the issues related to women as personal. The problem here is that the traditional structure in the tribal areas is authoritarian and patriarchal. It is accepting of violence against women as a way to assert dominance. The until-now border "badlands" were also considered a militarized space due to international and regional conflicts. Combine that with the cultural construct, unjust patriarchal judicial system and the Frontier Crimes Regulations (FCR), all of which pushed women rights down the pecking order.
In such state of affairs, issues, regarding woman, stayed personal and were never allowed to be recorded in the public, which allowed violation of woman's rights. A woman attending an educational institute, or working in an environment where she freely interacts with men have been considered dishonourable. Similarly, reporting rape is considered 'shameful' for the family; reporting domestic violence is tantamount to disloyalty; demanding or talking about rights is too liberated, westernized and a grave sin.
Thus, with the merger, there is a new hope of transformation from the old, patriarchal and inhuman space for women to a more mainstreamed one.
One welcome step is the extension of the judiciary set up to FATA, which would help and correct the inhuman and un-Islamic practices related to women. Article 247(7) of the Constitution excluded the tribal areas from the jurisdiction of the apex court (unless the parliament allows it), hence leaving the tribal people at the mercy of the president, governor Khyber Pakhtunkhwa and political agents/sarkari Jirga. With the amendment of the Article 247(7), Pakistani superior courts will be able to protect the fundamental rights of the people such as the right to life, property, liberty, security and fair trial. It will also provide a forum to many aggrieved women against evil traditional practice such as bride-money (walver/rasnama), exchanging woman for murder (badala/weenay), honour killing (ghirat marg), child marriages and forced marriages through masculine roar (ghag). Although, there is a serious apprehension that along with the judiciary extension, the government is trying to retain the old structures with the Riwaj Act, but the good news is that it can be challenged, as it is prescribed in the constitution: "laws inconsistent with or in derogation (exemption) of fundamental rights to be void." And all such traditional practices related to the women are against human rights and fundamental rights.
The true mainstreaming and integration of the impoverished border areas will be possible only if elected provincial and local government have an adequate women presence. Such women inclusive systems will be able to address the problems of services delivery (that is mostly a woman's responsibility in the border areas) such as access to clean potable water, sewerage disposal and health and education. In many areas, women fetch water, collect wood, dispose of the human and animal waste and take their children to hospitals and schools.
Let's hope and pray that the 31 amendment changes the fate of women living near the volatile and impoverished border of Pakistan. Let's also hope to see more women emerge from these areas as leaders.
https://www.geo.tv/latest/197114-what-does-the-fata-kp-merger-mean-for-women
--------
Women's Views Will Be Missing in New Turkish Gov't Model
May 28 2018
An important opportunity to increase the number of women parliamentarians for equal representation has been missed, according to the head of women's NGO. "These elections are very important because Turkey will be governed by a different model," said Sanem Oktar Ögüt, the president of the Women Entrepreneurs Association of Turkey (KAGİDER). "Women's views will lack in the new government model," she added.
How do you react to women's place among the candidates of political parties?
Turkey is going to very important elections. It is different than the previous ones because Turkey will be governed by a different model.
Turkey has set growth and development targets. It aims to become richer. While a new system is being established, the representation of women is below the critical mass of 30 percent. In other words, women will remain below the critical mass in the decision-making process.
The numbers in the lists of political parties are there. With 38 percent, Peoples' Democracy Party (HDP) has the highest ratio of women candidates.
But what also matters is from where and with which ranking women have been shown as candidates. We have to also look with which probability women candidates will be elected to the parliament. Currently, 15 percent of the MPs are women and this is way below when you compare it with other countries. This was an important opportunity to increase the number of women MPs.
The Justice and Development Party (AKP) has not shown a single woman candidate from 29 cities and the Republican People's Party (CHP) from 33 cities. Not a single candidate from a whole city?
There are only 33 women in the first three positions of the AKP and that number is 30 for the CHP.
Just as is the case in Turkey on other things, we make it look as if we are doing what are supposed to do. If you ask the question to political parties, whether they have women candidates, the answer is positive. But how about the probability for their election to parliament? Political parties need to be honest; women need to be shown as candidates from the positions where they can be elected.
Can you make an evaluation in terms of how each political party has fared?
All political parties have failed the test. The HDP has the highest ratio. But why is it 38 percent? Why is it not 50 percent?
What is this telling us? The HDP has mainly a Kurdish constituency. Does that mean they have internalized more gender equality? How come other parties, which have so many differences, look alike when it comes to women candidates?
ı think for all of them, the outlook takes shape at the top levels. I wish political preferences were based on a process not from top to bottom but from bottom to top. Political parties' top organs are preparing the lists. The many different attributes of the electoral system, like the 10 percent threshold for instance, do not help.
It is the parties' top echelons that shape what happens in the lower echelons. If you put a target at the top, that's how the rest positions itself. This is the case in work life too. Why are there more women in certain companies? Because the CEO decides to increase the number of women employees and brings in a quota giving preference to female applicants in case there are similar CVs in applications for the job. For instance, the CEO says there needs to be a ratio of women employees around 35 percent and the rest of the company moves in that direction.
For instance, the CHP leader says he cannot fulfill the quotas as he cannot find enough eligible women candidates. He calls on women to be more active.
As usual it is our fault! Women cannot be the head of a department because they are not good enough; because they do not want to work, etc.
Put the blame on women. I think this is a very simplistic approach. There are many woman candidates in the field who work a lot but are already eliminated in the nomination process. When there is a will, there is a way.
The real issue here should be why we need to do it. This is not a favor provided by one to the other. When you look at the World Economic Forum's Development Index, we rank below among 144 countries while the ones at the top are those who have women in their parliament in their political leadership.
Do you think politicians are not aware of these facts?
They are all aware but no one wants to easily transfer their power. The world is changing; there are pioneers of change as well as those who resist change. But the ones who will invest in the future, in women, and in democracy will win at the end of the day.
But politicians will tell you politics reflects society and the place of women is not higher in other walks of life such as in the workforce, arts or sports.
Thirty-three percent of women are in the work force. The employment ratio is 28 percent. But we are targeting to increase these numbers. The official target is 41 percent. So, there is the official vision of increasing women's participation in labor to 41 percent but political parties remain at 20 percent when it comes to women MPs.
Did you have a chance to look at the campaign promises? What would you say about that?
For the past five or six years, there has been talk about gender equality in party politics. All give importance to women's participation in the economy. When it was the president of the G20, Turkey proposed to found the W20. But what matters here is not only saying it but also making it happen. To take action. Had politicians been genuine about it, the ratio of women candidates would not be that low. So, these numbers do not reflect the promises.
What will you say about the performance of the last parliament on women issues?
I can talk about work life. There was a law we have been working on for a long time on child care, which keeps women away from employment. An amount between 150 to 300 liras will be given to women who give birth to send their children to a daycare center and this amount will be deduced from the tax of the employer. The law has passed. We are also working with the relevant ministry to increase the number of accessible, affordable and trustworthy child care centers.
But of the 55 billion lira worth incentive package, only 5 billion was earmarked for youth and women. Why not half of it? In the incentive package, there are no measures to keep women in the work force. So, we need more result-oriented action.
How do you evaluate the performance of women MPs?
There are many active women in all political parties. But there is a question mark on whether they are coming together independent of their parties and working together. They know the problems but they have a problem with taking action and solving them. While they are a minority in their parties, they do not come together and join forces.
WHO IS SANEM OKTAR ÖĞÜT?
Sanem Oktar Öğüt's career started in Colgate Palmolive in 1993 and she established her first company Tribeca Communications in 1997.
In 1999, she founded Tribal Sales & Marketing Support Services and in 2002, she founded her database marketing company, directComm. Most recently, she founded Limonsocial in 2011.
In 2015, WPP announced that GroupM, the leading global media investment group, had acquired a majority stake in directComm, and recently Öğüt became a partner and CEO of Wunderman Istanbul.
A serial entrepreneur; Öğüt was one of the Top Ten Women Enterpreneurs of Turkey in 2010; her numerous work and projects have been awarded many times.
Since May 2015, she has been president of KAGIDER and also a member of the W20 Steering Committee.
http://www.hurriyetdailynews.com/womens-views-will-be-missing-in-new-turkish-govt-model-132455
--------
URL: https://www.newageislam.com/islam-women-feminism/charlie-hebdo-again-portrays-hijabi/d/115376
New Age Islam, Islam Online, Islamic Website, African Muslim News, Arab World News, South Asia News, Indian Muslim News, World Muslim News, Women in Islam, Islamic Feminism, Arab Women, Women In Arab, Islamophobia in America, Muslim Women in West, Islam Women and Feminism