New Age Islam News Bureau
18 Jun 2015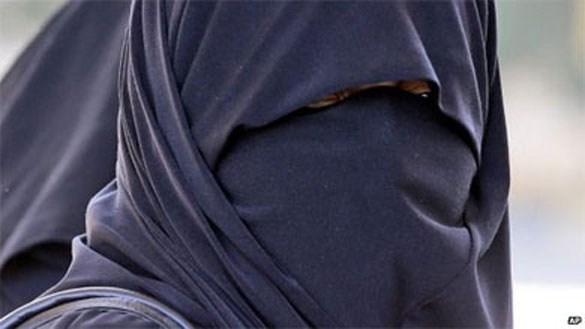 Chad's security forces have been ordered to burn all burkas sold in markets
-------
• Iranian Women Are Taking To Social Media to Declare Freedom from Hijab
• Confronting FGM in Iran and Iraqi Kurdistan
• Uyghur Girl Appeals for Help in Freeing Family from Thai Detention
• Michelle Obama's Powerful Message to Young Muslim Women in East London
• Jihadi Bride: ISIS Advancing On Sexual Exploitation
• Widow of Slain Egyptian Christian Says She's 'Proud' Her Husband Stood Firm in Faith as ISIS Beheaded Him
• Lady's 'Car-For-Marriage' Offer Draws Multitude in Kano
• Meet Muslim Girl Joining 'Pinoy Big Brother'
Compiled by New Age Islam News Bureau
URL: https://newageislam.com/islam-women-feminism/chad-bans-islamic-face-veil/d/103554
-------
Chad bans Islamic face veil after suicide bombings
18 June, 2015
Chad has banned people from wearing the full-face veil, following two suicide bomb attacks on Monday.
Chad's government accused Nigerian militant Islamist group Boko Haram of the bombings which killed more than 20 people.
The prime minister said the veil was used as a "camouflage" by militants and said the security forces will burn all full-face veils sold in markets.
Chad is to host a new regional force set up to tackle Boko Haram.
The militant group has not commented on the attack but has previously threatened to attack Chad, after its forces started to help Nigeria.
At a meeting with religious leaders, Prime Minister Kalzeube Pahimi Deubet said the ban applied everywhere, not only public places.
He added that any clothing that covers everything but the eyes was a camouflage.
The attackers were on motorcycles when they blew themselves up outside two police buildings in the capital, N'Djamena.
Borno state, at the heart of the insurgency, is on the Nigerian border with Chad and Chadian forces have played a key role in helping Nigeria battle the jihadist group.
The US announced on Tuesday that it will give $5m (£3.2m) towards a multi-national task force headquarters in Chad.
The BBC World Service's Africa editor Richard Hamilton says Boko Haram militants have increasingly been using female suicide bombers in Nigeria, as they are more likely to smuggle bombs into public places without detection.
The majority of the population in Chad is Muslim and the burka is worn mainly for religious reasons, but also helps protect women from the hot, dusty climate of the Sahara.
The full-face Islamic veil was also banned in May in public places in Congo-Brazzaville, to "counter terrorism".
Although there has never been an Islamist attack in the country and less than 5% of the population of Congo-Brazzaville is Muslim, thousands of mostly Muslim people had fled the neighbouring Central African Republic and had taken shelter in mosques.
http://www.bbc.com/news/world-africa-33166220
--------
Iranian women are taking to social media to declare freedom from hijab
18 June, 2015
A social media campaign protesting the enforced wearing of head scarves in Iran has found traction among women living in the country.
What began as a humble post by a journalist online is sparking a quiet movement in Tehran.
"My Stealthy Freedom," a Facebook page created by an Iranian journalist and activist, is being amplified by the public support of Iranians who are taking part in its powerful message: shed the compulsory hijab in a country where it is illegal to do so.
At first, Masih Alinejad's page was a place for her own advocacy. A journalist and activist for religious freedom and women's rights, she left Iran in 2009 to pursue an education in the UK. Her first post on the topic of hijab was two self portraits, a photo where her head is covered and another where it is not, captioned, ""Hijab is being forced on women not only by the Morality Police, but also out of consideration for family, through wanting to keep a job and because of fear of judgment from others."
Recommended: Sunni and Shiite Islam: Do you know the difference? Take our quiz.
She was soon inundated by friends sending her photos with their heads bared.
Now women in Iran, Tehran in particular, are taking the campaign further by videotaping and photographing themselves in public spaces with their heads uncovered. They then send the videos and photos to Alinejad with their own messages of the experience, and she posts them to her page.
"Every individual story makes me really happy," Alinejad said in a video on Vox of her page, which now has more than 825,000 likes and hundreds of posts. The women "just want to feel the wind through their hair."
Alinejad also describes in the video how women who wear hijab still send messages of support: "I believe in hijab, but hate enforced Hijab!" one post says.
The law making hijab compulsory was passed in 1983, a few years after the Islamic revolution. It is illegal for any female over the age of 7 to be out in public without the hijab, a type of Islamic veil that covers the head and neck. According to the Iranian government, 3.6 million women were disciplined in 2014 for "crimes against public prudency and morality," which can commonly refer to dress code violations, according to Vox.
Push-back from the theocratic government has been swift and fierce. According to Alinejad, in an interview with The Independent, she has been the victim of a smear campaign by the Iranian propaganda machine, which spread a rumor that she had been the victim of a rape that her son witnessed.
This type of messaging has been pervasive. Iranian newspapers have quoted officials saying that women who have shed the hijab are victims of assault and rape, but that their actions warrant such a response from men.
"One Conservative analyst went on a website to suggest that if a women does not wear the hijab then if a men has sex with her against her will she cannot call it rape," Alinejad said in the same interview with The Independent.
She went on to point out that the public Facebook posts by Iranian people, women in particular, both counteract the Iranian propaganda machine as well as critically undermine the Morality Police's ability to use fear as a tactic to enforce laws.
"Iran is for all Iranians. Iran is me and my mother. My mother wants to wear a scarf. I don't want to wear a scarf," Alinejad said in the video. "Iran should be for both of us."
http://www.csmonitor.com/World/Global-News/2015/0617/Iranian-women-are-taking-to-social-media-to-declare-freedom-from-hijab
--------
Confronting FGM in Iran and Iraqi Kurdistan
18 June, 2015
Female genital mutilation or cutting (FGM/C) exists in the Islamic Republic of Iran even while the redoubt of clerical dictatorship is absent from a recent survey of FGM in 29 countries, published by UNICEF. The UN agency examined states in Africa and the Middle East. The UNICEF document did not specify them in full, but named eleven. Four – Djibouti, Egypt. Guinea, and Somalia – are Muslim, and feature "universal" incidence of FGM, or a rate above 90 percent of all women.
In Muslim lands outside Africa, FGM is considered a recent phenomenon. An émigré Iranian cleric, Hassan Yousefi Eshkevari, has condemned the practice, arguing that it is unsupported by the Koran or any other Islamic sacred texts. He has declared, "For the past 1,400 years there was no reflection of this topic in books by Islamic scholars or clerics."
Kameel Ahmady, an Iranian social anthropologist, has shone a bright light on FGM in Iran, with a new, self-published study. Ahmady returned to Iran after he "worked in Africa for a number of humanitarian relief NGOs and was given the opportunity to observe UN projects to combat FGM in countries like Egypt, Somalia, Kenya and Sudan."
In the northwestern and southern provinces of Iran, Ahmady, as noted by the advocacy group Stop FGM Middle East, interviewed 3,000 women and 1,000 men over ten years. The research disclosed widespread incidence of FGM in West Azerbaijan on the Iranian border with Turkey and Iraq, and in Hormozgan on the shores of the Persian Gulf. Repeated inquiries revealed that while FGM is declining, it is still common in some areas. In western Azerbaijan, FGM dropped from 39 percent to a current level of 21 percent. FGM fell less steeply in Hormozgan, where 68 percent said in 2011 that they had undergone genital cutting, but the figure decreased to 60 percent in 2014.
The substantive nature of Ahmady's work has led Stop FGM Middle East to call for a new international focus on the problem in Iran. The same organization has supported the Iranian investigator Rayeyeh Mozafarian, author of an academic thesis on the social and cultural background of FGM in the Hormozgan community of Qeshm Island.
For that effort, Rayeyeh Mozafarian interviewed 400 victims of FGM. She published an important book on the atrocious custom, The Razor and Tradition (Tigh O Sonnat) in 2013 – FGM is, in Iran, frequently carried out using razor blades. She has lobbied the UN for action on Iran, but the international body has failed to take notice of the situation in the Islamic Republic.
Stop FGM Middle East reports further that local anti-FGM campaigns have emerged in Iran. In the western Iranian province of Kermanshah, which is a center of FGM, two activists, Elham Hosseini and Osman Mahmoudi, have introduced classes on FGM for women and parents. They are training 50 psychology students to educate women against accepting imposition of FGM, and offer psychotherapy to those who have suffered it. Therapy for FGM is provided for married couples as well as women. Husbands often demand acceptance of FGM from their wives and daughters.
In his work on FGM, Kameel Ahmady learned, "Being male and having a 'non-traditional' background in the sense that I lived abroad… my detailed questions about this extremely sensitive topic – the cutting of the most private part of a woman's body – created resistance and bewilderment. I found that my research was not taken that seriously by some locals, especially the men. Some people, including some of my own relatives, were of the opinion that this subject is not an honorable one for an educated man . . .and the project was deemed not a 'manly' job."
Meanwhile, according to Stop FGM Middle East, some Iranian authorities have denounced FGM but the clerical regime has failed to act against it. Finally, the campaigners against cruelty insist, the world must "put Iran on the map of FGM-affected countries."
Full report at:
http://www.weeklystandard.com/blogs/confronting-fgm-iran-and-iraqi-kurdistan_973118.html
--------
Uyghur Girl Appeals For Help in Freeing Family From Thai Detention
18 June, 2015
A 9-year-old Muslim Uyghur girl living in Turkey has called for help from the international community to be reunited with five family members, who have been detained in Thailand for more than a year after illegally entering the country while escaping persecution in northwestern China's Xinjiang region.
Rahlia – who escaped from a Thai immigration detention center in September along with her then-pregnant mother and three of her siblings – said she had not spoken with her father, two other siblings, uncle or cousin for eight months, and asked for assistance in bringing them to Turkey.
"We traveled from [Xinjiang's] Kashgar (in Chinese, Kashi) city to Cambodia, Cambodia to Vietnam, Vietnam to Thailand, Thailand to Malaysia and Malaysia to Turkey – using back roads the entire way," she said.
"But my father, my uncle, my cousin and some of my siblings are still in Thailand."
The Uyghurs are a Muslim minority within China, and mostly live in the western Xinjiang region. Uyghurs also are spread across Kazakhstan, Kyrgyzstan, Uzbekistan and Turkey.
Rahlia said she had been happy during the eight months since resettling in Turkey's Kayseri province, where she was attending school. But she misses her family members dearly and recently sent a letter (pictured below) to her father at the Thai refugee detention center.
"I wrote a letter to my father because I miss him and my brothers so much," she said.
"I wish we could be reunited—even spending one day together with them would be sufficient for me. Please bring my relatives to me. That is all I hope for and that is what I will pray for."
In her letter, Rahlia asks her father to endure while they wait to see one another again.
"Since we separated, I am left with a saddened heart. But father, be patient and I will be patient and, if Allah wills it, we will unite again for sure," the letter reads.
"Father, if we cannot reunite in this life, we may join one another in heaven … Being patient is very important in this journey, but I miss you so much."
Rahlia's family members are among about 70 Turkic-speaking, Muslim Uyghurs held in a government-run refugee detention center in Padang Besar, a sub-district in southern Thailand's Songkhla province, since March 2014. Visitors have described the facility as cramped with unhygienic conditions.
Many have complained of worsening conditions and poor food quality, and detainees held a hunger strike in January to demand that authorities improve the situation at the facility. One ethnic Uyghur boy detained there died last December after contracting tuberculosis.
The 70 detainees - and some 300 others being held at centers in the Thai cities of Bangkok, Rayong and Trat – have remained in limbo more than a year into their detention, with Beijing demanding they be repatriated to China.
Brazen escape
Rahlia's mother, who spoke on condition of anonymity, said that her family had traveled into Thailand from Vietnam on March 10 last year and were among a group of 220 Uyghurs detained 12 days later while in hiding in the forest.
She said Thai authorities placed them in the two-story Padang Besar center and promised to release them within six months. But when they were not freed, she escaped the facility along with three of her children and carrying her unborn baby.
"We escaped, walked through the woods despite our hunger, and entered Malaysia, where we then went on to Turkey," she said.
"The good people of Turkey are helping us with our expenses. There are at least 500-600 Uyghurs here. We have mosques to pray at, schools to attend, and other members of the Uyghur community visit with us."
But she lamented her detained family members, who she said she had been unable even to speak with by telephone since authorities beefed up security measures at the Padang Besar center in the wake of their escape, and called on Thailand to allow them to be reunited in Turkey.
Risking everything
During the last two years, Uyghurs have been leaving China in droves to escape persecution and repression by authorities who consider them separatists and terrorists and have cracked down on their religion and culture.
Chinese authorities have blamed an upsurge of violence in Xinjiang since 2012 on terrorists and Islamist insurgents seeking to establish an independent state.
Last month, a representative of a Uyghur organization said that Uyghurs from all parts of Xinjiang are relying on networks of Chinese smugglers to take them across the border into neighboring Southeast Asian countries en route to their final destination Turkey, citing those detained in Thailand, a key way station.
He said the Uyghurs were willing to "risk everything because of the persecution that the Chinese government has brought upon them," he said, adding that it was becoming "impossible" for Uyghurs to enjoy human rights in China.
http://www.benarnews.org/english/news/thai/uyghur-girl-06172015111915.html
--------
Michelle Obama's Powerful Message To Young Muslim Women In East London
18 June, 2015
First lady Michelle Obama is promoting a new campaign called Let Girls Learn, with the goal of making sure young women around the world have the chance to go to school.
On Tuesday she had a special message for students at the Mulberry School for Girls. It's located in the east London neighborhood of Tower Hamlets, which has a higher percentage of Muslims than any other area in the United Kingdom.
"Maybe you read the news and hear what folks are saying about your religion," the first lady told the students, many of whom were wearing hijab. "And you wonder if anyone ever sees beyond your headscarf to see who you really are, instead of being blinded by the fears and misperceptions in their own minds. And I know how painful and how frustrating all of that can be."
"But here's the thing -- with an education from this amazing school, you all have everything, everything, you need to rise above all of the noise and fulfill every last one of your dreams," she continued.
About 35 percent of Tower Hamlets' residents are Muslim, primarily from Bangladeshi immigrant families. The neighborhood faces the challenges of poverty, high unemployment and health inequalities, according to the Tower Hamlets Council. More than 75 percent of Mulberry's students qualify for free school lunch.
But these Muslim students have been defying the odds.
The school has been rated "outstanding" by the country's education inspectors. The teachers' efforts result in higher grades on standardized tests every year. Plus, more than 80 percent of Mulberry's graduates go on to attend college.
Drawing similarities to her experience growing up in a working-class family on Chicago's South Side, Obama said she is proud of the girls' passion.
"I look out at all you young women and I see myself. In so many ways, your story is my story."
http://www.huffingtonpost.com/2015/06/17/michelle-obama-mulberry-school-for-girls_n_7606940.html?ir=India&adsSiteOverride=in
---------
Jihadi bride: ISIS advancing on sexual exploitation
18 June, 2015
Though sexual exploitation seems to be a common by-product of war and battles, it has never taken place in the Islamic history until now, and it is not acceptable within Islam, says Henna Rai, activist on sex trafficking and female emancipation issues.
The UN has revealed what Islamic State (IS, formerly ISIS/ISIL) does to women when it gains control of new territory: rape, slavery, sadism and murder. The extremists run slave markets for girls they abduct in captured territories. The more valuable are priced higher; others can be sold "for as little as a pack of cigarettes." Moreover, the kidnapping of teenage girls has become part of IS's method to recruit foreign fighters.
For more on this RT's show "In the Now" asked Henna Rai, activist on sex trafficking and female emancipation issues who is working with the UK Home Office to prevent ISIS recruitment of young people.
Full report at:
http://rt.com/op-edge/267793-isis-women-slaves-rape/
--------
Widow of Slain Egyptian Christian Says She's 'Proud' Her Husband Stood Firm in Faith as ISIS Beheaded Him
18 June, 2015
The 23-year-old widow of Malak Ibrahim, one of the 21 Egyptian Christians who were beheaded by Islamic State terrorists in Libya earlier this year, says she's proud and comforted by the fact that her husband refused to deny Christ and was praying to Jesus when he and the others were killed.
Mariam Farhat, who lives in Al Aour village, about 150 miles south of Cairo, told CBN News that she "was very proud" that Ibrahim "stood firm in his faith and that he didn't deny Jesus."
"We were very sad for the first two days, but we hadn't seen the video," she said. "When we saw them in the video calling to Jesus we were very comforted."
In February, ISIS released a video showing its militants in Libya beheading the Egyptian Copts, who had all been made to wear orange jumpsuits. The video showed the Copts whispering the name of Jesus as their heads were being hacked off their bodies.
Islamic State, also known as ISIS or ISIL, is an offshoot of al-Qaeda that wants to establish a caliphate in the Levant region and beyond. It has gained control over large swathes of territories in Syria and Iraq. Its main targets include religious minorities, including Christians.
Bebawy Al Ham, a brother of another slain Egyptian, identified as Samuel, had a similar reaction.
"We were always praying that God would make them steadfast in their faith," Bebawy was quoted as saying. "We were very happy with what they said on the video: 'Jesus Christ have mercy on us.' When we found out they had been killed for being Christian, we were very comforted, because these were God's children and he took them."
Samuel's family has forgiven the killers, and even prays for ISIS. "I pray for them that God may open their hearts, and they may know the truth and know that what they do is wrong and then do the right thing," Bebawy said. "Jesus told us to forgive every sin and we forgive them and we hope that they can come to know Jesus."
The Sunni terror group is known for its brutality. It has executed 2,618 people, including 1,511 civilians, since last June, when it declared its "Caliphate," according to the U.K.-based Syrian Observatory for Human Rights, which documented at least 464 executions over the previous two months alone.
The overall executions included those of 23 children and 32 women. The executions were carried out mostly by beheading, shooting or stoning. ISIS has also executed 139 of its own members for "exceeding the limits in religion and spying for foreign countries," mostly after they were trying to go back to their homes.
In the recent past, ISIS has released videos showing the beheading of several Western hostages — including British hostages David Haines and Alan Henning, and U.S. citizens James Foley, Steven Sotloff and Abdul-Rahman Kassig.
In its English propaganda publication, ISIS earlier sought to justify its barbarity, saying it is "Islamic" to capture and forcibly make "infidel" women sexual slaves.
"Before Shaytan [Satan] reveals his doubts to the weak-minded and weak hearted, one should remember that enslaving the families of the kuffar [infidels] and taking their women as concubines is a firmly established aspect of the Shari'ah that if one were to deny or mock, he would be denying or mocking the verses of the Qur'an and the narration of the prophet … and thereby apostatizing from Islam," stated the ISIS' propaganda magazine "Dabiq," named after a site in Muslim apocalypse mythology.
http://www.christianpost.com/news/widow-of-slain-egyptian-christian-says-shes-proud-her-husband-stood-firm-in-faith-as-isis-beheaded-him-140492/#JGyL68obB9YS7IIi.99
--------
Lady's 'Car-For-Marriage' Offer Draws Multitude in Kano
18 June, 2015
A mild drama played out at the Freedom radio Kano when hundreds of teenagers besieged the station to marry a lady who promised to give a car and house to anybody who marries her.
The 22-year-old girl, Zainab Abdulmalik had on Inda Ranka, a popular programme of the radio station on Tuesday disclosed her intention to give the items to anybody who marries her.
Our correspondent reports that from across the state well dressed young men thronged the radio station at the Sharada industrial layout area.
The girl had requested that all interested young men who are between the ages of 17 and 25 should assemble at the radio station for screening yesterday morning.
When our correspondent went to the radio station around 11.am, hundreds of youths were seen defying security men of the radio station.
While waiting at the entrance of the station, the boys were seen running after all female visitors, asking them whether they were Zainab.
The number of interested persons who are mainly teenagers kept swelling until when the lady arrived around 1.pm. When she arrived, they all surged towards her expressing their loves to her.
She was ferried by security operatives when they rushed at her from all angles.
Speaking to our correspondent, one of the young men, Haruna Usman said he was interested in the lady because of the offer.
"You know it is not un-Islamic to marry a lady because of her wealth or knowledge, so I'm here because of the offer. I have been longing to marry for long but my financial status has been weighing me down. Nobody will get this opportunity that will not grab it," he said.
Mohammed Mustapha (25) said he decided to offer himself to her because of the way she was treated by her ex-boyfriend.
"I'm not poor because my business capital is over N1m but I came to marry because she was jilted by her lover. If she agrees to marry me, I promise you she will not regret it," he said.
In an interview with our correspondent, the girl who hails from Osun state said she decided to offer the items because she was betrayed by her longtime boyfriend.
"I'm a trader at the singer market and I invested about N5million on my lover but he jilted me after all I have done for him. It is against this that I went to the radio station to offer these items to anybody who is willing to marry me. I'm single and I have never married before," she said.
http://www.dailytrust.com.ng/daily/index.php/news-menu/news/57597-lady-s-car-for-marriage-offer-draws-multitude-in-kano
--------
Meet Muslim Girl Joining 'Pinoy Big Brother'
18 June, 2015
A 13-year-old Muslim girl was introduced as the fourth housemate of the upcoming 10th anniversary edition of "Pinoy Big Brother" on Wednesday.
Dubbed "Faithful Daughter ng Bacolod," Aila Antopino sat down for a live interview on "Aquino & Abunda Tonight" leading up to the June 20 premiere of "Pinoy Big Brother 737."
She explained that she joined the reality show so her father, who is currently based overseas for work, won't have to be away from the family.
http://www.abs-cbnnews.com/entertainment/06/17/15/meet-muslim-girl-joining-pinoy-big-brother
--------
URL: https://newageislam.com/islam-women-feminism/chad-bans-islamic-face-veil/d/103554