Age Islam News Bureau
5 Dec 2012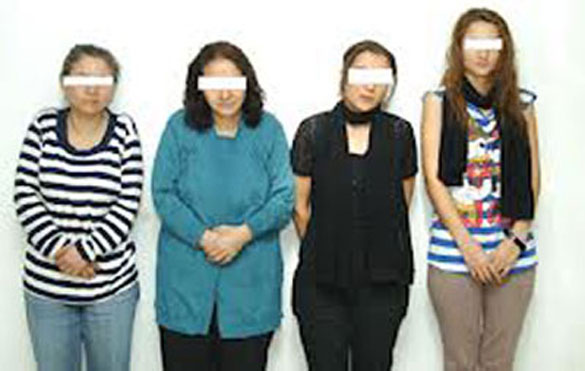 • All Turkish-Female Robbery Gang in UAE Nabbed
• Another Girl's School Destroyed In Hangu, Pakistan
• Abduction of Son: Mother Puts Blame on Banned Group, Tehrik-I-Islami
• Acid Victim Farzana of Dhaka Finally Gives Up After Three Weeks
• Vietnamese Woman Overcome by Death Sentence for Drug Smuggling
• Ending Violence against Women through Art in Islamabad
• Girl Brings Hand Grenade to Oz School; Teachers, Students Evacuated
• 'Mother of the Yemeni Revolution' Leaves a Lasting Impression on Her Audience in Canada
• Her Demand Met, Imprisoned Iranian Ends Hunger Strike
• Queen Noor Expresses Hope on the Rights of Arab Women
• Malaysia Urged to Protect Domestic Workers
• Garut District Head Apologizes to Ex-Wife for 'Unintended Harassment'
Compiled by New Age Islam News Bureau
Photo: All Turkish-Female Robbery Gang in UAE Nabbed
URL: https://www.newageislam.com/islam,-women-and-feminism/new-age-islam-news-bureau/catholic-newspaper-calls-for-ordination-of-women/d/9542
-------------
Catholic Newspaper Calls for Ordination of Women
December 04, 2012
WASHINGTON: An independent Roman Catholic newspaper in the United States called Monday for a campaign to reverse the Vatican's refusal to allow women to become priests.
"Barring women from ordination to the priesthood is an injustice that cannot be allowed to stand," the National Catholic Reporter said, waving a red flag in front of the Vatican over one of its most strongly held teachings.
The call to the priesthood "is a gift from God," it said, and excluding women from responding to that call "has no strong basis in Scripture or any other compelling rationale."
With bishops and theologians on record as opposing women's ordination, the Missouri-based biweekly – a respected voice of the Church's reformist wing – said it now fell upon the faith's rank and file to press for change.
"We must speak up in every forum available to us: in parish council meetings, faith-sharing groups, diocesan convocations and academic seminars," it said.
"We should write letters to our bishops, to the editors of our local papers and television news channels."
There was no immediate reaction from the US Conference of Catholic Bishops, which toes a conservative line on other hot-button issues such as abortion, contraception and gay marriage.
US has the largest Catholic population of any rich country, with a quarter of its 310 million people belonging to the faith – a proportion sustained by Latino immigration.
The editorial was prompted by last month's excommunication and expulsion of Father Roy Bourgeois from the Maryknoll order for his role in a women's ordination ceremony in Kentucky in 2008.
In a statement on Nov 19, the order said Bourgeois, a priest for 39 years, had acted "without the permission" of local bishops "while ignoring the sensitivities of the faithful across the country."
"Disobedience and preaching against the teaching of the Catholic Church about women's ordination led to his excommunication, dismissal and laicisation," it said.
The Vatican's Code of Canon Law states that "a baptised male alone receives sacred ordination validly." Church leaders insist that is an infallible rule that can never be changed.
Erin Saiz Hanna, executive director of the Women's Ordination Conference, said the National Catholic Reporter editorial comes at an important time for Catholics "fed up with the Vatican's hypocrisy and bullying."
Her organization, based in Washington, was founded in 1975 to campaign for women to become priests and bishops.
"While Father Roy suffers the severest sanctions possible in our Catholic tradition, bishops who fail to protect children from paedophile priests often quietly walk away without punishment or censure," she said in an email to AFP.
The editorial, she said, "resonates with a much larger church – the church of the people of God who grasp that men and women are both created equal and that both men and women experience the same calls to priesthood."
http://dawn.com/2012/12/04/catholic-newspaper-calls-for-ordination-of-women/
-------------
All Turkish-Female Robbery Gang in UAE Nabbed
By Aghaddir Ali
December 4, 2012
Sharjah: Four women, accused of stealing from apartments, were arrested by Sharjah Police on Tuesday, a police official told Gulf News.
According to police, valuables and cash were recovered from the women.
The Criminal Investigation Department at Sharjah Police formed a security team to search for the culprits and arrest them after receiving a number of theft complaints from apartment owners.
Police tracked down and arrested the suspects after investigating the method used in the robberies.
They were arrested in co-operation with Dubai Police at a hotel apartment in Dubai.
The suspects have been identified as S.K., S.N., S.K., and S.K. — all are from Turkey.
They are accused of robbery from many flats located in different parts of Sharjah.
Police confirmed the suspects allegedly took advantage of unlocked doors to enter the flats or used sharp tools to gain entry.
They said the suspects stole valuable items and cash from the apartments and a large quantity of gold — some of which was seized from their room at the hotel apartment.
Sharp tools and devices, allegedly used by the suspects, were also found at the room at the time of the arrest.
The suspects first denied their crimes but later confessed to stealing from many flats.
The women have been handed over to the Sharjah Public Prosecution for further action.
Sharjah Police have urged residents not to open their doors to strangers or leave doors unlocked.
They also urged residents to keep their money, jewellery and other valuable items in a safe place.
http://gulfnews.com/news/gulf/uae/crime/all-female-robbery-gang-in-uae-nabbed-1.1114314
-------------
Another Girl's School Destroyed In Hangu, Pakistan
December 5, 2012
HANGU: Three classrooms and the boundary wall of a government girls middle school was destroyed after a bomb planted by unidentified militants exploded in Togh Sarai, Hangu district on Tuesday.
SHO Saddar Zakeem Khan said a huge explosion was heard a little after midnight near Tango Adda.
"The girls school was razed to ground as most parts of the building were destroyed," said Khan. About four kilograms of explosives were planted in a canister along the wall, said an official of the bomb disposal squad. This is the fourth school destroyed in the district.
The first school to be demolished by militants – a primary school for boys – was destroyed on June 21, 2011. On November 20 this year, a girls middle school was destroyed in Kotiki, while a boys middle school on the outskirts of the city was destroyed on November 27.
Despite claims of police officials to launch a search operation on the outskirts of Hangu, no action has yet been taken to nab the perpetrators.
http://tribune.com.pk/story/475338/targeting-education-another-girls-school-destroyed-in-hangu/
-------------
Abduction Of Son: Mother Puts Blame On Banned Group, Tehrik-I-Islami
Malik Asad
December 04, 2012
ISLAMABAD, Dec 3: Terrorism suspects and court cases involving missing people have been a dime a dozen since 9/11 in Pakistan.
However, in a strange twist of affairs, one lingering case of litigation curiously involved a mother whose quest for her missing son for four years has led her to accuse a set of women of kidnapping her son.
On Monday, Zahida Parveen, the mother of Mohammad Adnan, urged the Islamabad High Court (IHC) to try Memoona Akhtar, Robina Kausar, Sabina Karim and two men, Mohammad Awais and Mohammad Maroof, in an anti-terrorism court (ATC) for abducting her son.
The accused belong to Tehrik-i-Islami (TI), an organisation outlawed in 2002.
Adnan Haider Randhawa, Ms Parveen's counsel, argued in front of Chief Justice Iqbal Hameedur Rehman and Justice Riaz Ahmed Khan at the IHC.
The lawyer expressed fears that since Adnan, a student of the University of Engineering and Technology (UET), Taxila, was familiar with remote control technology, he might have been handed over to Tehrik-i-Taliban Pakistan (TTP) in 2008. He pointed out that terrorists needed to make bombs that explode through remote control.
According to the court documents, Adnan was a final year student.
An FIR registered in the Sabzi Mandi police station revealed that on Oct 19, 2008, Adnan left his home for the university, but was abducted from the street.
The next morning he called his mother, but spoke with great difficulty.
Adnan informed his mother that his life was in danger, but cautioned her against telling anyone about his predicament.
According to the petition, Parveen then went to Memoona for help. But the latter told the mother to keep quiet and assured her that she (Memoona) would help trace Adnan.
A few days later, the petition added, Sabina, who is the head of the women's student wing of Tehrik-i-Islami, came to Parveen's house and gave her a letter from Adnan.
The letter, however, was not in Adnan's handwriting.
The distraught mother refused to be satisfied with the letter despite the assurances of Sabina and Memoona.
A second, typed letter, left anonymously at her doorstep, told Parveen that her son had embraced 'shahadat' (martyrdom).
According to the petition, neighbours told Parveen that Memoona, Sabina, Robina, Owais and Maroof had abducted her son at the behest of TTP.
Ghulam Rasool, the missing boy's father, told Dawn that as neighbours he and his family used to visit Memoona's house off and on.
ATTACK ON MOSQUE: The father alleged that the women were involved in other terrorist activities, including a suicide attack on a mosque in Rawalpindi's Parade Lane, a military area, in 2009 during Friday prayers. At least 37 people, mostly retired as well as serving military officers and their children, lost their lives when five attackers opened fire on and hurled grenades at a crowd of about 150 worshipers. All five militants died by either blowing themselves up or fighting the soldiers inside the mosque.
According to him, Mohammad Asghar Ghauri, who is the son of Yasmin Hameed, a 'Naib Nazima' (deputy chief) of Tehrik-i-Islami, was involved in the mosque attack.
Ghulam Rasool said that the SC had also taken notice of the missing boy and after getting details from the police had observed that sufficient evidence "has come on record connecting them (the accused person) prima facie with the commission of alleged offence".
The petition alleged that police investigations carried out under the Supreme Court orders revealed that Memoona and her associates were involved in kidnapping young boys and sending them to Waziristan for training in carrying out terrorist attacks.
It said that Memoona's son Hasham, who was a commander of TTP, was killed in Waziristan.
According to the petition, the prosecution added Section 6 of Anti-Terrorism Act (ATA) 1997 in the 173 report (challan) of the case. The case was remanded to the ATC, but the special judge on May 25 this year observed that the law was not applicable to terror-related offences.
Chaudhry Abdul Aziz, who is the counsel of Memoona and her associates, told the court that there was no evidence to prove that his clients persuaded Adnan to take part in militancy.
He said that the accused women were well educated – Robina has a master's degree in English literature while Sabina is an MA in Mathematics. Memoona is also well educated and is married to a government officer.
He alleged that Adnan was a "right wing sympathizer" who often tried to convince his fellow students to carry out 'jihad'.
He requested the court that the case may not be remanded to the ATC again.
The court has reserved its judgment.
http://dawn.com/2012/12/04/abduction-of-son-mother-puts-blame-on-banned-group/
-------------
Acid Victim Farzana Of Dhaka Finally Gives Up After Three Weeks
December 04, 2012
Fighting for life for about three weeks, acid victim Farzana Akhter finally died at a private hospital in the capital city Dhaka yesterday.
Criminals threw acid on the 16-year old madrasa student and two others at Sonakanda village in Daudkandi upazila of the district on November 12.
In the attack, Farzana, daughter of Jalal Uddin and a student of class IX at a local madrasa, was severely burnt. Her nephew and student of class V at the same madrasa Faisal Ahmed, 10, and their domestic help Khadiza Aktar, 15, were also injured.
Full report at:
http://www.thedailystar.net/newDesign/news-details.php?nid=259847
-------------
Vietnamese Woman Overcome by Death Sentence for Drug Smuggling
November 22, 2011
Boyolali, Central Java. A Vietnamese woman broke down in tears when an Indonesian court sentenced her to death on Tuesday for attempting to smuggle more than a kilogram of crystal methamphetamine into the country.
Prosecutors had previously urged the Boyolali District Court to sentence Vietnam national Tran Thibich Hanh to life in prison and a fine of Rp 8 billion ($880,000).
Full report at:
http://www.thejakartaglobe.com/home/vietnamese-woman-overcome-by-death-sentence-for-drug-smuggling/480140
-------------
Ending Violence against Women through Art in Islamabad
December 05, 2012
ISLAMABAD: Divulging aggression against women through piercing portrayals, the one-day poster exhibition and competition on the theme 'Violence against women' was held at Lok Virsa Heritage Museum on Tuesday.
The event was arranged by the Women Organisation for Rights and Development (WORD) in collaboration with Lok Virsa.
More than one hundred students from various educational institutions participated in the exhibition and competition titled '1 Billion Rising Campaign'. Posters of the selected students focusing on women-related issues were displayed in the Heritage Museum for public awareness.
Full report at:
http://www.dailytimes.com.pk/default.asp?page=2012\12\05\story_5-12-2012_pg11_8
-------------
Girl Brings Hand Grenade to Oz School; Teachers, Students Evacuated
Dec 05 2012
Melbourne: An 11-year-old girl brought a hand grenade to her class in an Australian school for a 'show and tell' activity on Wednesday, prompting evacuation of over 500 students and teachers.
Police were called to Hunter Christian School in Sydney after a teacher discovered the girl had brought a "pineapple" hand grenade, a model of weapon used in the World War-II and the Vietnam War.
Full report at:
http://www.indianexpress.com/news/girl-brings-hand-grenade-to-oz-school--teachers-students-evacuated/1040779/
-------------
'Mother of the Yemeni Revolution' Leaves a Lasting Impression on Her Audience in Canada
Warmth and a sense of purpose
Tawakul, hailed as the 'mother of the Yemeni revolution', leaves a lasting impression on her audience during her recent visit to Canada
By Qais Ghanem
December 5, 2012
Nobel laureate Tawakul Karman, an easily recognisable Yemeni face wrapped in Hijab, was in Canada last week, where I had the pleasure of spending about 24 four hours, on and off, with her and her husband Mohammad, as well as her executive assistant, Arafat, during her very packed visit to Ottawa, Canada.
Her visit to Canada had started on November 20 in Edmonton, Alberta, where she received an honorary doctorate degree from the University of Alberta in recognition of her inspiring leadership. However, her visit to the nation's capital was very busy indeed. It started with a presentation, in Arabic, to the University of Ottawa, with simultaneous interpretation by two individuals, one of whom was a Yemeni friend of mine, Farooq Aman, who was most impressed with her warmth and humility.
Full report at:
http://gulfnews.com/opinions/columnists/warmth-and-a-sense-of-purpose-1.1114271
-------------
Her Demand Met, Imprisoned Iranian Ends Hunger Strike
By THOMAS ERDBRINK
December 05, 2012
TEHRAN — An imprisoned human rights lawyer serving a sentence for "acting against national security" ended a 49-day hunger strike on Tuesday after judicial authorities acceded to her demand to lift a travel ban imposed on her 12-year-old daughter, her husband said.
The lawyer, Nasrin Sotoudeh, 49, who until her imprisonment in 2010 was one of the last lawyers taking on high-profile human rights and political cases in Iran, decided in October to go on the hunger strike out of fear of increasing limitations imposed on her family. She fell into fragile health during the hunger strike, in which she would drink only water mixed with salts and sugar. Her weight dropped to 95 pounds.
Full report at:
http://www.nytimes.com/2012/12/05/world/middleeast/nasrin-sotoudeh-iranian-rights-
-------------
Queen Noor Expresses Hope on the Rights of Arab Women
By STEPHEN CASTLE
December 05, 2012
LONDON — Amid worries that the Arab Spring may give way to political Islam and set back the cause of women's rights, Queen Noor of Jordan said Tuesday that it was too soon to give up hope that revolutions in the region would ultimately yield social progress.
"Revolutions are messy," she said at a conference in London. "They take time. They ultimately require negotiation and compromise. Revolutions in the Middle East are taking place in real time as we speak, and I think it is far too soon to give them up for lost."
Queen Noor conceded that the rise of political Islam had shaken confidence in the progressive social impact of the Arab Spring, highlighting worries on Egypt, where a vote on a new constitution is scheduled for Dec. 15.
Full report at:
http://www.nytimes.com/2012/12/05/world/middleeast/queen-noor-expresses-hope-for-women-amid-revolutions.html?ref=world
-------------
Malaysia Urged to Protect Domestic Workers
By LIZ GOOCH
December 04, 2012
KUALA LUMPUR, Malaysia — Malaysia must punish the recruitment agents accused of forcing more than 100 foreign women to work as domestic help without pay and enforce laws to protect migrant workers, the Indonesian Embassy in Kuala Lumpur and a migrant workers' support group said on Monday.
Malaysian immigration officers on Saturday rescued 105 women, mostly Indonesians, who said they had been forced to work as domestic helpers and at food stalls, been given little food and been confined to a four-story building at night in the port town of Klang, near Kuala Lumpur.
Full report at:
http://www.nytimes.com/2012/12/04/world/asia/malaysia-urged-to-protect-domestic-workers.html
-------------
Garut District Head Apologizes to Ex-Wife for 'Unintended Harassment'
Jakarta Globe | December 04, 2012
The Garut district head, who divorced his teenage wife via a text message after four days of marriage, has apologized to her after he was reprimanded by West Java Governor Ahmad Heryawan on Monday.
"I don't have any intention to harass [her]," said Aceng Fikri, the Garut district head, on Monday night as quoted by Antaranews.com. "I deeply apologize to the public. Hopefully this can be a lesson in the future."
Home Affairs Minister Gamawan Fauzi had called on Ahmad to reprimand him, stating that he failed to set a good example to his people.
Full report at:
http://www.thejakartaglobe.com/home/garut-district-head-apologizes-to-ex-wife-for-unintended-harassment/559722
-------------
URL: https://www.newageislam.com/islam,-women-and-feminism/new-age-islam-news-bureau/catholic-newspaper-calls-for-ordination-of-women/d/9542