New Age Islam News Bureau
15 May 2016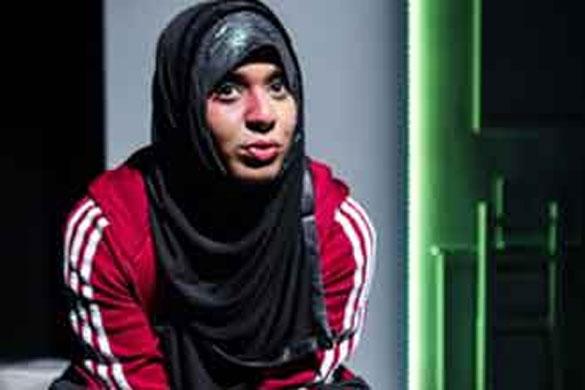 Photo: Ambreen Razia stars as 16-year-old bold schoolgirl Shaheeda in Diary of a Hounslow Girl.
-----------
• See Young British Muslim Women Like Never Before At Stratford Circus
• FIFA's First Woman Secretary General Is Used to Crises
• Man Pleads Guilty to Ripping off a Muslim Woman's Hijab on an Airplane While Saying, "This Is America!"
• Istanbul Modest Fashion Week Kicks Off Amid Controversy
• Halal Speed Dating On a Saturday Morning? More and More Muslims Say Yes
Compiled by New Age Islam News Bureau
URL: https://newageislam.com/islam,-women-and-feminism/new-age-islam-news-bureau/cases-of-indian-muslim-women-being-ill-treated,-harassed-by-husbands-from-uae-and-usa/d/107306
----------
Cases of Indian Muslim Women Being Ill-Treated, Harassed By Husbands from UAE and USA
May 14 2016 IST
The Ministry of External Affairs assured the State Minorities Commission the Ministry to take steps to extradicate culprits who ill-treated the Muslim women From UAE and USA.
Recently, two complaints have been filed by two different Muslim women to the State Minorities Commission complaining that they have been harassed, physically tortured and demands of dowries made by their husbands and family.
After cases have been registered by the petitioners, the accused has fled to Foreign Countries to escape the Law
In response to the letter of State Minorities Commission, the Ministry of External Affairs has addressed letter to the Commission, vide their letter No.T-4410/26/2016 Dated April 13, 2016 setting in motion the process of Extradition.UNI VV KVV AK 2120
news.webindia123.com/news/Articles/India/20160514/2860150.html
-------
See young British Muslim women like never before at Stratford Circus
15 May 2016
Referring to a new generation of young, fiesty, Muslim women who are grappling with family expectations and modern city life, the tag has been claimed by Ambreen Razia for her inaugural play Diary of a Hounslow Girl.
The 23-year-old writer and actress said she learnt of the term after her friend made a remark about a girl outside Kingston College one day.
"'Oh my days', my friend said, "that is a Hounslow Girl'," explained Ambreen.
It transpires that a Hounslow Girl is someone with "big hoops, a hijab, who is blinged up and on her phone", yet is also a dutiful family member who visits the mosque.
Amreen wrote her critically-acclaimed, one-woman, show two years ago having been inspired by the incident – effectuated only after a frustrating post-university period when she could not find work as an actress.
The play, which also stars Ambreen, is narrated by 16-year-old Shaheeda, who she describes as being "very strong and inquisitive".
We are introduced to her character as she returns from her sister's wedding in Pakistan to Hounslow, subsequently struggling with her identity and relationships.
"Shaheeda is a character who is very bold," said Ambreen. "That voice has to come out. Sometimes when you see British Muslim girls on TV, they are quite tame or quiet.
"It is important to show an aspect of what they are like. Just because Shaheeda is a British Muslim girl, she still has the same hormones as everyone else."
Teenage pregnancy and drugs both feature and Ambreen states that the coming-of-age tale came from the experiences of her friends and other Muslim girls growing up in the UK today.
"I wanted to create a play that did not have a political image," she said. "It comes from really wanting to get the story out there.
"It is comical, it is funny, it is kind of dark. There are provocative moments that audiences may not necessarily experience."
The South Londoner, who recently starred in the BBC3 drama Murdered By My Father about an honour killing, says she "can't wait" for the play to arrive in Stratford and thinks it will resonate well with the area's audiences.
"For young people they really love it because it taps into the vocabulary that they use that perhaps older people would not understand," Amreen said.
"The play is important because it gives young people a voice."
newhamrecorder.co.uk/news/see_young_british_muslim_women_like_never_before_at_stratford_circus_1_4535778
-------
FIFA's first woman secretary general is used to crises
May 15, 2016
Paris, May 15 : Fatma Samoura, FIFA's first-ever female secretary general, may be an outsider in the football world but she is hoping her two decades of experience as a UN diplomat will help her restore the sport's "tarnished image". "My goal is to support the programme of president Gianni (Infantino) and to help football restore its tarnished image," the Senegalese UN diplomat, named Friday as the second-in-command of football's ruling body, told AFP. "And to those who speak of my lack of experience, I say give me the time to prove myself," she said in a telephone interview Saturday from Nigeria's Abuja, where she was representing the United Nations Development Programme at a summit to discuss efforts to defeat Boko Haram Islamists. (Read: India take on Malaysia, USA face Tanzania in AIFF Youth Cup)
FIFA's new second-in-command is no stranger to the kind of power struggles that brought FIFA to the brink, having served as the representative of the UN Development Programme in post-coup Madagascar from 2010 to 2015 before moving to Nigeria. "FIFA is the United Nations of football and I bring 21 years of experience in the private sector and the UN in terms of good governance and transparency, and the obligation to make the different federations and FIFA accountable," the 54-year-old said. Samoura's years with the UN, including with the World Food Programme, have taken her crisis-management skills to hotspots such as Afghanistan, Chad and Darfur.
"We must try to restore football to what it was, the most popular sport that breaches social divides," she told AFP. "And one of the things I am going to try to do is bring greater support to women's football." Samoura, who was named as the successor to disgraced Frenchman Jerome Valcke at a FIFA congress in Mexico on Friday, will take up her post by mid-June after undergoing an eligibility check administered by an independent review committee. She said she met Infantino, who was appointed to succeed Sepp Blatter in February, for the first time in November last year.
"I was in Madagascar at the time and it was during a match between Madagascar and Senegal," in a qualifier for the 2018 World Cup, she said.
"But we did not speak at all about the secretary general post. At the time he was not yet a candidate for the FIFA presidency and was preparing Michel Platini's campaign. "After dinner, somebody told me about what he had said. And Gianni Infantino had apparently said:"If one day I am president of FIFA this is my secretary general'. "When he was elected it was me who went to talk to him. I sent him a mail and he called me. He then offered the post to me. He made me an offer and he convinced me!"
india.com/sports/fifas-first-woman-secretary-general-is-used-to-crises-1186908/
------
Man Pleads Guilty To Ripping Off A Muslim Woman's Hijab On An Airplane While Saying, "This Is America!"
May 15, 2016
A North Carolina man admitted Friday that he ripped off a fellow passenger's hijab on a Southwest airlines flight in December 2015.
Gill Parker Payne, 37, pleaded guilty in a federal court in New Mexico to one count of using force or threat of force to intentionally obstruct a Muslim woman's freedom to exercise her religious beliefs.
On Dec. 11, 2015, Payne was seated several rows behind a Muslim woman, identified by the Justice Department only as K.A., on an Albuquerque-bound flight from Chicago, according to court documents.
Payne said he saw K.A., who he did not know, wearing a hijab. He said he was aware that it was a religious practice of Muslim women to wear a headscarf.
Shortly before landing in Albuquerque, Payne said he stood up from his seat and walked up to K.A.'s aisle seat.
"I stopped next to her seat, looked down at K.A., and told her to take off her hijab, stating something to the effect of, 'Take it off! This is America!'" Payne said in his written agreement.
"I then grabbed the back of the hijab and pulled it all the way off, leaving K.A.'s entire head exposed. As a result, K.A. felt violated and quickly pulled the hijab back up and covered her head again," Payne wrote. "Because I forcibly removed K.A.'s hijab, I admit that the United States can prove beyond a reasonable doubt that I intentionally obstructed K.A.'s free exercise of her religious beliefs."
"Mr. Payne has taken responsibility for his actions and is sorry for them," Payne's attorney, Amber Fayerberg, told BuzzFeed News Saturday. "He is ready to begin the healing process and move forward."
Under the statute, a person can face up to one year in prison and a fine of up to $100,000.
However, under the terms of his plea agreement, Payne will serve two months of home confinement and an unspecified period of probation, which will be determined at his sentencing, Fayerberg said.
"No matter one's faith, all Americans are entitled to peacefully exercise their religious beliefs free from discrimination and violence," Principal Deputy Assistant Attorney General Vanita Gupta, head of the Justice Department's Civil Rights Division, said in a statement.
"This prosecution sends a clear message to anyone who contemplates the use of threats or intimidation to interfere with the right of individuals, including members of our Muslim community, to express their faith without fear," U.S. Attorney Damon P. Martinez of the District of New Mexico, said in his statement.
buzzfeed.com/tasneemnashrulla/man-pleads-guilty-to-ripping-off-a-womans-hijab-on-an-airpla?utm_term=.ucRElNLgz#.dy1ObMJVY
-------
Istanbul Modest Fashion Week kicks off amid controversy
May/15/2016
With spring colors, breezy fabrics, high necklines and long hemlines, the International Modest Fashion Week opened May 13 in Istanbul, as Turkey sought to be seen as a creative hotspot for conservative wear around the world.
Seventy designers were taking part in the two-day event hosted by Modanisa, an online retailer of Muslim fashion, at the historic Haydarpaşa railway station flooded with spotlights for the occasion.
"[We want] to create mainstream fashion out of modest fashion and to energize Islamic communities to produce [clothing] for Muslim women," Modanisa CEO Kerim Türe said. "They want to have their rules but they also want to look chic."
Modest fashion represents a growing market in the world and Turkey, with its Muslim traditions and booming textile industry, is uniquely placed to cash in both creatively and commercially. Worldwide spending on Muslim clothing is projected to grow to $327 billion by 2020, according to the latest Global Islamic Economy report.
Designers say it's a budding industry in which Turkey serves as a natural bridge between European and Asian markets.
"In fashion, we have the mainstream fashion line and the modest fashion line," says Malaysian designer Hazizul Abd Aziz of Aidijuma who favors cool satins and cottons. "The modest fashion line is actually very new."
The models paraded styles ranging from earthy tunics and floral dresses to grandiose gowns in shimmering pear palettes and dark abayas - all connected by shape-concealing cuts. The looks were set off by dashing turbans, decorative headscarves and prim chignons for the unveiled.
The fashion shows come amid a revived debate over the role of secularism in Turkey, a predominantly Muslim nation where the constitution enshrines secular principles.
Parliament Speaker İsmail Kahraman sparked controversy last month by suggesting the country should have a constitution based on religion instead.
"As a Muslim country, why should we be in a situation where we are retreating from religion? We are a Muslim country. So we must have a religious constitution," Kahraman said in a conference titled "New Turkey and New Constitution" in Istanbul, stressing that "as a Muslim country" Turkey's constitution should be religious.
President Recep Tayyip Erdoğan, however, dismissed Kahraman's suggestion and said there was no "need to especially emphasize Islam," as the parliament speaker's remarks led to protest from opposition parties and segments of the society.
Academic Mary Lou O'Neil says the growing visibility of religiously conservative women in public spaces has sparked fear in Turkey's secular women that this will evolve into restrictions on their dress and conduct.
"In a society that said public space is neutral, religiously neutral, you now have conservative fashion week," said O'Neil, director of the Gender and Women's Studies Research Center at Kadir Has University in Istanbul. "[It's] a visually stunning development for a lot of people and it certainly bothers a lot of people."
Many studies suggest a growing number of Turkish women self-identify as "conservative" and veiled women are part of the Turkish workforce, appearing at universities and state institutions, she noted. Many younger women have also had the opportunity to travel or study abroad and speak more than one language - opportunities that translate into more economic power.
"They want all the same things, just packaged in a slightly different way," said O'Neil.
Meanwhile, a group of protesters from the Free Thought and Education Rights Association (Özgür-Der) gathered in front of Haydarpaşa train station and chanted slogans against the event.
"It is worth noting that the reference point of the headscarf, which is seen as a simple commodity or advertisement good by some people, is in fact chastity and identity," a spokesperson for the group, Emine Nur Çakır, told reporters.
"The headscarf, which symbolizes a stand, a lifestyle, an Islamic identity, is being sacrificed in the name of fashion – a product of capitalism, a system equivalent to the jahiliyyah [pre-Islamic age of ignorance] lifestyle," she argued.
Stating the headscarf was one of the issues where "social degradation" was felt the most, the group covered fashion week advertisement with placards and chanted "God is great" in Arabic.
hurriyetdailynews.com/istanbul-modest-fashion-week-kicks-off-amid-controversy.aspx?pageID=238&nID=99180&NewsCatID=376
URL: https://newageislam.com/islam,-women-and-feminism/new-age-islam-news-bureau/cases-of-indian-muslim-women-being-ill-treated,-harassed-by-husbands-from-uae-and-usa/d/107306
New Age Islam, Islam Online, Islamic Website, African Muslim News, Arab World News, South Asia News, Indian Muslim News, World Muslim News, Womens in Islam, Islamic Feminism, Arab Women, Womens In Arab, Islamphobia in America, Muslim Women in West, Islam Women and Feminism