New Age Islam News Bureau
13 June 2022
• Venezuela's First Lady Meets Iranian Women's Social Activists
• 'We Exist but It Is Not A Life': Afghan Women Face Bleak Prospects Under Taliban
• Sisters in Islam Co-Founder Zainah Anwar: Islamic Feminism Still Has A Ways to Go In Malaysia
• Kerala Women Activist Aysha Renna Lathi-Charged For Protesting UP Demolition
• World Trade Organisation Members Urged To Address Needs of Women Entrepreneurs
• Pakistan leg-spinner Tuba Hassan crowned ICC Women's Player of the Month for May
• Female-Only Transport Trips For Egypt's Women Bring Change Amidst Inequality
Compiled by New Age Islam News Bureau
URL: https://newageislam.com/islam-women-feminism/canadian-muslim-women-theatre/d/127239
--------
Canadian Muslim Women Practice the Art of HealingThrough Theatre amidst Racialised Attacks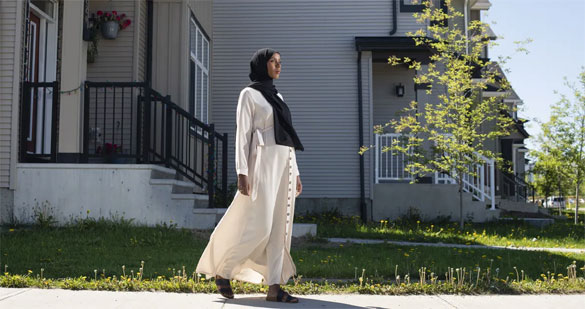 Asha Yassin is a member of Sisters' Dialogue, a group founded in response to the rise in attacks against visibly Muslim women.
-----
Rukhsar Ali
Jun 12, 2022
Chelsey Sapp, a 33-year-old Cree Muslim woman, watched the performers on her screen intently as tears filled her eyes. An actress dressed in black grabbed colourful scarves and put them in a bag one by one, then lugged it over her shoulder as Sapp looked on.
"She said something like, 'It's so heavy for me,'" Sapp recalls, recognizing the symbolism of the weight she carries herself from her hardships – intergenerational trauma as an Indigenous survivor and the discrimination she faces as a Muslim woman.
Sapp wasn't just experiencing catharsis through watching another character. She was experiencing her own life story played out (on Zoom) by local theatre company Third Space Playback Theatre Edmonton. Performing their brand of playback, a participatory form of improvisational theatre, the actors "played back" the stories audience members shared with them.
"It was just amazing," Sapp says about the special performance she calls The Life of Chelsey. "When they played [my story] back to me, I looked at myself and I'm like, 'Wow. That's one courageous, resilient woman right there.'"
When the actors completed Sapp's playback, there were few dry eyes in the virtual space. The March 2022 performance was the first collaboration between local grassroots organization Sisters' Dialogue and the theatre. The groups organized the exclusive Playback Theatre performance just for Muslim women, mostly from the Edmonton area, to facilitate healing from the gendered Islamophobia and racism they'd experienced in the city and to foster sisterhood through art.
Over the past two years, Edmonton and its surrounding area have seen a string of reported physical and verbal attacks against racialised Muslim women. Recent data from Statistics Canada showed that while overall crime was down 10 per cent in 2020, reported hate crimes were up 37 per cent across the country. That number doesn't include the numerous hate crimes that go unreported or incidents that don't fit the legal bill of a hate crime.
"Month after month, there is another attack and most of the victims are Black Muslim sisters," explains Wati Rahmat, a Malay Muslim woman living in Edmonton. "It's created a lot of fear and anxiety amongst women."
Rahmat co-founded Sisters' Dialogue in 2021 in reaction to the attacks. While other community organizations and different levels of government responded to the attacks with programs such as self-defence classes for Muslim women, Rahmat says she noticed that victims were often left out of the responses.
"Every time there's an attack, there's a lot of media attention and outrage from the community but then it'll just dissipate," she says. "But no one's really saying 'Hey, we're here for you. We are your sisters, and we care for you.'"
Rahmat recalls after the first series of attacks from December 2020 into early 2021, "Nobody was talking about mental health. Nobody was talking about victim support." Rahmat's organization aimed to fill that gap, and with its Third Space collaboration, give Muslim women the community support they desperately needed.
Third Space's artistic director and art therapist, Lucy Lu, explains that Playback Theatre was developed in 1975 in New York by Jonathan Fox, a student of improv and oral traditional storytelling, and Jo Salas, a musician and activist, along with other members of the original company. Over the next 15 years, the theatre was brought to audiences in Japan, Switzerland, Australia and many other countries where new companies began to emerge. In 1993, The School of Playback Theatre was established in New York, later becoming the Centre for Playback Theatre. According to the International Playback Theatre Network, the art form is practiced in over 70 countries and employed in a wide variety of contexts from sparking social dialogue to team-building and more.
In a playback theatre performance, the actors on stage engage with the audience, inviting them to tell their stories. At this event, Sapp shared her life story in the intimate company of fellow Muslim women and only female performers from Third Space. Sapp recalled overcoming her tumultuous childhood, abuse, and alcohol addiction, and shared her dream of publishing a book one day – an autobiographical telling of her resilience.
Once the story is shared, the actors "play it back," repeating the storytellers' dialogue, turning bits and pieces of the story into an interpretative dance, or using props to replay significant moments, often with live musical accompaniment. Despite the actors never having heard the stories before they take the stage, they produce complete performances that often evoke strong emotions from the audience.
"For women to just express themselves and see their feelings being acted out, it's very cathartic," says Rahmat. "It's very visceral."
For Sapp, seeing her life played out on screen helped her see just how much she had really gone through – something she realized she rarely gave herself credit for.
Rahmat and Lu aim to continue their collaborations, aspiring to eventually make a session open to non-Muslims to watch.
Building on the foundation of playback, Third Space caters its performance to the community it is invited into with an intentional attempt at decolonizing the practice. Lu says that her company attempts a culturally sensitive approach that values a community's experiences without retraumatizing anyone. After each storyteller speaks, Lu asks them, "Would you like to hear your story played back?"
"Because people have been so violated from intrusion in their space, the [ask for] permission is to signal for all of us that you don't have to do anything you don't want to," Lu explains.
For another participant, Asha Yassin, seeing her story played back made her realize she wasn't alone. Yassin, a counselling psychology student and Sisters' Dialogue member, remembers feeling apprehensive about playback at first, but left feeling a sense of Muslim sisterhood.
"My intersecting identities of being a Black, visibly Muslim woman make me such a vulnerable target," Yassin shares. In her story, the hijab-wearing mother said she feels unsafe outside the walls of her home. Yassin recounted having a discussion with her classmates about their self-awareness levels. "A lot of them would say maybe a two, maybe a one [out of 10], and I was just so surprised by that," she says. "That's a privilege." When telling her story to the playback group, Yassin shared that her self-awareness level is always at a "10 out of 10″ and "it never drops." Yassin says she's been followed in stores and on the street multiple times, been verbally assaulted and even spat on in hateful incidents.
In her playback, the actors emphasized Yassin's worry and desire for comfort and protection outside her home. She watched as performers repeated her words like "self-awareness" and acted out the walls that represented her safe haven from the racism and Islamophobia she encounters on a regular basis.
After watching her playback performance, some of the words and movements she had experienced through her screen stayed with her long after the metaphorical curtain had dropped. Yassin says she felt like she could now take a step toward finding ways to navigate society in a safer manner after receiving private messages from other participants who related to her story.
Yassin shared that playback was triggering, but not in a negative way.
"Sometimes you're triggered and you're afraid -- you're worried it brings back emotions," Yassin says. "But in this particular situation, I felt like this is a door that I could finally open to start my journey to healing."
Source: The Globe And Mail
https://www.theglobeandmail.com/arts/theatre-and-performance/article-in-response-to-racialized-attacks-muslim-women-practice-the-art-of/
--------
Venezuela's First Lady Meets Iranian Women's Social Activists
Photo: Mehr News Agency
----
Jun 13, 2022
During the meeting, Cilia Flores said that "resistance" is a common topic of talk between Venezuelan and Iranian women.
While expressing her happiness at being in Iran and getting to know about the capabilities of Iranian women, Celia Flores hailed the Venezuelan people's resistance against the US unilateral sanctions and pressure, terming "resistance" the only way to stand up and progress.
Referring to the Leader of the Islamic Revolution Ayatollah Seyyed Ali Khamenei's remarks and his emphasis that the cost of resistance is less than compromise and succumb, Khazali praised the standing of the Venezuelan people, especially the women there.
Pointing to the resistance of Iranian women in various periods of military-political-economic wars, she highlighted the role of women in various kinds of wars so pivotal.
The two sides stressed the continuation of negotiations and the signing of a memorandum of understanding for the operational actions between the two sides.
The Venezuelan president and his high-ranking accompanying delegation arrived in Tehran on Friday afternoon for a two-day visit at the official invitation of his Iranian counterpart to hold meetings with high-ranking Iranian officials.
Maduro met with his Iranian counterpart Ebrahim Raeisi and Leader of the Islamic Revolution Ayatollah Seyyed Ali Khamenei.
Raeisi and Maduro signed a 20-year partnership agreement aimed at bolstering cooperation in various fields between the two countries.
Source: Mehr News
https://en.mehrnews.com/news/187898/Venezuela-s-first-lady-meets-Iranian-women-s-social-activists
--------
'We exist but it is not a life': Afghan women face bleak prospects under Taliban
Patrick Wintour
13 Jun 2022
Sitting in a classroom in district 17 on the north-western outskirts of Kabul, four young women from a group dedicated to helping children displaced by war pulled out tissues from a box and silently wiped away tears.
The conversation had turned to the youngest of the women's prospects in light of the Taliban's return to power in August last year.
The 19-year-old explained how she had been stopped at the door of the university where she was studying engineering and told she must wear a burqa to enter.
"I had never been asked to do it before," she said. "They have been to my brothers and father and told them I must comply. I am being banned from the field trips that the boys go on. I am losing hope."
Her eyes welling with tears, she said she was resigned to wearing the burqa in order to complete her education.
The testimony prompted the other women to open up. One admitted to having suicidal thoughts. Another said: "We exist, but it is not a life." Then the fourth stood up and said: "Everyone knows there is active fighting in Ukraine, but here people are dying, especially women. Should we have some hope or not?"
The woman said she had gone three months without being paid her $100 a month salary, and that her husband was sick. "Two or three generations [of Afghan women] have suffered," she said. "Will another generation suffer? Should we have hope or is it just hopeless?"
Listening to the women was David Lammy, the British shadow foreign secretary, who visited Kabul last week. "What I have heard from you today is tremendous strength and courage," Lammy said. "I have been lucky to have been to many places in the world and talked to many people, but this meeting – and I mean this from the bottom of my heart – will stay with me for a very long time."
A few miles away, in district 13, hundreds of men queued under the baking sun for their monthly food handout at a UN World Food Programme distribution centre. Next to them was another queue of men, each pushing a wheelbarrow and hoping to earn some money helping to transport the food to homes or a taxi.
Inside the distribution centre, 100 or so women, many of them widows, waited for their turn. In total about 8,000 families would receive food and cooking oil over the course of the day. More stories of desperation poured out.
Zenab, 36, explained she had trained as a midwife and wanted to work in rural areas, but was unable to because the Taliban had imposed mahram, the requirement placed on women to be escorted by a male in public. Zenab said this was not possible for her, and that she would be beaten if she disobeyed the rules. Trained to meet a desperately required need, she instead spent her days sitting at home. Asked what her greatest ambition was, she said to build a hospital. Her pain was tangible.
Nazifa, a 40-year-old widow living in a house with three other families, said she was so desperate for money that she had considered selling her kidneys on the black market.
"The prices go up, and the Taliban have stopped my pension," she said. "I do not know how else to give my children what they need".
Afghanistan's dire food crisis is complex. At one level, Kabul's dusty markets look full with potatoes, tomatoes, ubiquitous watermelons and mangoes. Moreover, the Taliban's return to power means the UN can reach areas of the country that were formerly out of bounds, ironically because they were Taliban strongholds.
But the surface impression is deceptive, said Hsiao-Wei Lee, the WFP's deputy director in Afghanistan. The collapse in the economy means few people have jobs, and the poor simply cannot afford what is on display in the markets. Three-quarters of Afghan income is spent on food and 82% are in debt. "It's is about maxing out the calories and so tomatoes and potatoes are not right. Traders say they are having to throw away more food," Lee said.
"Donors stepped up late last autumn so we could avoid the worst of the predicted winter crisis, and we are prepositioning food for next winter, but lack of funds means we are now having to scale back." Only $1.2m (£960,000) of the $4.2m sought by the UN appeal for this year was offered. There have been five droughts in three years, and it normally takes three years for an area to recover from such an episode.
As usual in Afghanistan, it is women who are bearing the brunt. "In traditional areas, women eat last after the men and boys, but now they simply do not eat because there is not enough for the last round of eaters," said Billie Alemayehu from the UN humanitarian organisation the OCHA.
Alemayehu says that when baby boys are born, families pause having children because the boy is considered an asset to the household and needs breast-feeding. But this is not the case with girls. "In the south of the country, 90% of those presenting for malnutrition are young girls," she said. "It is shocking."
Compounding the problem, many of the health clinics trying to help underfed children have lost their World Bank funding.
Fundamentally, the problem is not the result of one under-funded UN appeal. Rather, the entire economy has been eviscerated since the Taliban takeover by the withdrawal of overseas aid, which provided 78% of the government budget, and by the imposition of sanctions and the freezing of Afghan central bank assets. As Isis Sunwoo, the OCHA head of strategy and coordination in Afghanistan, put it: "A humanitarian system … cannot uphold an entire state."
To some eyes, the west is pursuing a policy that equates to threatening to starve innocent Afghans in the unrealistic belief that it will somehow get leverage over the Taliban. Others say it is impossible to meet the country's needs without legitimising a government that has effectively tried to erase women from public life.
An unsustainable compromise exists. Sanctions on the Taliban leadership remain in force, but broadly humanitarian – as opposed to development – aid is permitted. The assets of the Afghan central bank, of which £7bn is controlled by the US, has been frozen, and $3.5bn of this has been confiscated in a populist move by Joe Biden to provide compensation to the victims of 9/11.
In the meantime, from Kabul to Herat, Afghanistan is turning into a bankrupt society.
"There is a certain irreversibility about this contraction of demand," one World Bank official warned. "Once these businesses go bust, you are not going to revive them again. This collective bankruptcy is a big problem, and it is appearing on the banks' balance sheets. Between 65% to 85% of micro credit loans are non-performing. Everyone is accumulating debt, but do not have a flow of income to pay it off."
The signs are everywhere. Construction, once the motor of the private economy, is moribund. On the outskirts of Kabul there are giant parks of disused JCVs and cranes.
The US Treasury has tried to ease banks' fears of falling foul of sanctions by issuing licences permitting banks to finance humanitarian as opposed to development aid. But that leaves grey areas. In what category does women's capacity building and health projects fall? As the World Bank official put it: "We have a problem of over-compliance. A western bank makes little money out of a transfer to and from an Afghan correspondent bank, yet if it is seen to be doing something related to the Taliban, it could face a massive fine, so the risk reward does not stack up."
To circumvent the sanctions, the UN, at great expense, is flying in $100,000-worth of dollar bills in physical cash. "That is helping and hindering," the official said. "It is helping because it keeps the humanitarian process afloat, but it is hindering because it is dollarising the economy and still leaving it very difficult for legitimate enterprises to trade, except in cash."
World Bank officials visiting Kabul last week were trying to construct a complex humanitarian exchange system to inject money into the economy. But it was proving difficult to find a compromise that the central bank and Citibank, the main western bank, would both accept.
In the absence of any diplomatic representation from the west, it has been left to the World Bank, the UN and the accumulated sensitive knowledge of the NGOs on the ground such as the International Rescue Committee to try to persuade the Taliban not to continue down the path of exclusionary politics.
Both the UN and many NGOs would probably argue that heavy threats about isolating the Taliban economically unless it becomes more inclusive are counter-productive, but with the Taliban divided, opinions differ on the best approach.
Some, including in the UK Foreign Office, believe that other Islamic voices could persuade the Taliban that the Koran provides no justification for the subjugation of women. There is talk of a conference of religious elders inside Afghanistan to discuss the issue.
Others say the discrimination does not stem from a misreading of Islam but instead a particular southern Pashtun culture largely emanating from Kandahar. The Taliban have recently defended their policy by saying it is in line not just with Islam but custom.
Lammy warned that an already dire situation could yet get worse. "I think we have to get past this binary argument of whether you recognise the Taliban or not and get into the politics of engagement," he said. "It is only by engagement that you get into the complexity of the Taliban, the differences of opinion both within and across the country, between ethnicities, ages groups and provinces."
He also urged the UK to return to Kabul, saying: "If we are not here, we are not actors."
The IRC has a big presence in Afghanistan, with more staff than all the UN agencies put together. Its director, Vicki Aken, said: "My first and biggest fight with the Taliban has been the protection of our female staff presence, because without women in our organisation, you can't reach women in need."
The IRC makes a point of going to meetings with the Taliban with female officials. It is at the least trying to hold to its principles, while fulfilling the task of providing aid.
But Aken admitted: "It has been death by a thousand cuts as decree after decree removes women from the public space. A recent decree said women and children cannot be mentioned in health education materials. About 70% of women in Afghanistan are illiterate. How are you going to show them how to breastfeed? Are you going to have a picture of a man with a goat suckling it?"
Source: The Guardian
https://www.theguardian.com/world/2022/jun/13/we-exist-but-it-is-not-a-life-afghan-women-face-bleak-prospects-under-taliban
--------
Sisters in Islam Co-Founder Zainah Anwar: Islamic Feminism Still Has A Ways to Go In Malaysia
By Shahrin Aizat Noorshahrizam
12 Jun 2022
KUALA LUMPUR, June 12 — Sisters In Islam (SIS) co-founder Zainah Anwar said that Islamic feminism in Malaysia needs more public awareness to grow and build public pressure before it can start making an impact on national policy.
She said that it was unwise to expect the government to be wholly responsibility for uplifting Muslim women's rights, while stressing the importance of forging alliances with other women's rights groups.
"The challenge is, for us, how do we make it politically costly for those who have the authority to continue to ignore our demands?
"That's why the concentration must be on the emphasis of knowledge, of building knowledge, of building voices, on opening up a public space for debate," she said during a SIS event for the launch of Ziba Mir-Hosseini's book Journeys Toward Gender Equality in Islam at Temu House here on June 7.
Continuing to comment on the importance of alliances, Zainah said that organisations are key to building a strong foundation for a resilient reform movement.
"That's why you can't do this alone and you have to have an organisation that's going to give you support every time you are attacked, and you have to build alliances so that they can stand with you when you are attacked," she added.
Meanwhile, Ziba said the means to an end is just as crucial, which is outlined in her book.
"The means to achieving our goal is as important as the goal itself," she said.
In her book, Ziba examines gender equality, as inherent to contemporary conceptions of justice, and presents a challenge to established, patriarchal interpretations of Sharia.
She explores how egalitarian gender laws might be constructed from within the Islamic legal framework through thought-provoking discussions with six influential Muslim intellectuals: Abdullahi An-Naim, amina wadud, Asma Lamrabet, Khaled Abou El Fad, Mohsen Kadivar and Sedigheh Vasmaghi.
Source: Malay Mail
https://www.malaymail.com/news/malaysia/2022/06/12/sis-co-founder-zainah-anwar-islamic-feminism-still-has-a-ways-to-go-in-malaysia/11956
--------
Kerala Women Activist Aysha Renna Lathi-Charged For Protesting UP Demolition
12th June 2022
Muslim Student leader and Fraternity Movement national secretary Aysha Renna suffered injuries during lath charge in Kerala's Malappuram.
As reported by Maktoob Media, Renna was leading a national highway blockade protest against the demolition of Muslim activist Afreen Fatima's house in UP.
Renna further stated that she was humiliated by a police officer while she was in preventive detention.
It is worth noting that Renna was an active opponent to the Citizenship Amendment Act (CAA) which made headlines in 2019. Renna was one among the many protestors speaking out against the implementation of CAA-NRC.
Afreen Fatima is the daughter of activist Javed Mohammad, who is currently the prime accused in the violence which broke out in Prayagraj following protests against BJP spokespersons' Nupur Sharma and Naveen Jindal's objectionable comments against Prophet Muhammad.
Earlier on Sunday, bulldozers were moved to the residence of activist Javed Mohammad, a.k.a. Javed Pump, who the Uttar Pradesh police have identified as the main conspirator behind the violence that erupted in the city on June 10.
In a video, his other daughter, Afreen Fatima, claims that the Prayagraj police detained her father without a warrant or official letter.
Source: Siasat Daily
https://www.siasat.com/kerala-activist-aysha-renna-lathi-charged-for-protesting-up-demolition-2347701/
--------
World Trade Organisation members urged to address needs of women entrepreneurs
13 Jun 2022
The Director-General of the World Trade Organisation (WTO), Ngozi Okonjo-Iweala, said that the organisation's members must step up work to ensure that trade and trade rules better serve women amid disruptions posed by multiple crises.
She made these remarks at the WTO-International Trade Centre (ITC) joint event titled "Unlocking Trade for Women's Empowerment and Sustainable Development" held on 12 June, the first day of the 12th Ministerial Conference (MC12).
The event spotlighted perspectives from entrepreneurs and enabling organisations to effectively increase women's participation in international trade.
"We need to deepen and diversify supply networks and bring more countries and communities from the economic margins to the mainstream. In this process, which I think of as re-globalisation, women have to be at the centre," Okonjo-Iweala said in her opening remarks at the event.
"Unlocking trade for women's empowerment and sustainable development is not just the right thing to do. It's an economic issue. It's a social issue. It is the key issue," she said, noting potential increases in global output, wages and employment when the gender divide is addressed.
"A strong and effective WTO is critical for these women, which is one more reason why delivering results at MC12 this week is so important," Okonjo-Iweala said. "We want to make sure that people know that the WTO is about people. It's not only about rules - it's about rules that help people."
Source: Khaleej Times
https://www.khaleejtimes.com/world/world-trade-organisation-members-urged-to-address-needs-of-women-entrepreneurs
--------
Pakistan leg-spinner Tuba Hassan crowned ICC Women's Player of the Month for May
Jun 13 2022
Dubai, Jun 13 (IANS): Pakistan's young leg-spinner Tuba Hassan on Monday was named the ICC Women's Player of the Month after enjoying significant success with the ball during her debut T20I series against Sri Lanka in Karachi.
The 21-year-old was instrumental in restricting scores set by opponents Sri Lanka and was eventually adjudged as the Player of the Series, taking five wickets at an average of 8.8 and an economy rate of 3.66.
The highlight of the month for Tuba was during her first international match, in which she grabbed 3/8 to limit Sri Lanka to 106, setting the platform for a six-wicket win and was awarded 'Player of the Match'. She struck with just her second ball in international cricket to dismiss Anushka Sanjeewani and subsequently took out Harshitha Madavi and Kavisha Dilhari.
In her next two matches, Tuba picked a wicket each but was miserly in conceding runs. In securing this month's award, Tuba overcame fellow nominees in compatriot, Pakistan skipper Bismah Maroof, and Jersey's Trinity Smith. Tuba is the first female player from Pakistan to win the ICC Women's Player of the Month award.
"Tuba has shown a lot of confidence and skill to make an impact for Pakistan in her debut series. She has been working hard for some time and it is really heartwarming to see her celebrating success in her first series for Pakistan," said Sana Mir, former Pakistan captain and member of the voting panel.
Tuba, who was a reserve player during ICC Women's Cricket World Cup in New Zealand this year, will be travelling with the Pakistan side to take part in a T20I tri-series featuring hosts Ireland and World Cup champions Australia before participating in the Women's T20 Cricket event of the Commonwealth Games in Birmingham.
Source: Daiji World
https://www.daijiworld.com/news/newsDisplay?newsID=968343
--------
Female-only transport trips for Egypt's women bring change amidst inequality
13 June, 2022
When Shima Fikry's husband died in July 2018, the then 37-year-old grieving widow suddenly became the key breadwinner for her three children in her rural hometown of Zagazig, Sharkia governorate, some 82 kilometers to the northeast of Egypt's capital, Cairo.
A government employee who had heavily relied on her late husband to support their family, she scurried to find another source of income that enables her to single-handedly make ends meet.
"My husband's pension wasn't enough, and I needed to find an extra source of income for my family," said Fikry, the founder of Shemo for Sharkeya Ladies Rides. "I had to find a solution using what was available for me."
With little left behind by her late husband but a car, she decided to provide a service that is uncommon in Sharkia and beyond: a women's-only car-hailing service. By early 2021, she had obtained her driving license and was independently running a business of driving around women, relying on social media to promote her services, and on a conservative culture that is overly-protective of its women amidst widespread sexual harassment to make her business boom.
According to UN reports, around 86.5% of Egyptian women don't feel safe in public transportation, with sexual harassment being a widespread threat facing women in the Egyptian community. While Egypt is ranked 126 out of 156 in the overall 2021 Global Gender Gap Index and 146 in the economic participation and opportunity, rural areas in the Arab world's most populous country impose even more constraints on women's recreational, financial and social opportunities due to their reserved cultures and rigidly-ingrained gender roles that largely favor men over women.
As such, Fikry found such limitations on women an opportunity to provide a much-needed service which quickly grew from carpooling to organizing day trips for ladies.
"I wanted to do something sustainable and safe for me. Besides, the women liked the idea because there would be nothing to annoy or harass them during our rides," she told Al Arabiya.
Perfect solution
For Marwa Ghareeb, 37, Shemo for Sharkia Ladies has been the perfect solution to inch out into a world beyond family.
"It's unsafe to travel alone in public transportation with strangers. I would be apprehensive, and my family would be contacting me now and then to make sure that I was okay," said the Sharkia resident, whose late father allowed her to travel in the family's company only. This has limited her social network as well as affected her emotional well-being and, having quit her job to tend to her ailing parents, her isolation has multiplied.
"My father was very strict. He didn't allow any traveling unless it was with the family. Therefore, my life has become constrained after graduating from college," said the holder of a university degree in commerce.
Marwa, therefore, found Fikry's women-only carpooling services an ideal answer to her commuting restraints. "Traveling with Fikry is much easier and emotionally relieving for me. She is a good driver, and she isn't annoying or morbidly curious like most car drivers," said Ghareeb.
In a span of months, and despite a global pandemic that has brought the world to a halt, Fikry's reputation as a safe driver with a courteous and cheerful demeanor had won her thousands of followers, and an expanding base of clients beyond her home city. Her business' Facebook page quickly multiplied in number, drawing over 15,000 female members from all around the country, and by April 2021, she was organizing day trips for women of different ages, at the behest of her customers.
"When they suggested going on trips, I liked the idea because I love traveling and exploring new places. I began with some tours for small numbers, and when the demand increased, I started making deals with buses and planning full trips," Fikry excitedly explained.
No restrictions
While various entities, including labor unions and social clubs, organize regular day-trips across Egypt, especially amidst efforts by the government to boost internal tourism during periods of disrupted international tourism that have plagued the vital sector over the past decade, such trips are mostly family-targeting, and do not provide the privacy which women clients of Fikry appreciate.
In the past year, Fikry has organized over 30 one-day trips to Egyptian cities popular among tourists, both local and international, such as Cairo, Alexandria, but also to cities with a more local appeal, like Ismailia, Fayoum, and Port-Said.
Although Sharkia governorate has been her take off point, she is often joined by women who come in from other Egyptian cities, Cairo, Tanta, and Ismailia, looking to explore new places in the company of like-minded women.
Fatma Abdeen, a 34-year-old psychotherapist from Tanta governorate, is one of Fikry's frequent customers. Living around 80 kilometers away from Fikry's pickup points, she drives her car for at least 90 minutes to be able to catch her trips. The cheerful and supportive vibes of Fikry's trips, and their exclusivity to women, are what makes her travel this far to join her trips, Abdeen explained.
"I'm one of those who doesn't like to interact a lot with men. During Fikry's trips, we get to make new friends, be free, laugh, sing, and joke together without any restrictions," said Abdeen.
Belonging to a middle-class dwindling under increased economic strains, Fikry vies to make her trips affordable for women in the same social and economic segment. "It's challenging to set the prices as I'm always trying not to overwhelm my customers. I usually go on a test trip, check entrance fees and travel costs, and then add a small percentage for myself," said Fikry.
Her trips range in price between $8 and $20 per person, depending on the destination, activities and itineraries.
Being a mother too, Fikry appreciates mothers' need for a relaxing time while on these trips. Putting her own intuition and experience in organizing itineraries, she arranges children-friendly trips, paying attention to details that would get children engaged, including bus seating that bring them together before they even reach the trip destination.
"I was worried that my eight-year-old son wouldn't enjoy his time, but when we reached our pickup point, I found that Fikry had seated us next to other children to get them to know my son before we reached the trip location," said Abdeen.
In planning her trips, Fikry also takes into consideration school breaks and examination schedules, to allow as many mothers, and their children, a day off from academic stress when possible.
New boundaries
While Fikry's trips are a way to disconnect her clients from daily routines that confine them to work and tending to their family's obligations and commitments, these getaways also offer life-changing experiences for others who had never gotten the chance to travel alone or who have little social skills.
"A lot of my customers tell me that my tours help them get out of their comfort zones. Some parents have even reached out to me and told me that if it weren't for my trips, they wouldn't have allowed their daughters to go out," Fikry said.
Encouraged by her clients' growing trust in her services, Fikry is planning to start organizing overnight trips for those who are interested.
Those benefiting from these trips are not limited to middle-aged and young women, but older women who join these feminine groups to discover new boundaries and achieve personal fulfillment and happiness.
"The companionship is always prompting me to join Fikry's tours. I went with them to places for the first time in my life. It's making me feel the change and have inner peace," said Nawal Abdelrahman, a 66-year-old from Sharkia governorate.
Source: Al Arabiya
https://english.alarabiya.net/features/2022/06/13/Female-only-transport-trips-for-Egypt-s-women-bring-change-amidst-inequality
--------
URL: https://newageislam.com/islam-women-feminism/canadian-muslim-women-theatre/d/127239
New Age Islam Islam Online, Islamic Website, African Muslim News, Arab World News, South Asia News, Indian Muslim News, World Muslim News, Women in Islam, Islamic Feminism, Arab Women, Women In Arab, Islamophobia in America, Muslim Women in West, Islam Women and Feminism