New Age Islam News Bureau
29 Nov 2016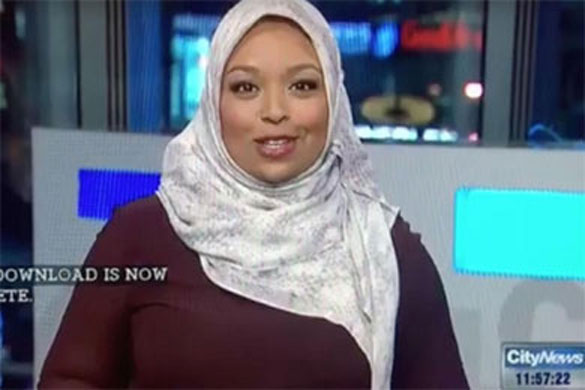 Ms Massa said she hopes people in future would not do a double take when they saw a hijab-wearer on television
-------
• Indian Court Lets Hindu Girl Live With Muslim Boyfriend
• Mass Muslim Marriages, Applications Invited
• Safa Al Hashem: Kuwait's Lone Women's Voice in Parliament
• Muslim Teen First to Compete In Hijab for Miss Minnesota
• Arab Woman Awards to Pay Tribute to Bin Karam Bin Sharjah
Compiled by New Age Islam News Bureau
URL: https://www.newageislam.com/islam,-women-and-feminism/new-age-islam-news-bureau/canada-television-station-promotes-first-muslim-woman-in-hijab-to-read-the-news/d/109229
--------
Canada Television Station Promotes First Muslim Woman in Hijab to Read the News
Rachael Revesz
November 29, 2016
The first woman in a Hijab to read the headlines on a mainstream news channel said she was thankful to have a career opportunity when there was "so much hate and vilifying of Muslims".
The CityNews anchor in Toronto told The Hollywood Reporter that her new job was just "a step forward in her career", but on a national level she acknowledged that it represented a big step forward in terms of ethnic diversity.
When she finished her first 11pm broadcast at midnight last week, her assignment editor asked her: "Was that a first?"
"Yes, I think it was," she replied.
Ms Massa took to social media to thank the viewers.
"That's a wrap! Thankful to have opportunities like this at a time when there is so much hate and vilifying of Muslims. Looking forward to the day when it's no longer a big deal for someone who looks like me to be anchoring a newscast," she wrote.
Ms Massa, who was also Canada's first hijab-wearing reporter in January 2015 when she worked for CTV News in Ontario, said she received a deluge of positive comments after writing on Facebook and Twitter.
"People started to go, 'Wow, that's amazing that we haven't already had this in Canada," she said.
"It shouldn't be a big deal," she added.
She admitted that she also received a backlash from a minority of people online, and that she was worried for her friends and family now that Donald Trump had been elected.
"There's a fear that we will go backwards, that we have made so many strides in terms of acceptance and tolerance and understanding each other. It's scary to think that all of that can be undone," she said.
Mr Trump in the US has proposed banning Muslims from entering the US on a temporary basis, carrying out "extreme vetting" and even suggesting Muslims should sign up to a registry.
When asked if she rejected criticism that her Muslim headdress topped her from being impartial as a journalist, she said that everyone had biases.
"That doesn't mean I shouldn't be in this industry," she said.
Her appointment comes shortly after the first hijab-wearing reporter on Channel 4 News in the UK, Fatima Manji, was accused of being an "inappropriate" choice of journalist to report on the radical Islamic terrorist attacks in France in July, according to Sun newspaper columnist Kelvin Mackenzie. Ms Manji complained to the press regulator but Mr Mackenzie was cleared of wrongdoing.
http://www.independent.co.uk/news/world/americas/canada-hired-first-woman-hijab-reporter-ginella-massa-comments-citynews-toronto-a7443581.html
--------
Indian Court Lets Hindu Girl Live With Muslim Boyfriend
Nov 29, 2016,
AHMEDABAD: Gujarat high court permitted a 19-year-old Hindu girl to live-in with her Muslim boyfriend, who is just 20 years old and is currently ineligible for marriage.
While allowing this reunion to take place on the wishes of the girl in a remote town of Dhanera in the border district of Banaskantha, a bench of Justice Akil Kureshi and Justice Biren Vaishnav observed, "Our society puts considerable stress on the institution of marriage and its sanctity. Instances of live-in relationship are largely confined to metro cities and other urban centres. Despite this, we must recognize our legal limitation in forcing an adult person of sound mind to stay at a place she does not want. Correspondingly, we also must recognize that we do not have the power to prevent the girl who is 19 years of age and is of sound mind from exercising her choice and joining the petitioner (her boyfriend), if she so desires."
According to the case details, the boy and girl studied together in school and were in love since their school days. Neither is ready to change his/her religion and the only option left is to have their marriage registered under the Special Marriages Act. The girl is eligible for this as she is above 18, but the boy is not because he is not yet 21.
This limitation led them to notarize a 'maitri karaar' (a friendship agreement used in Gujarat to formalize live-in relationships) in July.
However, the girl's parents forcibly took her away in September. The boy, who is engaged in his family's readymade clothes business, approached the HC by filing a habeas corpus petition that his girlfriend was detained by her parents against her wishes and that she should be set free.
When the court issued notice, Banaskantha police brought the girl before the court, where she said that she and her boyfriend would get married as soon as he turns 21. She did not want to live with her parents. The court asked the boy to file an affidavit that he would marry the girl upon turning 21.
http://timesofindia.indiatimes.com/city/ahmedabad/Court-lets-Hindu-girl-live-with-Muslim-boyfriend/articleshow/55676543.cms
--------
Mass Muslim marriages, applications invited
November 29, 2016
Hyderabad: According to a press note issued by Dr. Mohammed Mushtaq Ali, President, Anjuman Falah-e-Mashira, applications are invited from the destitute Muslim girls whose parents are ready to celebrate their marriages in the last week of December.
If matrimonial alliances are finalized and if the parents of the girls are not in a position to bear the expenses of marriages, they may approach the society with two photographs of boys and girls with address proof.
The applications may be sent to Mr. Mohammed Sharfuddin Qureshi, Secretary of the Society at his residence in Rehmat Nagar, Yakutpura adjacent to Masjid Shareefa and Mahmood at the office of Society, opposite Islamia Degree College, Yakutpura from 6 p.m. to 9 p.m. For further details, the parents may contact cellphone numbers: 7337423595 or 9390312004.
http://www.siasat.com/news/mass-muslim-marriages-applications-invited-3-1075207/
--------
Safa Al Hashem: Kuwait's lone women's voice in parliament
29 November 2016
Fourteen women put their names forth and campaigned for Kuwaitis to elect them into the upcoming parliament, but only woman – Safa Al Hashem – prevailed.
She came fifth in the third electoral district with 3,273 votes. By winning her seat, Al Hashem became the ninth woman to be elected to Kuwait's National Assembly since women gained the right to vote and run in national elections in 2005.
Al Hashem, a former Member of Parliament herself, made history in this election by becoming the first woman to win in three parliamentary elections, two of them consecutively.
Born in 1964, the lone female MP holds degrees in English literature and in business administration. She is also a successful businesswoman, founding and managing of Advantage Consulting Company (ACC), a Kuwait-based company that provides management and business advisory services.
She received the Female CEO of the Year award at the CEO Middle East Awards 2007 in Dubai.
Al Hashem has one of the strongest following for a Kuwaiti politician on social media, amassing more than 300,000 followers on Twitter alone.
https://english.alarabiya.net/en/News/gulf/2016/11/29/Safa-Al-Hashem-Kuwait-s-lone-women-s-voice-in-parliament.html
--------
Muslim teen first to compete in hijab for Miss Minnesota
28 November 2016
A Somali-American has become the first to compete in the Miss Minnesota USA pageant wearing a hijab and burkini.
Halima Aden, 19, donned the traditional Islamic dress and full-body "burkini" during the event's swimsuit segment.
Ms Aden, who was born in Kenya and moved as a child to St Cloud, Minnesota, was one of the top 15 contestants in the two-day pageant.
She said she hopes her participation inspires other Muslim women to be confident about their identity.
"A lot of people will look at you and will fail to see your beauty because you're covered up and they're not used to it, so growing up I just had to work on my people skills and give people a chance to really know me besides the clothing," Ms Aden told local television station KARE.
The St Cloud resident said she was overwhelmed to be in the top 15 contestants and has received an outpouring of support from women around the world.
"This is a big win for us, you know. I'm the first to do this and I'm hoping to see more Muslim women wearing burkinis and being celebrated," she said.
"I'm just challenging you to be outgoing and just do your best in everything that you do."
Minnesota is home to the largest concentration of Somali immigrants in the US.
Denise Wallace, executive co-director of the Miss Minnesota USA pageant, praised Ms Aden for her decision to wear the traditional dress.
"I think for Halima standing on the stage this weekend she is showing other women that they too can do that and that it's possible for them," she said.
The winner of the pageant was Minneapolis resident Meredith Gould, who will go on to compete in the Miss USA pageant next year.
http://www.bbc.com/news/world-us-canada-38135300
--------
Arab Woman Awards to Pay Tribute to Bin Karam Bin Sharjah
November 28, 2016
Dubai: The Arab Woman Awards announced Monday that its 2016 UAE awards will take place in Sharjah to honour the late Ameera Bin Karam. The private awards ceremony will be held on Saturday, December 10, and will include an exclusive video tribute to the late vice-chairperson of the NAMA Women Advancement Establishment, created by the NWAE.
Sue Holt, Executive Director of ITP and founder of the awards, said, "Like everyone, we were shocked and saddened by the sudden passing of Ameera Bin Karam. Ameera was a previous Arab Woman Award winner, who then became the CHAIR of our judges' board. She was an amazing and passionate person, who celebrated the successes of women from the region. It is with great pride that we are taking this year's award ceremony to Sharjah as a sign of respect and to honour her significant contributions."
The Arab Woman Awards were launched in 2009 with the aim of raising public awareness of the significant achievements by Arab women and to provide young women with inspirational role models. The events now run across the GCC with ceremonies in the UAE, Kuwait, Saudi Arabia and Qatar, with Bahrain and Oman launching in 2017. As well as the tribute to Ameera, there will be 20 awards presented in areas including business, FASHION, entrepreneurship, charity, media and literature.
http://gulfnews.com/news/uae/society/arab-woman-awards-to-pay-tribute-to-bin-karam-in-sharjah-1.1936558
--------
URL: https://www.newageislam.com/islam,-women-and-feminism/new-age-islam-news-bureau/canada-television-station-promotes-first-muslim-woman-in-hijab-to-read-the-news/d/109229
New Age Islam, Islam Online, Islamic Website, African Muslim News, Arab World News, South Asia News, Indian Muslim News, World Muslim News, Womens in Islam, Islamic Feminism, Arab Women, Womens In Arab, Islamphobia in America, Muslim Women in West, Islam Women and Feminism, Moderate Islam, Moderate Muslims, Progressive Islam, Progressive Muslims, Liberal Islam