New Age Islam News Bureau
5 Dec 2016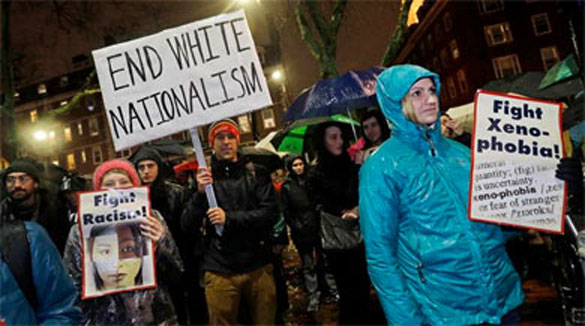 Protesters hold signs against growing white supremacy outside University Harvard's John F. Kennedy School of Governmen, US. UAP Photo/Elise Amendola)
------
• US: White Man Allegedly Harasses Hijab-Clad 'Hero' Muslim Cop, Calls Her 'ISIS'
• Hijab-Wearing Student Assaulted On NY Subway Train
• Most Muslim Women against Triple Talaq, Feel Activists
• Female ISIS Member Carries Out Attack in Sirte
• PTI Tasks MNA Sajida Zulfiqar to Alleviate Reservations of KP's Women Wing
• Zimbabwe: Zim Makes Strides on Women in the Workplace
• Young achievers change perceptions at TEDx Dubai event
Compiled by New Age Islam News Bureau
URL: https://www.newageislam.com/islam,-women-and-feminism/new-age-islam-news-bureau/campaign-in-riyadh-urges-women-to-report-domestic-violence/d/109288
--------
Campaign in Riyadh Urges Women to Report Domestic Violence
Dec 5, 2016
Riyadh — Alwaleed Philanthropies (AP), CHAIRED by Prince Alwaleed Bin Talal, has launched a two-week online awareness campaign against domestic violence in cooperation with the National Family Safety Program to highlight domestic violence and encourage battered and abused women to speak up.
The campaign highlights the negative role of a female's silence in enabling her own abuse while also encouraging battered women to take action by reporting the abuse to the hotline 1919, which is a domestic abuse hotline that operates 24/7 OFFERED by the Ministry of Social Affairs and run by trained Saudi women.
Domestic abuse can either be psychological or physical, as statistics indicate that psychological violence is more damaging than physical violence.
Deprivation of treatment, education or physical extortion is other types of abuse.
Domestic violence can be caused by psychological illnesses or social pressure in one or both spouses.
Princess Lamia Bint Majed AlSaud, Secretary General at Alwaleed Philanthropies, said: "Female victims of domestic violence are often reluctant to speak up about their abuse because of their fear of scandal or the society's disapproval. Our role as NGO's is to educate WOMEN about their legal rights and remind the society that domestic violence is an illegal crime."
Alwaleed Philanthropies has supported and joined numerous women empowerment campaigns such as "The International Day for the Elimination of Violence against Women" on social media and the United Nation's "OrangeTheWorld" initiative by LIGHTING up the Kingdom Tower in orange for five days. The color orange was chosen as the official color to represent elimination of violence against women.
The foundation has initiated various projects that empower women such as the 'Wa'iyah' female legal rights program aims at raising awareness of Saudi women's legal rights to help end their subjection to violence while also certifying Saudi female lawyers. Additionally, #Albyout_Asrar domestic violence awareness campaign advocated women and children's rights while also highlighting the serious mental and physical problems that come as an outcome of domestic violence.
http://saudigazette.com.sa/saudi-arabia/campaign-urges-women-report-domestic-violence/
--------
US: White man allegedly harasses hijab-clad 'hero' Muslim cop, calls her 'ISIS'
December 5, 2016
An off-duty hijab-clad Muslim police officer was called "ISIS" and told to go back to her "country" by a white man who also pushed her 16-year-old son, the latest in a series of incidents in which headscarf-wearing women have been targeted in the US following Donald Trump's win. Officer Aml Elsokary, who was off duty and wearing her hijab, dropped off her son in Brooklyn. After parking her car, she returned to the scene to find her son being shoved by the suspect, a white man in his 30s.
When the officer — a native New Yorker — approached, the man said, "ISIS (expletive), I will cut your throat, go back to your country!" Elsokary did not identify herself as a police officer, and was unarmed, the New York Daily News reported, citing police sources.
The suspect then fled the scene. Police were trying to track him down. The NYPD Hate Crimes Unit is probing the episode as a bias incident which took place on Saturday. Officer Elsokary — who proudly wears her hijab on duty -— was touted as a hero by the New York city mayor after she ran into a burning building to save an elderly man and baby girl in April 2014.
Responding to a call about a fire over the police radio, Elsokary and her partner had rushed to a smoke-filled building. The decorated officer had joined the force shortly after the September 11 terror attacks to "show people that the terrible acts of that day contradicted the teachings of Islam," Mayor de Blasio had said at a 2014 dinner.
The mother-of-five had received a medal for her bravery. Saturday's incident comes amid a slew of intimidation and assault cases that have been reported across the country against hijab-clad women following Trump's win.
On Thursday, a Muslim student was allegedly assaulted aboard a subway train by three drunk white men who repeatedly screamed "Donald Trump!" and hurled anti-Islam slurs before trying to rip her hijab off. Earlier this month, a Hijab-clad Muslim student was allegedly struck in the face with a glass bottle in broad daylight at the University of Washington campus in Seattle.
In another incident, a hijab-clad woman was allegedly accosted at a US store by another customer who called her a "terrorist" and told her to "get out" of the country. Also, a Muslim student's hijab was allegedly ripped off and her hair pulled down by a classmate at a school in Minnesota.
http://indianexpress.com/article/world/world-news/us-white-man-allegedly-harasses-hijab-clad-hero-muslim-cop-calls-her-isis-4411442/
--------
Hijab-wearing student assaulted on NY subway train
DECEMBER 04, 2016
A Muslim student was allegedly assaulted aboard a U.S. subway train by three drunk white men who repeatedly screamed "Donald Trump!" and hurled anti-Islam slurs before trying to rip her hijab off, the latest in a slew of incidents in which headscarf-clad women have been targeted.
Three men attempted to rip off Yasmin Seweid's hijab, calling the 18-year-old student a "terrorist" and shouting President-elect Trump's name as she rode the subway through Manhattan.
Attackers scream 'Trump'
Strap-hangers stood by and watched as the three drunk white men repeatedly screamed "Donald Trump!" and hurled anti-Islam slurs at the Muslim Baruch College student before trying to rip her hijab off on an East Side subway, the woman told the New York Daily News.
The incident that took place on Thursday is being investigated by the NYPD's Hate Crimes Task Force. Police are reviewing surveillance video to identify the men involved.
Ms. Seweid said she was stunned by the assault and the fact that no one in the subway car came forward to help her.
"I heard them say something very loudly, something about Donald Trump... I also heard them say the word 'terrorist' and I sort of got a little scared," Ms. Seweid was quoted as saying.
Ms. Seweid, who was born in the United States to Egyptian parents, was shocked. "I was born and raised in this country. I'm an American, you know?" she said. — PTI
http://www.thehindu.com/news/international/Hijab-wearing-student-assaulted-on-NY-subway-train/article16760137.ece
--------
Most Muslim Women against Triple Talaq, Feel Activists
Dec 4, 2016
Nagpur: A two-day seminar christened 'Rights of Muslim Women', starting on December 3, was organized by Muslim Mahila Manch, Bada Tajbagh. The manch is a branch of Rubi Social Welfare Society. The event was led by founder of the society, Rubina Patel.
Women from the city, as well as nearby places in the district were present. Majority of them seemed to be against the concept of 'triple talaq', claiming that it deprived the women of their basic rights.
Under 'triple talaq', a man can divorce his wife by saying the Urdu word for divorce 'talaq' three times.
Speaking on the subject, Rubina said, "Women deserve their basic rights and social justice which is given to them by the Constitution of the country. Under the 'triple talaq' system, a man can pronounce talaq thrice, disown his wife, and get away from his responsibilities, which is unfair. We don't stand for the uniform civil code too. We want the formulation of a law which imbibes secularism and gender equality."
The questionnaire issued by the law commission regarding this matter comprises of 16 yes or no questions. Rubina added, "Each question demands a brief discussion and cannot be answered merely in one word."
Nasreen Ansari, member of Amhi Amchya Arogyasathi (NGO) said, "Forms are being circulated to take signatures of women to support triple talaq, without giving them complete information about it. If women actually gain knowledge about the issue, they would never sign it. Every religion practices divorce abiding by the legal norms and their processes take time. Triple talaq can be pronounced by a man in rage or even when he is drunk. This renders women totally helpless."
Parveen Sheikh, member of an NGO having its base in Wardha, said, "Women from my area do not support the triple talaq law either and it should be called off."
Shehnaz Khan, member of the manch, said, "The spiritual leaders do not reveal the truth behind the triple talaq concept and that it should be pronounced thrice between certain intervals of time for the divorce to happen. The nationwide drive by the All India Muslim Personal Law Board, seeking signatures of women is only to misguide them."
Narrating an incident of unfair treatment, a resident of Teka, Shanu Ansari said, "I was thrown out of the house by my in-laws on the third day of my marriage. My husband made a fraud document providing incorrect information on the stamp paper. It read that I agreed when he pronounced talaq and took away the dowry along with me."
Another issue raised in the seminar was about the fact that Shariat Laws for divorce were being changed in many Islamic countries, then why was it not being done in India.
Former vice-principal of Saraswati Vidyalaya, Usha Mishra, said, "Women need to raise their voice to fight for their rights and they are not alone in this struggle. Organizations of various religions who work for women empowerment support this issue."
http://timesofindia.indiatimes.com/city/nagpur/Most-Muslim-women-against-triple-talaq-feel-activists/articleshow/55797429.cms
--------
Female ISIS member carries out attack in Sirte
4 December 2016
Al Arabiya exclusively acquired a video showing a suicide operation carried out by a female ISIS member in Libya's Sirte in an attempt to cause chaos.
A source exclusive to Al Arabiya said that the incident took place last Friday afternoon when the government accord forces were aiding women and children from the rubble of demolished buildings in Al-Giza neighborhood.
The source added that there were around 30 children and six women, stating that the ISIS woman was the last one in the group when she blew herself up, killing two children and two women and wounding 11 others among them government accord forces.
https://english.alarabiya.net/en/News/north-africa/2016/12/04/Watch-Suicide-operation-carried-out-by-ISIS-in-Sirte.html
--------
PTI tasks MNA Sajida Zulfiqar to alleviate reservations of KP's women wing
05-Dec-16
PESHAWAR: The central leadership of Pakistan Tehreek-e-Insaf (PTI) has opted Sajida Zulfiqar, Member of National Assembly (MNA), for the task to resolve the women-wing reservations in Khyber Pakhtunkhwa (KP) Women Wing representatives, having complaints against the regional presidents of KP for violating merit in the appointments for different cabinets.
The representatives of the women wing have been urged to come forward to stop the regional presidents of the KP regions from (including their near and dears) candidates in the cabinets of the mother women wing.
According to sources the women leaders of the wing accused the regional and districts presidents for surpassing the deserved women workers for the cabinet membership across the KP.
The move came at the same time when around 40 members of the PTI in the district Peshawar council locked their horns with the district president of Peshawar for biased and blue-eyed appointments for the cabinet of town four and one. Jehandad Khan, District President Peshawar on 28-11-2016 issued a notification of Irfan Saleem as a General Secretary, Meena Khan as a President and Kishwar Zaman as the senior vice president of the Town-One.
The notification triggered anger among the district council representatives and they are moving to submit a requisition of a vote-of no-confidence against the district Nazim Peshawar.
Members of the councils had also raised reservation over the president for violating the merit and deserving candidates in the nomination process.
The members have also informed the central leadership and Chief Minister Pervez Khattak for the reversal of district president's allegedly biased decisions for the cabinet of Town-one cabinet.
Considering the issue serious, harmful for the party stack and reputation KP assembly lawmakers of PTI formally informed the central leadership that mostly, women workers of the party remained on the front line during the sit-ins with men but they were being ignored and sidelined in the nomination process for cabinet membership.
It was shared with the central leadership that the numbers of devotees and workers of the PTI had left the party due to the biased decisions of the regional presidents of the province.
The KP assembly member wishing not to be be named said that members had formally discussed the issue with leaders of the PTI and the core committee at a meeting.
It was stated that anti workers policies in the province were highly injurious and causing the unity of the workers including men and women and therefore party leaders should come forward with prompt actions for the better interest of the party. Therefore, the central leadership at first hand appointed Sajjida Zulfiqar to set up a committee for resolving the burgeoning issues of the KP women wing and report to the core committee immediately, while Pervez Khattak was told to tackle the district council Peshawar issue.
However, the issue among the district council representatives with district president Jehandad Khan and district Nazim Asim Khan still persist over the alleged merit-less nomination process.
The long delayed intra party election of the PTI has caused major differences among the leaders and workers of the PTI in the KP, the nomination process for the different cabinets and women wing further fueled the situation in the province.
Sajjida Zulfiqar confirmed her appointment with the apparent task to sort all outstanding issues of the women wing with the regional presidents. "She has been asked by the central leadership to bring forth deserving and educated candidates in the nomination process by endorsing the policy of merit in the selection process," Sajida Begum added.
PTI's KP government criticized: The leader of the PML-N Sardar Orangzeb Nalotha, MPA, on Sunday said that despite the tall claims of development and good governance in Khyber Phaktunkhawa (KP), Pakistan Tehrik-e-Insaf had failed to deliver to the masses.
Sardar Orangzeb Hazara said that the PTI also disappointed ts staunch supporters as no developmental work had been started in Hazara region while being a opposition party in the province the PML-N had initiated many mega projects with the help of the federal government.
He said that the PTI government had also failed to provide traffic solutions in Abbottabad city where the people desperately need a bypass.
Nalotha disclosed that during the year 2013-14 the ANP government passed Rs 940 million in the Annual Development Programmer (ADP) for the
construction of Abbottabad bypass. Unfortunately the PTI government shifted that amount to Haripur and Noshera.
Sardar Orangzeb Nalotha stated that soon the National Highway Authoerity (NHA) would start the widening of Karakoram Highway (KKH) project in Abbottabad city from Fawara Chowk to Abbottabad Public School and it would also resolve the traffic congestion issue in the city.
http://dailytimes.com.pk/khyber-pakhtunkhwa/05-Dec-16/pti-tasks-mna-sajida-zulfiqar-to-alleviate-reservations-of-kps-women-wing
--------
Zimbabwe: Zim Makes Strides On Women in the Workplace
5 DECEMBER 2016
Zimbabwe has made significant strides over WOMEN in the workplace and is now ranked sixth out of 27 countries including the Organisation for Economic Co-operation and Development (OECD) member countries on the African continent, a recent study has shown. According to the Ashish Thakkar Global Entrepreneurship Index report for this year, which is the first in an annual series, African countries show huge potential not only for entrepreneurship in general, but especially among women.
The Index is based on five broad pillars, each containing between three and seven indices and these indices were sourced from a variety of sources such as the United Nations and the World Trade Organisation statistics.
The five pillars aim to give a balance of physical barriers to entrepreneurship such as poor infrastructure, government policies preventing entrepreneurship and also assessing the entrepreneurial environment. The objective of the Index is to highlight countries that are performing well and those that could improve.
Of the 27 countries, Tanzania TOPS the standings followed by Madagascar, Rwanda, Mozambique, Malawi, Zimbabwe, Ethiopia and Egypt, which is at the bottom. The report said African countries performed well on the status of entrepreneurs and had narrowed the gap for digital infrastructure.
"The majority of WOMEN in sub-Saharan African countries are employed, far higher than the OECD average," it said. "However, women are often employed in informal and low-skilled labour, rather than in managerial or ownership positions," the report added.
The OECD estimates that approximately 70 percent of agricultural workers are women and that women produce about 90 percent of all food. "Encouraging women to explore their business potential and making sure opportunities are open to them, will help create a diverse and thriving culture of entrepreneurs and build the wider economies of each country," the report said.
It added that women were also less likely to be educated and literate while different elements were at play in North Africa, where conservative Islamic societies limited the roles that women could take despite women in these countries often being better educated than elsewhere in Africa.
http://allafrica.com/stories/201612050072.html
--------
Young achievers change perceptions at TEDx Dubai event
December 4, 2016
Dubai: Four young men and WOMEN from different countries, who have walked the path less travelled and created new perceptions in different fields, inspired the audience with their thought-provoking talks during an evening of TEDx Talks held recently n Dubai.
The event was organised by Dubai Women Establishment (DWE), in collaboration with TEDxDubai to mark the UAE Innovation Week.
Held under the theme of "Shifting Perceptions", the event provided the audience an opportunity to observe realities under a new lens and walk away with new perspectives on a number of topics such as gender, language and race, as well as the things we take for granted such as access to basic services.
Shamsa Saleh, CEO of Dubai Women Establishment, told Gulf News that the purpose of the event was to deliver the message of changing perceptions in different fields by presenting achievers of diverse background.
"Also, in the past we have had workshops on how to prepare women to be TED speakers. This is a continuation of that series. We are evaluating them and giving them the opportunity to talk on different platforms," she said.
UAE's achievements in respecting women as well as providing higher education, and a high level of safety for them were appreciated at the event. An Innovation Hub, where local artists showcased their talents in innovative ways, was also part of it. While Hind Bin Demaithan Al Qemzi showcased the innovative achievements of five UAE women through a 3D animation project, origami artist Hadeel Subahi presented a 3D model of the human brain for audience to stick their thoughts on how to change perceptions about gender differences.
Sarah Amiri, the chairwoman of the Emirates Scientists Council and Science Lead of the Emirates Mars Mission (Hope) at the Mohammed bin Rashid Space Centre
She spoke about how she chased her childhood dream of exploring the galaxies and space science despite the challenging situations.
Amiri recollected how she spent long days and longer nights collaborating with her team and space experts from across the world to achieve the career milestone of finalising the UAE Mars mission's objectives within a 100-day deadline after starting from scratch in her new office.
"In retrospect, throughout the process, I did not for a moment think that this was absurd, that this was unrealistic, and impossible. To me, every goal that presents itself in the form of an opportunity is possible to accomplish, I only needed to figure out how."
"We are contributing to the global understanding of the planet. We are going above and beyond the turmoil that is now defining our region and becoming positive contributors to science," said Amiri.
Larissa Pak, who quit her successful banking job at 30 years to be a globetrotter
She talked about her experience of travelling around the world and meeting people who have challenged the status quo and chosen to live a life with purpose. Pak, whose human landscaping project covering 30 individuals in 30 countries which can be seen at www.30up.org, said her journey in search of inspiration and courage changed perceptions about success and happiness in life. "Success is not about achieving enough [in career] … it is about the self-satisfaction that you receive in what you do."
"Travelling alone will change your fear of being alone. Travelling with intention brings a new paradigm to your experience. Life is not predictable and the world is changing so fast; the new rules of what is good are being established. We can no longer afford living through our parents' norms and expectations, so why not treat the change as a basic necessity?"
Usman Riaz: The youngest TED Senior Fellow, musician and the founder of Mano Animation Studio — the first hand-drawn animation studio in Pakistan.
He explained how he is laying the foundations for the first animation industry in his home country by giving a twist to the concept of traditional telling. "Why should any of us be bound by any restrictions of an antiquated society? We can all choose our own path in reclaiming our culture," said Riaz who is currently working on 'The GLASSWorker,' the first full-length animation film in Pakistan. Mixing the landscape and appearance of characters of the West with the situations and language in his country for the project is a way of reclaiming his culture on his own terms, he said.
Sajjad Kamal: a TEDx global community member and co-founder of AlemHealth, a diagnostic telemedicine start-up for emerging markets
He recollected how he started off his journey as a 13-year-old student in Al Ain who developed internet calling services to help his parents make cheaper calls to their relatives back home in Bangladesh. Now AlemHealth is operating in Afghanistan and several African countries to provide access to high quality care to patients living in rural areas. He said: "I'm passionate about technology, and I believe it has the power to change the world for the better and to connect people. I see bigger, more IMPORTANT problems in the world that technology can solve and we need to look at those issues with the same passion, drive and competitiveness."
http://gulfnews.com/news/uae/society/young-achievers-change-perceptions-at-tedx-dubai-event-1.1939652
--------
URL: https://www.newageislam.com/islam,-women-and-feminism/new-age-islam-news-bureau/campaign-in-riyadh-urges-women-to-report-domestic-violence/d/109288
New Age Islam, Islam Online, Islamic Website, African Muslim News, Arab World News, South Asia News, Indian Muslim News, World Muslim News, Women in Islam, Islamic Feminism, Arab Women, Women In Arab, Islamophobia in America, Muslim Women in West, Islam Women and Feminism